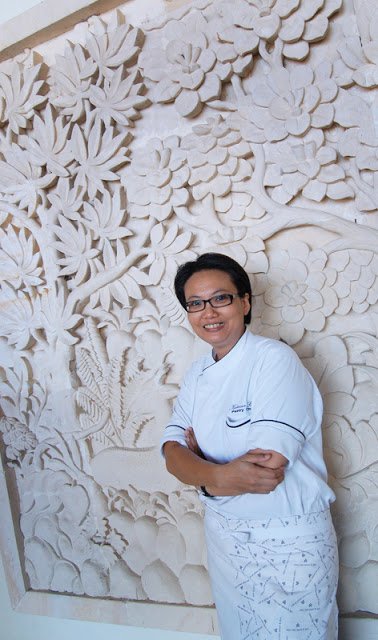 Katarina Sari – Pastry Chef Grand Nikko Bali


The Yum List chats Pastry Chef, Katarina Sari, and finds out about her sweet life at the Grand Nikko Bali.
What do you do and how did you got into the industry?
I am the Pastry Chef of Grand Nikko Bali. I have been cooking since I was old enough to hold a whisk. My mom used to own this little catering company and I helped her a lot. I kind of grew up in the industry – food production that is. After graduating from high school, I decided to attend a tourism college here in Bali and pastry was my choice. I love everything sweet! After graduating, I applied for a job here and have been working with Nikko since 1996. It's like my second home and I really enjoy my job – after all, you're surrounded with sweets, what's not to love?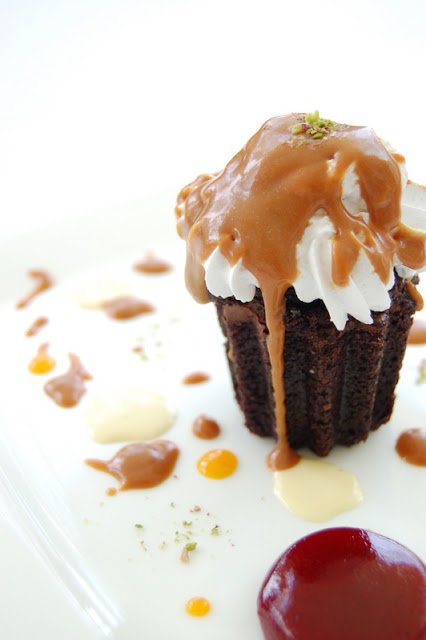 Caramel Brownies – Raspberry Softies & Vanilla Sauce
Share with us an interesting story from behind the scenes.
We had an outdoor event one day and we decided to play around a bit with the display of the desserts and created this huge ice sculpture for us to place the dessert on. The sculpture had several indentations made in them to mimic nooks that you can find in Balinese houses where they usually place a statue or ornaments. So upon setting up these sculptures at the beach a couple of hours before the event starts, we found that the nooks are a little too small for the dessert we've made. Within minutes, we took the risk of breaking the sculpture by carving our way into the ice just to make these nooks bigger. I can hardly breathe seeing the sculpture being 'resculpted' but somehow we manage to do this and just in time to showcase the dessert. It was a minor detail, but it really makes a difference.
What's the best/worst part of your job?
Everything about the job is great, I mean if you have sweet tooth like me and actually do it as a living then you can understand how it feels like – a sweet dream. But like any other job, there are those days when you just can't really have control over things, maybe the supplier was late or your cake batter just didn't work. But when you wake up everyday and think "I love my job" then there's nothing that can make you hate it, isn't there? Unless your cake comes out flat…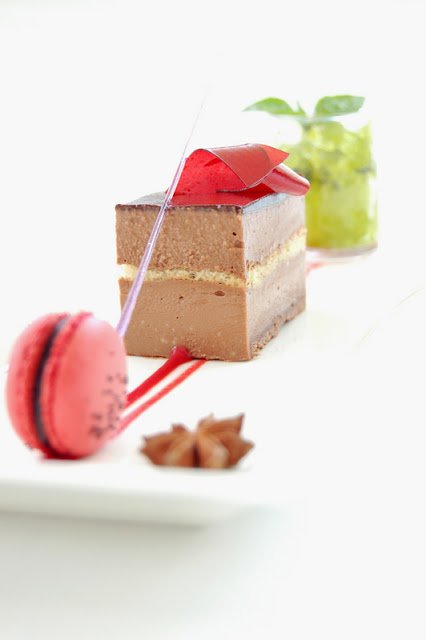 Milk Choc Cream Cheese, Anise Strawberry Ganache, Lemon Basil Sorbet
What's your favourite Balilnese food?
Balinese food is generally spicy, so it really suits me as I also am a big fan of Manadonese food – which can really give you that punch. So in general, I like most of it but if I do have to choose then it will be the world-famed Babi Guling, the tender and juicy pork and that sambal, that's all that matters.
What's your personal favourite meal/ drink?
I do believe that the best meal is a meal shared with friends, so I prefer to cook with friends at home rather than dining out. It's more fun that way. The menu so far has always been Chinese food and Manadonese food. As for drinks, well, coffee to start the day and a cold beer to end it, that's perfection.
What's your favored food and wine/ liquor pairing?
I'm more a beer-girl so the best pairing will be comfort foods and a cold one. But of course the world's greatest pairing will be a chocolate truffle cake with a nice cabernet sauvignon or merlot.
The perfect day off would be… any day in Bali!
A life in the day of a chef is… sweet! And messy – well, you can get chocolate all over you, but that's like everyone's dream!
What do you do for fun?
Hang out with friends – a cook out, just joking around. Life's supposed to be fun so learn to laugh (even at yourself at times).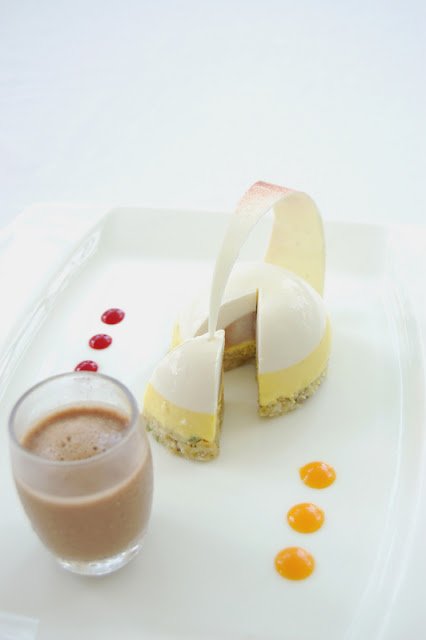 Pineapple Coconut Dome, Tamarind Sugar Parfait
What's something you'd like guests to know about the cuisine/ drinks prepared at Grand Nikko Bali?
Dessert, in my opinion, should have three elements to make it complete to really finish your meal. Something soft, something crunchy and something cold. For our plated desserts, we always feature these three elements – you can choose to enjoy those elements individually or combine them to get a different sensation.
How do you select your ingredients and why?
We cater to different markets – so you can imagine that we have to cover all taste buds and, in a way, a cultural view of cuisine, in my case, desserts. So I often have to source out different ingredients and marry these different flavor characters together, try it out and see if it works or not. Recently I took my inspiration from the traditional remedy drink of Indonesia, Jamu and so I created this tamarind based parfait with raspberry pates de fruit and a coconut pineapple dome containing pineapple mousse, caramelized pineapples and dacquoise. The sourness of the tamarind, the tanginess of raspberry and sweetness of pineapple enriched with the coconut cream take you on a 'tour' of flavor – and texture. It's different, quirky and well, still Asian.
What can guests look forward to in the upcoming months at Grand Nikko Bali?
Well, new desserts – and more quirky but exciting flavors!