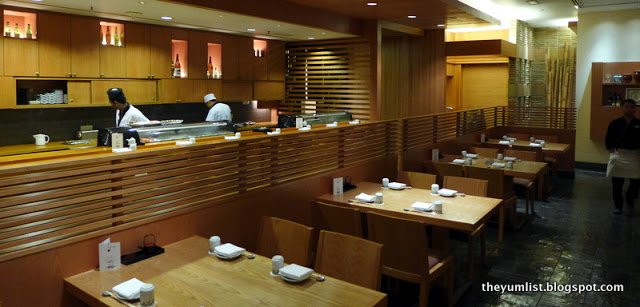 Enju, Prince Hotel and Residence


Unlimited Weekend Sushi at Enju
I'm not fond of buffets, but I do love being able to order
whatever takes my fancy off a menu. I shiver at the thought of a sushi
smorgasbord, but delight in the idea of unlimited made-to-order Japanese bites.
Enju Japanese restaurant at Prince Hotel and Residence Kuala Lumpur has exactly
what I desire: premium fresh ingredients, made a la minute, with endless orders
at a very reasonable price.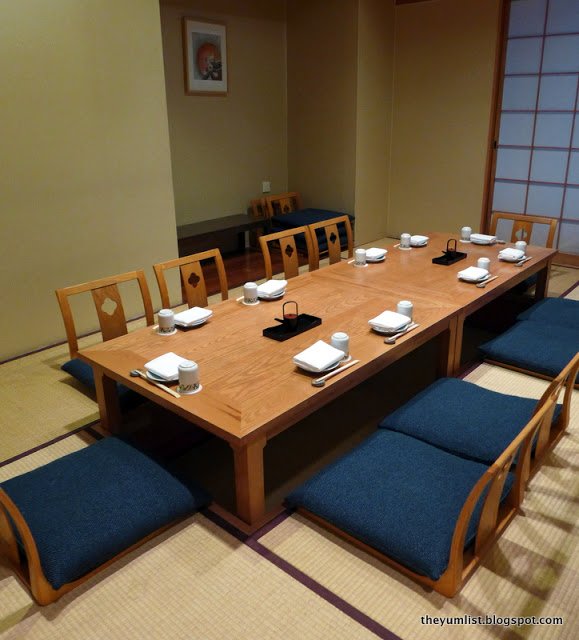 Private Room
At first I was unsure that I would get value for money out
of this deal, but soon realized that the price is very affordable for what you
receive. Not only are guests able to make repeat orders of selected Nigiri, Maki, Gunkan and Temaki sushi, but the cost also includes
a soup (miso or clear bonito), a choice of main course and dessert.
Keen to try it all, hubby and I split our orders to maximize
our tastings. Both the miso and clear bonito soups were of good standard and
perfect beginners to open the appetite, but too took the edge off any hunger
pains, allowing us time to make a thoughtful order.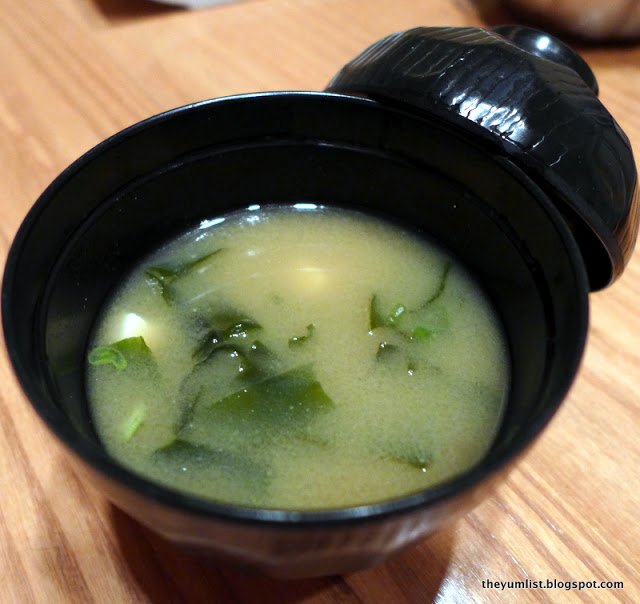 Miso Soup
From the unlimited sushi menu we sampled:
Nigiri Sushi
(sushi rice topped with sliced seafood).
Of all the versions we ordered: Maguro (tuna); Ebi (boiled
tiger prawn); Abura Bouzu (butter fish); Shake (salmon), Ika (squid); Tomago
(egg omelet); Suzuki (seabass); Tako (boiled octopus); Hamachi (yellow tail)
and; Inari (sweet bean curd skin); our favourites were the salmon, butter fish
and yellow tail.
Gunkan Sushi
(battleship sushi)
The items we tried of this type were super fresh but
probably the least to our personal liking with Ebiko (fish roe) and Wasabi
Ebiko (wasabi flavoured fish row). I saw this being devoured on other tables
though, so imagine it's a taste to grow into.

Sushi Platter
Makimono To Temaki
(rolled sushi or hand rolled sushi)
Both the California Maki with avocado, cucumber, crabstick
and fish roe and, the Soft Shell Crab Maki with deep fried soft shell crab,
fish roe and cucumber are unbeatable. I highly recommend both as 'must orders'.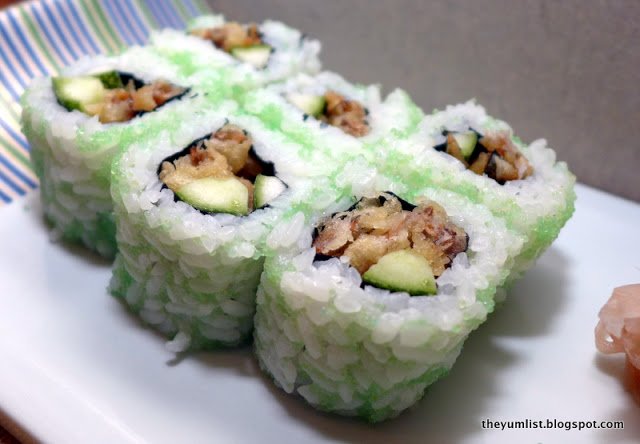 Soft Shell Crab Maki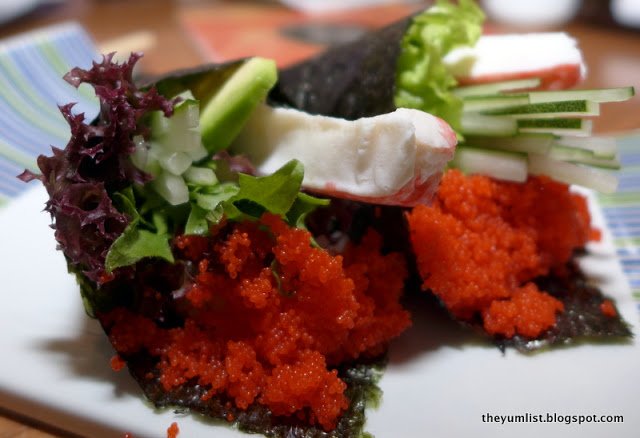 California Roll
Mikimono (rolled
sushi)
The Dynamite Roll with fresh salmon, tempura prawn and
avocado is a popular roll amongst regulars and we can see why. Packed with
filling, there's very little rice in this bite allowing the fish and other
stuffings to consume the palate with their texture and taste.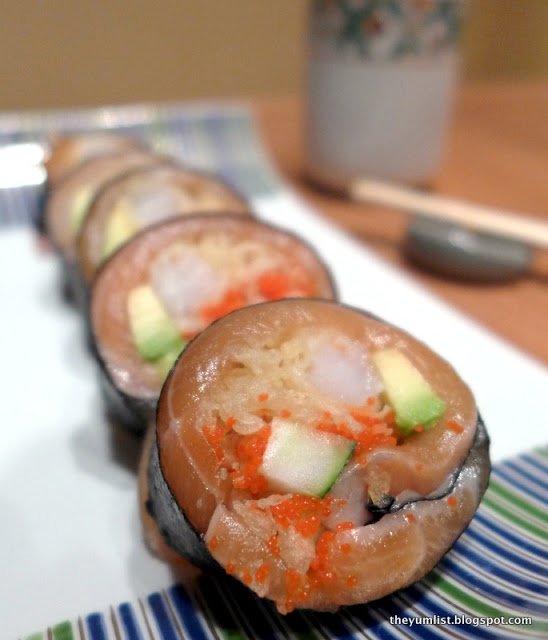 Dynamite Roll
A variety of mains are for the picking (one per customer).
We'd been told that the Beef Sirloin and Chicken Teriyaki are hot orders so we
went with the crowd pleasers. Teppanyaki-style Australian sirloin with garlic,
shoyu butter and mixed vegetables was pink, tender and a mouthful of richness. The teriyaki-glazed, grilled chicken thigh was
loved more by hubby than myself with its succulent layers of fat and skin
covering the meat. Both dishes were undeniably fresh and plates were cleaned.
We found it hard to resist the urge to lick up the sweet teriyaki sauce after
the meat had disappeared. Hubby adores anything deep fried, so the Tempura was
also ordered – mixed vegetables and prawns came crisp with an airy thin batter
– perfect on their own but a layer of flavour can be added with the dipping
sauce.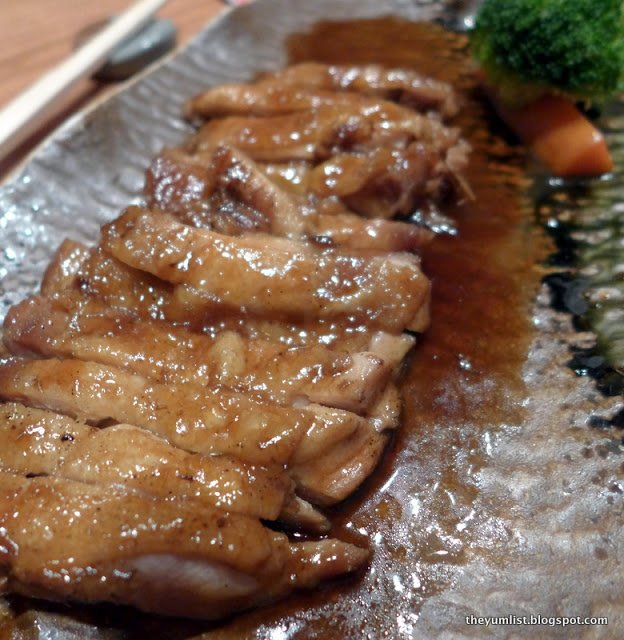 Chicken Teriyaki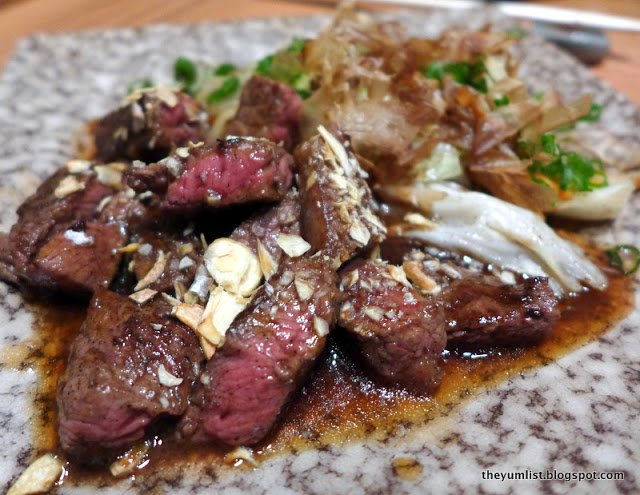 Beef Sirloin Teppanyaki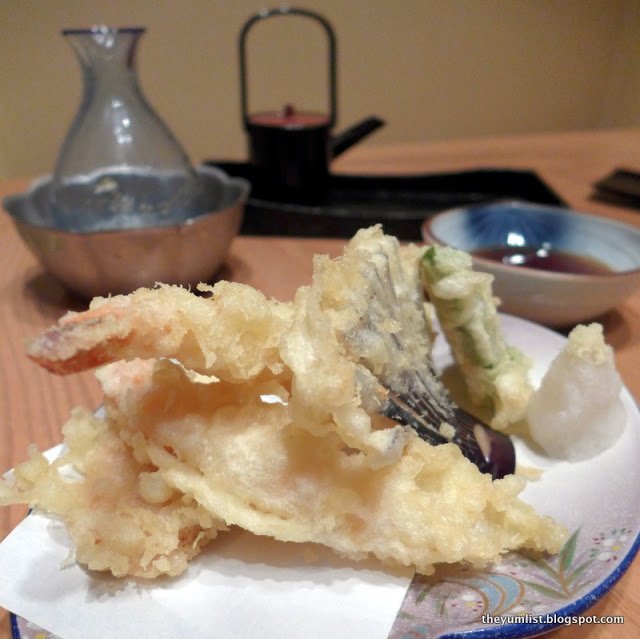 Tempura
Aside from the unlimited sushi deal, Enju also has an a la
carte menu and monthly seasonal specials. For September, Gindara Fukiyose Yaki
(grilled black cod fish) (RM52++) is highlighted.
On a bed of crisp greens, the white fish breaks off in big succulent flakes. A
layer of whipped egg merengue floats on top providing a wonderful contrast in
textures and a slight savoury layer to the sweeter marinade.
Gindara Fukiyose Yaki (grilled black cod fish) RM52++
Ice cream took our fancy for a sweet, creamy ending and both
the Ogura Macha Ice Cream (green tea with red bean compote) and the Kuro Gama
ice cream (black sesame) fit the bill nicely. I forgot to ask if they were made
in house, but the freshness and creaminess of the dessert suggest it might be
the case.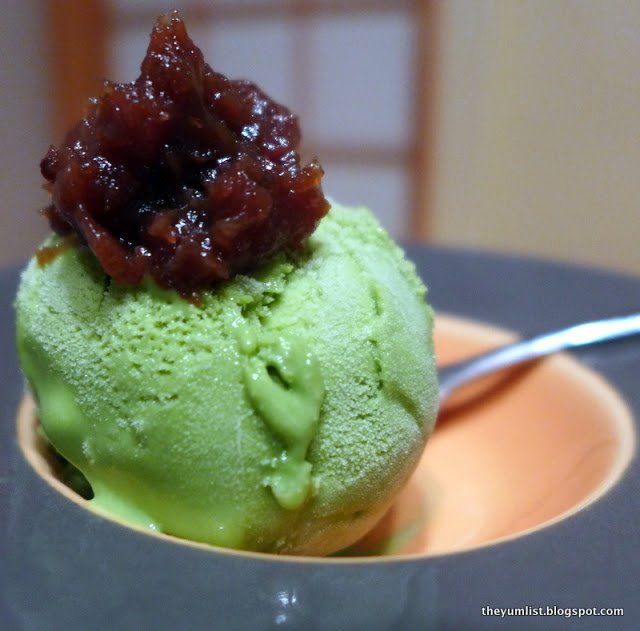 Ogura Macha Ice Cream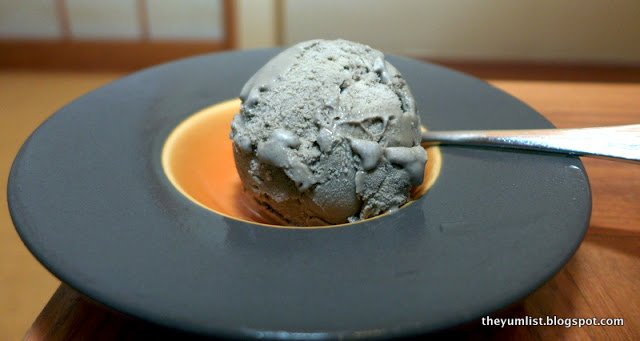 Black Sesame Ice Cream
No Japanese meal can be complete without a glass of sake
right? (in our minds anyway J
) A chilled Sawanoi Daikarakuchi Junami (RM60,
180ml glass) from Tokyo proved to be well balanced with a light dry acidity,
refreshing fragrance and smooth aftertaste. It served too as a palate cleanser
and is something I'd definitely order again.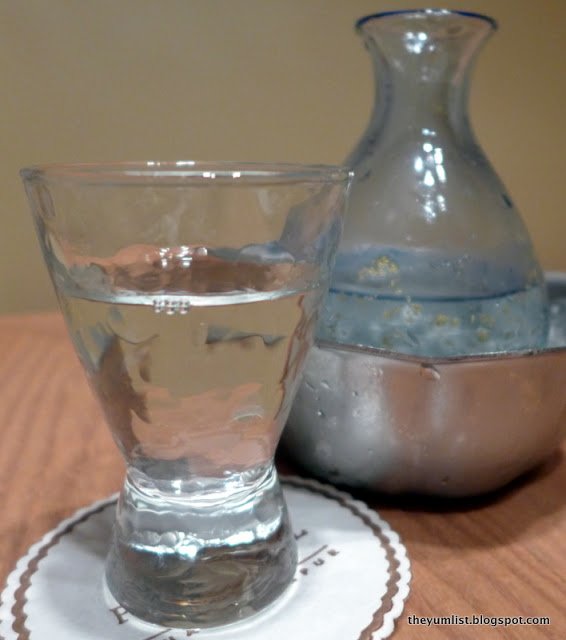 Sawanoi Daikarakuchi Junami Sake
Unlimited Sushi is
available at Enju every Friday and Saturday evening between 6:30pm and 10:30pm.
It is priced at RM65++ per person until the end of December 2013.
Reason to visit:
unlimited sushi orders, good value price, cosy traditional Japanese setting
with private rooms available upon request
Prince Hotel and
Residence Kuala Lumpur
Jalan Conlay
50450 Kuala Lumpur
Malaysia
+603 2170 8888
www.princehotelkl.com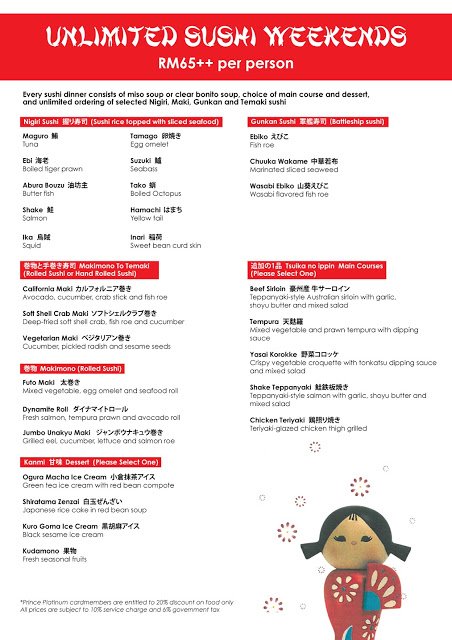 Unlimited Weekend Sushi Menu