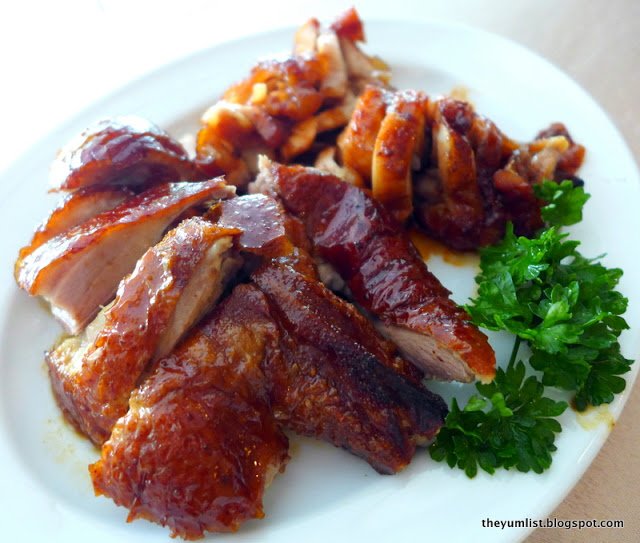 Hong Kong Roasted Duck and Char Siew Chicken
Tai Zi Heen – Weekend Dim Sum Indulgence
Words by Craig J Selby
Photos by The Yum List (Monica Tindall)
Old habits die hard, so forgive me for using the less popular term "yum char" to describe Tai Zi' Heen's stunning menu (it is the Yum list after all, so "yum" must be in there). Yum char, or dim sum, or tim sum (depending where you grew up and got introduced to the concept) is a globally recognised way of eating, conceptualised and popularised by the Hong Kong Chinese, and rapidly globalised to discerning and eager food lovers everywhere. I grew up calling it yum char, and it's hard to change this leopard's spots.
On a yum factor of 1 to 10, yum char always receives a 10 in my book. It is one of my favourite ways of enjoying great food with friends, and beyond that, has such an amazing array of incredible flavours and textures to enjoy, from the humble dumpling through to the more adventurous chicken feet.
So this time around, not only do I get to share my latest yum char extravaganza with you, but also to put up a challenge for all the other yum char lovers out there… so read on, and somewhere in this mouth-watering exposition you will find that challenge – I just can't wait to see how you do it.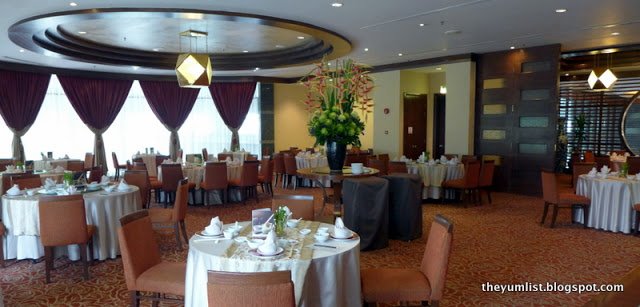 Tai Zi Heen
Tai Zi Heen's Weekend Dim Sum Indulgence is just that – a splendid way of enjoying lunch, without the need to make too many decisions. A 45-item-strong menu of popular and especially-crafted yum char items is what's available, on an all-you-can-eat basis (even better), ranging from the traditional samplings that you are most familiar with, to some more 'localised' items, special to the Prince Hotel and Residence kitchens. We worked our way through about half of the menu in total – yes, there was more than just one of us – and this review highlights what we collectively enjoyed the most.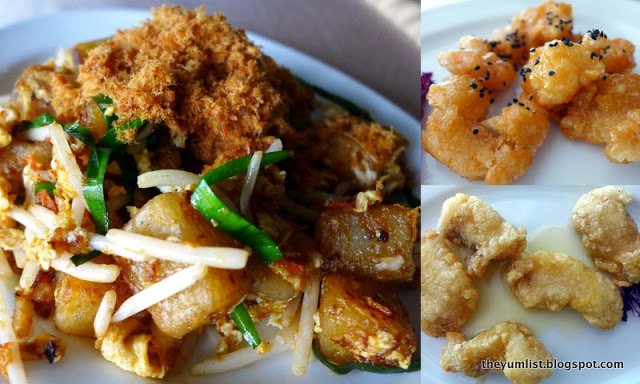 Stir Fried Radish Cake with Bean Sprouts and XO Sauce; Deep Fried Prawns with Cheese Sauce; Deep Fried Grouper Fillets with Lemon Sauce
To do justice to Tai Zi Heen, let me start with something that is uniquely theirs – the salmon and cheese roll. No typo here, this special menu item had an exceptional flavour. A crisp "birds-nest" textured coating gave the crunch, as the cheese melts nicely with each bite. The three different textures really came together in this dish, and it became a great talking point for our table.
Barbecued Chicken Puffs with Parmesan Cheese
A favourite for me is always crispy skin duck. Reminiscent of the famous Peking duck, this dish combines beautiful tended roasted duck breast, with wafer thin, crispy skin. Probably not ideal for the cholesterol levels, but certainly great for the taste buds.
The more typical yum char items were the har gow – prawn dumplings for the uninitiated. Nice juicy prawns, big and crunchy in taste, with a great translucent dumpling skin. Very juicy, these offer lovely soft flavours, and served piping hot, they truly are stunning morsels to enjoy. Whether you choose to dip these in sauce or not, you are bound to love the flavour, and certainly to appreciate the quality.
I guess dumplings are quintessentially Chinese. A huge assortment of flavours can often confuse when looking at a menu, but each one offers a distinctive flavour parcel, or even dumpling skin. I am fond of the slightly thicker 'crystal' skin dumplings, and the vegetable dumplings here were a prime example of why I like this style so much. These bites were crammed full of mushroom, and with the thicker, but still translucent skin, have a chewier texture to them. I think after these dumplings, I've become a mushroom convert – something I seldom eat, but certainly loved in this little bite of tradition.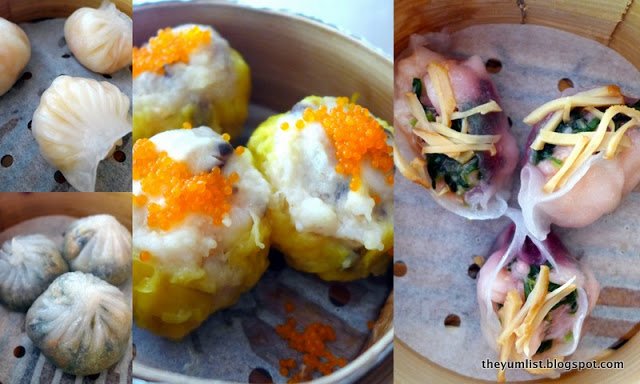 Steamed Dim Sum: Chicken and Shrimp Dumplings filled with Mushrooms; Steamed Vegetarian Dumplings; Crystal Dumplings filled with Dried Sole (Har Kaw); Purple Spinach Dumplings topped with Mexican Clams
Two more dumplings crossed our paths – BBQ chicken fried dumpling, and the beef dumpling. The beef dumpling was minced black pepper beef, with just a light fry. Heavenly – I will be back for more. My friends concurred, and the plate was finished off rather promptly. The BBQ chicken dumpling was a specialty baked item (usually yum char items are steamed), crusted in parmesan for extra texture and flavour. Yes, that did the trick – nice and cheesy, slightly sweet (but very appropriate) chicken meat. Again, these were woofed down incredibly fast.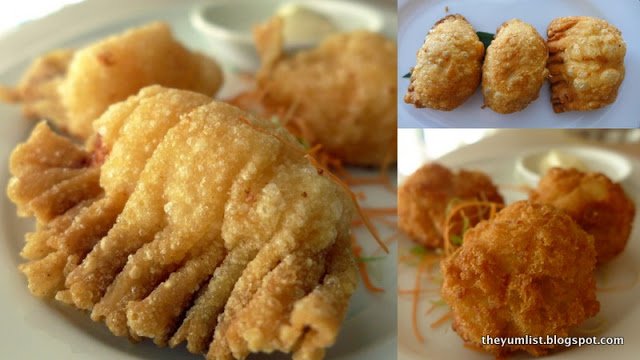 Crispy Prawn Dumplings with Mayonnaise; Deep Fried Black Pepper Beef Dumplings with Pimento; Deep Fried Cheese Balls
A staple on any yum char menu is the glutinous rice – Tai Zi Heen's version paid homage to their forefathers by sticking to traditional flavours. Very soft rice, with a nice assortment of chicken and mushroom parcels inside, the flavour profile represented all that I remember "sticky rice" to be, but for a more refined palette. Definitely worth a try.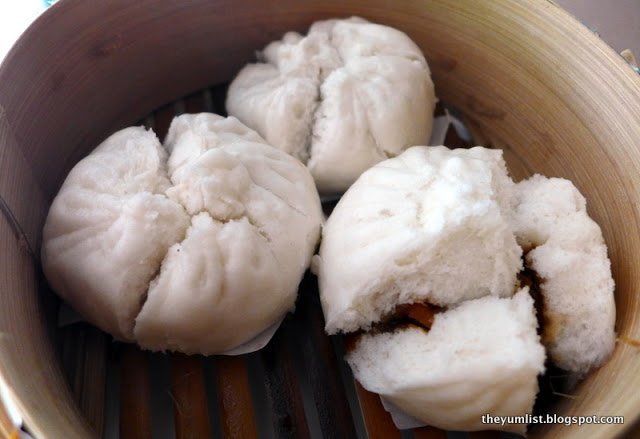 Steamed Fluffy Barbecued Chicken Buns
Dishes kept coming, and to be honest, we were all starting to feel a tad full. Being pork-free, Tai Zi Heen utilises chicken in several of its dishes, including siew mai – nice and tender, steamed to perfection; and char siew chicken – lovely generous slices of tender chicken coated lavishly in a sweet sauce.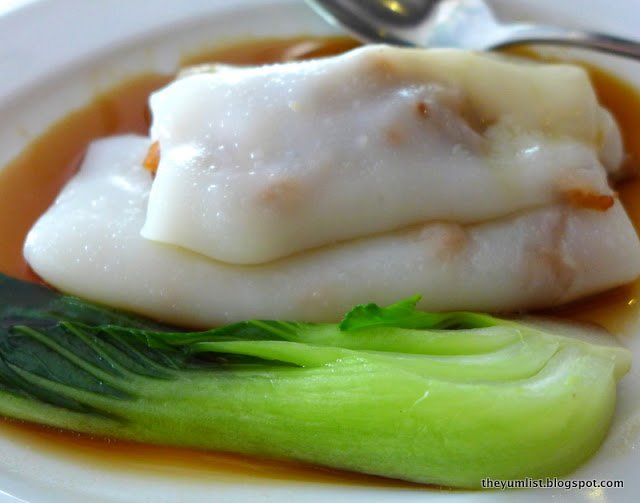 Rice Rolls with Barbecued Chicken
Golden fried fish balls, crisp outside, but moist on the inside, were another of the dishes we enjoyed, along with chicken rice rolls – generous chunks of BBQ chicken in a soft rice roll smothered in a light sauce – an extremely delicious version of this popular classic.
Everything was stunning, but special mention must be made for the beef patty – an item off their special menu – delicious homemade beef patty served with a leak, mayonnaise, and teriyaki sauce – unexpectedly tasty.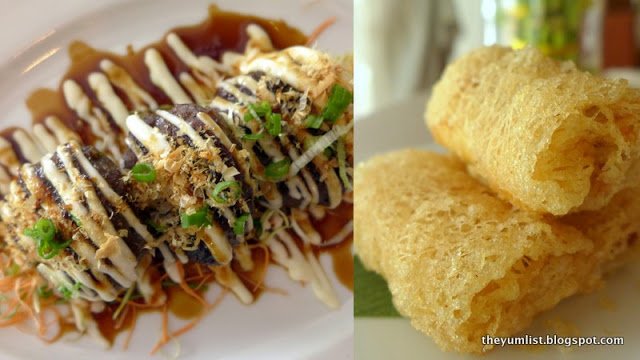 Beef Patties with Leeks Mayonnaise and Terriyaki Sauce (RM12); Crispy Salmon and Cheese Roulade (RM14)
Mango Pudding; Chilled Honeydew Melon with Sago; Deep Fried Glutinous Rice Balls with Pandan Lotus Paste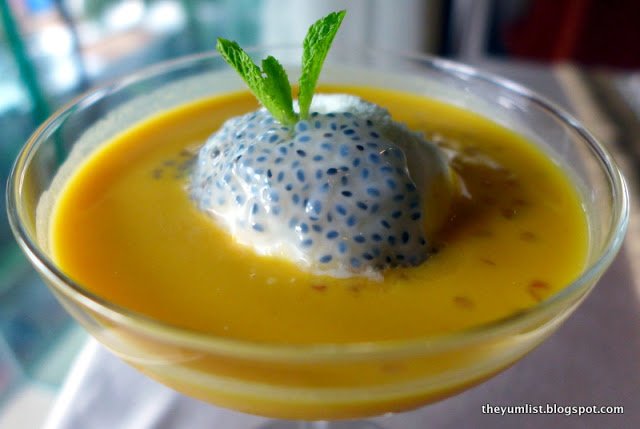 Chilled Mango Puree with Vanilla Ice Cream, Sago and Pomelo (RM15)
So, earlier I mentioned a little challenge – all in all there are 45 items on the yum char menu, and the team at Tai Zi Heen would love for you to join them. The Yum List is giving you that chance – to win vouchers for two persons, to enjoy this delightful menu. All you have to do is… a little bit of your own writing.
You've seen my strategy of trying to work through this Yum Char delight. Tai Zi Heen has 45 items on its all-you-can eat yum char menu – tell us (
on our Facebook Page)
your personal strategy for you and one friend to work through each item on the menu, ensuring that between the both of you, you get to sample at least one full helping of each item. The most creative, fun, and of course realistic strategy/s will win vouchers for Tai Zi Heen to test your skills against us.
It's that simple.
By the way, you have to check out their private dining rooms. There were two smaller dining rooms for 5-6 people each (we enjoyed our lunch in one of those), but also a bigger private room overlooking the hotel lobby and its stunning installation chandelier – I call it an installation, as its design is something not quite seen before – the dining room puts you high above the settling guests, but offers a lovely place for a bit of people watching whilst chatting and eating, and of course, drinking tea (as yum char is typically named after).
I look forward to reading your entries, and I hope that the winning entries enjoy Tai Zi Heen as much as we did.
Reason to visit: incredibly good value unlimited dim sum menu!
Prince Hotel and Residence Kuala Lumpur
Jalan Conlay
50450 Kuala Lumpur
Malaysia
+603 2170 8673
www.princehotelkl.com