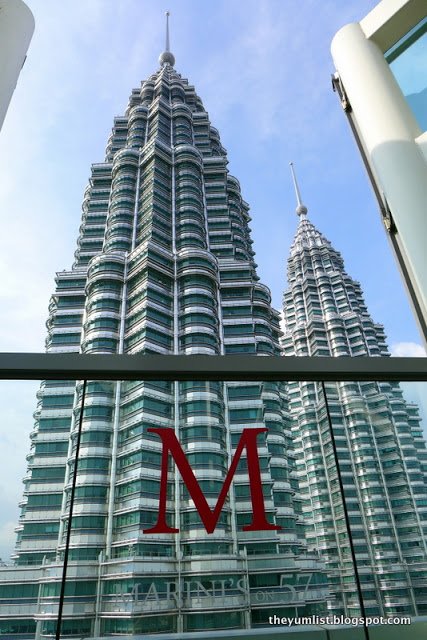 Marini's on 57 – view from patio
Marini's on 57
Words by Lisa Mangelsdorf
Photos by The Yum List (Monica Tindall)
Whether you are looking for a place for an after work happy hour, a pre-dinner cocktail or a late night party, Marini's is the spot!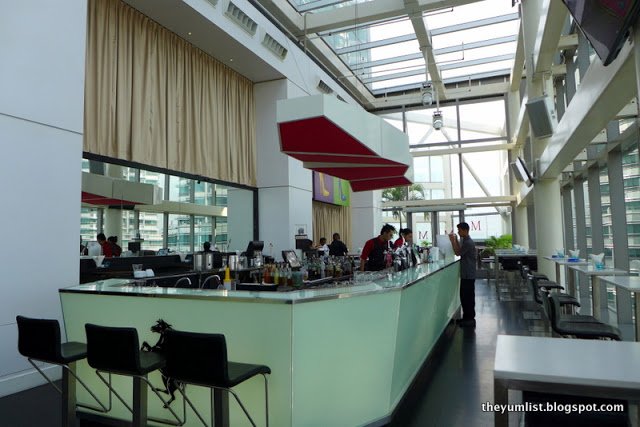 Marini's on 57 Bar
As I rode up the somewhat secretive elevator to the 57th floor of the little known Menara 3 of the world famous KL Twin Towers, I got a feeling that Marini's might be something a little special. Upon entering the elegant, minimalist, glass-enclosed lounge my eyes did not know where to look first! In the distance ahead were the majestic limestone mountains, to my right – the lush Ampang rainforest and then directly up to the left – the magnificent tops of the Twin Towers themselves. Each of these landmarks are reasons many of us love KL but often forget to stop and take the time to appreciate, so we chose a table next to the window where we could take it all in!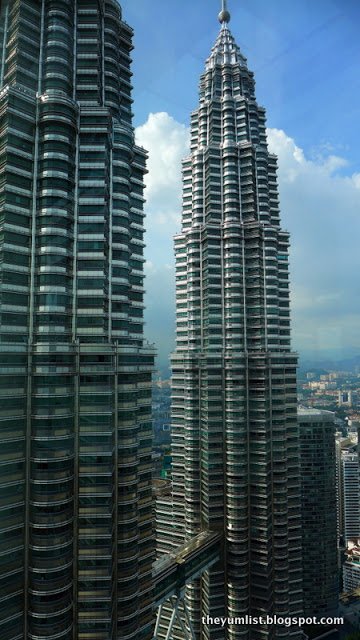 View down over the Sky Bridge
Junior, Marini's creative and talented mixologist warmly greeted us, eager to show off his three newly crafted cocktails. What impressed us about the drinks most was that each was made with fresh natural ingredients that gave a unique local flavor, while allowing the flavor of the liquor base to come through.
We first tried The Strathisia Cocktail – a relatively unique concept that uses Scotch as the base, and is then given a Malaysian twist with the addition of ginger basil syrup, lemon juice and matcha green tea for a pleasingly bitter finish. The Strathisia was paired perfectly with the popular Diavola pizza – just a slight kick of fresh chili and enough gooey mozzarella cheese to satisfy that bar food craving!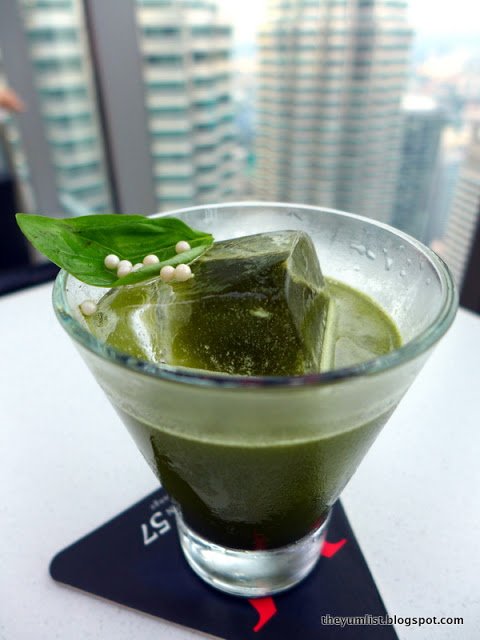 Strathisia Cocktail (RM45)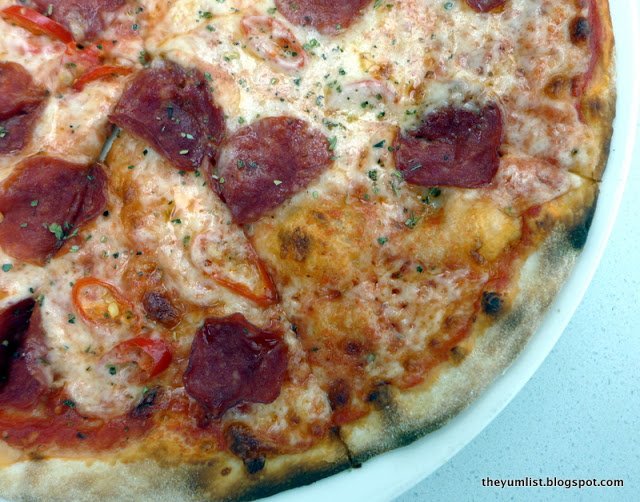 Diavola Pizza (RM45)
Next we sampled another Scotch creation, this time with an Earl grey infusion – appropriately named – the Scottish Martini. Once again all flavors could be noted but the tamarind finish was what made this drink my favorite of the night! A serving of lightly battered, deep fried soft shell crab was a lovely accompaniment to our drinks and the unique mousse like avocado mayonnaise was a pleasant surprise as a dipping sauce.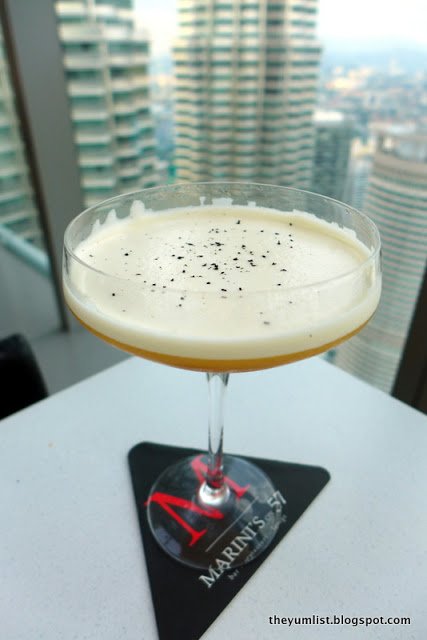 Scottish Martini (RM45)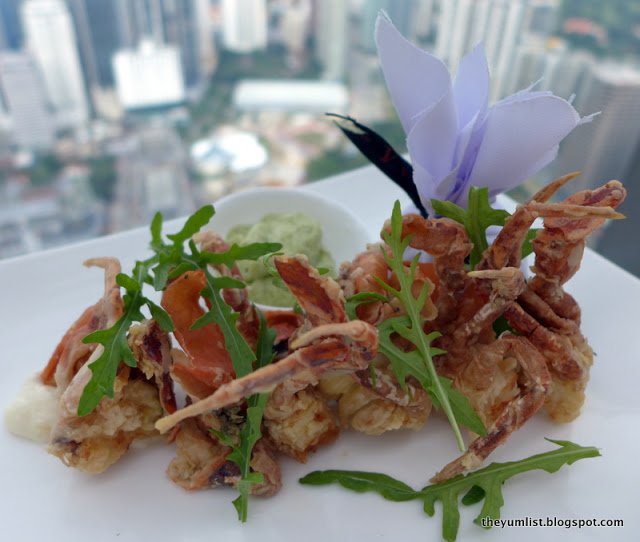 Deep Fried Soft Shell Crab with Avocado Mayonnaise
Being lovers of food and wine we decided to try a couple of the fine wines that Marini's offers by the glass. Both the Trebbiano D'Abruzzo "Coste Delle Plaie" DOC and Abruzzi Italy Sauvignon Blanc were light and crisp selections that seemed just right as the sun began to dip behind the skyline.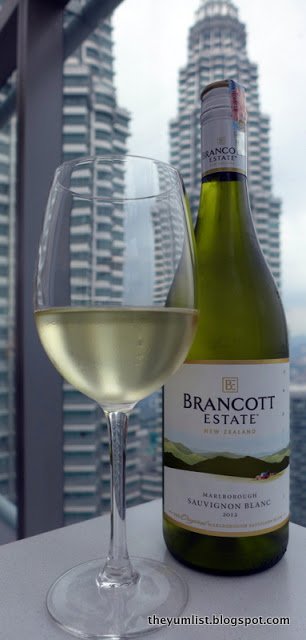 Brancott Estate Sauvignon Blanc, New Zealand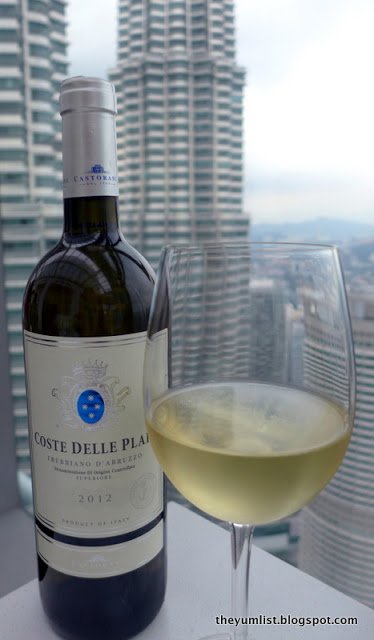 Trebbiano Coste Delle Plaie (RM26)
To round out our lovely "Sunset Hour", as it's called at Marini's, we indulged in a mixed platter of traditional German sausages that included a Krainer, a Bratwurst and a Krakauer. All of which, according to our German companion, were as good as any she has had at home! This very meaty dish went very well with the third and final cocktail of the night – Cilantro Sour. A bit reminiscent of a mojito, but with an Absolut vodka base and cilantro in lieu of mint, this cocktail was a lovely refreshment to cleanse the palate!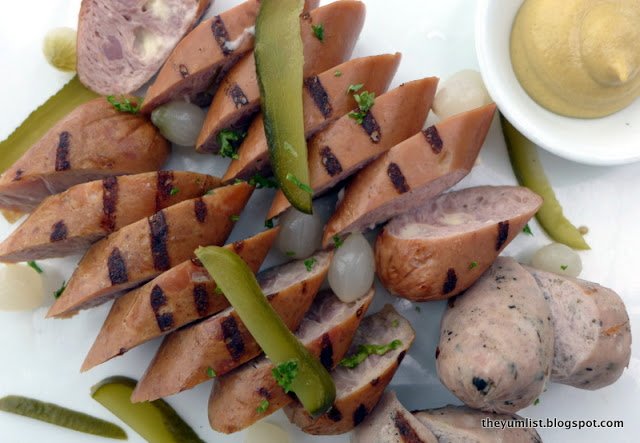 Sausage Platter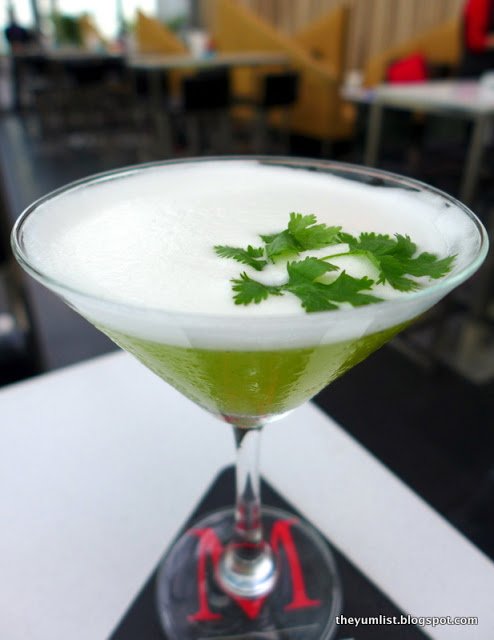 Cilantro Sour (RM35)
When planning your evening at Marini's make sure to get there in time for the lovely sunset view and "Sunset Hour" specials on draught beer, house wine, bubbly, highballs and selected cocktails. Also, be sure to have your smart casual look in order to avoid being disappointed at the door. Ladies, you may want to think about planning your next visit on a Wednesday – "W" nights offer ladies a chance to be the first to try Junior's latest creations!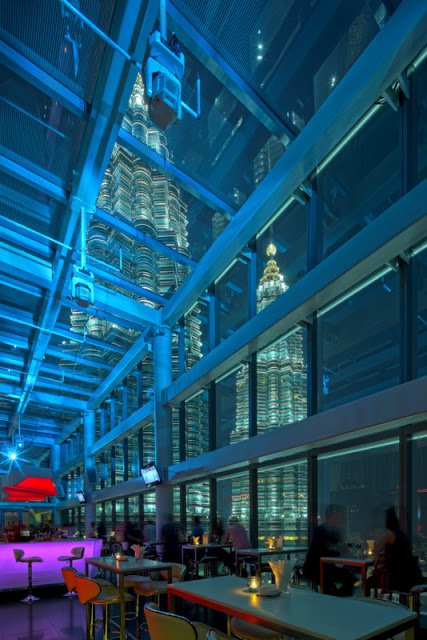 Bar View to the Twin Towers
All in all Marini's offers what any great roof top bar should – fantastic view, unique cocktails and flavorful food!
Reasons to visit: great view, lively atmosphere, unique cocktails, great "Sunset Hour" deals from 5-9pm daily
Marini's on 57
Level 57 Menara 3 Petronas
Persiaran KLCC
Kuala Lumpur City Centre
50088 Kuala Lumpur
Malaysia
T +603 2386 6030
F +6 03 2161 2998