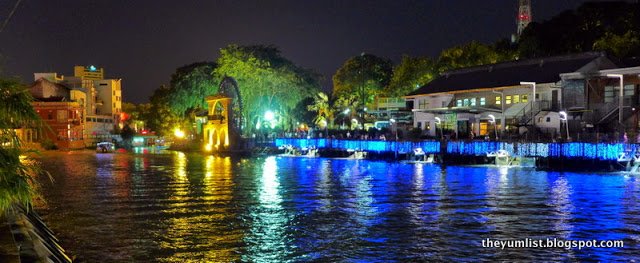 Quayside Hotel as Viewed from Melaka River
Quayside Hotel, Malacca
Only three months old, Quayside Hotel in Malacca has brought
a distinctly different stay option to the accommodation scene in this
historical tourist town. The old Customs Warehouse, which is under UNESCO
protection, has been renovated keeping the original exterior, while the newly
created interior echoes the industrial minimalistic design of the landmark.
It's too in a prime position, next to the Water Wheel and old Dutch buildings
and, mere paces across the bridge to the lively food and shopping stretch on
Jonker Street. Affordable room rates added to that, makes Quayside Hotel an
excellent choice for a short sojourn in the heritage district of Malacca.

Quayside Hotel as Viewed from River by Day
The lobby opens up to two floors, with individual room
entrances bordering the rectangle. Big leather armchairs centre the space
surrounding tables made from wooden pallets. Plants in tall pots green the
area, which is painted a commanding dark grey. There is no ceiling between the
room and the roof so air con ducts are viewed running like giant caterpillars from
above. A spiral staircase winds up one end of the foyer and a straight flight
of stairs descends the other. Enormous chandeliers hang from the roof adding a
touch of glam to an otherwise uncomplicated space.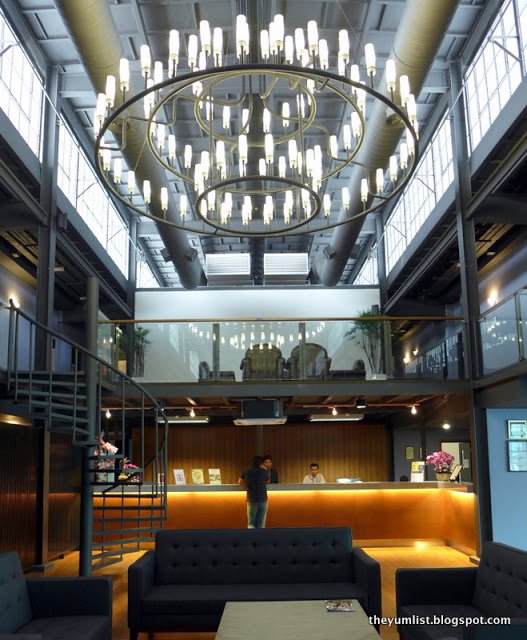 Reception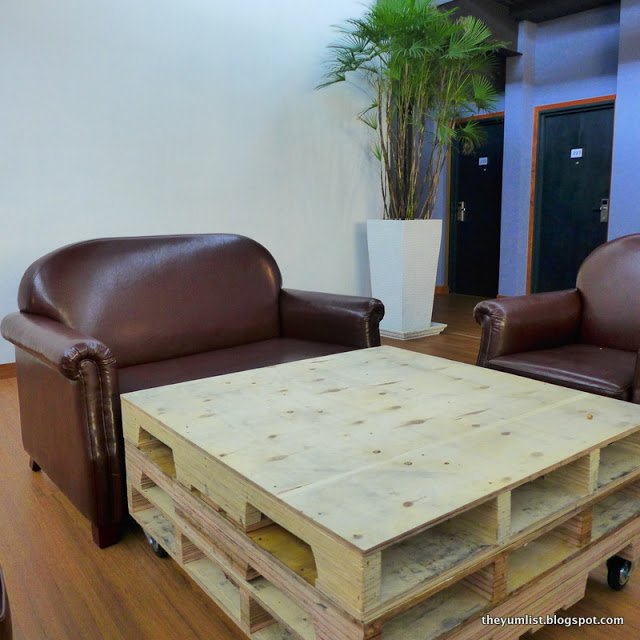 Seating Area
Thirty nine rooms range from the basic Superior furnished
with queen or twin beds facing the street starting from RM195, up to the more
spacious Azura Suite with a king bed and river views beginning at RM345. Family
rooms provide a king size bed and two twins and start as low as RM275. These
are excellent value and hence very popular. It's advised to call the hotel
directly to reserve these rooms as they sell out fast. Currently weekends tend
to see close to full occupancy. For a great deal go during the week to avoid
the crowds and also get the best rates.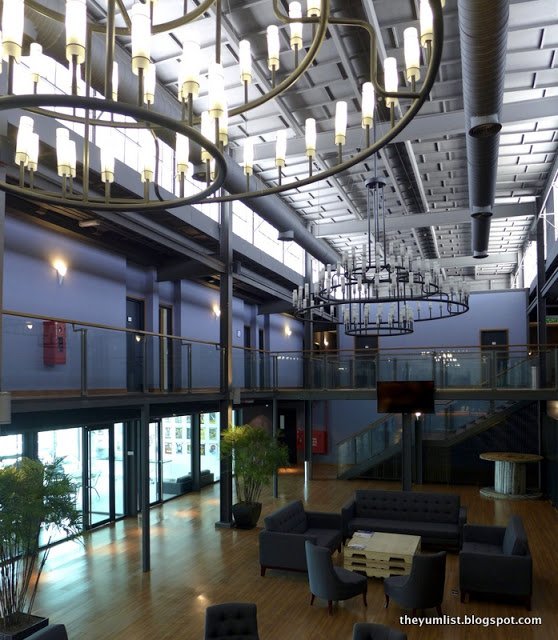 Room Entrances Border the Lobby
Rooms open up either to a street or river view with windows
being shaded or opened by plain roller blinds. Simple white bed linens contrast
the warm teak coloured floors and small plants in silver pots pepper the room.
Framed photos of local scenes dot the walls in a neat and orderly fashion. Natural
wood benches and a freestanding metal lamp complement the industrial feel. With
plenty of natural light and a clean fuss-free layout, rooms feel spacious and
cheery.
Beds are of the firm supportive style commonly found in
Asia. Cotton sheets and duvet make for a comfortable sleep. Custom made beside
lamps are a feature you might consider purchasing. They've proved so popular
that the gift shop sells out every time new stock is received. A mini-fridge, LCD
TV (with local and five cable channels) and in-room safe provide modern
conveniences. Tea and coffee making facilities and free WiFi connection too are
complimentary services.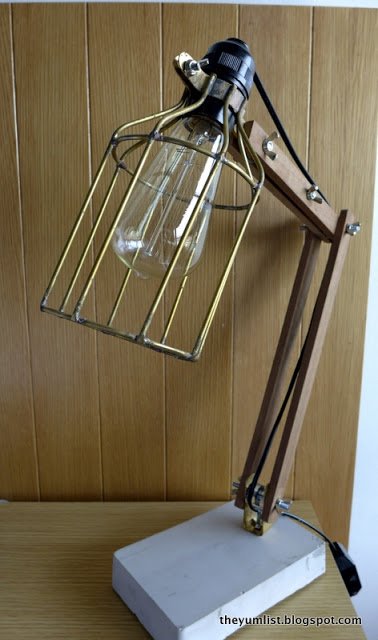 Custom Made Lamps
Bathrooms are of clean streamlined design. A simple white
sink, toilet, mirror and rain shower make up the space. Our only tiny complaint
was that the tiles in the shower don't slope towards the drain, so even with
glass door closed, water leaks out onto the bathroom floor. It's easily tamed
with a bathmat placed on the outer edge though, so it's a small fault and our
only note for improvement.
Our room the Azure Suite faced the water. It proved a peaceful
scene early morning, crowd-watching entertainment during the day and, a rainbow
of lights at night. I was at first concerned that I would be unable to sleep,
being located amongst the commotion of the town centre and personally being
easily awoken by the faintest of noises. The bustle seemed to die down however
around 10pm which was the time we returned after an evening of eating and browsing
in Jonker Street anyway. For early and light sleepers, no matter where you stay
in central Malacca, earplugs are a good investment. (I've stayed in the 'best'
hotels and even they are not immune to the lively hubbub on the street.)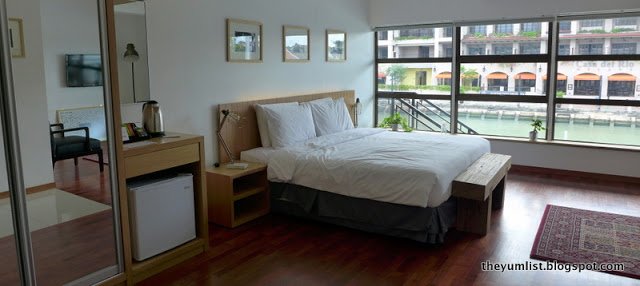 Azura Suite with River Views
An added feature of the riverside rooms is that many lead
out onto a small balcony, just big enough for a table and two chairs. It makes
a great location for coffee in the morning or sundowners at dusk.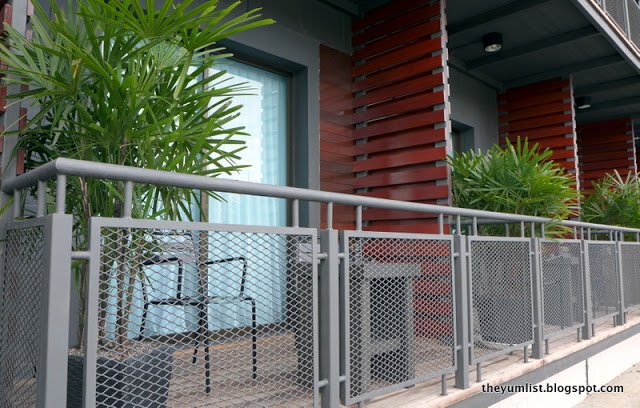 Private Balconies
A straightforward breakfast is included with the
accommodation and is served, either as a buffet on the weekends, or choice of a
western or local set during the week, in Halia Inc. from 7am – 10am. The
environment is open and mirrors the warehouse's simplicity, utilizing metal,
cement, bricks and recycled wood in much of the construction and furnishings.
This restaurant and coffee bar serves excellent coffee and a
balance of western and local fare, for what I consider very reasonable prices. Views
here too are splendid and, the window bar makes a perfect perch to take in the
happenings on the boardwalk and river. Lunch, dinner, coffee and cake too are
available until 11pm.
This three star boutique hotel also provides a business
centre (with computers, Internet and printing facilities for RM5 per hour), the
Pakus Art Gallery which supports young Malaysian artists through its
exhibitions and, a gift shop displaying Malaysian made clothes, accessories and
handicrafts.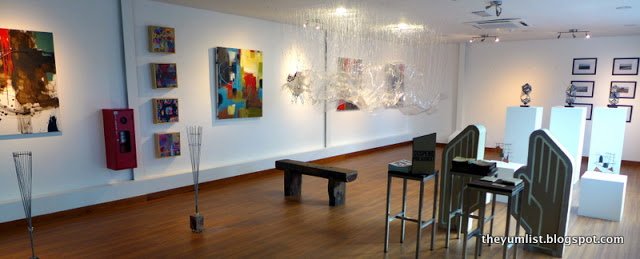 Art Gallery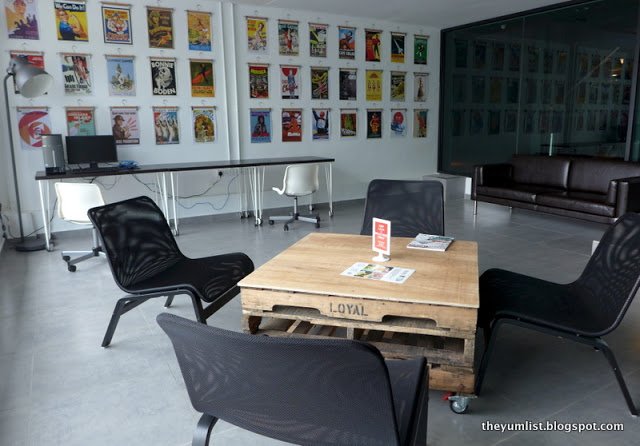 Business Centre
Parking is always difficult on weekends in Malacca. I
recommend arriving before noon or earlier if possible. The hotel has a number
of limited parking spaces directly in front of Halia Inc. and, is working on
securing a few more in a car park across the road. If you call the reception as
reaching the town centre, one of the kind gentlemen might try to reserve a park
for you, or help you to double park until one becomes available.
There is no better location than the Quayside Hotel from
which to explore the heritage, culture and food sites of Malacca. Alongside the
locale, clean design and reasonable prices make it a stellar stay option.
Reason to visit: great
location, clean uncluttered design, reasonable prices
Quayside Hotel
No 1 Jalan Merdeka

Quayside Heritage Centre

Bandar Hilir
75000 Melaka