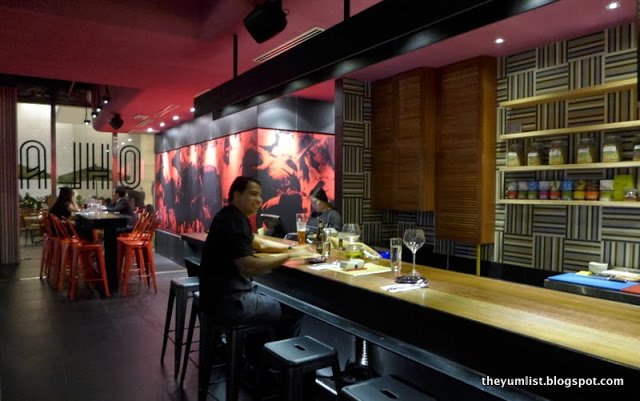 OHLA Tapas and Cocktails
OHLA Tapas and Cocktails, The Intermark
I don't think Malaysians yet realize what a gem is hiding at The Intermark, Kuala Lumpur. If they did, there would be lines out the door and down the street and, a reservation waiting list a year long. Such places in Europe would have a long tally of awards under their name and so much press the walls would be faded from photographer's flashes. OHLA Tapas and Cocktails is a jewel in the city and, those in the know will soon make this their chosen roost.

KLites have slowly begun exploring the wonders of Spanish food through great introductory places such as Pinchos and El Meson. Serving popular, at times stereotypical, plates from the country such as Paella Valenciana, Cold Cuts Platters and Tortilla Española, these outlets have paved the way for palates to accustom to the distinct flavours of this style of cooking.  Until now, KL's restaurants have merely scraped the surface of the deep pan of delights that form Spanish cuisine. Perhaps now we're ready to push experiences to a higher level to appreciate the true culinary value of the region.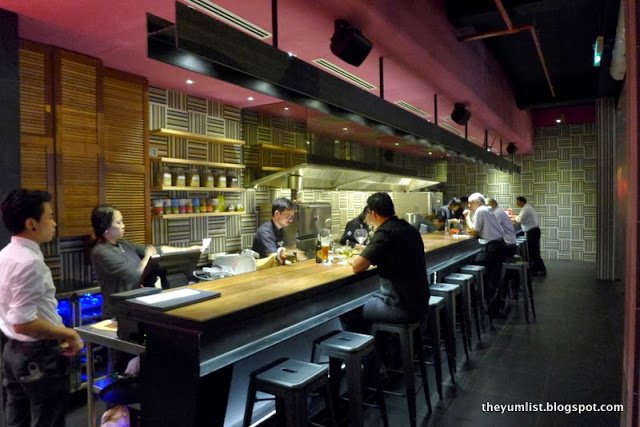 Best Seat in the House
Headed by a truly magnificent chef from Spain, Toni Valero, OHLA Tapas and Cocktails brings a true taste of España to our doorstep. Humble, charming and extremely knowledgeable, the chef has even worked with the team at the current S. Pelligrino World Number One Restaurant, El Cellar de Can Roca!!! (and… also the world's current number four restaurant, Mugaritz!). So, pull up a seat and prepare to watch the magic.

A mural of red showcases toreros in their dance with the bulls, red cloaks a whirl in a graceful choreography of athleticism. Deep gruff voices of Spanish rock artists further inculcate a sensuous alluring vibe. One communal table and a stretched wooden bar facing the kitchen are your seating options. The best spot is the bar. Positioned within nostrils'-whiff of the Josper grill, aromas of charcoal waft to the nose every time it's opened.

Tick what you like from a brown paper menu, written both in English and Spanish. Portions are not tiny. You can easily make a meal out of a few dishes here. While deciding though munch on the complimentary Jamon Iberico, Marinated Olives, Onions, Capers, Pickles and Toasted Bread while sipping on a Spanish beverage. The ham is sure to whet your appetite and the marinated vegetables display a perfect balance of oil and vinegar, smooth and not bitingly tangy.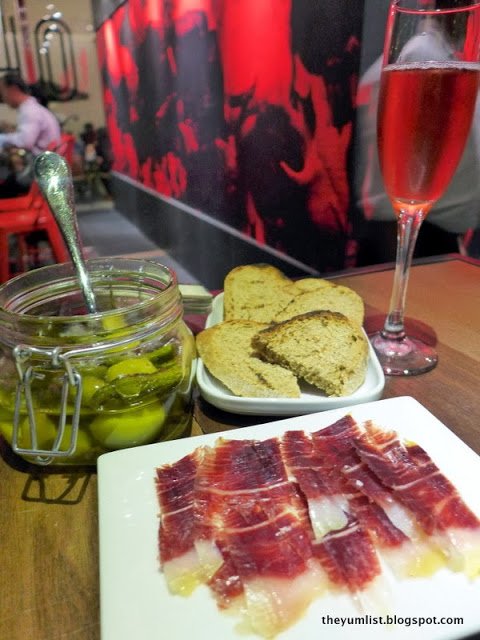 Rose Cava and Complimentary Nibbles
Hubby couldn't resist the temptation of an icy cold Ambar Export to begin. This Special Red Brew with three malts and double fermentation had a touch of honey at the finish and made a perfect aperitif. Personally I find bubbly hard to turn down and, lucky for me, a gorgeous rosé cava was available.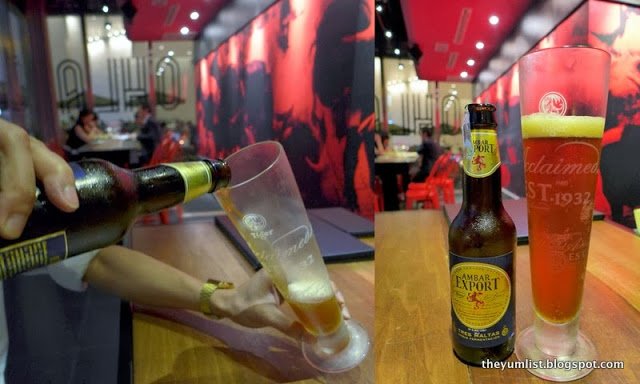 Spanish Beer, Ambar Export
A page of tempting options led us to gleefully ticking way too many items for any reasonable stomach to handle. (We don't have reasonable stomachs though so…)

Sopa de Calabaza y Naranja (pumpkin soup with vegetables and orange RM20) was a wonderful surprise of textures. Firm cubes of pumpkin and beetroot alongside shredded broccoli and orange segments in the base of the bowl were drowned in the orange cream. The vegetables gave an unexpected crunch to the soup, while the orange squished in the mouth emitting a citric juicy burst.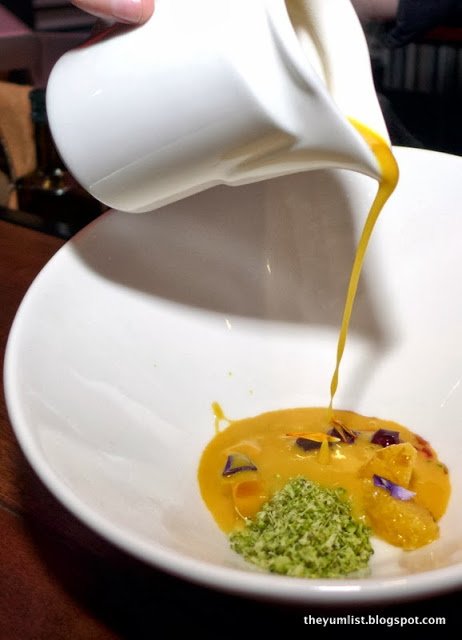 Pumpkin and Orange Soup
A lovely white Spanish wine saw us cheerfully through our first few dishes. Cuatro Rayas 2011 Rueda Verdejo was pale yellow in colour with full fruit on the nose and a well-rounded palate. It paired nicely with the food, but is too very drinkable on its own.

Ensalada de Hierbas y Flores (mixed salad with flowers, onion, apple, tomato and grape dressing with honey and nut vinaigrette RM22) presented as a beautiful spring garden. Finely cut vegetables combined delicately in the mouth, as did the perfectly balanced dressing, providing just enough oil to thinly coat the mouth and sufficient sharpness to cut through it.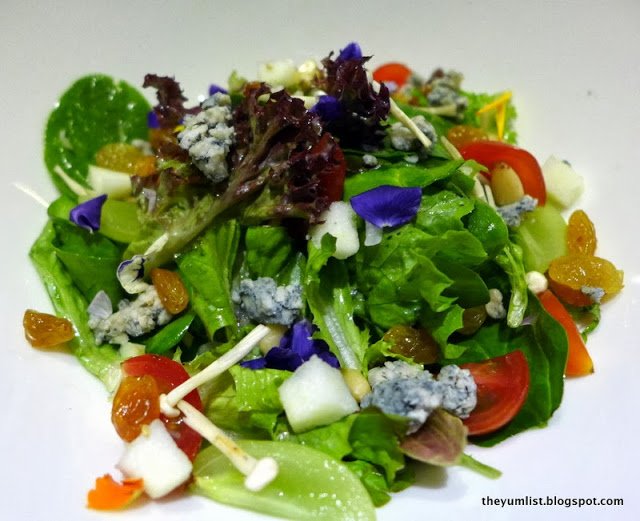 Herb and Flower Salad
Foie, Huevo Confitado y Pure de Patata Trufado (foie gras, truffle potato puree and confit egg RM55) was one of many showstoppers of the evening's line up. Pan-fried liver, chunky and moist, is best taken together with the runny egg (cooked at 62 degrees for 1 hour) and the velvety mash. A generous shaving of summer truffles added an earthiness and further decadence to the dish. By this time, hubby was convinced that this is "lo mejor restaurante en KL – best restaurant in KL," and I'm starting to wonder if he's beginning to make eyes at the chef. 😉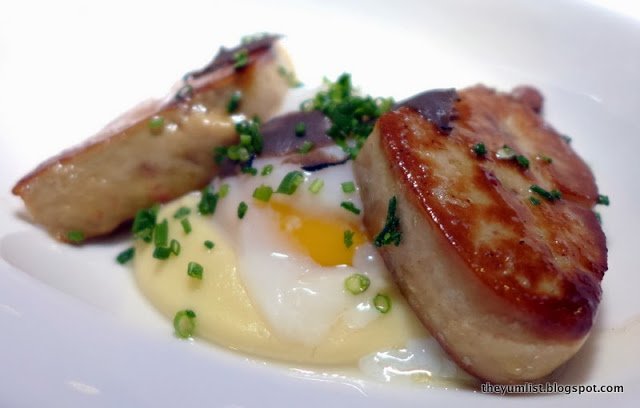 Foie Gras, Truffle Potato Puree and Confit Egg
Multiple protagonists fought for the limelight and the Vieira con Panceta Iberica y Pure de Patata con Limon (grilled scallops with Iberico pork belly and lemon mashed potato RM40) put up a mighty show. Presented in a giant fan shell, the fatty pork added a richness to the mollusks, while the citrus subtly refreshed the fat and complemented the seafood.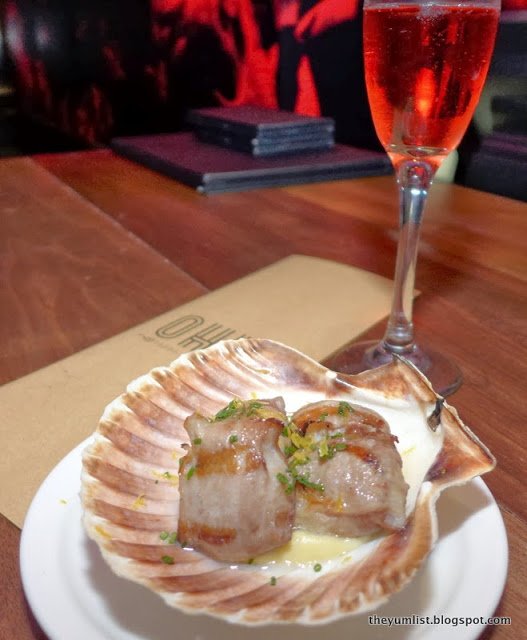 Grilled Scallops Wrapped in Iberico Pork Belly
A mini, shallow sided, paella pan presented Arroz Negro con Allioli (Mediterranean seafood black rice with garlic sauce RM45). The insides and most tasty bits of a giant lobster head were used to make the stock and, squid ink hued the rice. Try it both with and without the garlic sauce to appreciate its complete complexity. Be sure to scrape the sides of the pan too – this is where the chewy intense rice grains are more toasted and sticky.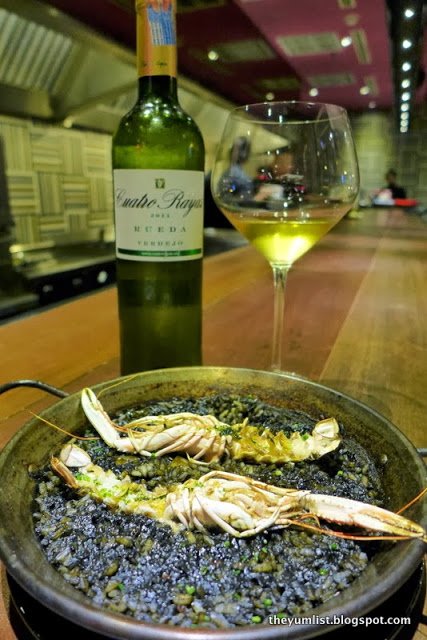 Black Rice with Garlic Sauce and Spanish White Wine
Milk skin was used as the casing to create a pasta free cannelloni in the Canelón de Pollo con Setas y Aceite Verde (roasted chicken cannelloni with mushrooms and parsley oil RM35). Traditionally served on Sundays in the Catalan region of Spain, it's a homey dish at heart. Béchemel sauce covered the minced poultry, which had been slow cooked for 12 hours. A bunch of bitter arugula balanced the modest sweetness of the cannelloni. Again the plate was scraped clean.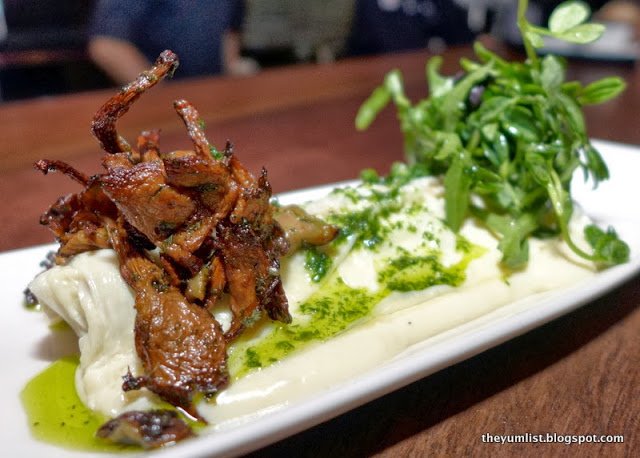 Roasted Chicken Cannelloni
In preparation for our meatier courses we switched to another Spanish wine, Alvaro Palacios Camins del Priorat, 2011. The chef's description, "este vino esta brutal! (this wine is brutal – meaning incredible)", couldn't have summed it up more concisely. This blend of Carinena, Garnacha, Cabernet Sauvignon and Syrah grapes produces a surprisingly good drop for its youth. When wine critics use the term rounded and well balanced, this wine would make a perfect illustration. (We loved this wine so much we even took a bottle home with us!)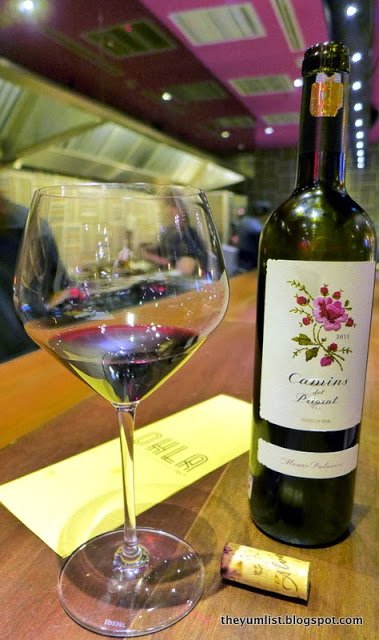 Alvaro Palacios Camins del Priorat, 2011
Possibly the most saliva inducing plate of the night (could be of the year) was the Cochinillo Iberico con Verduras (slow cooked Iberico suckling pig with vegetables RM40). If you haven't guessed by now, vegetables are not mere adornment to these plates. They play an integral part in harmonizing the food. In this case, crisp barely cooked veges were seasoned with the fat from Iberico ham, which has been prepared to resemble a mellifluous liquid. It's a foolproof way to get hubby to eat his greens.  The pig was slow cooked for 12 hours at 68 degrees so it came out with a caramelized skin but remained incredibly succulent underneath.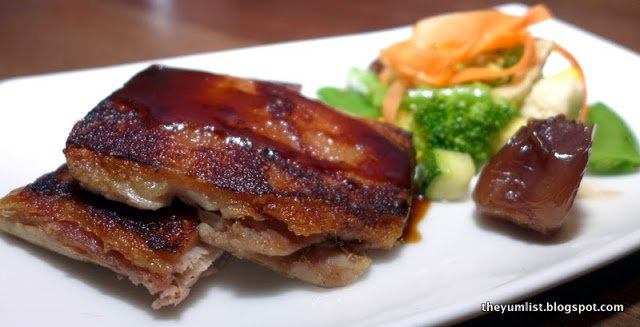 Suckling Pig
After wiping the dribble from hubby's lips, I was pretty sure by this stage that he was on a man-flirt with the chef! He was so enchanted by the scrumptiousness and magnificent balance of every dish, that I was starting to believe that the next words out of his mouth might be to ask the chef on a date. 😉 And then along came the Wagyu…

Rosy pink in colour, the Entrecot de Ternera Wagyu con Mantequilla de Hierbas y Patatas Glaseadas (Wagyu striploin with mustard herbs butter and baby roasted potatoes and meat sauce RM100) was like eating butter. The fluffy mound of butter on the side (mixed with herbs and egg yolk) could easily be confused for the soft meat if eyes were closed. Needless to say, by this stage hubby was almost jumping over the counter begging the chef to come home with us.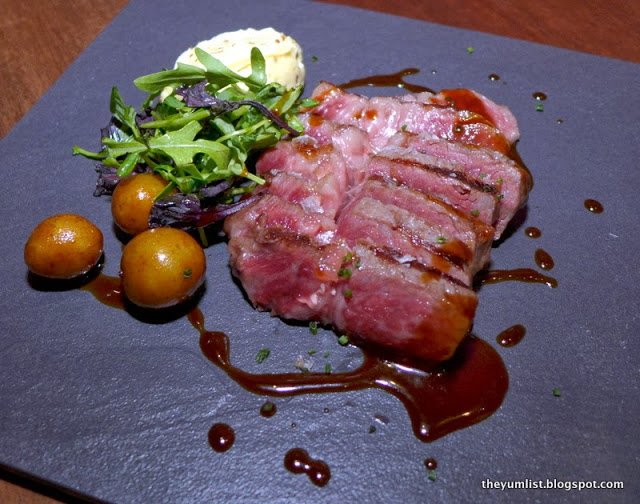 Wagyu Striploin
Tabla de Quesos Espanoles con Nueces, Membrillo y Manzana (Spanish cheeses with apple, walnuts and quince paste RM25) began the wind up to the culinary affair. Three cheeses increased in intensity level from the mild Rocinate Ovesa Manchego Curado (cured goat's cheese), to Queso Manchego D.O. Ovesa Semicurado (semi cured), right up to the full powered Valdeon Blue Cheese Leon. Paired with the syrupy Moscatel Alvear (RM18) this was another rapturous combination.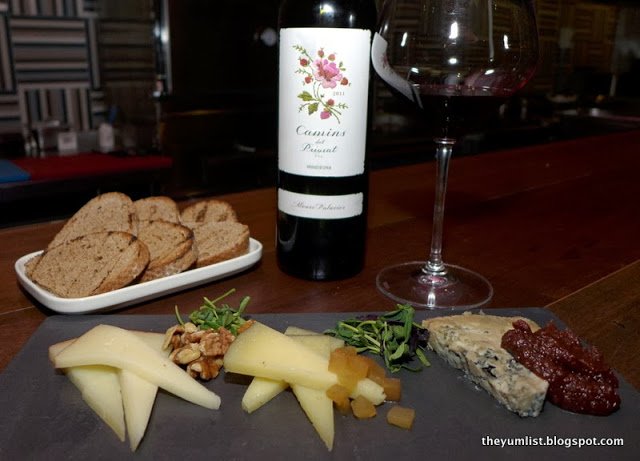 Spanish Cheeses
Switching wines again, we prepared for closure. A burnt caramel coloured Pedro Ximenez Alvear 2004 (RM20) was another deliciously sticky sweet wine, but with an added oomph. The strong wine needed partnership with an equally willed last course. And…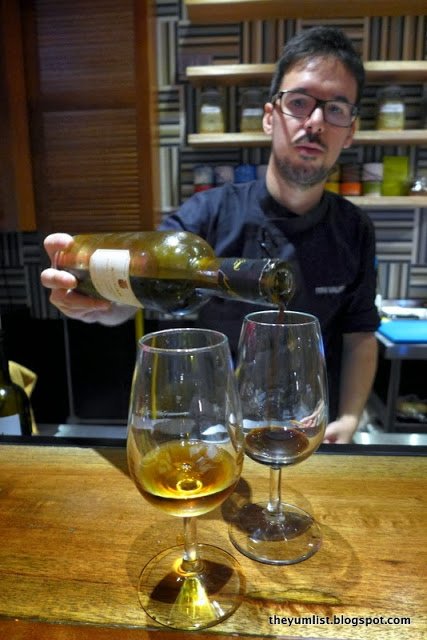 Chef Toni Pouring the Dessert Wines
Our final dish literally ended the night with a bang! Sopa de Chocolate Blanco y Vainilla, Helado de Chocolate Negro y Fresas (vanilla and white chocolate soup with black chocolate ice cream and strawberries RM25). A bowl containing finely chopped strawberries, a thin rectangle of chocolate cake, a dollop of dark chocolate ice cream and tiny nuggets of chocolate was soon drenched in the white sauce. The bitter dark chocolate contrasted with the sweeter white, as did the sourish berries with the vanilla cream. The surprise however came a few seconds later. As the mixture dissolved in the mouth the cocoa drops began to crackle. It was just like the childhood breakfast cereal, Coco Pops, with a Snap, Crackle and Pop explosion!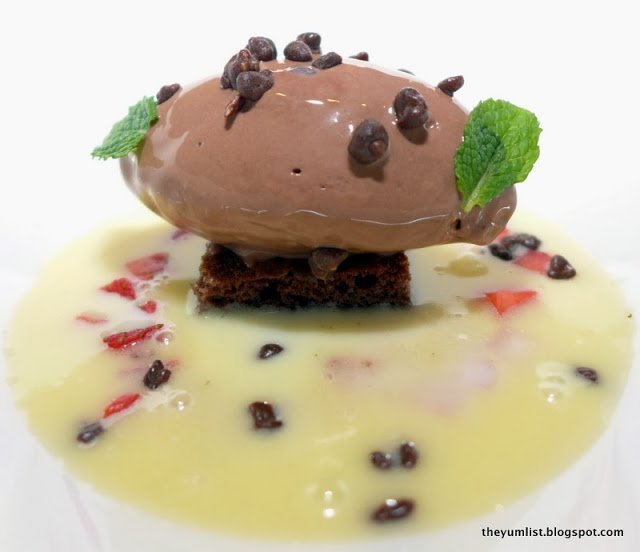 Vanilla and White Chocolate Soup with Dark Chocolate Ice Cream
Wowed, I dragged hubby away with promises that we could visit again soon, very soon.

Reason to visit: incredible Spanish cuisine and wine, a chance to indulge in food that would be both in the Michelin Guide and the World's Best Restaurants' List if in Europe, a fine place for a full meal or just as perfect for drinks and bites

OHLA Tapas and Cocktails
G-18 Ground Floor
The Intermark
348 Jalan Tun Razak
50400 Kuala Lumpur
Malaysia
016 229 0231
Non-halal Currently open in the evenings from 6pm. Future plans are for lunch and breakfast hours too. Closed Sundays.