Grace, beauty and majestic charm makes the first entry to Seven Terraces a powerfully emotional one. Overtaken by the classic grandeur of such pristinely restored history, senses are filled with soft elegance and romance of a bygone era.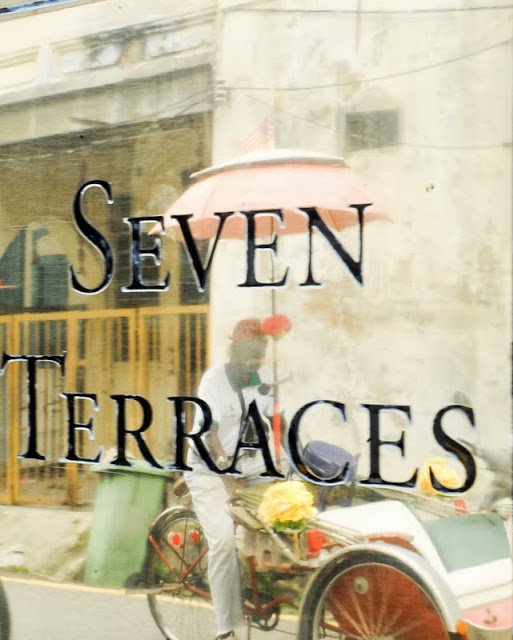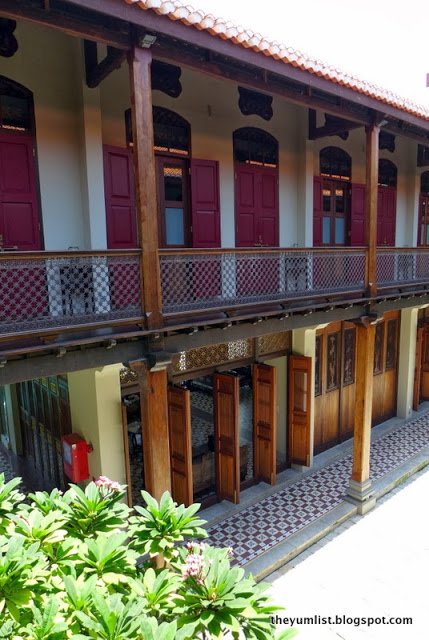 Suites Over Courtyard
A row of seven 19th Century Anglo Chinese terraces have been converted into 18 luxury suites by award-winning hoteliers Christopher Ong and Karl Steinberg. In Seven Terraces they seem to have captured the character and comfort that visitors crave, as it is a roaring success for such a new establishment. Opened for less than a year, the boutique hotel already holds Trip Advisor's rating as the number one hotel in Penang.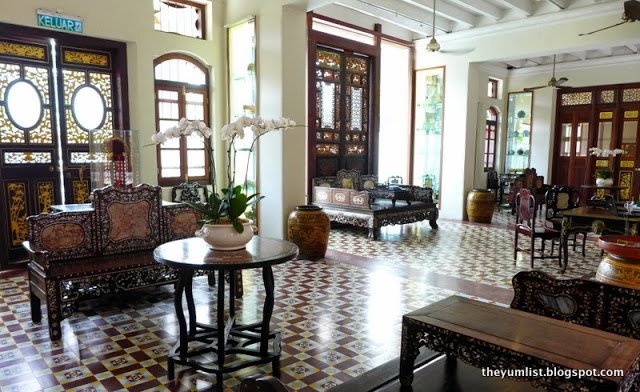 Reception
Arriving at dusk is rather magical. As the night begins, the property is gently illuminated with up-lighting and glowing candles. Tunes of the past murmur in the background and, the fading sun draws with it the heat of the day. One can't help but gape in awe when faced with the lofty ceilings, double story atrium courtyard and grand spiral staircase. Hand picked antiques, ornate wood carved doors with gold leaf embellishments and, Peranakan floor tiles serve to further inspire feelings of time travel to fairy-tale ideals of the past.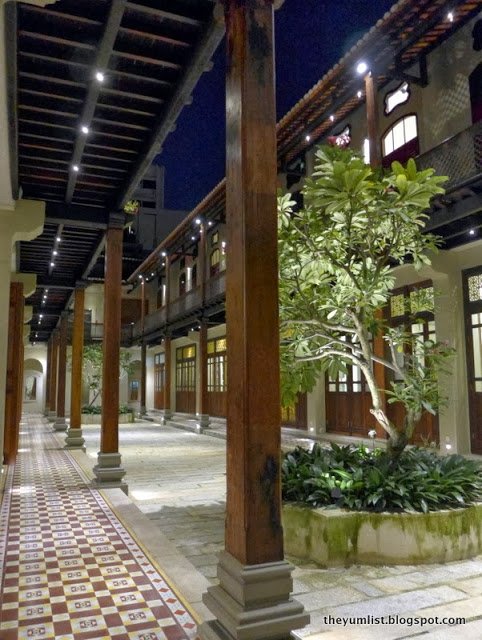 Courtyard
Rooms are enormous. We stayed in the entry level Stewart Lane Suite and were impressed by the spaciousness offered for the price (rates start from RM550 nett per night including breakfast for two). Sprawling over two levels, the mezzanine is accessed by a wooden staircase, which leads to a lounge of cerise club chairs, Peranakan antiques and a large LED TV.
The bottom floor features a four-poster bed carved in a dark wood Chinese frame. The addition of a mosquito net is possible upon request completing the scene for which you can almost hear Ella Fitzgerald crooning
Isn't it Romantic
from the balcony.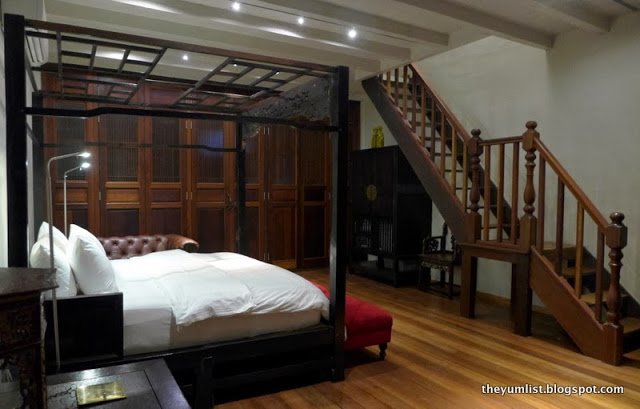 Bedrom in Stewart Room
Shuttered windows open to views of historic Stewart Lane and the restored Kuan Yin Temple.  Argus Suites (starting at RM750 nett) have the addition of their own outdoor deck with views of the Georgian Church next door. Terracotta decks are lined with giant black jars brightened with pink and white frangipanis and a concealed outdoor bathroom. A laze outdoors is invited with rattan chairs providing a private spot to enjoy the sun.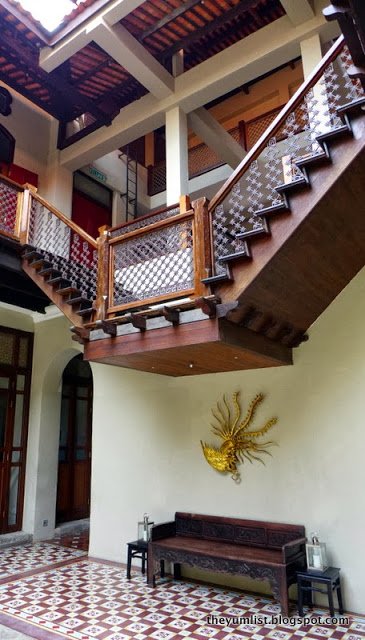 Ornate Staircase
Paneled teak screens separate the open plan bathroom from the bedroom. Also colossal in size, the washroom is decked out with a marble basin, rain shower, mosaic tiled floor and nifty sensor lights. At first I was slightly irked that there was no shower partition, as I'm not particularly fond of wet bathrooms. It turned out however that the area is large enough not to splash the toilet or vanity and the addition of a barrier might've taken away from the majestic aesthetics of the place. Bath products are in refillable containers reducing environmental impact but also adding a touch of class that disposable plastic packaging cannot achieve. While on the topic of sustainability, I was also joyful to see filtered water in our mini fridge in reusable glass bottles.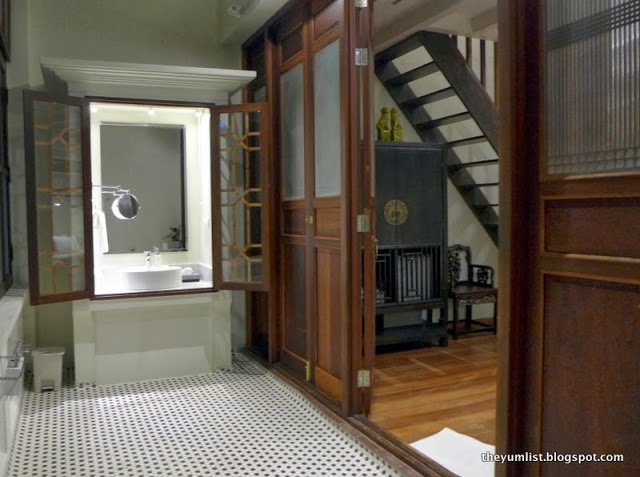 Bathroom in Stewart Room
While I adore the idea and charm of boutique hotels, I often feel I'm sacrificing facilities for character. Being an avid eater, I'm also a dedicated exerciser so am often in the position of choosing a larger less intimate environment with a gym and pool, or losing out on these in order to gain a more local personal experience. I'm not keen on buying new clothes, so consideration for the waistline often wins out. Seven Terraces however holds an attractive pool perfect for early morning laps (and some ease on calorie overload). An afternoon splash or laze by the water on the rattan deck chairs however is just as appealing for some.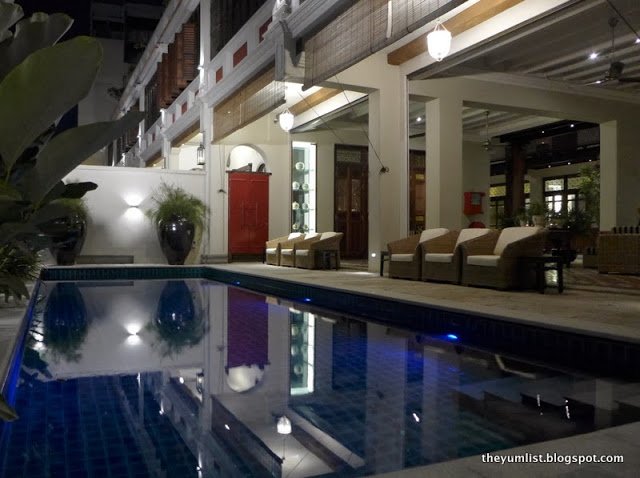 Lap Pool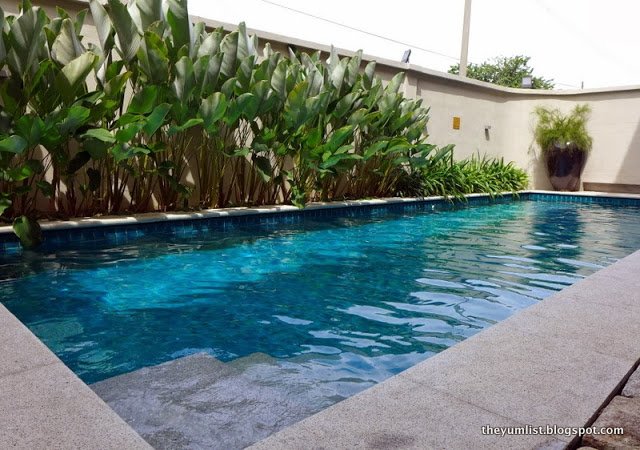 Lap Pool
Other facilities include breezy public areas ideal for lounging with a book or catching up on a little work with complimentary WiFi. An antique boutique is a lovely place to browse and, massage, tours, laundry, cooking classes and so on can all be arranged by the 24 hour service staff (of which deserve a special mention of their own.)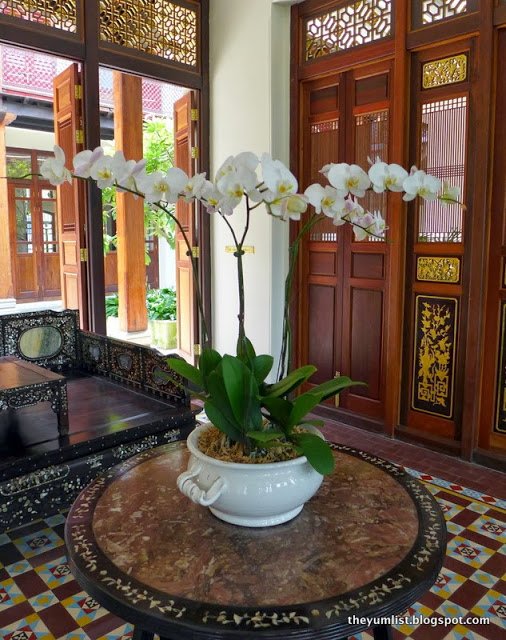 Orchids
A high number of personnel ensure any fancy you crave is fulfilled in seconds. There's no calling down to reception and waiting half an hour for an iron to arrive. Literally, every request we made was catered to in mere minutes. Staff seem passionate about their work. Every restaurant attendant we queried on the menu or receptionist we asked for local site advice knew the ingredients or had personal recommendations to offer. Friendly conversation was always on hand, but privacy was respected too as desired.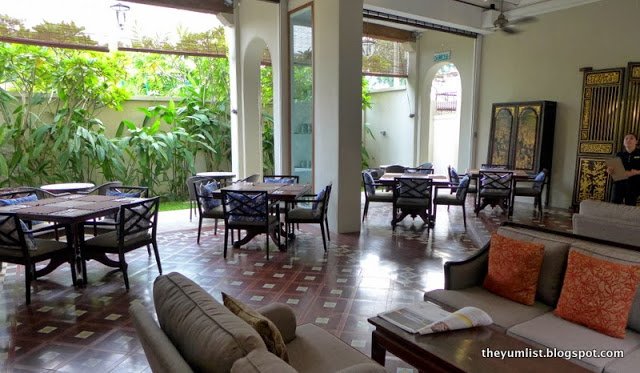 Library
Breakfast is served in the library, an open walled but covered patio between the courtyard and strip garden. Pleasantly cooled by ceiling fans and enlivened with tunes from years gone by, it's a happy place to start the day. A set menu including orange juice, fruit and coffee or tea is presented daily from 7:30am – 10:30am. One or more mains can be ordered from the western menu. Eggs, pancakes, sandwiches, French toast, eggs benedict and Bircher muesli summarize the selections. We tried the French Toast, Pancakes and Eggs Benedict. All satisfied our morning hunger and were above the standard fare offered in many inclusive packages.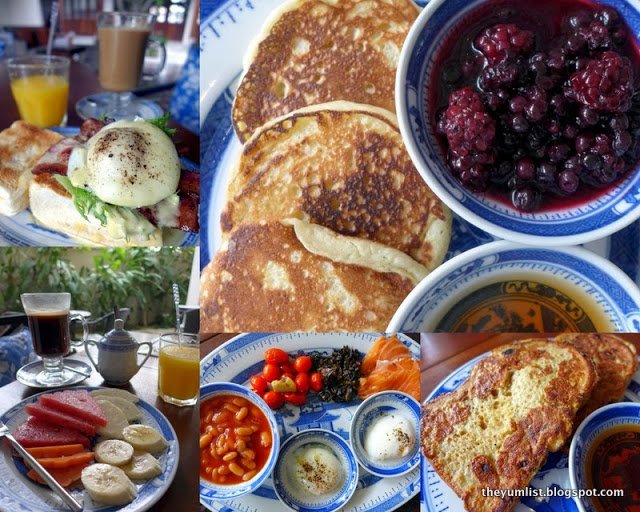 Breakfast
Afternoon teatime treats guests to refreshments in the lounge area by the pool. It times in well with a return after a day of sight seeing and is an agreeable way to reenter the hotel after experiencing the buzz of the streets, making a calming transition from day to dusk.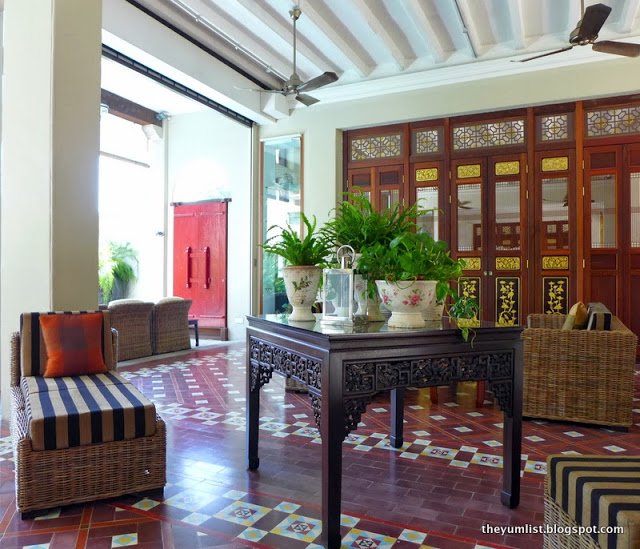 Lounge
Kebaya Restaurant
should be part of your Penang experience whether fortunate enough to stay at Seven Terraces or not. Presenting modern Nyonya cuisine in a cultured ambience, every dish we tried here was full flavoured and a happy intrigue to the palate. French cooking technique combined with local produce results in a menu with character. Don't miss the Duck Confit, Mian Kham of Salmon Roe, Otak Otak and Tang Yuen for dessert.
Seven Terraces is a vision of the past with good food and home-style service making a stay in this heritage boutique hotel a pleasantly memorable experience.
Reason to visit: a graceful heritage experience in a convenient location, modern Nyona cuisine from Kebaya Restaurant
Seven Terraces
Stewart Lane
10200 Georgetown
Penang, Malaysia
+6 04 264 2333
+6 04 261 2862
Notes:
* This hotel is not suitable for families with children under the age of five.
** A small parking lot is available out the back. Best to arrive before the restaurant opens (6pm) to get a spot.