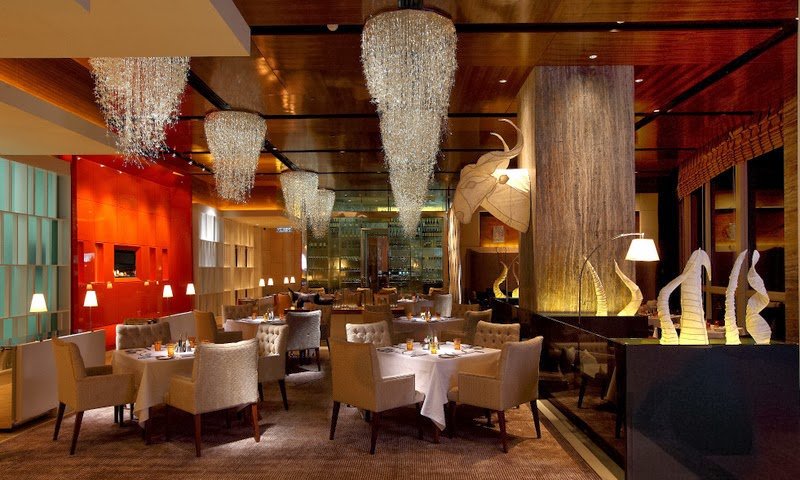 MO Grill – A Stylish Location for a Date Night
Miss Manners once said, "There are three possible parts to a date, of which at least two must be offered: entertainment, food, and affection. It is customary to begin a series of dates with a great deal of entertainment, a moderate amount of food, and the merest suggestion of affection. As the amount of affection increases, the entertainment can be reduced proportionately. When the affection IS the entertainment, we no longer call it dating. Under no circumstances can the food be omitted."
The Yum List can't guarantee the affection part of the equation, but we can set the scene by giving you ideas for fun entertainment and fabulous food. Here's the first in a series of suggested itineraries for taking your loved one, or someone you're hoping will soon become your special person, on a Date in Kuala Lumpur:
Mandarin Oriental Date Night – Golf, Cocktails and Dinner
For a date combining sophistication and playfulness, we suggest heading over to the Mandarin Oriental for an evening of simulated golf followed by a romantic dinner at the MO Grill.
Indoor Golf @MO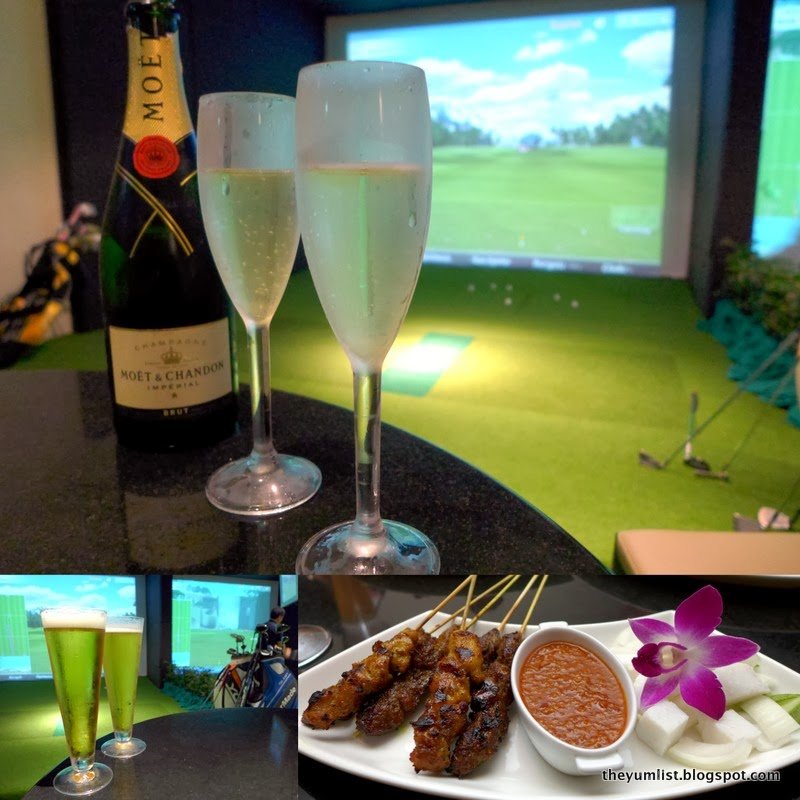 Champagne, Beer, Food – whatever you want at Indoor Golf
The Yum List recently toured and tested out the newly-opened Indoor Golf @MO and while we knew it would be fun, we were really impressed at the possibilities; dates, parties and business functions would all be great options here. I love that people with differing abilities can all golf together at their own pace. Beginners are encouraged, and serious golfers can finish 18 holes on his or her lunch hour.
Upbeat music and subtle disco lights (after 5pm) make for a relaxed party atmosphere and pub tables and sofas give those not playing a comfy place to relax and enjoy a snack or cocktail from the full service menu.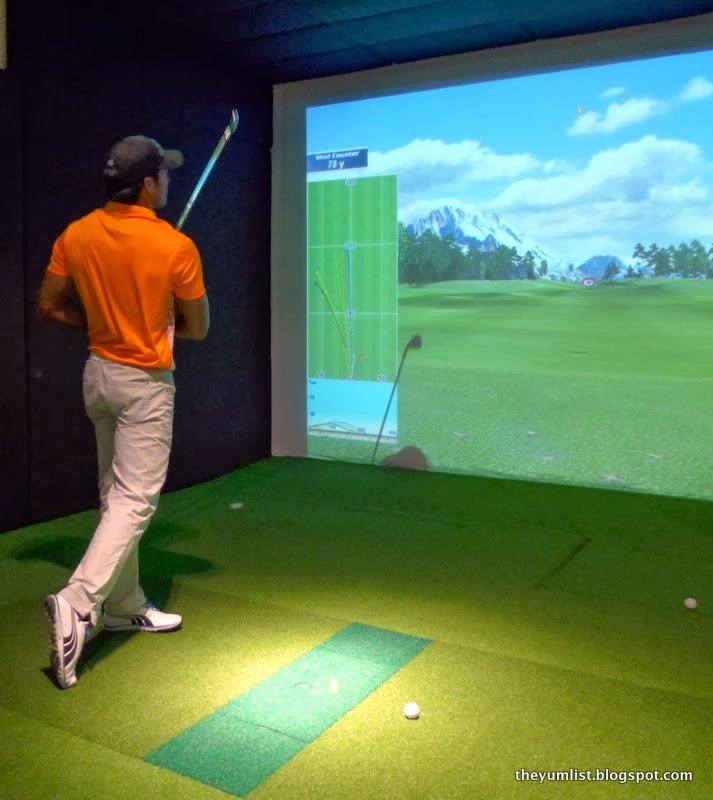 A Real Pro Showing Us How It's Done
But while the atmosphere is casual, the simulators will please even the professional golfer. Inside the comfort of the air-conditioned lounge, three bays of screens simulate in 3D. Golfers can choose from 50 different championship courses or try their swing on the driving range. The latest high-speed camera tracking technology measures the ball's speed, trajectory and spin, making the simulator 99% accurate.
In addition to the simulators, Indoor Golf @MO offers HD tvs for televising sporting events, as well as the latest Power Plate machines which are used by celebrities for accelerated body and skin toning. Golf lessons are also available.
Indoor Golf @MO Special Couples Package RM899
Includes:
-Two hours of simulator play
– One hour on Power Plate
– Bottle of Moet Chandon Champagne
– Selection of Finger Food
Hours: 10am to 10pm daily
Rates: Non Member's RM 245 per hour, per bay (8 people max per bay)
Reservations: +60(3) 2380 8888
Website: www.moindoorgolf.com.
Fine Dining at MO Grill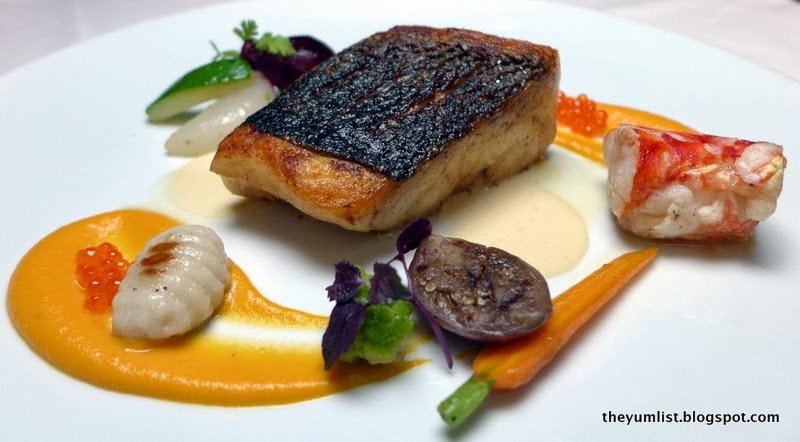 Fine Dining at MO Grill
After working up an appetite at the golf simulators, you'll want to impress your date with an impeccable dining experience. Head downstairs to the MO Grill for a sumptuous set Valentine's Menu, or
choose signature dishes from the regular menu
like Hay Smoked Wagu Beef Ribeye, or the Herb Crusted Lamb Rack.
Cocktails at the MO Bar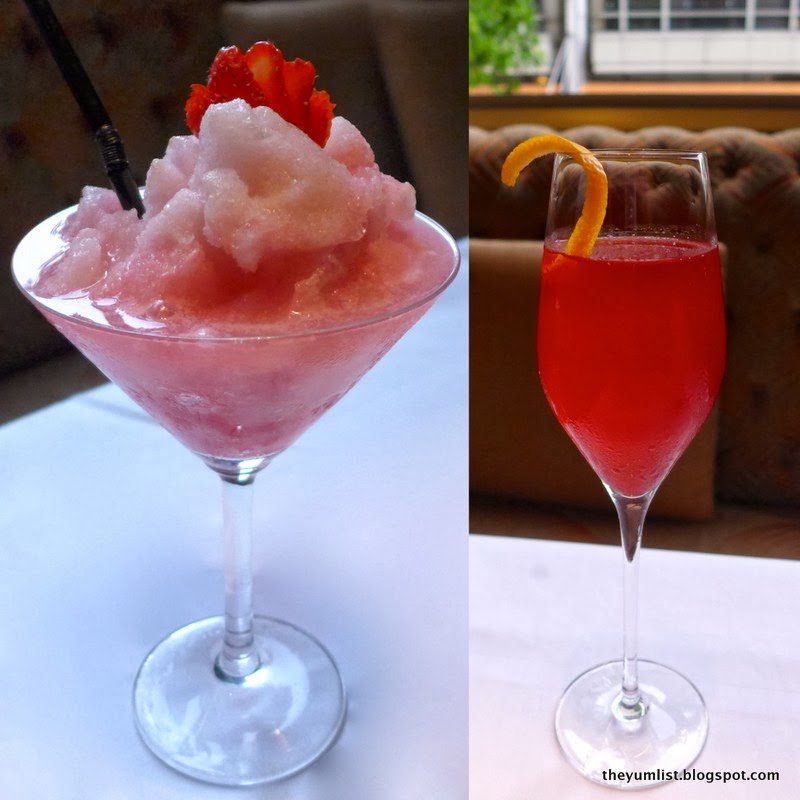 Discuss your golf swings over cocktails
Finish the evening with a cocktail or two in the MO Bar where bartenders mix up both the classics and modern twists to suit any occasion.
Reason to visit: An original date idea, realistic golfing experience in the comfort of a premium lounge, sophisticated but unpretentious food in a romantic setting.
MO Grill
Mandarin Oriental Kuala Lumpur
50088 Kuala Lumpur City Centre
Malaysia
+60 (3) 2380 8888
Lunch: 12pm – 2:30pm; Dinner: 7pm to 10:30pm