Tamarind Hill Restaurant, Thai-Burmese Cuisine
A candlelit stairway winds up to the entrance of Tamarind Hill restaurant. Red Chinese lanterns hang from the bamboo-lined path and the sound of running water gets stronger as we ascend. Torches and candles glow in an almost tribal salutation. The elements of fire and water are used well to create a peaceful natural escape.

Indoor Dining Area
Wooden doors are opened before we reach the thresh hold, we're warmly greeted by a beaming waiter and, escorted to our table over the pond. A thatched roof cozies the space and our table is dressed in white linen with cloth napkins, tea lights and tall-stemmed glasses. The open sided gazebo overlooks giant ceramic pots, softly lit with a single bulb in the middle, from which water overflows the brim and trickles down the sides.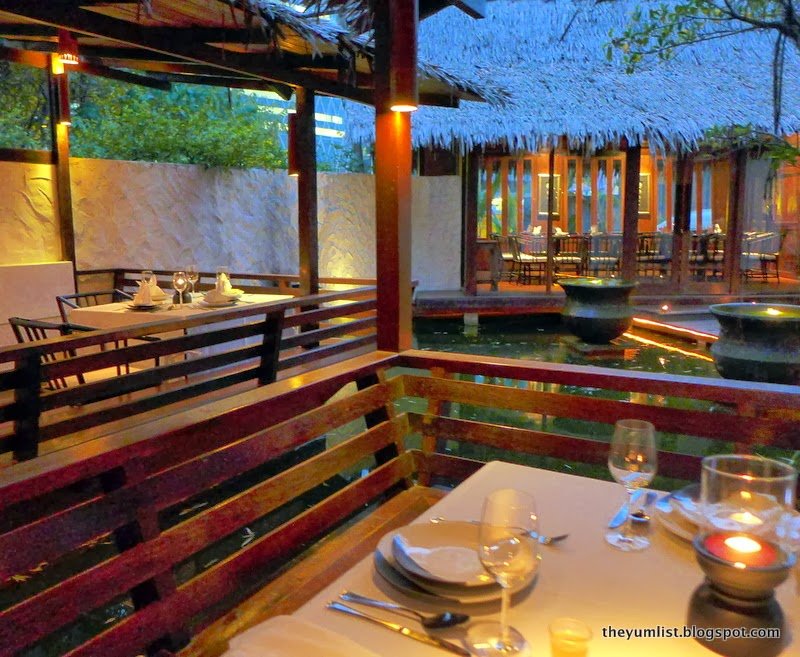 Outdoor Seating
A soothing lemongrass juice and cold scented moist towel welcomes us. "May I turn the fan on for you or are you okay with this temperature?" "Would you like still or sparkling water?" "Lemon in your water?" "Don't worry I will explain the menu to you." "Anything I can do to assist?" All of this within five minutes of arrival! We're impressed with service. It's spot on.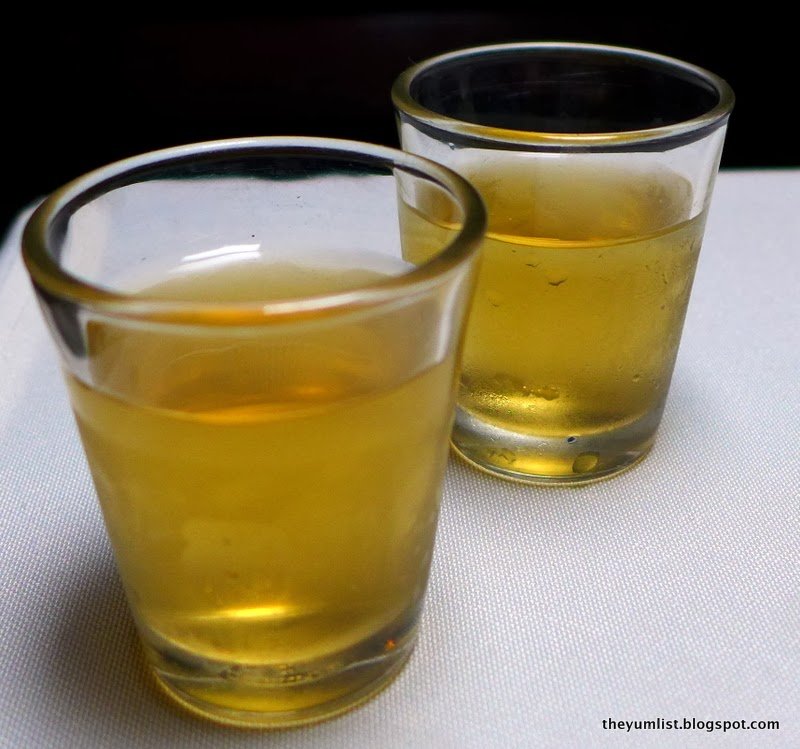 Welcome Lemongrass Drink
King of the Hill (RM33), one of Tamarind Hill's signature cocktails, is my first order. Lychee, cucumber and sugar are crushed with gin, apple juice and lime. A lychee fruit bobs amongst ice cubes and, a long slice of cucumber drapes casually across the rim. Nicely done.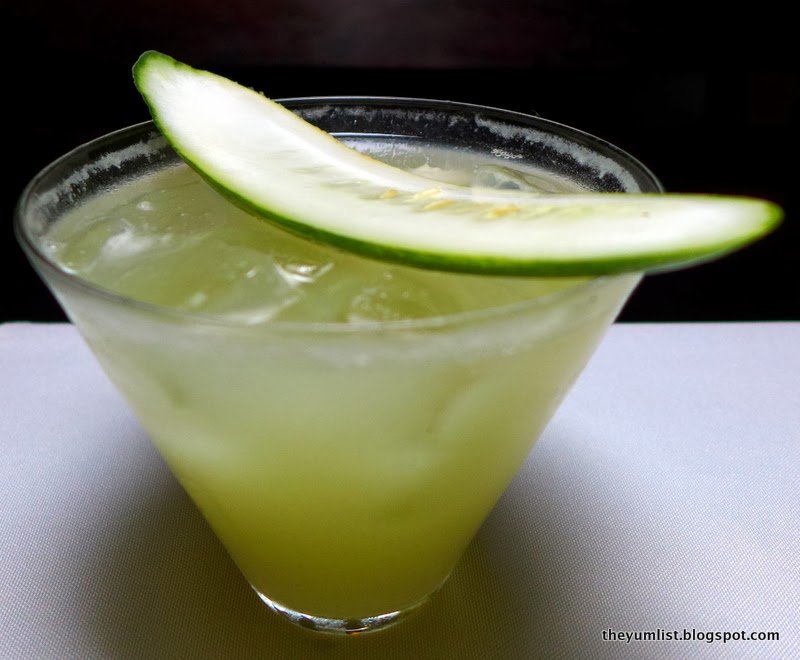 King of the Hill
Hubby has ordered the Lychee and Lemongrass Smash (RM33), another signature. Lemongrass, kaffir lime leaves and lychee are crushed and shaken together with fresh lime and vodka then strained over ice. The menu says, "served with a smile," and it's true! "Delightful," he declares.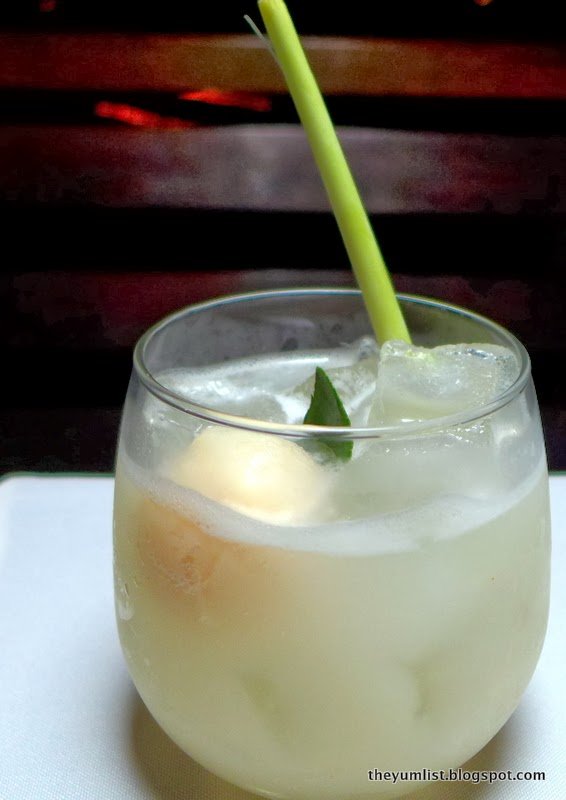 Lychee and Lemongrass Smash
A complimentary starter of Seafood Sticks with Deep Fried Chinese Leaves takes the pangs off our hunger as we browse the menu. Modern Thai dishes with a dash of Burmese tradition paint the offerings. We see lots of familiar items and a handful of unknown ones too. Our waiter presents himself
as a competent guide so we take his recommendations.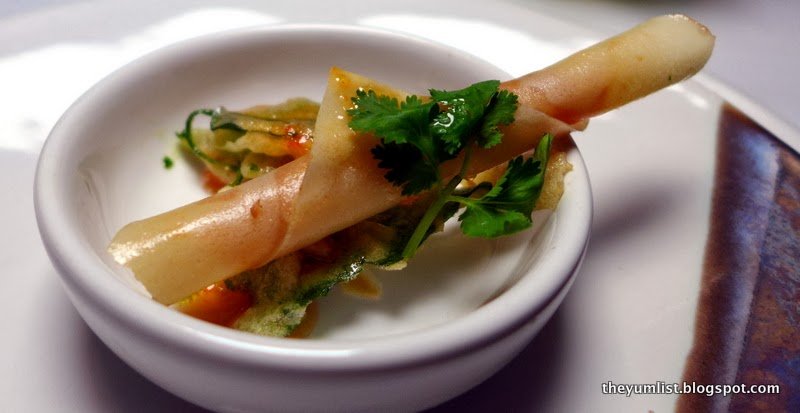 Amouse Bouche – Seafood Stick and Deep Fried Asian Greens
A platter of hors d'oeuvres brings four bites for sampling. A steamed moist skin coats the Tiger Prawn Dumpling. A hint of spice in the centre and, its soft jacket make it a refreshing beginning. Sun-Dried Beef is daubed with sesame seeds and bedded by fried kang kong. It's a direct contrast to the seafood in both flavour and texture. Hubby takes the Mini Pandan Chicken in its entirety and then discovers it needs unwrapping of its leaf cape first. The shredded carrot and cucumber and, mint leaves underneath are not just garnish but balancing ingredients and, well worth grabbing and consuming in one bundle. Mieng Kam, the traditional Thai appetizer, is not only pretty, but a mouthful of deliciousness too. Returning to Tamarind Hill, I'd be sure to order a whole plate of these on their own.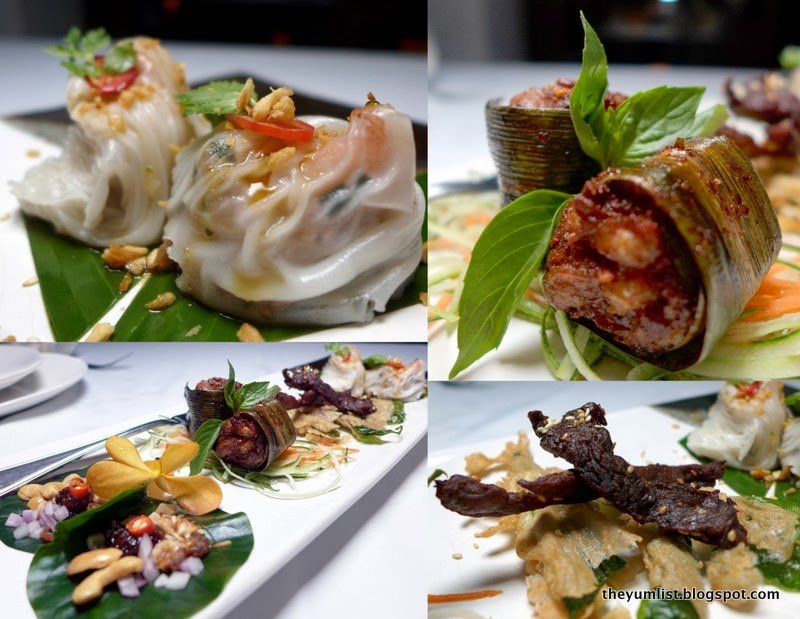 Mixed Hors d'Oeuvres  – Tiger Prawn Dumpling, Mini Pandan Chicken, Sund-Dried Beef, Mieng Kam (from top left clockwise)
Typical Thai decoration plates the Beef and Cucumber Salad. A mound of finely sliced beef, red onion, coriander and chili, is ringed by slices of tomato and cucumber and, bejeweled with a carved red pepper in the shape of a bloom. It's a tongue tingler and our waiter notices our mouths ajar. "How is the food?" he asks. "Very spicy," we reply between gasps. He queries, "So maam, you like it like this or shall I ask the chef for less spicy?" "Less spice," we wheeze in unison. Funny enough though, as powerful as it is, not a scrap remains on our plate. The soothing lemongrass in our cocktails has calmed the heat and, we're now empty, so order some more.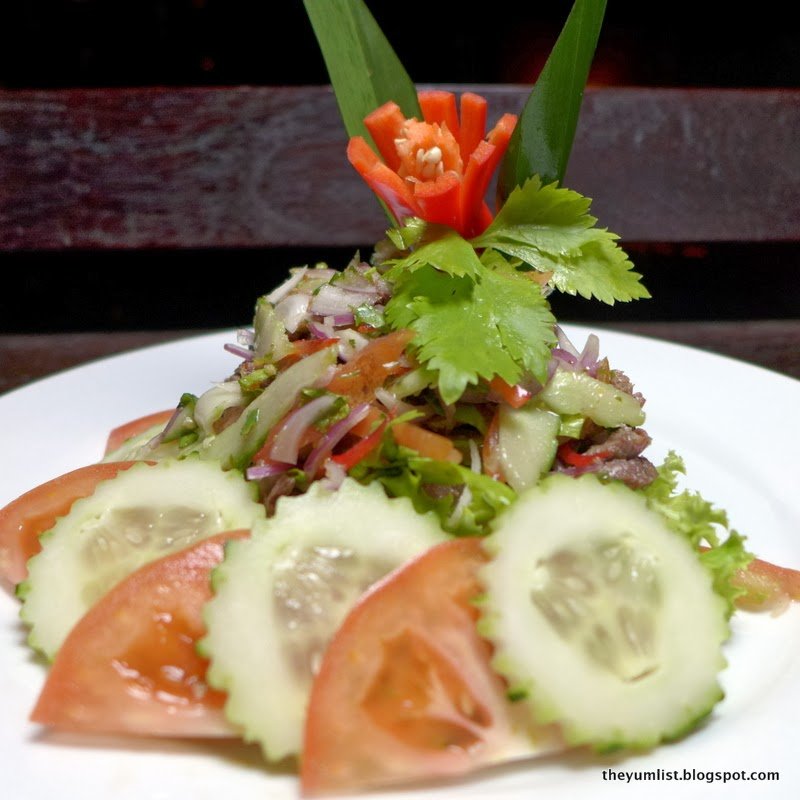 Beef and Cucumber Salad
Quince the Queen (RM30) is an intricate mix of gin, pink grapefruit and star anise jam with a dash of limoncello. It's royally sexy, herby and bitter all rolled into a stunning cone shaped glass bottomed with a bowl of ice. It's hubby's order, but I quickly claim it.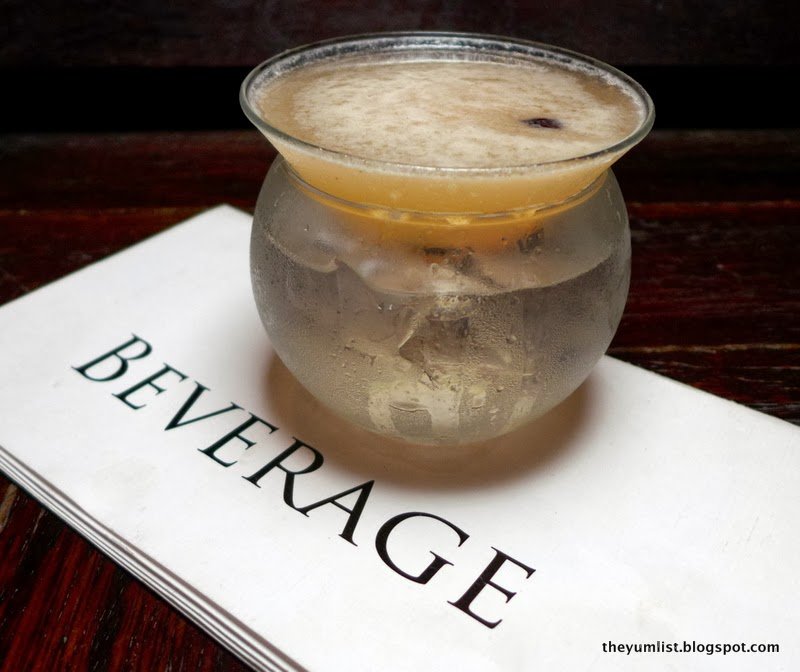 Quince the Queen
Homemade pear and cardamom jam with a sensitive touch of vodka and vanilla liqueur are gently muddled and rolled with sage to create the Sage as a Pear (RM33). A quarter of stewed pear, a cinnamon stick and an entire bush of sage embellish the glass. The beverage is mildly sweet with a herbal infusion. Hubby is happy I switched.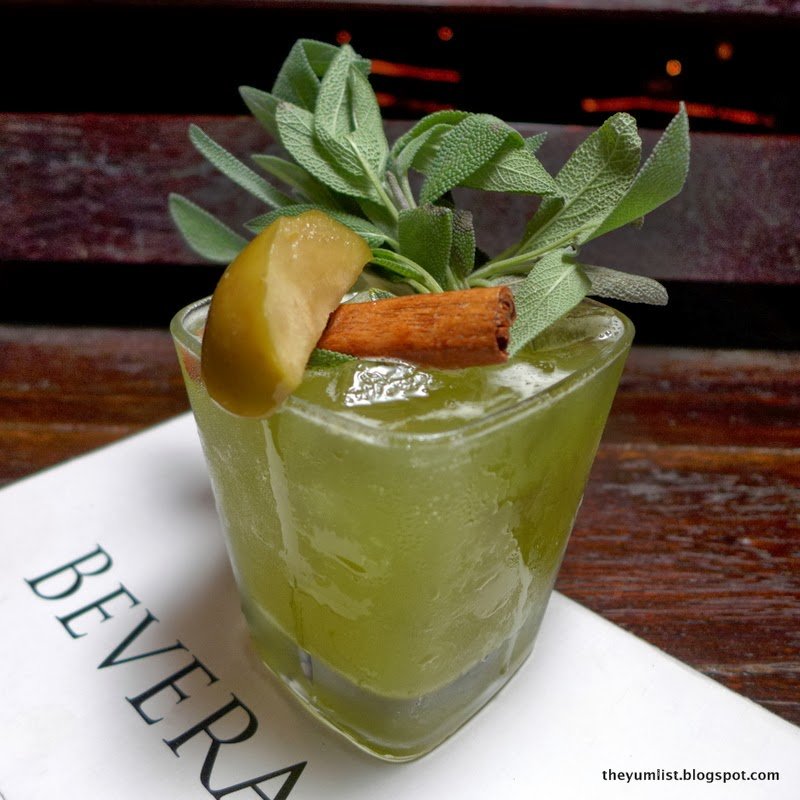 Sage as a Pear
The Soup brims with fresh seafood and mushrooms. Scallops, mussels, fish and prawns bathe happily in a tom yum broth. It's given flavour by basil and lime and is not nearly as spicy as some. A spoon made of coconut shell is the eating utensil but doesn't quite reach to the corners of the square shaped
bowl. We glance around, deciding to wave goodbye to etiquette for a few moments and, gleefully swallow the last drops, right from the very edge of the bowl. Hee hee!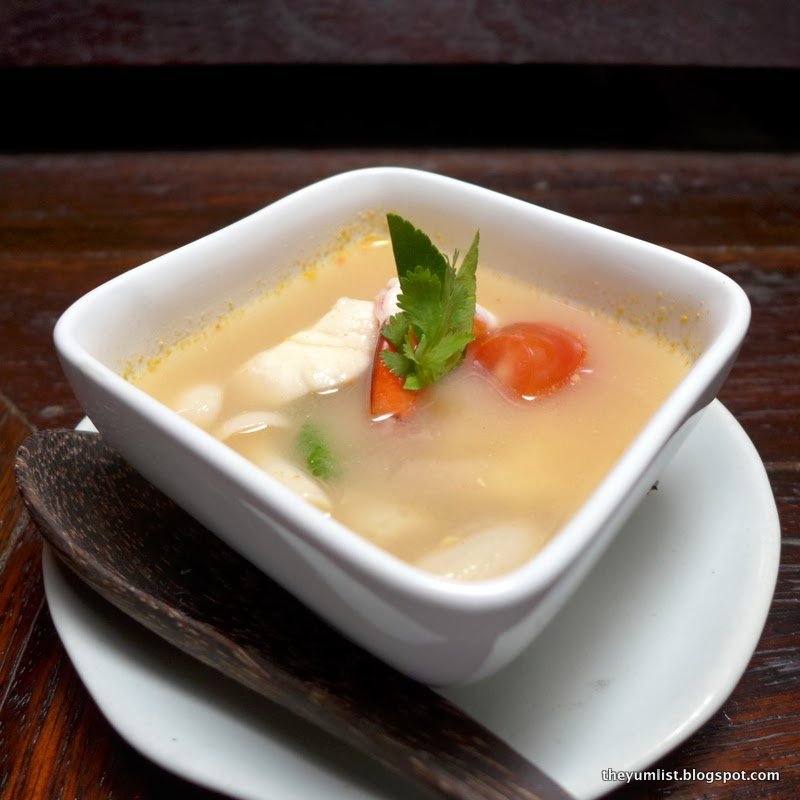 Soup
The main courses come out together with a big bowl of Steamed Fragrant Jasmine rice. Steamed White Cod with mushroom and ginger, served with a green chili dip, is light and lovely. I know this will be my favourite – white flaky fish and steamed veges with an elegant clean sauce – both tasty and
guilt-free.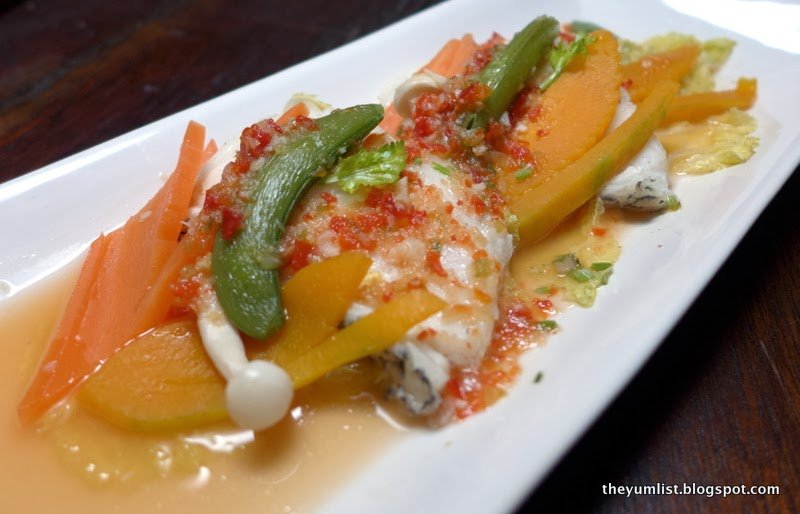 Steamed White Cod with Mushroom and Ginger
Chicken Marinated with Lemongrass, Garlic and Thai Sauce with Palm Sugar is a gorgeous roulade wrapped around big chunks of black pepper and sliced into bite size segments. The flesh is moist and tender and enhanced by its accompaniments.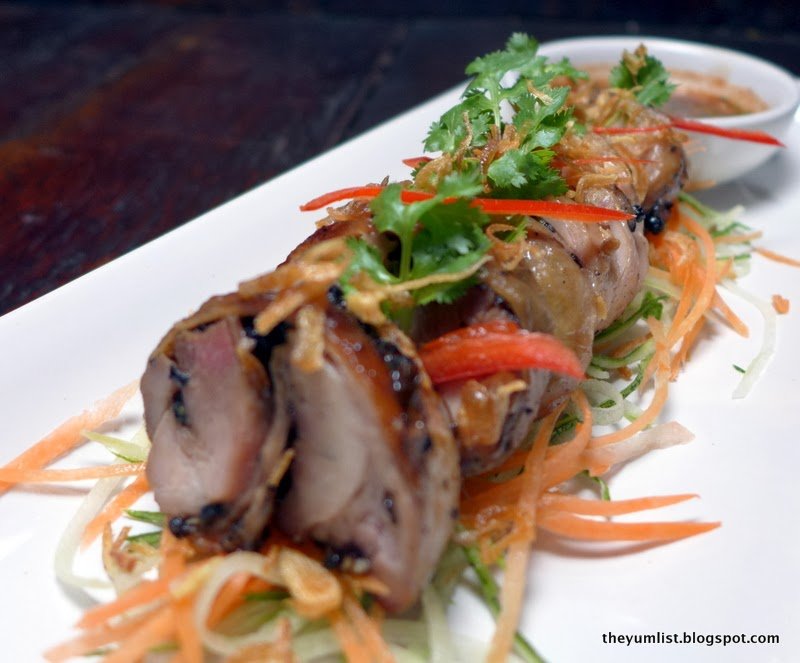 Chicken Marinated with Lemongrass, Garlic and Thai Sauce with Palm Sugar
Deep Fried River Lobster with Tamarind Sauce has hubby oohing over the batter and texture of
the crustacean and, me soaking up the tart sauce with rice. Tangy and moist this dish is a must order. Even though we've finished the seafood I'd like to ask to take the sauce home! I wonder if they jar it?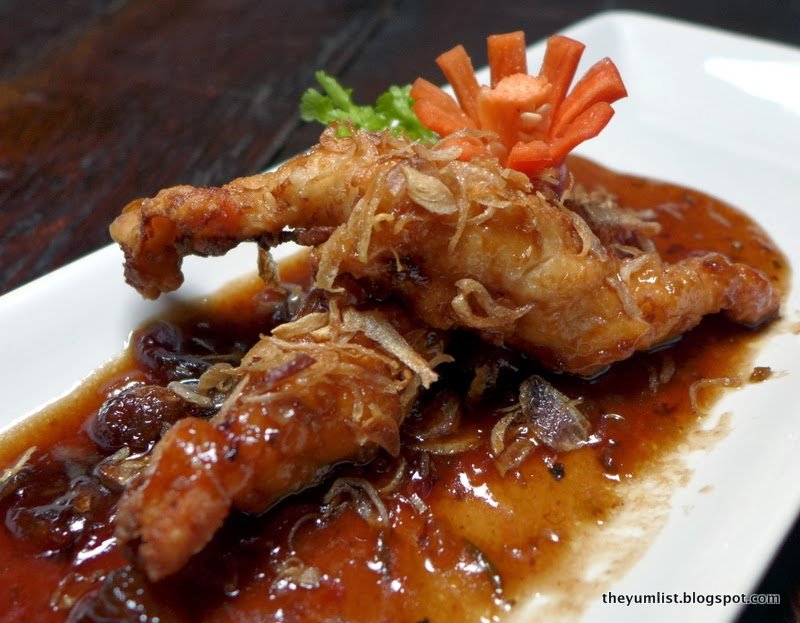 Deep Fried River Lobster in Tamarind Sauce
I'm rather fond of Thai curries and the Shellfish in Red Curry with Pineapple doesn't disappoint. It's not as rich as some as the pineapple gives it a good boost of sweet juice thinning the sauce just a tad. It too partners well with the rice.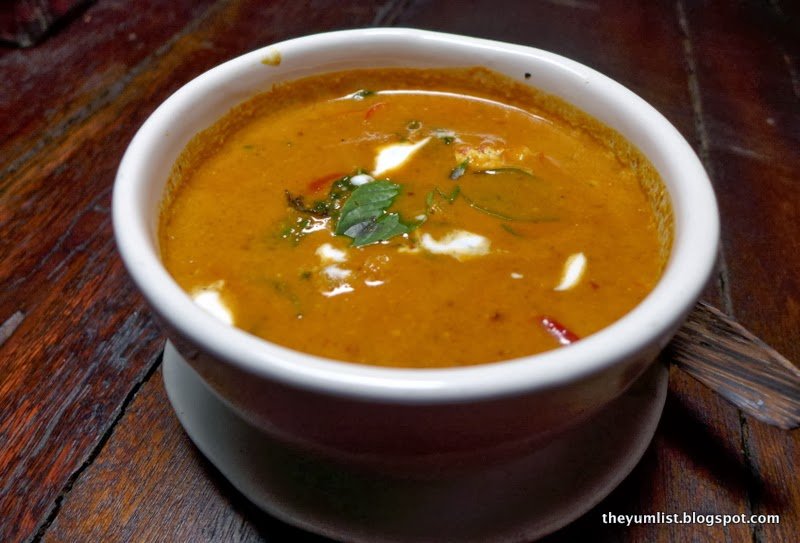 Shellfish in Red Curry with Pineapple
Stir Fried Kailan with Salted Fish in Garlic Sauce is just cooked leaving the green veges crisp with a lovely oleaginous coating in the mouth. It's loaded with garlic so make sure everyone at your table is eating this one, or at least the person you're going home with!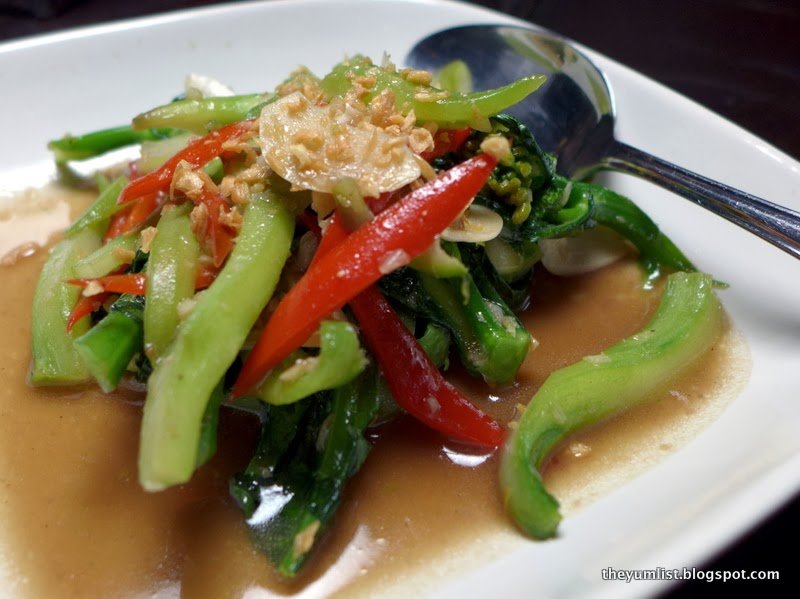 Stir Fried Kailan with Salted Fish in Garlic Sauce
A Dessert Platter is a real treat allowing us to sample a few items from the menu. I must have the Mango Sticky Rice and hubby the Coconut Pudding. We add Pandan Custard for interest and also seek out the
cocktail menu again as we'd noticed earlier some potions especially recommended for closing.
A long white rectangle carries green leaves, which act as plates for each dessert. Red and white dragon fruit balls dot the artwork providing edible garnishes. Green, yellow and red make a colourful array and the sticky rice is the first to vanish. The coconut puddings are contained by leaves, with a salty coconut cream top and sweet corn base. The custard is more of a firm mousse texture and has a strong flavour and colour of pandan.

Dessert Platter
Our cocktails arrive presented just as prettily as any dessert. Black Forest (RM28) overflows with fresh morello cherries, sweet and sour fruits, white cacao liqueur and vodka. They're muddled gently, shaken hard then beautifully served with a line of balsamic vinegar reduction and spoon of Baileys. Dark cocoa powder dusts the top. We drink first from the main glass then add the spoon of Baileys. I think it might be better savoured though with a sip from the glass, then a nip of the Baileys, alternating the  experience between acerbic and creamy.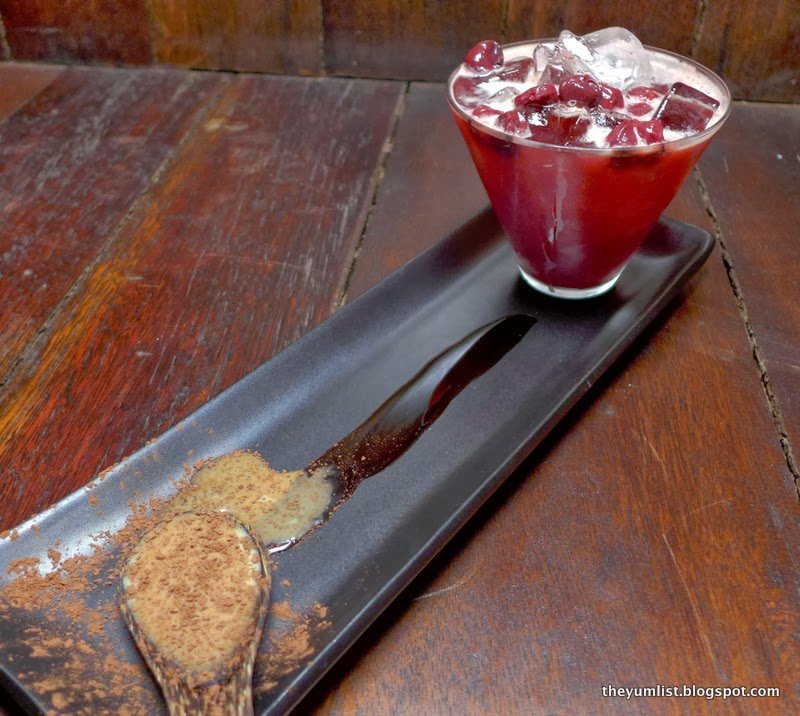 Black Forest Cocktail
A traditional European idea is given a brush of Asian in the Asian Crème Brûlée Touch Lavender (RM29). The regional ingredients of Thai basil, mint and Malacca palm sugar mingle with the European influences of rosemary and thyme. The drink is spiked with Advocaat, Galliano and a twist of fresh cream. A jungle of herbs garnish the top. We detect egg upon first taste and learn that a whole egg is used in this drink creating a high protein ending.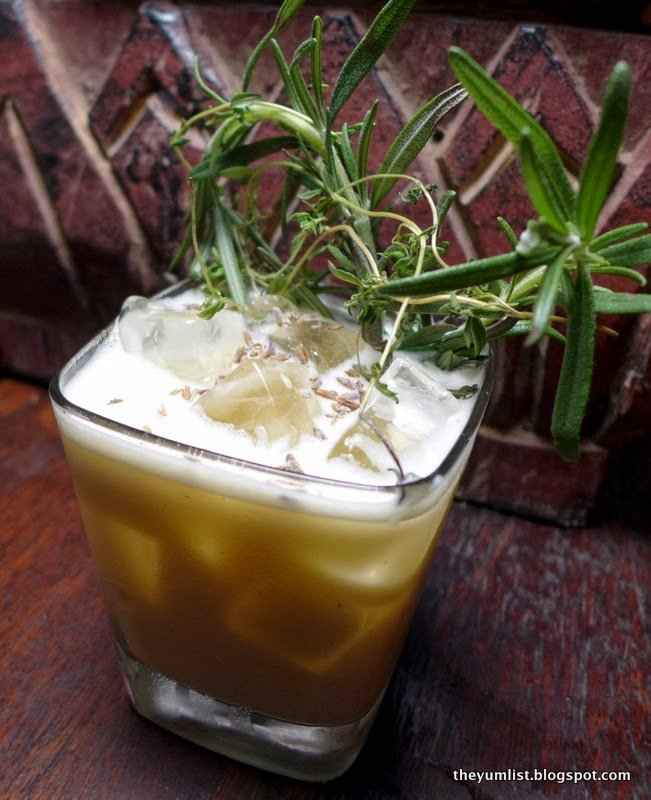 Asian Crème Brûlée Touch Lavender
Perhaps we've over indulged but we can still arrive safely to our abode as Tamarind Hill has complimentary transfers within the city limits. Carefully descending the stairs we breathe in the last bit of paradise before our chauffer safely escorts us home.
Reason to visit: creative cocktail creations; romantic natural setting; a hidden paradise within the city; a fine Thai-Burmese inspired menu
Tamarind Hill
19A Jalan Sultan Ismail
Kuala Lumpur, Malaysia
+6 03 2148 3200
Dinner: 6pm – 10:30pm
Lunch: Monday – Friday: 12pm to 2:30pm