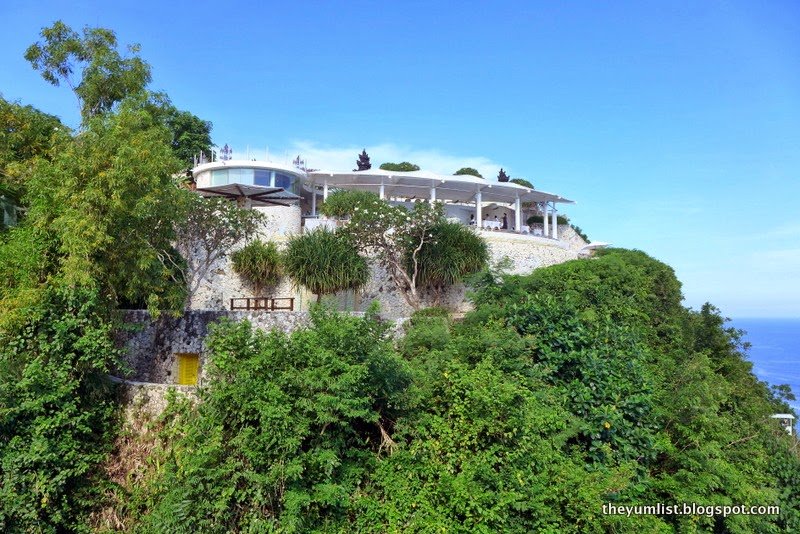 di Mare Restaurant, Karma Kandara
di Mare Restaurant, Karma Kandara, Bali, Indonesia
My eyes tear with pure pleasure and, my mind fills with thoughts
of gratitude for such sublime beauty as we step into the cliff top restaurant,
di Mare. Planted 85 metres above the sea on a rocky precipice, the open walled
dining space affords dazzling views of the pristine seascape below and rugged
coastline beyond. Breathing slows. I (she-who-never-decelerates) pause,
pleading the moment to linger.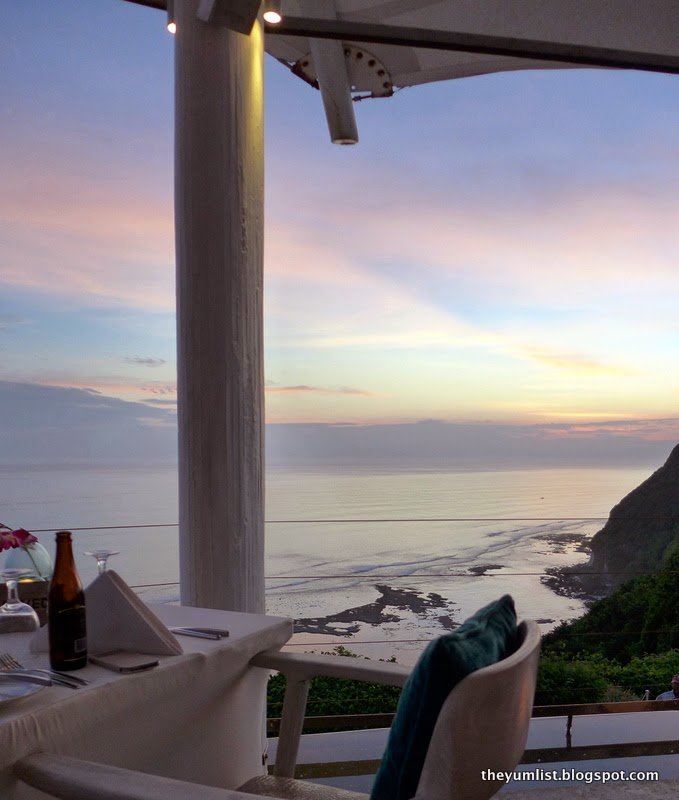 di Mare at Sunset
The semi-circular area mirrors a yacht with its light shade
cloth covering rippling towards the sea. White pebble walls suspend di Mare
above a pale blue pool and a stone path leads the eye further down the cliff
edge disappearing into a tangle of green. Simple white table dressings and
minimum decoration allow the breathtaking vistas to be the stars of the show.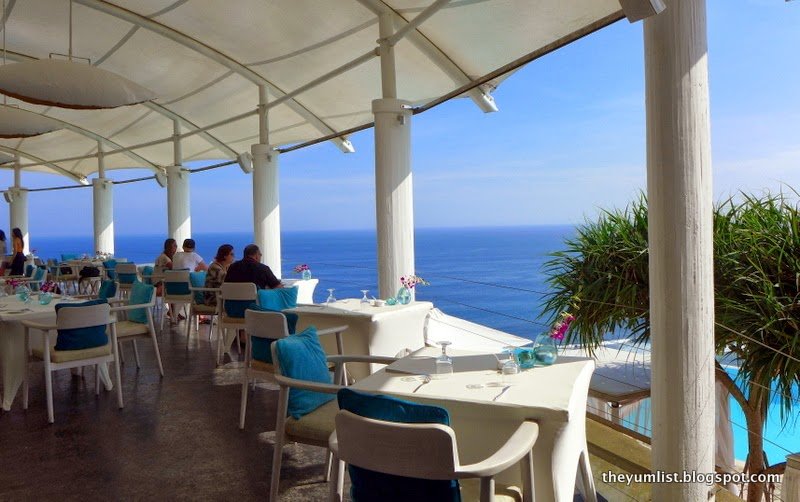 di Mare
Daytime and early evening visits are rewarded with stunning
and ever changing views. Bold blue skies and the glittering aquamarine sea contrast
the untamed coastline during the day and, by late afternoon, the golden sun
says its daily farewell, fingers of orange, yellow and purple streaking across
the sky, as if bidding a final adieu. As the night approaches, water reflects a
silvery grey and, the sound of waves creeping into the shore lull breathing to
a downtempo.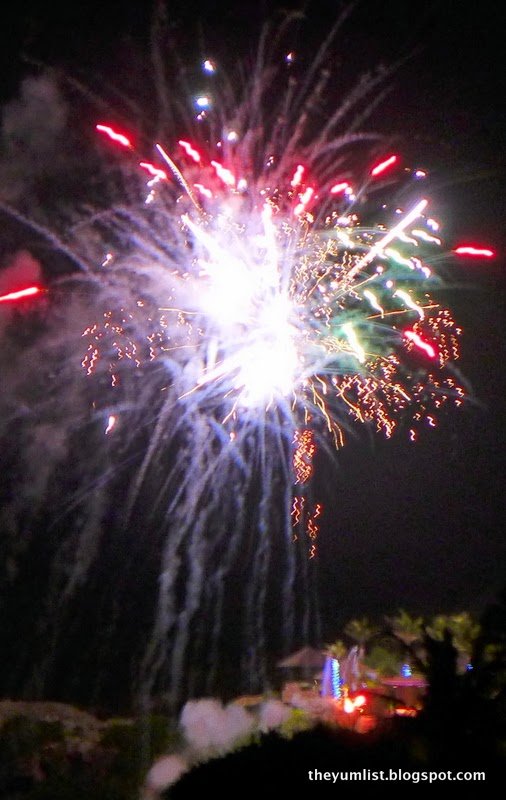 Fireworks Viewed from di Mare
The best place to start an unforgettable evening is at the
Temple Lounge directly above the di Mare Restaurant, where buy-one-free-one happy
hour runs from 6-7pm in perfect sync with sunset. Curved seating areas are
softened with cushions in tones of pale blue and white. Large Moroccan lamps
add a strip of colour between the bar and the sea, and low armchairs by the
edge of the balcony offer the best spot for taking in the natural surrounds.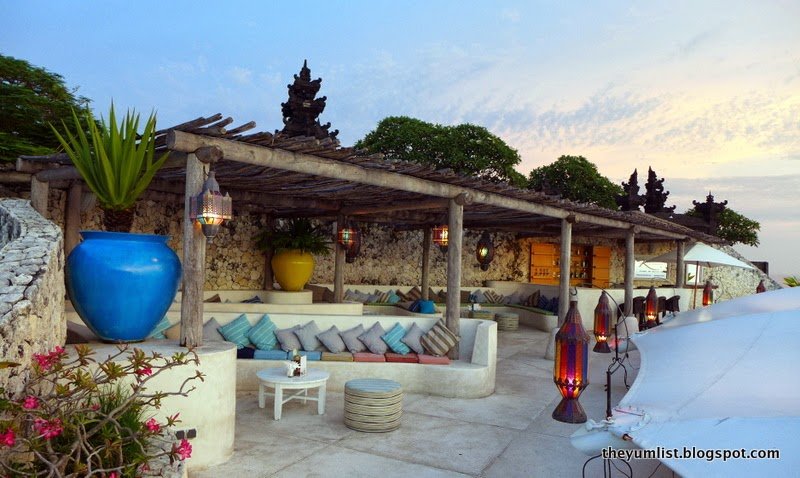 Temple Lounge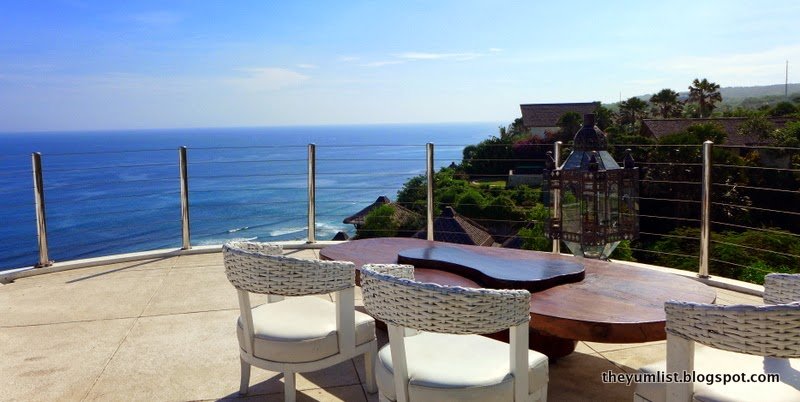 Best Seat in Temple Lounge
Deals run on signature cocktails, wine, beer, juices and
soft drinks. We strongly feel the tropics deserve a mixed drink, so we're
hitting the 7 Chakras menu. The vodka based Root Chakra mixes lemongrass,
organic local honey, strawberries and lime. A twist of ginger leaves a light
tingle on the sides of the tongue in the finish. The Crown Chakra is one of the
most unique cocktails I've consumed on the island. I love the local addition of
white cacao to the Champagne base, which holds a firm grip on the palate for
minutes after swallowing. While I don't detect the beetroot infusion in my
mouth it certainly produces a magnificent violet hue.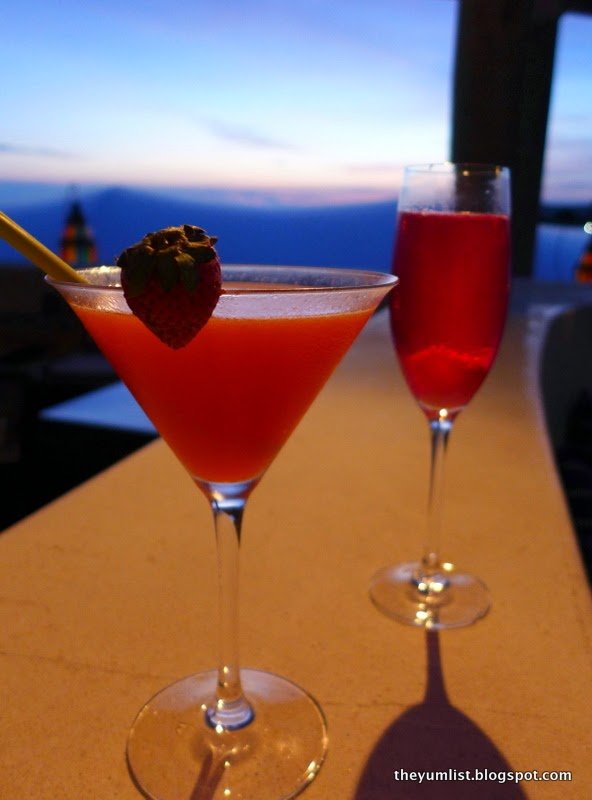 Happy Hour at Temple Lounge
Not only are good drink deals and a chic ambience strong
drawcards, happy hour followers are also gifted with complimentary canapés. Tomato
and Mozzarella Sticks, Oyster Kilpatrick and Beef Skewers (which are
surprisingly very tender) are a few steps above the all too common peanuts or
chicken wings. Relaxed, with appetites whet, we make our way downstairs for
dinner.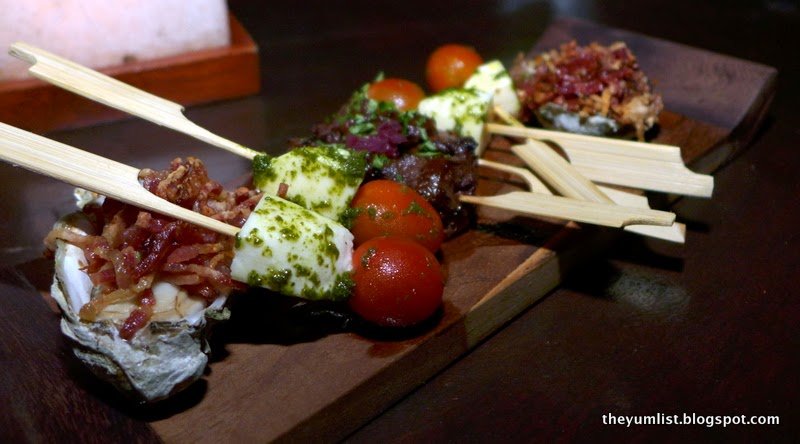 Complimentary Canapes
An impressive wine cellar, Veritas, stocks over 3000 wines
from around the world. Old world, new world, young, aged, reasonably priced,
mid-range and fine wines – there's something for every budget and taste. We
delight in the selection and spend a pleasurable passage of time browsing the racks.
After much deliberation, we can't decide so leave the pairing to the
knowledgeable maître d', Frederic.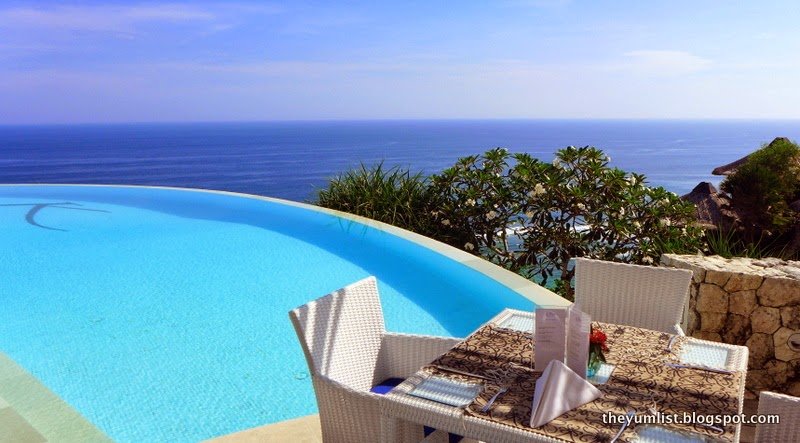 Poolside Dining
Fresh, seasonal and local ingredients are given priority,
with premium imports acting as supplements for the light Mediterranean inspired
dishes of di Mare. Regional influence is evidenced throughout the menu with
Pan-Asian tweaks arousing the palate. There's so much to tempt us on the menu,
and clearly we're having trouble with making choices tonight so the waiter
suggests we leave it in the hands of the chef and order the Surprise Menu. For
IDR350, three courses are selected by the chef, and an additional IDR230 sees
each dish paired with a different wine.
The Amuse Bouche arrives in the shape of a pinwheel. A pink
swirl of smoked salmon centres the plate with three strips of smoked eel
fanning outwards. The eel is soft and sweet and contrasts with salty, finely
chopped beetroot and avocado, which is sprinkled in between. Salmon however is
the strongest flavour and it's fresh with an oily conclusion. Garden picked
dill loiters on the palate and acts as a cleanser.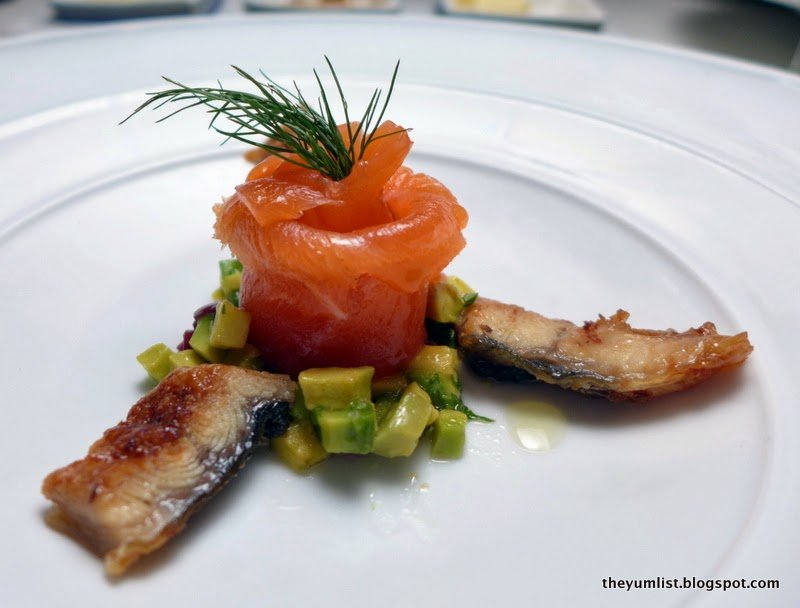 Amuse Bouche
Service is attentive but not intrusive. Water is habitually
topped and, the frequent appearance of wet lavender-scented towels is welcome.
Lobster with Cream Sauce turns out to be our starter. Juicy
chunks of mushroom give additional texture to the creamy sauce. Verdant bok
choy, and boiled beetroot side the plate with a wedge of yellow lemon providing
further garnish and a light citrus zap to the crustacean. A caramelized
balsamic vinegar zig zags the plate and tosses in a tart layer. We find the
dish rich and, so the half lobster portion is perfectly satisfying. Tabali
Viognier Chile 2012 (IDR150 per glass) accompanies the appetizer. It wafts
minerals to the nose and its fresh crispness serves to slice through the cream
sauce. It's large enough in body to walk alongside this full-flavoured dish but
not so strong to overpower the delicate flesh.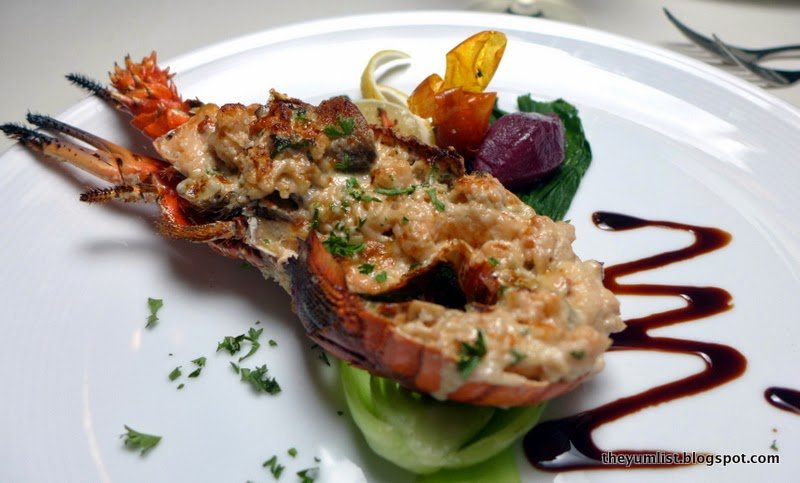 Lobster in Cream Sauce
The main is meat, Wagyu from Australia, and is paired with a
red, which hubby doesn't drink. It's no problem for our sommelier however. He
quickly pairs it with an oaky chardonnay from Ashbook 2010 (IDR200), which is
powerful enough to accompany the meat and keeps hubby happy. I'm content with
the Parker Connawara Cabernet Sauvignon 2008 from Australia (IDR 280). Fruit
and tannins balance each other, while an earthy undertone pairs well with the beef.

The round of beef is based with a potato crush and topped
with leafy greens. Carrot sides the dish and a trio of asparagus sprigs wrapped
in bacon leans against the potato and meat tower. Hubby's medium done steak is
pink in the middle and falls apart with a soft cut. Even mine, that's cooked
medium well, is tender and melts easily away from the knife. A pot of red wine
gravy, with a blob of butter melted on the top, comes in a gravy boat ready to
drench (or not) the tender flesh. I struggle to finish the slab as hubby
enthusiastically eyes my defeat, scooping the last piece from my plate and into
his mouth with a satisfied, "mmm."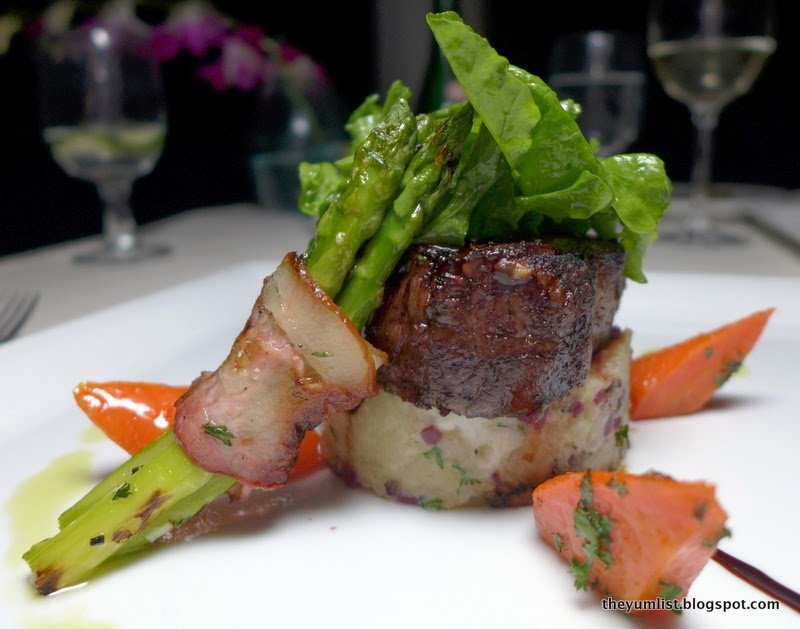 Wagyu
We're full, but have that amazingly, always open, pocket for
some sweets. A Manjari Raspberry Moelluex completes the meal. The
inside of the pudding is soft, but not liquid. It's light and fluffy and hubby,
who is not the devout chocolate fan that I am, finds this gentler version appealing,
finishing off both his and mine. I have a predilection for intense and powerful
flavours, so for my palate it doesn't quiet pack enough punch. The raspberry
sorbet that sides it is refreshing and I appreciate the macadamia crumble it sits on,
which provides a contrast in texture to the icy ball. The dessert wine pairing,
a Chilean Montes Late Harvest Gewurstraminer 2011 (half bottle 375ml IDR590) is
right up my alley with is sticky syrupy-ness, and so it's my turn to eagerly
polish off my own and hubby's glass.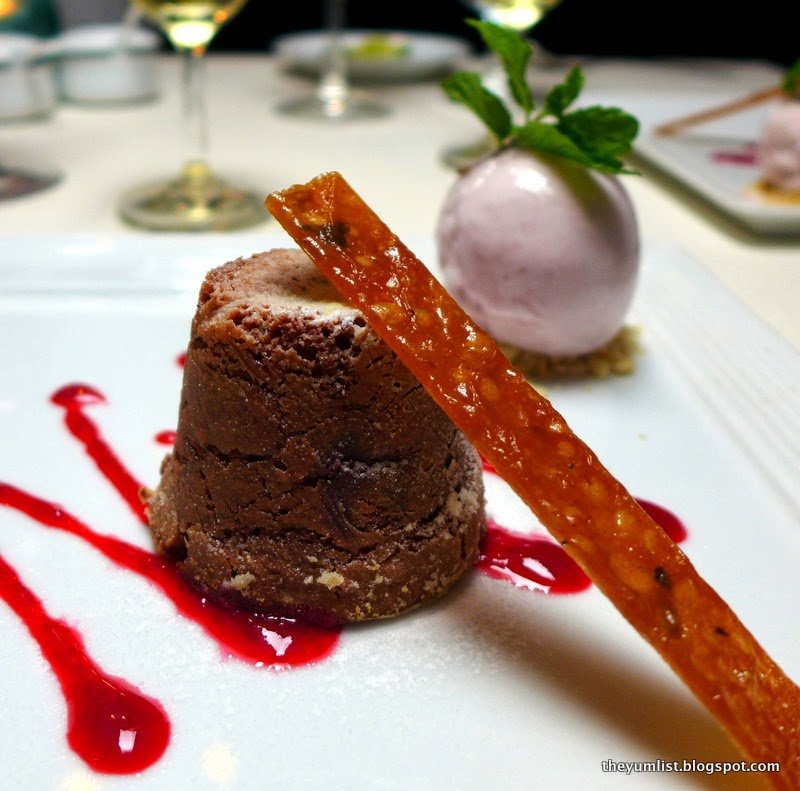 Manjari Raspberry Moelleux
Hubby describes the three-course Surprise Dinner as, "a
bomb!" It's pleasantly varied and the wine matching is done superbly. It's just
enough to fill, but not too much that we don't appreciate each course.
We've also eaten breakfast at di Mare and praise the good
standard of well-executed egg dishes and, highly recommend the Ricotta Hotcakes
as a must order.
While evenings or early mornings are cooler, we advocate
arriving during daylight hours to take in the stunning views. For nighttime
reservations, we suggest a 6pm arrival with a pre-dinner drink at Temple Lounge
to truly experience the beautiful setting of di Mare Restaurant.
Reasons to visit:
spectacular views; happy hour at Temple Lounge; comprehensive wine selection
and expert pairing; Ricotta Hotcakes; fresh Mediterranean inspired cuisine.
di Mare Restaurant
Karma Kandara
Jalan Villa Kandara
Banjar Wijaya Kusuma
Ungasan, Bali, 80361
Indonesia
+62 361 848 2200