Less than a year old, with a roaring reputation for smoke, flames and all things charred, Barbacoa is the latest restaurant to ignite the dining scene in Seminyak.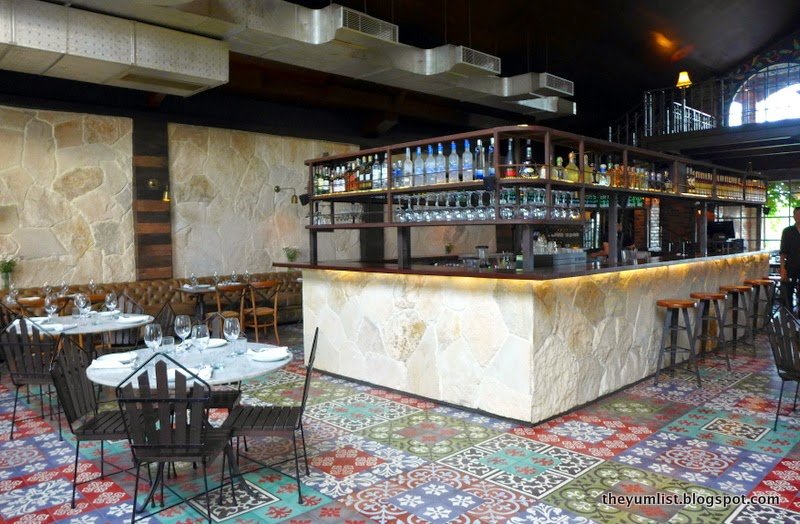 Barbacoa Bar
Having the appearance of a renovated warehouse, the ceilings are double storey with giant French style windows taking place of the lower walls, and huge arched glass frames spanning most of the second. Brightly hued Peranakan style floor tiles are bordered by solid timber planks, exposed brick and sandstone on the remaining walls. Studded leather bench seats and criss-cross backed dining chairs man the tables, which are dressed with fine glassware and a single tealight housed in a recycled jam jar. Barbacoa's soul however radiates from the asado.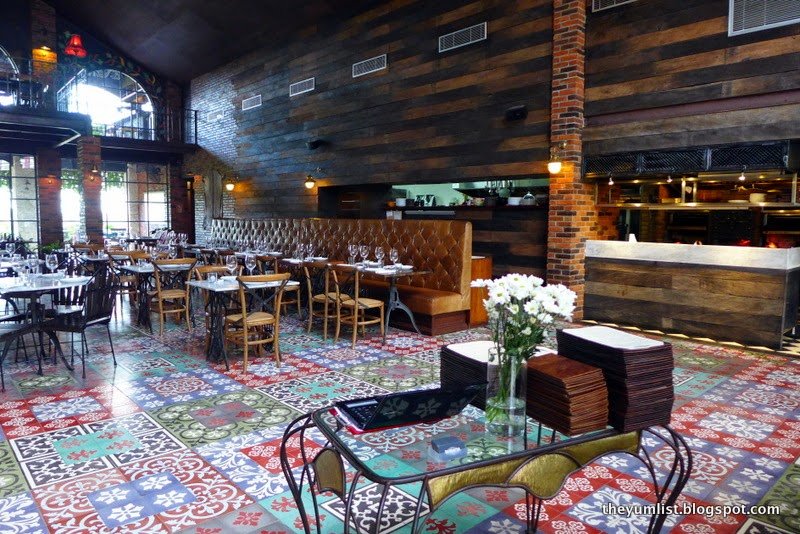 Spacious Interior
A smouldering open pit, wood fired oven, and charcoal grill, glow from the corner of the kitchen. Stacks of chopped wood line the corner assuring diners the fires will continue to burn. Delicious aromas have us salivating at entry and we can't wait to place an order.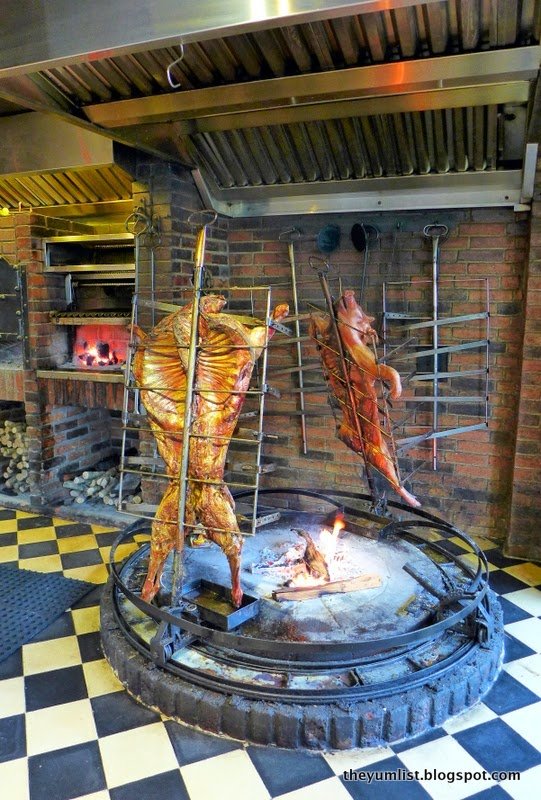 Barbecue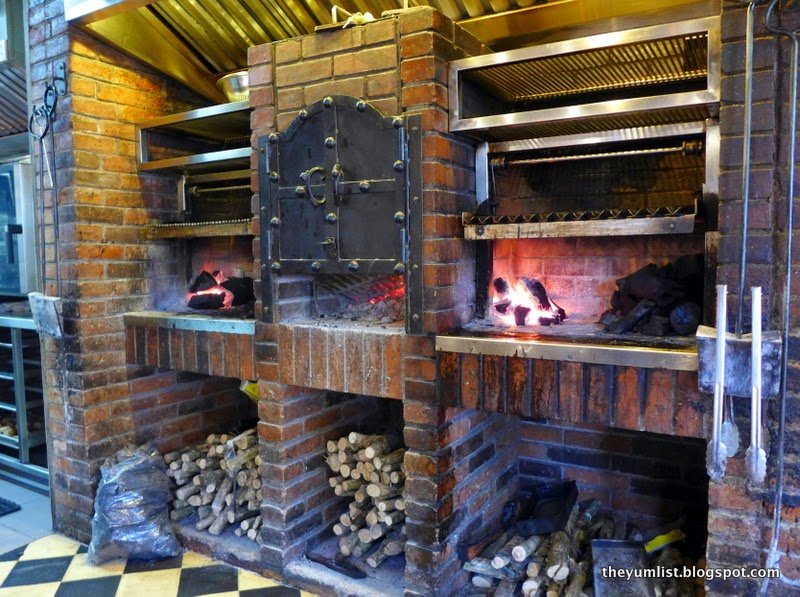 Wood Fired Oven
A seat indoors guarantees guests a lively evening. As the crowd becomes more and more satisfied with food, drinks and company, the vigour and noise level increases. Voices echo off the ceramics and glass, and a spirited energy vibrates across the room. The outdoor patio offers a quieter position with tables for two overlooking a rice paddy.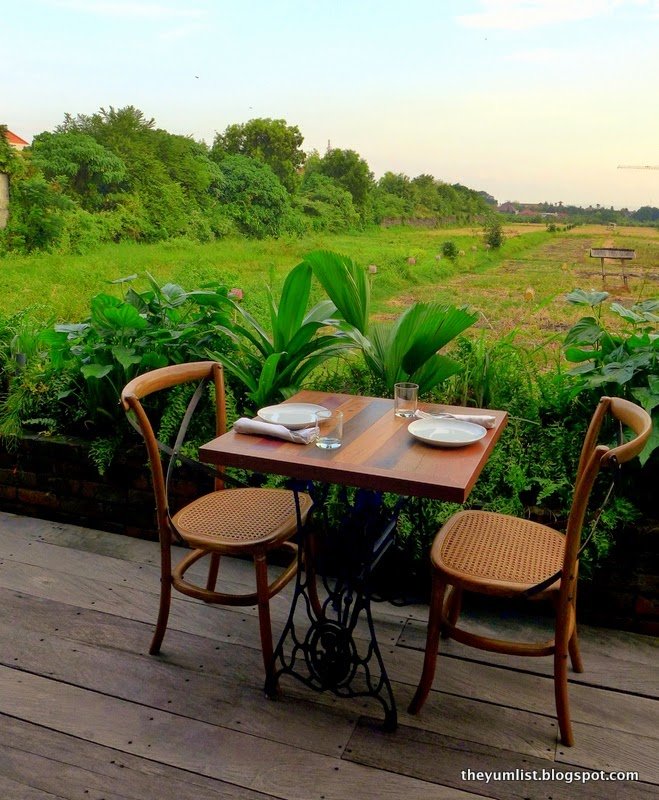 Al Fresco Dining
Leather bound menus hold a line up of plates designed to be shared. Inspiration from Latin America is seen not only with the various types of grilling, but also in the rustic uncomplicated fare with distinctive sauces and an appreciation for quality ingredients prepared simply. It's not all meat either, as some might assume with a restaurant whose core concept surrounds the barbecue. There's plenty of seafood and veggies as well. Gluten-free, vegan and vegetarian options are a many, and all marked on the menu.
The drinks list was created by one of the owners, who also just happens to be a mixologist and owner of a Mexican restaurant in Sydney. Tequila is the dominating spirit with an extensive list of different labels and also a range of Margaritas. The most popular cocktails are the Jalapeño Margarita and the Frozen Margarita (Rp. 105 000). Hubby is chili shy, so we start with the icy version. Made to a secret recipe with Tequila, Triple sec, fresh lime juice, agave and egg white, it's the ultimate sundowner. We're perched on the back deck, overlooking the rice paddies, when our finely shaved bowl of ice and liquor arrives. It's a beauty and it seems the Triple sec has been added last as light orange whirls around the glass before we mix it in.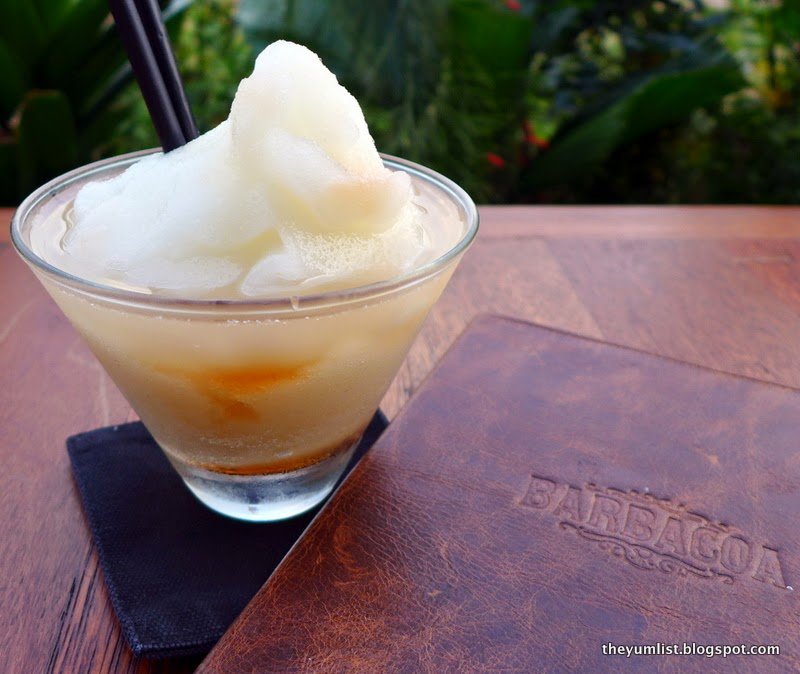 Frozen Margarita
The first cocktail is so good that I can't resist trying another from the menu. The spice in the Jalapeño Margarita slowly creeps up on you. Entering the mouth fresh and citrusy and departing with a sharp pinch, I can see why it is too a favourite.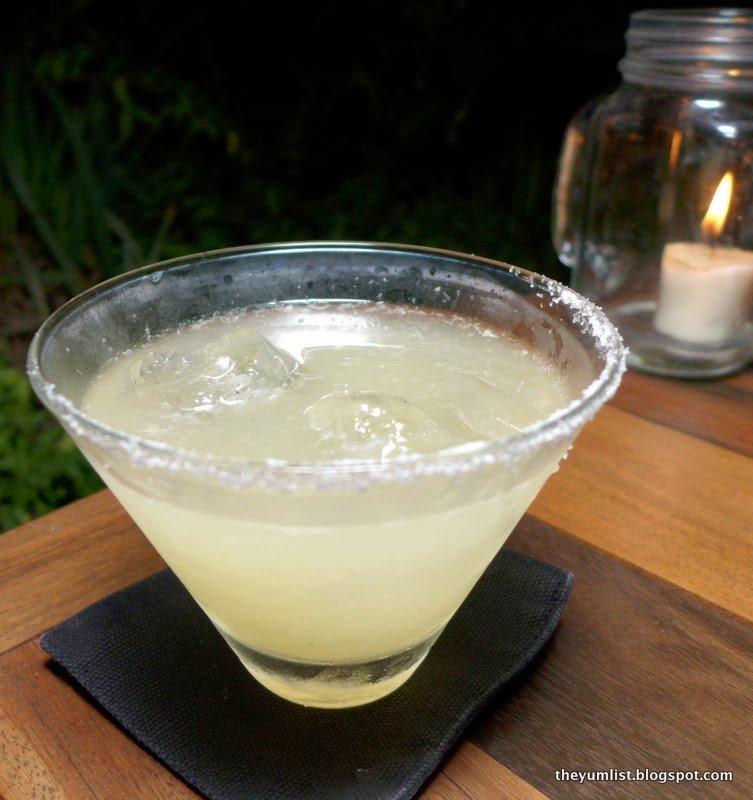 Jalapeño Margarita
A must order from the Bocaditos (small bites) menu is the homemade Warm Grilled Chapa Bread (Rp.30 000). It's cooked to order and comes scarred with the marks of the grill. Fat wedges of puffy yet dense pan are lightly sprinkled with sea salt and could be consumed without additions. The dip however is fantastic! A mushed roasted garlic paste with olive oil, balsamic vinegar and dried chili is superb. It's hard to hide our early enthusiasm for Barbacoa, and I'm already willing to recommend it solely on account of the cocktails and bread.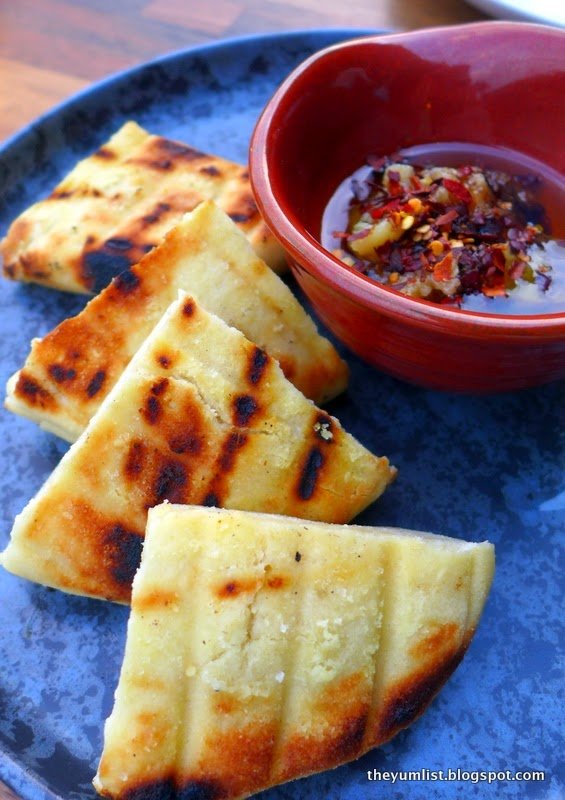 Chapa Bread and Dipping Sauce
The starters list is perfect for sharing and sampling a number of items, as all dishes are either small portions or can be ordered as single pieces. The Battered Fish Taco (Rp. 35 000 per piece) comes filled with pieces of deep fried snapper wrapped in a soft white tortilla. Fresh mango cubes, chipotle mayonnaise, and a light coleslaw add juiciness, sweetness and tad of tang.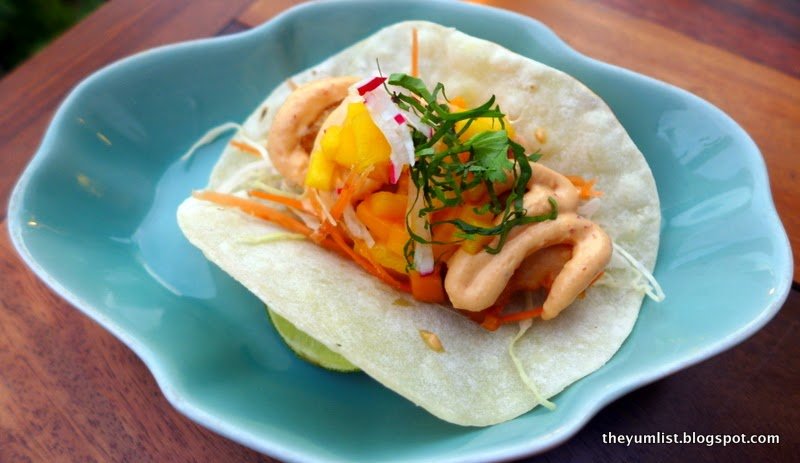 Fish Tacos
My Vegetable Empanadita (Rp. 30 000 per piece) is coated in dense wheat dough.  Quickly fried, the batter is not oily, just hot, and the filling of onion, green pea, feta and mint is both warm and toothsome. Hubby's Lamb Empanadita (Rp. 45 000) is a special for today with the same exterior as the vegetarian version, but a padding of rich meaty ground mince, cumin, goats' cheese and green olive.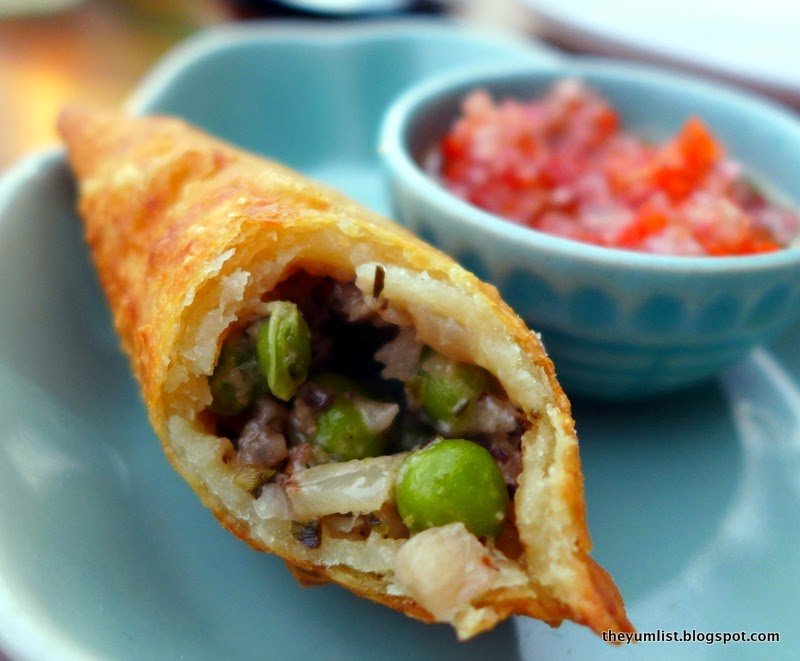 Vegetable Empanadita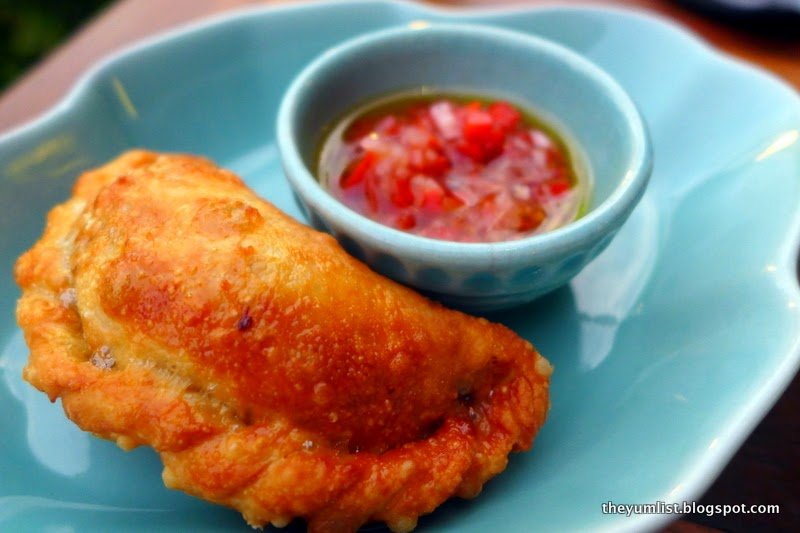 Lamb Empanadita
Spicy Peruvian Style Snapper Ceviche (Rp. 110 000 * note the photo shows a tasting size not the regular portion) is seasoned with an aji amarillo dressing. Crispy homemade corn chips add crunch to this dish and sweet corn kernels balance out the chirpily acidic leche de tigre. Lettuce leaves act as both a bowl and a container of freshness, and fine slices of pickled red onion furnish a finish of sweet and sour.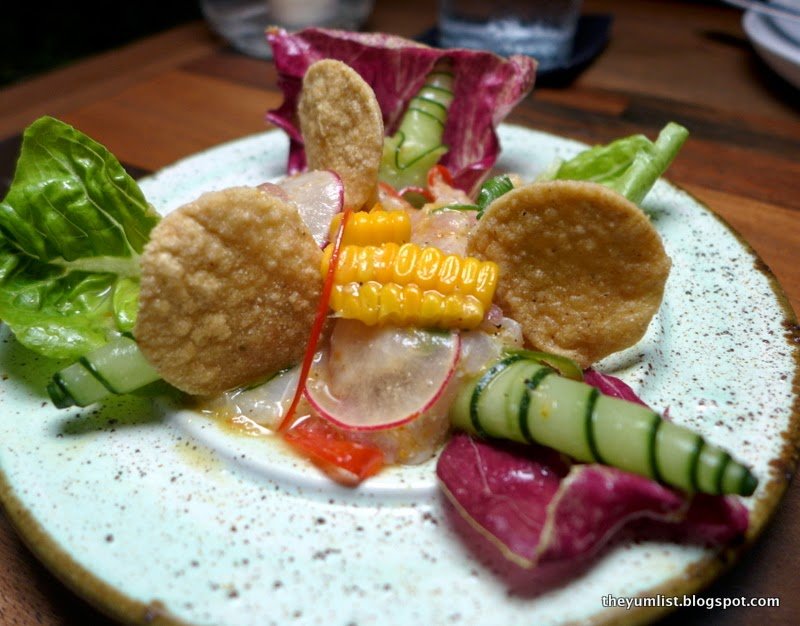 Ceviche
Chargrilled Baby Squid (Rp. 110 000) is a superb example of freshness. Cushioned by a base of grilled fennel, oregano and lime, and sided with an optional squirt of lime and chipotle mayo, it's a mouthful of goodness.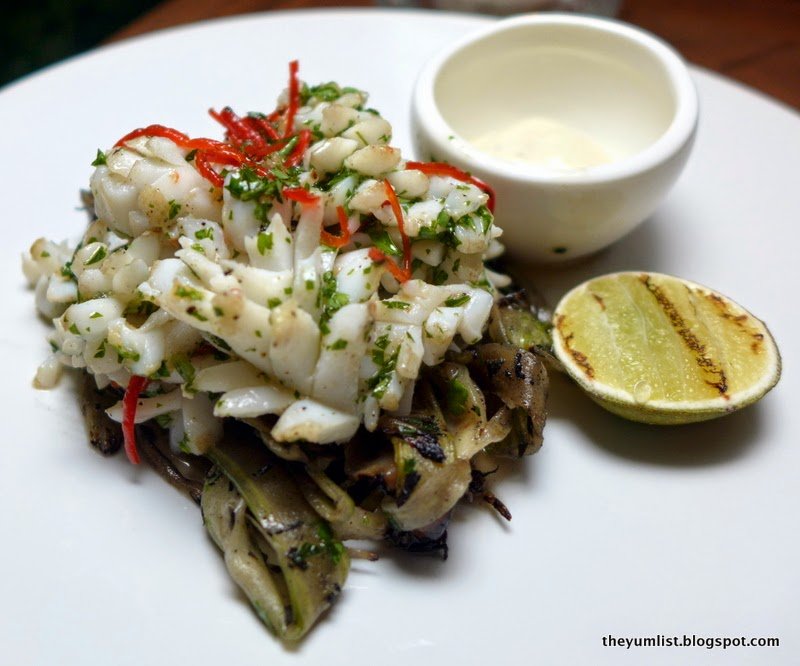 Squid
Charcoal Grilled Prawns (Rp. 150 000) are big fat princely specimens. Pink from cooking, they're tender but meaty enough to bite into. Don't miss the mashed avocado base, and be sure to wipe up the rest of the guajillo chili marinade to get the complete experience.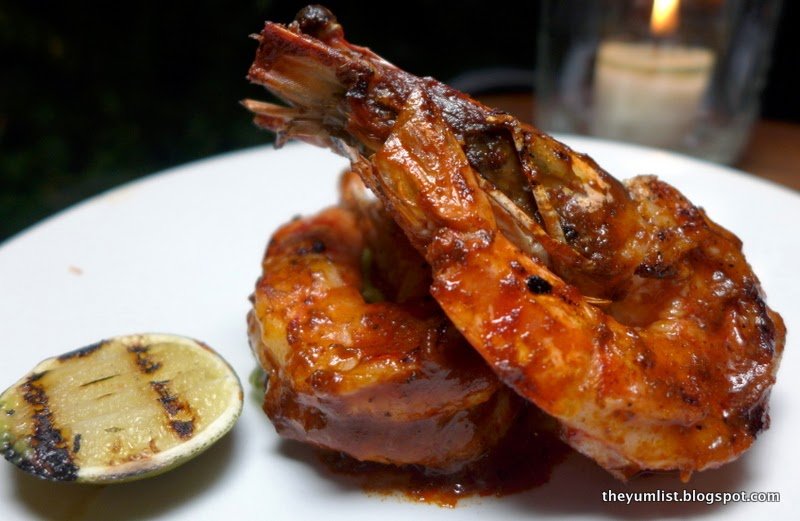 Prawns
Chargrill Octopus (Rp. 110 000) is chaperoned with chorizo, crispy deep fried polenta rounds and paprika oil. The sausage is bursting with flavour but a mound of fresh herbs serves to take the edge off its intensity, creating equilibrium in the dish's savour profile.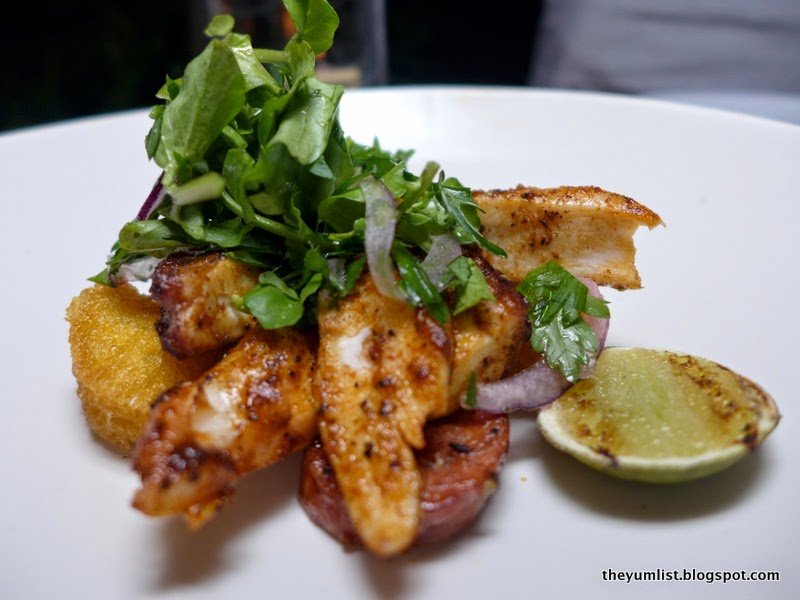 Octopus
A hint of drama and mystery surround the arrival of the tuna. Capped with a glass dome, the insides are smoky and once removed the fumes gently waft to our nostrils making us salivate and even more eager to sample. Jalapeño, coriander and smoked tomato add extra liveliness to the Smoked Sashimi Tuna (Rp. 135 000), which is soft and delicate in both flavour and texture. Wispy shredded cabbage and carrot make a fine slaw crown.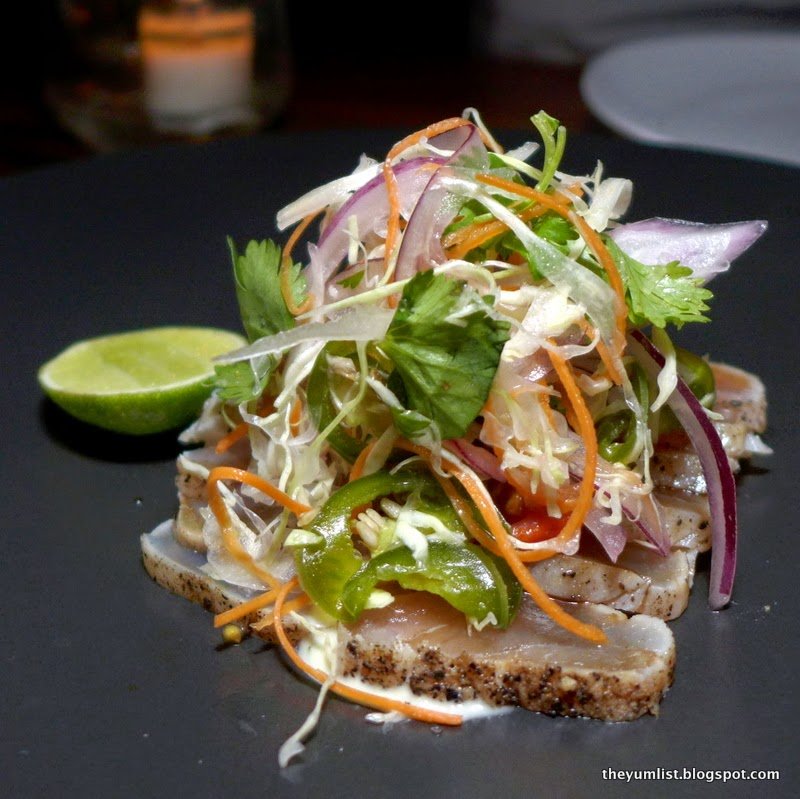 Tuna
Next comes the meat so Kaiken Malbec (Rp. 125 000) from Mendoza Argentina makes a suitable diversion in beverage. Ripe berry suggestions on the nose, a medium body, and medium to long finish with supple tannins, pair well with the upcoming pork. Voluptuous wine glasses hold the dark cardinal drop, looking ever so luscious filled with the deep red.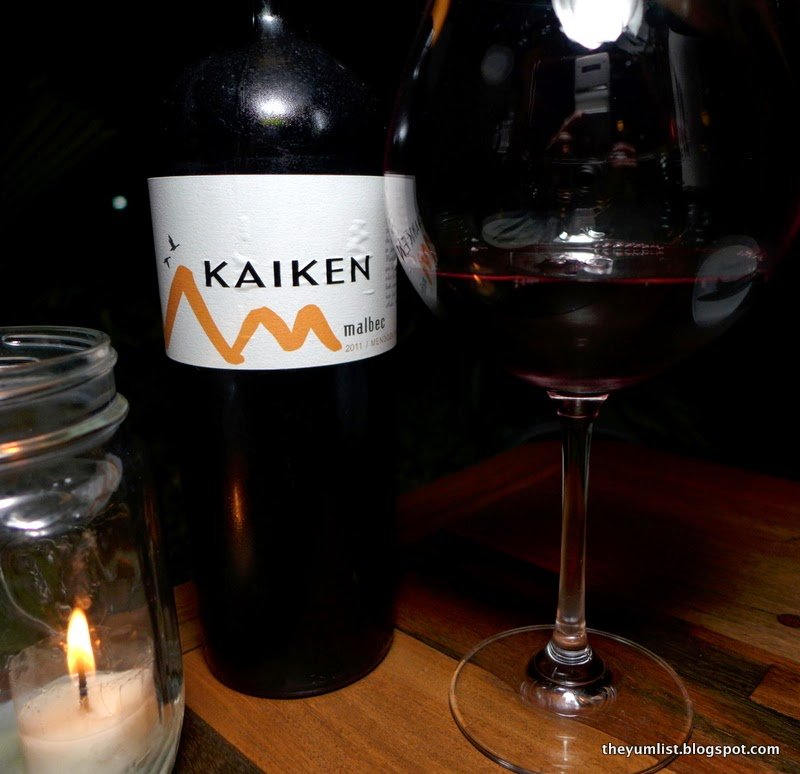 Malbec
The asado of the day is Local Suckling Pig (Rp. 250 000). It seems a fitting order in Bali. Brittle crackling still has a layer of soft fat underneath supplying a contrast in mouthfeel. The accompanying green chimichurri is a well-executed model of this Argentinian sauce, but the pork is so flavoursome that the side condiment is not needed (and too has hubby in moaning, groaning raptures of "Que rico, que bueno, que divino!")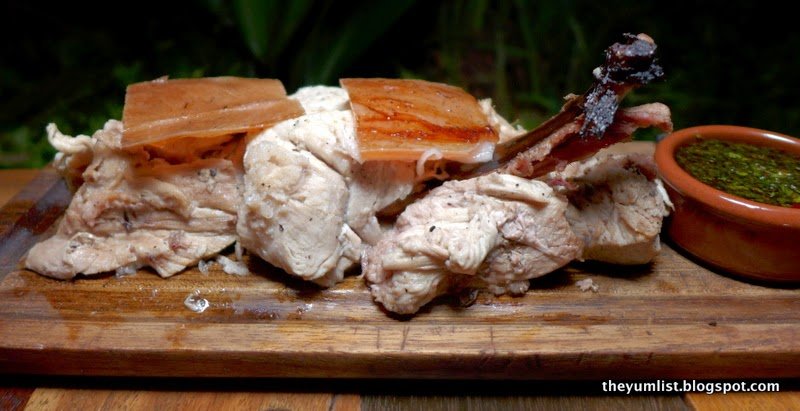 Suckling Pig
Pork Spare Ribs (Rp. 190 000) are another special of the day and are coated in a sticky decadent agave and chipotle glaze. Sweet and spicy are of comparable intensities. The syrup however enters the palate first with a big wallop, then it's almost a fight to the end to see which will remain in the mouth. The chili wins out with a tingle left around the edges of the tongue for a good few minutes after swallowing. Yellow corn, mixed lettuce leaves, cucumber sticks, cherry tomatoes and red capsicum pretend to add some health to this plate of happy sin.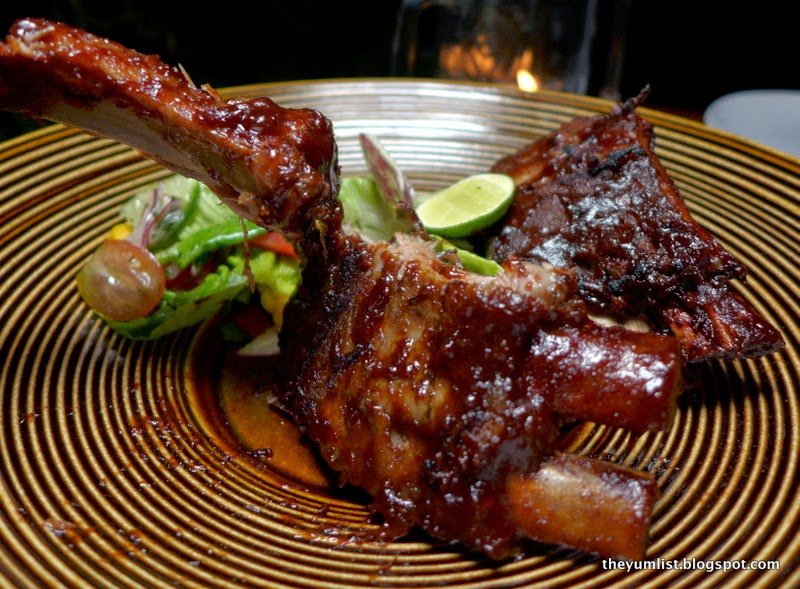 Pork Spare Ribs
The veggie sides are far from your standard steamed, baked or boiled preparations. Burnt Carrots (Rp. 55 000) are richly coated in a maple vinaigrette with lemon and parsley. Green Beans (Rp. 55 000) are livened with anchovy butter, lemon and oregano and the cauliflower deserves a paragraph of its own.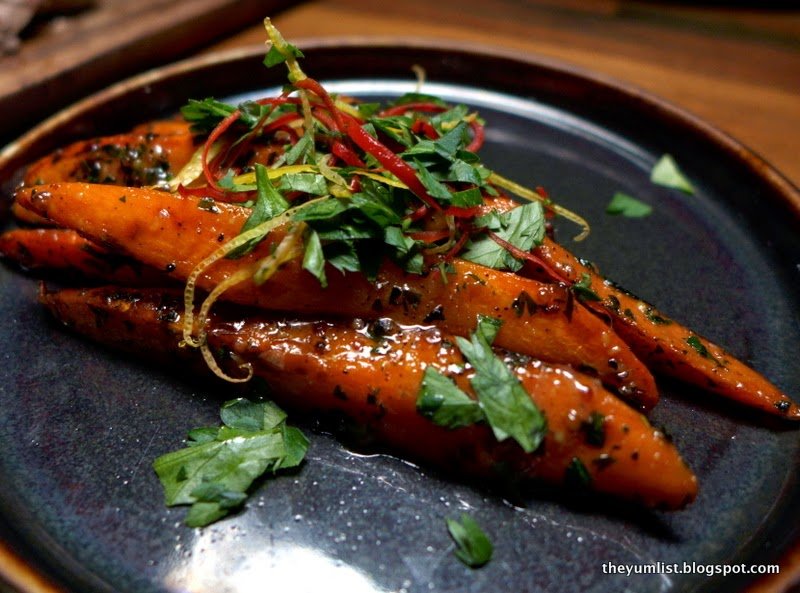 Burnt Carrots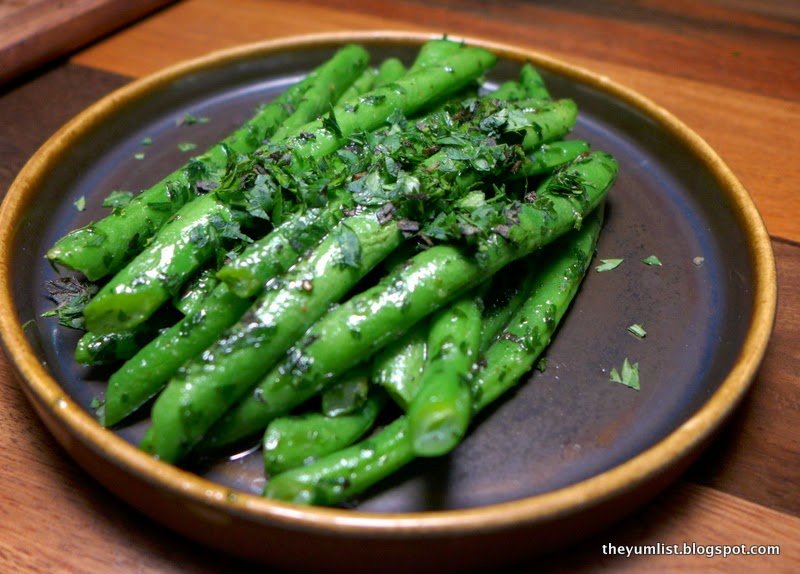 Green Beans with Anchovy Butter
Cauliflower Frito (RP. 85 000) could be a meal by itself. Packed with both whole and pureed chickpeas, raisins and pine nuts, and seasoned with cumin and fresh herbs, I'd imagine this combo as a very satisfying lunch. The overall portrait is savoury but the dried grapes pop up in between chews with sparks of fruitiness.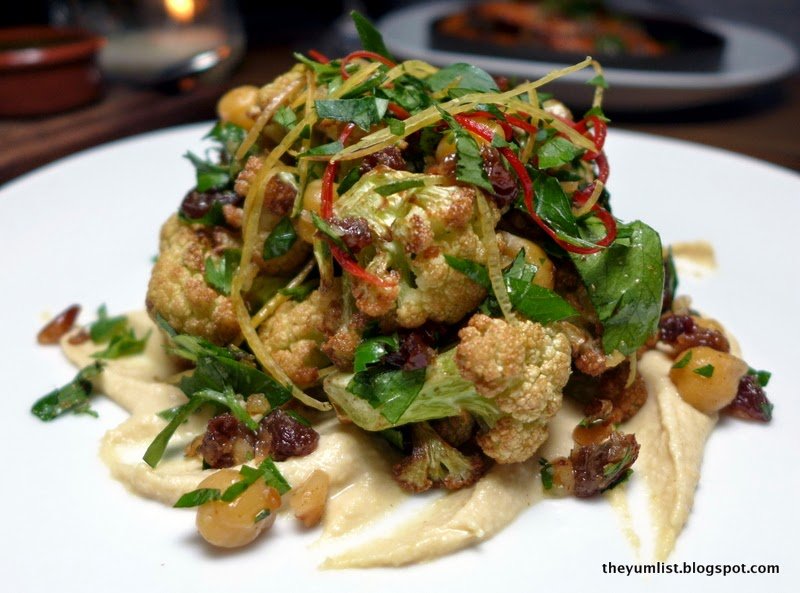 Cauliflower Frito
All good things must come to an end, and Barbacoa makes an unforgettable conclusion with a Dessert Tasting Plate (Rp. 100 000) holding a trio of South American inspired sweets. Dark Chocolate-Ancho Chili Truffles are potent specimens of chocolate heaven – smooth and rich with a hint of spice – and have me in sweet cacao rapture. The White Chocolate and Honeycomb Ice Cream Sandwich holds a slab of icy gelato between two slim coconut biscuits, but it's the three hour Flan with Crisp Waffle that floats hubby's boat. This quesillo is creamy, with a flawless texture and just a trickle of caramel liquid across its top. It has the Venezuelan salivating, warbling and mumbling memories about his childhood and mummy.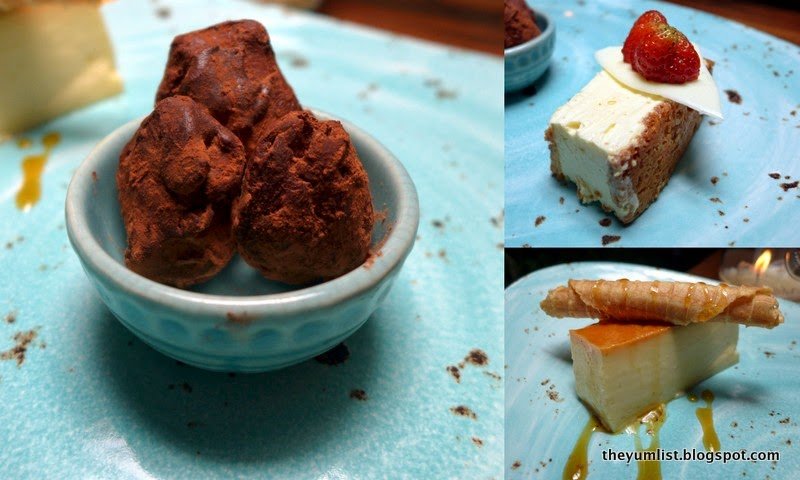 Dessert Platter
Café XO Martini (Rp. 150 000) with Patron XO Café, Kahlua, vodka and coffee is a superior close. A deep brown liquid pools the bottom of the inverted volcano glass with an inch of foam mantling the top. The froth is so thick that it maintains three coffee beans on its surface. An espresso conclusion is generally a reliable ending, but add to it vodka and some Mexican spirits and liqueurs and it turns into a grand finale.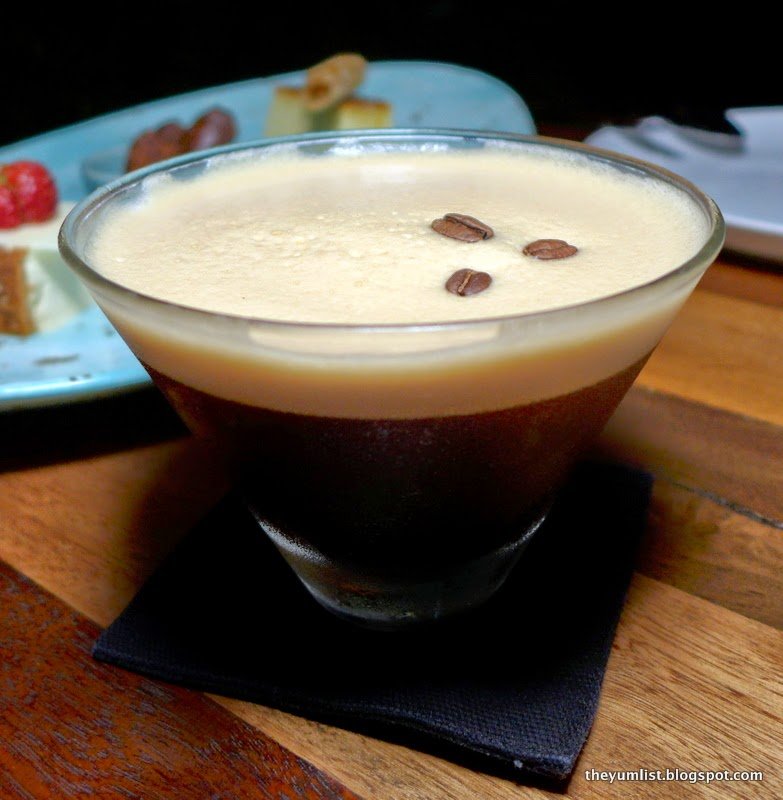 Espresso Martini
Reasons to visit: Margaritas; Chapa Bread; everything from the grill; mounds of vegetarian options; Flan; Ancho Chili Truffles; great ambience.
Barbacoa
Jl Petitenget No. 14
Kerobokan, Bali
Indonesia
+62 823 4133 0677