About eight years ago, in the perspicacious gourmet community of Kuala Lumpur, a delicious murmur was whispered from foodie's ear to foodie's ear. Rumour had it that a magnificent chef, straight out of the world-renowned kitchen of Spain's El Bulli, had graced the scene of Shangri-La's fine dining restaurant, Lafite. Whispers of molecular cuisine and playful jest on the senses were spread with a twinkle in the eye and an essence of glee.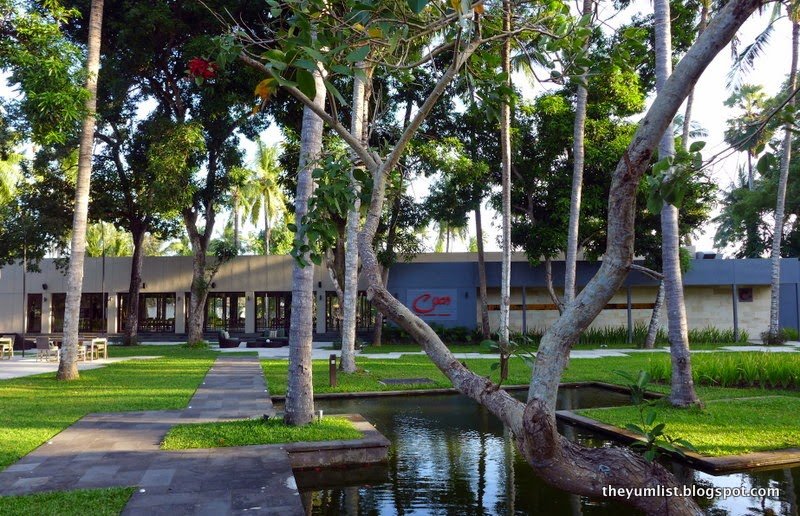 Cuca – Beautiful Location
It was Chef Kevin Cherkas who was causing the stir. And… even though that was of days long past, we still recall in fine detail some of the plates we dined on (way before The Yum List was conceived where everything we ate was photographed and documented for the world to see). The dish that stayed imprinted in my memory is Chef Kevin's eggs for dessert. Visually appearing as bacon and eggs, white merengue held a bubble of liquid mango, which upon breaking, ran down the plate just as an egg yolk would. Flavours were fresh and simple, but the idea so magical that it stayed stamped in our brains until this day.
Now unleashed from the cuffs of an employer, Kevin and his spunky wife Virginia are on their own – running the show exactly as they please – and we're excited to experience Kevin's creativity, without restriction, at Cuca in Jimbaran, Bali.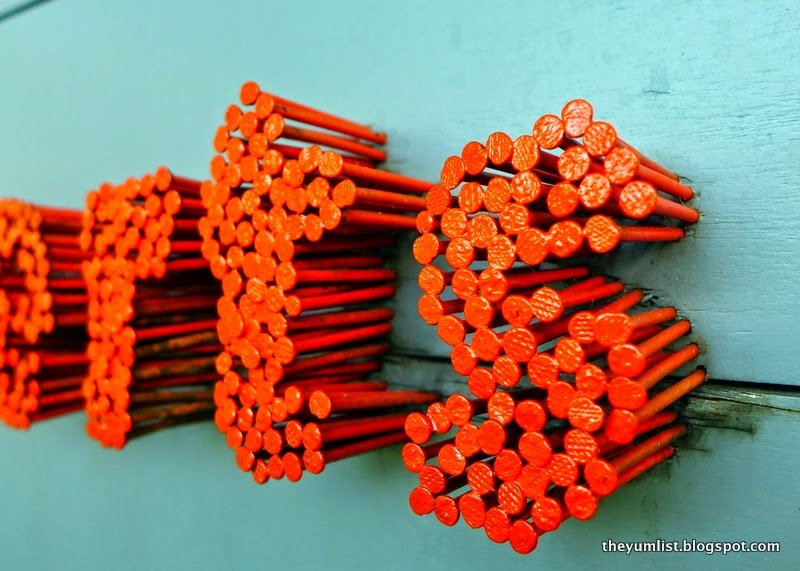 100s of Nails to Make the Cuca Sign – it's all in the details
Three distinct spaces allow you to craft the direction of your evening. Seating at the Food Bar sets you up front, in the midst of the action. An eight metre solid teak bar, with chairs enough for ten, is slightly elevated allowing guests to peer down into the open kitchen. This is our chosen spot. It's where the action is at. I'm directly hooked into the kitchen, the chefs, the food, the smells and its preparation. I can quiz chef at my own free will and he's ever so willing to describe his masterpieces. Chefs serve guests directly and explain food as it's delivered. "Hyperactive, intense, theatrical. Totally unromantic. Exciting. Right in the action. It's like 3D!" shares Chef with an excited glimmer in his eye. I'm guessing this is where he would sit if he were on the other side of the table.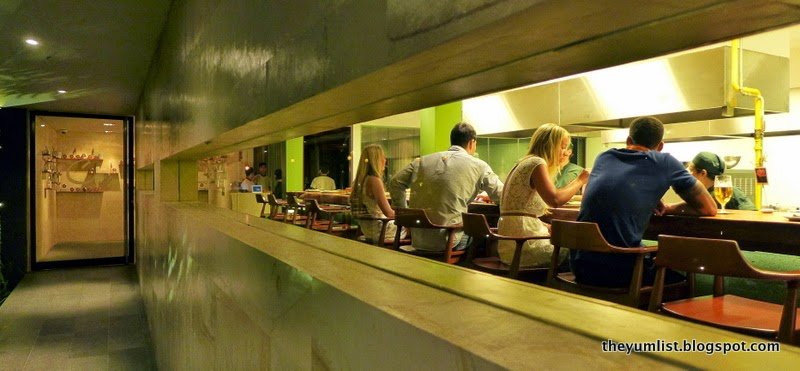 Entrance to Cuca – a little peak in on the Food Bar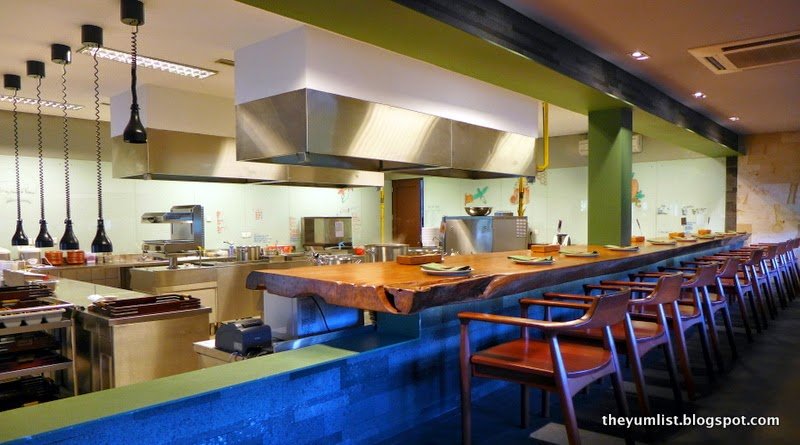 Food Bar
The Dining Room is suitable for an intimate evening, uninterrupted by any kitchen banter. At first look the space is an open hall. As the night falls however, hanging curtains serve to separate tables, each lit with four downlights and adorned with a bright yellow gerbera. It's a clever use of space. At the forefront sits a solid teak table, with tree trunk legs, chef's table. It's a very special spot. This table also gets service and explanation directly by the chefs, but unlike the Food Bar, guests are seated across from each other so can converse. Chef calls it "the best seat to see the theatre," as diners get the window into the kitchen but also the spectacular vista of the Dining Room and Garden Lounge at night.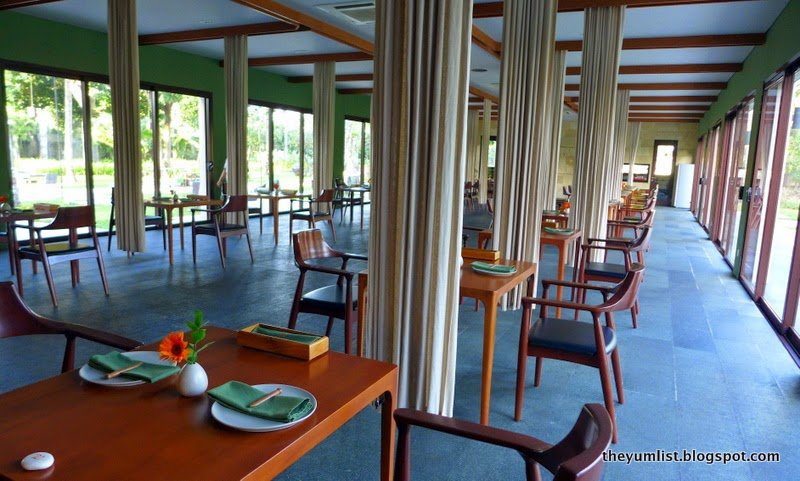 Dining Room
Bali's beautiful tropical weather and lush foliage can be rejoiced in, in the Cocktail Bar and Garden Lounge. An expansive lawn with dining tables and low lounges is gently illuminated with hanging pendant lamps. It's al fresco dining at it's best.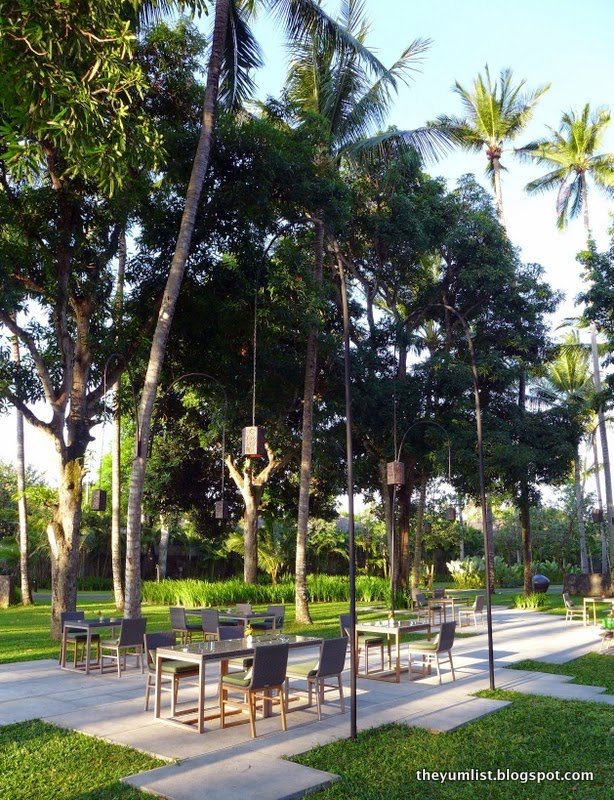 Cuca Al Fresco Dining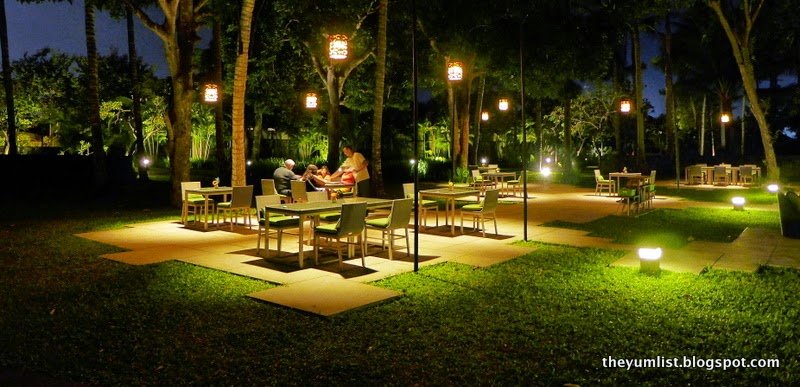 Al Fresco Dining at Night at Cuca
Thirsts must be quenched on a tropical island, so it's the cocktail menu that we grab to begin. The drinks claim to be a form of cuisine on their own. All can be ordered with or without alcohol. Pricing is simple – Rp. 90 000 – 95 000 as a cocktail, or Rp. 50 000 as a mocktail.
Sun-gria is made with red wine, iced fruit and brandy soda. Sounds simple enough right? Cuca keeps the fresh flavours of the original beverage but adds interest with red, yellow and orange ice cubes stacked up in a tall glass, which slowly melt as a bottle of cocktail liquid is poured over the top.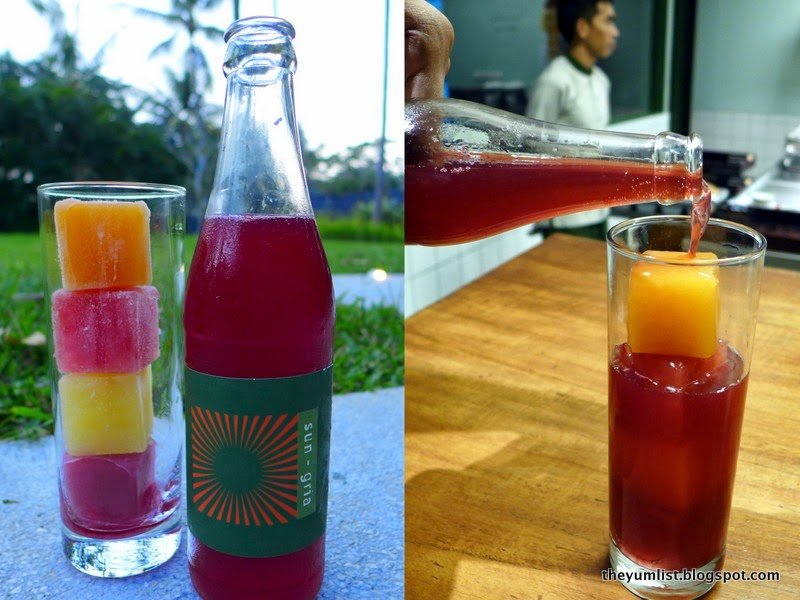 Sun-gria
Fresh citrus, rum, soda and lemon balm makes up the Tokyo Mojito. A slanted glass holds a ball of ice. A large lemon balm leaf hugs its side and a thin slice of lime caps the top. Again a separate bottle of Cuca brew is tipped in the glass. This drink too is refreshing and goes down easily in the warm weather.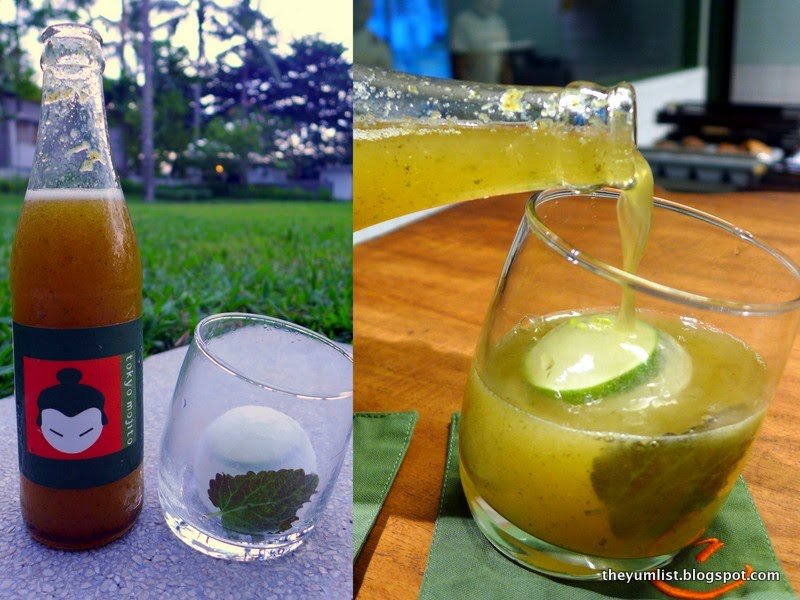 Tokyo Mojito
Sitting at the Food Bar, as mentioned, up close and personal, I quickly learn that all ingredients are painstakingly hunted down and sourced locally. It's a quality I appreciate not only for being an earth and community friendly practice, but because I believe it tastes better. And I'm in Bali. I want to savour Bali!
An exciting array of tapas are divided into Inspired, Chichas, Ceviches, Puddles and Specials. We linger on Honey Baked Pumpkin Salad, Warm Melting Cheese, Marinated Pulled Pork; Farmed Chicken Chicha, Emperor Fish… it's not stopping. There are so many dishes we both want to taste. Deciding is making us overly excited. Finally we calm and turn the choosing over to the chef.
Any notions of fine dining are thrown out the window with the complimentary first bite. Replacing regular bread and butter is the Ayam Betutu. The pale flaxen ball looks way too large to fit in my mouth. It's spongy to touch, almost like a super light marshmallow. We pick it up between thumb and forefinger and… stuff… it's inside. I'm expecting my cheeks to be full with barely enough room to chew. It quickly compresses however and we're left feeling surprised with a lingering sweet and sour remaining on our palates. "Unboring," claims chef and rightly so!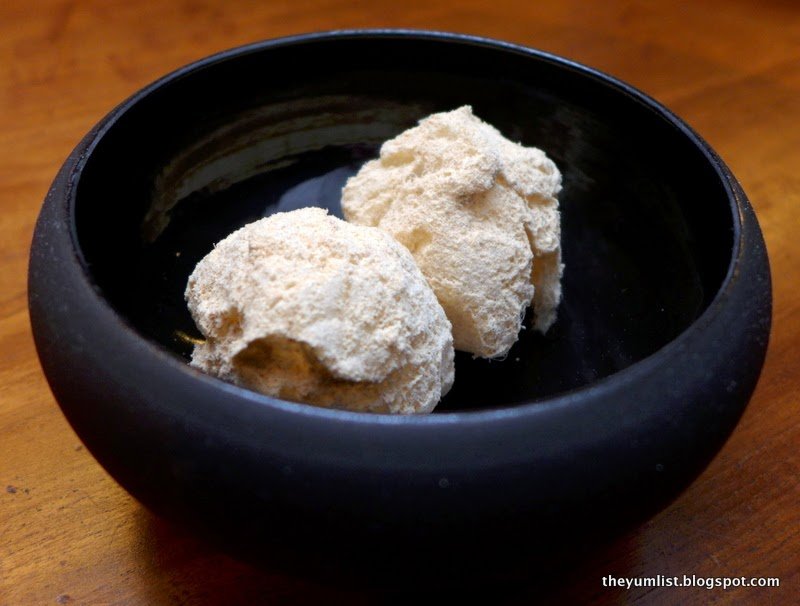 Ayam Betutu – Cuca's Version
Emperor Fish (Rp. 90 000) turns out to be a take on classic Peruvian ceviche. Thin meaty pieces of flesh are furled around the plate, marinated in the citrusy leche de tigre, and topped with lemon basil and pumpkin seeds. Fresh discs of watermelon and shaved watermelon ice brighten the top, contributing mild sweetness but also serving to keep the dish chilled. Kernels of sweet corn balance the general tanginess and, the seeds leave a slightly oily finish. Chef steps back in and laughs that the seeds are not just for flavour and crunch but also to poke fun at the watermelon that's had its seeds removed. Cooking with a sense of humour. We like it!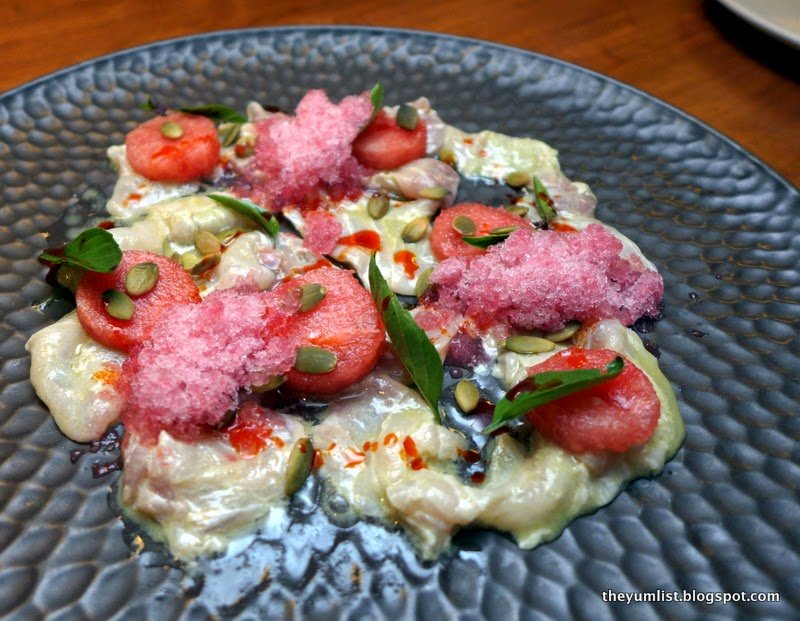 Emperor Fish
The menu lists creamy yoghurt, long beans, coconut granola and tarragon as the ingredients for the Honey Baked Pumpkin Salad (Rp. 60 000). The description doesn't even hint at the flavours in this dish. Served in a pale blue bowl, arcs of tanned organic pumpkin are soft with a demure sweetness from Javanese honey. Fine crumbs of granola are chunked up with fragments of candied coconut. Long beans furnish additional texture and balance out the sweetness. The yoghurt has been strained to produce a thick creamy custard-like consistency. It has us our spoons diving and colliding. We're moaning with pleasure. Words can't adequately describe it. It's much better said with a groan of delight. Chef smiles and says, "It's unusually placed flavours." Personally we can't imagine anything better but then he adds, "This is as normal as it gets," which only serves to elevate our enthusiasm.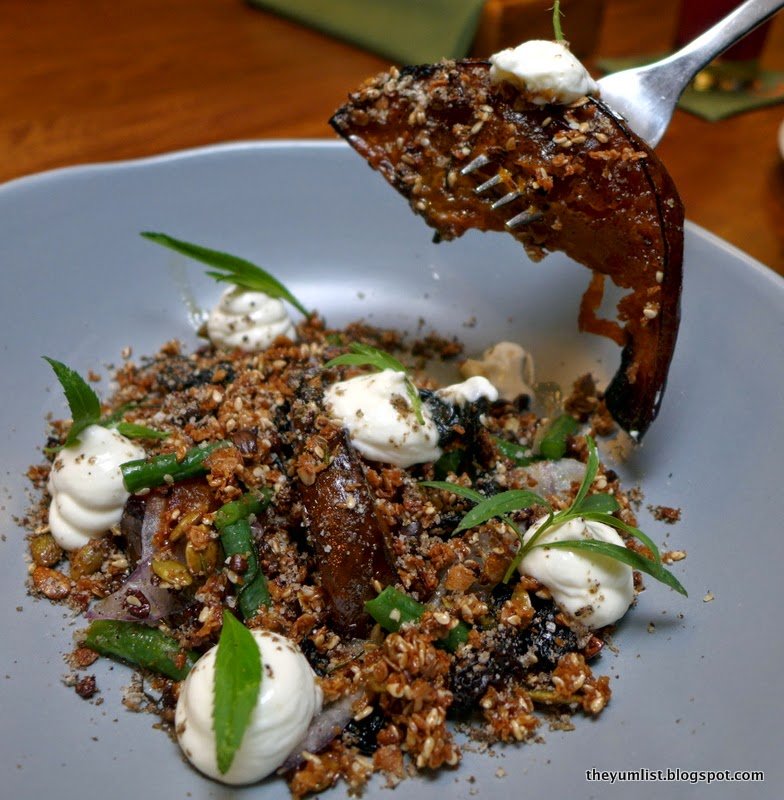 Honey Baked Pumpkin Salad
Kevin continues disclosing his secrets, "Everything fresh, every single day, every thing new, everyday. The secret to all food is super fresh ingredients. There are things in Bali that are magical… cashews, wild fish, strawberries from the mountains that are sour not sweet… We can get ingredients from nearly any organic farm on the island in two hours, picked and delivered on the same day. We find farmers that are passionate about their production. They, like us, do something because we absolutely love it to death. "
Chefs around the island talk about the next dish (it was originally a chef friend who first recommended a visit), and often Cuca and the octopus are said in the same breath. BBQ Octopus (Rp. 100 000) mixed with thin sticks of green apple, caramelized cauliflower and coriander rings the side of half the plate. A puddle of the most delicious sauce made with green chili, cilantro, spring onion and ginger with extra virgin coconut oil pools the middle. Chef describes it as, "A Balinese gazpacho. Absolutely stunning. One of the most wonderfully aromatic flavourful things you can put in your mouth. This is the dish on the island that all the chefs come for."  And it's true. It's zippy, twangy, exciting. Not a drop is left.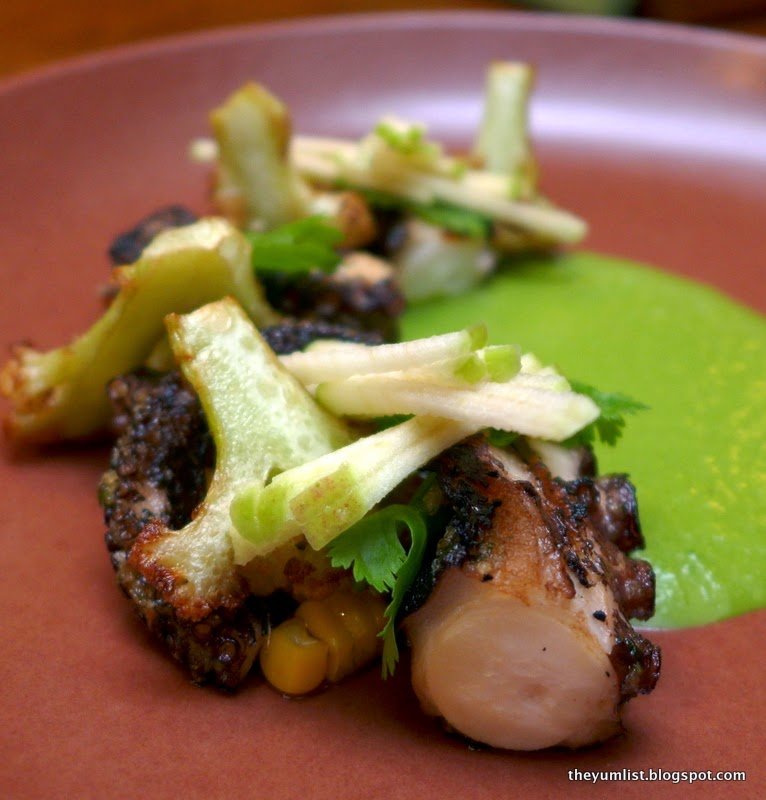 BBQ Octopus
Crispy Fried Chicken (Rp. 70 000) is described as a "Japanese version of KFC." Basically chef claims that he and, wife Virginia, think about comfort foods around the world and get to the core of what makes
them so. This one is from chef's childhood memories of eating Kentucky Fried Chicken. Wild honey, country coleslaw, sesame dust and Asian basil are all components. A powder of sesame gives creaminess, while German pickled cabbage gives acidity. Put them together and you get the creamy coleslaw. Chicken is tender within, encrusted with a crunchy cereal like coating. I find the see-saw of flavours ever so slightly favouring salty. "Mmm… you have to eat it all together," Hubby commands as I try each flavour separately before combining them.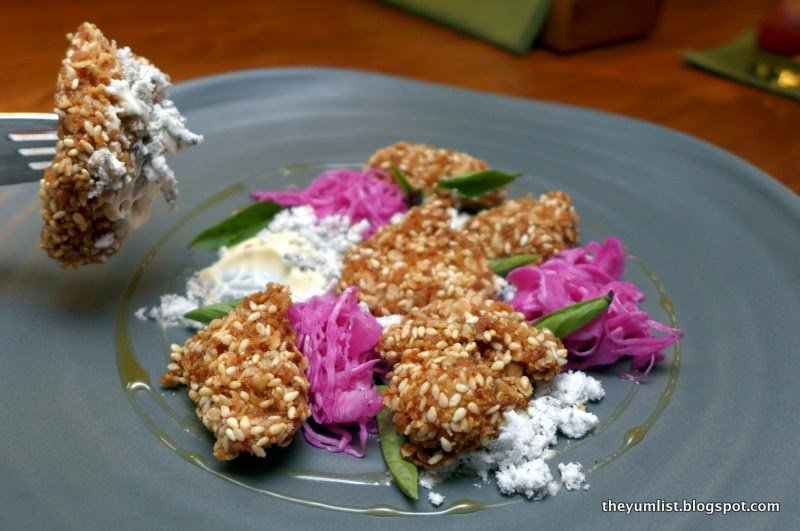 Crispy Fried Chicken
Another combination of childhood favourites is seen in the Roasted Tiger Prawns (Rp. 100 000). Blending what chef loves about sweet and sour pork remembered from early years and, and tom yam soup brings about a merger of the two. A puddle of sweet and sour sauce (red chili, coconut broth, kaffir lime, red ginger) is fringed in white. In the pond, are marinated and roasted prawns, firm to bite, perfectly cooked. Fried baby zucchini sticks cross the top. Finally two horns of home made prawn crackers tinged with beetroot, crispy, but lightly chewy, protrude from the summit. Hubby smiles broadly as he declares, "I get it! Sweet and sour. Thai soup. Prawn crackers. Two in one." I congratulate him and we move on to the last savoury tapa.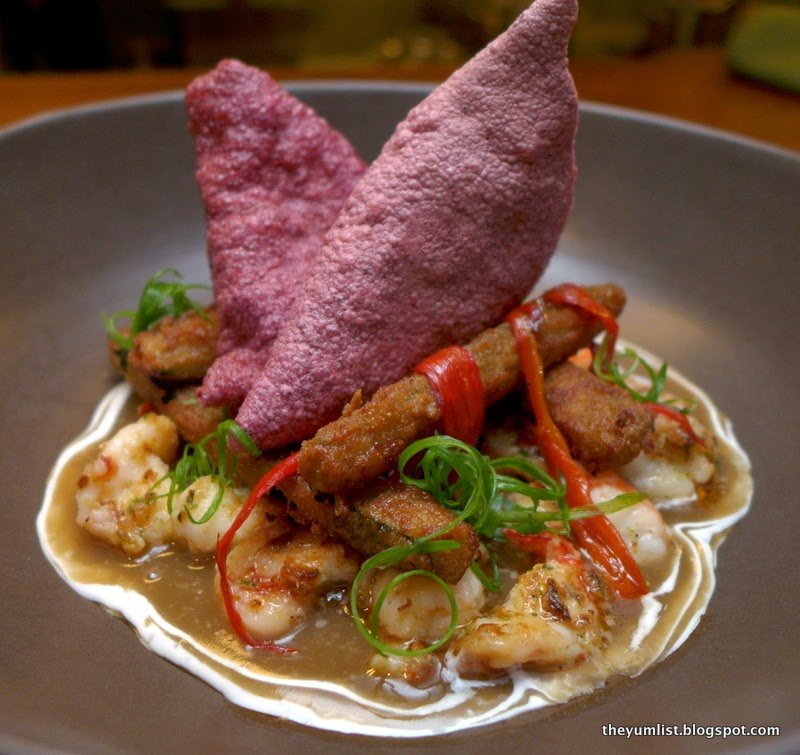 Roasted Tiger Prawns
Chef is back again and explaining in rapid fire, "This is the new one on the menu, no one's tried it. Except for me. I've been working it on if for the last two months." Sliced smoked bacon, candied beetroot, creamed cauliflower, graffiti Daikon radish stained with a pesto of parsley (chef loves radish as it can absorb flavours and colours after being sliced) and toasted shaved almonds make up this unnamed newbie. "You get silkiness from the cauliflower cream, nuttiness from the almonds, a mouthfeel of resistance from the beetroot," and the bacon gently smokes through the whole dish in taste and aroma.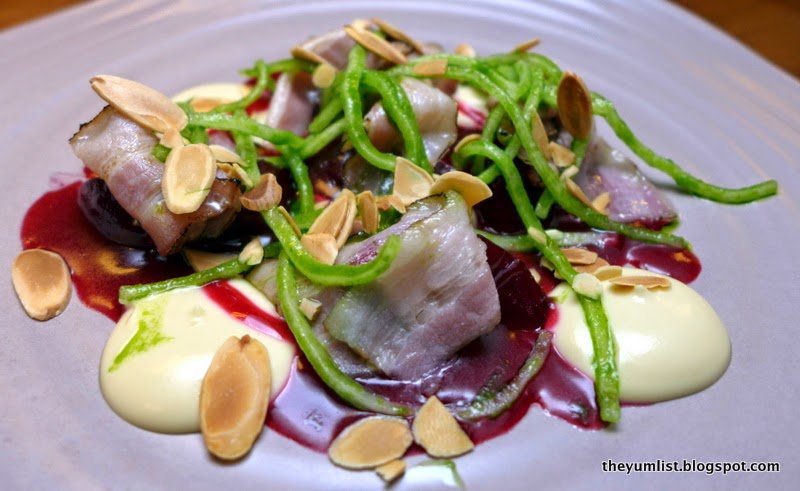 Smoked Bacon and Beetroot
Desserts are described as sweet classics that are "rather light, mildly sweet but still heavily delicious." Cocoa 99 (Rp. 80 000) presents a warm organic chocolate mousse, icy mint ice cream and rich intensely flavoured cocoa croutons. Wow. I'm wordless for minutes as I lick the sides of my mouth, trying to scrape every last drop from between my teeth, under my tongue and roof of my mouth. Is it like an after dinner mint? Nearly. Mint, chocolate, but the biscuit… I've got it! It's like a deconstructed Mint Slice Biscuit. Heavenly. The mousse – I think I could eat pounds of it. But it turns out, it's just the right amount. I'm 100% satisfied.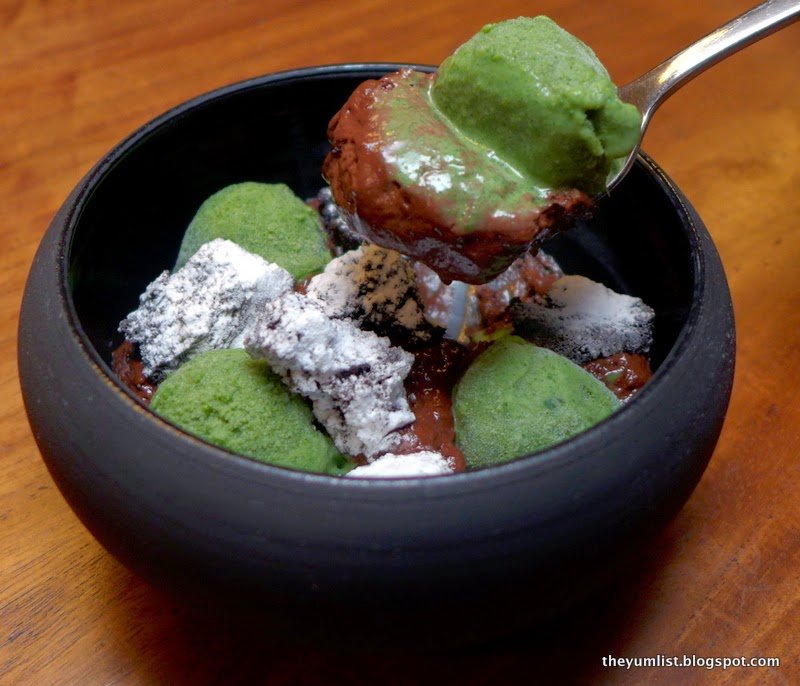 Cocoa 99
Even though the Cocoa 99 would have been a very happy ending, I have to have the Bali Breakfast (Rp. 80 000) to make my experience come full circle. First appearances are deceptive. It seems a bowl of  "good morning" has been served with a sunny-side-up egg smiling from the top. A canary yellow yolk beams from a cloud of white, with some broken eggshells poking out (oops!) from the surface.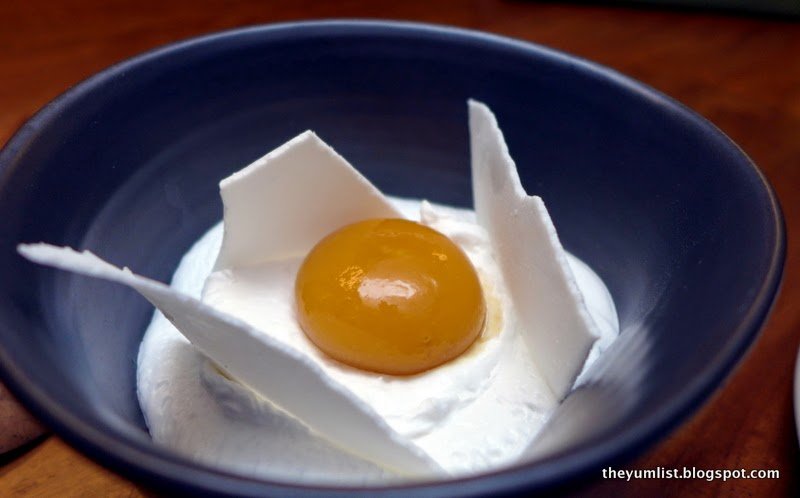 Bali Breakfast
We're instructed to first start by breaking the yolk, then scoop all the way to the bottom, don't stir. Sweet runny mango flows from the central bubble onto an icy passion fruit sorbet with a tart finish, which is smoothed over by whippy creamy coconut. Wow. Full stop.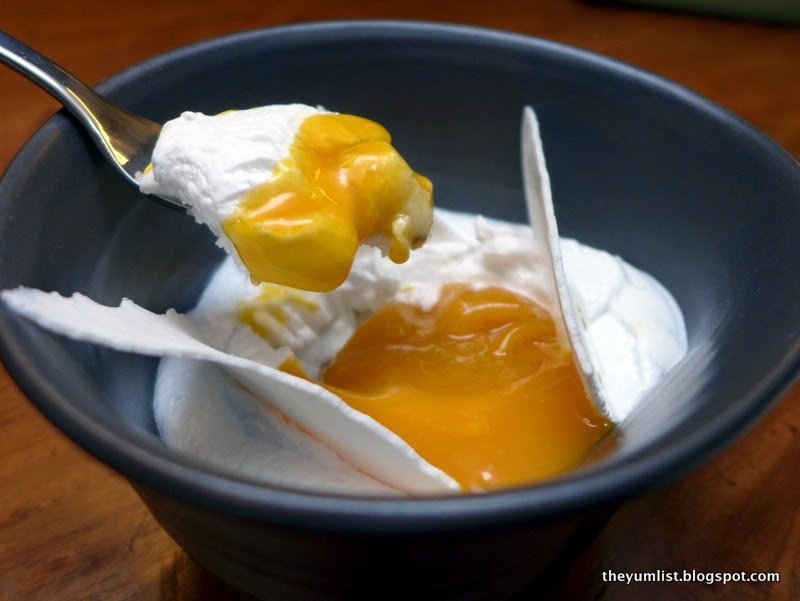 Bali Breakfast
Not a drop is left on any plate. In the words of Chef Kevin, "Food at Cuca is never boring."
Reasons to visit: inventive cuisine using 100% locally sourced ingredients; Honey Baked Pumpkin Salad; BBQ Octopus; Cocoa 99; Bali Breakfast.
Cuca
Jalan Yoga Perkanthi
Jimbaran 80364
Bali, Indonesia
+62 361 708 066