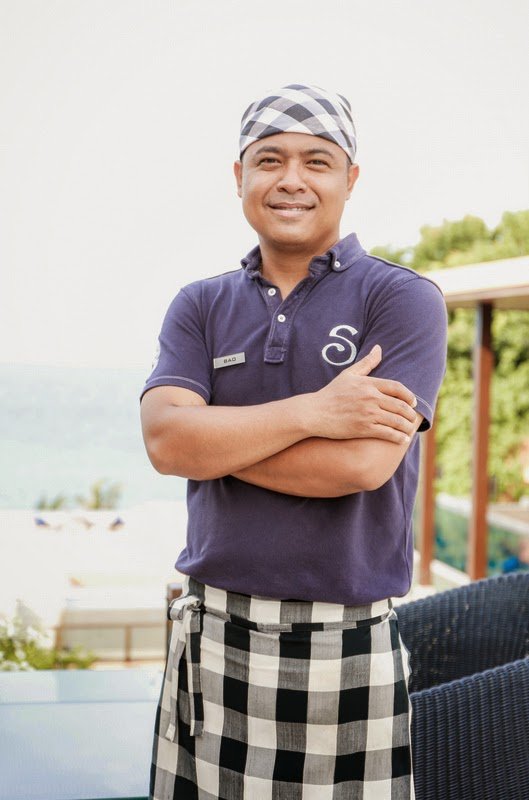 Chef Bao, Baba, Sri panwa
Interview with Chef Bao of Baba, Sri panwa
What do you do and how did you get into the industry?
My culinary journey started almost 20 years ago when I was first taught fruit carving, which is the art of carving fruit in intricate detail for garnishing and decoration. It's not how the typical story for every chef begins, but something about it got me hooked and I made it an effort to learn and try new things every day. From then on, my passion and curiosity kicked in and so did my knowledge and love for cooking.
Share with us an interesting story from behind the scenes.
My most memorable day working was on New Year's Eve 2012. NYE is a big event at Baba Poolclub, and the kitchen team as well as the rest of the staff had been planning and preparing for this event for months. A lot of time, work, and effort had been invested leading up to the dinner party and it was all worthwhile because that very night I was approached by a very special guest, one whom I deeply admire, HRH Princess Sirivannavari of Thailand. The Princess addressed me directly and I was so honored to personally cook for her. The following day I was requested to prepare a private BBQ for herself and her guests in the Residence Villa. The Royal Family are highly respected and very influential amongst the people of Thailand, so you can imagine the look on my family's faces when I returned home to tell them!
What's the best/ worst part of your job?
The best yet most challenging part of being a chef is that the learning process is never ending. Like with most professions in the creative field, you can be the best in the industry but the challenge is to stay on top by continuously learning, understanding criticism, and gaining inspiration from everything and everyone around you. I'm always open to learning new things. Inspiration is endless.
What's your personal favourite meal/ drink at Sri panwa?
Spaghetti Aglio e Olio with Anchovies is a dish we proudly created, combining the rustic taste of Italy with the spicy, aromatic flavours of Thai cuisine. Spaghetti is tossed with garlic, olive oil, anchovies, herbs and dried chilies to give it that oriental kick! Pair this with our Baba Daiquiri (Sri panwa's twist on the classic Daiquiri – infusing it with exotic flavors such as fresh passion fruit and ginger) – You won't find a better one anywhere else.
Tell us a story about one of the dishes/cocktails you prepare…
We certainly do not present you with your typical Italian menu. Yes we'll have the traditional classic dishes but you may be surprised here and there. Everyone knows what their favourite classical pizzas are, but here at Baba Poolclub I like to spice it up and create our own pizzas such as the Tom Yum Pizza which fuses the local spices of Thailand's famous Tom Yum Soup with prosciutto, truffle, shitake mushrooms, onion, garlic and mozzarella cheese. I remember presenting this for the first time to our guests – it's a rewarding feeling doing something differently and getting it right!
What's one of the coolest things you've seen behind the scenes?
Believe it or not, hanging out with Snoop Lion! Snoop and Rita Ora had a weeklong stay at the hotel where they also shot their music video, 'Torn Apart'. I was responsible for preparing their dinners and private BBQ events. He's a fun, easy-going kind of guy and it was definitely a memorable night with many laughs and stories being shared… most of which I'm certainly not allowed to share!
The perfect day off would be…
Family time is very important in Thai culture. I have two children of my own and an extensive list of siblings, cousins and relatives so with the time off that we have we do our best to arrange social gatherings at the beach or nearby provinces. I'm originally from the province of Nakhorn Sri Thammarat, which is about a 5-hour drive East from Phuket.
A life in the day of a chef is…
Early mornings! Planning and prepping take up a huge part of our daily lives especially when we host weddings, events, and private dinner parties at Sri panwa. With so many personal touches and customization going into these events it takes up a lot of time for planning ahead. I'm also responsible for ordering all produce for our Italian menu; specialty items must be ordered especially from Italy and others are sourced locally. Delegating tasks to the kitchen staff is a must everyday.
What do you do for fun?
What else to do when you live on a holiday destination island like Phuket?! I like to take my family to the beautiful beaches and quiet bays nearby in Ao Yon or Nai Harn. On a hot day, a quick hike to the refreshing waterfalls is also great. When you work in a kitchen and live on an island, the key to relaxing is the outdoors.
What's something you'd like guests to know about the cuisine/ drinks prepared at Sri panwa?
Wan Vorasit Issara, Sri panwa's Managing Director is extremely passionate when it comes to cooking, so much that he's very actively involved with the menu creation. Some of our recipes have even been passed down from his great grandparents. So expect to see some unique recipes and dishes you've never even heard of before – especially in our Thai restaurant, Baba Soul Food, which features Thai cuisine with a Southern kick.
How do you select your ingredients and why?
When it comes to Italian cuisine, fresh produce is key. Specialty ingredients such as Prosciutto, Gorgonzola, Parmesan and truffle are flown directly from Italy. When possible, we like to source our ingredients (basil, red tomatoes etc.) locally from the Royal Project in the cool hills of Northern Thailand. Interesting fact: The Royal Project is an initiative of His Majesty the King and was founded in 1969 as a solution to opium production, deforestation and poverty. It has become such a successful project and the greatest thing for us is that the produce is always fresh and certified organic.
Also, we always feature at least two types of homemade pastas on the menu. It's always a nicer touch to use freshly made tortellini, fettuccine or spaghetti – you name it.
What's your view on the Phuket restaurant/ bar scene?
Phuket's restaurant and bar scene is ever growing and booming. More noticeable is the increase of 'farang' (Western) restaurants popping up. The younger Thai generation is already starting to take a liking to Western cuisine, specifically pastas, salads and roasts. Before, it used to be just a quick bite at your local papaya salad shop across the street, but nowadays the atmosphere and dining experience is almost as equally as important as the actual food.
What can guests look forward to in the upcoming months?
For those that prefer to set their gastronomical groove to the beat of a gorgeous sunset, Sri panwa's stunning 360-degree rooftop bar, Baba Nest, has just launched a new menu of Mexican Tapas to accompany a selection of premium signature cocktails. This August we are revamping our menu, keeping our signatures and bringing to the table an exciting range of new dishes including homemade tortellini pasta and Thai desserts.
What do you enjoy most about working at Sri panwa?
A young, energetic and fun management team drives the workforce. It's not your typical day-to-day job with work colleagues, it's an exciting environment where everyone is family and treats you as such. The team here is warm, always smiling and willing to help – that's simply why I like coming to work.
Check out our experience at Baba, Sri panwa here.