Makan Kitchen chose the perfect name for their Weekend High Tea Buffet to celebrate the commemoration of Merdeka and Malaysia Day. "Shiok" is a Malay expression meaning sheer happiness and pleasure; these days it's often used to describe outstanding food. This restaurant certainly delivers the goods. Sous Chef Prem Kumar and his team impressed me with their attention to detail and creative combinations of flavours.  It's the first time I've eaten here, but it won't be the last.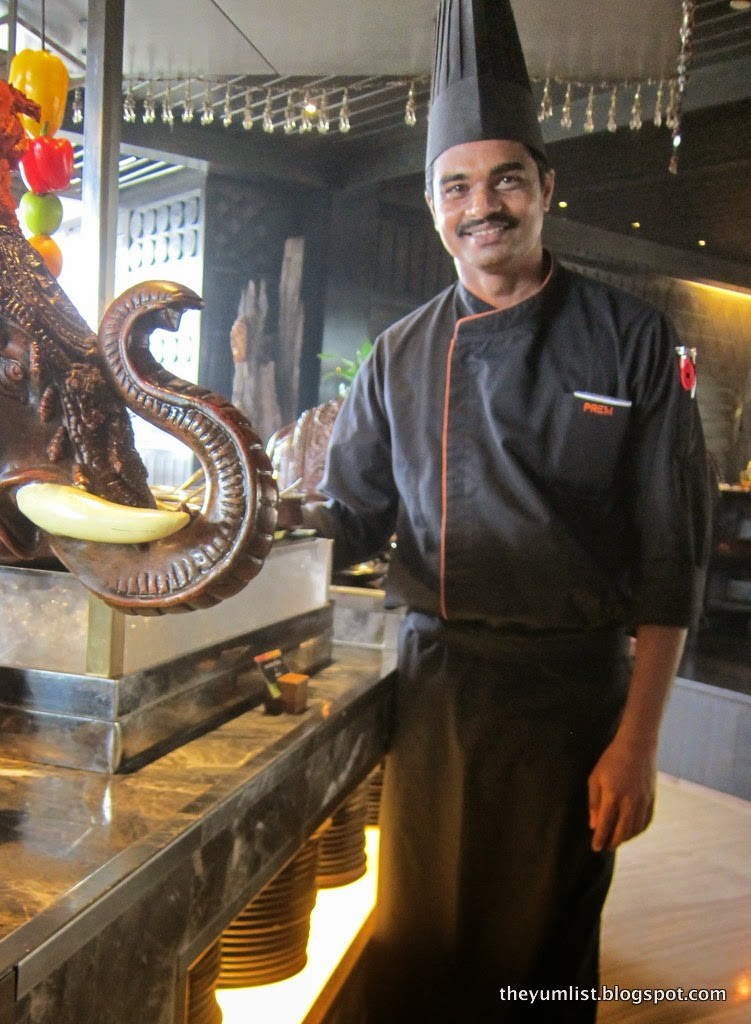 Sous Chef Prem Kumar
The restaurant is on the 11th floor with stunning views to the hills surrounding the city. There are three distinct sections – Indian, Chinese and Malay – and much of the food is freshly prepared at live, interactive cooking stations. For something a little more unusual, authentic Peranakan, Kristang and Iban specialities are also served, and the décor reflects these diverse cultures of Malaysia.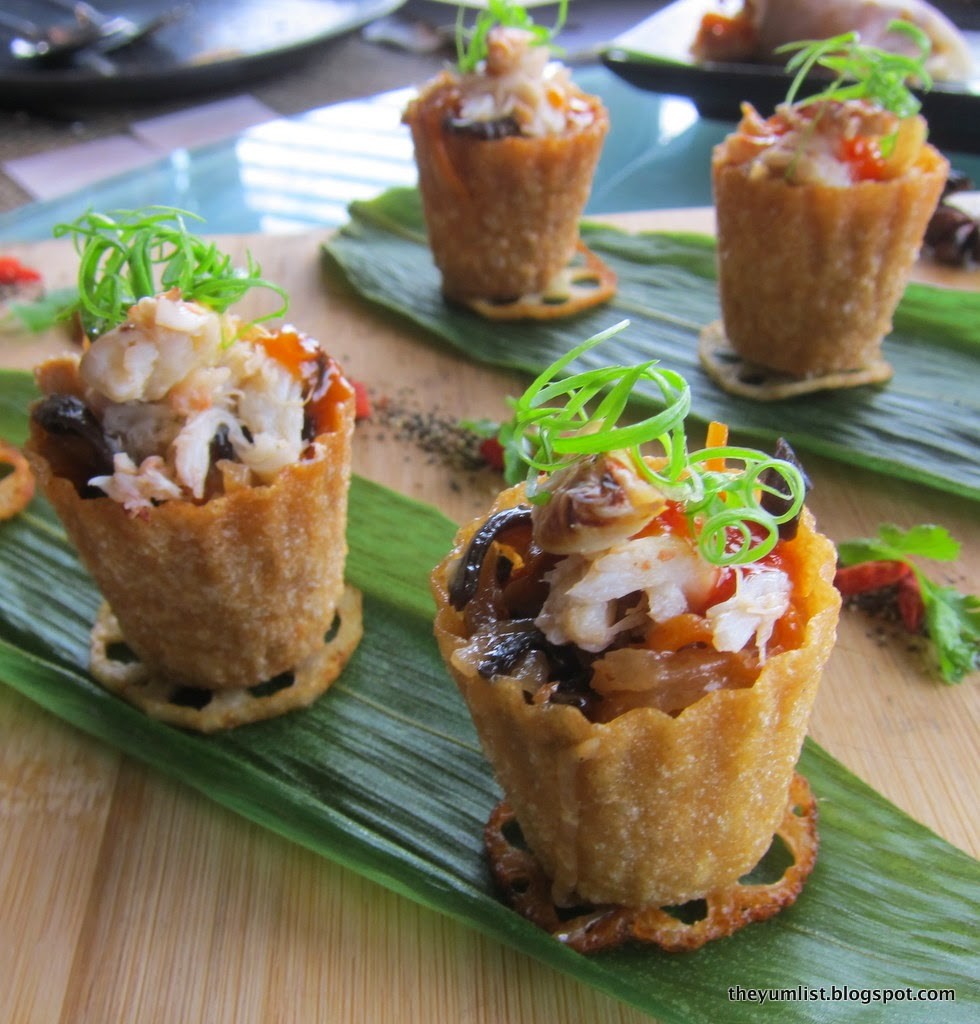 Crab Meat Pie Tee
Four special dishes have been created to add to the impressive array of food choices. Crab Meat Pie Tee (Top Hats) give a new twist to this popular Nyonya snack. A crispy flour cup is filled with crab, vegetables, mushrooms, and homemade chili sauce. Chef Prem advised opening wide and popping it all in the mouth at one go. There was a burst of crab, followed by the sweet, sour chili sauce. The crispy shell was suddenly apparent then the salty, crunchy vegetables took over and everything melded into a delicious mouthful. My dining companion said it was the best Pie Tee she'd ever tasted, and I have to agree.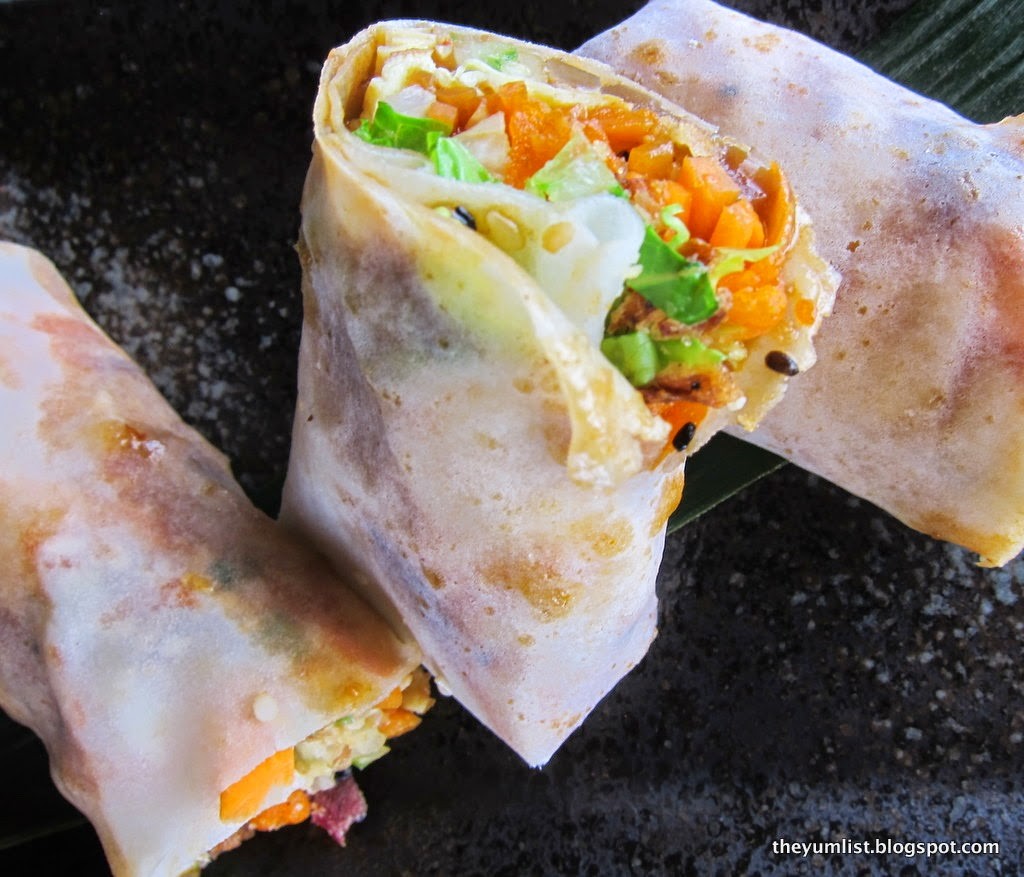 Honey Cuttlefish Popiah
The Honey Cuttlefish Popiah were generously filled with turnip, black fungus, homemade chili sauce and tender squid. The flavour was mild but pleasing with little pieces of crispy batter adding texture.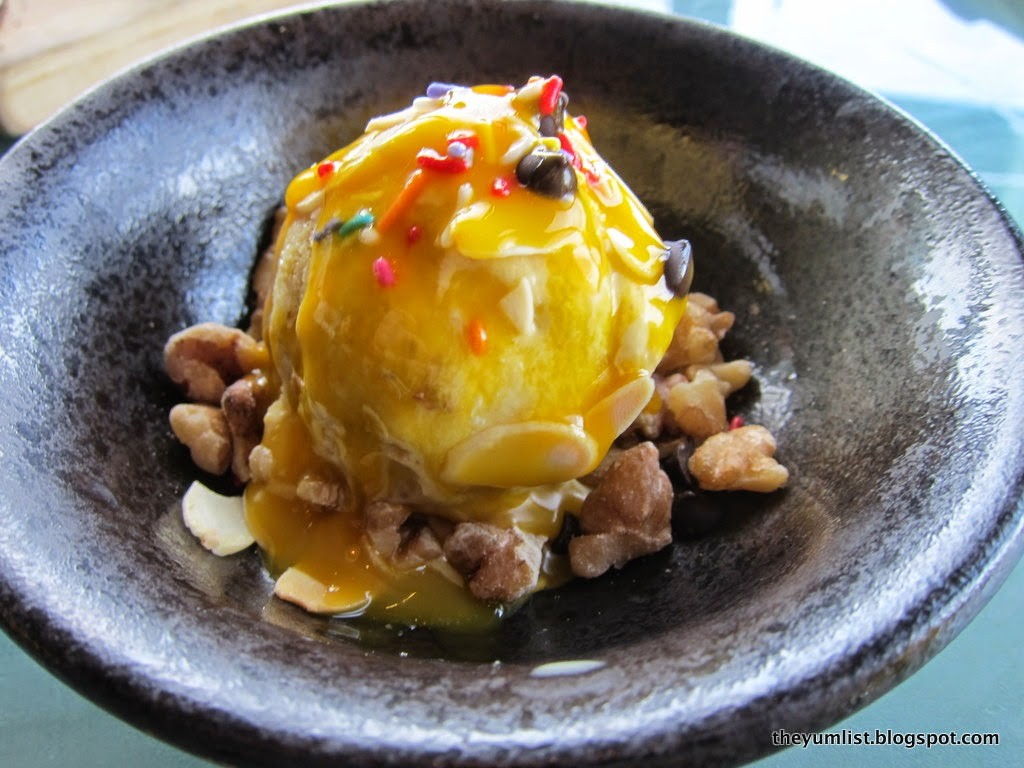 Macadamia and Mango Kulfi
Macadamia and Mango Kulfi updates traditional Indian ice cream with the addition of fresh mango, toasted nuts and just a hint of cardamom. It's rich, satisfying and luxurious.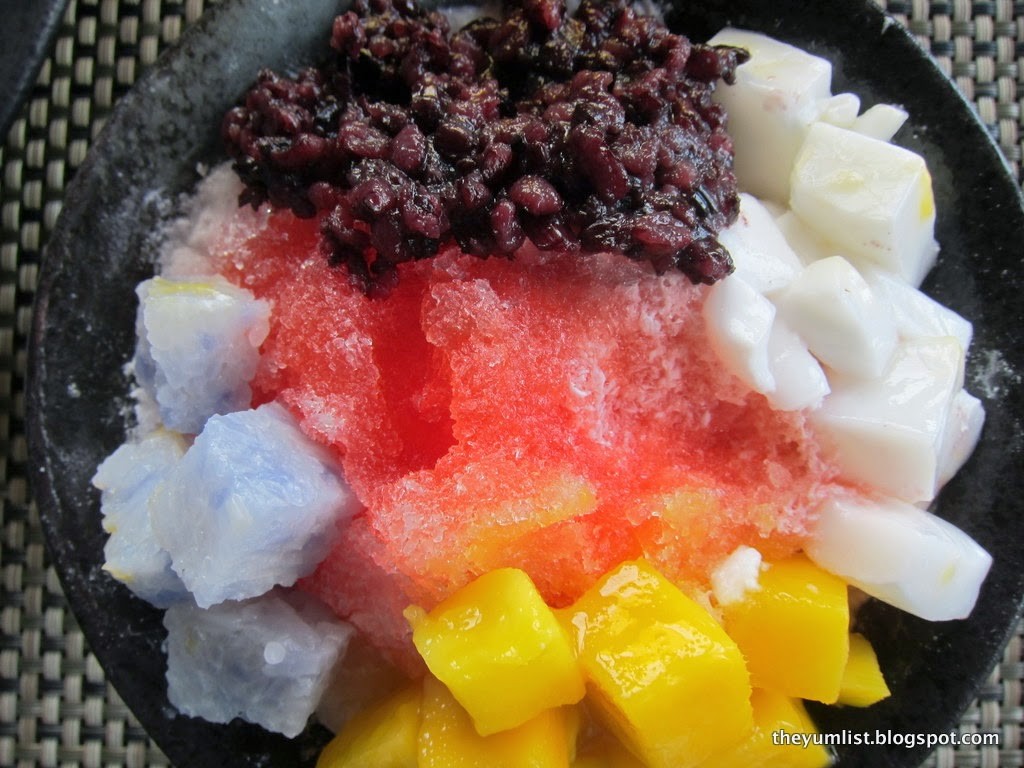 Jalur Gemilang Ice Kacang
The star of the show is Jalur Gemilang Ice Kacang, celebrating the colours of the Malaysian flag. The ice for this dish is made with coconut milk, producing fluffy shaved ice which is surrounded by cubes of coconut jelly, blue sticky rice, black rice, and mango topped with scarlet hibiscus syrup. It's beautiful to look at and a treat to eat.
Cheddar Cheese Nan
I sampled a few more dishes from different sections of the restaurant. The Cheese Nan was outstanding, nicely charred from the tandoor oven and filled with real cheddar cheese, not the usual processed cheese slices. It went well with the delicious Tandoori Chicken and Fish, and there was a good range of fresh chutneys, tasty curries and dhal.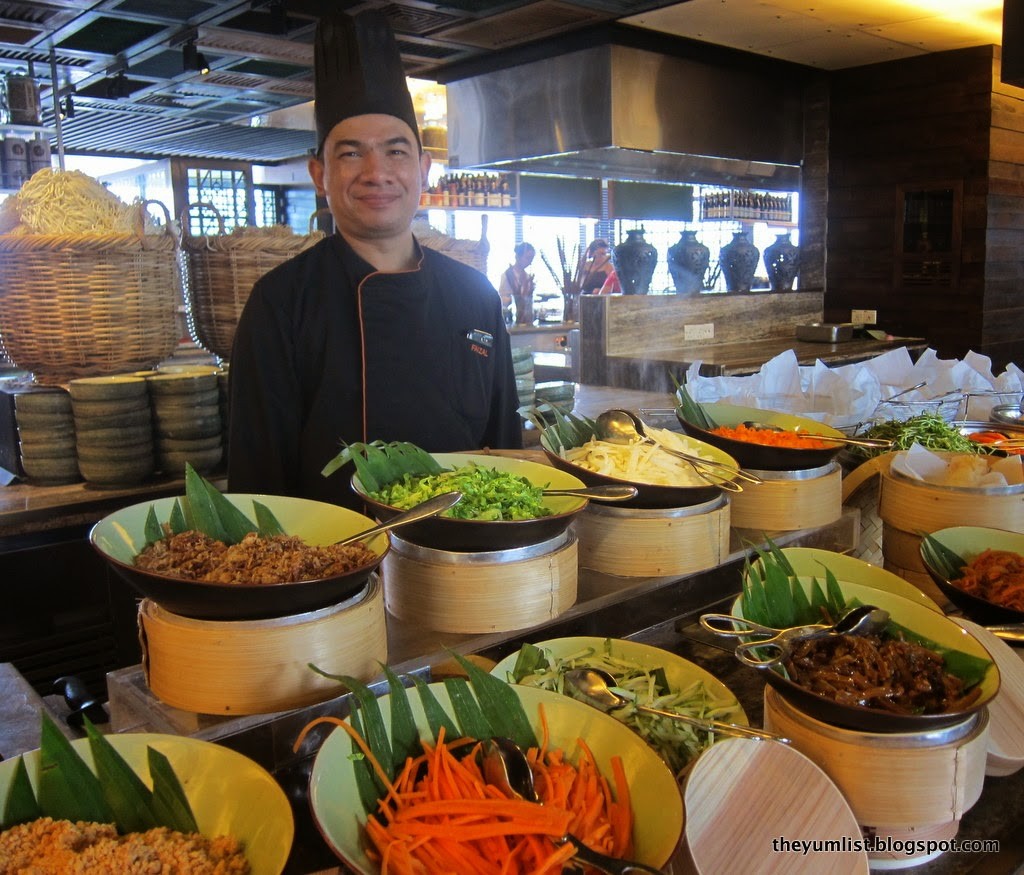 Oodles of Noodles
It's fun to explore this large restaurant and discover an excellent selection of Chinese dishes, satay and kebabs, a salad and fresh fruit area, kuih, ice cream and traditional Ice Kacang, definitely something for everyone. The restaurant advertises 60 dishes with many of them rotating daily and the special creations for Merdeka and Malaysia Day will be available until the end of September.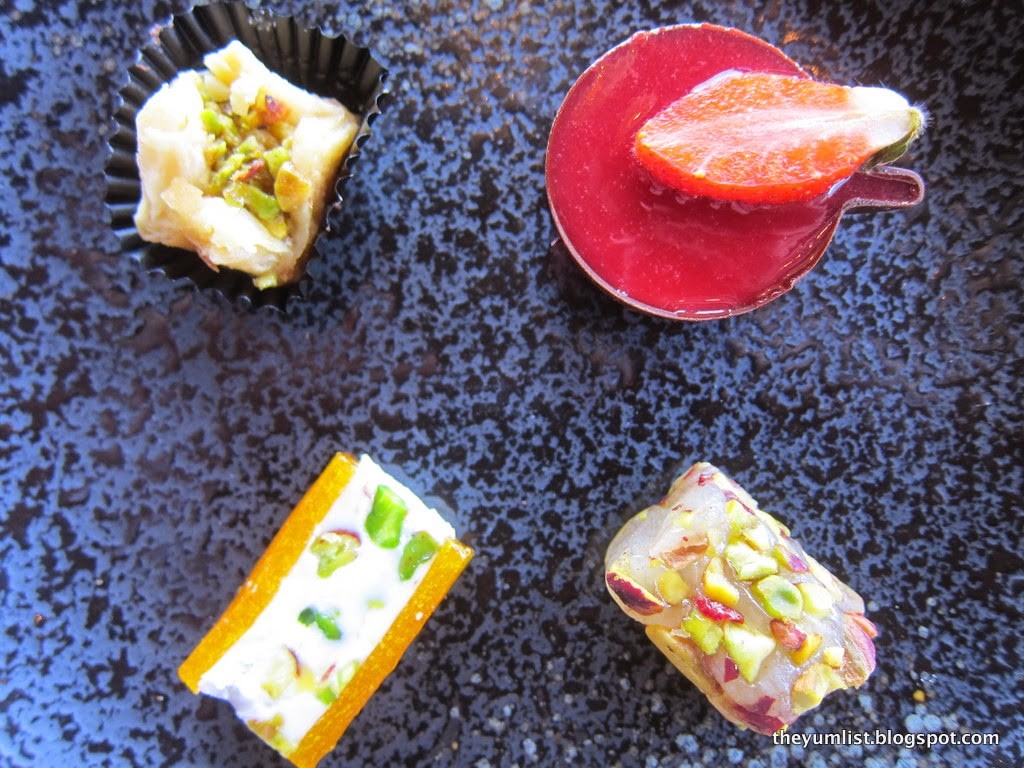 Selection of Sweets
Makan Kitchen is certified Halal and the Weekend High Tea, priced at RM78++, is served from 12:30pm to 4pm on Saturdays and Sundays. A children's room is available and children are offered a 50% discount. There are also several private rooms seating 10 to 12, which can be booked at no extra cost.
Reason to Visit: For a fine selection of freshly cooked, tasty, local food, served in a charming ambience portraying the many faces of Malaysia.
A 50% discount is offered for guests celebrating their birthdays on August 31 or September 16 and dining with one other guest. Bookings must be made online at
www.FlavoursbyDoubletreeKL.com
and the booking code is MKSHIOK. For even more fun, visit
www.makan-kitchen.com
to join the "Shiok!" Facebook contest.
Makan Kitchen
DoubleTree by Hilton
The Intermark
348 Jalan Tun Razak
50400 Kuala Lumpur
Malaysia