A well–loved and long-standing establishment in the now pumping scene of Seminyak is La Lucciola. A pioneer in bringing Western food to the area, La Looch, as it's affectionately known, continues today to be on the lips of all in-the-know when recommending personally favourite places to eat on the island. It has stood the test of time and today it feels as though time will stand still for us in the pretty location.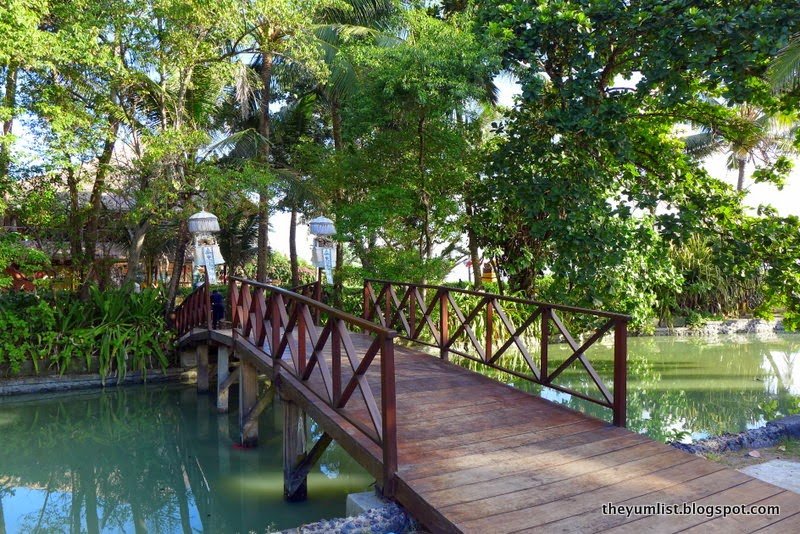 Bridge from the Carpark to La Lucciola – enter via the temple carpark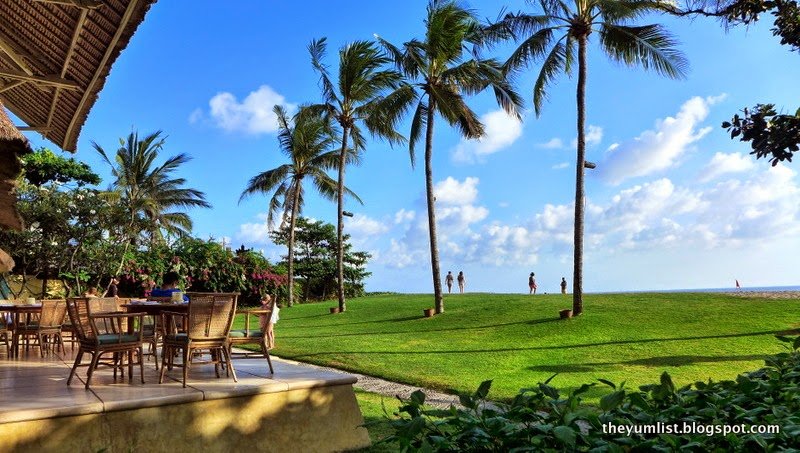 A green slope in front of La Lucciola seems to provide much amusement for children
Planted in prime position on a lovely strip of Seminyak Beach, La Lucciola benefits from spectacular sunsets, ocean breezes and in general the calming effects of the sea. Open walled with a thatched pyramid pointed roof, the pavilion is two floors and, from the first of August the entire restaurant will be smoke-free.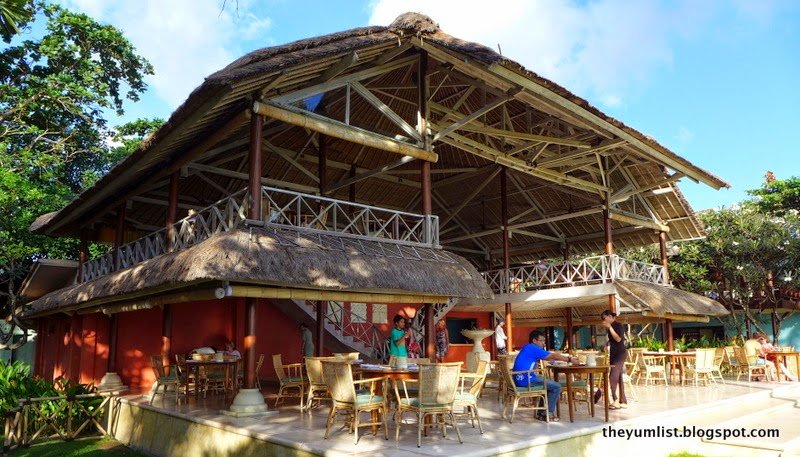 La Lucciola
Aside the main building is Frangipani Lounge, shaded by a tree of the same name and offering signature cocktails and light bites. For some reason attractive sunsets never fail to trigger our thirst, so it's a mixed drink to begin. Frangipani Specials are all priced at (rp.95 000).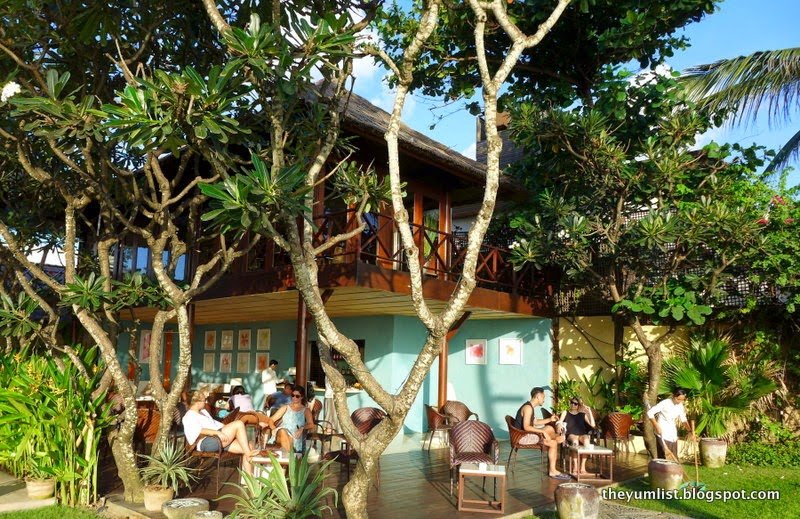 Frangipani Lounge
Ginger Pear Mule mixes Absolute pear, fresh ginger, nashi pear and ginger ale to form a cooling afternoon beverage. Demure in strength, yet distinctive in flavour it eases us into the evening with its subtle fruitiness.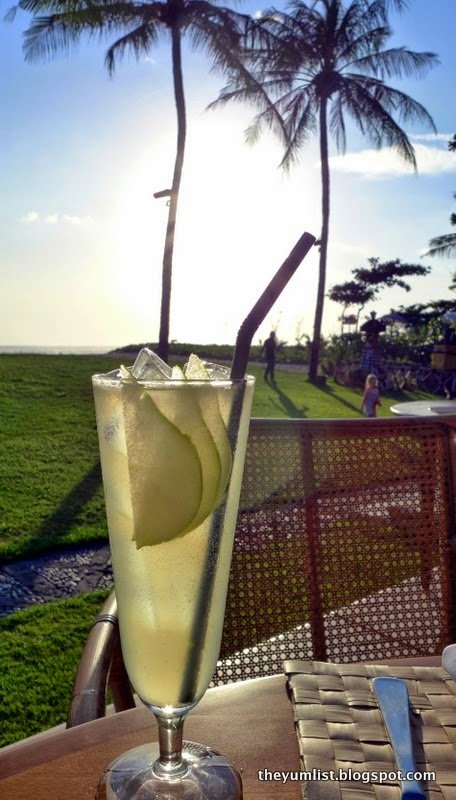 Ginger Pear Mule
Jose Cuevo, Galliano, fresh passion fruit and cranberry juice compose the Passionfruit Punch. A frangipani bloom and slice of lime garnishes the rim while the black passion fruit seeds sink, puddling into a dark mystery at the bottom of the glass. It has more oompth than the first and opens our palates with a brawny tang.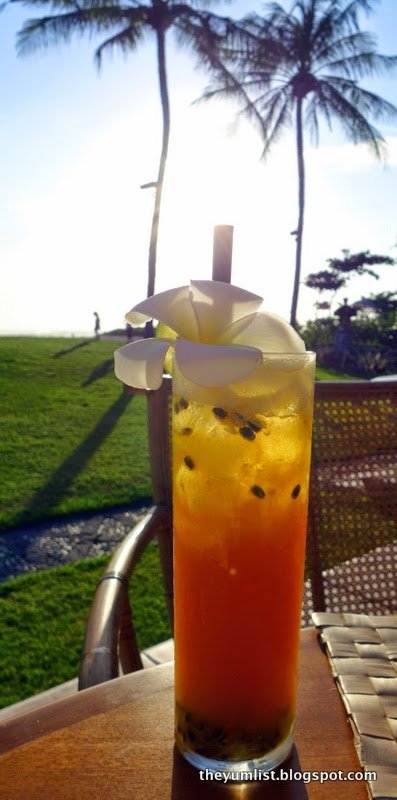 Passionfruit Punch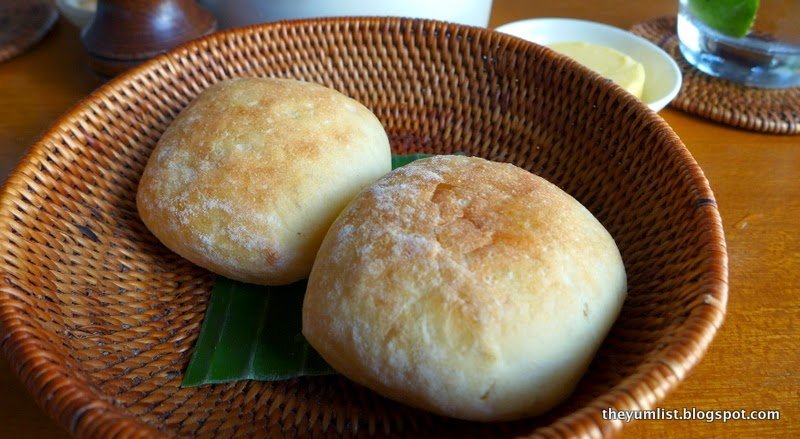 Warm Ciabatta
Accepting our waiter's suggestion our meal commences with a Vegetarian Antipasto (Rp. 86 000), which comes with a mouthwatering mixture of dishes that show just how diverse and fabulous plants can be. An acidic dressing marks the Marinated Red Peppers, while the Goat Cheese stuffing of equal strength serves to balance out the strong cut. Eggplant Crocante sports a crispy exterior but the filling is smooth and leaves a light oil coating in the mouth. Pumpkin and Gorgonzola Frittata has me moaning with pleasure. The sweet tenderness of pumpkin pairs beautifully with the sharp soft blue cheese and like a fine wine, stays in the palate for minutes after swallowing. Balsamic Roasted Field Mushrooms are topped with a thin strip of Parmesan and these are lovely enough to make an entire salad. Ricotta Stuffed Green Olives are fabulously intense with a sharp bite. Hubby sums it up when he declares he's, "learning to love vegetables."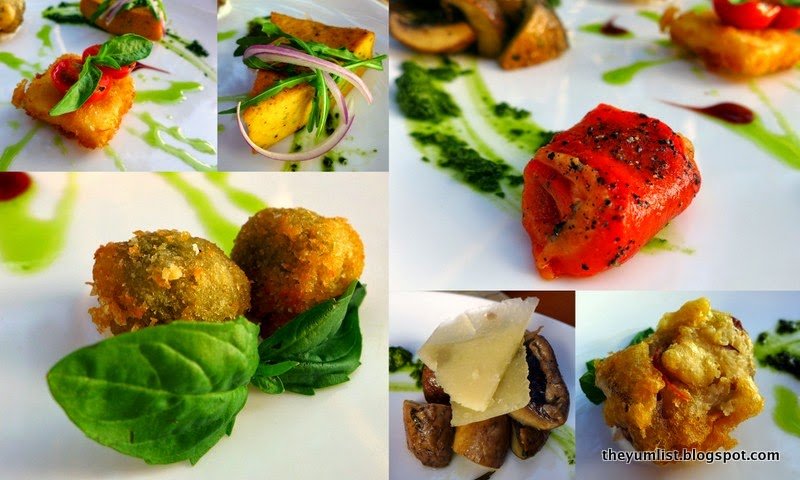 Vegetarian Antipasto
Crisp Zucchini Flowers (Rp. 94 000) are stuffed with fresh chunks of mud crab, king prawns, ricotta, chilli and lemon. Roasted red and yellow capsicums serve as a mattress for the dish and are just as good as the main star. At first, I bite the thinner end of the fried roll and only get the veggie. I'm totally delighted. But then, I munch in further and my mouth is rewarded with the rich seafoody filling. Be sure to order this starter.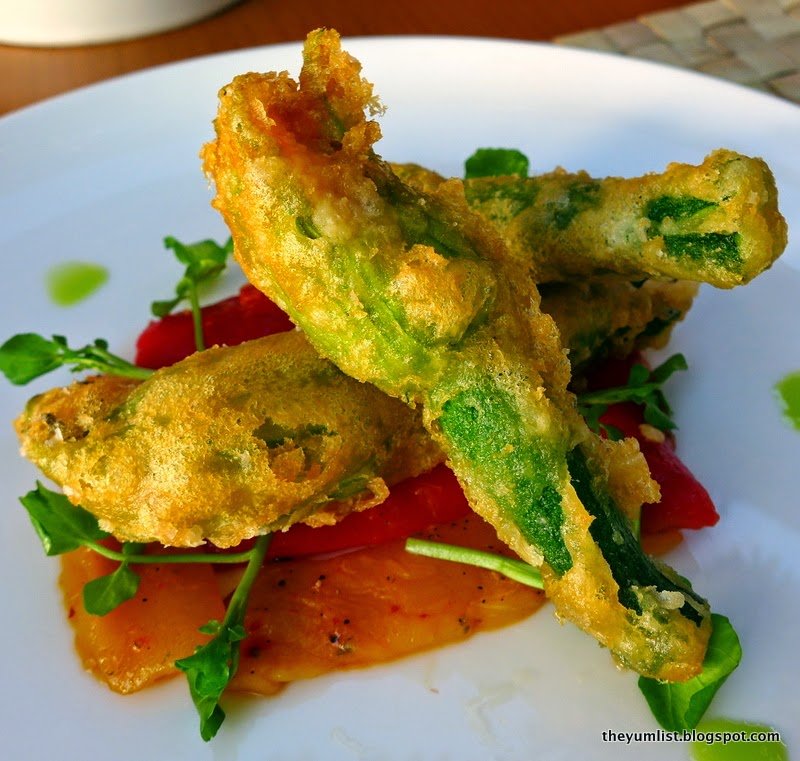 Crisp Zucchini Flowers
The wine list is long and varied with eleven drops by the glass – quiet impressive for an independent establishment. Hubby predictably orders a glass of bubbly, the Leonardo Prosecco from Veneto Italy (Rp. 95 000), and I, just as unsurprisingly, request the Shearwater Sauvignon Blanc from Marlborough New Zealand (Rp. 100 000). Hubby reports his picking as vivacious and I find it fills the mouth quickly and just as rapidly disappears. The distinctive tropical fruit aromas and fresh crispness typical of sav blancs from this region are clearly present in my white. Both are sufficiently chilled and we find them fine partners for our food.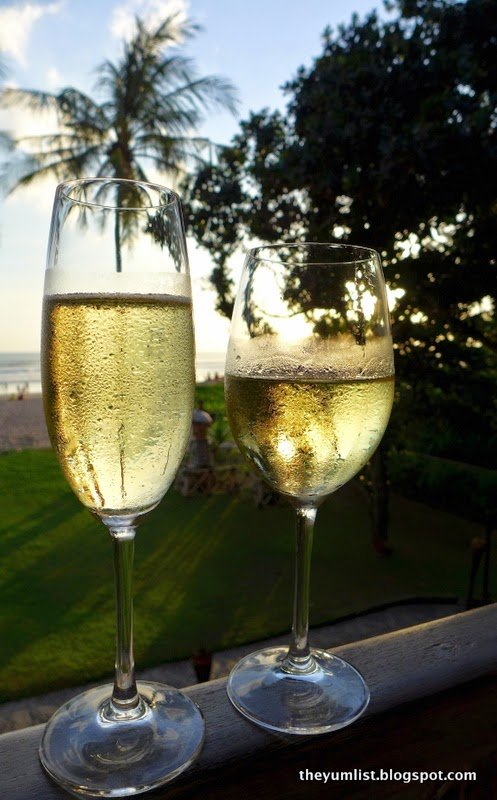 Bubbly and White Wine
All pastas are homemade so we had to have some. Ravioli of Local Wilted Greens and Ricotta (Rp. 148 000) comes with smoked duck breast, nut brown butter and toasted hazelnuts. It typifies the rusticity of Italian cuisine that I love. Each ingredient is celebrated and allowed to shine – greens, cheese, smoky poultry, and crunchy nutty hazelnuts. As much as I like variety, it's dish I'd definitely reorder on a second visit.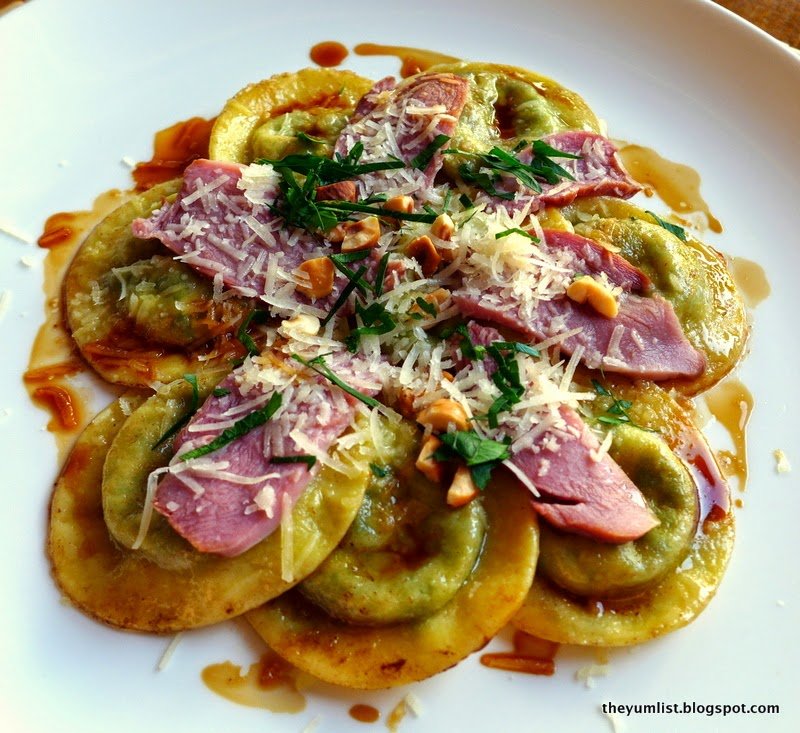 Ravioli
Linguine (Rp. 156 000) is sprinkled with fresh king prawns taut to the bite, oven dried tomatoes intense with rich flavour and, red chili slices. It's a mouth full of charm, tickling every corner of the mouth and leaving a seductive titillation on the tip of the tongue. A fluid green pesto sauce coats every string and leaves behind enough of a puddle to request more bread to soak it up with.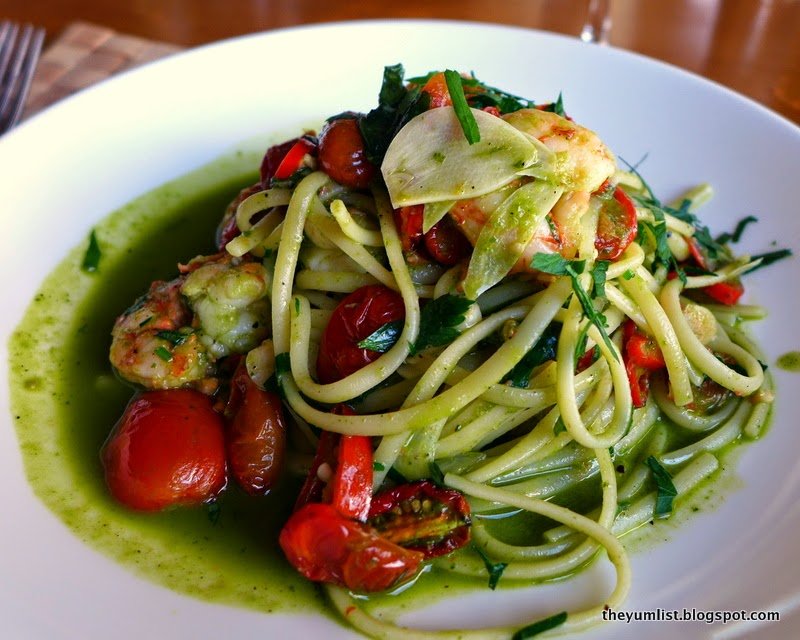 Linguine
Barramundi al Cartoccio (Rp. 182 000) is baked in parchment paper with tomato, garlic, shaved green olives and fresh herbs. The flesh is moist and flaky, juices preserved in the wrapping. A side bowl of capellini with risoni, fresh strips of herbs and a lightly tart dressing is crowned with a generous spoonful of roasted pine nuts. My sauvignon blanc is a graceful partner.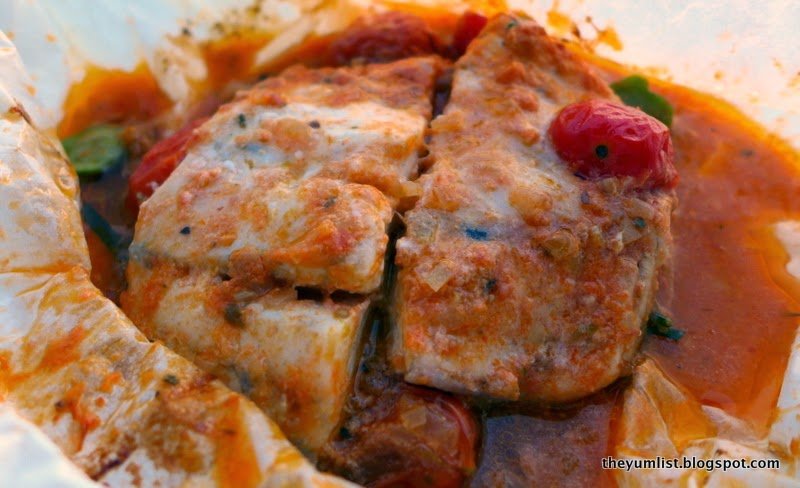 Barramundi al Cartoccio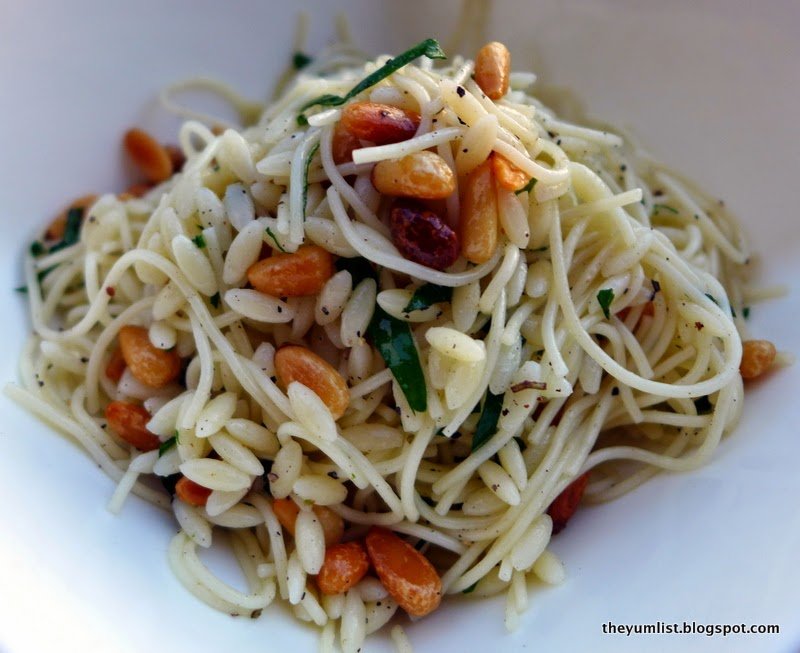 Side Dish for the Barramundi
Our host recommends the Roasted Pork Tenderloin (Rp. 224 000) that comes rolled with Pancetta and wadded with spinach, pine nuts and Parmesan Ripieni. Soft polenta, spiced sweet apple and deep fried sage make delicious accompaniments. This is a tad more complicated than the fish and could be brought to an elevated level of delicious with just the right wine pairing. (I'm sorry dear reader but we're attempting to keep the calories under control, otherwise I'd experiment a little and make a recommendation for you. Perhaps a pinot noir, or other light red wine… maybe the Negroamaro from Puglia that's sold by the glass?) Decidedly carnivorous hubby speaks fondly of the polenta and fruity side and, I'm starting to believe that La Lucciola is unknowingly in cahoots with my veggie loving self.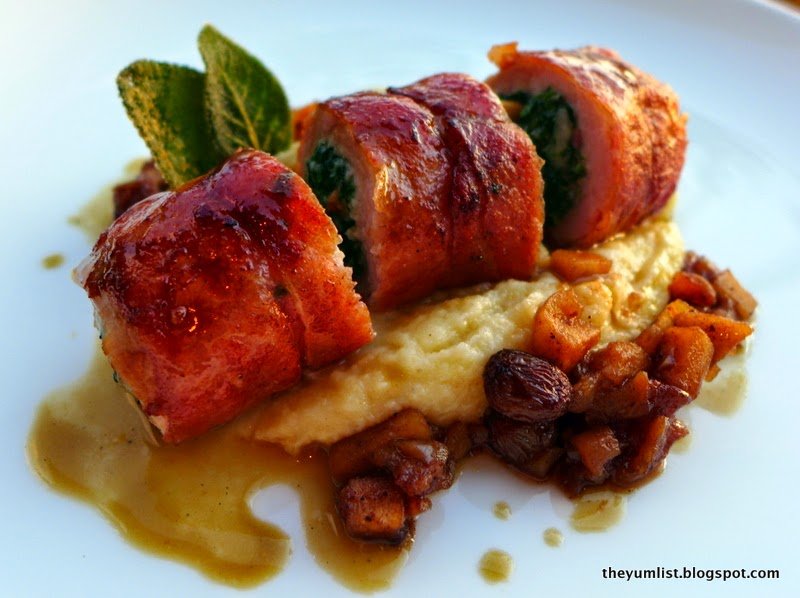 Roasted Pork Tenderloin
No meal is complete without dessert and we're having trouble settling on just two so the Dessert Platter (for two Rp. 140 000) is just what we need. Coconut and Ginger Panna Cotta is befriended by poached tamarillo and white chocolate crumb. It's faintly sweetened which I very much appreciate and I'd be happy ordering a full serving. Budino of Panetone is crunchy on top with a sprinkling of powdered sugar on the crown and moist underneath. Zuppa Inglese (Roman Style Trifle) features Prosecco poached rhubarb, Anglaise and pistachio cream. Mandarin and Coconut Meringatta with a tangerine sorbetto is also refreshingly not over saccharine. Caramel Centred Chocolate Polenta Cake with Crema di Chocolata proves a well-executed rendition of the classic, breaking easily with a spoon and oozing dark cocoa sauce out onto the plate.
Dessert Platter
Pleased to see dessert wine by the glass we opt for a Fontanafredda Moscato D'Asti from Italy (Rp. 85 000). Bordering overripe grapes on the nose, and a sweet candy in the mouth, it enters the roof of the mouth and middle of the tongue quickly, then lingers for a few seconds on the sides of the tongue before departing. It's an apt finish to an all round amiable evening.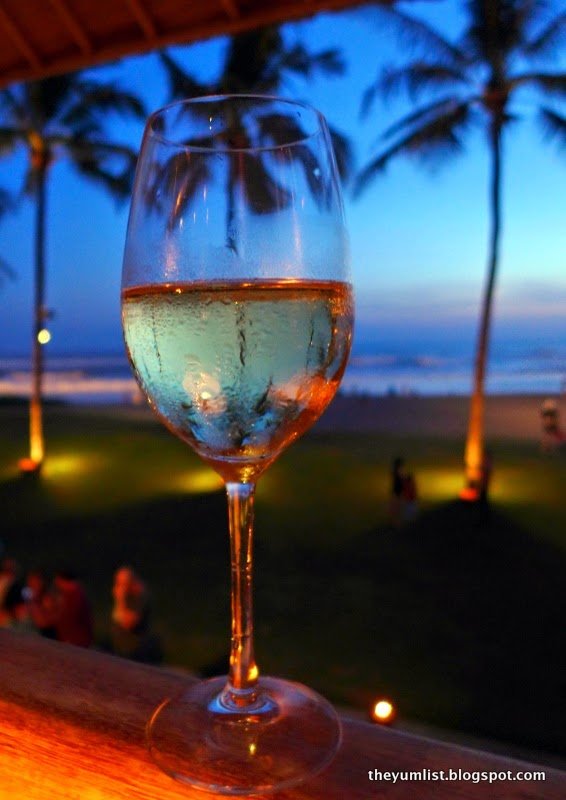 Dessert Wine
Please visit La Lucciola on your next visit to Bali. It's a splendid place to spend an evening. Do plan to arrive around 5ish to capture the dazzling sunsets and cool evenings presented by nightfall. We hear breakfast is fab here too, but that's another story.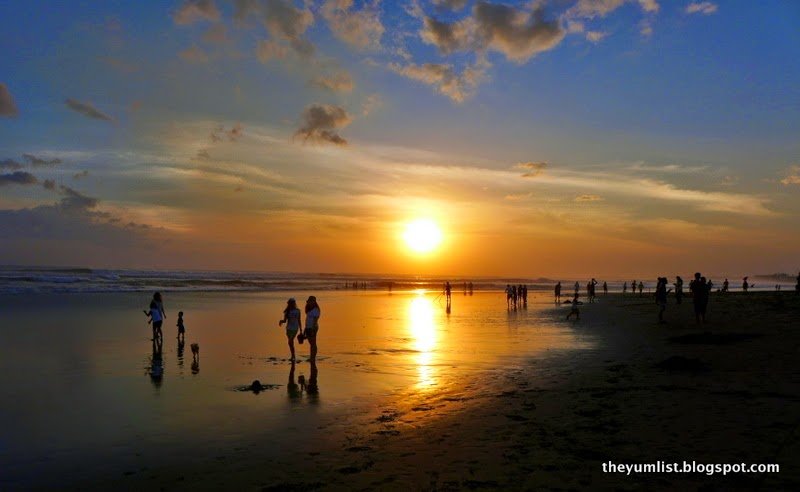 Sunset from Seminyak Beach
Reasons to visit: beautiful location on Seminyak beach perfectly perched to capture postcard perfect snaps of sunset; family friendly; home made pastas; excellent wine list.
La Lucciola
Oberoi Road
Kaya Ayu Beach
Seminyak Bali
+62 361 730 838
Open daily:
 Breakfast: 9am – 12 noon
Lunch: 12 noon -5pm
Dinner: 5pm – midnight
Saturday and Sunday offer a larger breakfast menu and brunch from 12 – 3pm.