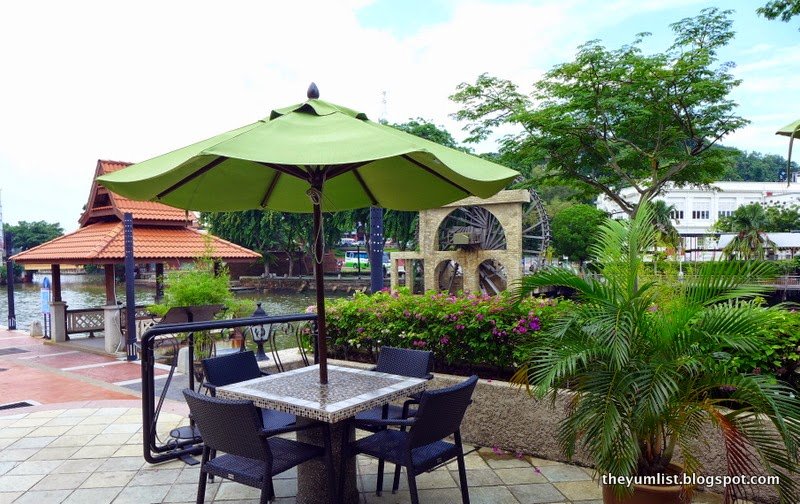 River Cafe, Casa del Rio, Melaka
River Cafe, Casa del Rio, Melaka
Words by Brooke Keel
Photos by The Yum List (Monica Tindall)
The River Cafe at Casa del Rio in Melaka is a casual, airy corner spot situated on the riverfront. With plenty of daylight and a laid back feeling, one can enjoy a relaxed lunch or afternoon tea featuring Nyonya dishes alongside traditional lunchtime or teatime fare.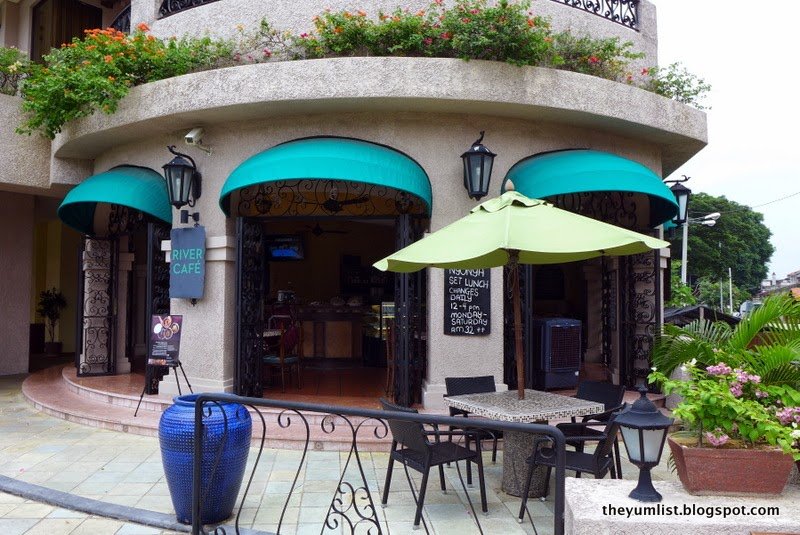 River Cafe, Casa del Rio, Melaka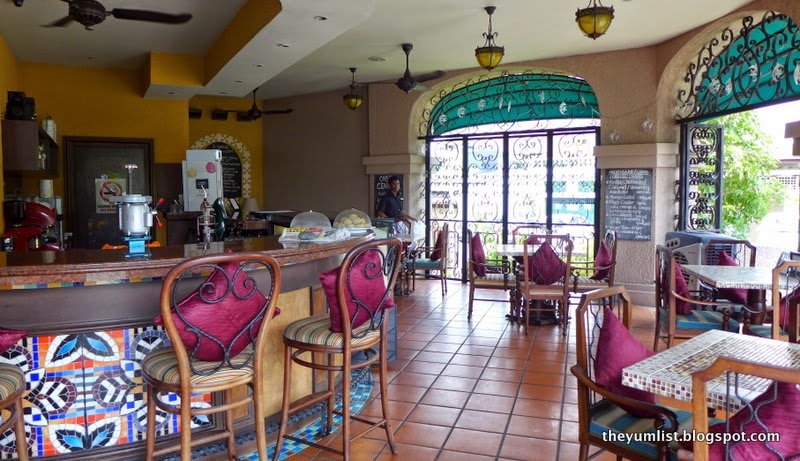 River Cafe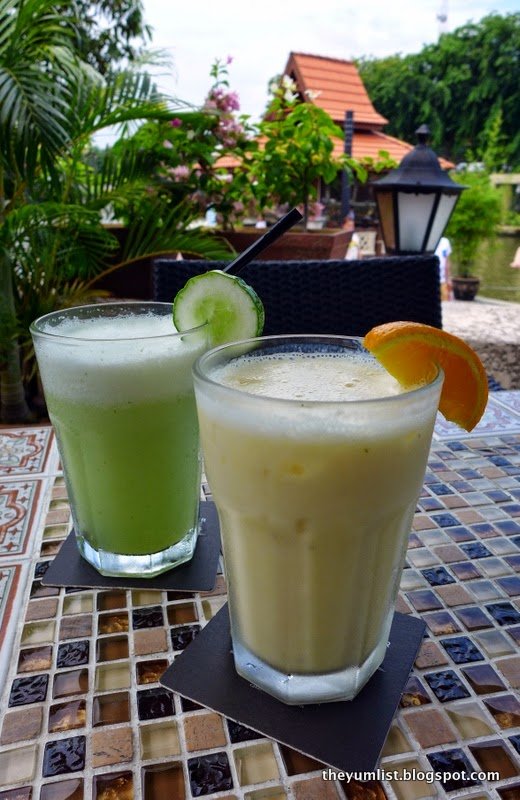 Fresh Juices
Peranakan Tiffin Set Lunch (RM32++ per person)
The Peranakan Tiffin Set Lunch changes daily, and the cafe offers two of the ten options between noon and 4:00 pm. We tried Otak-Otak, which are fish paste cakes with spices, served here at the cafe in simple square shaped Melakan Nyonya style (this differs from the version commonly found in Kuala Lumpur, which are flat and served in banana leaf). Next came Mesak Lemak Prawns, served in coconut milk, turmeric and other traditional spices. A Cincalok Omelette was a spicy and salty egg option that featured fermented krill. The Ayam Pongteh, an aromatic chicken in gravy, was bedded in shiitake mushrooms. All of the above were served in a lovely tiffin.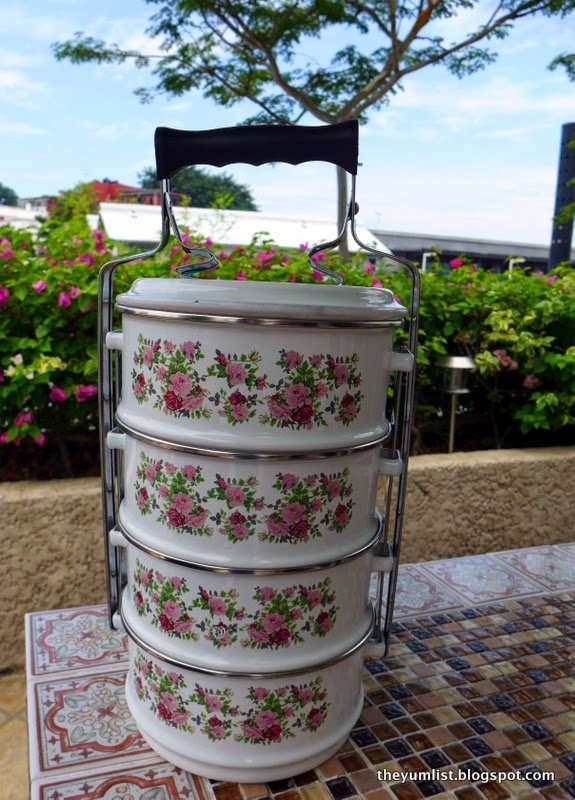 Tiffin Set Lunch
The Tea-in Tiffin, for two, served on Saturday and Sunday is served in a sweet tiffin. We began with Mee Siam, vermicelli noodles in a tamarind sauce with shredded white radish, flavored with kafir lime, egg, small shrimp, onion, and plenty of chili. Next came delectable scones, mini-bites of French pastry and cake, along with traditionally sweet and chewy Malaysian treats (Nyonya kuih). This is accompanied by a choice of beverage, coffee, or tea.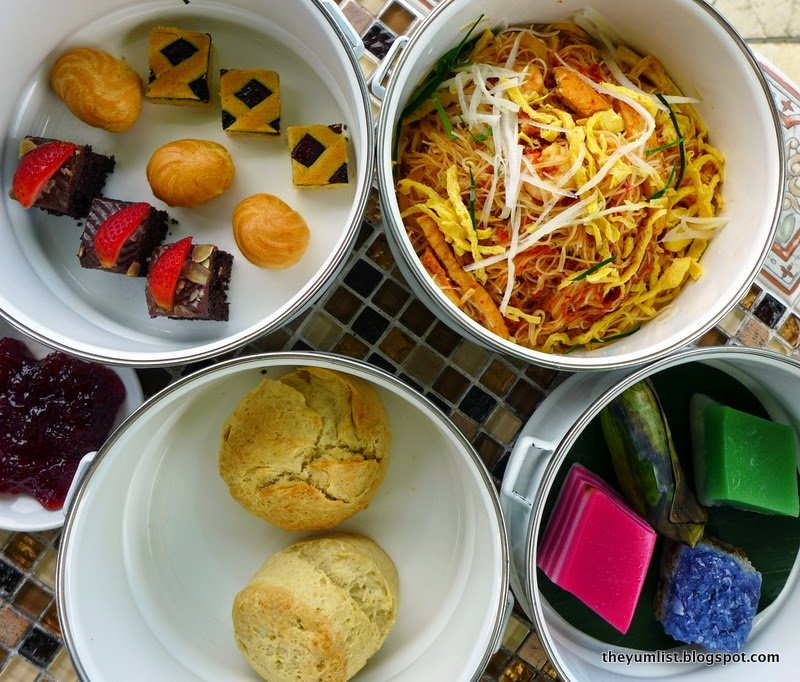 Dishes In the Tea-in Tiffin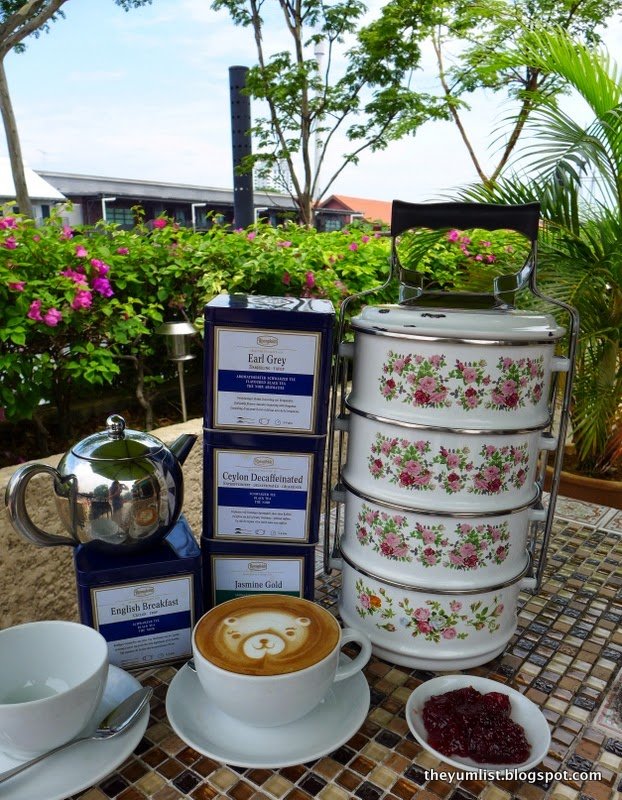 Tea-In Tiffin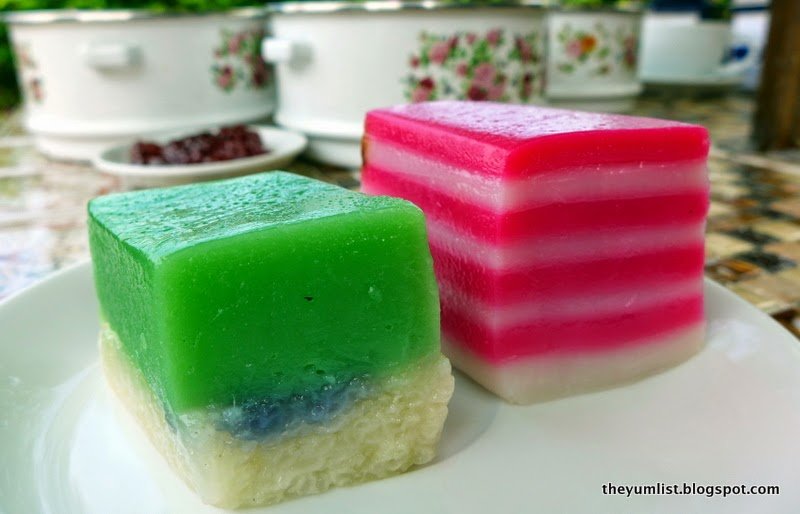 Malaysian Sweets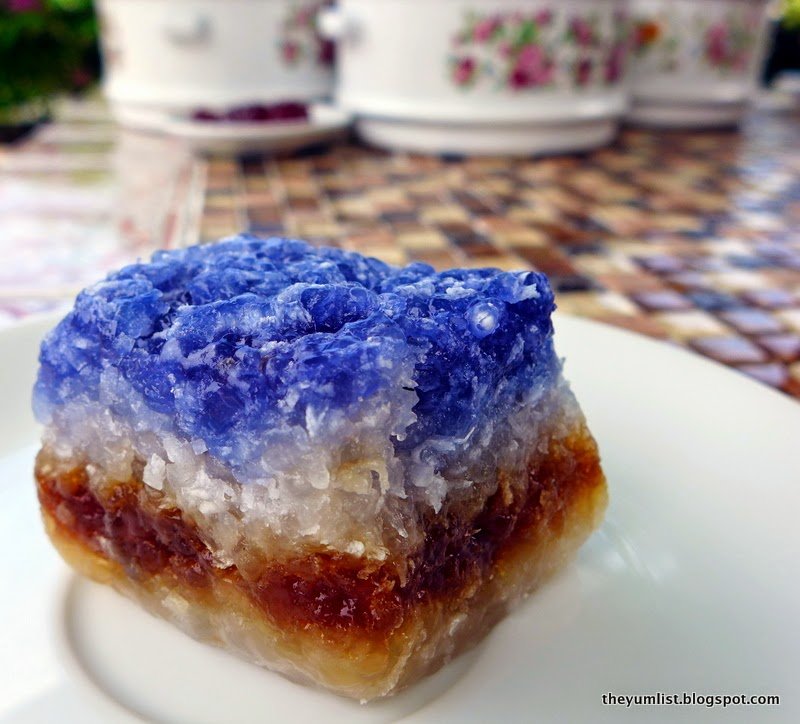 Local Sweet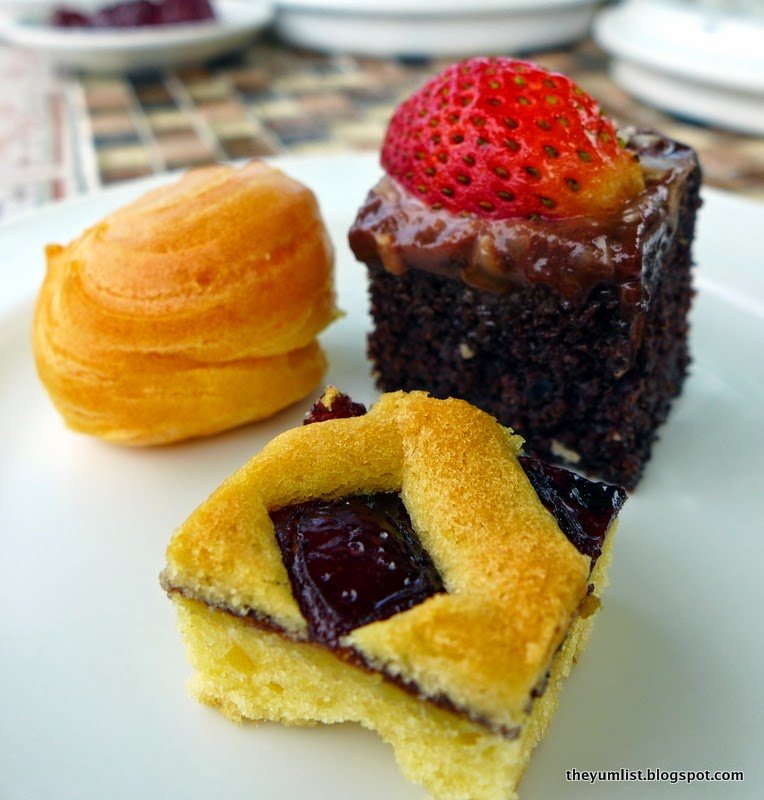 French Pastries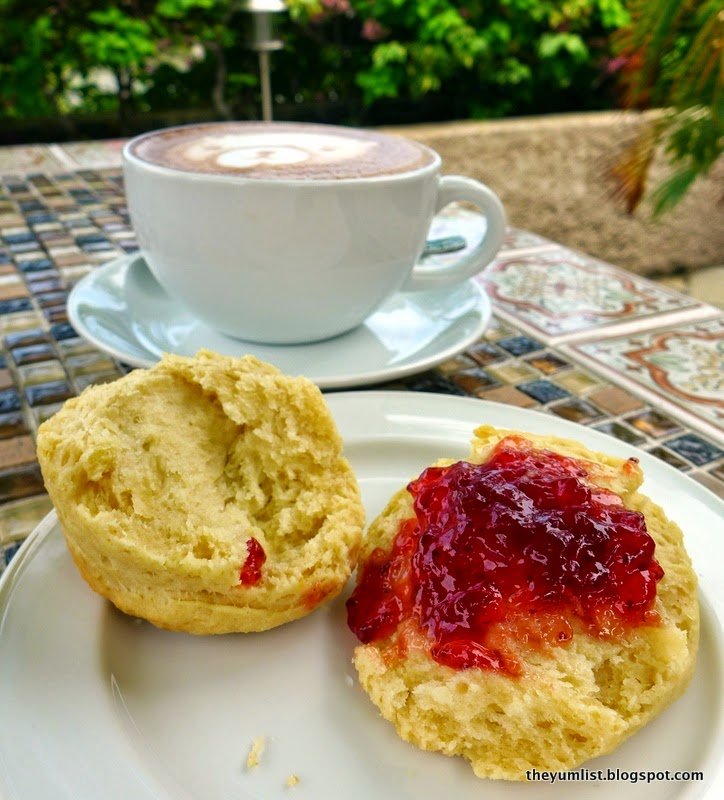 Scones and Coffee
Curry Puff and Coffee Special (RM15++ per person)
If a full lunch or afternoon tea is more than you desire, this simple and savory-sweet curry puff and coffee option will give you a caffeine and spice kick on Saturdays and Sundays. Our coffee arrived with the sweetest little bear face embossed in foam, and the curry puff was swirled pastry, as if designed of a flavorful ball of flaxen thread. A nice option for those with a craving for something slightly sweet, salty and spicy.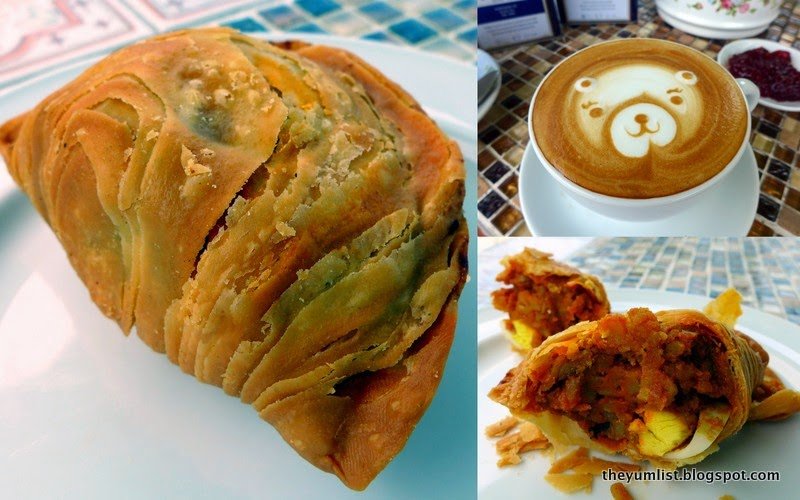 Giant Curry Puff and Coffee Deal (RM15++)
Reasons to visit: Tea and lunch in tiffin; daily array of Nyonya treats; curry puff and coffee; bright and airy, laid back location on the riverside.
River Cafe
Casa del Rio, Melaka
88 Jalan Kota Laksamana
75200 Melaka
Malaysia
+60 6 289 6888
Fax: +60 6 289 6999
Hours: Lunch and tea from 12pm to 4pm