Chasing sunsets in Bali we couldn't help but be drawn to UNIQUE Rooftop Bar and Restaurant at Rimba Jimbaran. From the same creators of
Rock Bar
Bali, we knew it would have to be something special. Spin around views of the Uluwatu Hills to the south-east and glorious sundowns reflecting off the Indian Ocean to the west, there could be no finer location for a cocktail and bite to eat.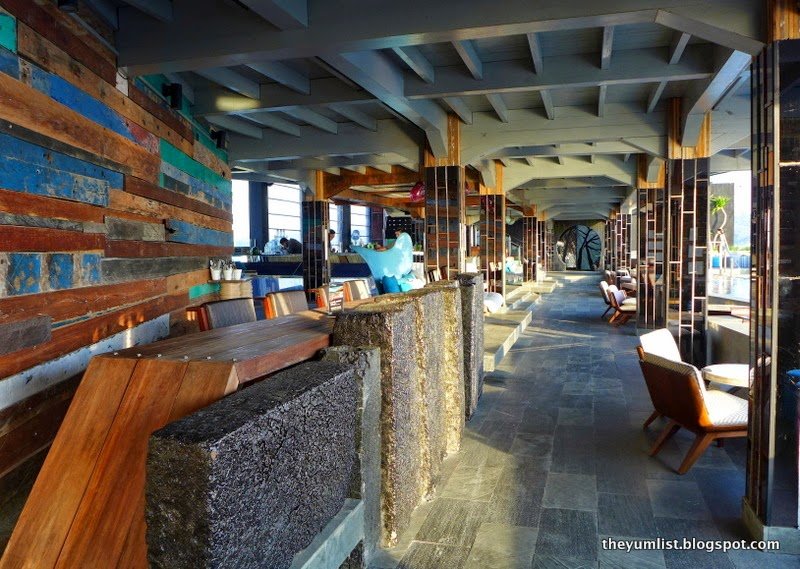 UNIQUE Rooftop Bar and Restaurant
Terraced seating is a result of thoughtful design ensuring all guests have uninterrupted panoramas of Bali's beautiful southern tip. Daybeds with cushioning to match the hues of the sea are on the first level, guarded by a transparent railing. Dividing the bar and balcony is a 25 metre long infinity-edged pool, and the highest level sports dining tables for those who'd like to settle in and stay a while longer.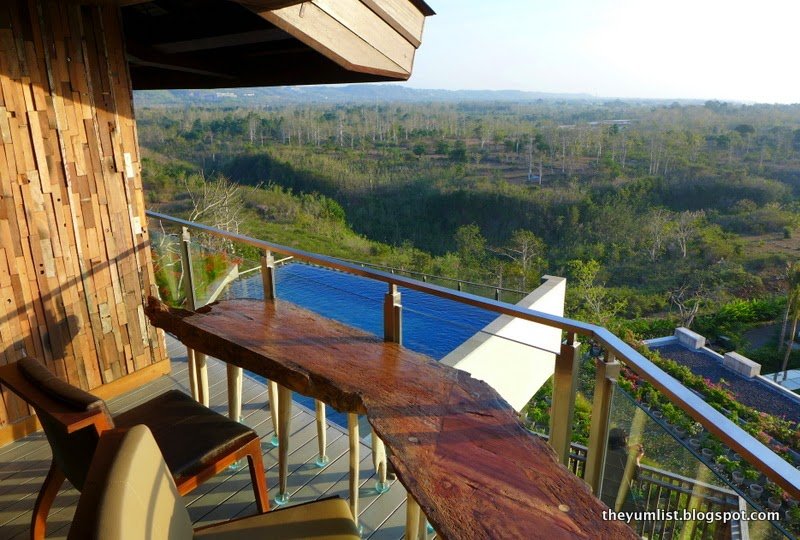 UNIQUE Rooftop Bar and Restaurant
Perched high above the treetops we explore the menu in search of something refreshing and hopefully a little unique to match the name of the bar. Unique Favourite cocktails are all priced at Rp.150 000.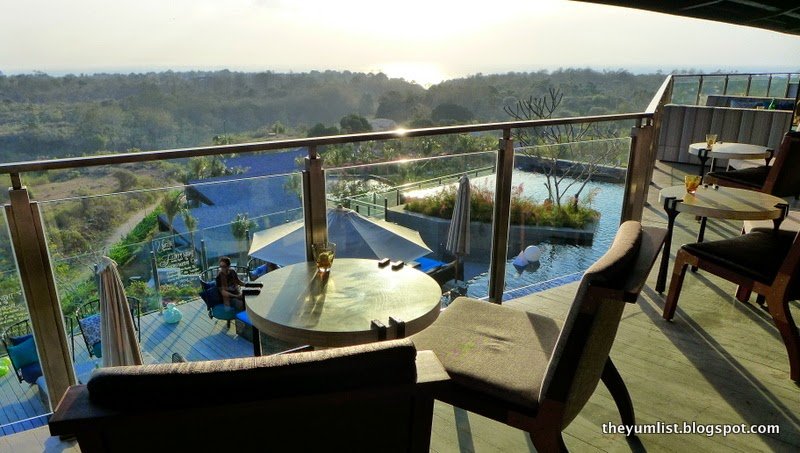 Table for Two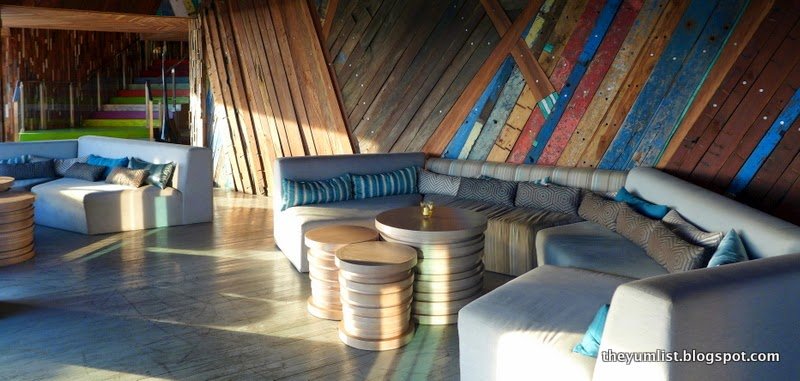 Lounge for Many
Grand Sunset promises a suitable beginning. Vodka, Grand Marnier, pineapple juice, lemon juice, fresh orange and kaffir leaves make up this refreshing beverage. A lemongrass swivel stick is a nice touch, but the dominating taste is fresh orange juice.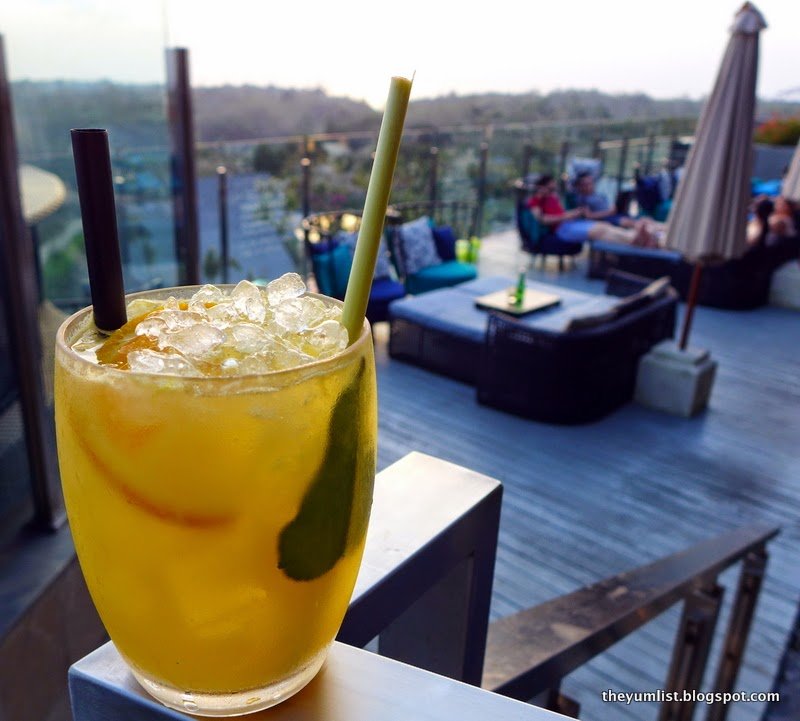 Grand Sunset
Vodka, sweet potato, star anise, cinnamon syrup and milk make up the Purple Star. The distinct licorice taste enters the palate first, then frothy milk bubbles hit the roof of the mouth, and after swallowing, anise is once again the lingering aftertaste.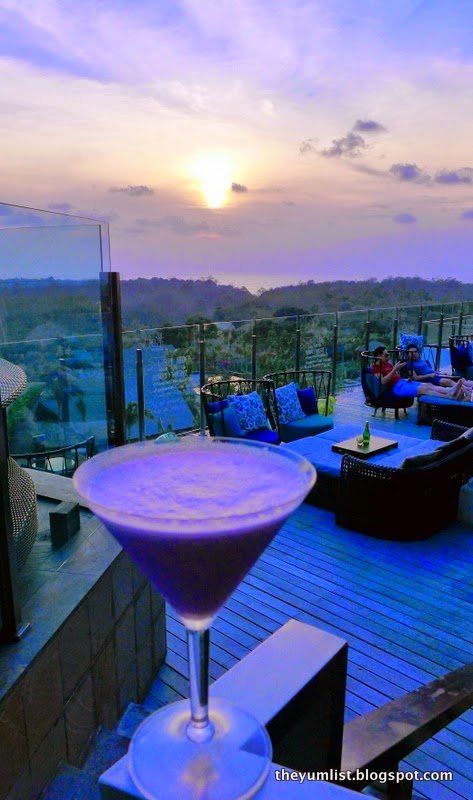 Purple Star
Unique Aphrodisiac combines dry gin, ginger, fresh pineapple juice, sugar and a dash of Angostura bitters. It's mostly pineapple-y with undertones of gin.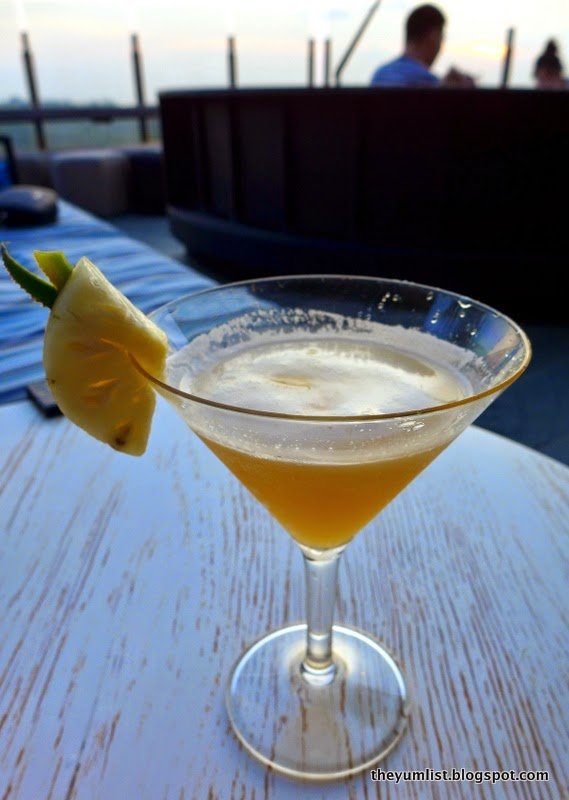 Unique Aphrodisiac
I had to have something with rum and passion fruit so order the China Town. It blends my favourite ingredients, rum and passion fruit, alongside fresh strawberries, lime, apple juice and rosemary. Strawberry strength shows through in this one in both flavour and colour.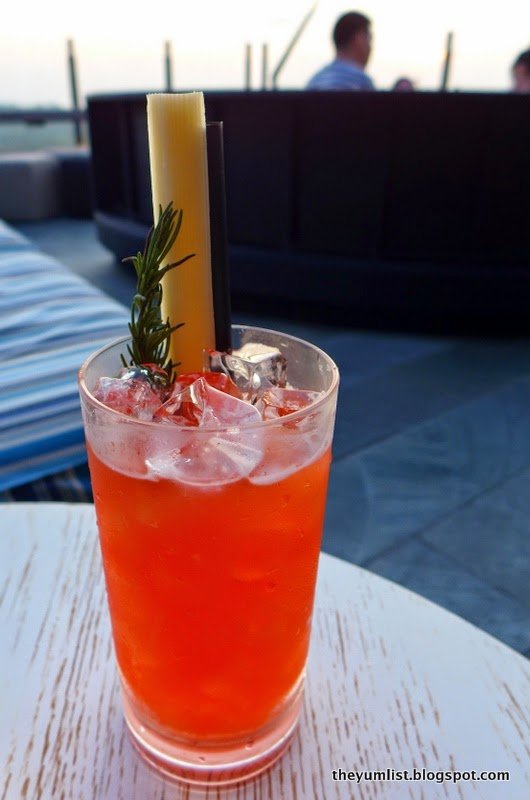 China Town
The food menu is distinctly Asian, with highlights reported as being Caramelized Angus Beef Cheek Skewers, Crispy Salted Pork Loin, Korean-spiced Chicken Lollipops, Whole Tail Scampi, Thai Red Duck Curry, Mango Sticky Rice and Durian Cheesecake. We choose a few items that grab our attention but too take a couple of suggestions from our waitress.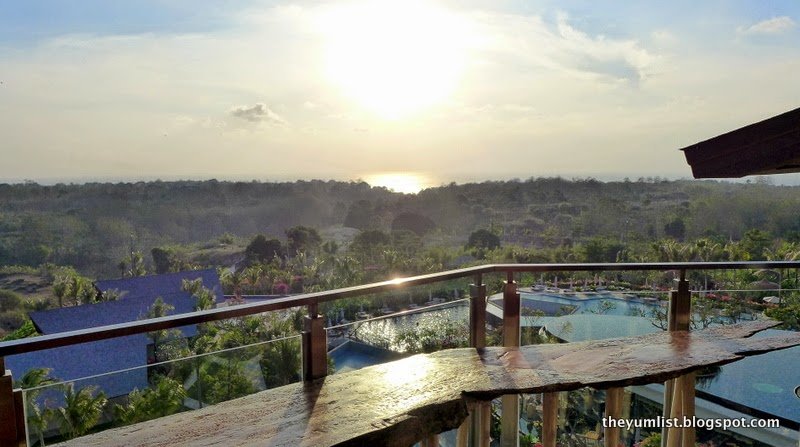 Sunset
Salmon Maki Rolls (Rp. 100 000) come with pickles and ginger. Rolled with black and white sesame seeds it a pretty picture with a streak of green wasabi paste down the side.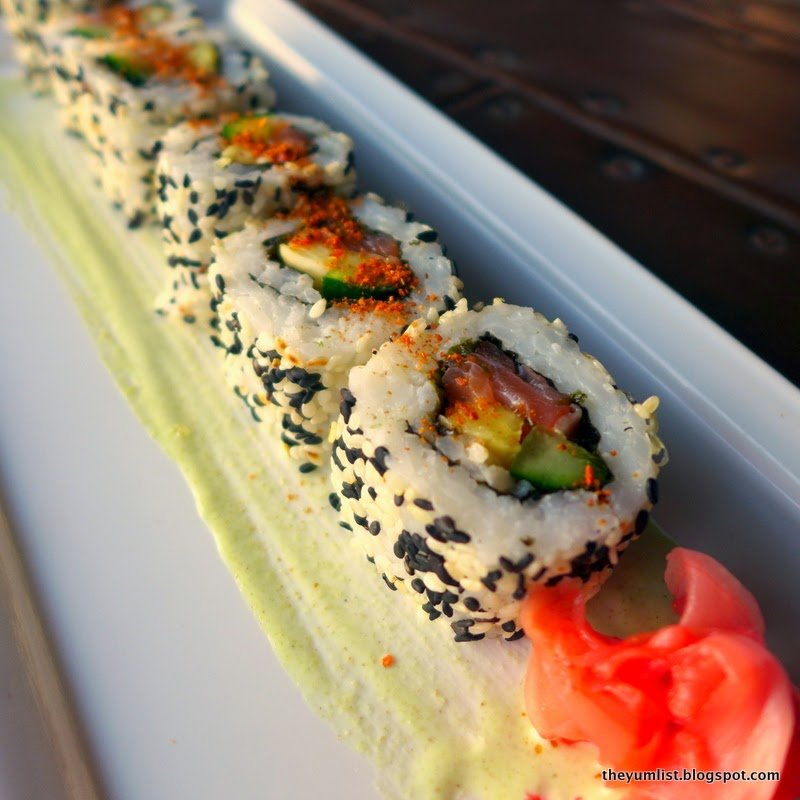 Salmon Maki Rolls
A rump steak patty gives the Unique Burger (Rp. 140 000) a big beefy bite. Yellow cheddar is melted on top and bacon, egg and onion rings add even more flavour. It's filling both in the mouth and in the tummy. Thin crisp fries are kept in a cone of paper on the side.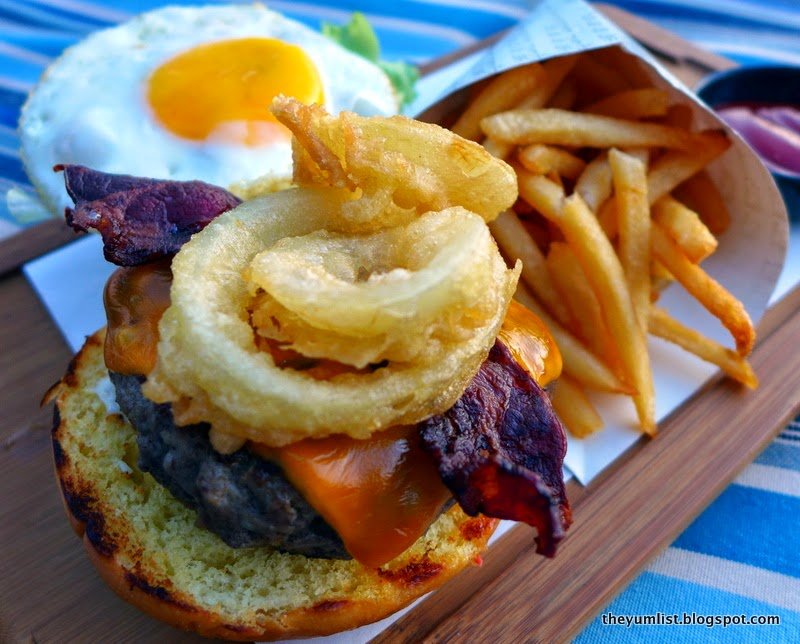 Unique Burger
Thai Red Duck Curry (Rp. 130 000) might be my favourite dish of the night. It's lightly spiced with a good splash of coconut milk and sweetened with lychee and pineapple. Eggplant bulks up the brew and fresh red chili gives additional bite. A generous bowl of steamed rice sides this plate, making it a good tummy full.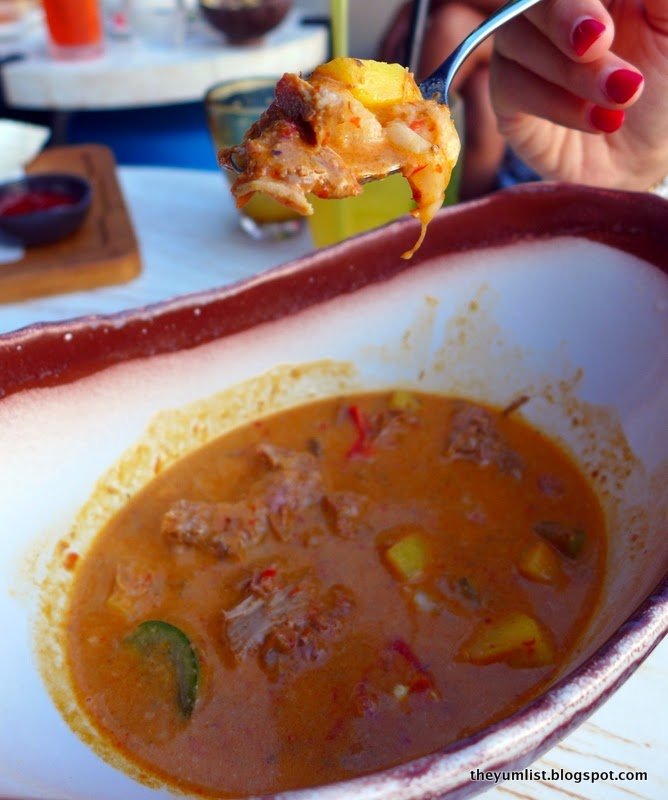 Thai Red Duck Curry
Grilled Bumbu Bali Baby Chicken (Rp. 160 000) is coated lightly with a curry paste leaving it with a golden flaxen hue. Cabbage holds the stuffing of red rice, herbs, scallions and a healthy wad of spinach too.  It's reasonably healthy for bar food.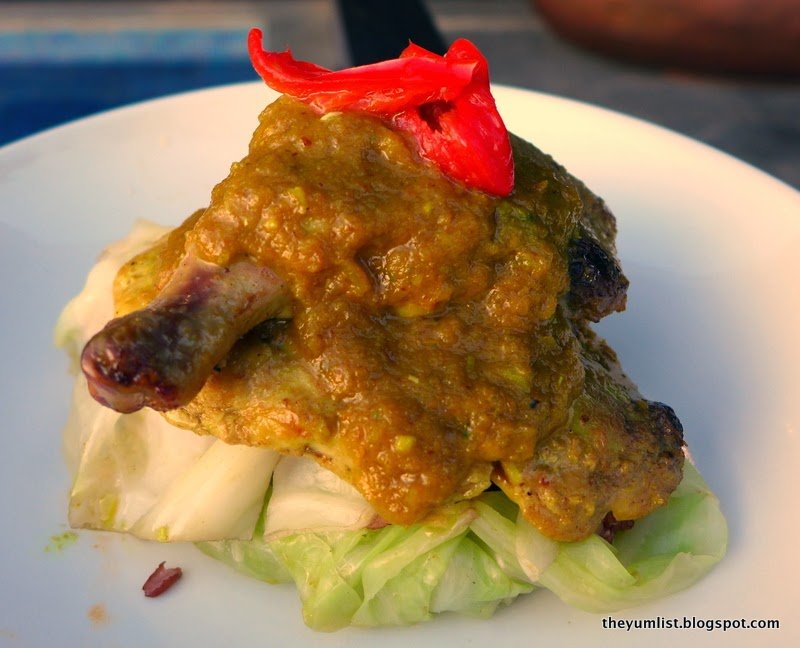 Grilled Bumbu Bali Baby Chicken
Our waitress insists that Crispy Salted Pork Belly (Rp. 160 000) is the standing favourite so that is ordered too. Hubby starts moaning before I've had a chance to taste it. The skin is brittle and full flavoured – perfect crackling. There's a lot of fat in there too, perhaps 80%. The rest is a thin strip of meat. A garlic and chili sambal with Korean pickles sides the rectangular chunks of belly cutting through the grease and elevating the taste beautifully. It is fabulous, but I stop at one piece for fear of the number of kilometres I'll have to run tomorrow to balance out the excessive calories.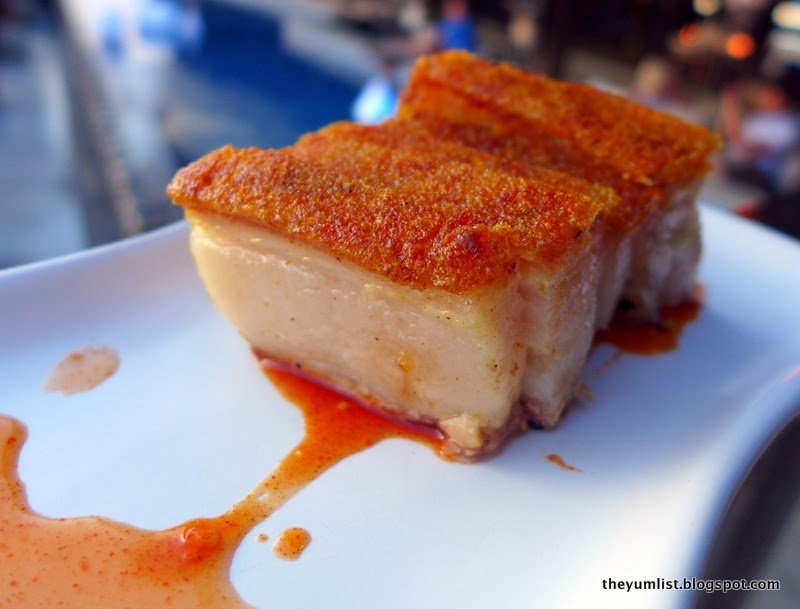 Crispy Salted Pork Belly
Turning to desserts, Mangosteen Crush (Rp.70) with a berry topping turns out to be a creamy pudding that grabs hubby's favour. Mango Sticky Rice (Rp.70) takes a side detour from the classic dish replacing the liquid coconut cream with a wedge of coconut ice cream instead. A half cylinder of sticky rice and ripe juicy mango sticks to the original route. Yum.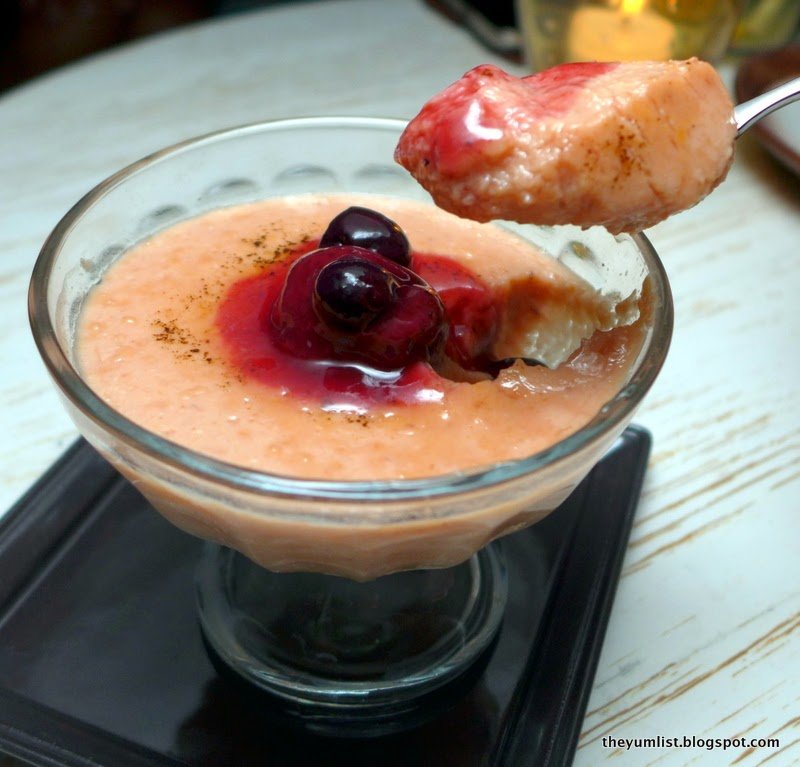 Mangosteen Crush
Cool air, glowing skies, open roofed and contemporary recycled design, UNIQUE Rooftop Bar and Restaurant makes a very pleasant location to spend the changing from day to night.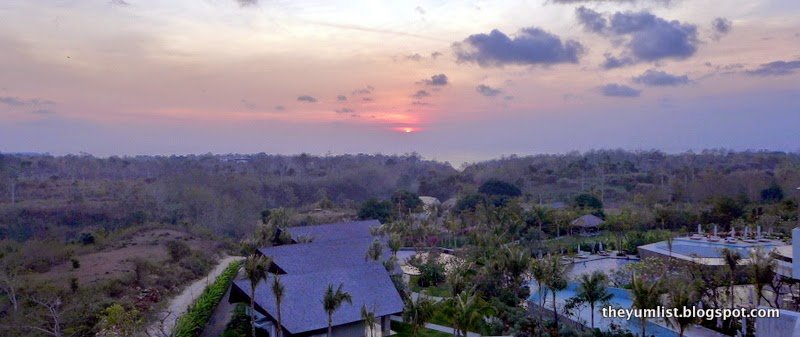 Sun Disappearing
Reasons to visit: 360 degree views of the Uluwatu hills, Indian Ocean and spectacular sunsets; contemporary design; tiered seating so everyone can enjoy the view.
UNIQUE Rooftop Bar and Restaurant RIMBA Jimbaran Bali
by Ayana
Karang Mas Estate
Jalan Karang Mas Sejahtera
Jimbaran, Bali 80364
Indonesia
rimbajimbaran.com
+62 361 846 8468 ext. 87
Open daily 11am – Midnight (Weekdays)
11am – 1am (Weekends)