Location
It wasn't until we'd seen the Uluwatu cliffs and beaches below viewed from Semara Luxury Villa Resort that we truly fell in love with Bali. Sadly many tourists only see the unpleasantness of Kuta and miss the many natural wonders of the island.
Situated on the southern most tip of Bali, the Uluwatu cliffs are a secluded area only accessible from the lush properties perched atop or by boat via the cape below. Waters are a shimmery aquamarine, and beaches, an undisturbed ivory. Magnificent limestone rock faces fetch a sense of ruggedness but at the same time offer a protected haven. It is here where Semara Luxury Villa Resort embraces the enchantment of this environment with its unparalleled sanctuary of splendour.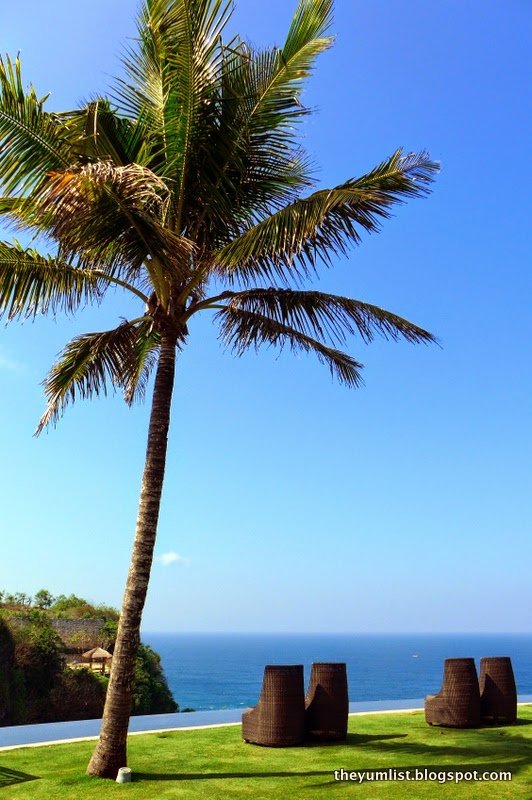 The View
Immaculately manicured tropical gardens guide guests from entrance to reception. We're met with smiling Balinese porters who swiftly have us out of the car and then vanish with our luggage leaving us to be greeted by the friendly reception staff who whisk us directly to our villa for check-in. A cold moist towel is well received, as are chilled refreshments. While our details are recorded, we can't help but breathe more slowly and deeply. Surrounded by natural greens and blues and, architecture that encourage connection to the stunning landscape, our minds begin to free as we settle into this sanctum far removed from our harried everyday lives.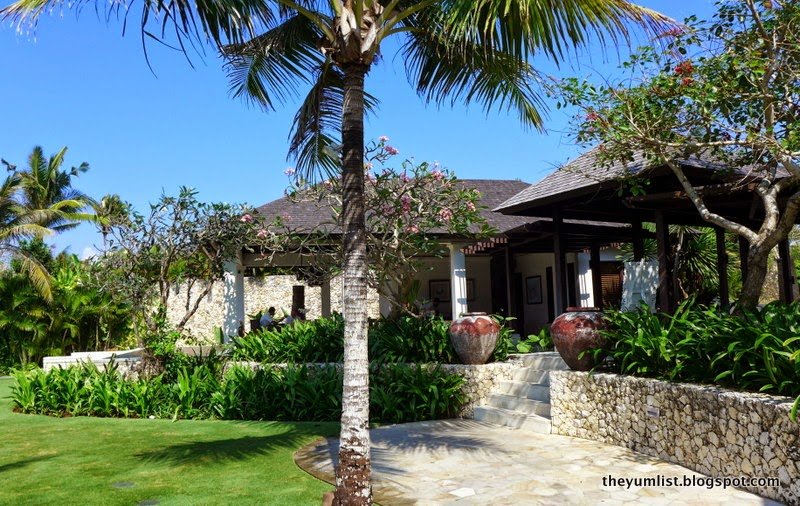 Reception
Our personal butler shares a few helpful facts about Semara Luxury Villa Resort. We're delighted to learn our stay includes a complimentary 20 minute spa treatment and 24-hour butler service. And… we do adore our butler. He knows hubby is a footy fan and so has printed the World Cup televising schedule for him. I become enamoured when an Illy cappuccino is freshly made at 6:30am as I'm reclining by our infinity pool at sunrise. Those are just a few details. Unpacking and packing our bags, arranging taxis, taking endless photos of hubby with the view… he does it all and only seems too eager to make us happy. Breakfast too is included in most packages and those booking an entire villa benefit from a host of additions such as 24-hour butler service and driver.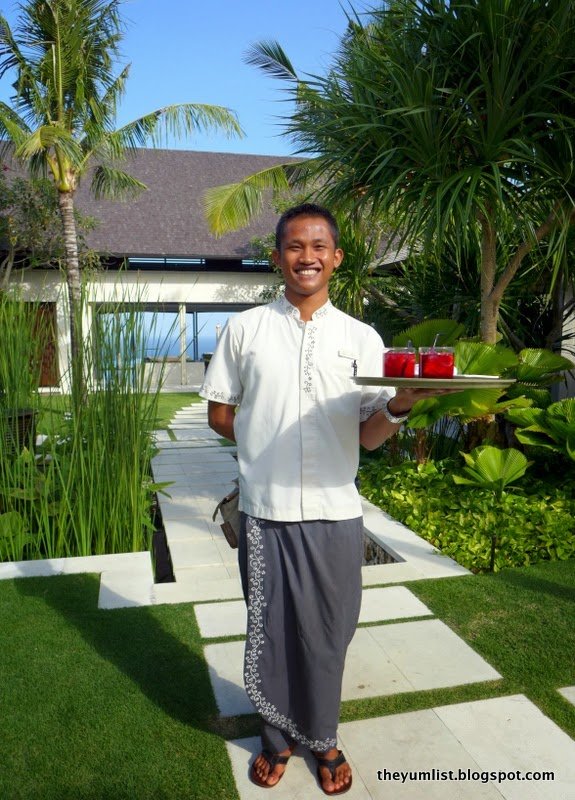 Private Butler
Accommodation
Villa Jamadara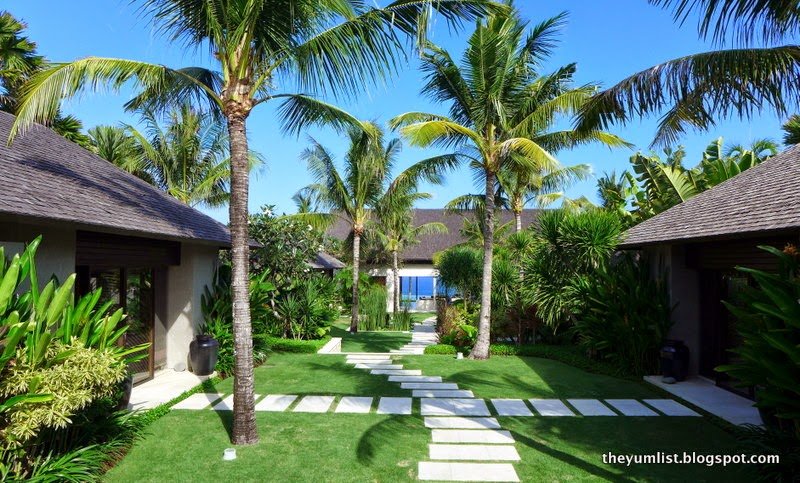 Villa Jamadara
Our first villa, Jamadara, faces the Indian Ocean (as do all villas) and an enormous private plunge pool encourages hours of leisurely dipping. We find ourselves so distracted by the beauty of the scenery that I have to force myself to pay more attention to the details of our room to record them.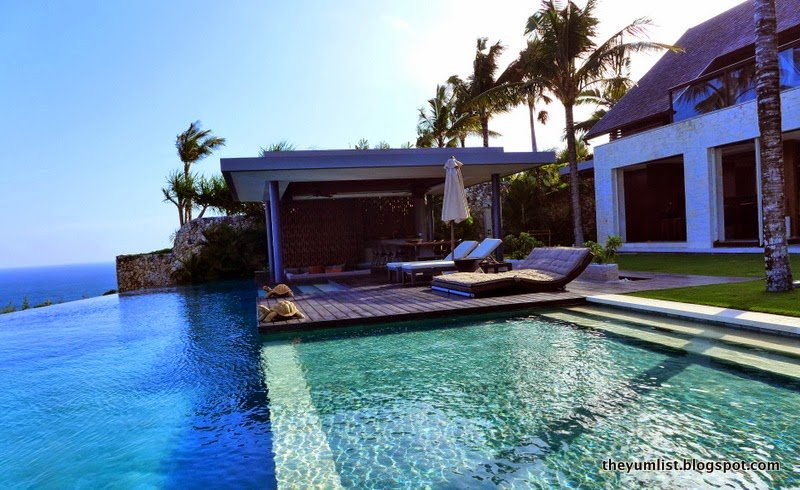 Villa Jamadara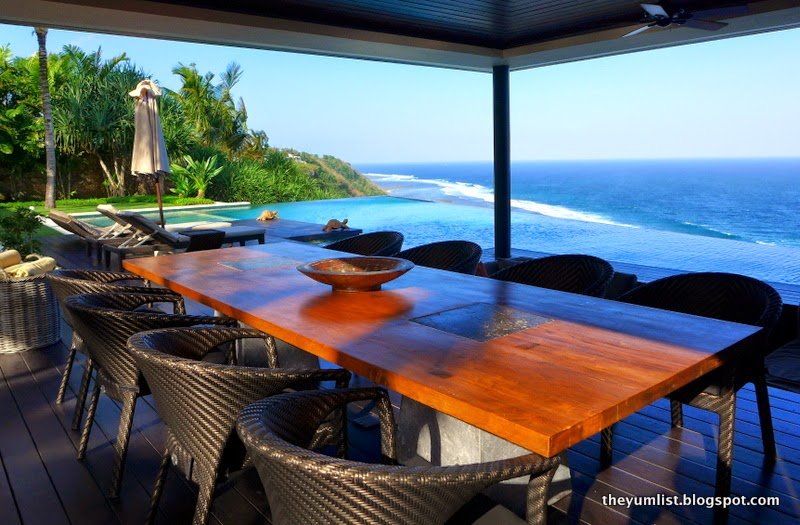 Casual Dining
A tropical architecture inspired roof  forms a peak over the bedroom with exposed wooden beams leading to the apex. Access to the great outdoors is maximized with floor to ceiling glass sliding doors leading directly out to lush verdant gardens and water features. An outdoor bathtub with rain shower sits above a fishpond and amongst further greenery. His and hers bath products add an extra touch of lush. It is heaven.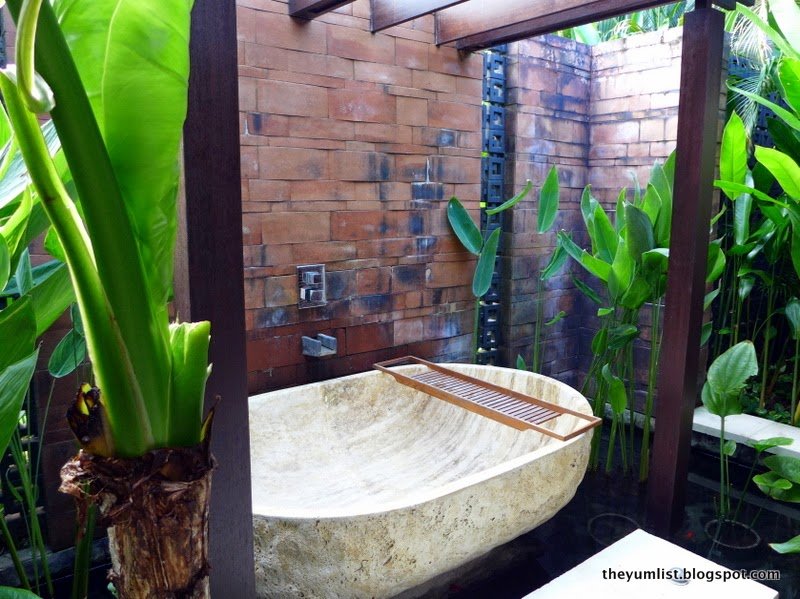 Outdoor Bath and Rain Shower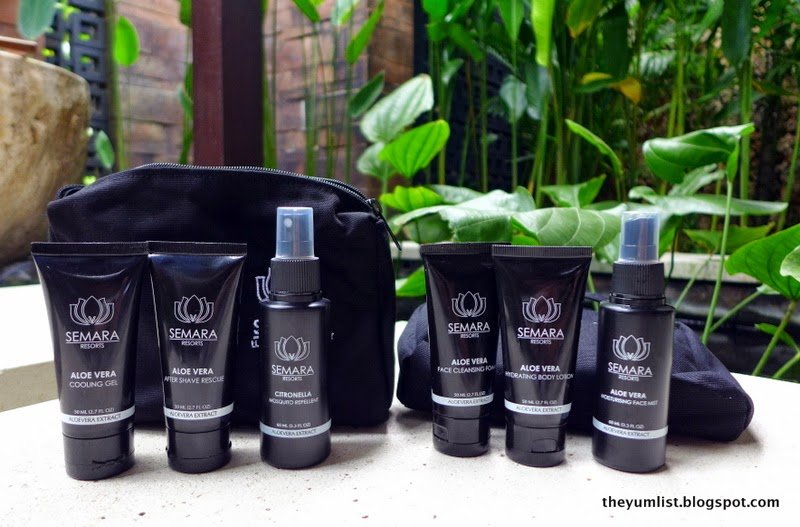 His and Hers Bath Products
The king size bed is lushly dressed with the finest of linens and four oversized pillows are soft yet supportive. In the evening curtains enclose the room, much like a chocolate box, shielding from any outside light and ensuring pleasant dreams. This is just one of five bedroom pavilions in our villa.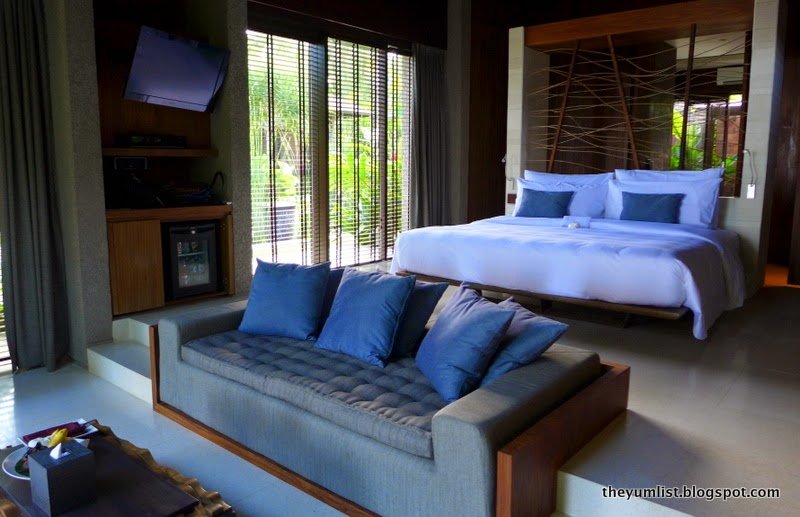 Bedroom Villa Jamadara
Hubby, as always, is delighted with satellite TV channels viewed on the 42 inch flat-screen LCD TV and is already fiddling with the CD/DVD home theatre system. Besides what's inside our room, there's an entire media centre and a separate workroom above the central living area – all overlooking the pool and spectacular seascape.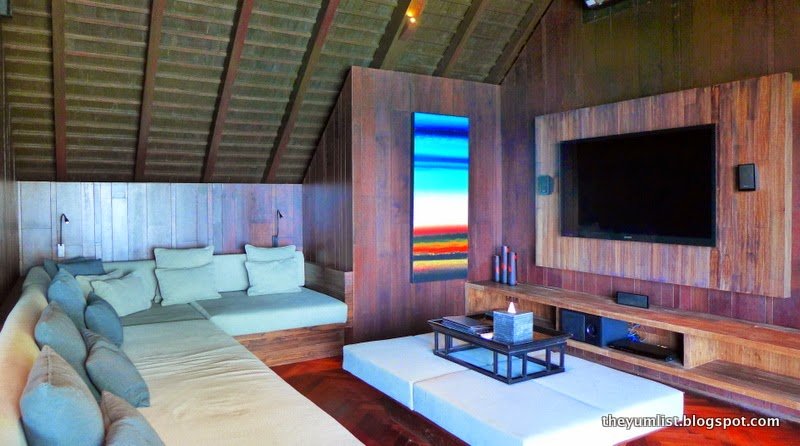 Media Room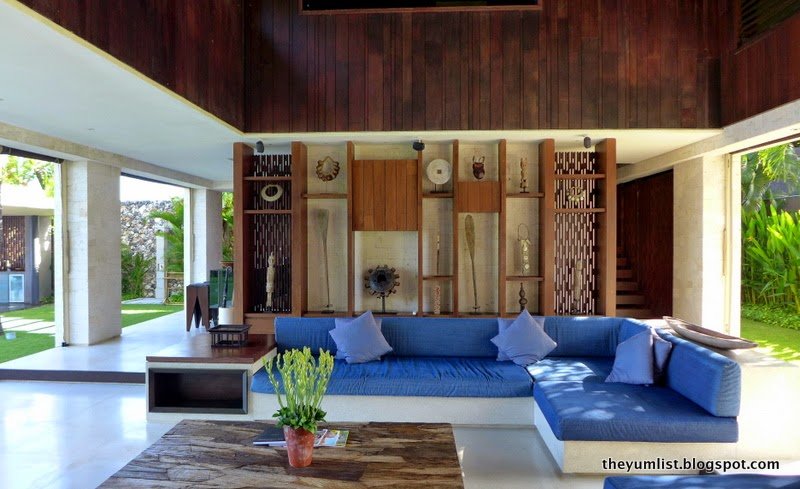 Lounge Villa Jamadara
A dining area, sunken lounge, day bed and sun chairs form part of the fan cooled pool deck. A lengthy dining table and elegantly decorated tropical living area is open-walled inviting cool breezes to blow through and further contemplation of the breathtaking views, yet shaded from the powerful Balinese sun.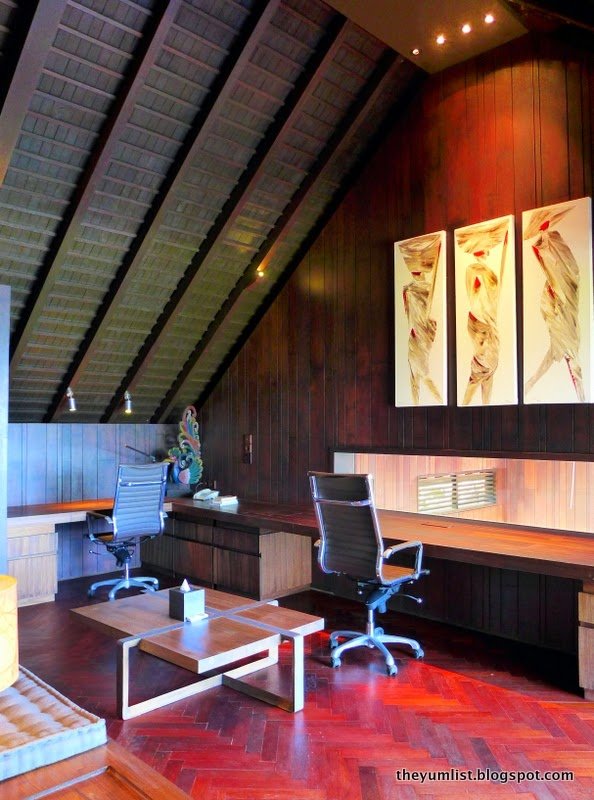 Desk and Work Room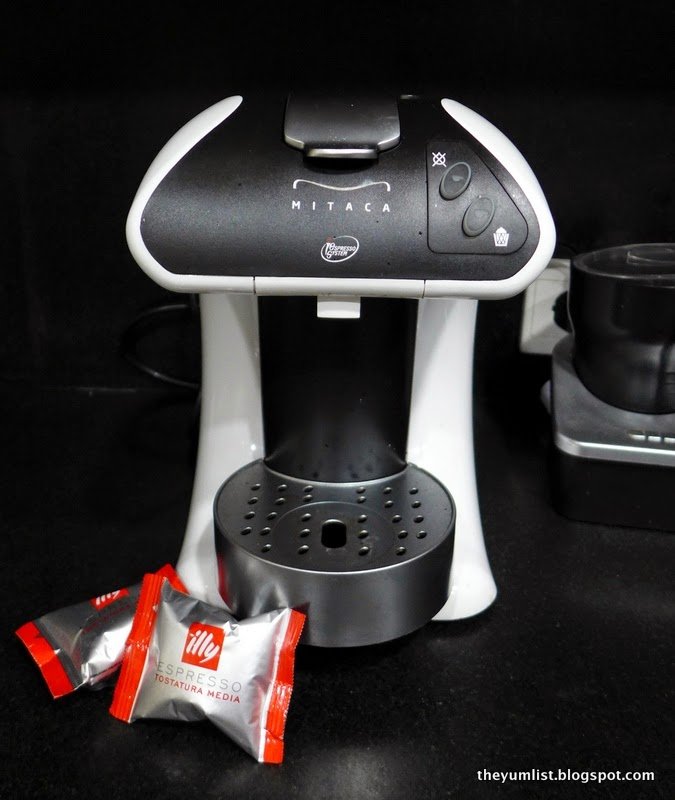 I Do Like My Coffee and my Butler Knows Just How
Villa Nora
Villa Nora breathes similar elegant, yet contemporary luxury. With the added privacy however given to each bedroom pavilion through individual private courtyards, suites can be reserved without having to take the entire grounds.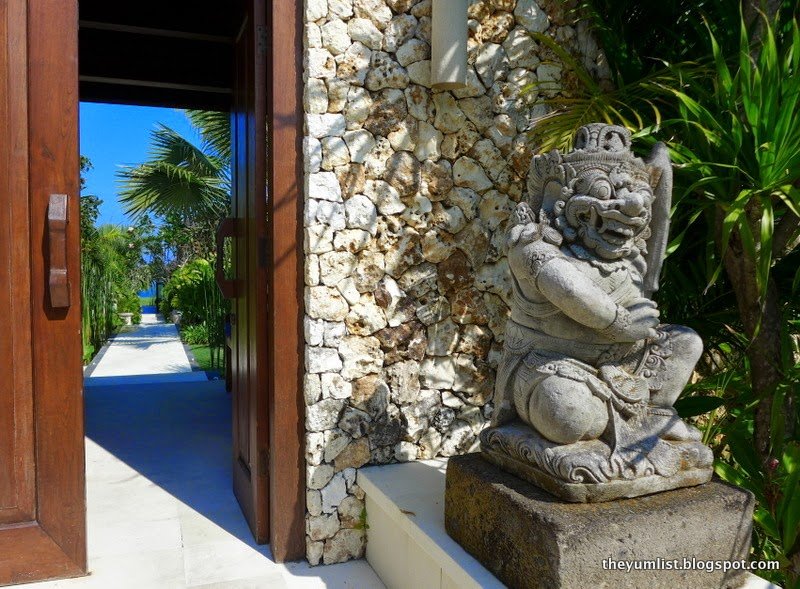 Entrance Villa Nora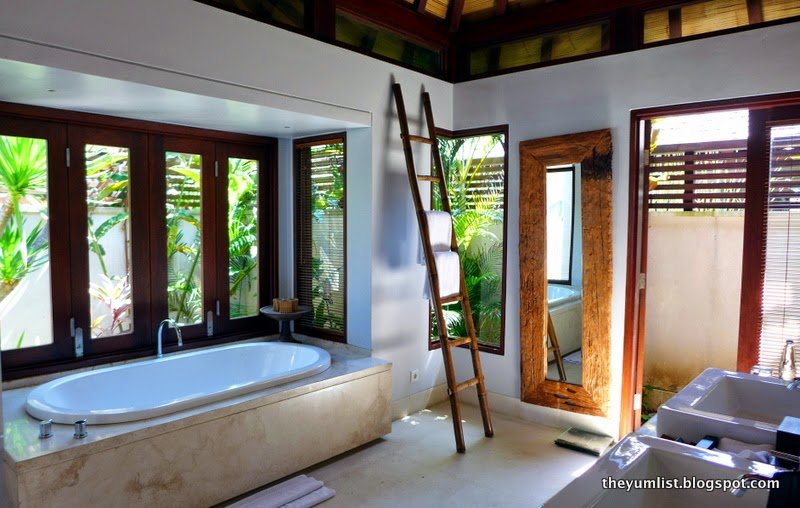 Bathroom Villa Nora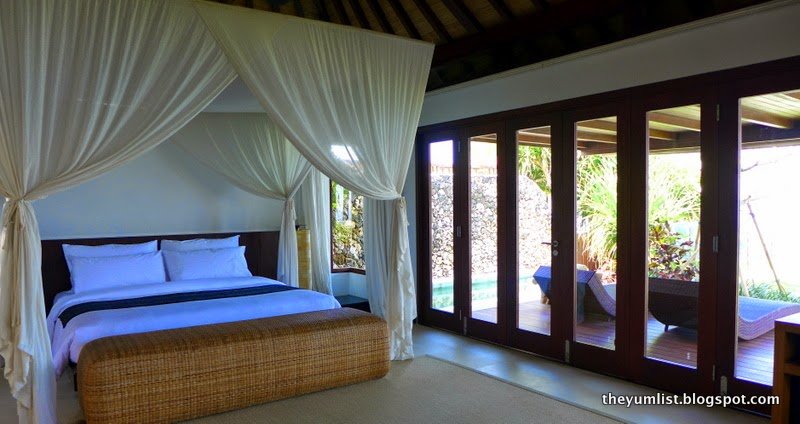 Bedroom Villa Nora
Pool at Villa Nora
Food and Beverage
A ride down the hill tram sets guests on white sandy shores, the platform for
Finn's Beach Club.
We've visited Finn's on previous trips to Bali, but this is the first time we're here as in house guests. All residents have complimentary access to the area and benefit from use of the private beach and facilities.
See more via this link.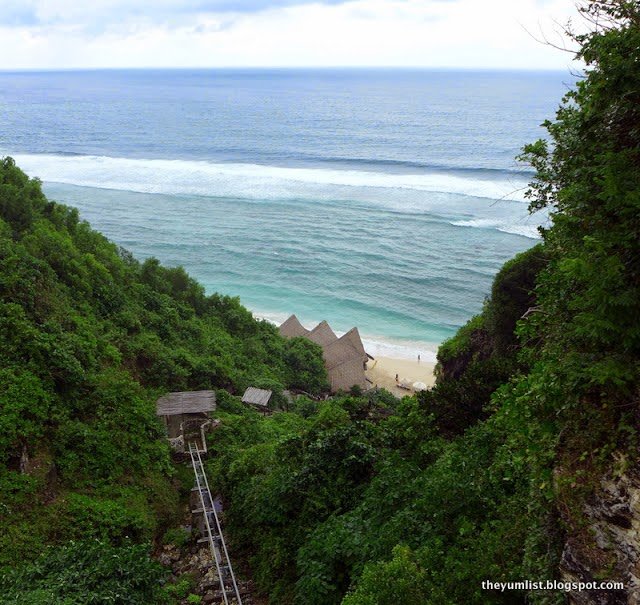 Finn's Beach Club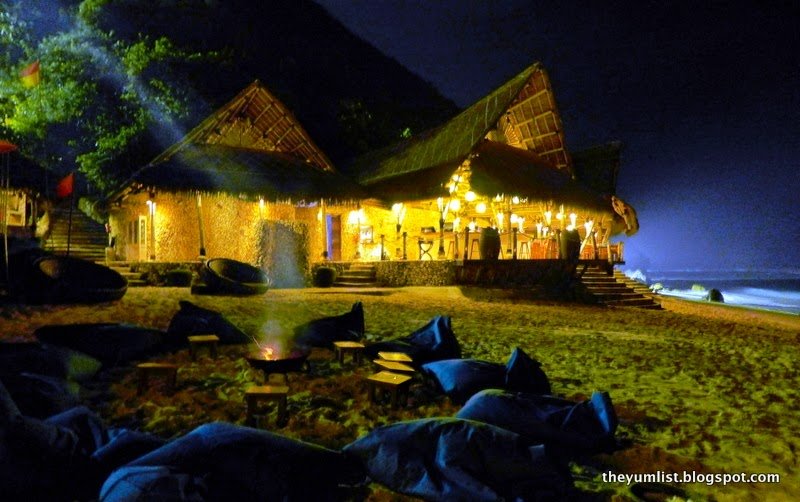 Finn's Beach Club Bonfire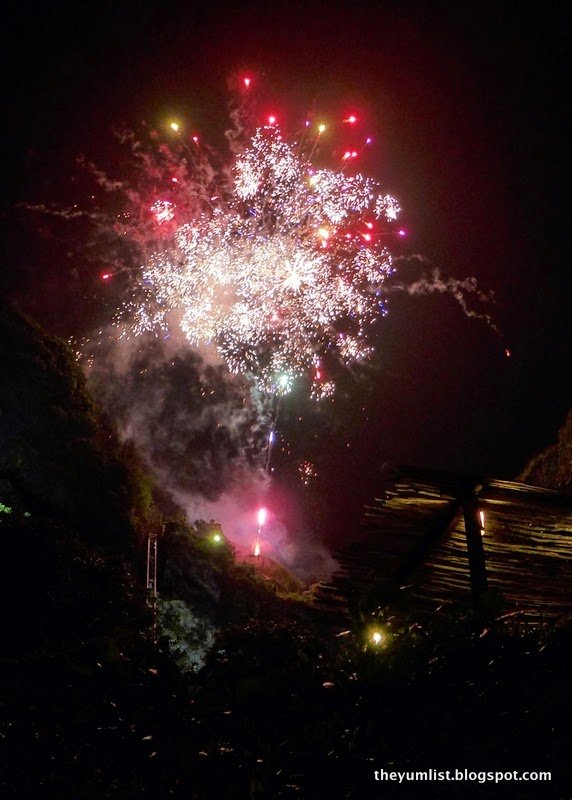 Fireworks Viewed from Finn's Beach Club
Breathtaking ocean views from a table on the oceanfront lawn, poolside dining or air-conditioned comfort are all for the choosing at Selatan Restaurant. Open for lunch and dinner, the menu is compact but sufficient and supported by a decent wine list and bar selection. A full breakfast is provided here for in-house guests and we find it a magnificent way to commence the day with fresh sea breezes and a mind-clearing view.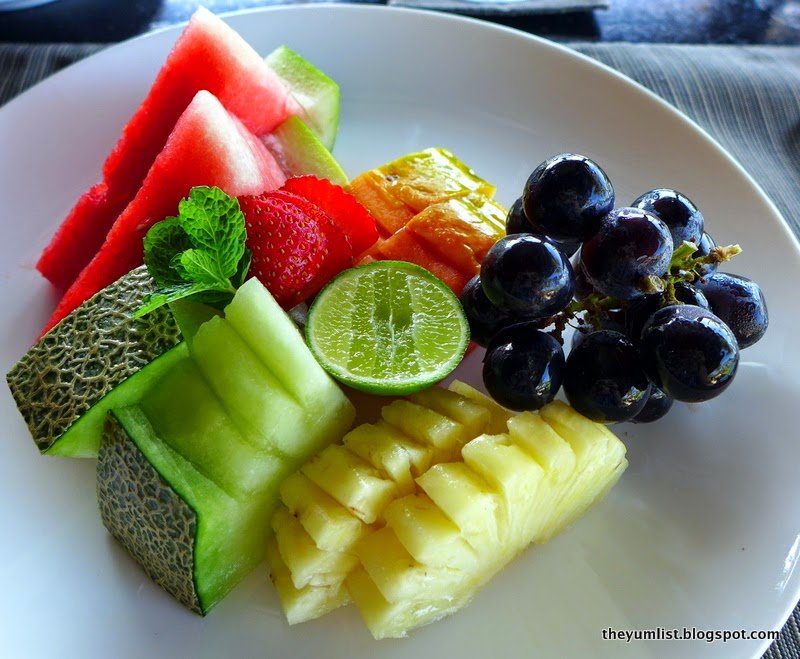 Fresh Fruit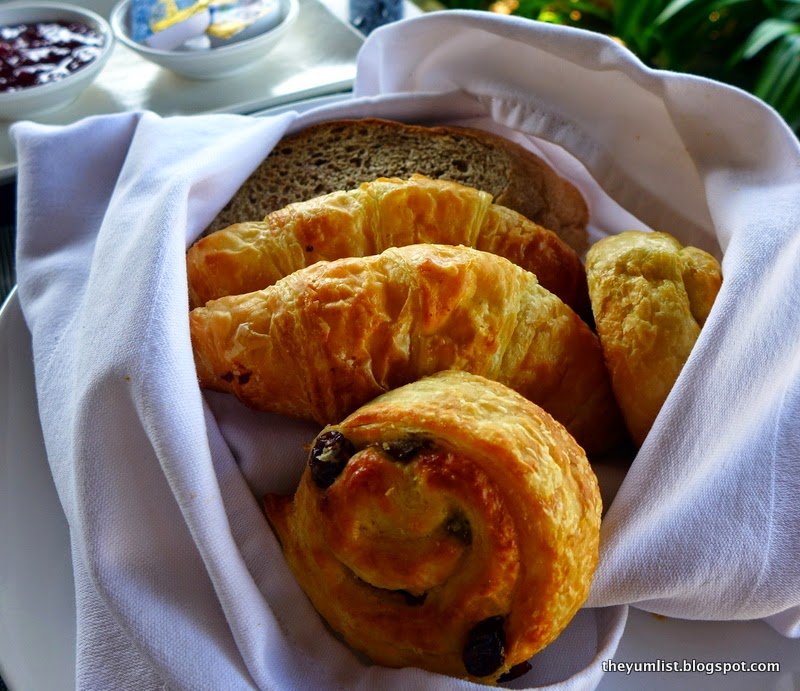 Pastry Basket
Facilities
We feel so tranquil at Semara Luxury Villa Resort that it's hard to imagine considering a workout. We do know better however and are pleased to benefit from a number of facilities to get our hearts pumping.
The high tech gymnasium overlooks the undulating ocean and holds a decent array of cardio and strength equipment.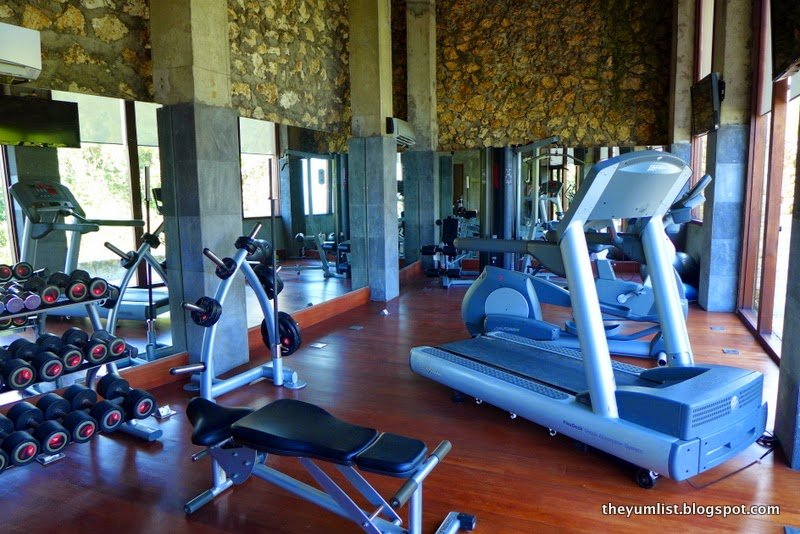 Gymnasium
Floodlit tennis courts with both grass and hard surfaces keep hubby extremely happy. If only he had a more skilled partner than myself, he'd truly be exuberant.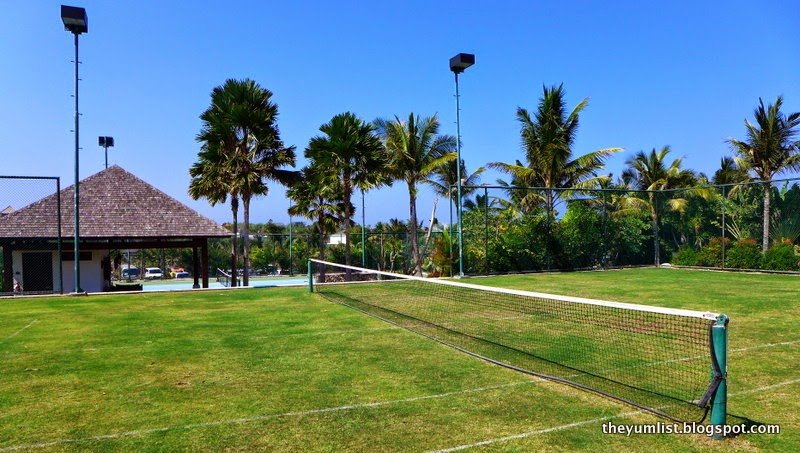 Grass and Hard Tennis Courts
Although we don't work up much of a sweat at the professional golf putting green, it is a fun addition to the facilities. Sided with a pond and rimmed with tropical palms, it's a delightful place to spend a morning and refine those putts.
The 28 metre infinity edge pool makes a beautiful centrepiece to the common area as it appears to drop away down the cliffs. Attractively lined with umbrellas, sun chairs and a lovely flowering bougainvillea bush, we find it rarely used however as most accommodations come with their own pool.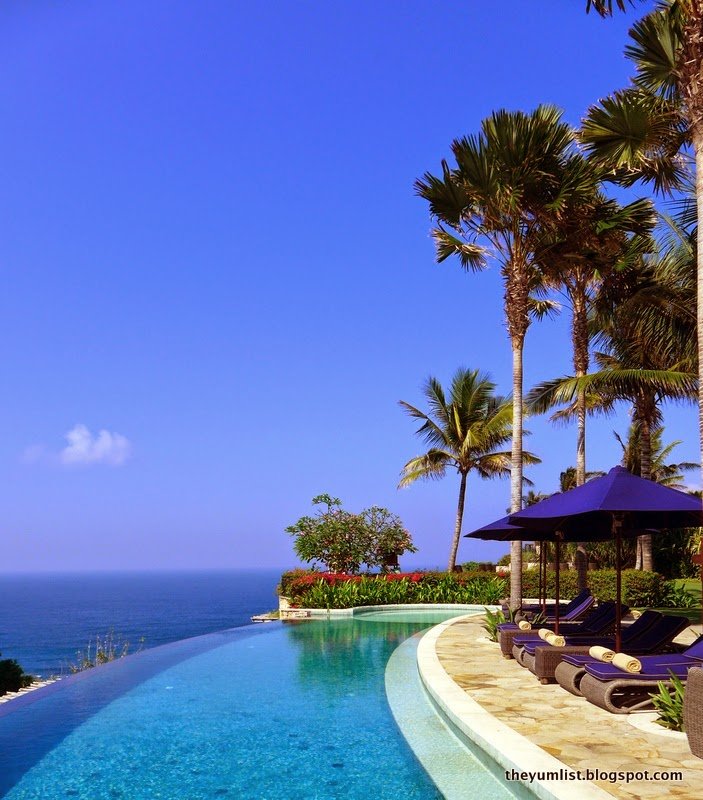 Common Pool
Hubby views the reef from above and below with snorkels and kayaks both available at Finn's Beach Club. From here too guests can grab a soccer ball or a volleyball and muster up some friends for a romp in the sand.
Therapists from Semara's Body Temple Spa perform treatments either in the dedicated spa area or in the comfort of your own room. For those who just can't get enough of the outdoors, some menu items are also available under the shade of a bale.
Corporate Social Responsibility
When asked about their Corporate Social Responsibility activities, the Semara Luxury Villa Resort team offered these thoughts. "On a local level our activities include beach clean ups at beaches close to our resorts, Red Cross blood donations, support of a local school in Ungasan and ongoing education of our staff on Clean and Green policies. Reducing waste is a particular concern for Semara Resorts. Every little step is important, but
they can all add up quickly. Semara has taken steps to reduce paper usage, recycle paper and plastic, use recycled glass water bottles in rooms, refill soap and shampoo bottles, use grey water for gardening, separate and recycle trash and use alternative bags rather than plastic." When you experience the dazzling beauty of Semara Luxury Villa Resort personally, you understand why preservation of the surrounding environment and support of the local community is highly valued.
Hours pass too fast here and before we know it, it's time to leave. We draw exaggerated breaths trying to fill our lungs with as much fresh sea air as we can, and take one last gaze over the undulating waters that seem to glimmer our farewell. Our minds are clear and our hearts are happy as we nod our heads in grateful valediction to Semara Luxury Villa Resort.
Reasons to visit: dazzling location and stunning villas on the Uluwatu cliffs; ideal spot to celebrate a wedding or other grand occasion; 24 –hour personal butler service; direct access to Finn's Beach Club.
Semara Luxury Villa Resort
Jalan Pantai Selatan Gau
Banjar Wijaya Kusuma
Ungasan 80362
Bali, Indonesia
+62 361 848 2111
+62 853 3941 1907