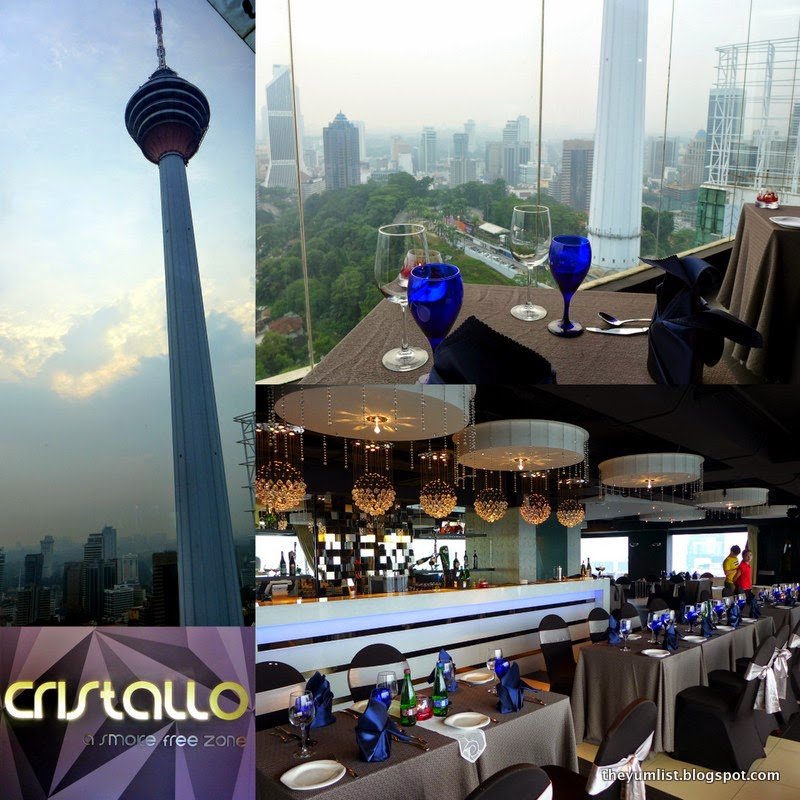 Cristallo de Luna, Pacific Regency Hotel and Suites
New Menu and New Chef at Cristallo di Luna
Pacific Regency Hotel Suites
Photos by The Yum List (Monica Tindall)
I've enjoyed a cocktail or two at the Luna Bar at Pacific Regency; despite other claims, this is actually the original Kuala Lumpur sky bar. But this is my first visit to the sister restaurant with the opposing view of the city. KLers like me are likely to come in the back entrance to the KL tower so don't be put off by the lack of pizzaz just hop in the elevator to the 7th floor and cross over to the hotel lobby. You'll be surprised at the contrasting elegance when you jump in the second elevator and whizz up to the dazzling 33rd floor with the sensational city views.
Unobtrusive, yet fun and funky music greets your ears as you turn the corner, to catch a glimpse of the darkening city skyline framed between slinky sliver drapes. Discreetly place mirrors reflect the sparkling light from crystal chandeliers that twinkle above the elegantly contemporary-retro style decor.
As it's Friday night, we are treated to some dramatic cocktails which go down so well against the darkening skyline. First up is Caning's choice of Classic Mojito (RM32++), tall and elegant, stuffed with cracked ice that echoes the sparkling crystalline decor that surrounds us. I'm pleased with the goodly amount of tot in this drink and find the flavours well balanced; unlike many in this city, not overtly sweet.
Blue Margarita (RM32++), is dramatically layered with Curacao. It looks perfect but I do recommend stirring before drinking to achieve a balanced blend of flavours. I'm just happy not to be drinking the equivalent of a blue slush puppy, but a clear classic style cocktail. Well done!
Red Berries Daiquiri (RM32++) is beautifully blended with a superb texture and (for me) a very more-ish taste. Again I love that it is classic style, not frozen and I feel I could tipple quite a few of these.
Chef Eddie Yap is a generous and entertaining host, obviously committed to his fresh ingredients, 'classic with a twist' concept. He tells us he wants to bring in a light and modern approach to food with different combinations and hints of Asian flavours.
Kaffir Scented Lobster Soup with Sea Scallop and Coconut Foam (RM30++) would seem a good example of this. It's a plentiful serving of lobster bisque with a floating scallop island Monica is really enjoying the thick saltiness of the soup while I'm intrigued by the lime notes and light coconut foam.
I've rarely seen such a generous portion of seafood on a starter plate, so Warm Seared Scallops and Prawn (RM30 ++) immediately get my vote. I love the fresh zingy tinges from the ruby red grapefruit, which sets off the salty lightly cooked shellfish delightfully.
A Grilled Tenderloin of grass fed Black Angus Beef (RM80++) is served with fricasee of wild mushroom and glazed baby onions with morel jus and truffle scented oil. The steak is firm and tasty, a good piece of meat. As Caning and I are of the 'just sear it on the grill' school of meat preparation, I'd venture to suggest that this is grilled to Malaysian preferences and that Europeans should order their meat slightly undercooked to their preference.
In contrast the Pistachio and Herb Crusted Rack of Lamb (RM65 ++) has a perfectly pink middle and we enjoy ripping the soft meat off the bone. Accompanied by saffron potatoes and rosemary scented jus, what really sets this dish apart is the base of sweet and sour puy lentils. Holding their shape, texture and taste impeccably and mouthwateringly flavoured. Monica and I would both happily come back just for these.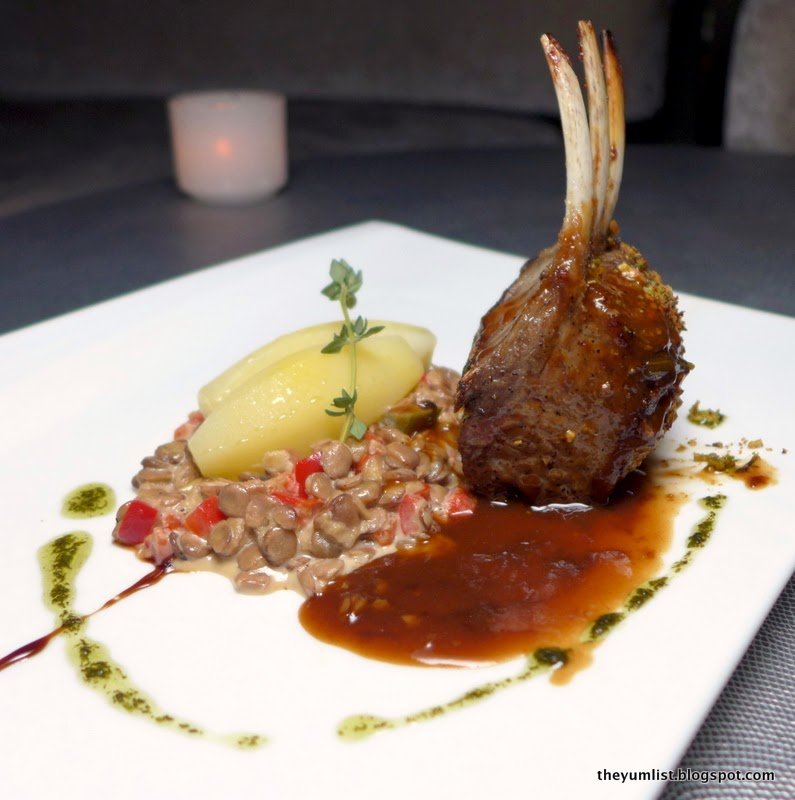 Pistachio and Herb Crusted Rack of Lamb
We're impressed by the decent serving of Atlantic Cod (RM50++), but more so by its large glistening flakes. Baking fish in the oven and keeping it moist is no easy feat, but this one has even made it through Monica's paparazzi session with aplomb. The tender flakes are taken to the next level with a light saffron butter sauce and a garnish of flying fish roe. A creamy Mascarpone and Asparagus Orzo Risotto completes this great value dish.
Cristallo has a small wine list of mainly new world wines. By the glass we try Camino's Tierra Andina Chardonnay Camino's Tierra Andian Cab Sauvignon (RM32++ per glass).
A locally inspired dessert that must be popular with Malaysian diners is Teh Tarik Ginger Panna Cotta with Kaya Butter Toast (RM 15++) – a generous portion of lightly flavoured panna cotta served in a rustic Malaysian style. 'Everyone loves the kaya toast!' says Chef.
A fresh twist for me on a classic creamy Pavlova (RM20++) is a scoop of lemon sorbet with chilled strawberries, passion fruit and mango in a meringue nest. It is very prettily and colourfully presented and we enjoy the zingy fruitiness in contrast to the sweet crisp meringue, all enhanced by just a touch of balsamic. A good yum to end on!
The city lights are twinkling and the restaurant is starting to fill. Soon the partiers of the evening will be flooding into Luna Bar next door. But for this KL eater, it's time to go home and digest a rather generous selection of nicely cooked food.
Reasons to visit: elegant dining at a reasonable price, fresh local produce, cocktails with a decent kick, Red Berries Daiquiri, Atlantic Cod, Rack of Lamb, city skyline views.
Cristallo di Luna
KH Tower
Pacific Regency Hotel Suites,
Jalan Punchak
Kuala Lumpur, 50250
Malaysia
+603 2332 7777 ect 6804