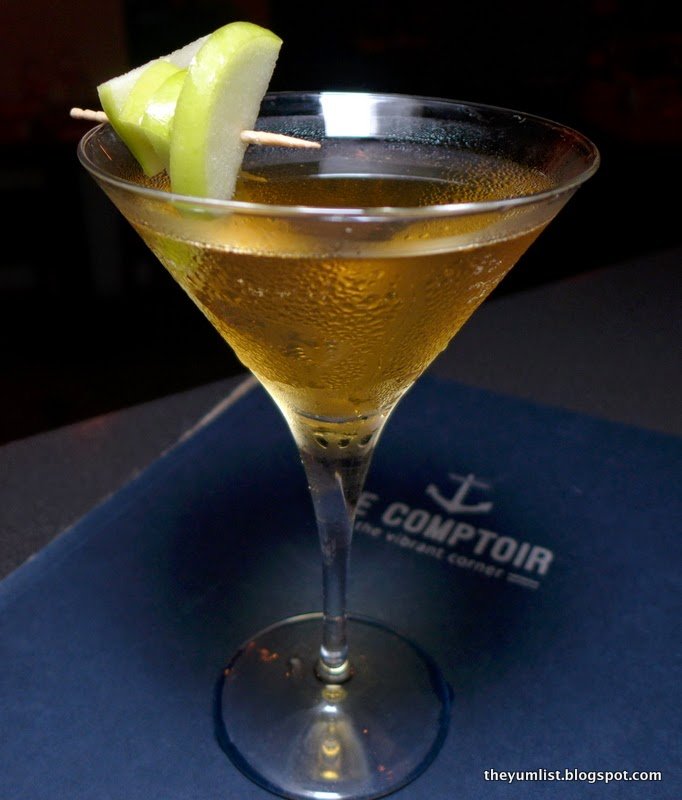 Le Comptoir, French Creperie and Pub, Singapore
Le Comptoir, Crêperie and Cocktail Bar, Singapore
In a side street off Boat Quay an exciting new outlet has recently opened its doors, Le Comptoir. A smart restyling of a traditional French crêperie, united with a chic cocktail bar, produces a casually swish pad to kick back from lunchtime to the wee hours of the morning.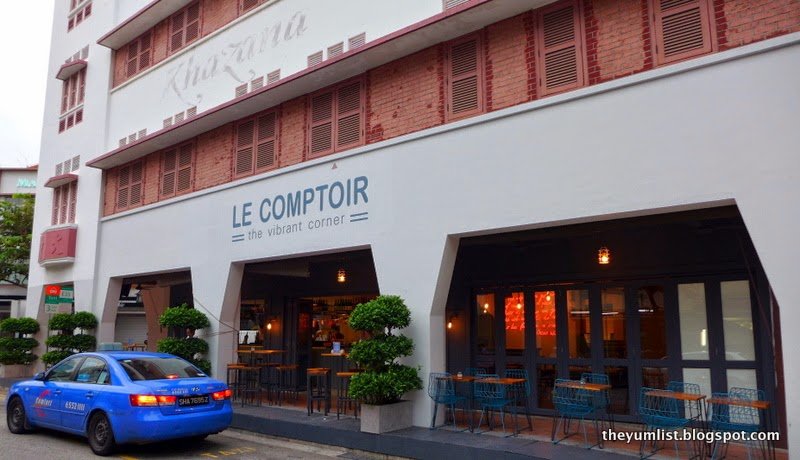 Le Comptoir, French Creperie and Pub, Singapore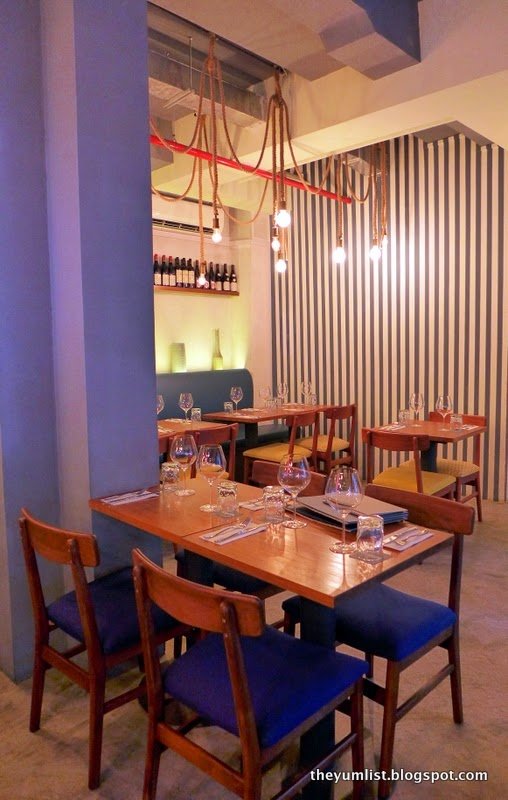 Variety of Seating
Le Comptoir's wall-less sides opening up to the street, combined with nautical industrial design and a warm glow, fashion an ambience that is friendly and accessible. Woven materials of hessian and rope act either as lampshades or hang bulbs from the bare ceiling. Polished cement floors support a variety of seating: dining tables; bar and stools; a tall communal bench; there's even a swing seat!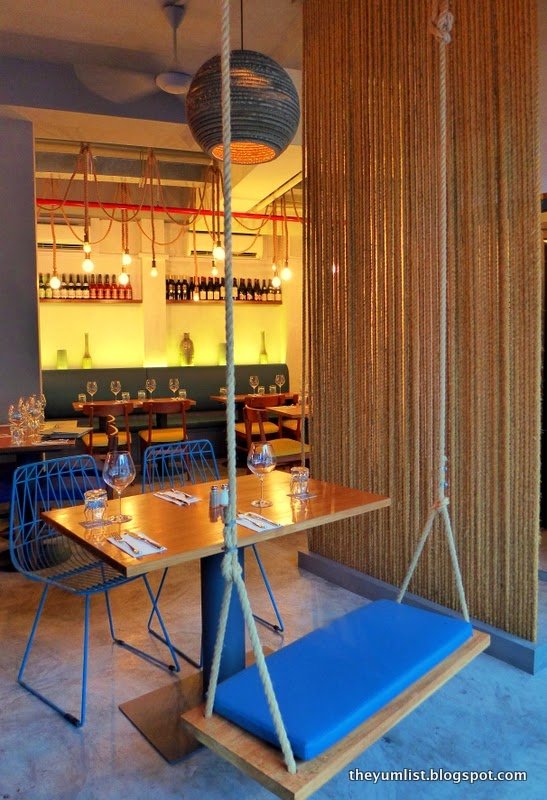 Swing Seat – I Want One!
A triangular bar fits into the corner point of Le Comptoir, resembling the bow of a ship. During the day it's a spot for a quick lunchtime bite, in the evenings a post for a cocktail and amicable chit-chat. A quote from Oscar Wilde lights up the wall behind the bar: "The only way to get rid of temptation is to yield to it. Resist it, and your soul grows sick with longing for the things it has forbidden to itself."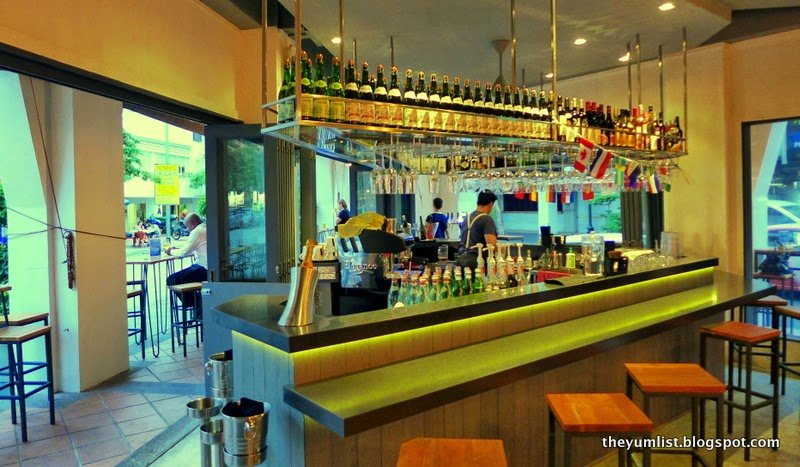 The Bar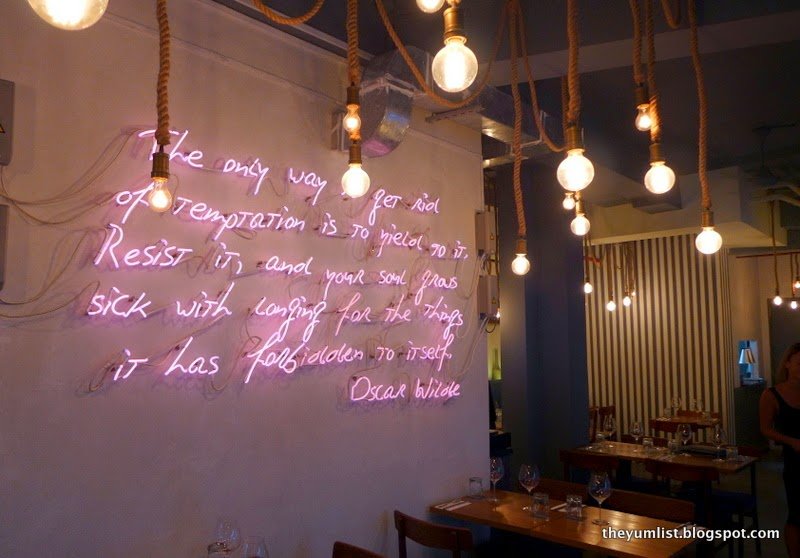 Le Comptoir – Quote from Oscar Wilde
Following the words of a great man, we decide not to deny ourselves, for fear of an ill turn, and get busy ordering some beverages.
Wine, Whiskey and Cider
Drinks are given just as much importance as the food menu at Le Comptoir. With an extensive range of exclusive French wines starting at $10 per glass or $46 per bottle, a tipple is an affordable indulgence. La Maison du Whiskey supplies the outlet with a noble range of spirits, and a boutique selection of French Breton Ciders are imported directly from small producers in Normandy. We're promised that the fermented juices are unlike the profusion of commercial brands on the market and are hence enticed to try a few drops.
Ciders
A trio of pretty colours, blush, translucent yellow and pale orange, are delivered to our table showcasing three popular styles. The Cidre Brut Rradition, Domaine Fournier ($7), is a dry apple cider. A dry pear cider comes in the Poiré Bouché Brut, Cidrerie de la Brique ($7), and a pink version, Cidre Brut Rosé, Domaine Fournier ($8) is a lightly sweet rosé made from apples.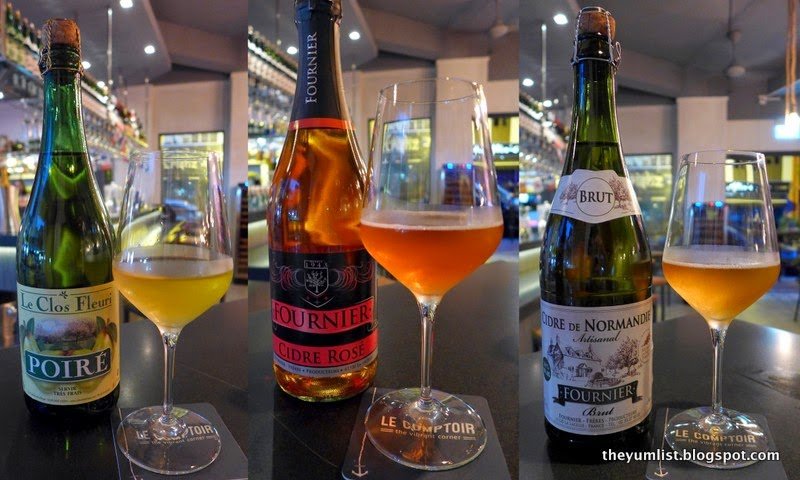 Apple and Pear Ciders
They all prove easy drinking, low in alcohol, (around 4%) and suitable any time of day. It seems the flavour of the orchard is in every drop. They are indeed distinctly different from others on the shelves across the region. These artisanal brews provoke thoughts of the farm and images of the craftsman picking, squashing and processing the fruits in his humble cidery. We might return to Singapore just for another sip of these luscious liquids. Thirsts curbed, we move onto something more substantial, and the main fare of Le Comptoir, the crêpe.
Traditional French crêpes can be sweet or savoury (galettes) and are generally made from wheat (sweet) or buckwheat (savoury) flour. French owners, Antoine and Marie Rouland, bring classic combinations to the palates of Singaporeans but too experiment with some fusion recipes bridging Brittany with the East and other parts of the world too. With some catchy names, we can't help but be intrigued. Should we go a little New York with the "I Did It My Way" or stay in the region with the "Kao San Road?"
Savoury Crêpes (Galettes)
Galettes are made from buckwheat flour making them not only nutritious but also gluten free. It seems the chef at Le Comptoir has perfected the batter, as the recipes we try are lightly crisp on the outside, full of air bubbles, and supple in the middle. Owner Marie shares with us that the thin liquid batter must be left to sit for between 6 – 18 hours, allowing for natural fermentation, before cooking. A high quality flour is imported directly from a mill in Brittany.
From the Make it Classic section, Ménage à 5 ($16) is recommended. Emmental cheese, ham, egg, mushroom and tomato are folded in a slender buckwheat pancake. It has a wholesome country taste and is surprisingly hearty, perhaps as a result of the buckwheat base.
Morning Texas ($16) comes from the Get Some Vibes selection. Scrambled egg, minced beef, bacon, corn kernels, slices of tomato, and homemade ketchup are layered together in the filling. As I pull my fork, the cheese strings from the base making the crepe look even more tempting. Fresh chives add colour to the top, and the corn provides light bursts of juiciness.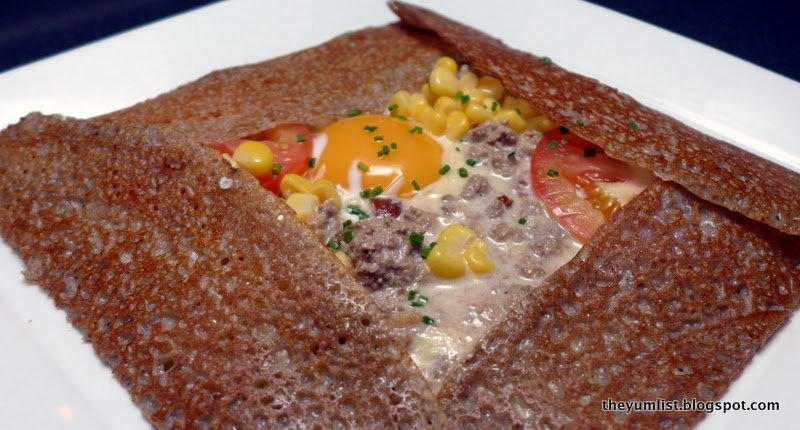 Morning Texas Galette
Sweet Crêpes
I'm Famous ($8) is a wheat based crepe with caramelized apple. This time the flavourings come atop the folded crepe. A hump of soft apple wedges centre the square, and a criss-cross of sauce covers the entire plate. The faint trace of salt fools us into thinking the dish is not quite a sweet as it is and into the devouring the whole, not even leaving a drop of caramel.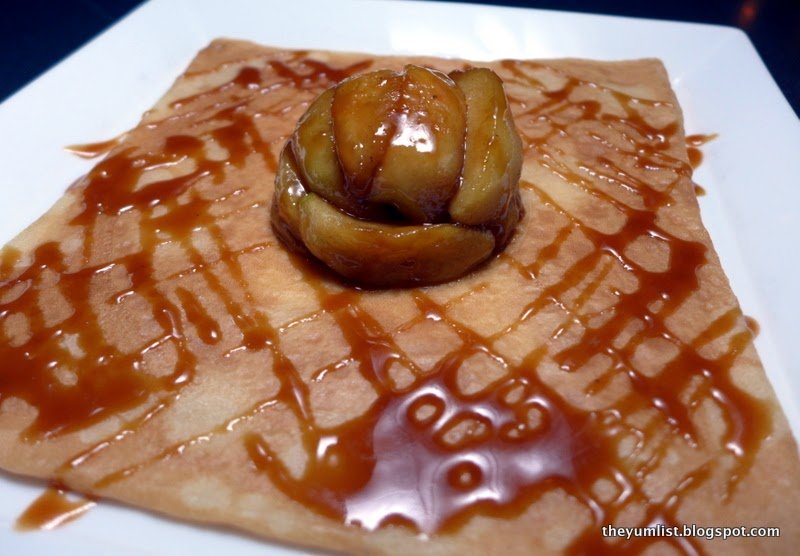 I'm Famous
There are a bunch of interesting items on the menu. We find it hard to stop at just three. Le Comptoir's Prelude, a twist on the classic cheese and charcuterie board, saves the day. Bite-sized versions, of a variety of either sweet or savoury crêpes, are served on a platter in creative shapes such as mini samosas, one-bite rolls and delicate tartine style.
Platters
I love that there's a whole platter celebrating vegetarian tastes so we order The Prelude #3 ($18) with: Olive and Tomato rolled like a scroll delicately balanced in intensities; rich Goat Cheese and Tomato on a mini round; folded in a triangle is the mouth-filling Ratatouille and; Zucchini and Homemade Ketchup is a fresh bite squished in a basket formation. Similar to tapas, this plate is ideal for sharing with friends over drinks.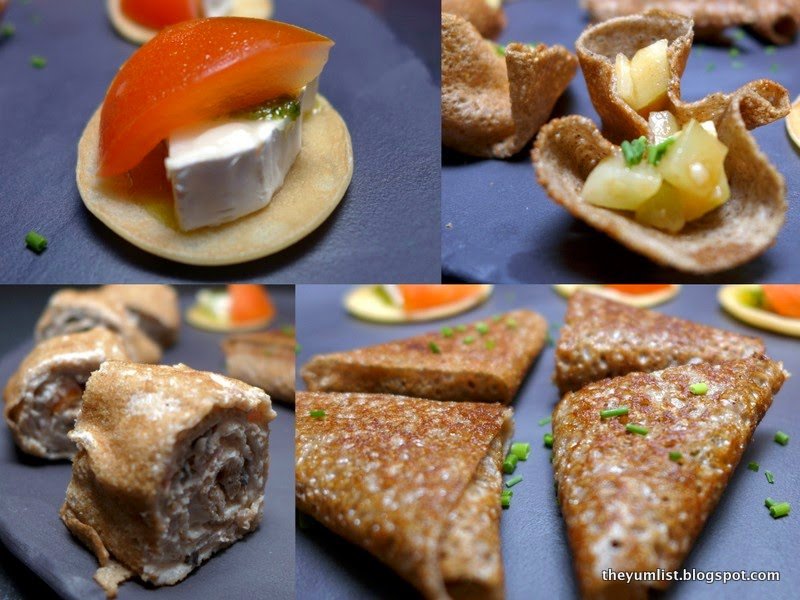 Prelude Platter #3
Brasserie
The Brasserie menu offers an alternative to crepes with a compact list of starters, mains and sides. We try the Grilled Salmon with White Wine and Butter Sauce ($29), sided with Bacon and Leek Fondue, and Tagliatelle. A plump wedge of pink flesh sits as a beached boat on the edge of the plate. A lush round of thick smoky fondue, a mound of al dente ribbon pasta, and a ceramic pot of cream sauce partner the fish. Moist and succulent the flesh falls apart with the touch of the fork. It's so fresh there's no need for additional seasoning, but the faint tang in the sauce is more-ish and ends up on top of the pasta so as not to waste a drop.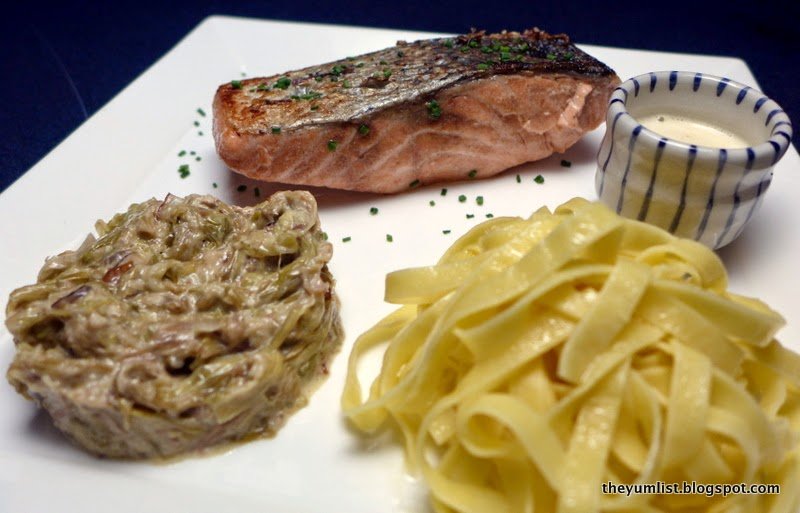 Grilled Salmon with White Wine and Butter Sauce
As we're finishing our last bite, we notice the night has taken the last of the sun's rays and the music has stealthily crept into our subconscious, causing us to bop along to the tunes. Morphing from a casual eatery in the day to a lively cocktail bar at night, Le Comptoir has something for everyone. We take that as a signal to try some cocktails!
Cocktails
Normandy ($12) seems appropriate considering the origins of the owners, blending Calvados, cider and honey syrup. Presented in a martini glass with a kebob of green apples slices as adornment, it provides a thread from our earlier ciders, but adds a bit more punch with the apple brandy.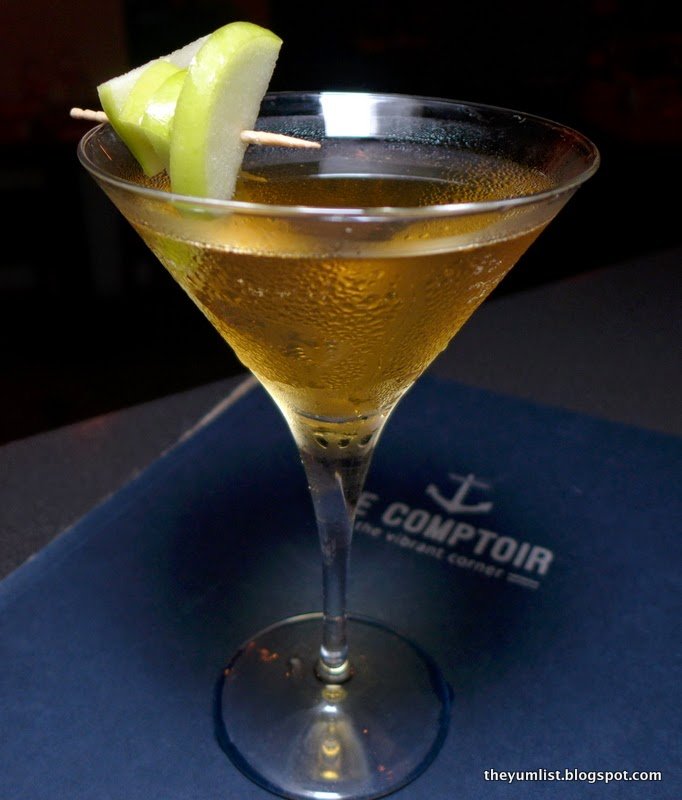 Normandy
The vodka based Mint 79 ($16) mixes a spritely combination of lime, mint, raspberry and strawberry syrup. The pear-bottomed glass holds the vivid blush beverage, and a wedge of lime and sprig of mint garnish the rim. It's fruity and refreshing, a lovely tropical thirst-quencher.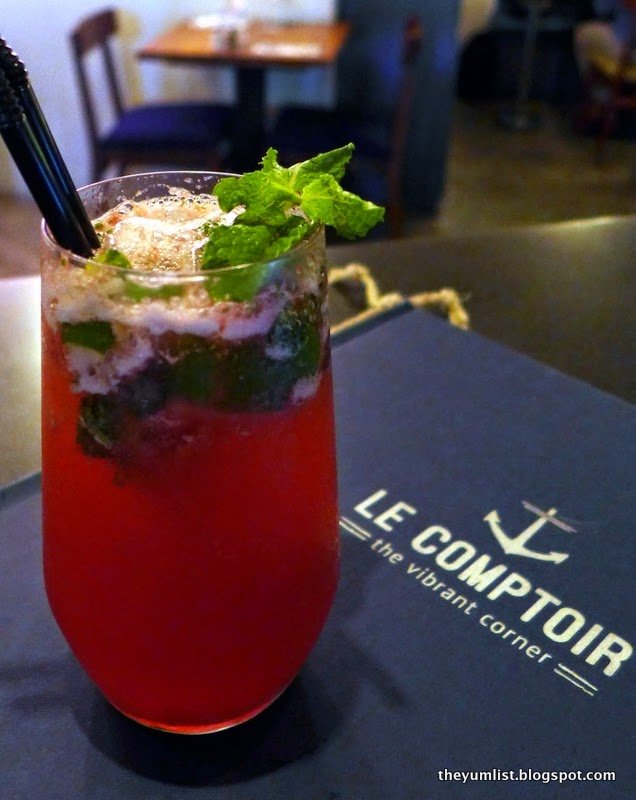 Mint 79
On the weekend tables are pushed out onto the sidewalk and the bar shares its animated energy with the street. Wednesday, Friday and Saturday evenings a DJ heats up the night with electro-funk rhythms. Occasional live musicians jam with the DJ, such as the saxophonist that played the night before we visited. Crepe service continues until closure, which is 3am Wednesday to Saturday. We warm up to the idea of discovering a new hangover prevention/ late night snack – the kebab and roti canai may have met their match.
Simple yet delicious food, affordable wine and great music – in the words of Antoine and Marie, "a little bit of what you love is good for you," and, we do love Le Comptoir.
Reasons to visit: creative crepes; artisanal ciders; affordable wines; refreshing cocktails; great atmosphere
Le Comptoir
Creperie, Pub, DJ
79 Circular Rd
Singapore
+65 6534 7645
Opening Hours
Mon – Tues: 11am – Midnight
Wed – Sat: 11am – 2am