The iconic 'hotel-in-a-garden,' PARKROYAL on Pickering Singapore, serves a delicious Sunday brunch at its all day dining outlet, Lime. A long lofty dining hall is set amongst greenery and water features, giving the ambience a fresh garden feel. The selection of food is a mix of local and international, and some of the finest quality we've encountered in a buffet.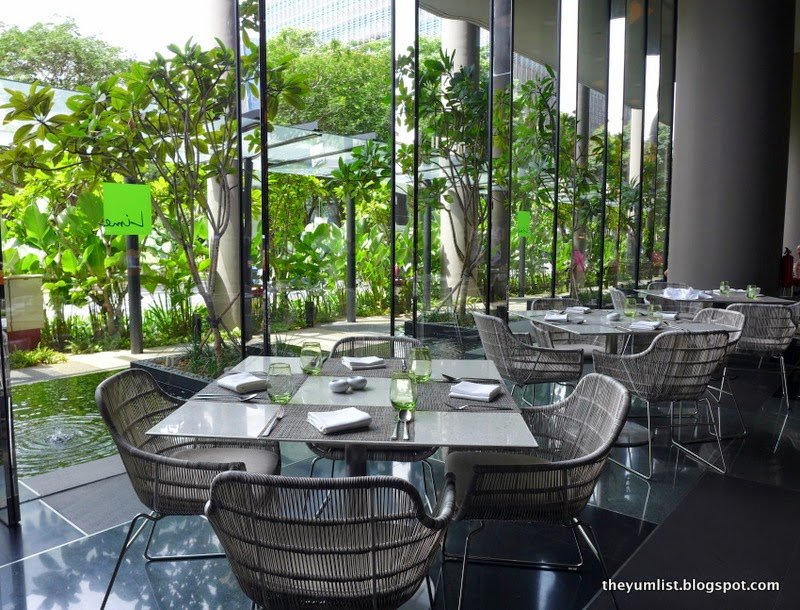 Casual Tables by the Window
There's truly not enough room to cover in one post the extensive assortment of food for the devouring, so here I'll cover our favourites. With that said, it's the type of place you could come back to week after week to delve in and explore one or two sections as a time.
The European Cheese Platter features no less than 12 varieties. We take a tiny rasher from each, nibbling and appreciating the wide variance in flavor and texture. Rustic breads with crunchy crusts and soft middles are too mixed in their models: baguette; cranberry; muesli; dark rye; French boule; herbed rolls; ciabatta and more. Croissants and other baked pastries are too housed in baskets aside the bread. Simple spreads of Echire butter and fruit conserves are all that is needed to supplement flavour, if any at all.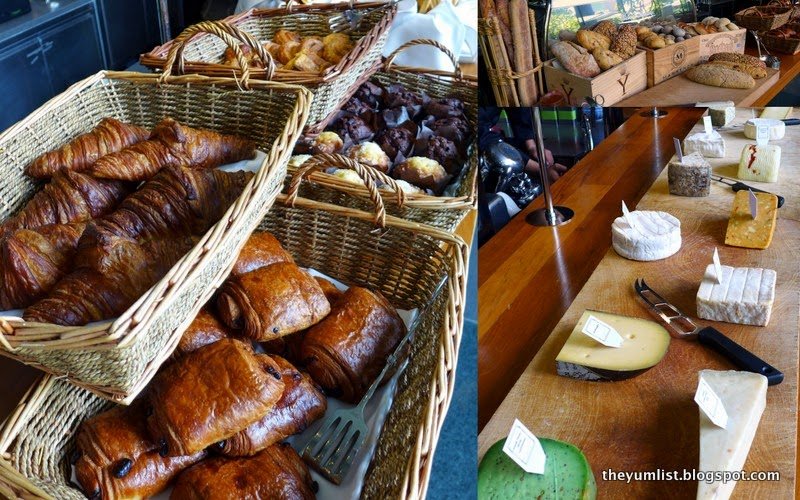 Pastries, Breads, Cheeses
Thai salads have a section of their own, and while the standard green mango and green papaya dishes are of course included, the winner for me is the pomelo. Juicy segments of this semi-tart fruit are broken and tossed with fine slices of purple onion, coriander leaves, lime, chili and fish sauce.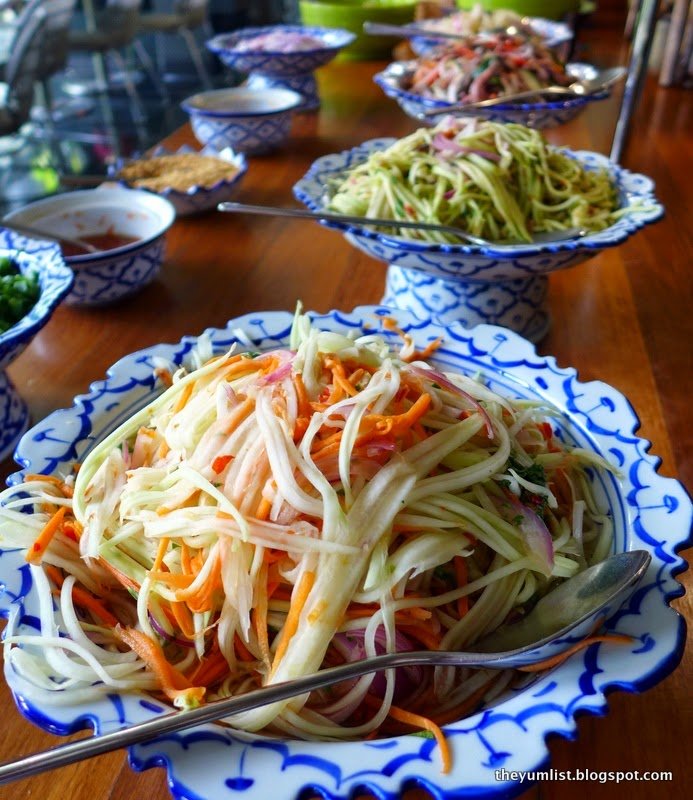 Thai Salads
Heading along the buffet the Mediterranean has a nose in with hummus, baba ghanoush, tabbouleh and pita bread triangles. Six bowls of olives are labeled identifying type, origin and tasting notes. The gourmet presentation encourages us to sample one of each, trying to detect the differences as recognized in their write-ups.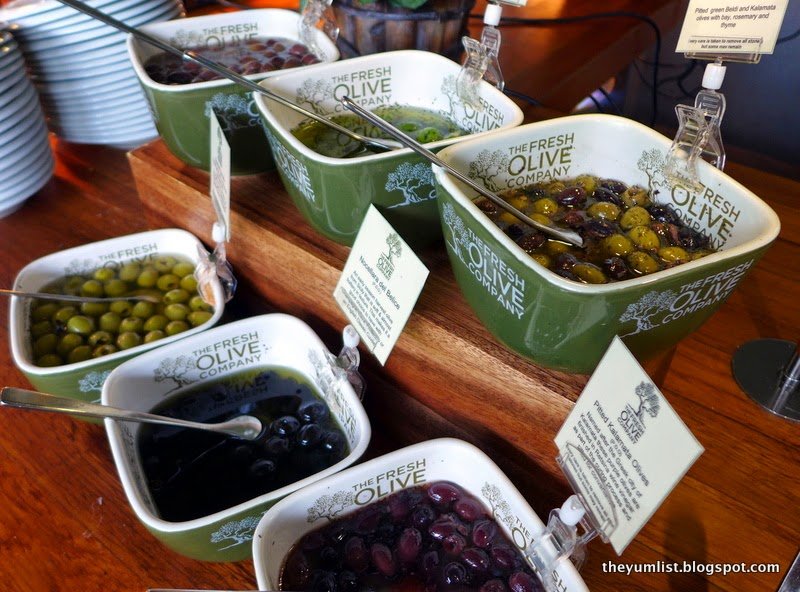 Olive Assortment
Hubby drools over the cold cuts section with a number of smoked fish and cured meats. It's the ham items that he's piling on his plate though. Carved either directly from the leg or in a Ferrari looking meat slicer, the choices are a plenty and a must take at this buffet.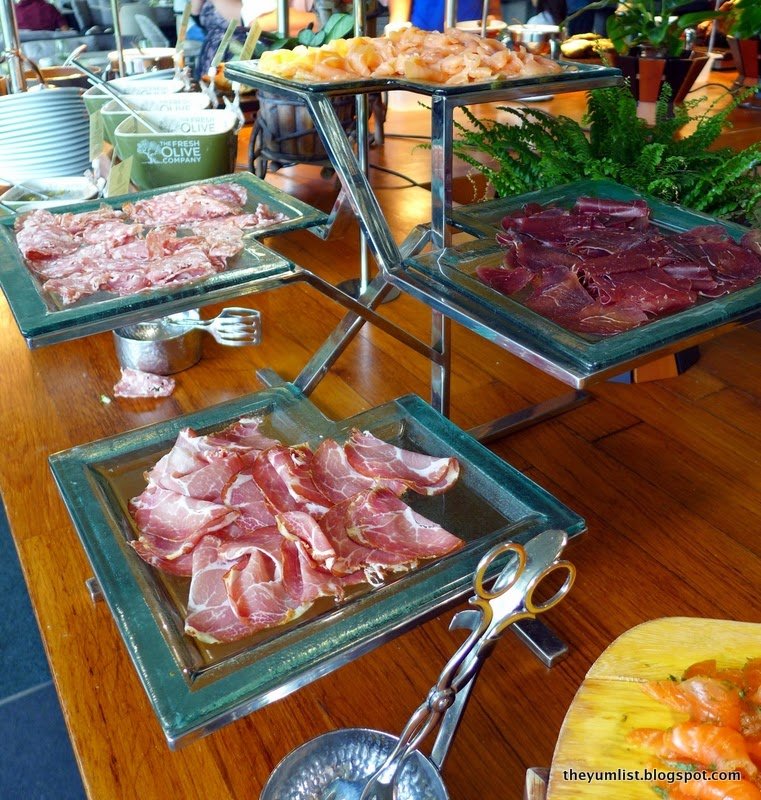 Cold Cuts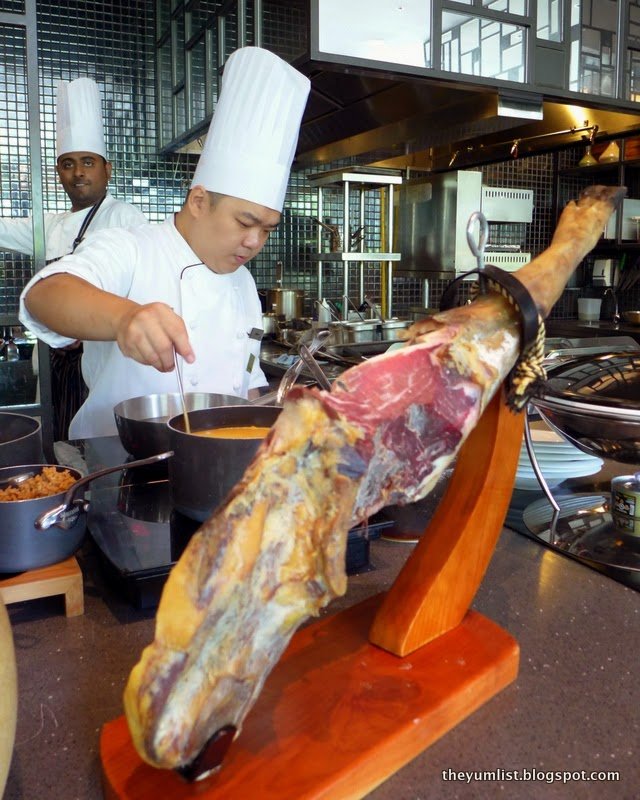 Leg Ham and Live Cooking Station
Fresh seafood makes a popular line on any icy bed. Strewn across the ice, each variety appears to be thrown straight from the bucket onto the display. Crab claws are already cracked and lobsters halved, making it easy to access their luscious insides. A chef mans the oyster station, shucking them in the moment and providing light entertainment as guests muse the pickings.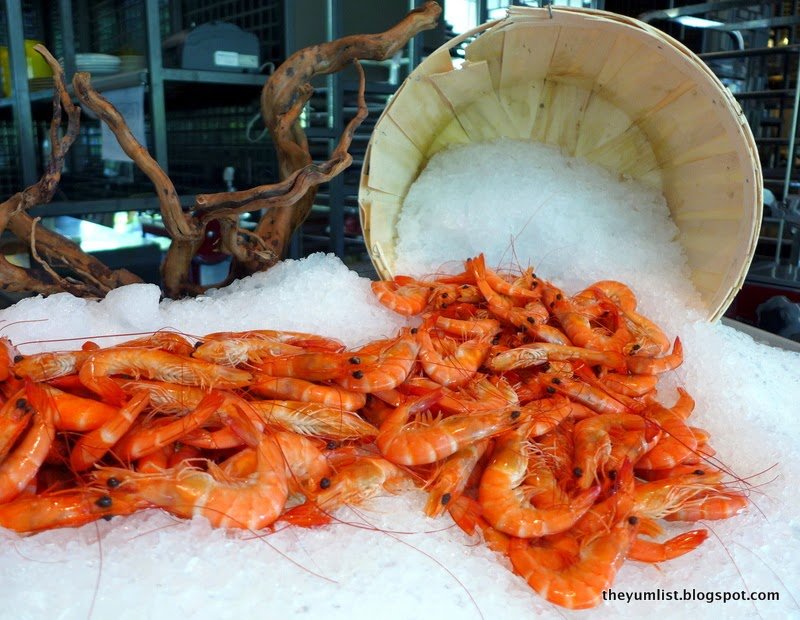 Fresh Seafood on Ice
A roast section showcases beef, lamb and chicken, and some hot side dishes such as gratin potatoes and ratatouille. A chef stands by to slice them as desired.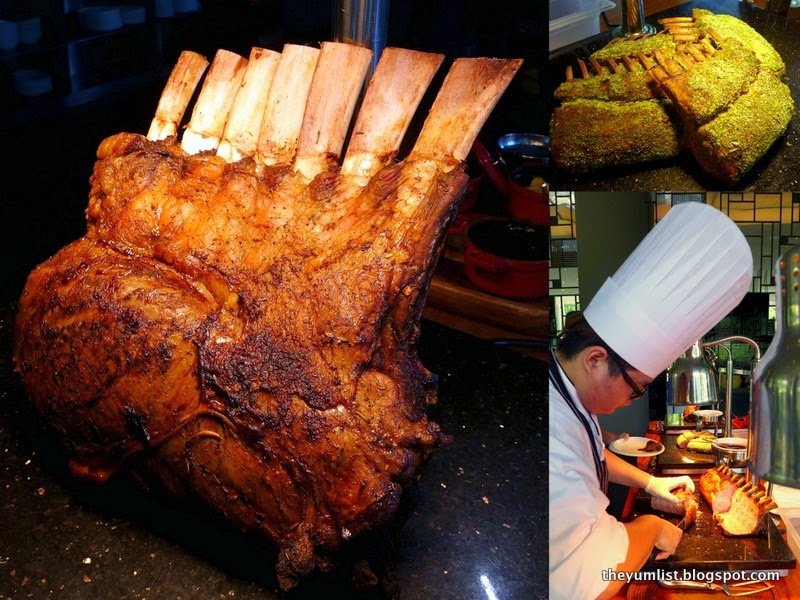 Roasts
Nyonya flavours are something to behold in Singapore and Chef Nancy Teo shares some of her Peranakan recipes with the kitchens at Lime for all to reap the benefits of. Ayam Buah Keluak, spicy chicken with black nuts, is one such specialty. Promising robust flavours and meaty pieces of chicken, the dish has a distinctive taste due to the piquant filling of the keluak nut. Resembling a black olive tapenade in appearance and mildly so in taste, Lime's version serves the nut mash on the side so diners may add as much or as little as they please. More favourites are the Babi Pongteh, stewed pork with fermented soya bean, and Udang Masak Lemak Nanas, prawns with a pineapple and coconut milk gravy.
Not only do the flavours here provoke strong nostalgia for the past, so too does the attractive display of covered jars, tiffin carriers, stone mortar and pestles, and beautiful ceramic pots and crockery of traditional design.
Live cooking stations produce Pan-Seared Foie Gras, Lobster Risotto and Pumpkin Velouté. My choice, the soup is creamy and feathery in texture, lightly sweet and with a good dose of shaved Parmesan on top. It comes with a whole boiled egg, but the egg really is not necessary as the soup is highly enjoyable all on its own.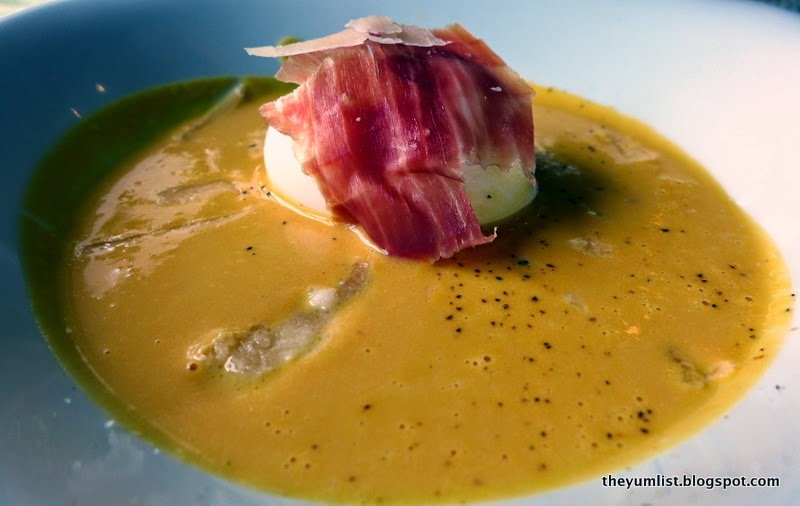 Pumpkin Veloute
Also coming from the hot Western section are US Prime Ribs, Tender Beef Cheeks, Herb-Crusted Cod, Quail and Duck Confit. Hubby raves about the succulence of the beef, while I enjoy the soft fleshy cod. Quail and duck too are both rich preparations that would rival many a la carte versions.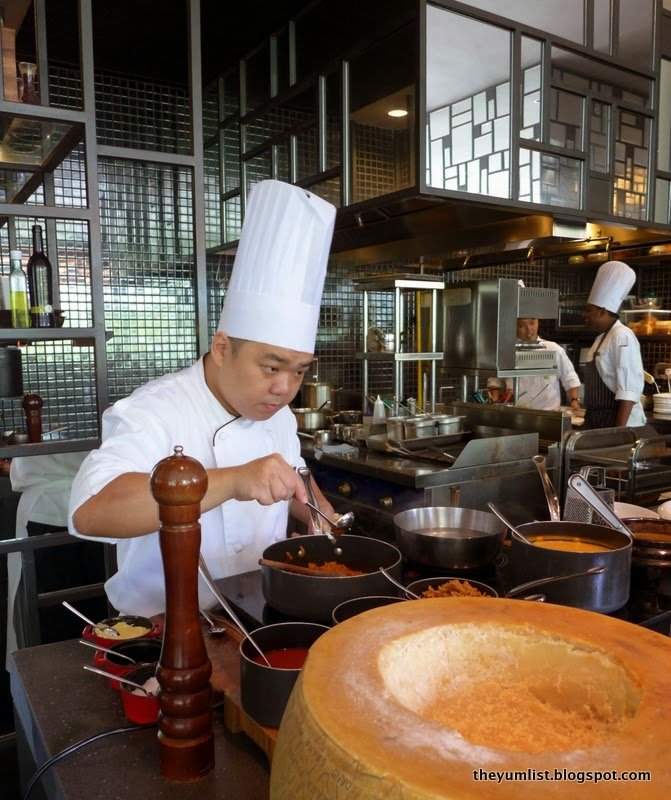 Hot Items in the Western Section
Wondering how they get the food to taste so fresh, we learn that herbs and spices are picked directly before cooking from the hotel's fifth floor garden. Later we head upstairs to take a peek and I snap this shot below.
Desserts pay a fine tribute to sweet tooths, with both Western and Eastern taste buds catered for. When it comes to a saccharine finish my preferences are clearly foreign. Mini Pecan Tarts, Lemon and Lime Pie, Macarons, and house made Ice Cream and Sorbet have me crooning their virtues. Hubby is a fan of local and the Bubur Cha Cha, sweet potato in coconut milk, keeps him jovial. "We're so lucky," he chirps midway through his slurping.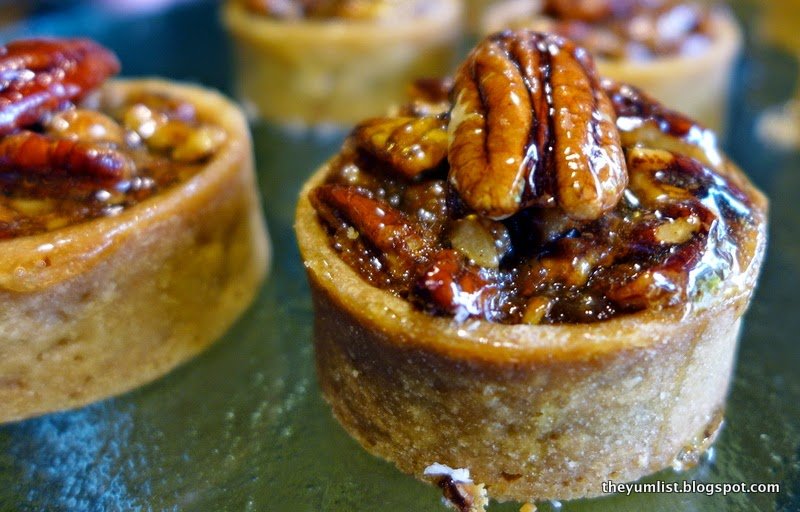 Pecan Tart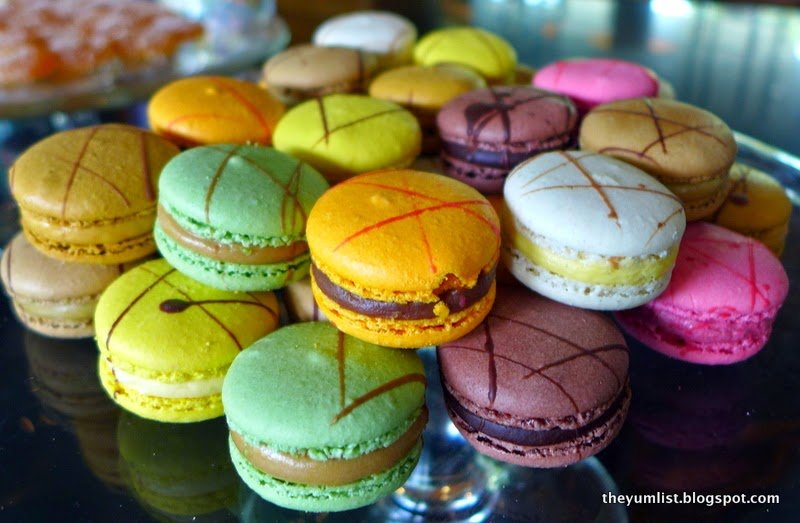 Macarons
One of Many Desserts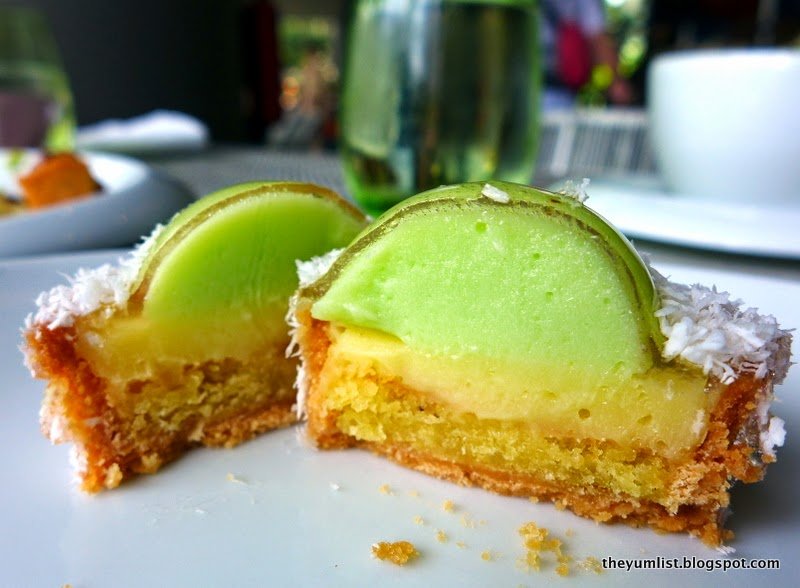 Lemon Lime Tart
A fine selection of teas and coffee complete the meal, and Jasmine Green Tea is our chosen beverage. Our local friends swear by its properties for burning fat, and after the enormous feast we've just indulged in, it's a suitable order.
Sunday Champagne Brunch is priced at S$128 per adult including free flow of Piper Heidsieck Champagne, house wines, chilled juices, soft drinks, specialty tea and coffee. Without alcoholic beverages, the price is S$88 per adult.
Reasons to visit: pleasant setting; great cheese and bread selection; Western specialties such as duck confit; Nyonya specialties such as Ayam Buah Keluak; mouthwatering spread of desserts.
Lime PARKROYAL on Pickering
3 Upper Pickering Street
Singapore 058289
+65 6809 8899