So you've frolicked on the beaches, zenned out in spas, shopped the boutiques and partied in Bali's never-ending line up of restaurants and bars… You've done it all right? Nope. Not unless you've heard the magnificent roar of a majestic lion right from your bedroom window.
"In Bali? " hubby quizzes suspiciously as we review the invite. Mara River Safari Lodge is indeed in Bali and, provides an African themed experience for those who'd like something just a little out of the ordinary when visiting the island.
Located within Bali Safari and Marine Park, this themed resort promises to make your dream to connect with nature come true by providing first-class accommodation and an unforgettable journey through the wild. And… our expedition begins before we even check in.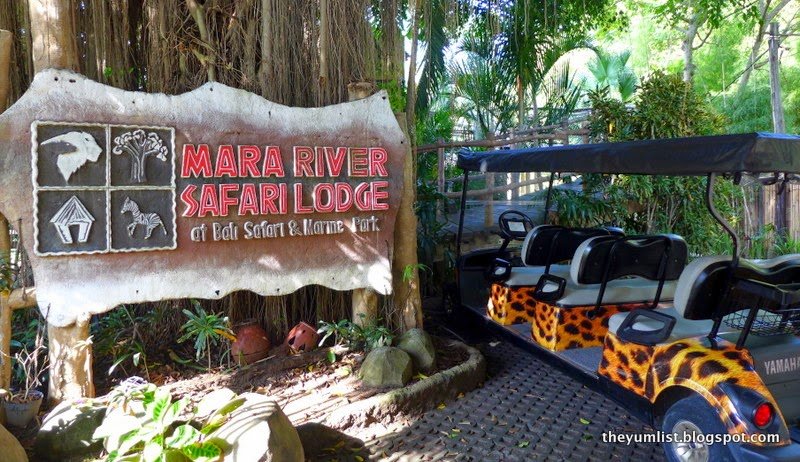 Mara River Safari Lodge
Stopping at a "no unauthorized entry" gate that blocks off a jungle track, our driver, dressed in safari cottons, jumps out to clear security. Heading down a muddy trail we bump over potholes and splash through puddles, flanked by dense rainforest either side. Our driver slows, telling us there's more security to pass. We struggle to see a checkpoint but then smile as we see two owls, wide-eyed and alert, scrutinizing us and the vehicle. Continuing at a leisurely pace we ogle the powerful jaws of saltwater crocodiles to our left and admire the playfulness of young deer to our right.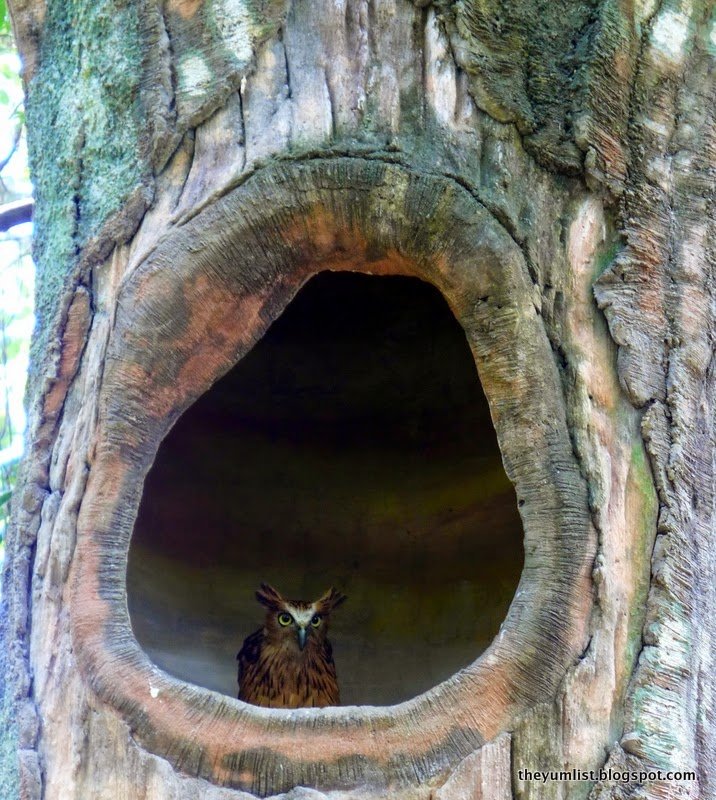 Owl Checkpoint
The Mara River Safari Lodge lobby is a giant African rondavel with circular walls and exposed wooden poles forming a peak in the roof. We're refreshed with juice served in coconut shaped ceramics and a chilled wet towel, before being driven to our lodgings.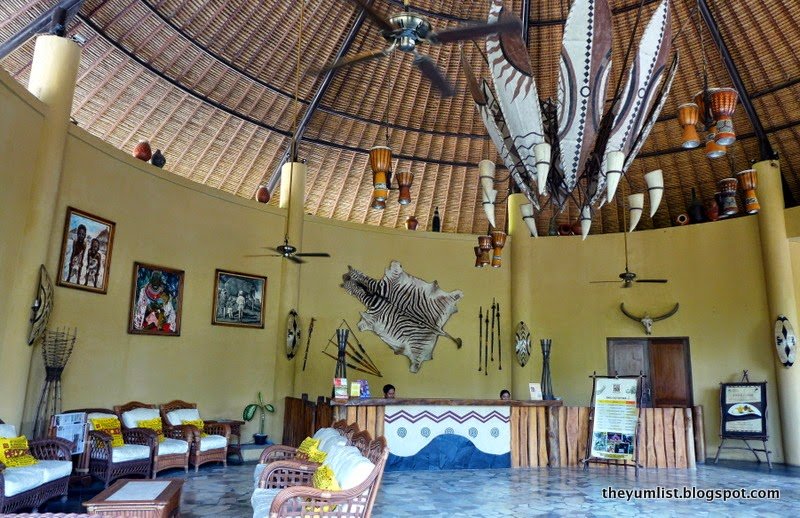 Reception and Lobby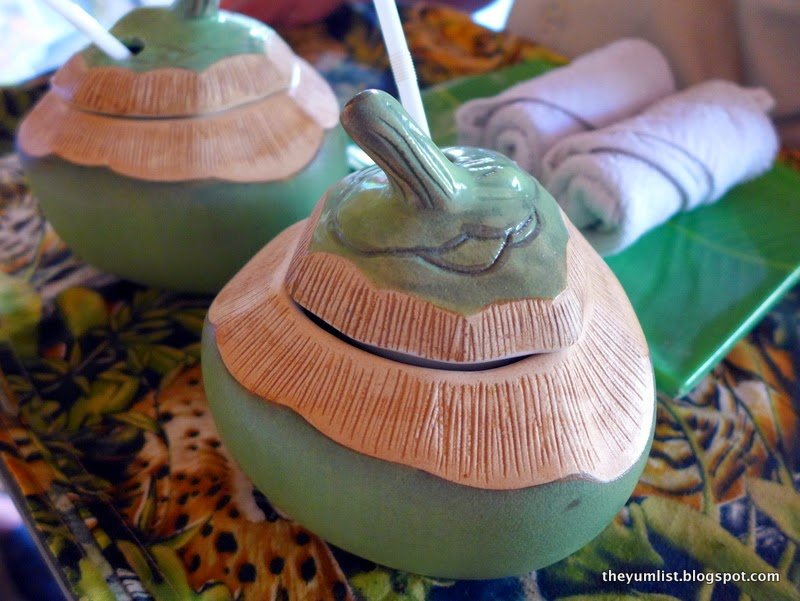 Welcome Drink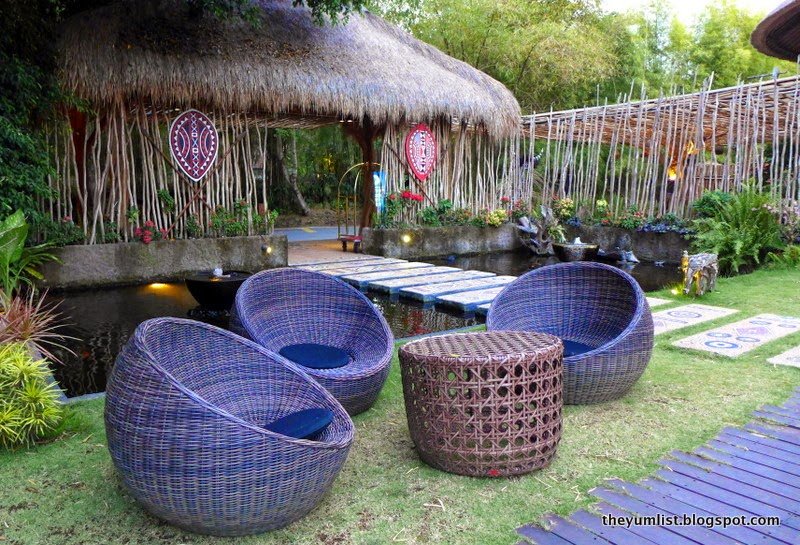 Mara River Safari Lodge Lawn
Our stay is in the Tandala Suite on the second floor. From our porch we can see and feed zebras, rhinos, wildebeest and elephants! With a cone-shaped thatched roof, warm natural tones and African artistry it feels as though we could be in Africa.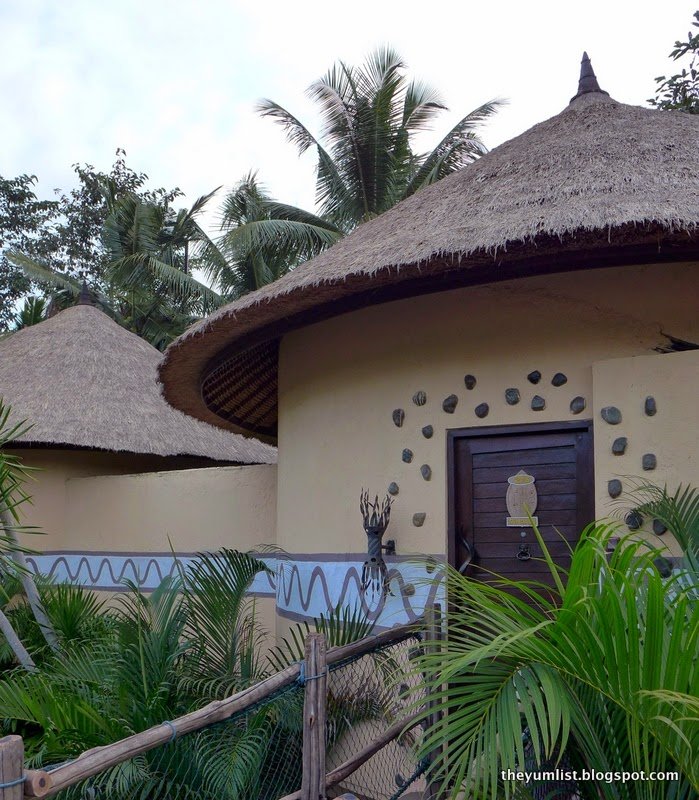 Rooms at Mara River Safari Lodge
The room holds a double bed, which can be enclosed in mosquito curtains for a pleasant night's sleep. We hear the booming roar of the lion during the night and wake to the motorbike-like call of the wildebeest as the sun rises.
Tandala Room Balcony
Half the bathroom ceiling is glass, allowing natural light to stream in. There's a window too out onto the safari and I can see the animals as I shower. Good quality bath products are displayed and packaging of extras such as toothbrushes are in recycled boxes.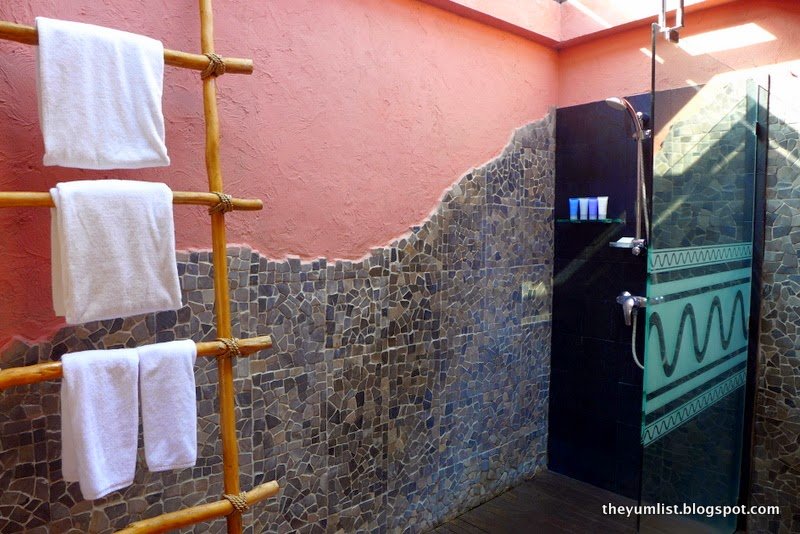 Bathroom in Tandala Suite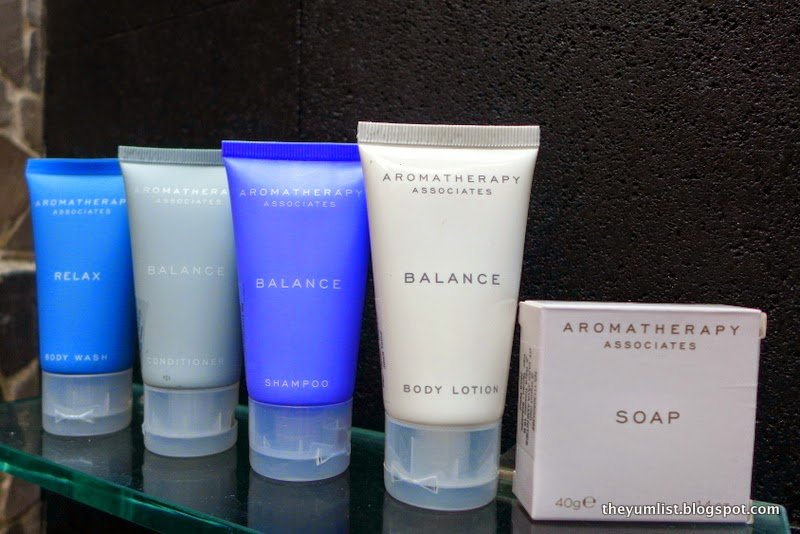 Bath Products
All modern conveniences such as robes, slippers, mini-bar, digital safe, WiFi, flat screen TV with satellite channels and, hot beverage making facilities are included. There's even French press coffee adding a whisper of boutique hotel to the amenities.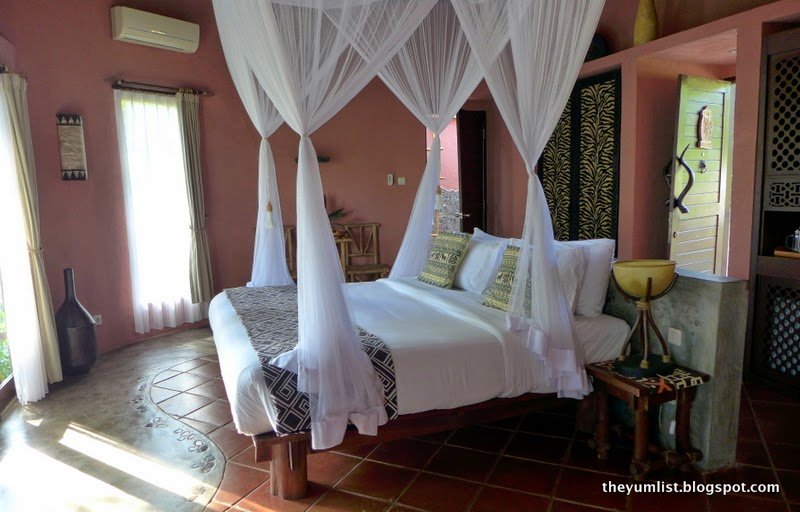 Tandala Suite
Queues and jostles through crowds for the best shot are not an issue from our private balcony. We can ponder the wonders of nature at our own leisure and line up cameras to capture uninterrupted images of the majestic beasts.
More intimate experiences with these incredible creatures however have been designed for when we're ready to leave the privacy of our room. Shows, safaris, feeding and rides are scheduled throughout the day so we check out the website and make our itinerary. We try to do as much as we can fit in and following are some of the highlights.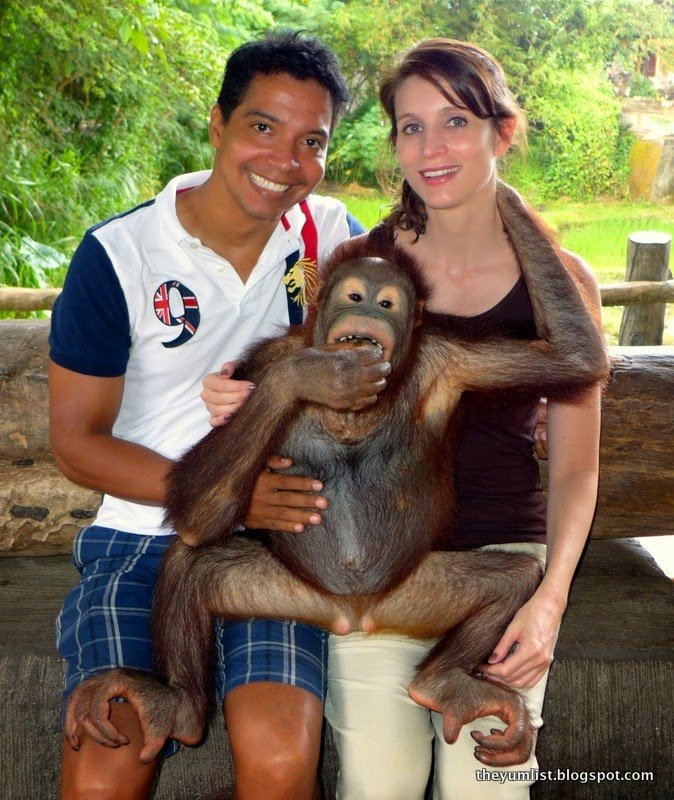 Animal Encounters – birds, mammals and reptiles are made available throughout the day with their keepers to take photos (when they're in the right mood of course)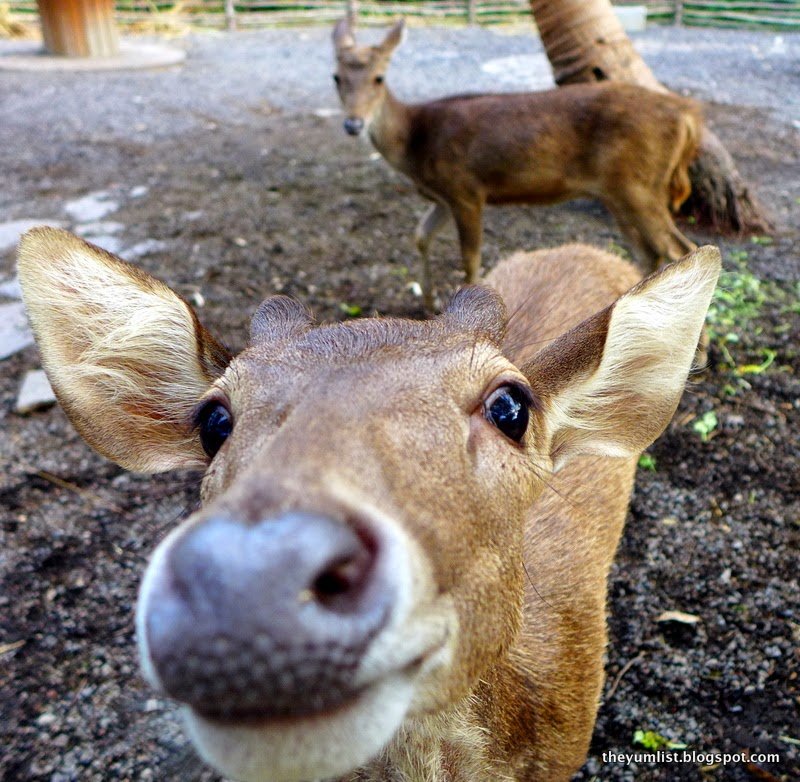 Petting Zoo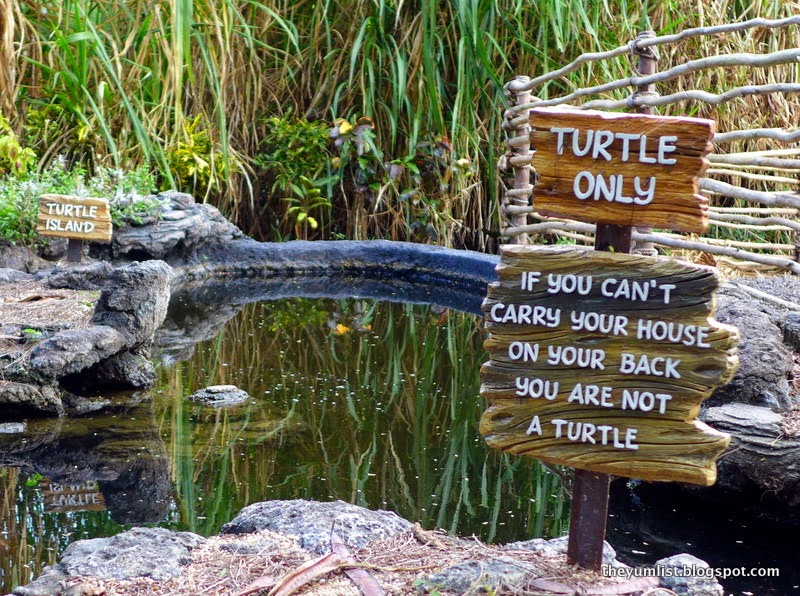 Clever Signage – The Bali Safari and Marine Park is well signed with informative and easy to read information
Bali Theatre's mega-stage is the platform for the Bali Agung Show. With a capacity of 1200 and, fully equipped with the latest in technology for lighting and sound, it's a grand venue. In this cultural show, 180 dancers and performers dressed in vibrant costumes, take to the stage alongside animals and puppets to produce a stimulating assault of the senses. It's an ostentatious display of colour, sound, movement and dazzling lighting effects.
An Elephant Show is run by Taman Safari Indonesia, an institution dealing with the conservation of Sumatran elephants. Through human contact and education about the plight of the elephant, the group aims to create a love for these impressive creatures and develop an awareness of the need to protect them and their habitats. We're impressed with the show, very much appreciating that it's educational and not a circus performance. The performers clearly have respect for these grand animals and genuinely care about their future.
Elephant Show
The Night Safari (Adult USD$59, Child USD$45) offers a half hour experience with the animals during the early evening. Humans are enclosed in a cage on the back of a truck and you really do start to wonder who is doing the watching. Participants are able to feed elephants, tigers, chapman zebras and tsavo lions in the natural setting. The climax though is having tigers jump on top of the cage and watch them, watch you. We recommend talking the short night walking tour before hand and watching the live performance on the lawn afterwards.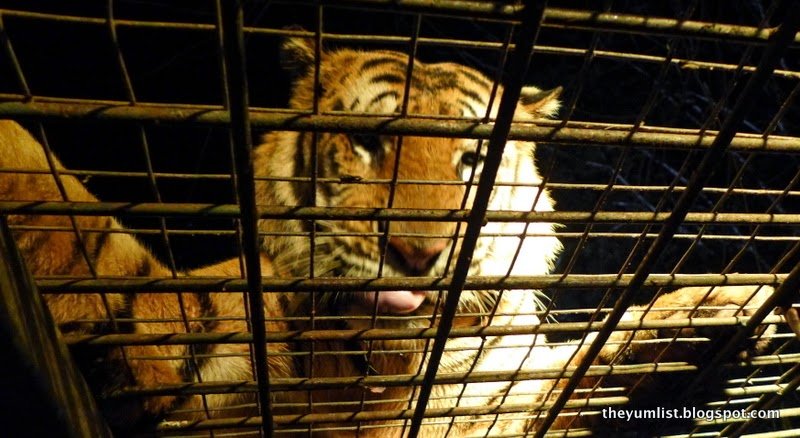 Night Safari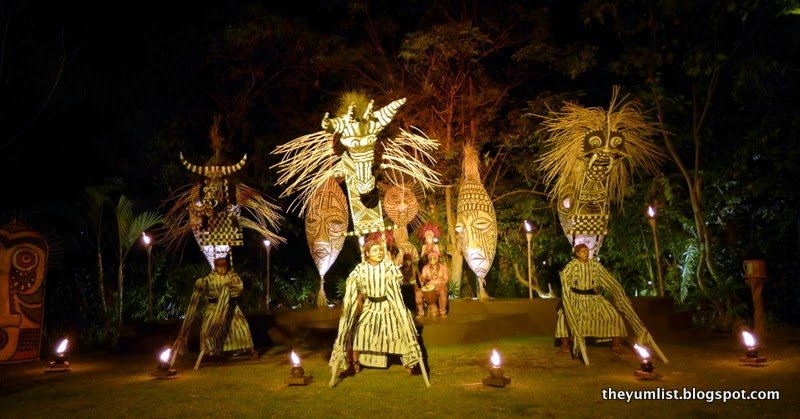 Live Performance – following the Night Safari
A personal encounter with one of Earth's largest land mammals can be had with an Elephant Back Safari (Adult USD$85++ Child USD$55). Passing through an African landscaped bushveld is an exhilarating experience. Surrounded by wildebeests, zebras and rhinoceros, it's not for the lily-livered.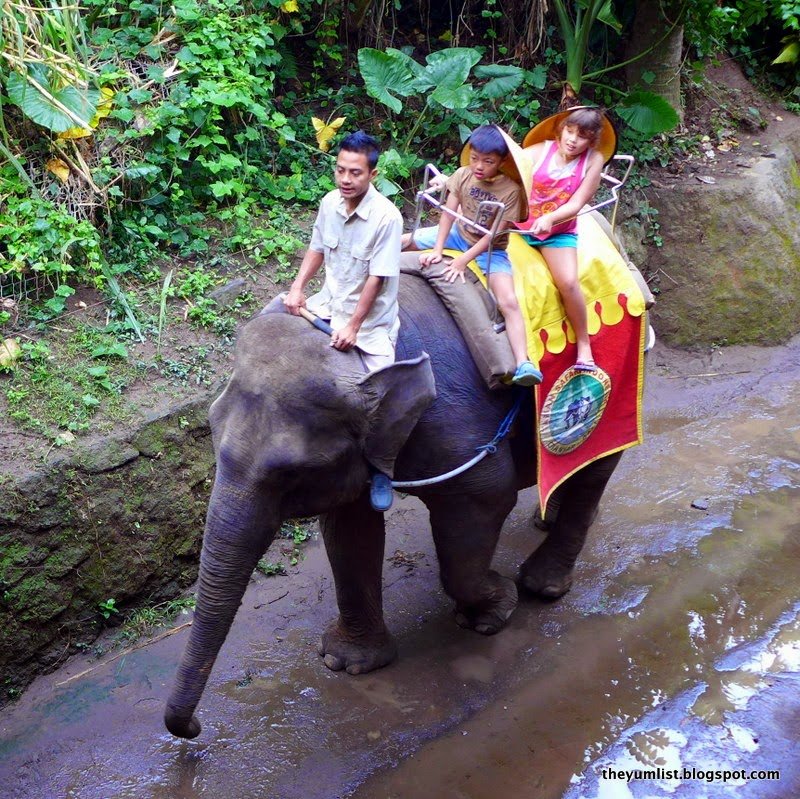 Elephant Back Safari
Incorporating the latest developments in open-zoo design, the Safari Journey carries guests through a number of different habitats on a tram. Over 60 species of animals can be seen grazing, resting and going about their daily business from the glass windowed vehicle. Hippos, cheetahs and tigers are highlights.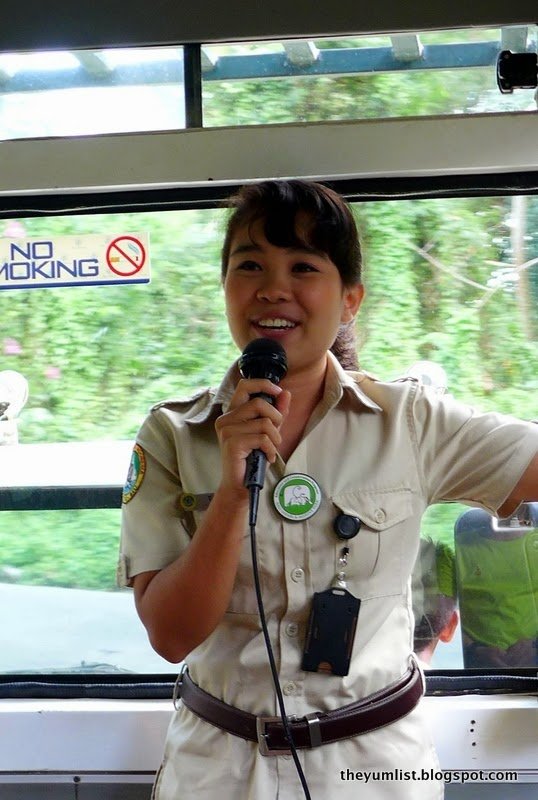 Safari Journey Guide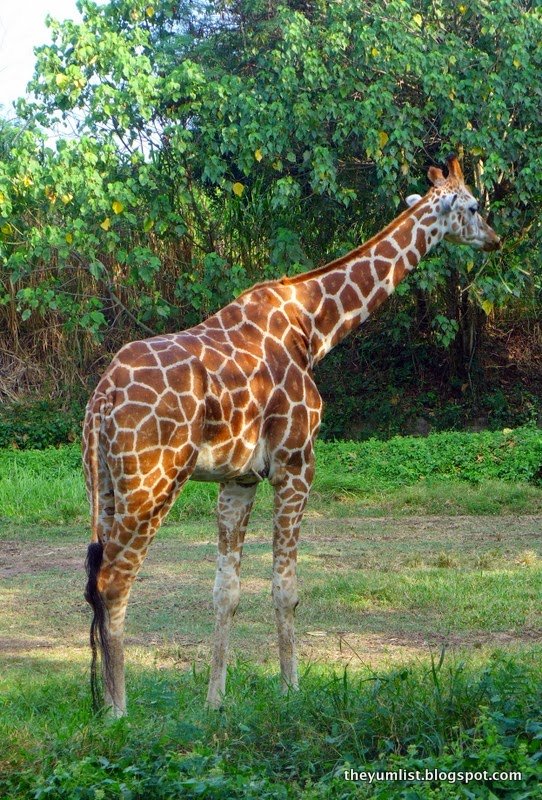 Giraffe Viewed on the Safari Journey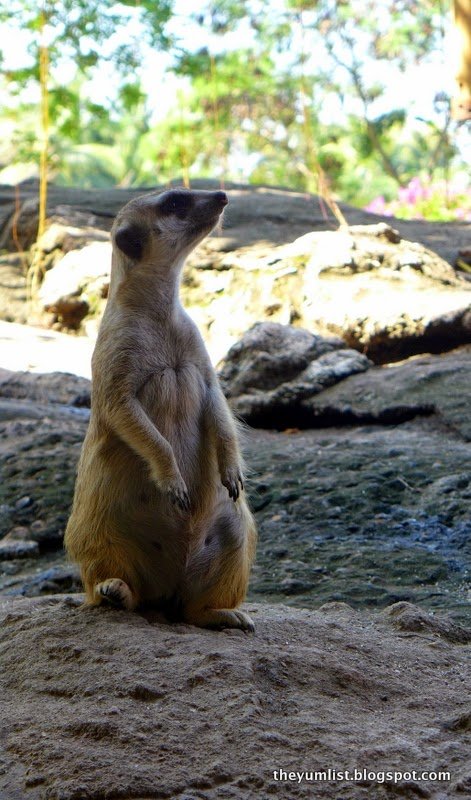 Meerkat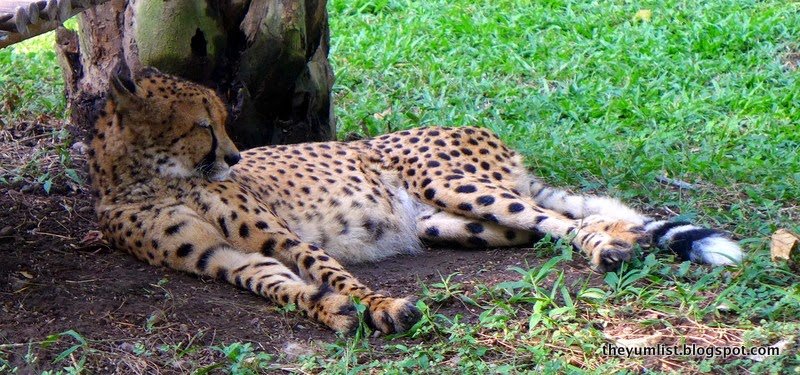 Cheetah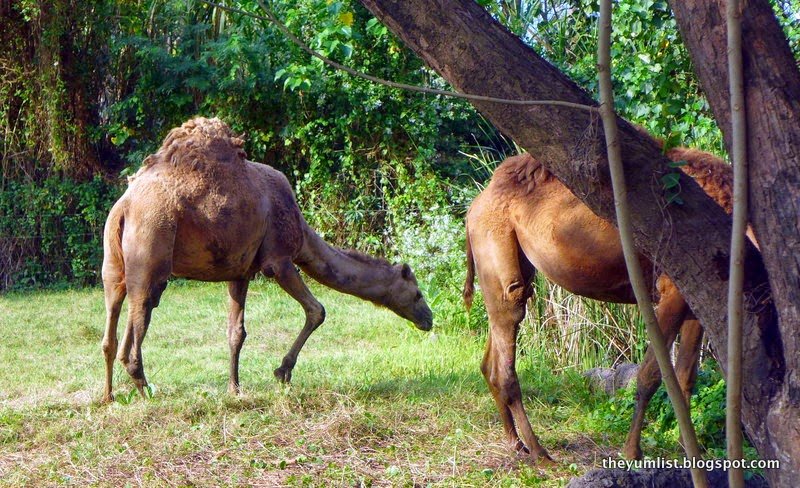 Camels
There are a host of other activities too. Grabbing a map and a schedule is the best thing to do when you first arrive so you can plan an itinerary and not miss a thing. An Educational Animal Show, White Tiger Feeding, Petting Zoo and Safari Poo Paper Visit should all be planned.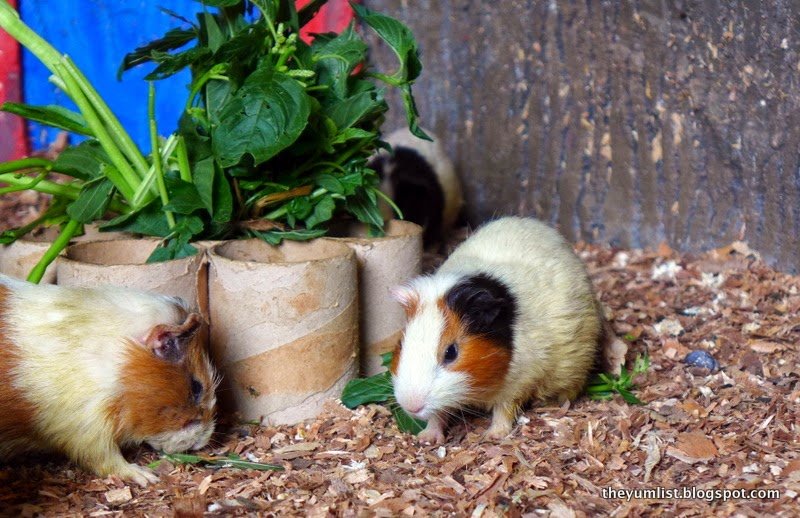 Petting Zoo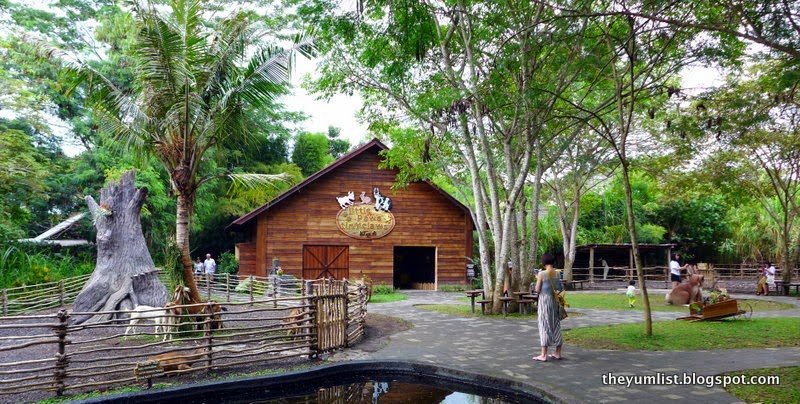 Bali Safari and Marine Park – spaces are open, green and well organized
When we've had enough of the wildlife, a themed spa experience promises to relax and sooth muscles through African inspired treatments. It's a rustic setting overlooking the grassy plains. Check out what we thought about the treatments we tried via this link.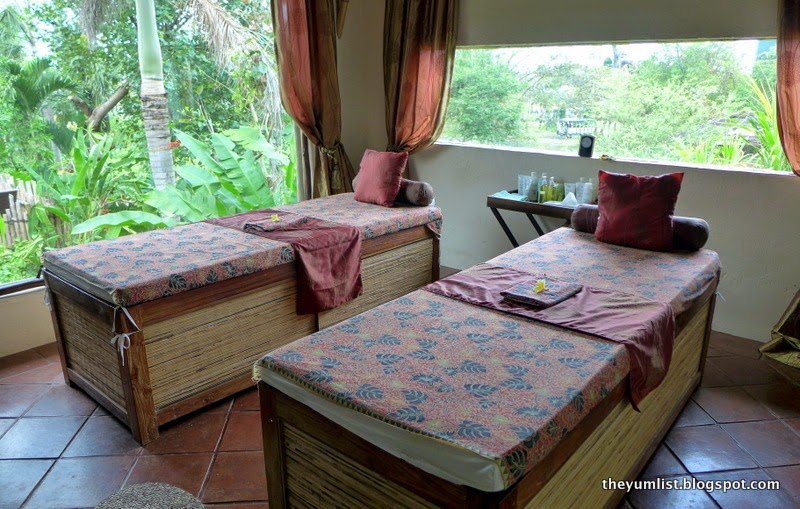 Spa
For further relaxation a lagoon shaped pool sits in the middle of the ring of lodges providing luxurious refreshment on this 'safari' vacation. Listening to the calls of nature and admiring the animals wandering by certainly makes for a unique dip.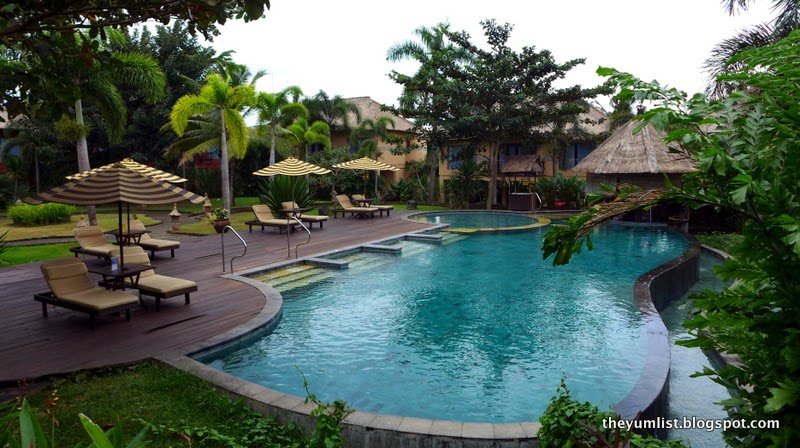 Mara River Safari Lodge Pool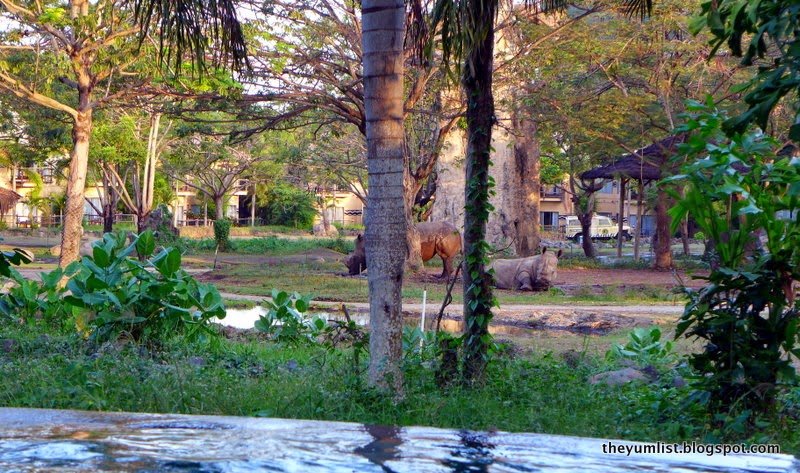 From the Pool's Edge
Food is not forgotten and there are a few outlets to try at Mara River Safari Lodge. Our stay is short but we manage to sample meals at both Nkuchiro BBQ Grill and Tsavo Lion Restaurant. Nkuchiro BBQ Grill is a simple buffet and a popular fill after the Night Safari.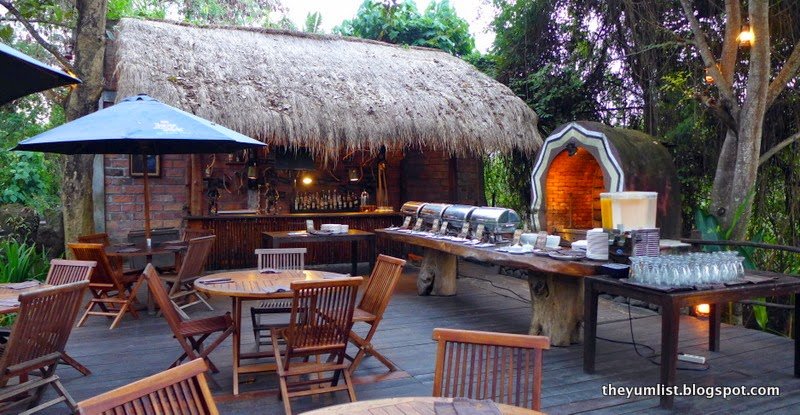 Nkuchiro BBQ Grill
We've dined in some stunning locations in Bali but Tsavo Lion Restaurant is truly a unique experience. A lofty thatched roof tops full-length glass paneled walls, forming an observation deck onto the landscaped playground of the king of the African savannah, the lion. But who's really doing the ogling – the lions in their open-aired enclosure or the humans in their glass cage?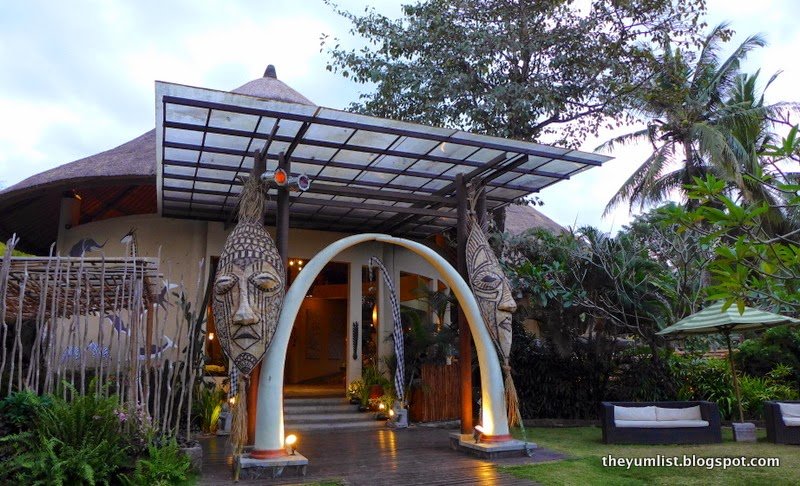 Tsavo Lion Restaurant and Mara River Safari Lodge Reception
African and international cuisine paints the menu with a healthy number of choices. Although the food here is only secondary to the up close and personal encounter shared with the glorious big cats, it's surprisingly good! Admittedly we didn't have high expectations for a culinary experience here. Thinking it would be average tourist fare at best, we were pleasantly taken aback with a great number of the dishes.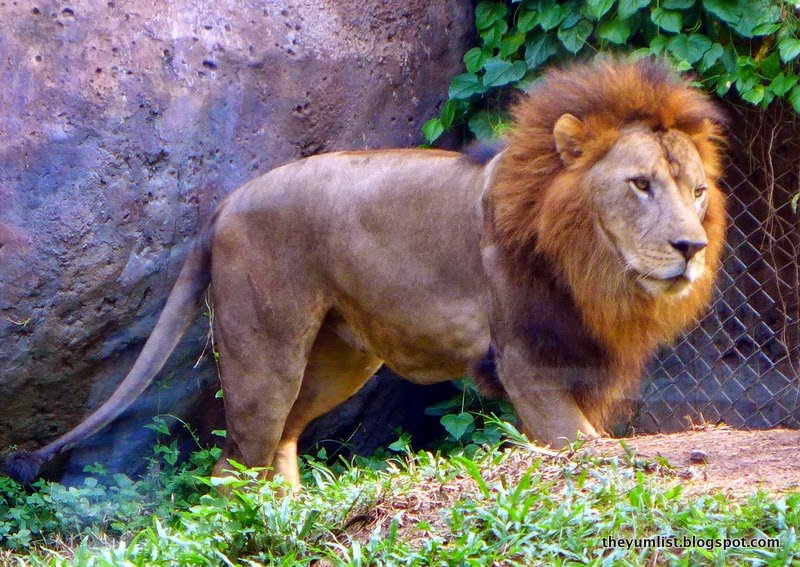 The View from Tsavo Restaurant
The Tuna Steak sided with sweet potato, vegetables and a honey soy sauce was scrumptious, as was the grilled steak of Tasmanian Salmon with a homemade Japanese teriyaki sauce. That was just for lunch. The dinner menu is distinctively different. Read about our recommendations via this link.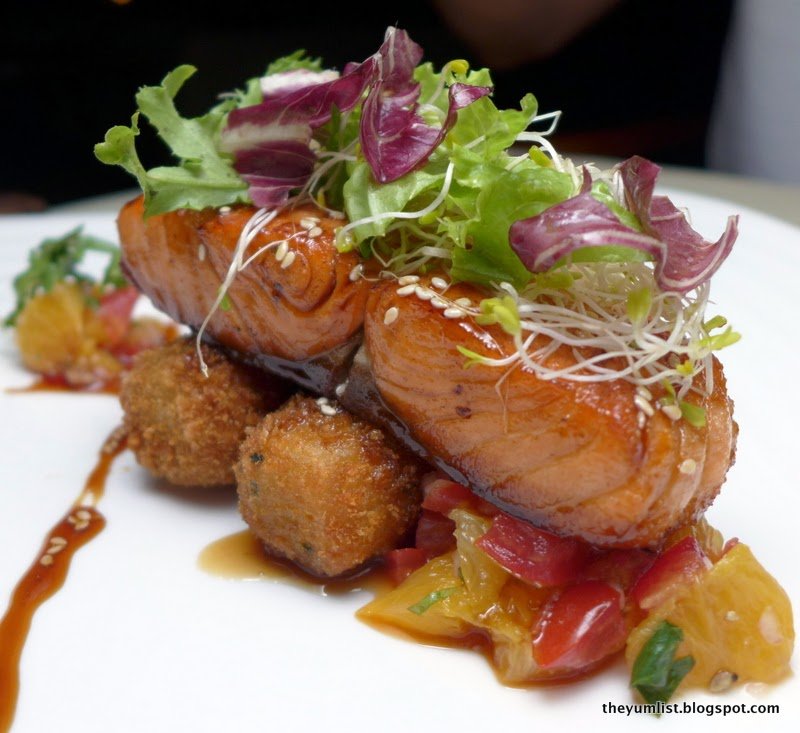 Tsavo Restaurant
For those desiring a connection with nature and a unique experience in Bali, Mara River Safari Lodge is a wonderful place to spend a couple of days.
Reasons to visit: stay up close and personal with some of the world's most fascinating creatures; entry to Bali Safari and Marine Park included; a focus on education and care for animals; great place for children.
Mara River Safari Lodge
Jalan Bypass Prof. Dr. Ida Bagus Mantra, Km 19.8
Golden Line of Bali
Gianyar 80551
Bali, Indonesia
+62 361 751 300