The Island of the Gods, Bali, could just as easily have been named the Place of Pleasure, the Refuge of Relaxation or the Pillar of Peacefulness, due to its innumerable amount of spas, healing therapists and well-being treatments. There's such a prolificacy of spas in the province, from dirt-cheap pop-ups, to moderately priced abodes, all the way up to extreme havens of decadence with price tags to match, that just the thought of trying to choose can be an anxiety-ridden encounter in itself (counteracting all of that work that these establishments set out to do in the first place!). Prana Spa Seminyak however, takes the worry out of the gamble, by providing a unique ambience, highly skilled therapists and affordable prices, which bridge the wallet gap between street side and high-end hotel.
Courtyard
Walking along Jalan Kunti, Prana Spa Seminyak is unmissable. Standing strong and tall, this burnt orange palace rises from the surrounding thatched rooftops and shophouses, making a proud statement of showiness and regality. A mix of Moroccan and Indian styles have clearly influenced the design of this distinctive spa oasis, and despite the therapists and products being of extremely high quality, the design beckons a visit all on its own.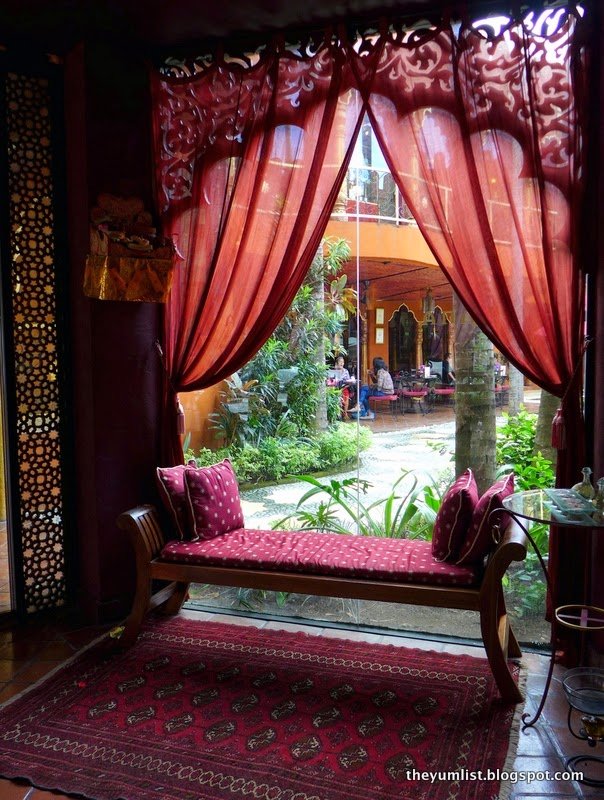 Reception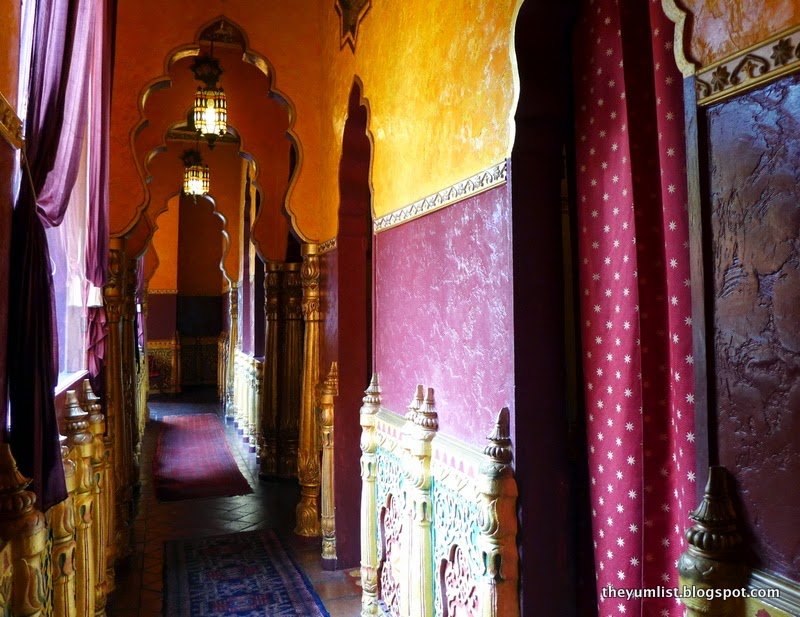 Hallway
Laid out over a number of areas – reception, restaurant, yoga room and treatment areas – the space is nothing less than eye-catching. Bold colours of deep purple, olive, maroon, royal blue, fuchsia and gold paint the interiors. Lush handwoven fabrics are draped sensuously around windows and over exotic handcrafted wooden furniture. Embroidered pillows, wall hangings, carpets and even ceilings are dressed in rich textiles made from fabrics such as silk and printed cottons, showcasing assorted patterns and Moorish emblems.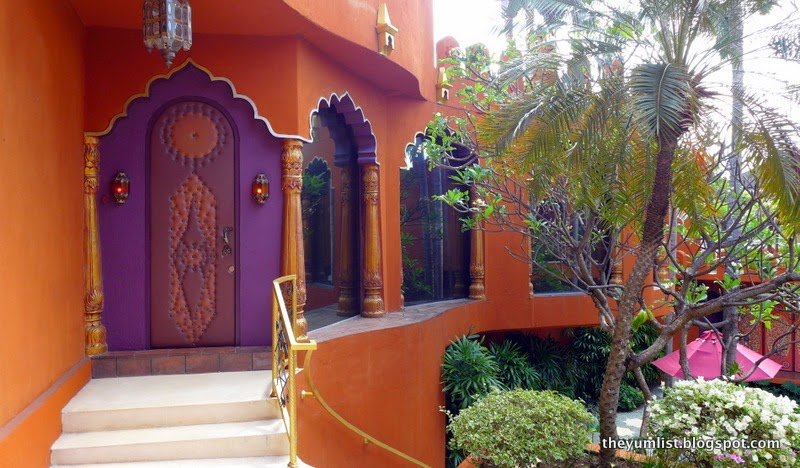 Entrance to Royal Suite
Dramatic hallways are shaped with arches and forms oft scene in Moroccan architecture, and metallic paints of gold and copper hue columns and wall accents. Metal-framed lamps warm the heavily tinted spaces and gently reflect off mosaic-tiled floors. Spiritual elements encourage peace and wellbeing, and the overall ambience is vibrant and exotic. I feel like a Maharini, ready to be whisked away and pampered all afternoon.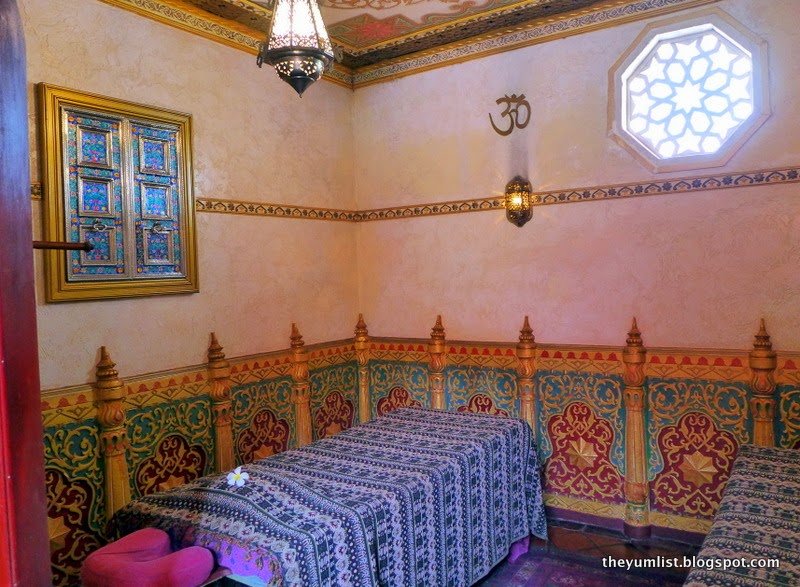 Treatment Room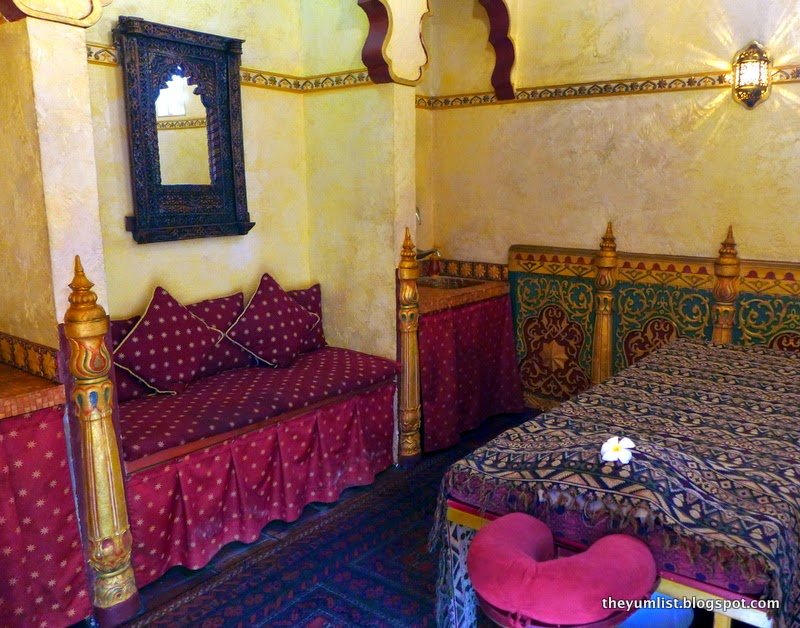 Treatment Room
The meaning of the ancient Sanskrit word, Prana, "breathe life and vitality of spirit" is at the core of the experience at Prana Spa Seminyak. Guests are encouraged to, "Take a deep breath, inhale the energy and exhale all tension." It sets the mind and body in motion for a revitalizing experience, and that's just what I have.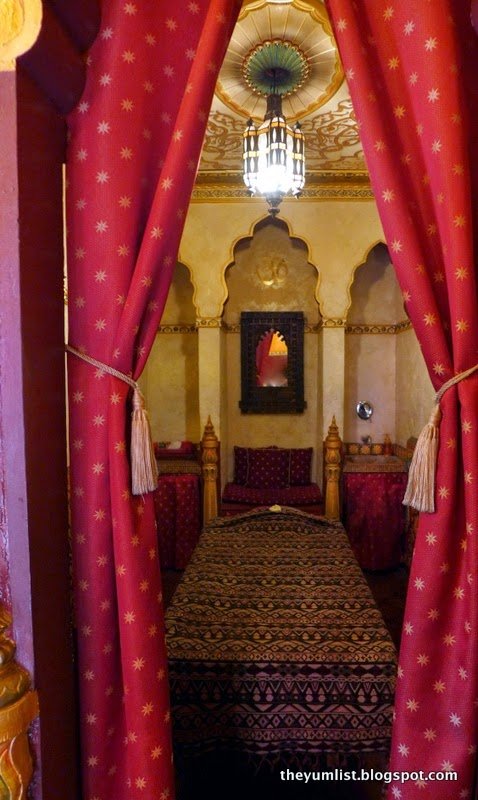 Another Treatment Room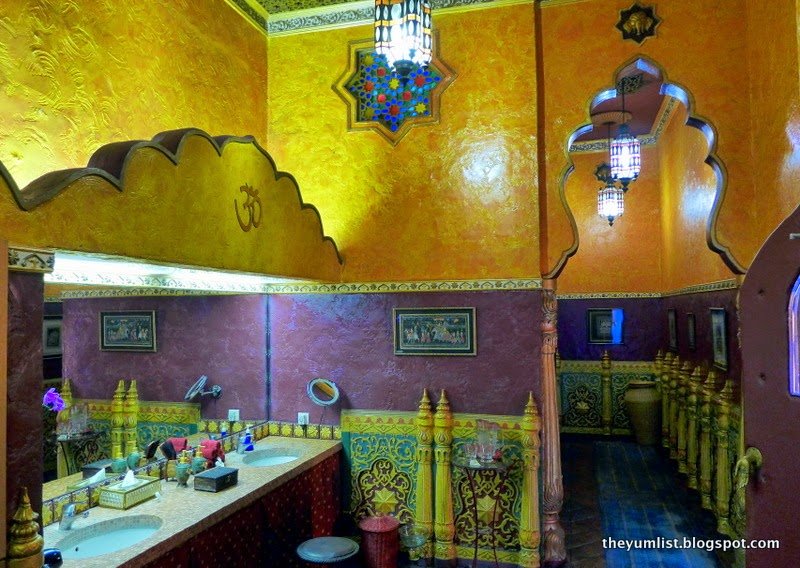 Changing Room
Beginning with a Signature Body Massage (Rp. 450 000, 60 minutes), my stresses are soon forgotten as my body is eased into the intriguing surrounds. A foot ritual starts every treatment with a rose petal and peppermint oil soak, followed by a sea salt scrub. A combination of Swedish and Balinese techniques are used in long strokes with thumbs, palms and heal of the hand used to reach down into the muscles and release any tension.
Massage Oils
A refreshing twist in standards is seen in the use of cold eye packs instead of the commonly used scented eye pillow. Another thing I much appreciate is the ambient music. There's no gamelan "ding-ding" here. As much as I appreciate the art form, the constant tintinnubulation of the metallophones is not my ideal for a restful atmosphere. Prana Spa Seminyak's soundtrack honours its host country with a composition by a Balinese musician. It's soothing and peaceful.
The Prana Natural Facial (Rp. 450 000, 60 minutes) is another signature treatment. A European style face massage promises to lift the skin with its firming techniques. Anti-aging natural ingredients are used in combination to cleanse, exfoliate, tone and moisturize. Here again, the therapist demonstrates well-honed skill.
Treatment Room for Facial
The products used in the treatments felt so lush and smelt so divine that I have to take some home with me. I learn that aromatherapy oils, scrubs and other items are hand blended on site daily. Sunscreen is vitally important on the Island of the Sun, so I picked up a coconut scented sun block SPF30+. Not only does it smell heavenly, it too contains Vitamin E so leaves my skin feeling supple and moist. I cheekily too pick up a bottle of Prana Spa Seminyak's Balinese Massage Oil, in the hope that hubby will be inspired to use it on me at home. It's scented with patchouli, lime, rosewood, sweet almond and safflower, and it said to possess healing properties.
Gifting guests with a unique ambience, high skilled therapists, hygienic environment and high quality products, Prana Spa is good value for money. My personal experience has been splendid and I hope to bring hubby back to try out the Luxurious Private Suite… but more of that another time.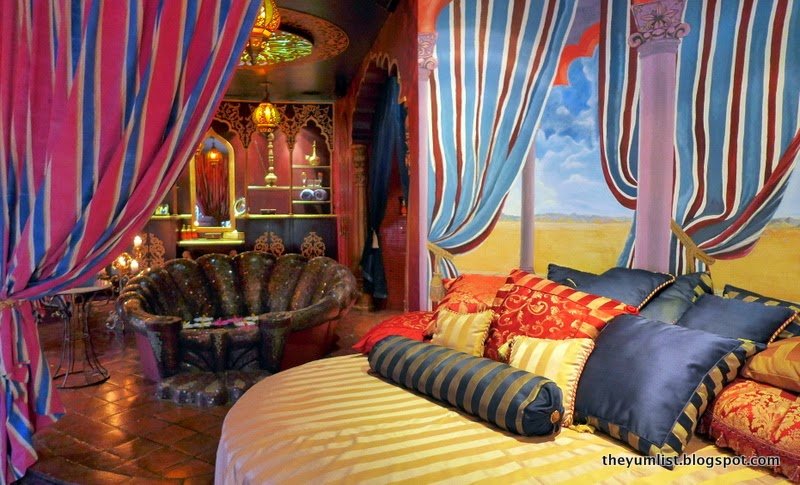 Royal Suite
Reasons to visit: unique ambience offering a complete removal from the busy surrounds of Seminyak; highly skilled therapists; lush natural products.
Prana Spa Seminyak
Jalan Kunti 118X Seminyak
Bali, Indonesia
+62 (361) 730 840