Overlooking the pool, and sharing the same colonial interior design of The Danna, Straits and Co. offers British-Malayan cuisine, with the tradition of afternoon tea and light lunchtime fare known as island favourites.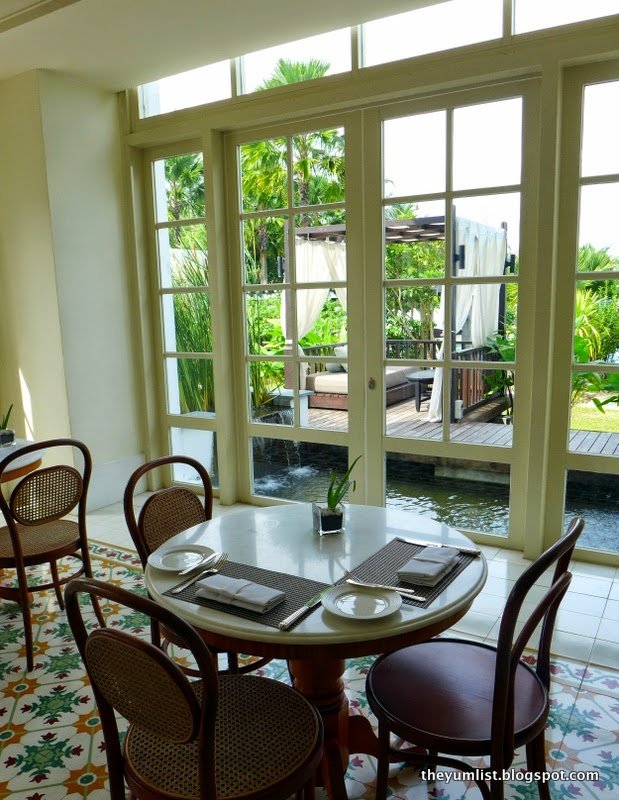 Indoor Dining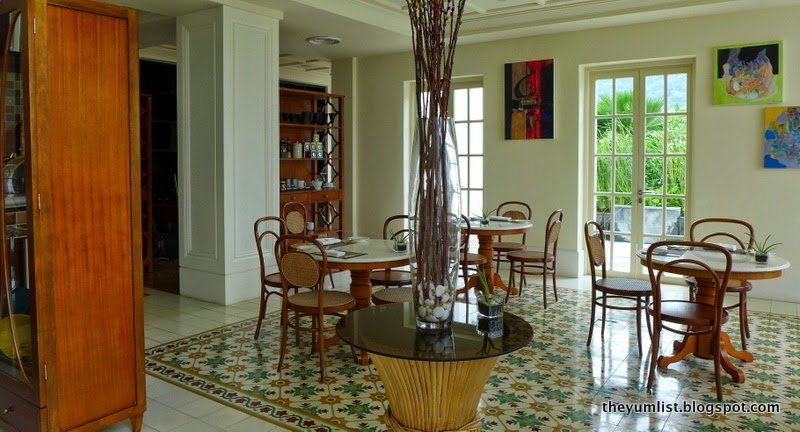 Straits and Co. The Danna, Langkawi
Peranakan floor tiles and ceramic vases remind of times long past, but professional and graceful service has been carried over to the present. The indoor dining area benefits from double storey ceilings and glass-paneled walls. Outdoors, there's a wooden patio with daybeds and low tables shaded by curtained gazebos. It's the place for lunch or afternoon tea for those not wanting to leave the hotel. And… we feel so content at The Danna that we don't (leave the hotel that is).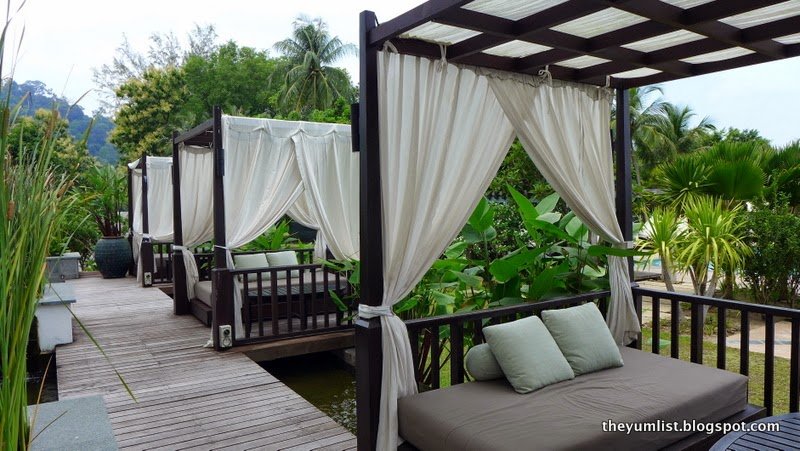 Outdoor Seating
Lunch 1
Hubby's wanting something light on our first visit so he chooses the Spiced Chicken Quesadillas (RM34). Folded flour tortillas are filled with spicy chicken strips cooked with finely chopped onion and green chilies. The small peppers pack a surprisingly big punch for such a petite fruit. They're grilled just enough to warm the insides and turn the unleavened bread a golden brown. Tomato salsa, guacamole and sour cream come in small bowls on the side, ready for adding to personal taste. We don't end up using the side condiments too much though as the quesadilla is awesome on its own.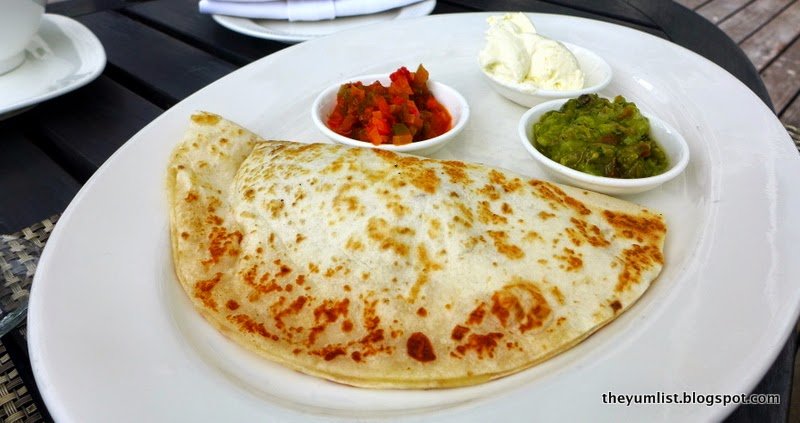 Spiced Chicken Quesadilla
As is often the case I'm smitten by pumpkin, and lucky for me they have a Pumpkin Ravioli Marina (RM48) on the menu. The al dente pasta envelopes are dressed with a tomato sauce and sprinkled with fresh herbs. The sauce is rich and garlicky and a side bowl of grated Parmesan is literally the 'cheese on top'. It's a generous serve too, bound to keep me full until dinner.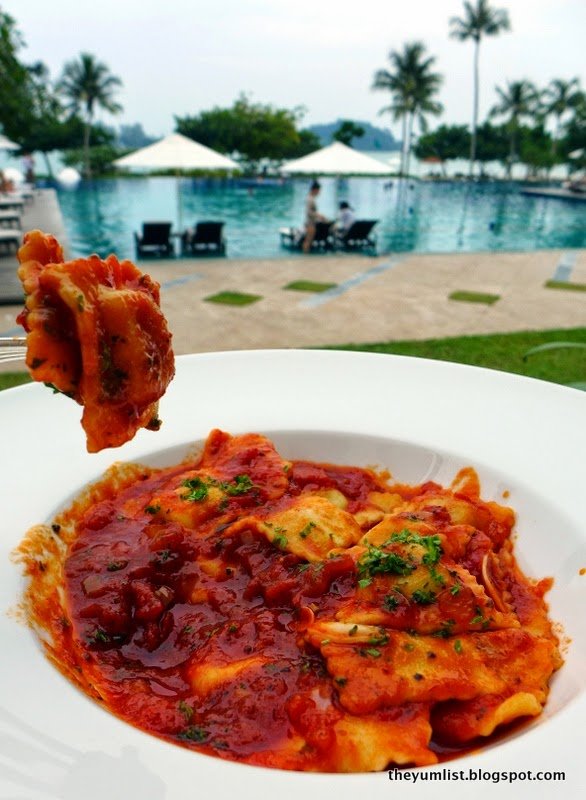 Pumpkin Ravioli Marinara
Inspired by the colonial setting, we share a Sticky Date Pudding (RM24). A dense mound of cake is smothered in caramel sauce but a sour cherry relish lightens the intensity and sweetness. It's easily big enough to share.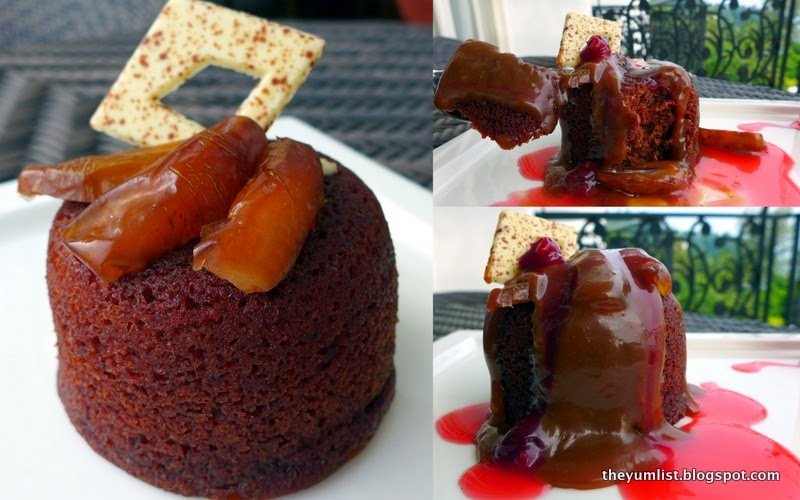 Sticky Date Pudding
Lunch 2
This morning we've worked out well in The Danna's well-equipped gym so we're feeling good and set to try some new dishes.
Although not on the menu, hubby asks if there are any soups available. Our waitress says, "Of course, we can make something that you'd like." Mushroom is a favourite of hubby's and he's happy to hear that can be done. It certainly doesn't look as though it's something they just whipped up from the kitchen. The liquid is thick with mushrooms, and a ballooning puff pastry top keeps it hot until serving.
Hubby follows up with a Chicken Avocado Panini (RM32). Marinated chicken breast, assorted salad leaves and tomato make a healthful filling between fat slices of toasted focaccia. An onion marmalade, and aioli sauce provide added panache. Portions are grand and hubby is starting to wonder whether or not he really needed to order two dishes. A bowl of crisp wedges and another of salad sides the sandwich.
Happy with yesterday's pasta dish, I'm game again for another Italian themed lunch with the Fettuccini Frutti di Mare (RM48). Sautéed prawns, black lip mussels, clams and squid are abundant in al dente pasta ribbons coated with a rich tomato sauce. Garlic, onions, sun-dried tomatoes and black olives buck up the flavours with added oomph. It's hearty and satisfying.
While the main menu is divided into western and local dishes, desserts have a distinct note of fusion. Black Rice Cheese Cake (RM24) with sea coconut and vanilla sauce is one such example. The black rice lies between the fine sponge base and smooth creamy top. Dried shaved coconut and a shot glass of vanilla sauce annex a change in texture, but stick to the rich taste concept.
Afternoon Tea
The colonial ambience begs you to have afternoon tea, so we oblige.
Available from 3 – 6pm, the Strait's and Co. Signature Afternoon Tea (RM88) is made for two. Dilmah tea or coffee of your choice provides liquid partnership to a variety of savouries and sweets.
Both Malaysian and Western influences play side by side in the tiered set. It's best to start with the hot pastries, which do come out steaming. A chicken sausage roll is wrapped in a light flaky filo, and the chicken samosa seasoned with local spices is packed to the brim with its padding and full flavoured with quiet a smack of spice at the end.
Sticking to the savoury items, we continue with a fresh assortment of sandwiches. Cheddar cheese slices and smoked salmon are both partnered with cucumber and mayonnaise, and served on white crustless bread.
Sweets are on the middle tier consisting of cheesecake, fruit tarts and chocolate éclairs. Both hubby and I are hooked on the cheesecake. With a sponge base that is barely there, the cheese receives all the glory. Dried apricot and pistachio adorn the top and their slight sharpness cuts through the rich dessert.
Fruit scones are served with clotted cream, strawberry jelly and marmalade. They too are fresh out of the oven so worth getting to quickly. They're not a bad rendition – golden on the outside, dense and soft within. A thin glaze almost makes the jams unnecessary.
All in all the portions at Straits and Co. are quite generous, the food of a good standard, service of a friendly nature, and location attractive. We wouldn't think twice about eating at Straits and Co. again. It has been a lovely experience on all three visits.
Reasons to visit: poolside setting with views to the sea; the sound of running water as ambient melodies; gracious service; good size portions.
Straits and Co.  
Café – Books – Store
The Danna, Langkawi
Telaga Harbour Park Pantai Kok
07000 Langkawi
Malaysia
+6 04 959 3288