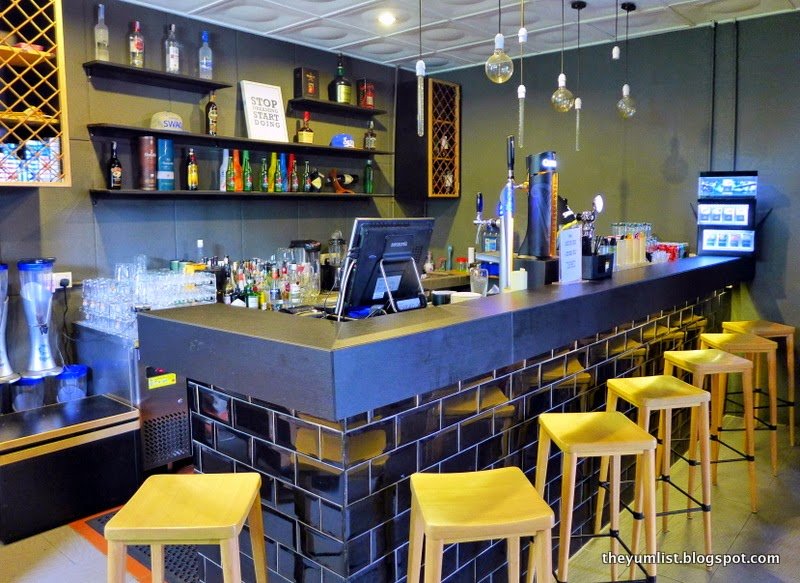 Swag Bar and Grill, PJ Palms Centre
Keepin' It Swag
Words by Han Sen Hau
Photos by The Yum List (Monica Tindall)
A community pool, filled with children chasing each other in exuberant squeals with goggles strapped to their heads and plastic dinosaur inflatables around their waists, might seem an unlikely place to open a chic bar and grill that goes by the name of SWAG. Owner Sudip Thiagi informed me that the name was purely accidental and admitted not much thought was put into it, but it was the one that stuck, which his staff jokingly told me stood for "sisters, wives, and girlfriends." Despite its name, the place doesn't scream gold chain necklaces and harem pants, but coos a subdued sophistication that demands you inspect its furniture and graze every curve with your fingers, that invites you to appreciate the amount of work that has gone into designing, carving, assembling, then transporting each handmade chair, stool, and table from the Philippines.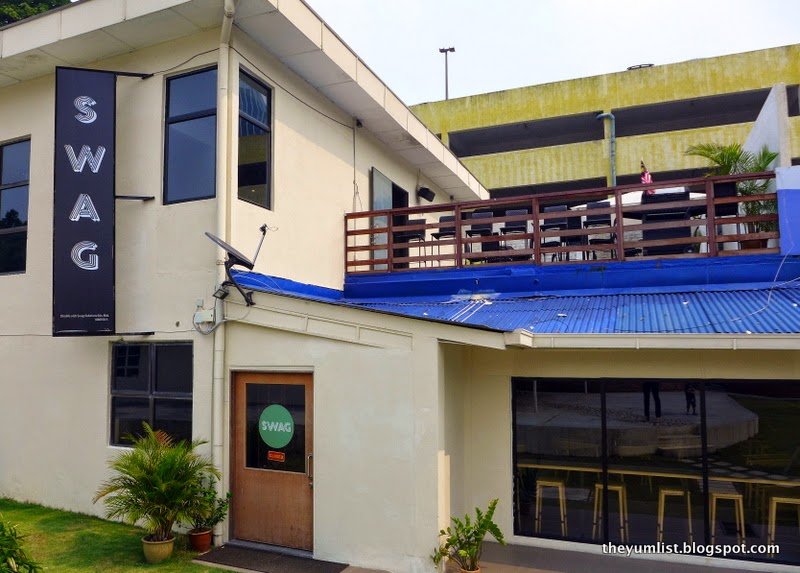 SWAG Bar and Grill, PJ Palms Centre
"These aren't padded," Sudip gestured openly to the dark walls. I almost couldn't believe my host, but indeed they weren't. Of course they weren't. These walls have been incised by hand, made to look as if they were padded, providing the perfect backdrop to the beige retro furnishings, which I swear should have an episode of their own in the highly stylised Pan Am television series. Suave pilots in their uniforms and jet-set stewardesses with strategically tilted hats would've been completely at ease in SWAG, which could arguably double as an exclusive airport lounge. Though that wouldn't stop the occasional swimmer who just broke his previous record of fifty laps at the pool to walk in for his usual pint with a hearty burger.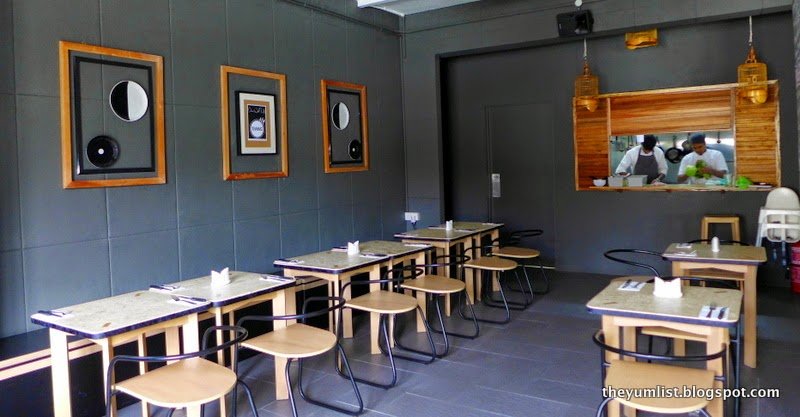 SWAG Bar and Grill, PJ Palms Centre
The place is incredibly photogenic, and my awe for it continued upstairs where the bar resides side-by-side with a beautiful sandy-hued deejay booth. Next to them, a hallway leads out to the balcony overlooking the pool, which I imagine would be perfect for cocktails and conversation when the night brings a welcoming cool. "Industrial" seems to be the default term thrown around here, but everything looks too polished and I feel that an overgeneralisation simply diminishes the aesthetic appeal of the place. It was pleasant speaking to Sudip about SWAG, as I could tell the man was equally passionate about the décor as he was about the food, which he was about to indulge me with. But first, some drinks to whet the appetite.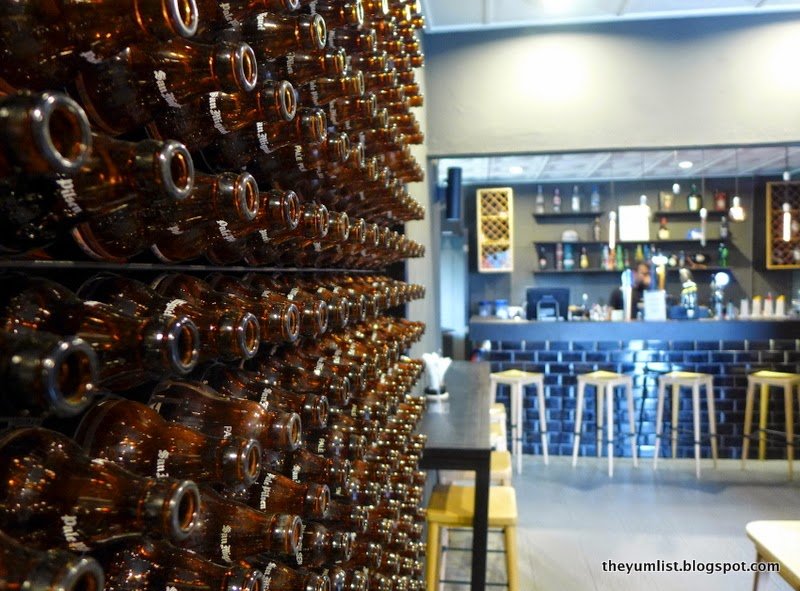 Bottle Wall
I began with their house Cabernet Sauvignon, a Domaine de Mont d'Hortes that had a mild floral bouquet and a rather dense flavour profile, for me at least. It's something I'd retreat to once the music gets a little loud upstairs, and when I wish for nothing more than the comfort of my own company, possibly with a lone free-standing lamp beside a comfortable couch. My next intoxicant, The Frederick, slapped me awake from my momentary inebriation with its eye-wincing sourness (oh my juvenile taste buds…) but was a refreshing twist from the usual array of sweet cocktails. Named after a family friend, the cocktail served as a great palate cleanser, though my advice would be to not down the whole thing in one go.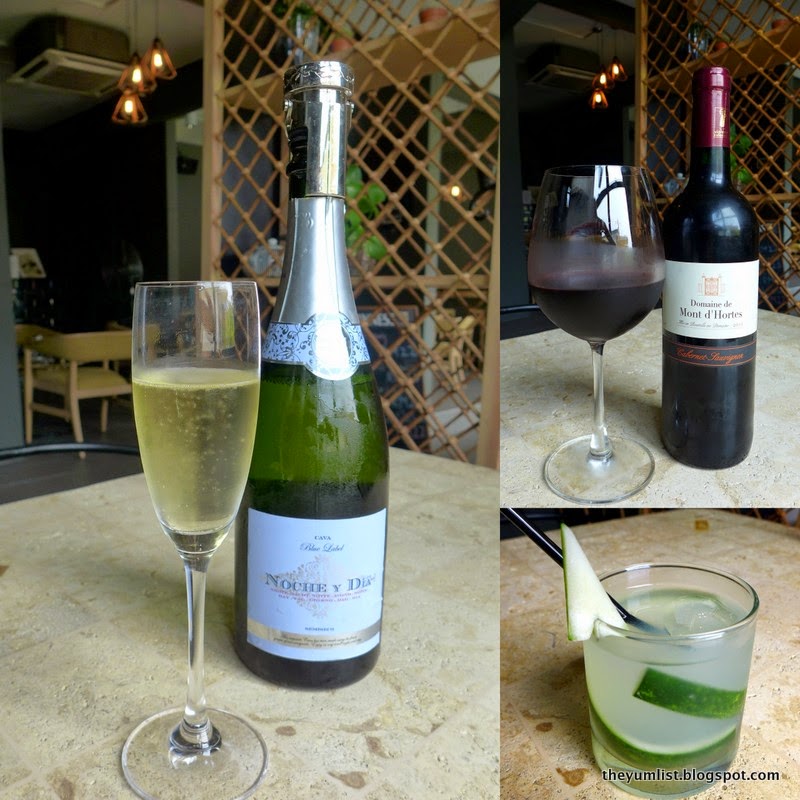 Cava, Red Wine, Frederick's Cocktail
Appetisers arrived in the form of a Bruschetta Platter (salmon, mushroom, and tomato) and Sautéed Butter Mushrooms. For the platter (6-piece platter at RM16), the bread had a glorious crunch, though they could afford to be thinner. My favourite was the salmon, which was paired beautifully with a slice of cheese, followed by the tomato and mushroom. The Sautéed Butter Mushrooms (RM16) that come with three slices of garlic bread (incidentally, these were cut in the ideal size) were fabulous and I could eat them on their own all day long, half a button mushroom at a time.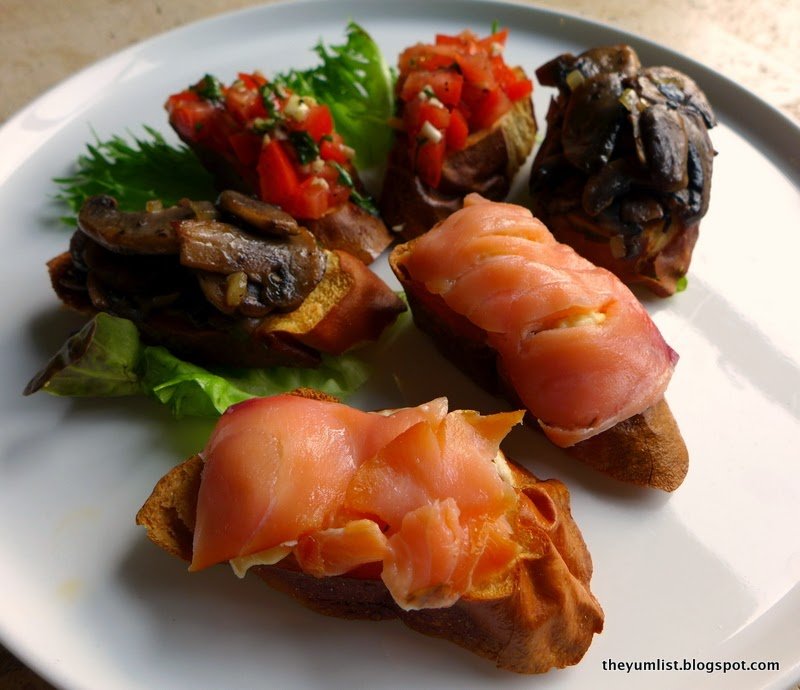 Mixed Bruschetta Platter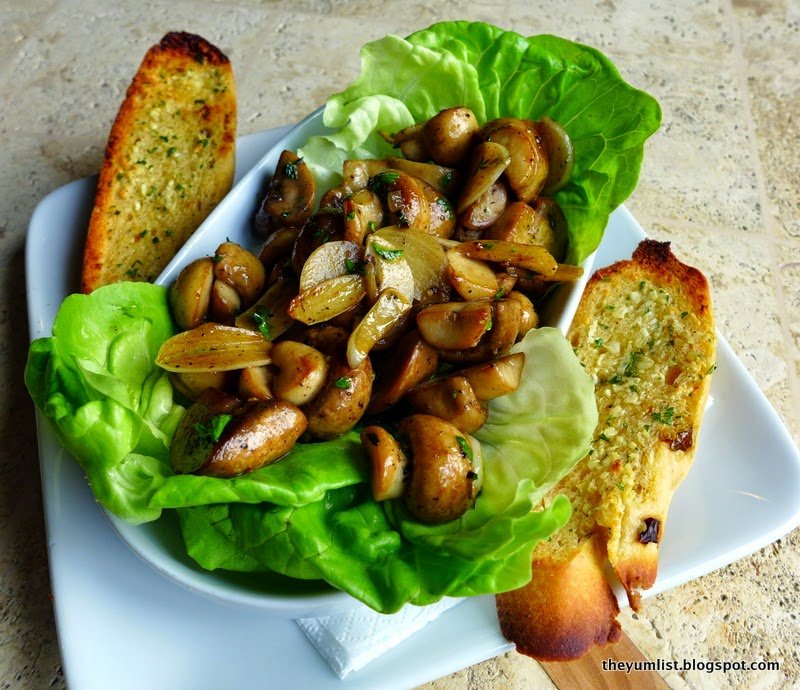 Sautéed Butter Mushrooms
The Chicken Cordon Bleu (RM24), a chef's specialty, is worth returning for. Personally, I've never really been a fan of the dish because many other places seem to prepare it hurriedly, trading away taste for a fast, easy dining standard. The one at SWAG has won me over though, and I found it very appetising with its light cream sauce drizzled over the breaded chicken.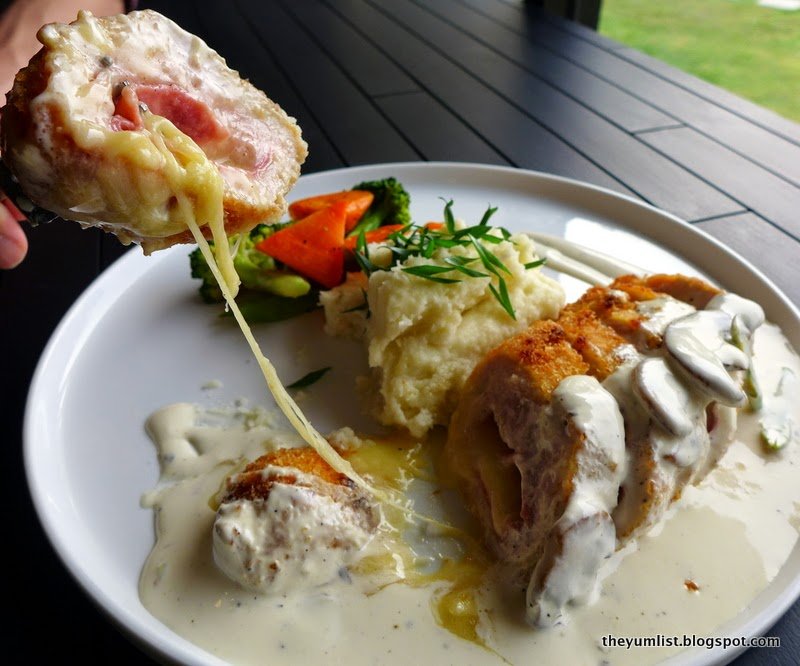 Chicken Cordon Bleu
I sampled two of SWAG's burgers next, namely their house specialty The Swag (RM22) and Chiquita (RM20). The former was incredibly robust with its massive beef patty. Normally I'd be a little worried if the patty was too thick but this one was prepared marvellously. I've always enjoyed burgers that weren't drowning in oil or completely parched and The Swag was a winning combination of flavour and texture so it has a thumbs up from me. The same can be said of the salubrious Chiquita, a healthier alternative with its grilled chicken breast. I should also mention that all of the burgers come with their own type of crisps, a smart move by the team and a novel departure from your run-of-the-mill crisps thrown in thoughtlessly at the end "just because".
The Swag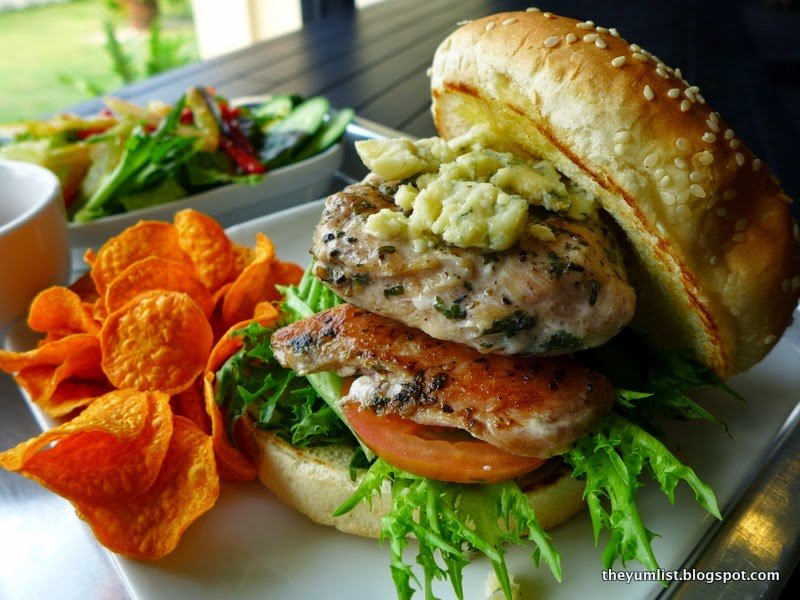 Chiquita Burger
The final dish of the day was YOLO (RM18), or You Only Lamb Once, which was grilled lamb chunks wrapped in tortilla bread and served with greek yoghurt. Although this one was just decent for me, the main attraction was the accompanying julienned aubergines, fried to a golden crisp and tasted heavenly when dipped in chilli. Sudip divulged that these were so popular he's had guests requesting them specifically for events.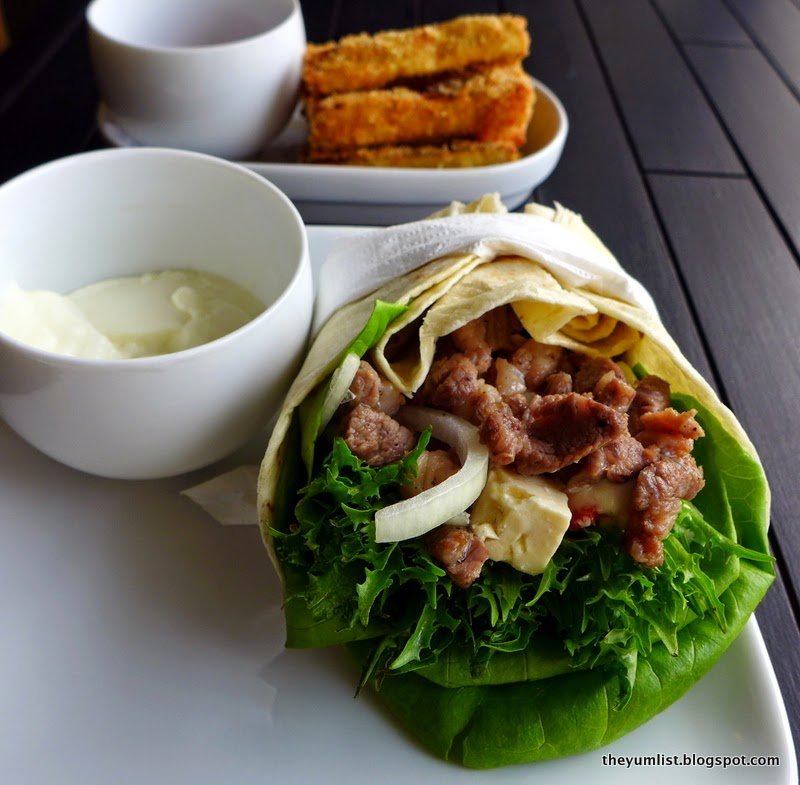 YOLO
Having sampled what comes out of the grill, I was excited to have my dessert shaken from the bar and it came to me as a creamy concoction called the Strawberry Samoya, a delightful cocktail made with Bailey's, Kahlúa, vodka, cream, strawberry syrup and milk. The proportions were a mystery to me but the rose coloured liquid was a great example of how luscious desserts need not involve cake or ice cream, though this one definitely tasted like one imbued with alcohol.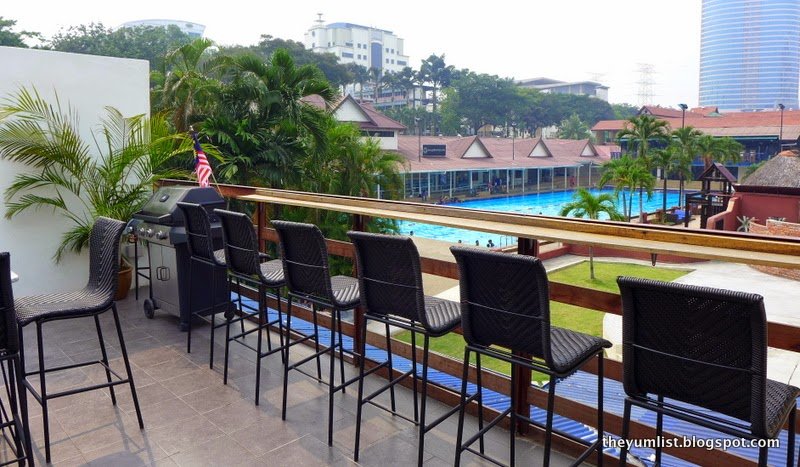 Stools Overlooking the Pool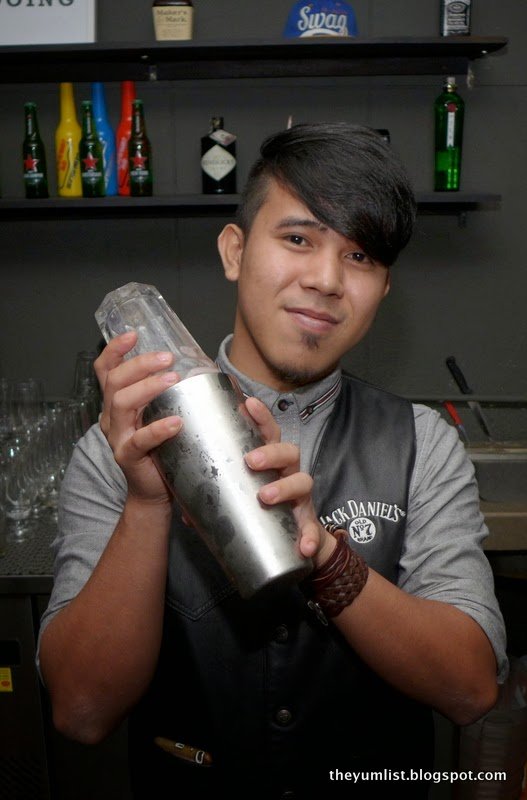 Bartender
This trip to SWAG has been an engaging one for me and I have to confess a major part of it stemmed from the fact that I enjoyed listening to and witnessing the amount of work that has gone into embellishing the place. A great place with excellent value-for-money meals, perfect after a swim, I'd love to return here to explore their continually expanding menu… as long as the fried aubergines are still there!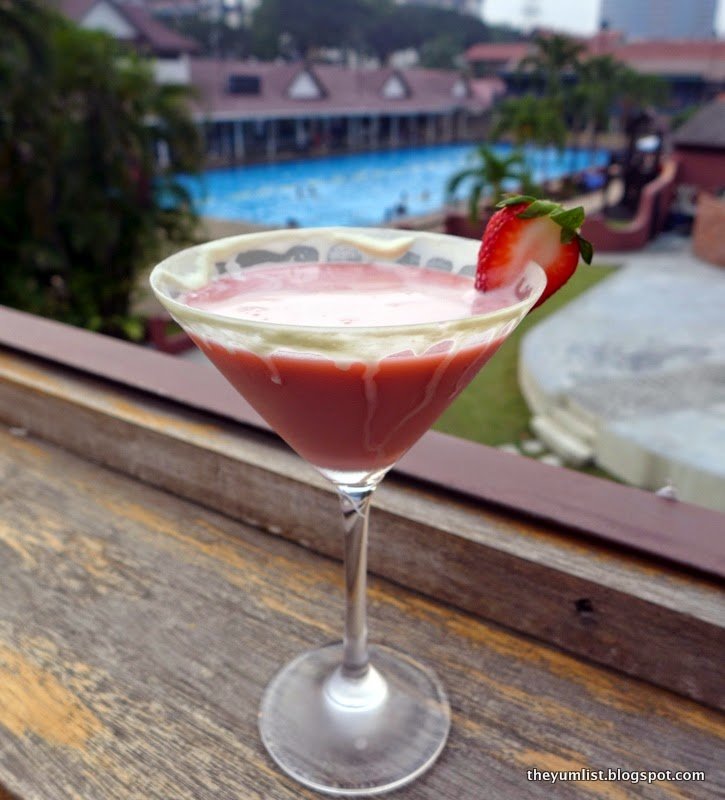 Strawberry Samoya
Reasons to visit: SWAG's design (I'm really impressed at how everything in there has the owner's imprint); the Chicken Cordon Bleu; the aubergines(!) that come with YOLO; I'd also return to explore their cocktails, seeing how some of these have their own little anecdotes attached to their creation.
SWAG Bar and Grill
1 Lorong Sultan, PJ Palms Sports Centre
46200 Petaling Jaya, Malaysia.
Open from 4:00pm till late. All prices are nett.