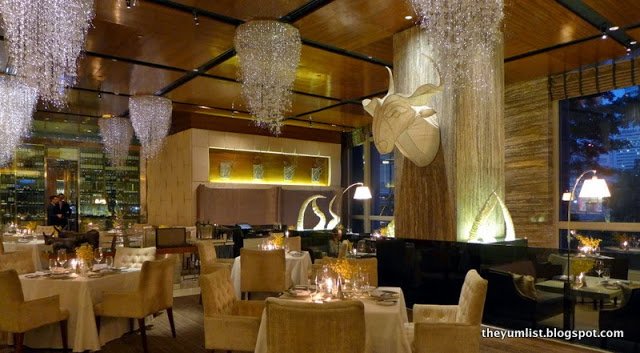 Mandarin Grill, Mandarin Oriental
Christmas at Mandarin Grill, Mandarin Oriental
The team at the Mandarin Grill has joined the line-up of restaurants preparing to delight guests' taste buds this festive season with a special selection of Christmas delights. New Chef de Cuisine, Benjamin Halat, and his dedicated team have put together their own renditions of Yuletide favourites, keeping traditions alive but also exciting palates with charming twists.
Tonight we're sampling a special five-course menu that will be available for dinner on the 24th and 25th of December.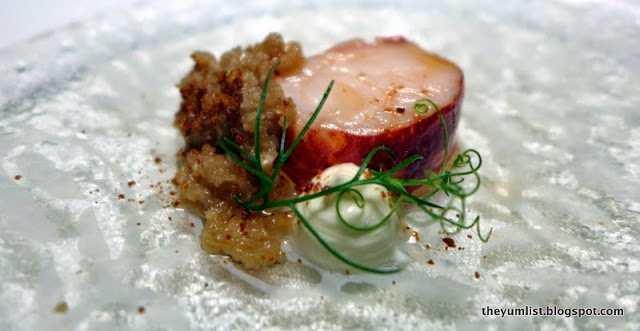 Amuse Bouche – Lobster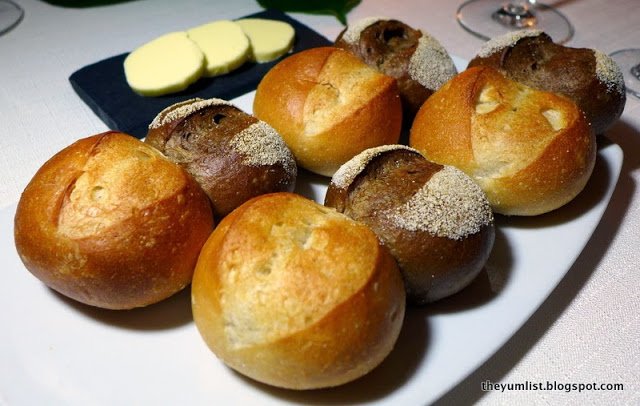 Warm Bread
Appetizer
The meal begins with a Foie Gras Parfait. Presentation is striking, with a gluehwein (mulled wine drank at Christmastime in Europe) jelly top and a slim base of layer cake, and hints at what's to come. Salted cinnamon caramel streaks the border of the white rectangular serving plate, and along with thick slices of fluffy citrus brioche, provides sweet, salty and citrusy contrasts to the fatty protagonist. Petite balls of wine poached apple provide fresh relief from the richness of the dish, and a glass of crisp wine is almost necessary to slice through the intensity of the first plate. It's worth it though. Run a few extra kilometres before you partake in the menu so you can fully appreciate this indulgent beginning.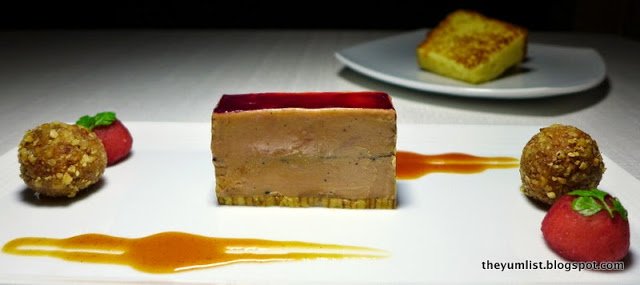 Foie Gras Parfait
Soup
A creamy Chestnut-Belgian Endive Soup follows. Quail praline and caramelized Belgian endives begin the course: dotting the plate with a mini masterpiece. The broth is poured over it from a ceramic teapot, dousing the artwork, which furnishes both adornment and flavour to the overall taste profile. First spoonful slows us down to contemplate the flavours. The bitter leaf leads the race to our taste buds, which is then followed by sweetness from the caramelized endives balancing out the sharpness, and finally a nuttiness is left in the mouth smoothing it all over until we taste again. Consume slowly so as to appreciate the complexity.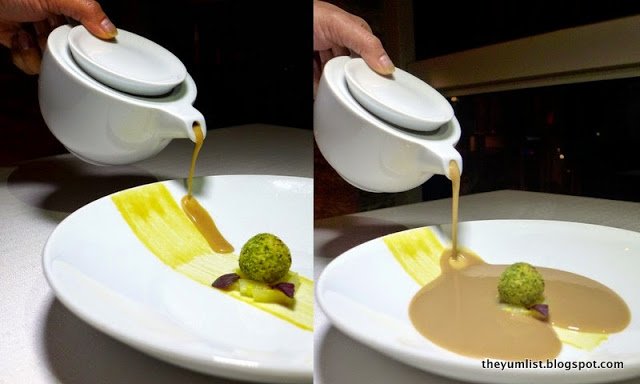 Chestnut-Belgian Endive Soup
Fish
Poached Salmon brings in some Mediterranean influence with fennel brandade and sautéed spinach as delicious veggie toppings and sides. Sweet corn puree pools around the base of it all, adding moisture and sweetness to the flaky fish. It's another course that is nice on its own but becomes so much more with wine.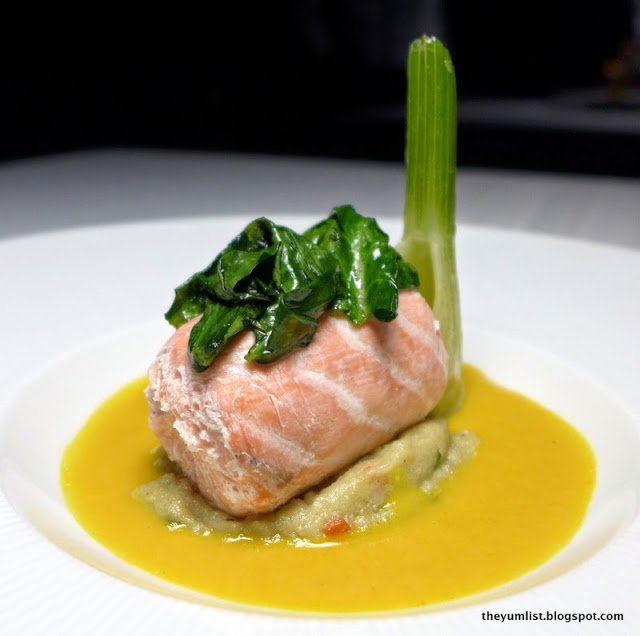 Poached Salmon
Sorbet
An elegant sweet and sour intermezzo of Cranberry and Cider cleanses the palate.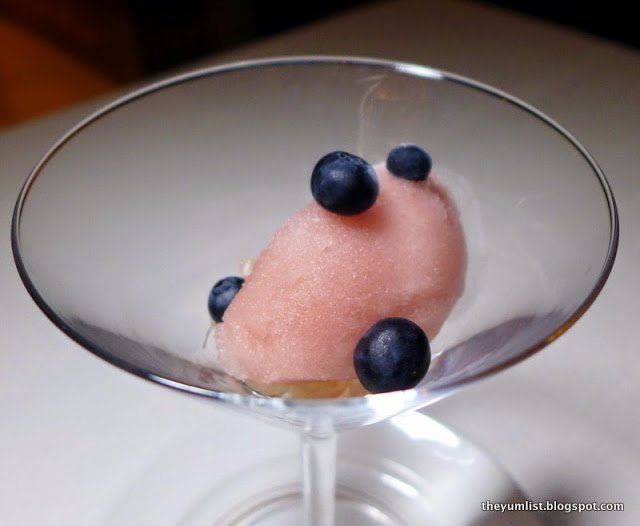 Cranberry and Cider Sorbet
Mains
It's a decision between poultry or meat for the main. Fortunately having hubby tag along means I get to sample both.
Glaced Duck Galantine and Grilled Duck Breast proves a glistening feast for the eyes. Deboned meat is rolled, stuffed and ornamented with an aspic cloak, proving indeed a "gallant" plate. Chubby succulent breast is the warm preparation of the bird, sporting a shiny coppery coat. Semolina strudel, Brussels sprouts and cranberry sauce make for pretty festive appeal.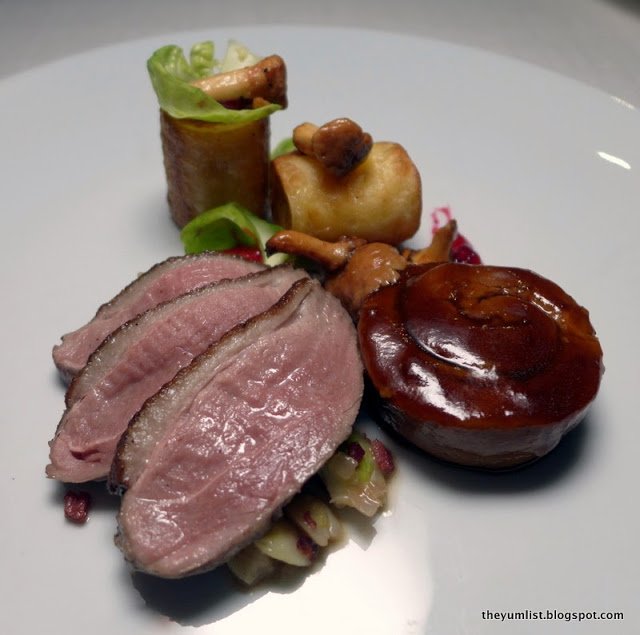 Glaced Duck Galantine and Grilled Duck Breast
Seems the Josper grill has taken off in KL with the finest reputed restaurants now owning one. Mandarin Grill, always using state-of-the-art culinary technology, uses this Spanish oven (which enables the user absolute precision in temperature setting) to sear Australian Sirloin to exquisite perfection. Sealed edges encase tender pink flesh that appears to pulsate as our knives slice through it. Fluffy potato mash, honey glazed carrots and decadent drops of truffle jus deliver a pleasurable taste of tradition.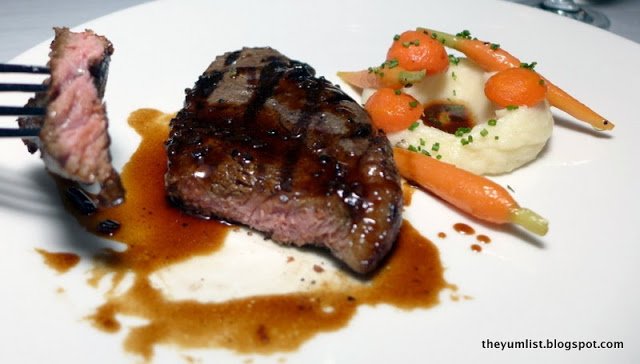 Australian Sirloin
Dessert
European institution is upheld with English Christmas Pudding served as dessert. It's a far more glamourous account though than my mum's rum soaked recipe. Macerated in 12 year old Scottish malt whiskey and befriended with a hard sauce, hazelnut brittle and ice cream, it leaves us all beaming with hedonistic happiness.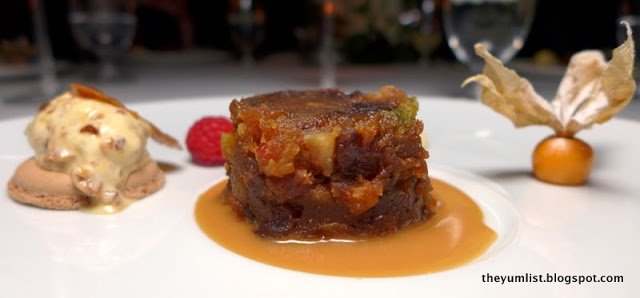 English Christmas Pudding
Coffee and Tea
While we didn't try them, festively themed Petit Fours – Grand Cru pralines, Christmas cookies and, macarons – with premium teas or coffee, are included in the set menu.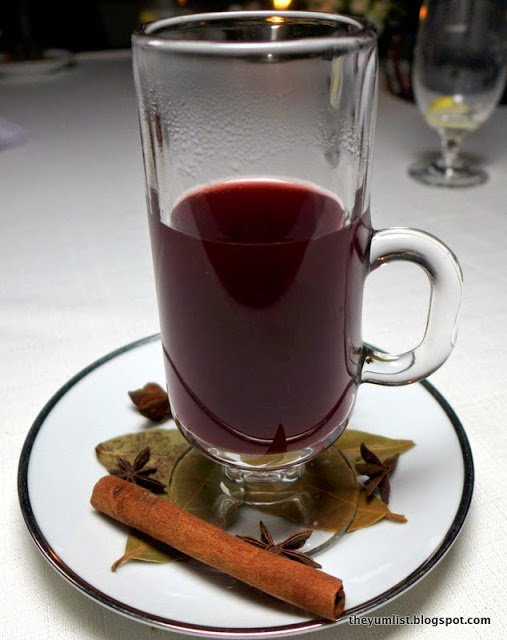 Mulled Wine
The five-course Christmas menu will be available for dinner on the 24th and 25th of December. It is priced at RM398++ per person and an additional RM160++ for wine pairing. Bookings are highly recommended.
Reasons to visit: truly enjoy Christmas by leaving the hard work to the expert crew at the Mandarin Grill; beautiful setting.
Mandarin Oriental, Kuala Lumpur
Kuala Lumpur City Centre
50088 Kuala Lumpur
Malaysia
+6 03 2380 8888
+6 03 2179 8818