Exciting things are happening in Penang and we're overjoyed to report the latest: the opening of Croisette Café in the coastal community of Tanjung Bungah. Located on the ground floor of a renovated bungalow, with both an air-conditioned indoor setting and outdoor plant-lined patio, the environment mirrors the food in its honest-to-goodness, homestyle character.
White marble floors are set with an assortment of colorfully clothed tables. Lemon yellow, garden green and black chairs frame them. Amber yellow walls have motifs of grape wines breaking up the middle, and soft French tunes enliven the air. All contribute to an overall ambience of cheer.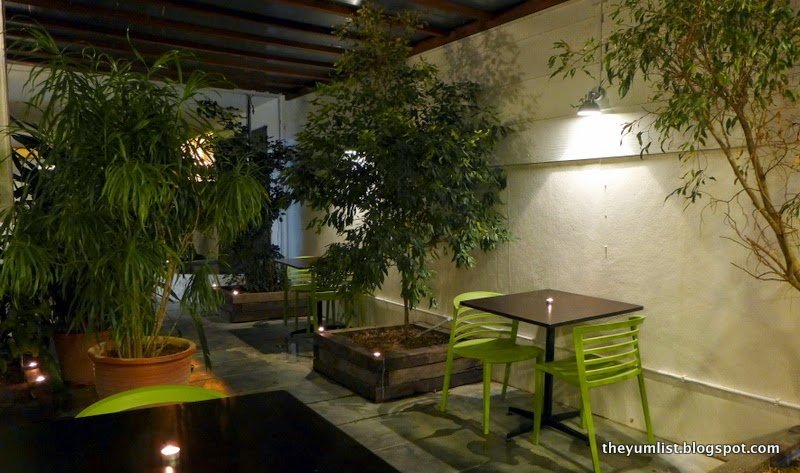 Outdoor Covered Seating
Wanting to fulfill a gap and also correct a misconception in Kuala Lumpur's dining scene, Pierre and Michelle first began their sharing of homestyle French cuisine in the much-loved Croisette Café in Kuala Lumpur. In years past, the general opinion in KL seemed to be that French food was all about fine dining and bound to be extremely expensive. With good value and delicious meals, they've helped to broaden perceptions, showcasing food that is comforting, filling and excellent value. They quickly grew a loyal following in Malaysia's capital, and have now spread their passion to Penang, enabling island folk to also enjoy the comforts of authentic French fare.
Our first meal sees us trying some soups, lighter mains, gorgeous French cheeses and dessert.
Soups
The 'Real' French Onion Soup (RM14) comes topped with two slices of baguette and melted gruyere cheese. It is packed with soft strips of white onion and is such a satisfying bowl that I can imagine light eaters being perfectly content with a bowl of this for lunch. A drop of pistou (basil, garlic, olive oil, salt) floats on top of the Fresh Tomato Soup (RM12) contrasting its rosy hue and providing herby accompaniment to the medium-bodied liquid. Both are highly enjoyable and warrant a reorder.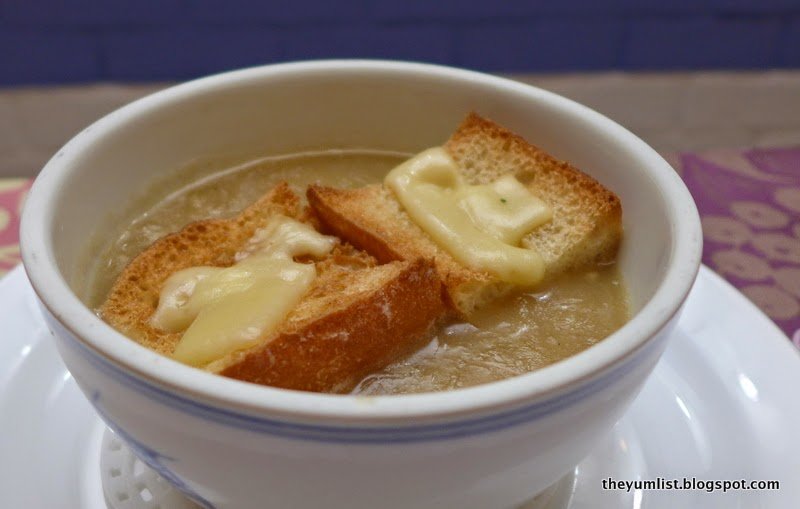 The 'Real' French Onion Soup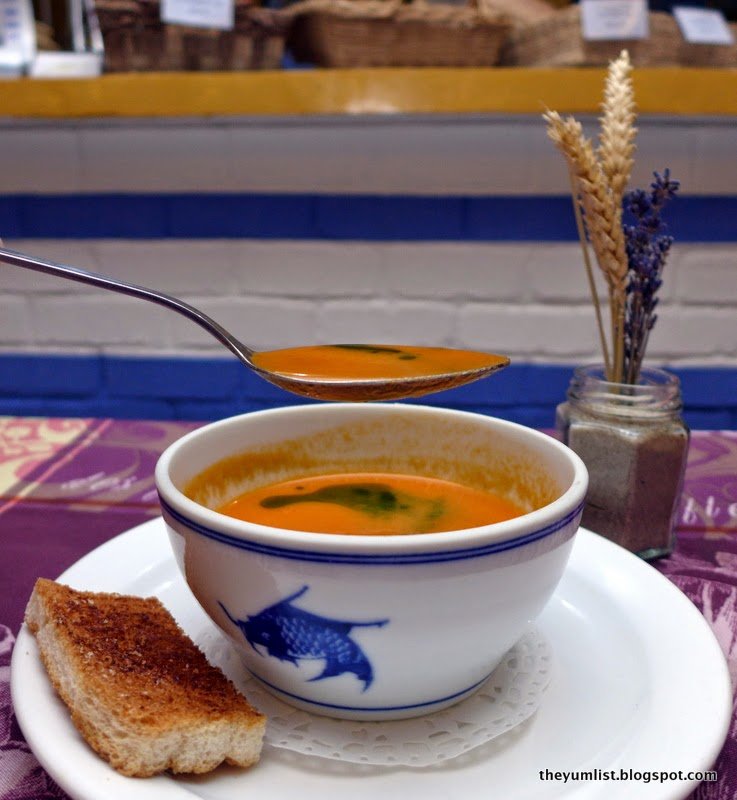 Fresh Tomato Soup
Mains
Pan Bagnet (RM15) is a traditional sandwich from the south of France. Basically it's a crusty baguette (usually round in shape in the homeland, but here it's in oval shaped bread), with the fluffy inside dug out, and replaced with a complete Nicoise Salad. Tuna, anchovies, cucumber, black olives, tomatoes, lettuce, sliced egg, and mayonnaise make a tasty filling, and the bread, a strapping envelope. It's fantastic. We both stuff our mouths, and at the same time mutter enthusiastic groans of endearment.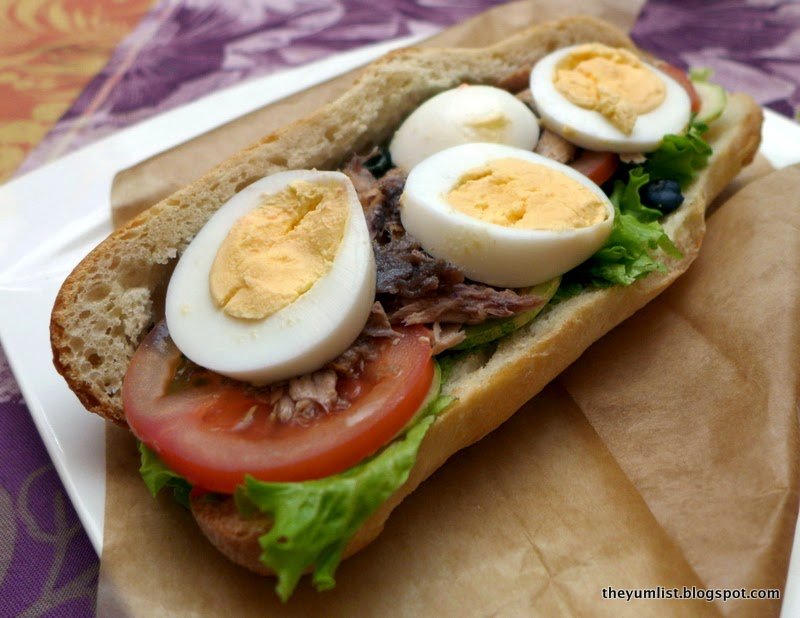 Pan Bagnet
Gnocchi (RM22) with Roquefort sauce are obviously home made with their odd shapes and sizes. Soft dense clouds are thickly coated with a wonderfully creamy blue cheese sauce. The mild bitterness of walnuts breaks the richness, and a glass of crisp white wine helps to slice through the creaminess. Hubby is wordless, just saying, "Mmm, mmm," confirming his happy approval.
Gnocchi
House Wine
White and red wines, a sauvignon blanc, and a cabernet sauvignon shiraz, are available by the glass (RM16). Both are well chosen table wines, and especially good for the price.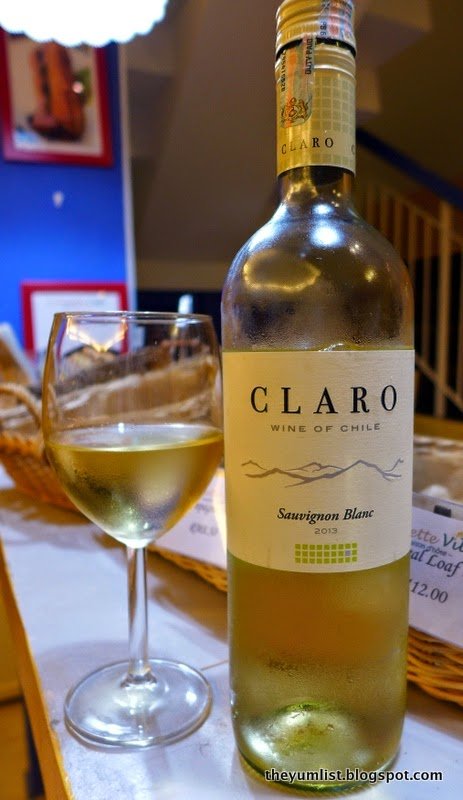 House White Wine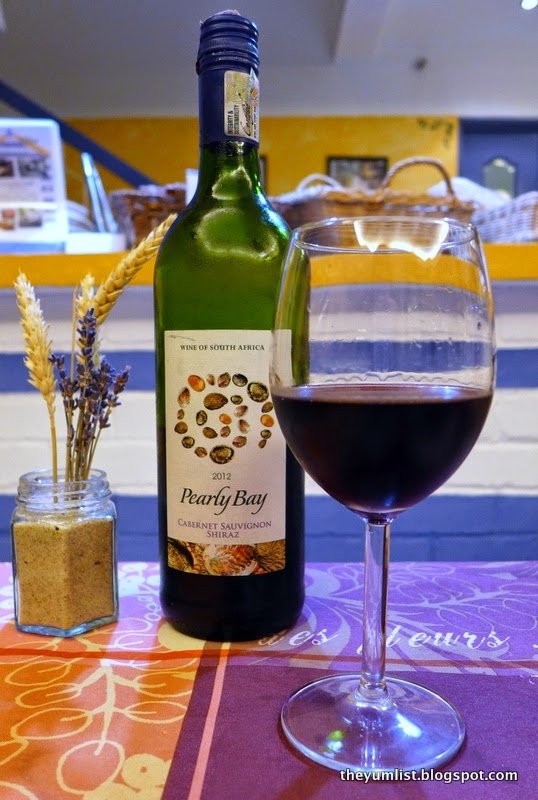 House Red Wine
Cheeses
Forming a bridge between the main meal and dessert is a Three Cheese Platter (RM36). Slices of walnut bread are spongy within, sporting a crunchy crust and, lightly toasted, they make a friendly companion for the cheese. A sprinkling of crumbled walnuts adorns the plate, and a jumble of green salad adds colour to a corner. The cheeses are perfectly served at room temperature, and as they arrive we ogle Camembert oozing at the edges from between its rind. We're salivating before we've even dug in.
We start with the mildest, the Camembert, move up a notch in flavour to the Pont L'Eveque, and finally to the most powerful of the trio, the Reblochon. While providing that typical 'taste of farm' characteristic to many French cheeses, these are all stronger on the nose, than they are in the mouth. My house red wine draws the livestock notes to the forefront, and in turn the cheese lifts the fruitiness of the wine. It's an especially good pairing.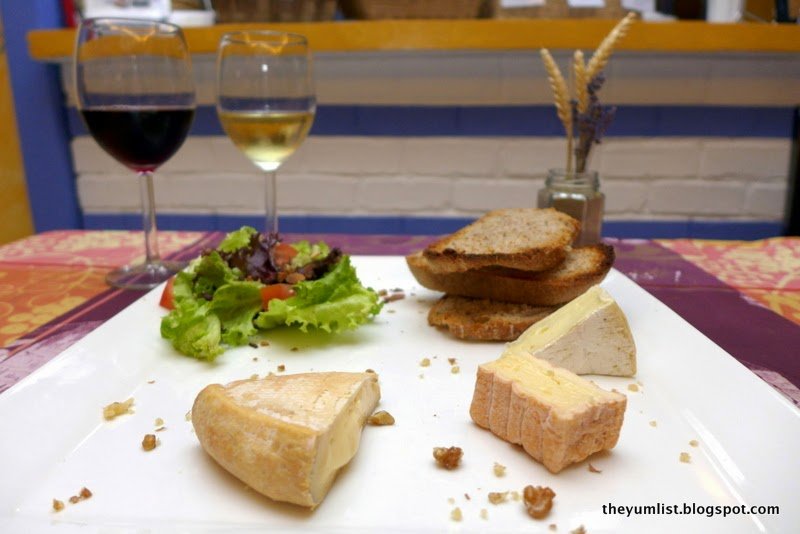 Cheese Platter
Desserts
Alhambra, the name of a popular Spanish opera, plays a name game with our first dessert. Similar to the classic Opera cake, chef has given it his own interpretation, acknowledging that it's not made to the strict classic recipe, hence dons it with a unique title. A pool of dark chocolate sauce, encircled by cream of bergamot infused with earl grey tea supplies a lavish base for a round tower of chocolaty goodness. Soft biscuit brushed with syrup, coffee and brandy, is layered with a velvety layer of chocolate ganache, espresso coffee butter cream, a thin soft dark chocolate glaze, and a swirl of white chocolate  mousse.Yellow and red berries are a vivid and fresh contrast to the deep rich chocolate.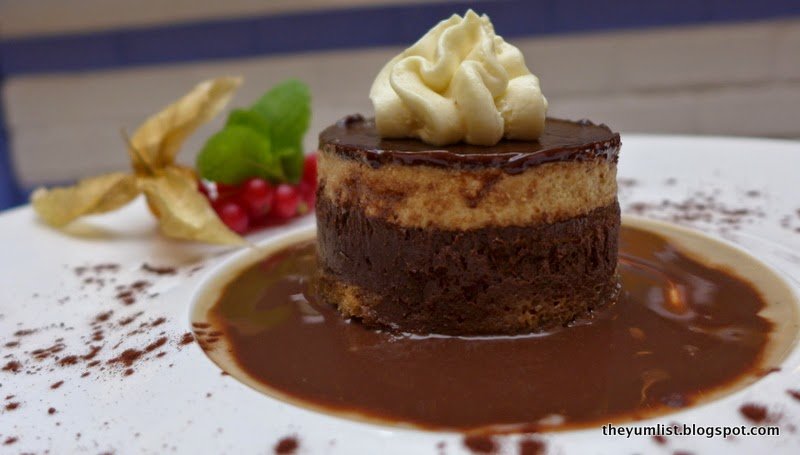 Alhambra
Chef's version of Black Forest Cake sees a mouthwatering rectangle of layered soft biscuit, bitter dark chocolate ganache, Chantilly cream and morello cherries, sealed with a pretty ruby jelly glaze. Sour, sweet and bitter mingle playfully, leaving us both smiling from ear to ear.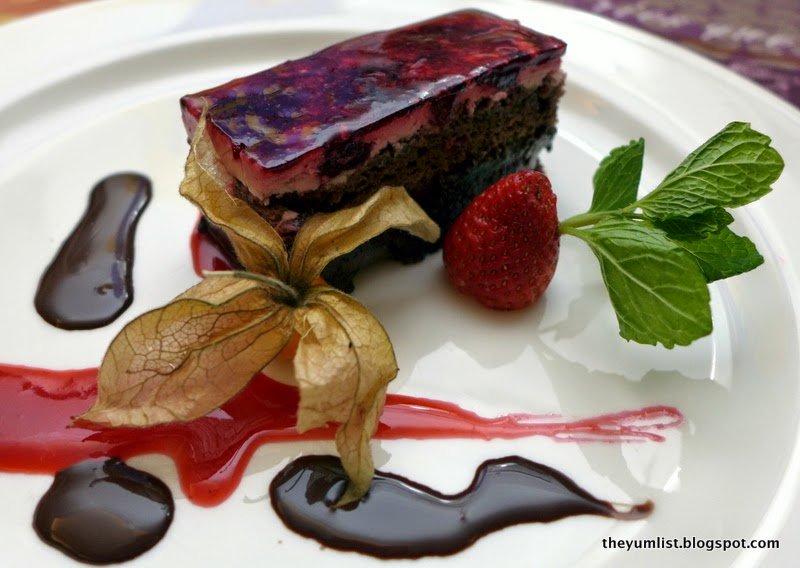 Black Forest Cake
Croisette Café serves up sincere food at incredibly good prices. It has to be the best value French cuisine in Penang, if not the whole country.
Reasons to visit: very affordable home cooked French cuisine, yummy desserts, casual cosy ambience, don't miss the Pan Bagnet and Gnocchi.
Croisette Cafe
Croisette Villa
546E Medan Tanjung Bungah
11200 Tanjung Bungah, Penang
Malaysia
+61 (0)16 330 4477
+ 61 (0)14 665 7944