The W Singapore's SKIRT restaurant on Sentosa island promises an evening of immersion in textures, scents, colors, and epic flavors designed and crafted by inventive Australian chef, Andrew Nocente. The W is known for its modern and daring look, and the restaurant's decor is the perfect example of this. Simultaneously warm and cool, lofty and inviting, busy and edgy, the interior is an experience in and of itself. Enjoy this first, then settle in for a scrumptious, elegant meal.
SKIRT, W Singapore – Sentosa Cove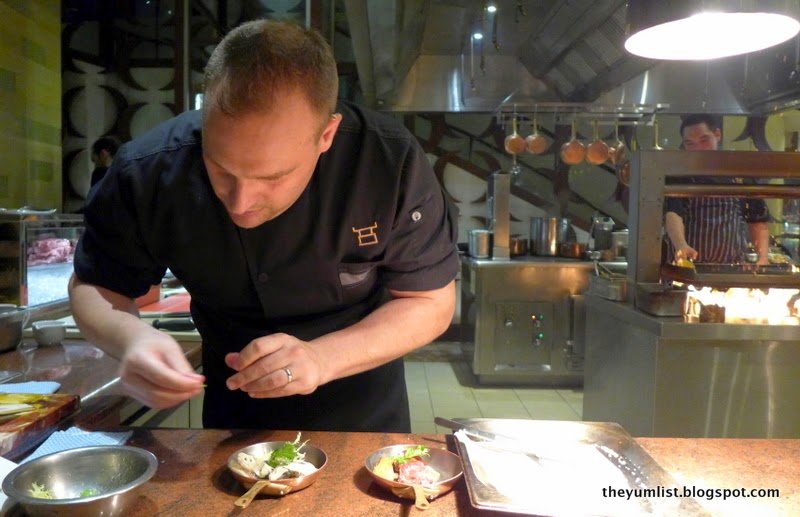 Chef Andrew Nocente at Work
The specialty here is steak and aged meats, but we began with some cocktails and warm homemade white rolls, accompanied by chorizo oil and artichoke sesame oil hummus. The flavors were complementary and the bread was warm and soft inside with just a hint of smoke from the fire roast.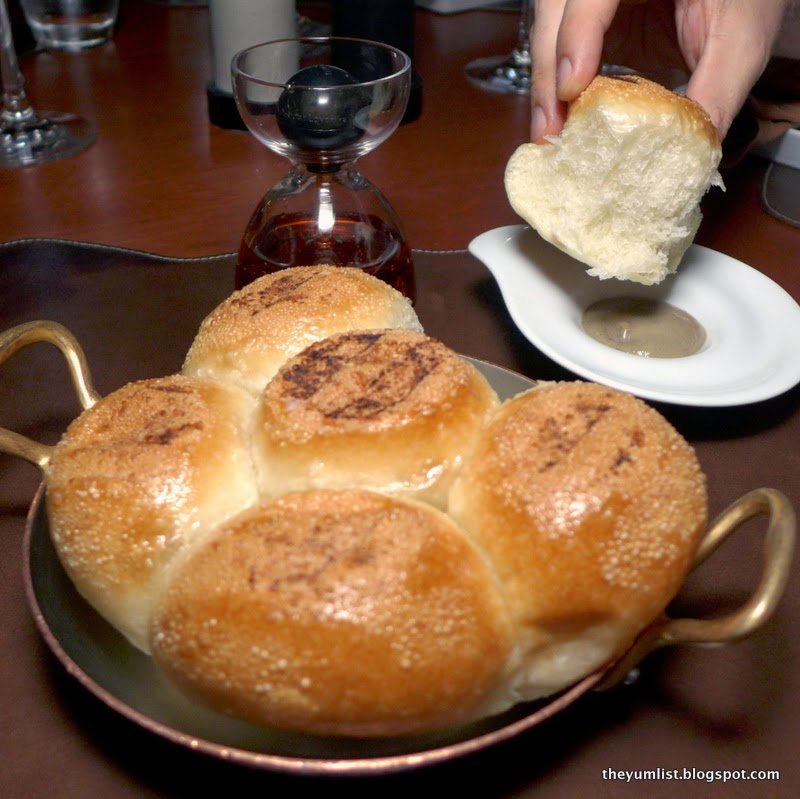 Bread Toasted on the Grill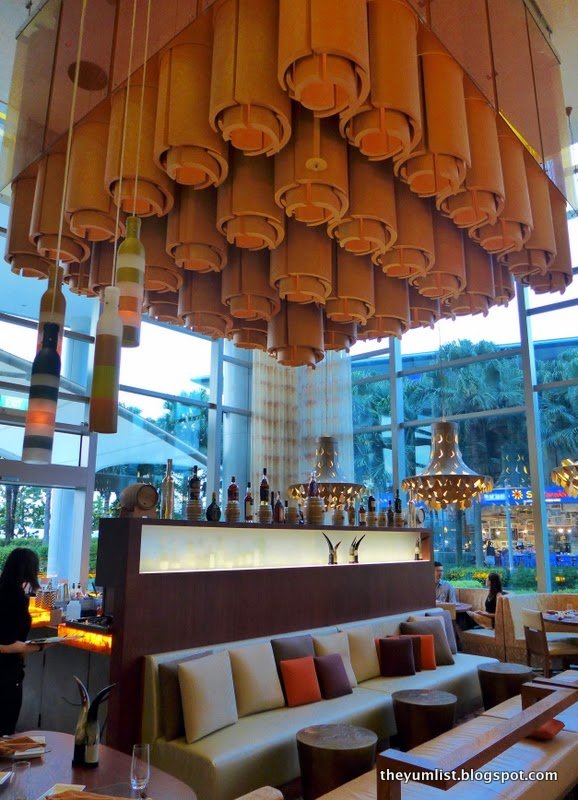 SKIRT, W Singapore – Sentosa Cove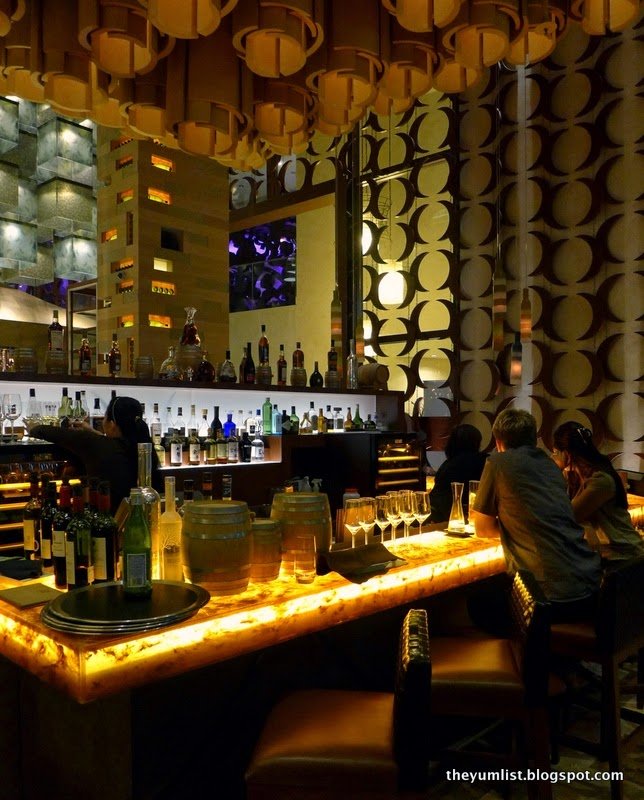 SKIRT Bar
Drinks were classics with a twist: the refreshing French 75 was a surefire hit; our Kir Royale made with homemade black currant syrup was decadent and inviting; and the Mojito infused with sparkling wine and mint syrup was simply perfect. Skirt offers 29 varieties of wine by the glass including Champagne, providing an exceptional invitation for tasting, or comfort for the diner who does not wish to take on a full bottle solo. A voluptuous 2009 Villa Antinori, with chocolate and cherries on the nose and a long savoury finish, formed a beautiful partnership with our meat heavy line up. While a Vermentino Bolgheri offered a tropical fruit bouquet, and a clean fresh disposition on the palate, making it a fine friend for our seafood beginning.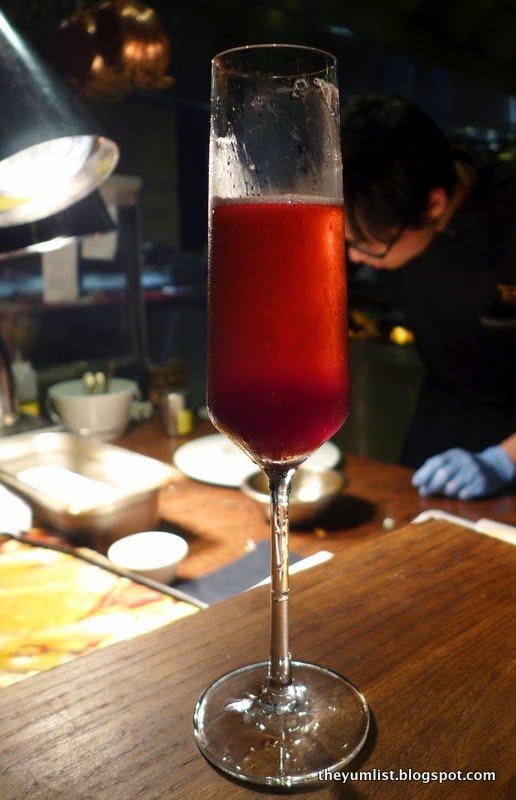 Kir Royale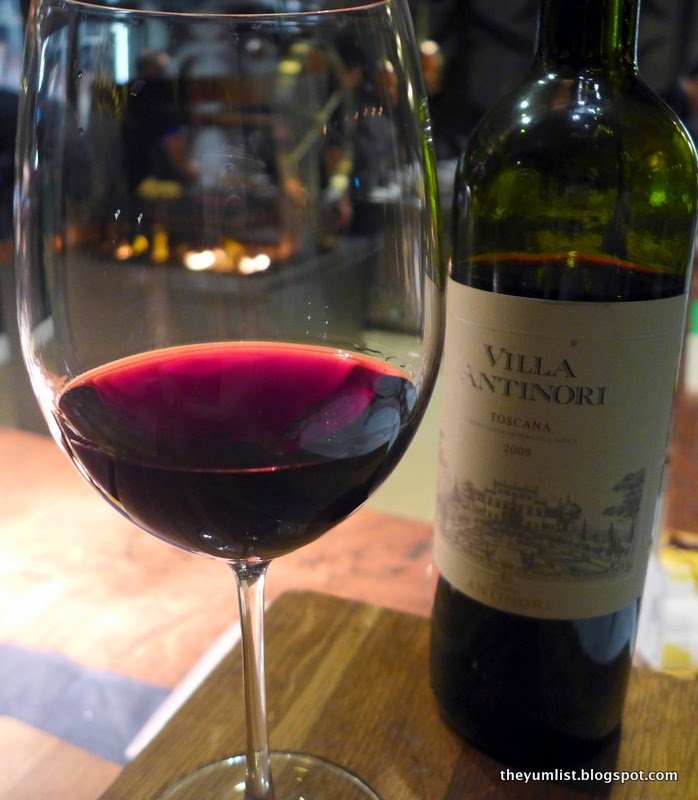 Italian Red Wine – Villa Antinori
From here we moved on to appetizers, and they were pleasing to say the least. The Yellowfin Tuna Tartar (S$28) arrived on a bed of avocado, deliciously light and creamy, accompanied by wasabi merengue wafers – incredible. The Crab Cakes (S$22) came with cucumber and spiced foam, an emulsion described as a frothy, mellow cloud with light spices that linger. Tomato with Burrata and Olive Oil Granita (S$16) was delectable, and the Maine Lobster with Jamón and Caviar (S$32) was a superb combination of fresh ocean and salty ham.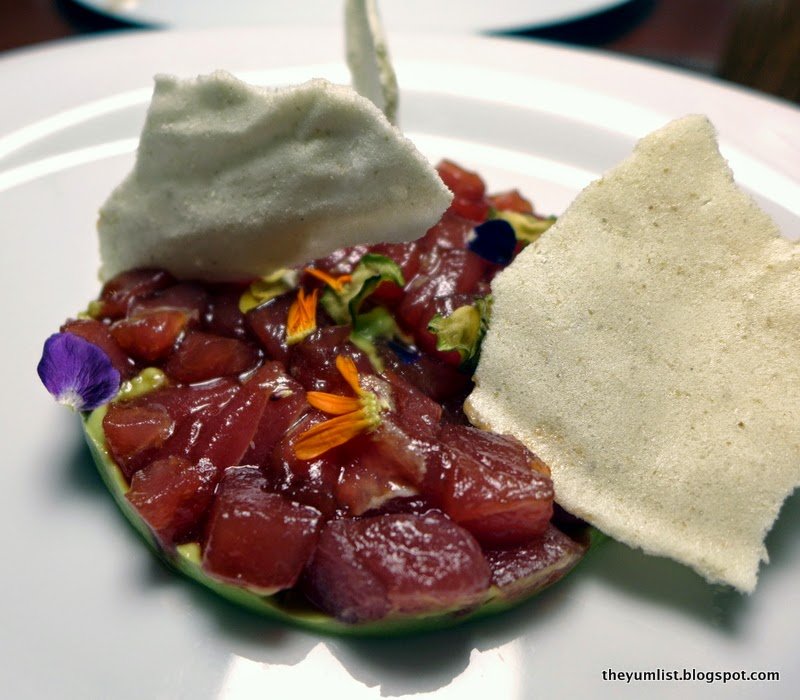 Yellowfin Tuna Tartar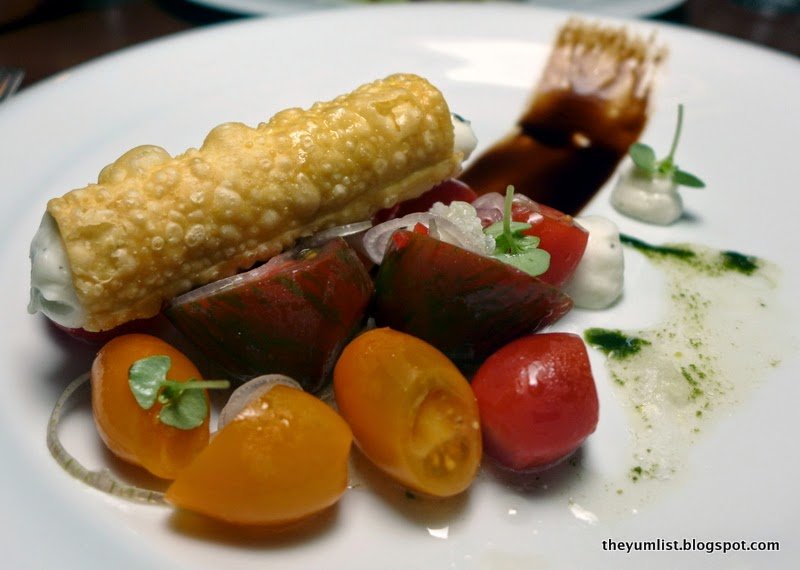 Tomato with Burrata and Olive Oil Granita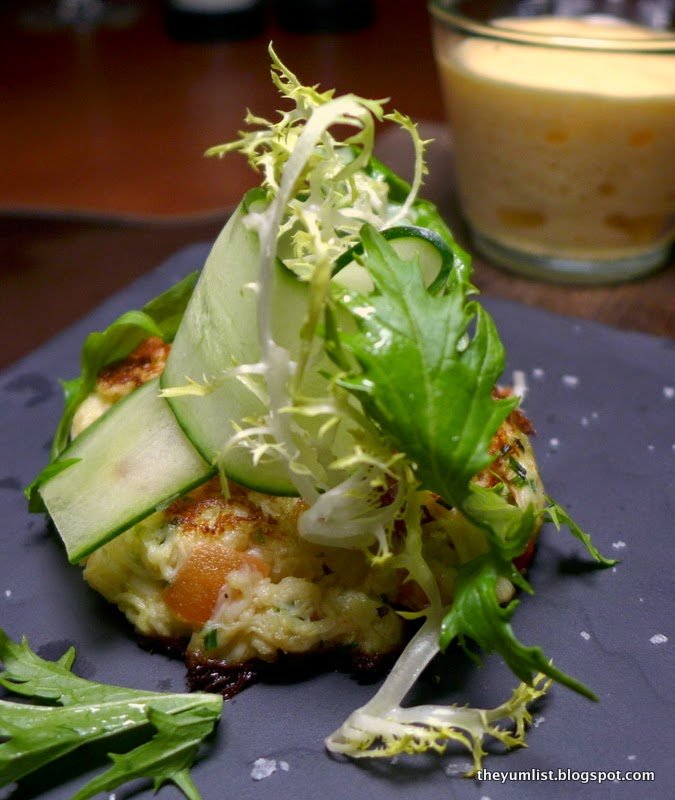 Crab Cakes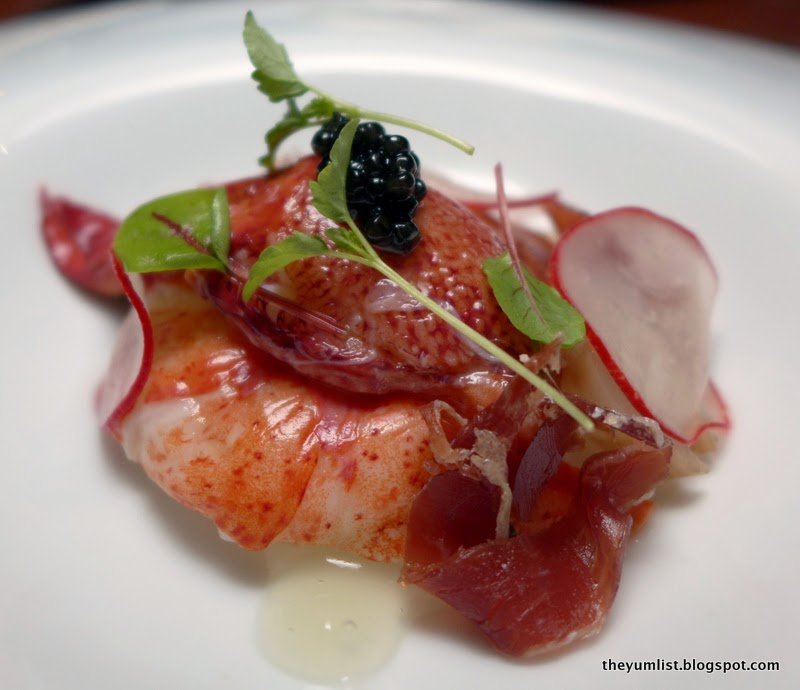 Maine Lobster with Jamón and Caviar
Always interesting in terms of details, a sweet surprise came in the form of a 'sensory' vial of palate cleansing potion for each of us. After sniffing, sipping and swirling, we learned a combination of bourbon, apple juice, ginger, mint leaves, and maple syrup makes up this treat.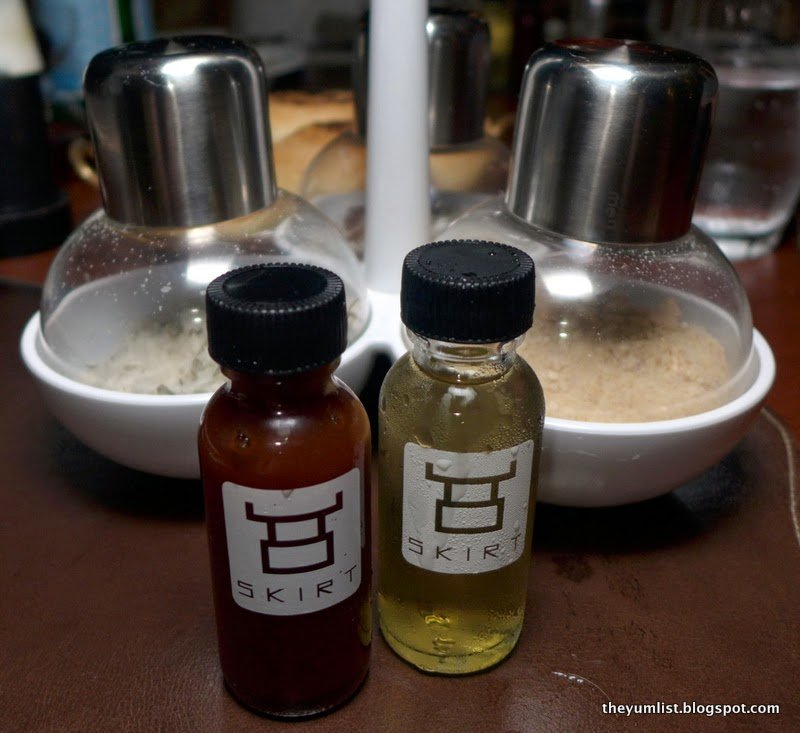 Seasonings and Palate Cleanser
Moving on to the main event, we began with Full Blood Wagyu (grain fed) Australian Blackmore MS 9+ (S$192 for 200g sirloin, S$68 for 200g skirt) of incredibly high quality. The carnivores at the table were amazed at the commanding, yet delicate, flavors and the careful preparation. Next came the grain fed F1 Wagyu Sher Ribeye (MS 6-7, S$118 250g), a delicious piece of meat that left us heartily satisfied and wanting to try more. The Black Market MS 5+ (grass fed) Black Angus Sirloin (S$118 500g bone-in striploin) was another top choice, served medium rare and full of flavor.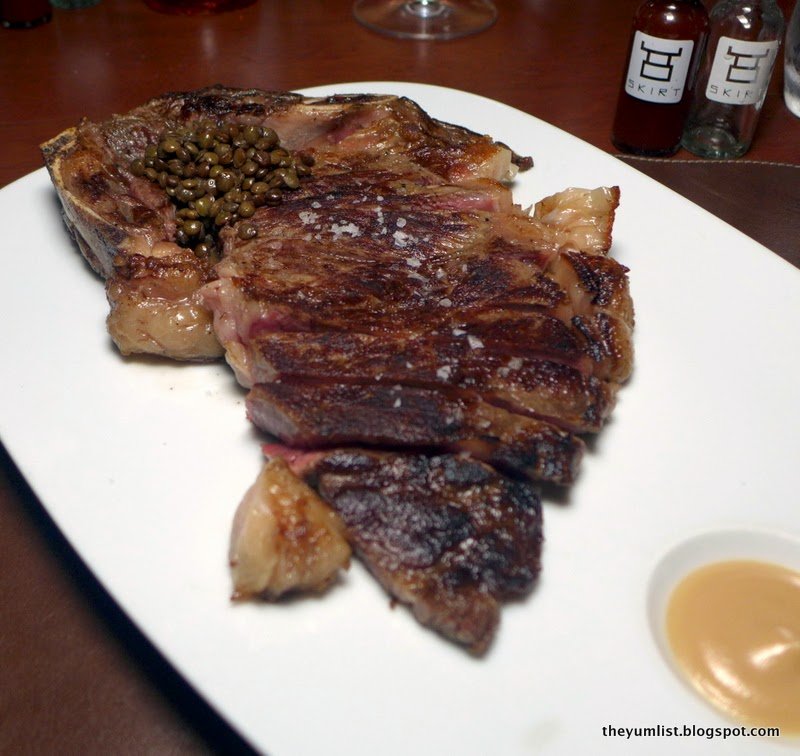 Chargrilled to Perfection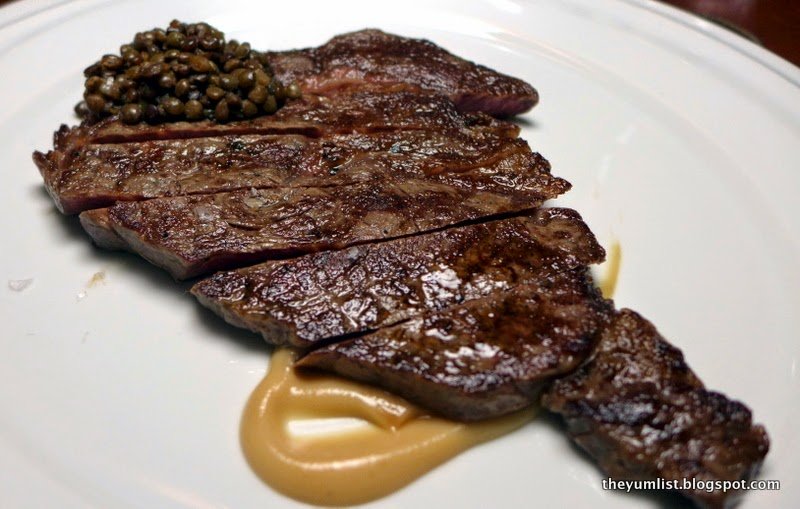 The Carnivores at Our Table Continue to Drool
Have You Seen Such a Beautiful Cut of Meat?
Adding on some sides, the Truffle Potato Puree (S$16) was a flavorsome cloud of sin to accompany the meat-heavy meal, but we think we balanced things off with some Aged Root Vegetables with Celeriac Foam (S$12). Sautéed Portobello Mushrooms (S$16) were deliciously meaty, making a hearty alternative for vegetarians dining with their meat loving friends.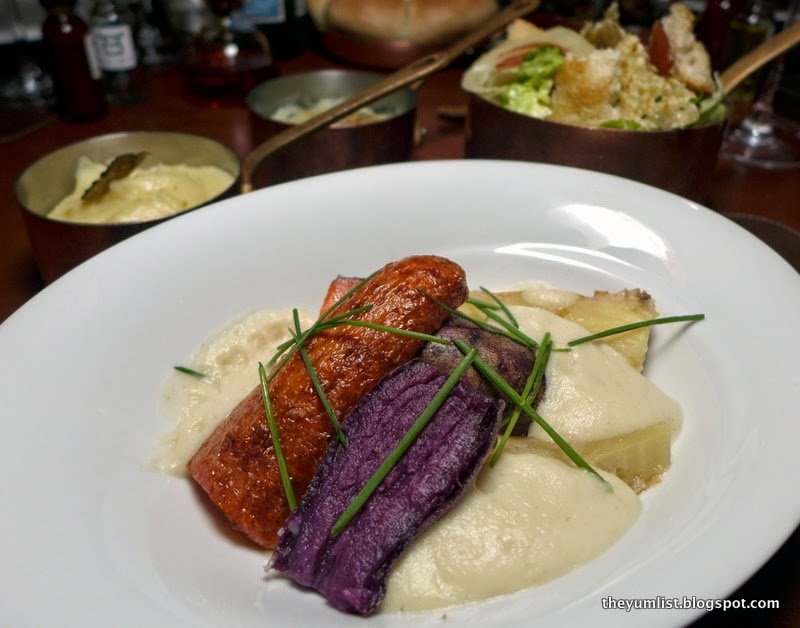 Aged Root Vegetables with Celeriac Foam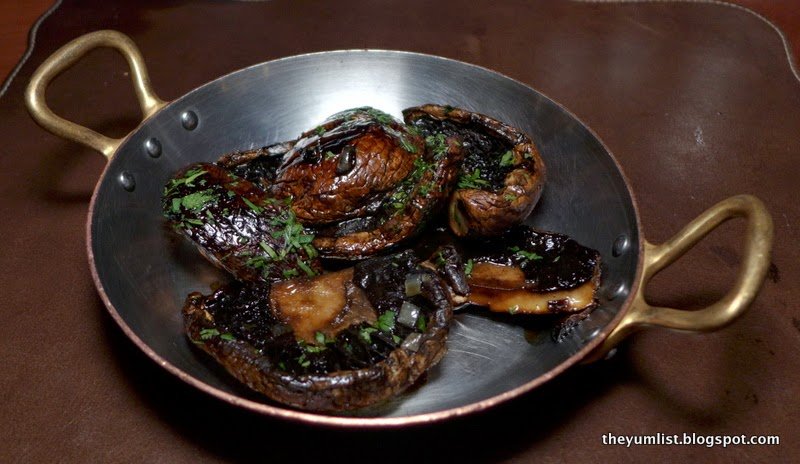 Sautéed Portobello Mushrooms
After a heavy and incredibly gratifying meal, we finished off with some sweet treats. Strawberries N' Cream (a must try, gluten-free and vegetarian delight, S$18), the Chocolate, Chocolate, Chocolate (as it is described, the heavenly dark stuff multiplied times three, S$20), and some Lemon Meringue Pie with Tea Sorbet (another gluten-free vegetarian treat, S$18).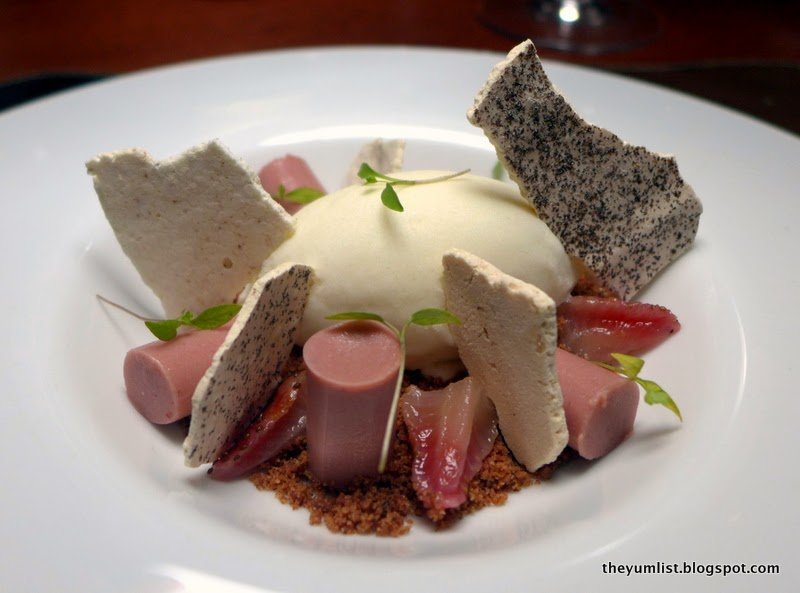 Strawberries N' Cream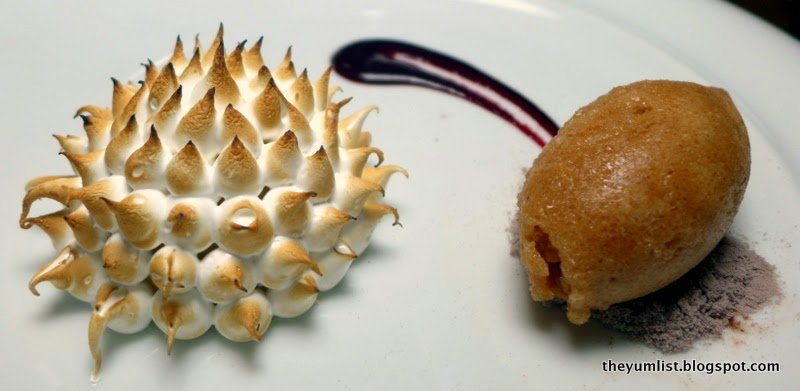 Lemon Meringue Pie with Tea Sorbet
Chocolate, Chocolate, Chocolate
End the night with some coffee, cognac or a flaming Sambucca and count your senses happy after a full fledged dining experience.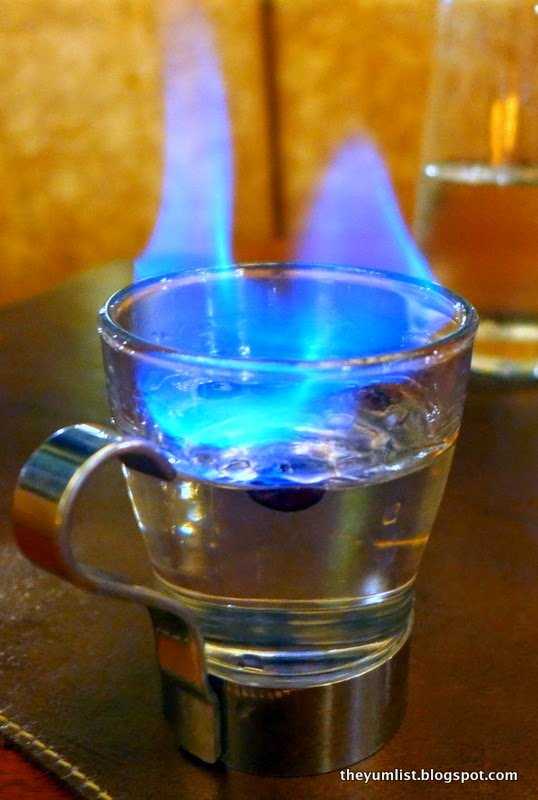 Sambucca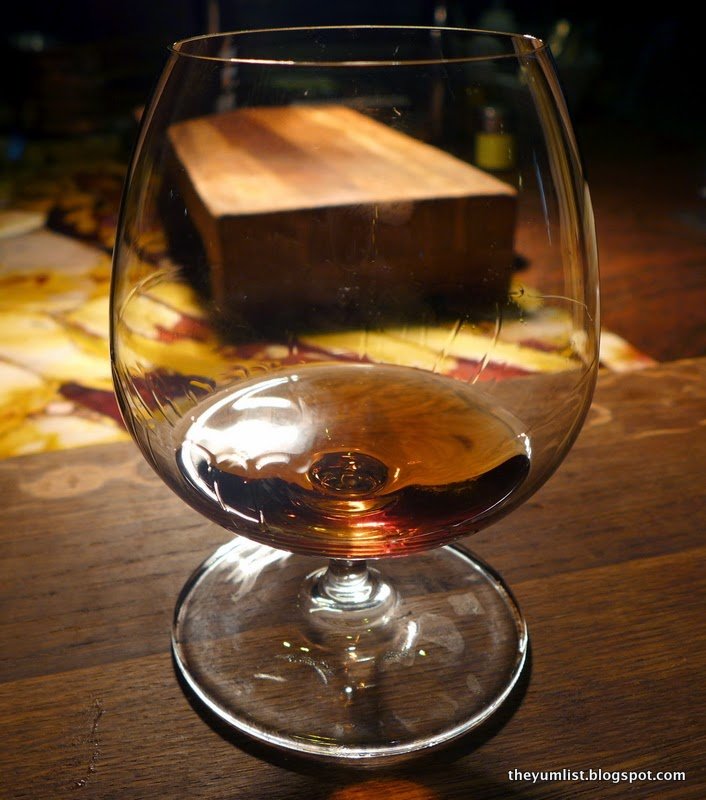 Cognac
Reasons to visit: Hearty Australian grass fed steaks, edgy and immersive ambiance, extensive wine selection (notably, by the glass), attention to details, superb service.
SKIRT
W Singapore – Sentosa Cove
21 Ocean Way
Singapore, 098374 Singapore
Phone: +65 6808 7278
Hours: Dinner 18:00 to 24:00