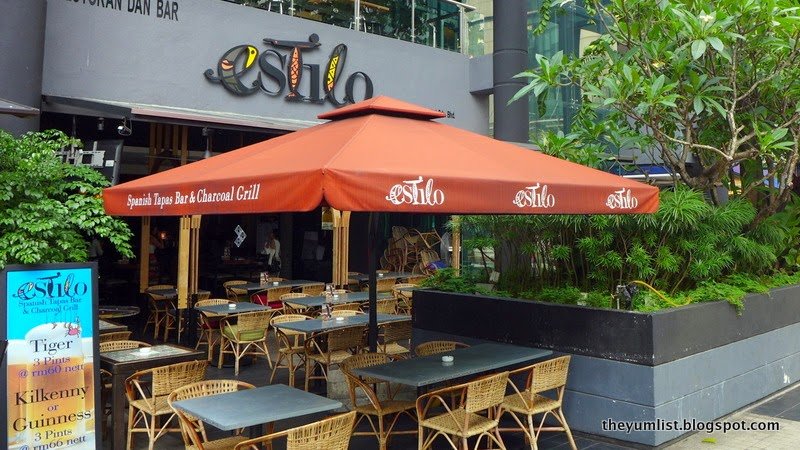 Estilo Tapas Bar and Charcoal Grill, Publika
Estilo Tapas Bar and Charcoal Grill, Publika
Words by Polly Szantor
Photos by The Yum List aka Monica Tindall
Once in a blue moon, we come across a gem of a restaurant. It may have been staring us in the face, but until we actually stop, sit and taste, we will never be aware of its potential. At Estilo, right next to Pubika's Silver Spoon and The Social, Chef Pedro Luiz Diaz Avilla captivated us with the magic of his superb, everything-made-from-scratch Cantabrian cooking, and I'm delighted to share some of his creations with you.
Estilo Tapas Bar and Charcoal Grill, Publika
The extensive tapas menu includes several vegetarian choices, for example,
Queso de Cabra
(RM 22) a heady combination of French chèvre baked in phyllo pastry with pumpkin jam and caramelized shallots. Imagine the crisp pastry and tangy cheese meeting the sweetness of the pumpkin and shallots – it's heavenly.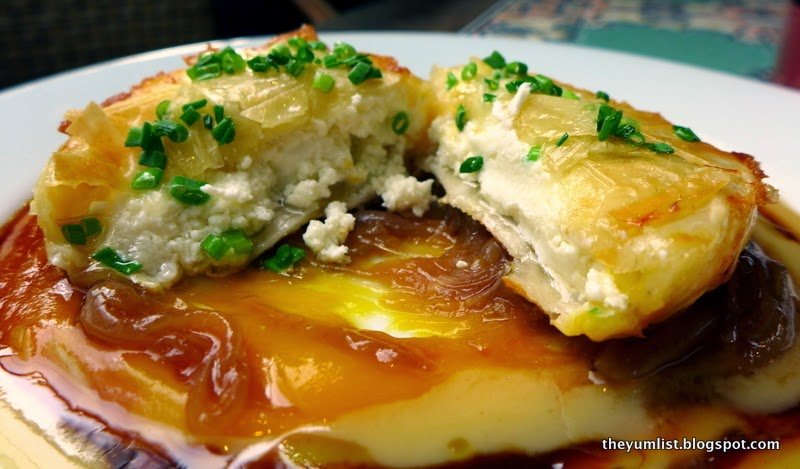 Queso de Cabra
I can't help myself raving about the Smoked Salmon with Wasabi Oreo (RM22) either. The in-house smoked fish, air-flown from Norway, takes two days to prepare. It's very much like smoky sashimi and tastes sublime dipped in a reduction of grape juice topped with olive oil. The miniature black olive cookies sandwiched with wasabi cream cheese are a lighthearted reminder of childhood.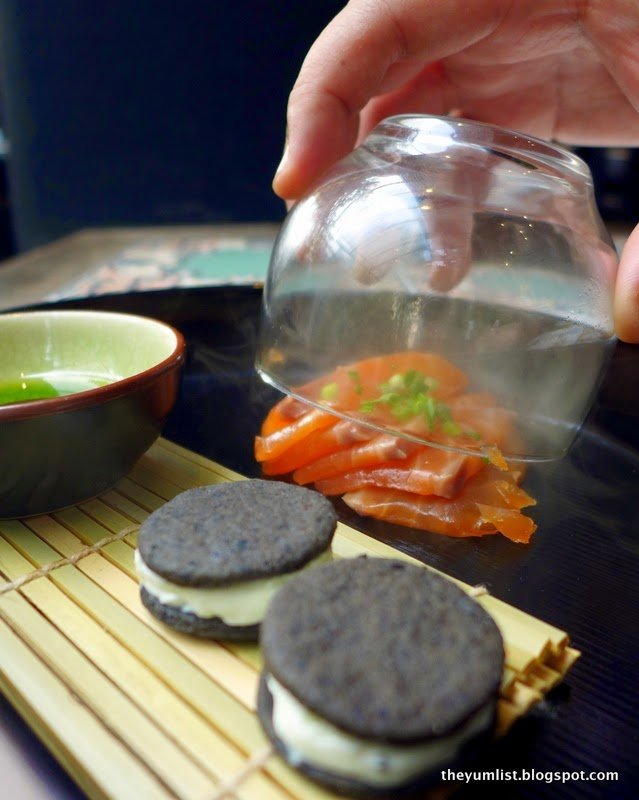 Smoked Salmon with Wasabi Oreo
I've never eaten
Chopitos
(RM22) but these cute little baby squid, lightly fried to crispy perfection are delicious dipped in garlicky aioli.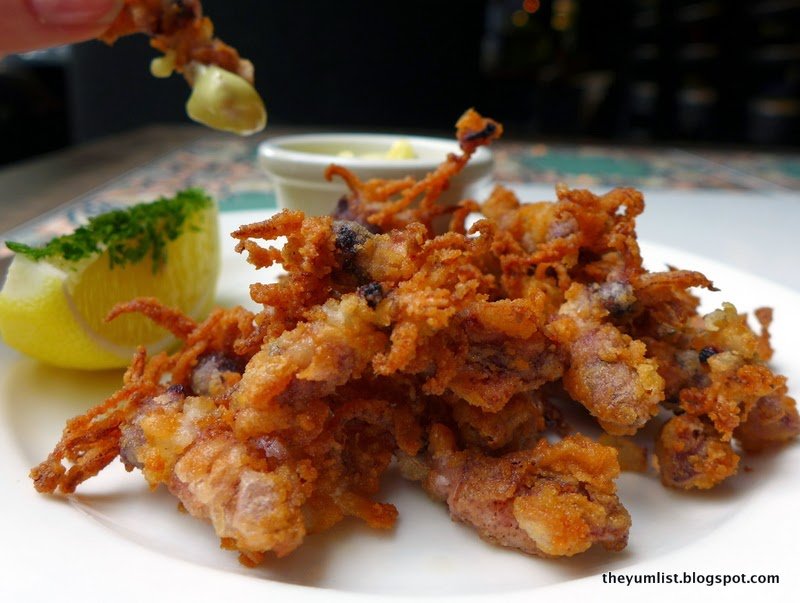 Chopitos
There are currently five gourmet salads on the menu, and we tried two of them. The Endive and Walnut Salad (RM26) is a lovingly constructed work of art. Each leaf is filled with diced tomatoes, onions and walnuts then topped with a blue cheese dressing. It cries out to be eaten by hand for a crisp, juicy taste sensation.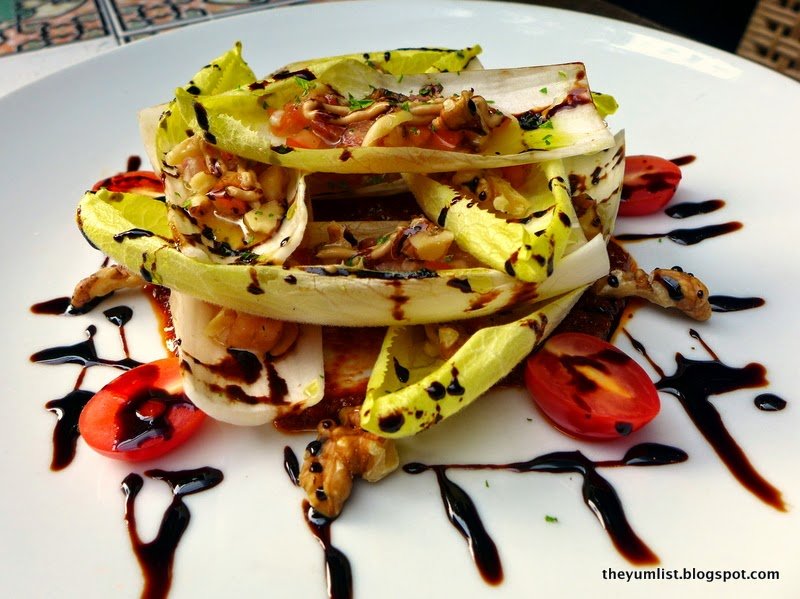 Endive and Walnut Salad
The Grilled Chicken Guacamole Salad (RM26) is an attractive layering of tender chicken, tomato and shaved egg over a chunky guacamole, served with rocket and aubergine crisps. This could be ordered without the chicken for a vegetarian option.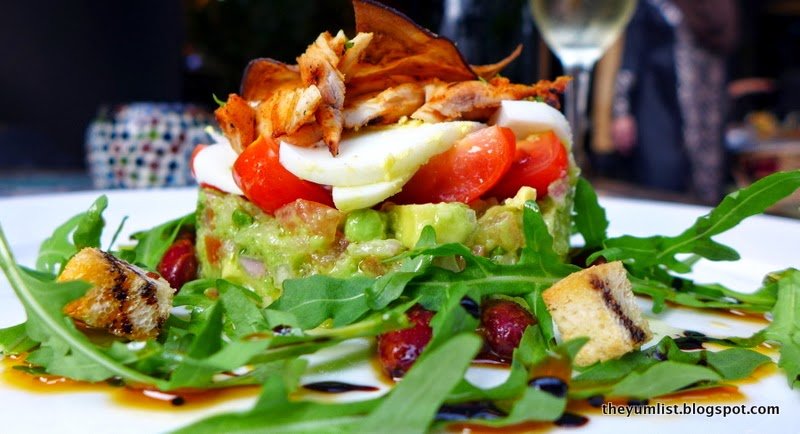 Grilled Chicken Guacamole Salad
For lovers of paella, there are eight versions to choose from. We tasted
Paella Negra
(RM68 for two), Spanish saffron rice simmered in fresh squid ink sauce with squid, clams and aioli. Chef Pedro was on hand to advise us to mix some aioli with the rice for an authentic experience, and it worked very nicely. The rice was perfectly al dente, but Malaysians may prefer slightly longer cooking. Do remember to tell the waiter your preference when ordering any of the paella dishes.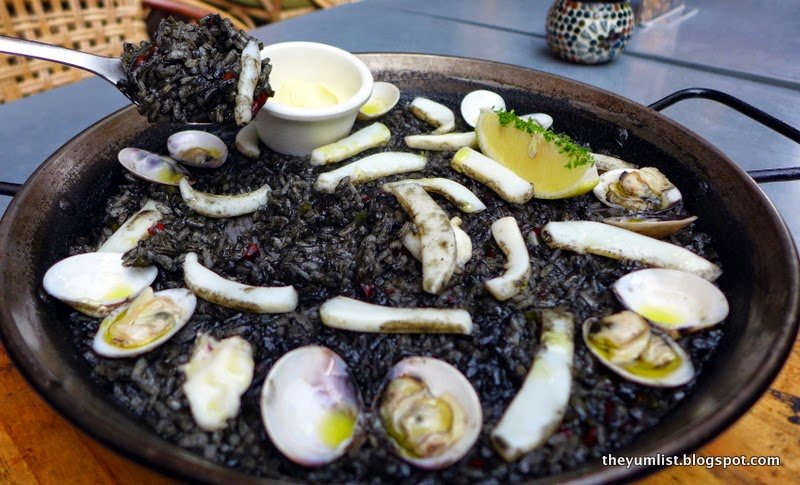 Paella Negra
Sweet, tender rack of baby lamb, Lamb
Costillos
(RM58,) was served with a variety of sauces to complement the meat. For non-Spanish speakers,
Pulpo a la Parilla
(RM48) is grilled, smoked Spanish octopus served in a cloche with
Piquillo
Sauce. Again, the in-house smoking gave a unique flavour to the seafood, which was firm but less chewy than expected.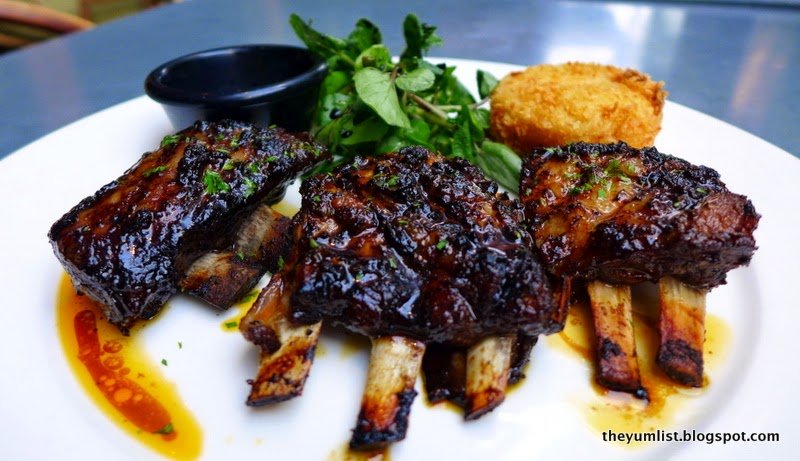 Lamb Costillos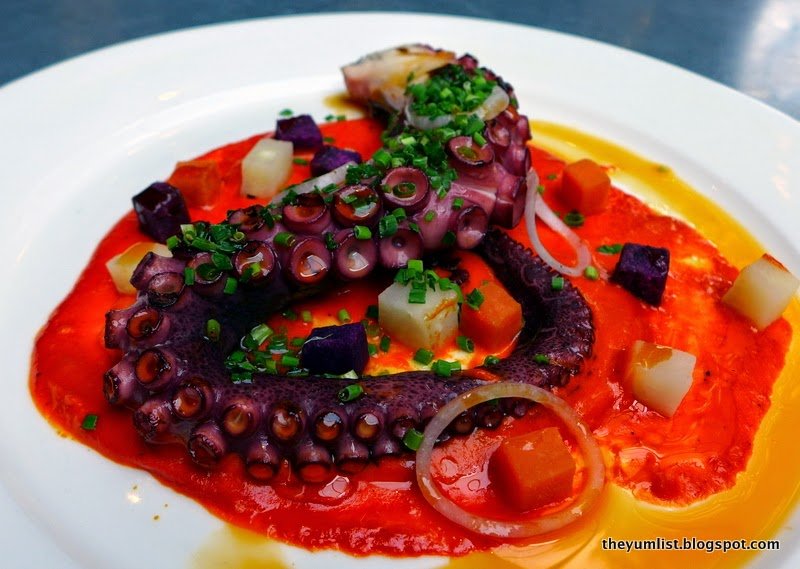 Pulpo a la Parilla
Chef Pedro believes that creating happiness is the driving force behind his cooking, and this is clearly evident in the playfulness of the desserts we sampled. Chocolate Mousse and Raspberry (RM16) is fun and rather sinful, served with minty chocolate chip ice cream.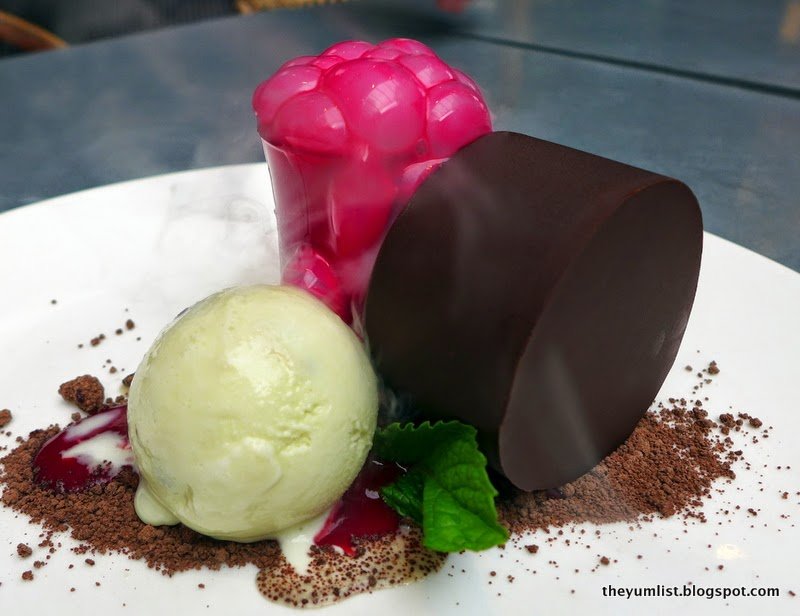 Chocolate Mousse and Raspberry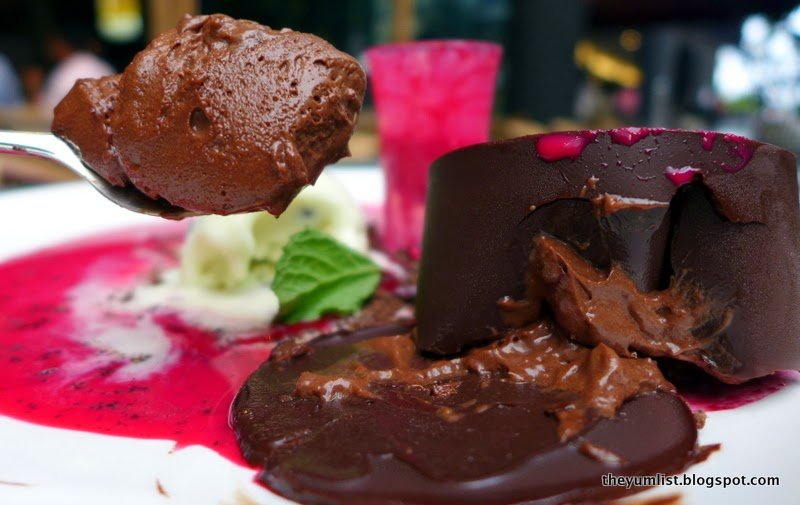 Chocolate Mousse and Raspberry
I was totally fascinated by an unexpected dessert, however, the Coconut Foam. Stunning to look at and intriguing to taste, perfectly formed mango balls nestled on clouds of coconut foam with a hint of banana. The mango burst in the mouth like the yolk of a soft-boiled egg, a brilliant ending to an outstanding meal.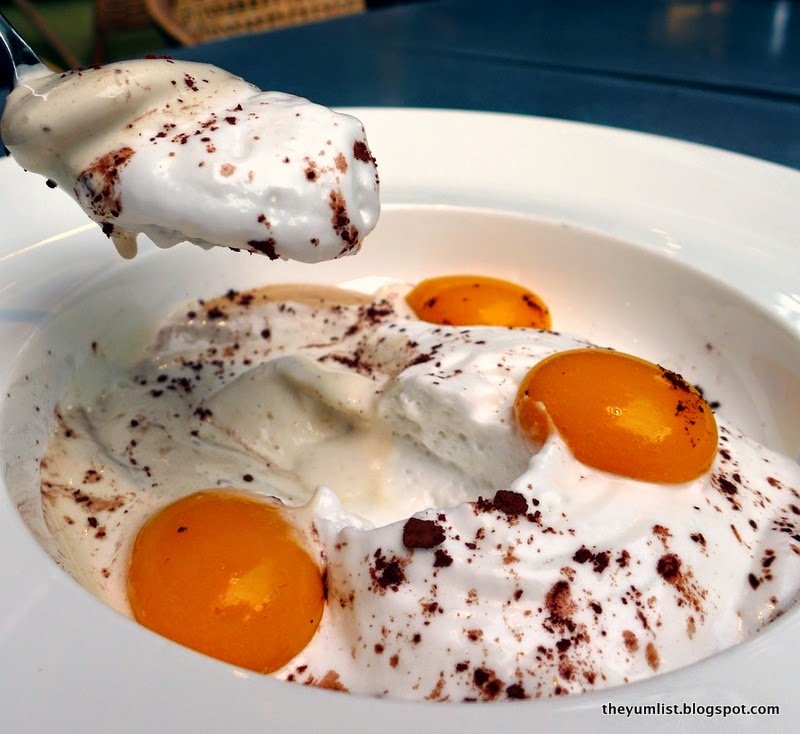 Coconut Foam
Estilo has an extensive drinks menu, including several Sangrias. We tried, the Estilo and the White (RM27 each) but the Mojito (RM31) was the most interesting; happily, they all contained a generous pouring of rum! A good selection of Cavas and Champagnes are available, even a 2003 Dom Perignon for a truly unforgettable celebration. The Segura Viudas Brut Reserva (RM245) is crisp and well-balanced with gentle floral hints, while the Cava Gold 24 Brut (RM165) is drier and pleasant on the nose.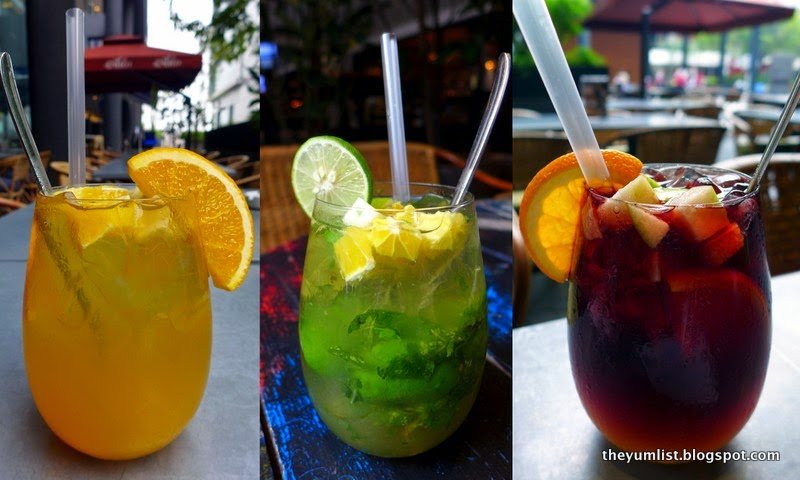 Trio of Sangrias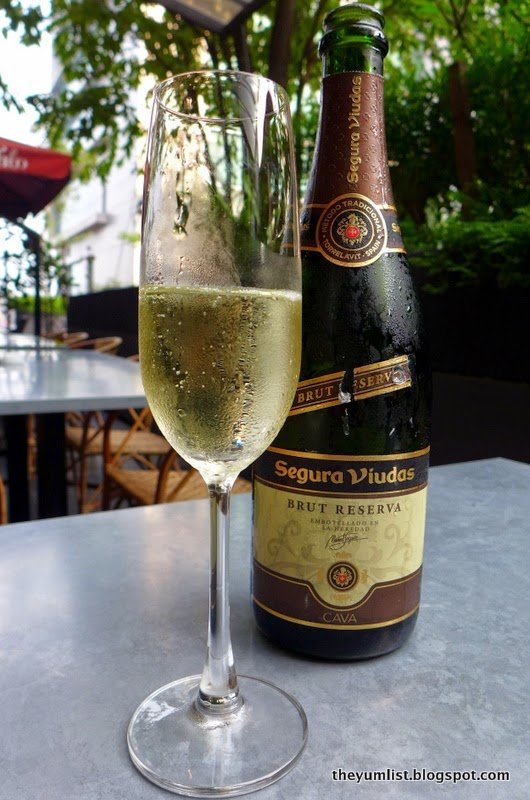 Segura Viudas Brut Reserva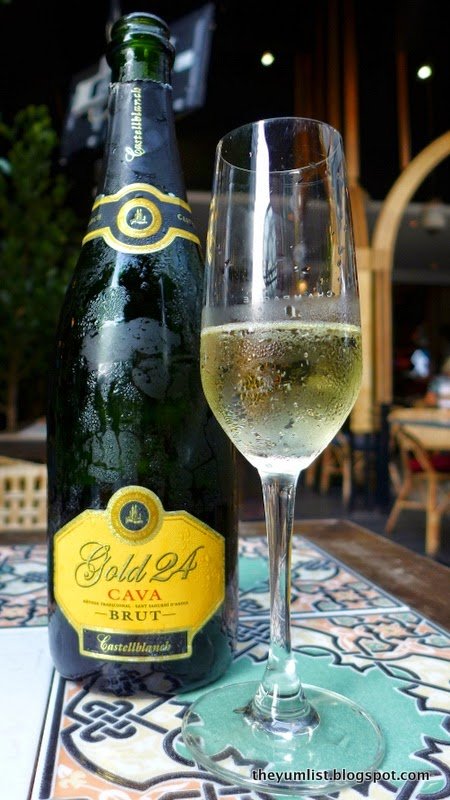 Cava Gold 24 Brut
The wine list is varied with excellent descriptions of each offering. We sipped on a glass of Torres Grand Coronas Cabernet Sauvignon (RM145), a rich, sensual wine with a complexity of flavours. Wine is also served by the glass, priced from RM20 to RM32.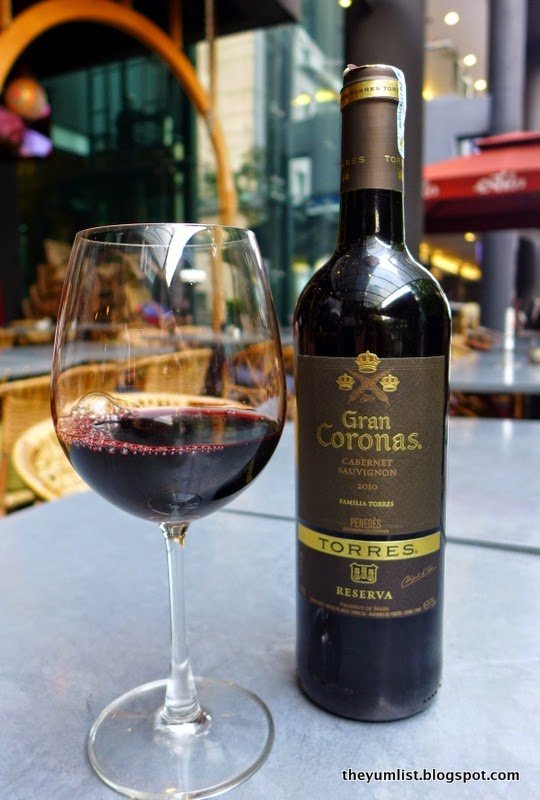 Torres Grand Coronas Cabernet Sauvignon
Estilo is open daily 11am to 1am. If you're lucky, the ambiance may be enhanced by a Flamenco guitarist. There's no regular evening for his appearance, but the music usually starts at 9pm.
Reason to Visit: For Chef Pedro's innovative variations on traditional Spanish recipes, served with flair and designed to bring happiness to discerning diners.
Estilo Tapas Bar and Charcoal Grill
No 34, Level G2 Block C5
Publika Solaris Dutamas
Jln Dutamas 1
50480, Kuala Lumpur
+61 03 6203 9883