The art of bathing has long been a tradition in Arabic culture. The practice of body purification and cleansing oft involved the whole family, friends and even business associates. The hammam or bathhouse was a place to converse, build community, and unwind. Hammam Spa brings this ancient ritual to Kuala Lumpur in their beautiful Moroccan version of a bathhouse. While not often used by the large groups of days gone by, Hammam certainly draws a crowd: whether it be individual, couples, or a group of friends, the custom of cleansing and pampering is rejoiced by all who choose to visit.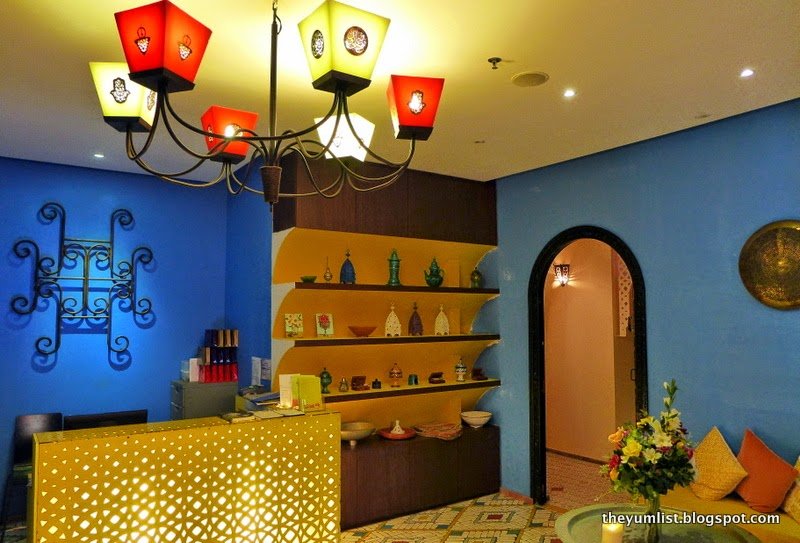 Reception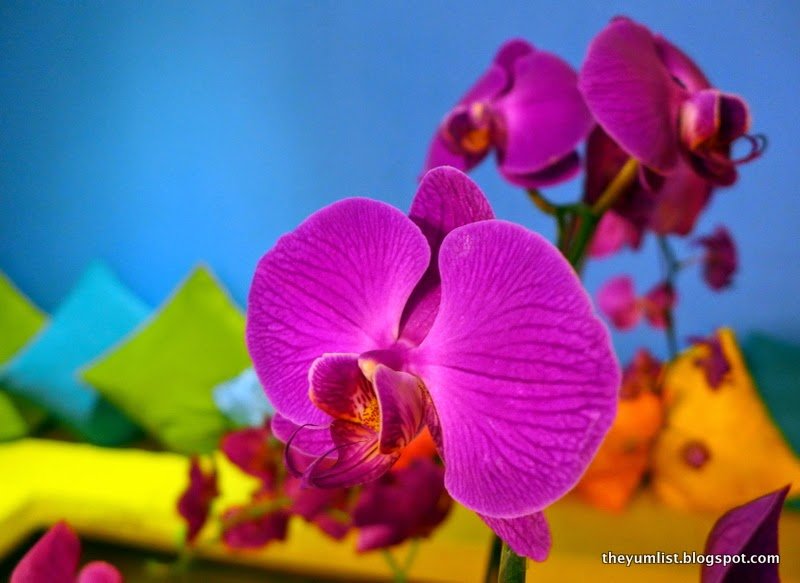 Fresh Orchids Decorate the Reception
The spa is embraced by Moroccan design. From labyrinthine mosaics in shades of blue, green and ochre, to carved cedar woodwork and metallic trimmings, the air of another time and place permeates the entire setting. Fountains offer visual and aural stimulation, and warm light glows from copper lanterns adding to the welcoming appeal. Hammam is so distinct from the daily humdrum, that it encourages unplugging from the outside world and transportation of mind and spirit to another era and location.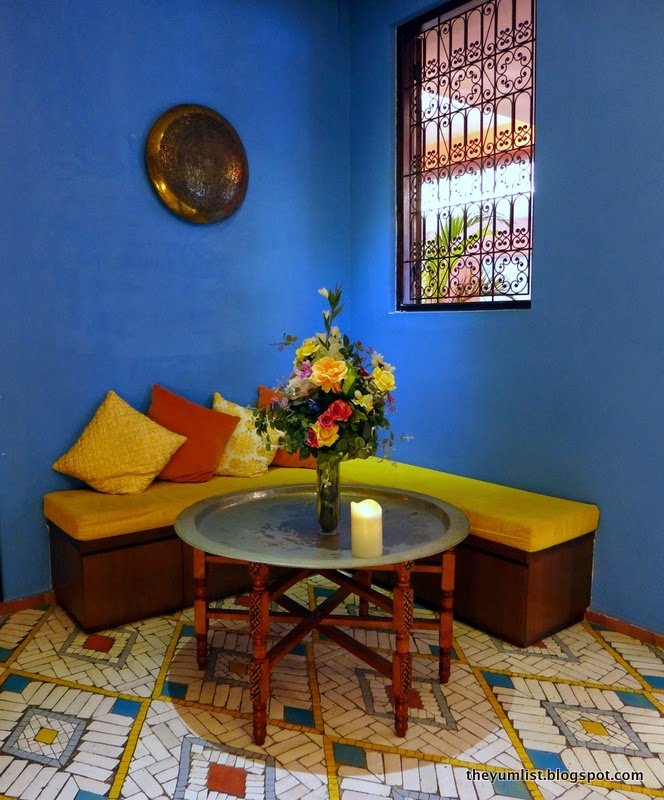 Lounge
It's not only the interiors that are birthed from Mediterranean heritage, treatments too draw from ancestral wisdom with both therapists and beauty rituals hailing from Morocco.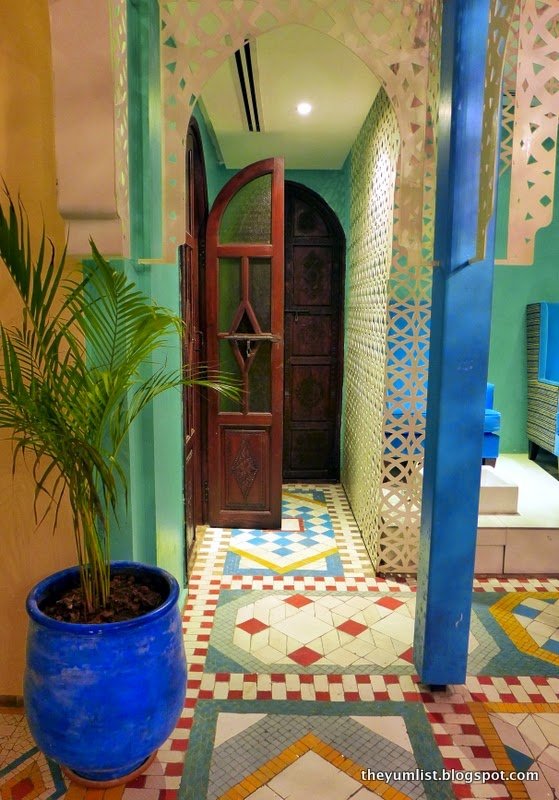 In the Hallways
We engage in the Royal Couple Hammam (RM688), which involves three hours of absolute pampering. Every single detail is taken care of by Hammam therapists, and we truly feel regal throughout the entire experience.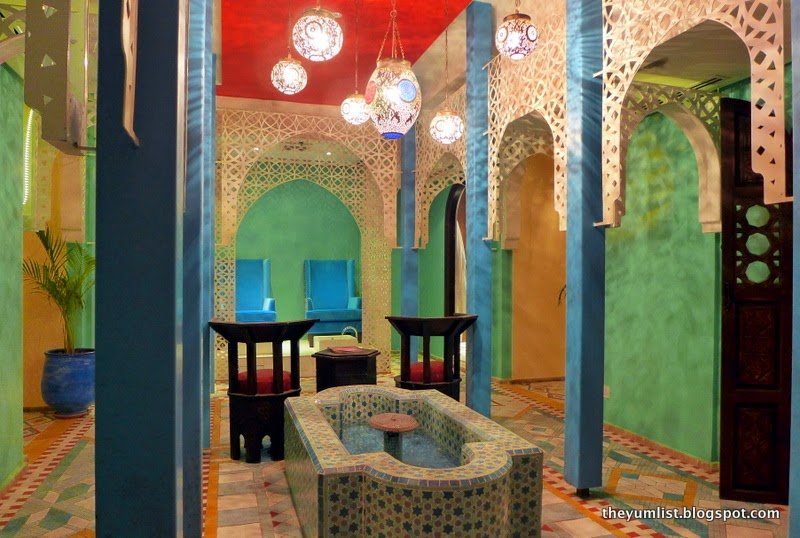 Relaxation Area
Beginning with the Hammam and Gommage we're escorted to the warm bathing room. Tiled floors, walls and benches, are heated by hidden copper piping, keeping the temperature of the room comfortable throughout the washing. Running water streams from the sink, and the session begins with buckets being gently tumbled over our hair and bodies. Next a black olive oil soap is smoothed over our skin from neck to toe and we're left to luxuriate in the warmth for 15 minutes.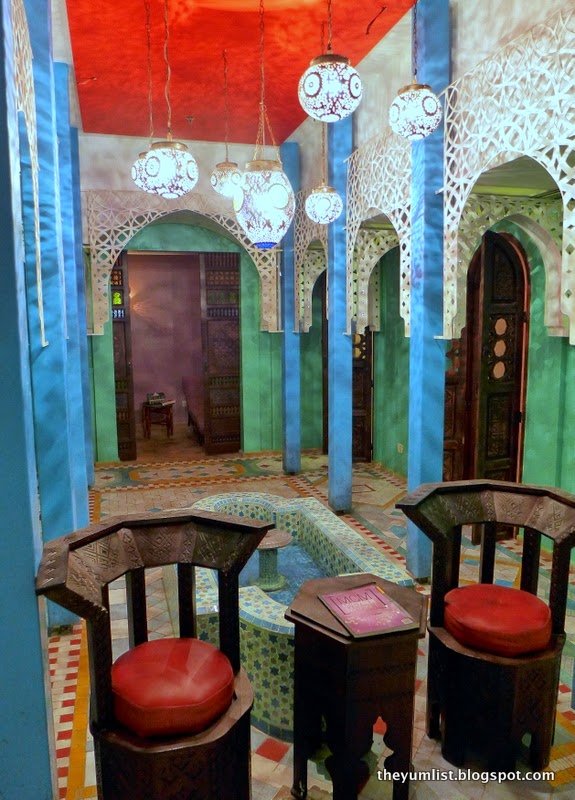 Relaxation Area
The therapists return, and, with our skin now ready, it's time for the exfoliation. Using a coarse mitten, our bodies are given a good scrubbing, leaving no nook or cranny unexamined. We see evidence of the work in waves of refuse on the floor, and learn that most people lose between 25 – 75 grams of dead skin cells in a regular visit! More water is poured over our consenting frames followed by a volcanic mask, serving to moisturize, soften and tighten the pores. Again we're left alone for about 15 minutes and can't help but nod in and out of consciousness in the toasty humid air.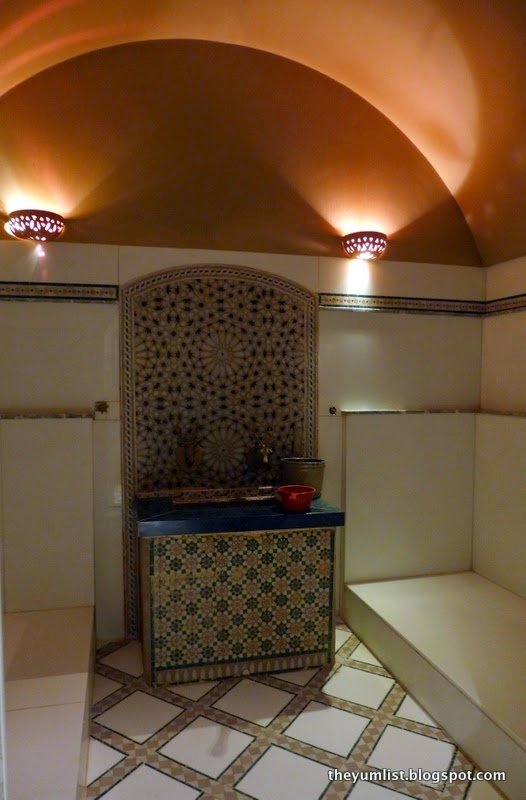 Where the Bathing Takes Place
Hygiene is exemplary and we take note as the therapists make a display of cutting the exfoliation mittens and disposable underwear after treatment, showing that each is only used once. Luxurious amounts of water are doused over our figures again and this time a rosemary shampoo and shower gel is used to wash off any excess product. Our skin feels velvety, and our fingertips are just starting to show signs of wrinkling, so timing is perfect to move on.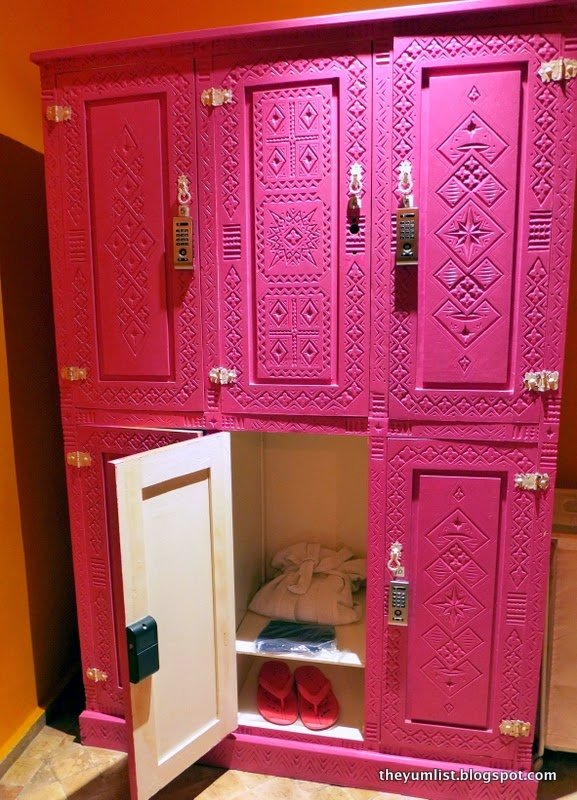 Lockers
The gentle-natured Moroccan ladies dry us off, wrapping our hair in a light towel and dress us in robes. Ushered to a bed draped with sheer curtains and fed gorgeously creamy, flaky and sweet baklava bites and Moroccan tea, we feel like endeared sovereigns of State.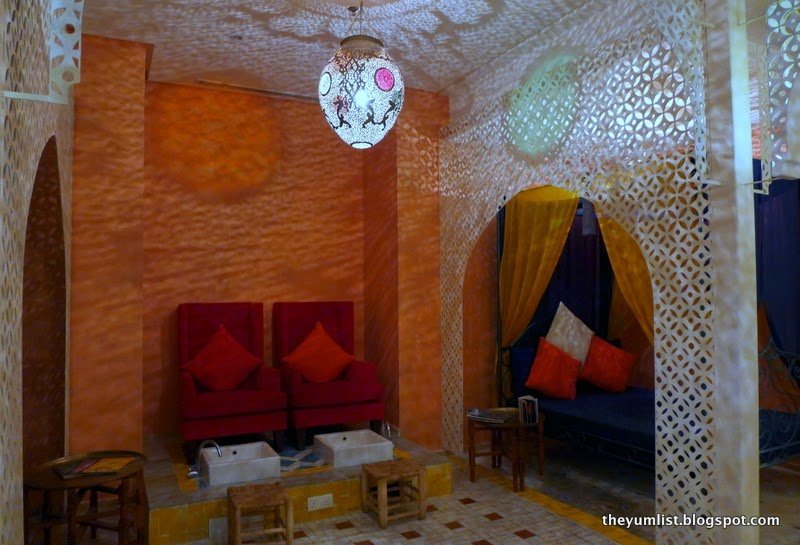 Couple's Relaxation Area
Moorish Body Polish complete, the indulgence continues with an Aromatic Massage of 75 minutes. Four scented oils are for the choosing. The Pamper Mousse with a light citrus aroma is said to assist with slimming and detoxification of the body's system, and appeals to both of us. Our Malaysian masseuses are skilled experts in their trade. Kneading away deep into our muscles with long profound strokes, we're soon lulled into a state of semi-awareness and before we know it, we're gently brought back to wakefulness and left with the final cosseting of the Royal Couple Hammam package.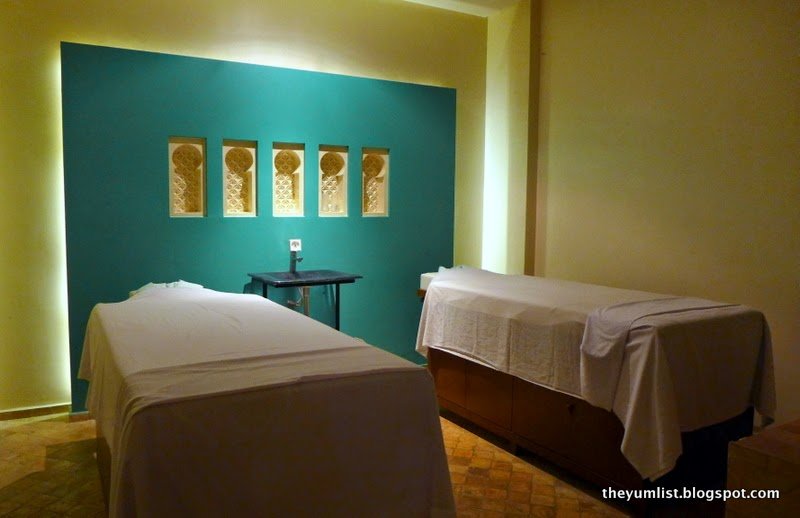 Couple's Treatment Room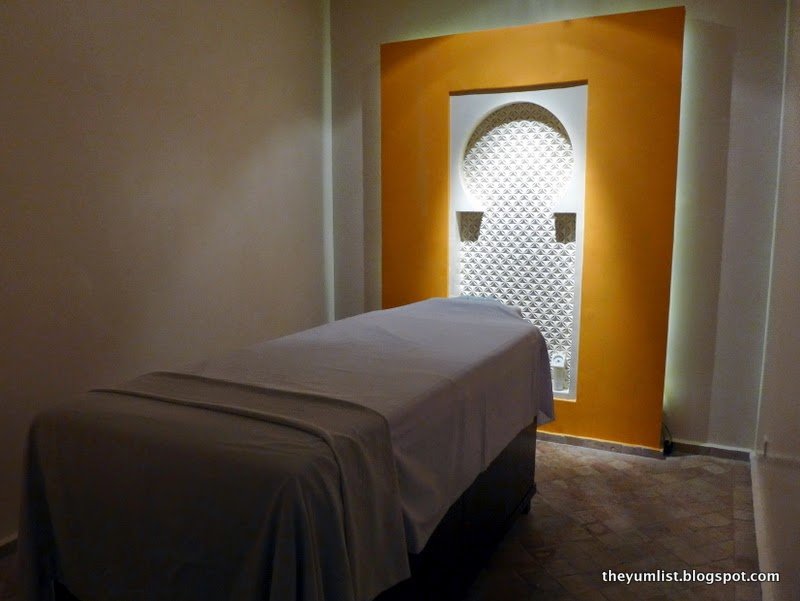 Single Treatment Room
Opening our eyes we find a candlelit bath adorned with floating rose petals, and warm water infused with Atlantic sea salt fragranced with jasmine, ylang ylang and sandalwood. Although you might think we've had enough bathing in the session, the liquid conclusion serves to restore our energy, and removes surplus oil, leaving our skin soft and satiny, and our minds rejuvenated.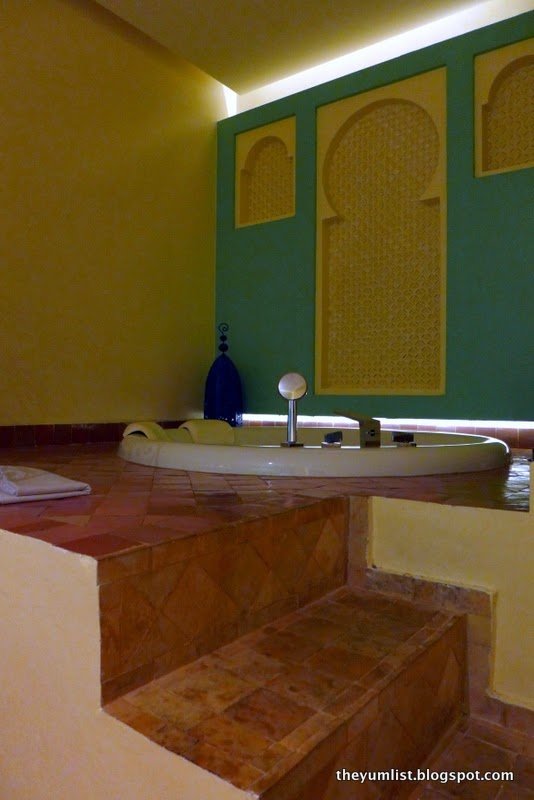 Bathtub
The experience at Hammam Spa is one of the most unique we've had to date. Both hubby and I are enamoured with the setting, therapists and quality of treatment, and highly recommend it to everyone yearning for some pampering and tender-hearted care. The most popular treatments at the spa are the Hammam & Gommage (RM150) and My Favourite Concubine (RM315). They also offer "mother and daughter" pamper sessions.
Reasons to visit: beautiful and unique setting; hammam and gommage; Royal Couple Hammam package.
Hammam Spa
Level 4G
Publika
Kuala Lumpur
Malaysia
+6 03 2282 2180