Best Restaurants, Cafes, Bars and Stays
Guided by local foodies, eonophiles, chefs, sommeliers and wine makers, The Yum List got an insider's look into some of the hottest places to savour Adelaide's unbelievably fresh produce, incredible natural surrounds, and meet a bunch of talented and dedicated food and wine producers.
Blessed with fertile soil, an ideal climate and crisp clean air, the area surrounding Adelaide turns out a huge variety of high quality fare. Combined with a strong value for eating locally, and some committed farmers, vintners and producers, food is extremely fresh, hence more nutritious and delicious, domestic business is supported and, carbon food miles are reduced. Taste buds, health, the Earth: they're all happy with a culinary journey around this southern state of Australia.
Here are our favourite food and wine finds in Adelaide, along with a highly recommended stay.
Central Market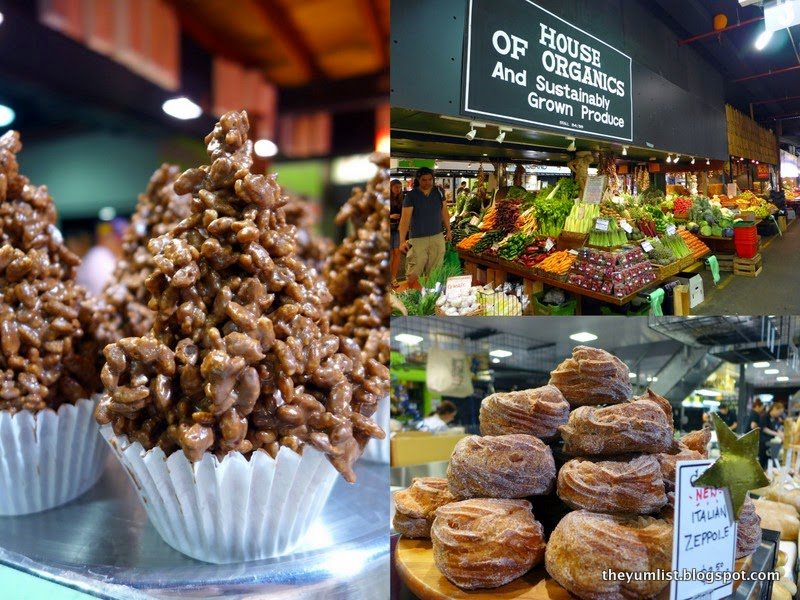 Central Market
Central Market is an ideal spot to begin a food journey around South Australia. It's a compact market but possibly one of the highest quality offerings I've seen from around the world. Stand after stand showcases prime ingredients from the region. From verdant veggies and plump vibrant fruits, to regional cheeses, home cured meats, locally roasted coffee and crusty breads, the array of beautiful foods is awe-inspiring.
Gouger St.
Adelaide, 5000
South Australia
Parade Cellars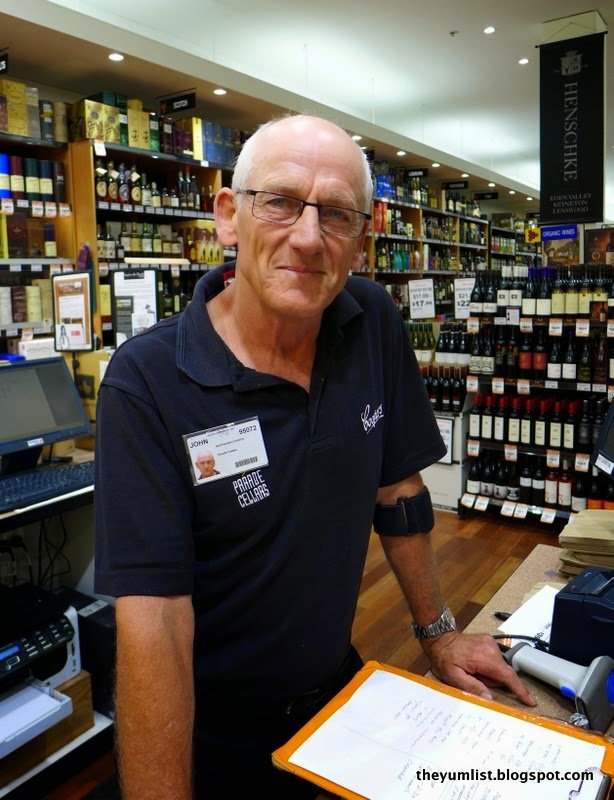 John at Parade Cellars
While Central Market is a fab spot to get an overall picture of the surrounding food scene, Parade Cellars gives a great overview of what to expect from the wine region. The fellas who work here have all grown up in and around Adelaide and not only know their stock, but personally know most of the suppliers too. With a focus on local, regional and Australia-wide boutique vineyards and breweries, this is the 'go-to' place for a good Aussie drop. Unlike big chains that mass buy from large suppliers, this team focuses on the best of artisanal product. You're pretty much guaranteed that every bottle comes with a story behind it and that the team can recommend something to match your budget and taste preferences. These guys also gave us some of the best tips on which wineries to visit in the region.
Shop 15, 161-175 The Parade
Norwood, 5067
South Australia
+61 (0)8 8332 0317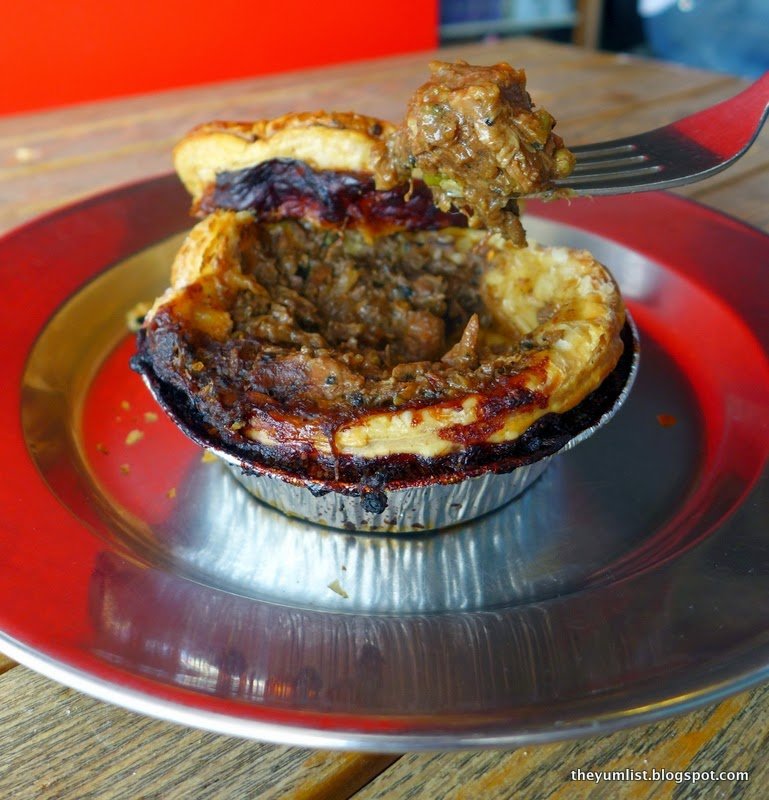 Red Door Bakery
22 Elizabeth St.
Croydon, 5008
South Australia
+61 (0)8 8340 0306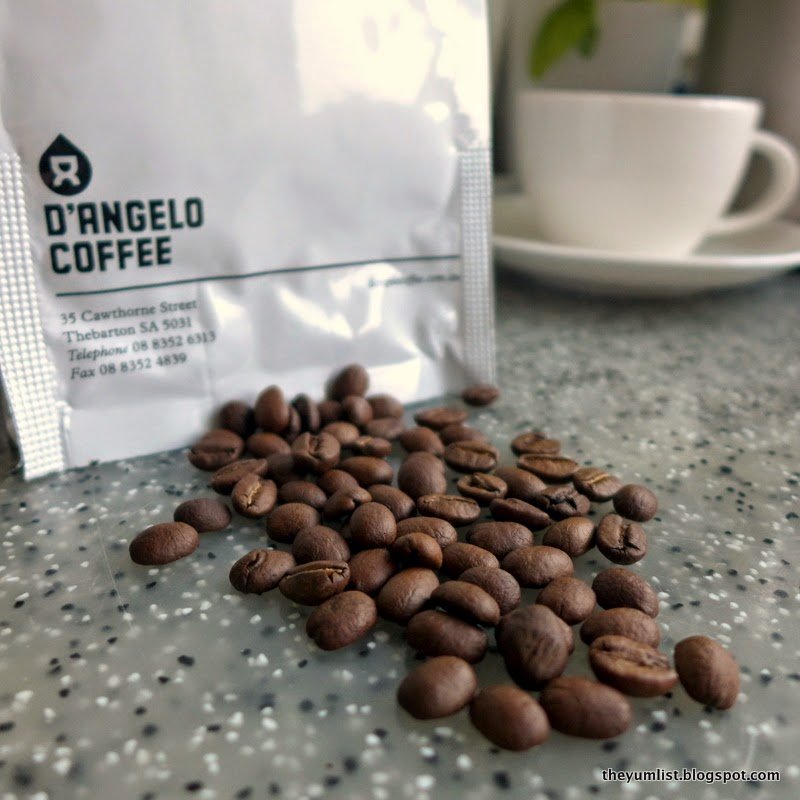 D'Angelo Coffee
35 Cawthorne Street
Thebarton, 5031
South Australia
+61 (0)8 8352 6313
3-158 Henley Beach Road
Torrensville, 5031
South Australia
+61 (0)8 8443 9333
120 Goodwood Road
Goodwood
South Australia
+61 (0)8 8271 1132
Taste Rundle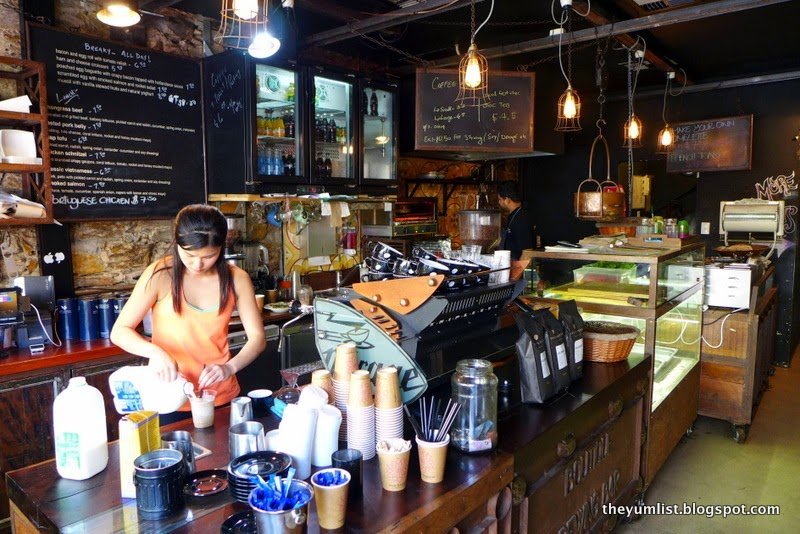 Taste Rundle
Arriving a tad late, the lunch crowd had already gobbled all of the baguette sandwiches that Taste on Rundle is known for. We did enjoy the ambience of this tiny café however, and a good moist thick slice of banana cake too. Glancing at the menu it seems there are lots of options below $10 – a rare find in Oz. Worth a second look, we'd find our way a little earlier next round.
214 Rundle Street
Adelaide, 5000
South Australia
Cucina Forno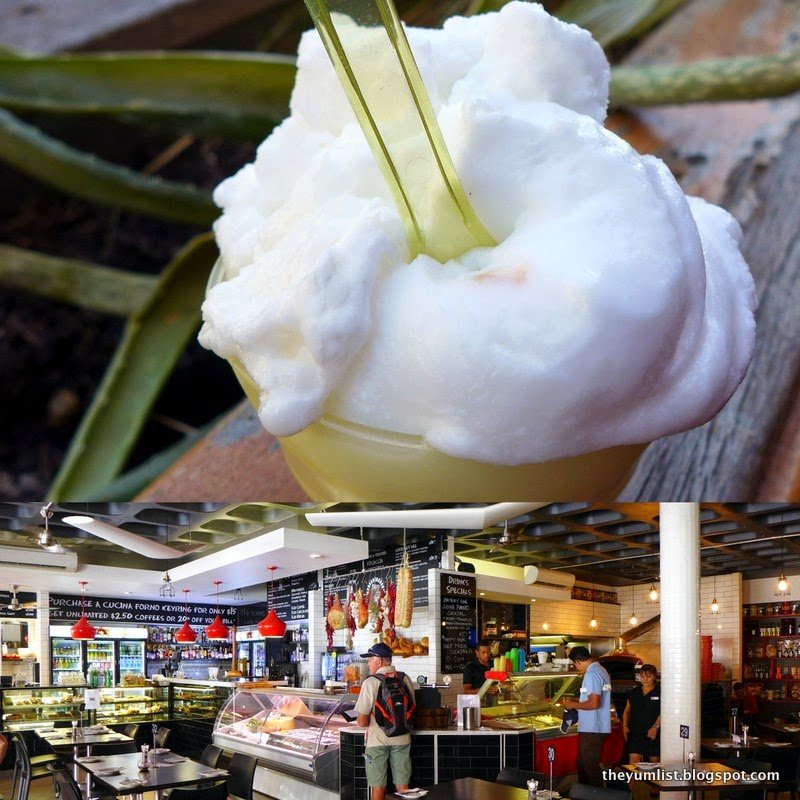 Cucina Forno
Everything at Cucina Forno is made in house. From wood-fired pizzas, to pastas, to smoked and cured meats to gelato, giving it that true Italian concept of cooking. Stuffed from our eating and drinking expeditions already through the city, all that we managed to try here was gelato. Finding it wonderfully creamy, enjoying the hospitality of the staff and the coziness of the ambience, we vow to return.
Italian Trattoria
260 Rundle Street
Adelaide, 5000
South Australia
+61 (0)8 8232 9222
cucinaforno.com.au
Clever Little Tailor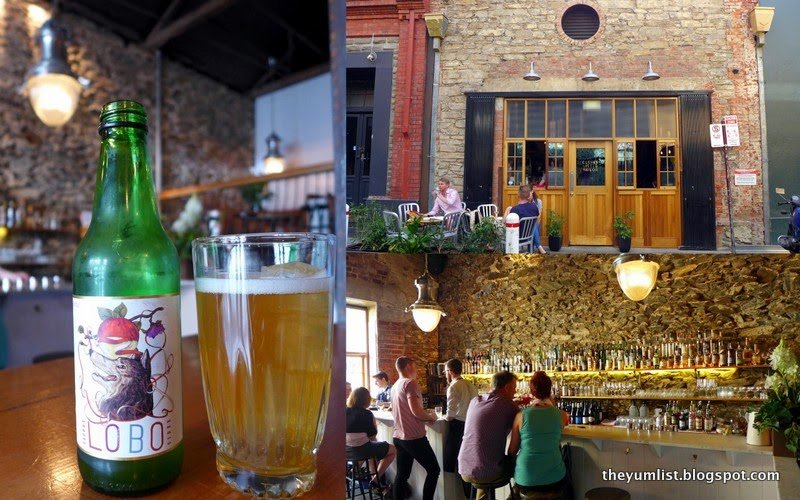 Clever Little Tailor
Packed after work hours and well into the night, the Clever Little Tailor seems to have tapped the right formula for creating a fashionable drinking locale. Rock walls, exposed beam ceilings, a killer cocktail menu and craft beers (not to mention handsome and smiley bartenders) make this an evercrowded after work spot. Best to arrive early  and either take up a perch at the bar directly in front of the barmen, or head up half a flight of stairs and gawp down upon the crowd in your "ha, ha, I got here before you did and so now I have a seat" happy spot.
19 Peel Street
Adelaide
South Australia
Glenelg Pure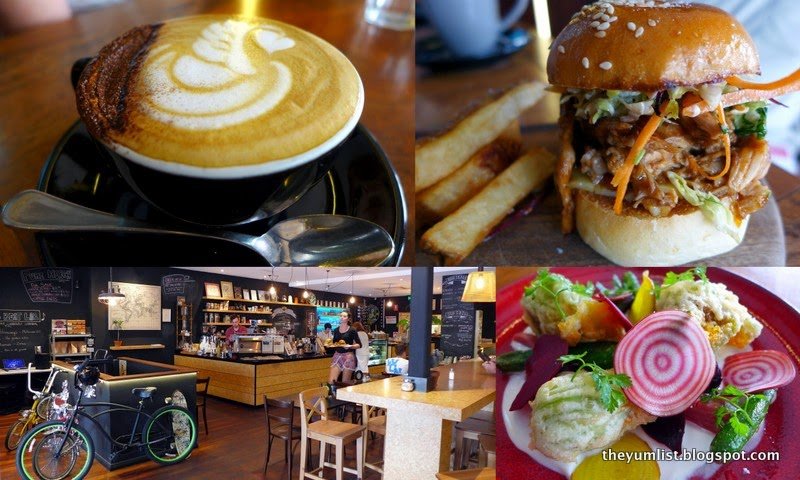 Pure
It's hard to find a non-touristy spot on Glenelg so we followed the locals' advice and headed straight to Pure. This award winning café, restaurant and bar, serves up modern Australian cuisine with some distinctively international influences. Coffee by 5 Senses is superb, sweets in the display are drool-worthy, but my favourite items are the veggie options – especially the Zucchinni Flower stuffed with Baba Ganough. Hubby, on the other hand, goes bonkers for the Pulled Pork Slider with fat rustic fries (the type that are more wedge-y than fry, and still have the skin on).
Corner of Jetty Rd and Durham St
Glenelg, 5045
South Australia
+61 (0)8 8294 2410
The Organik Store and Café
This is a great find located a few blocks off the tourist strip on Broadway. A steady stream of locals seems testimony to the quality of this corner café. As the name suggests it's full of healthy and organic items. Breakfasts are quite good with big yellow-yolk eggs and fat slices of sourdough. I particularly like the raw dessert section. Coffee, while with a nice flavour, is a little on the weak side, so best to order a double shot if you like a stronger brew. A grocery store sides the café with loads of local produce and nutritious miscellany for sale.
37 Broadway
Glenelg, 5045
South Australia
+61 (0)8 8295 7767
theorganikstore.com.au
Port Adelaide The Lighthouse Hotel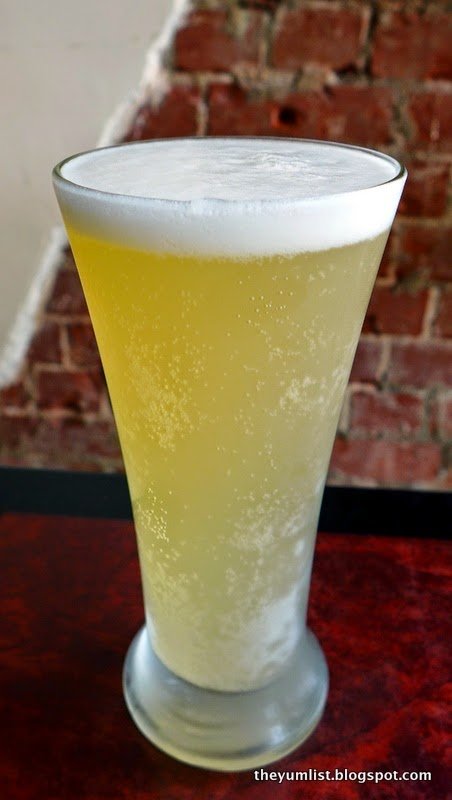 The Lighthouse Hotel
If sightseeing around Port Adelaide, The Lighthouse Hotel makes a suitable stop. With a page full of house-brewed craft beers, you might consider settling in for a longer sojourn. We're particularly fond of their ginger beer, but spotted a few others such as a cider and root beer that we'd like to try too.
1 Commercial Rd.
Port Adelaide, 5015
South Australia
+61 (0)8 8447 1580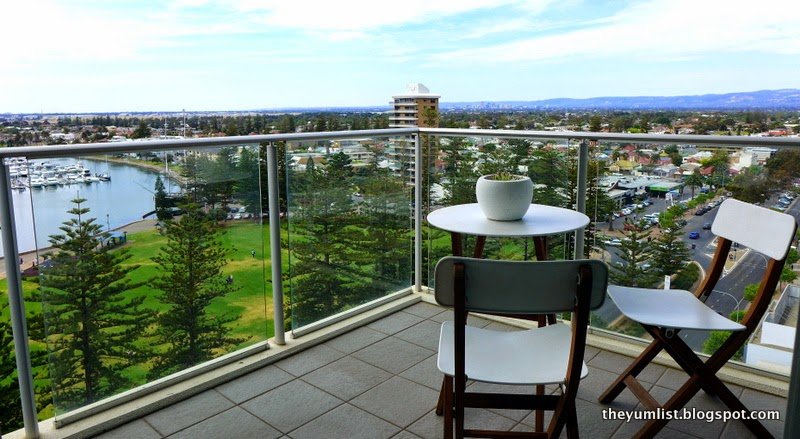 Liberty Towers Glenelg
Glenelg benefits from a spectacular coastline, fiery sunsets, parklands, a booming restaurant and café scene, and also a direct tramline to the city centre. We think it an ideal place to stay when visiting Adelaide as you can start or end your day on the beach and fill the middle with sight seeing and eating and drinking (without the hassle of parking) via fantastic public transport.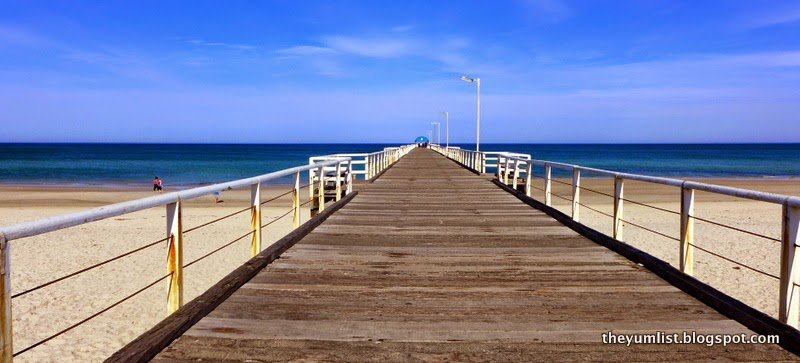 Henley Pier – just up the coast from Glenelg
Our choice of stay in Australia is usually a self-contained apartment. Hotels are fine and good, but to get one of high calibre in the country is a rather costly affair. Holiday homes, rented out by locals are often a far better deal. In most cases they're equipped with laundry and full kitchen facilities allowing travelers to pack less, and also save some expense by eating in – which, with fantastic local produce and excellent wine is a real pleasure.

Glenelg Pier at Sunset
Moana
Moving further east, a popular region for weekend getaways or point from which to explore further afield is Aldinga Bay. Here we spent a night in Moana and again were taken aback by the astounding beauty of nature and the stunning coastline. Right on the Moana esplanade we stumbled across Deep Blue Café and returning to the area would put it on our list to eat at again.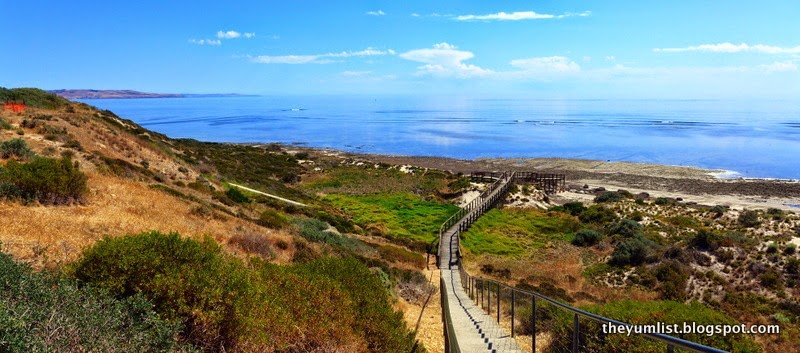 Aldinga Bay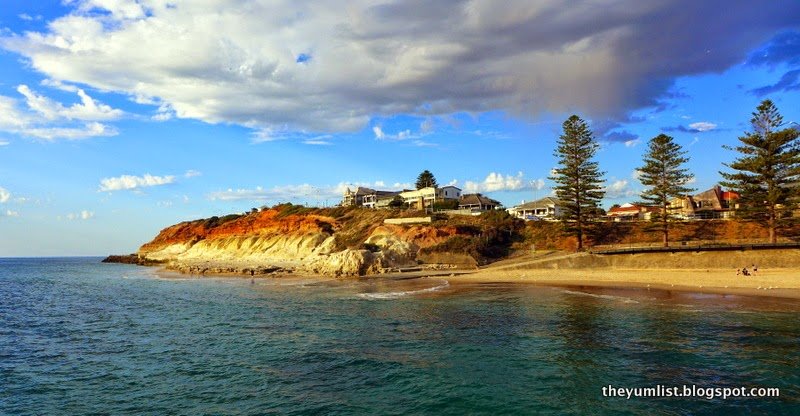 Port Noarlunga – some of the spectacular coastline around Aldinga Bay
Deep Blue Café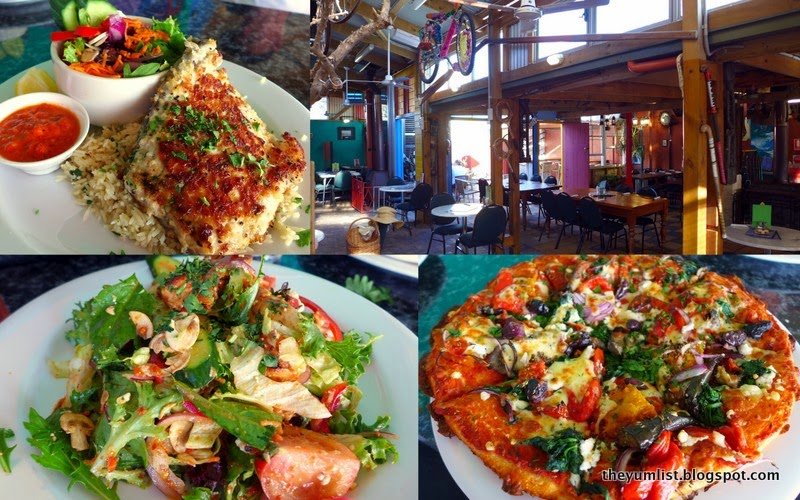 Deep Blue Café
We enjoyed some fresh hearty meals at Deep Blue Café: giant salads piled high with greens and filled with generous amounts of protein; gourmet pizzas such as my vegetarian option packed with pumpkin, artichokes, sun-dried tomatoes and feta; and grilled fillets of white flaky barramundi fish. The brekkie menu looks great too and something to note for future trips.
+61 (0)8 83274044
By no means is this post a comprehensive list of all that Adelaide has to offer. We'd love to hear about your fav spots in and around the city and promise to put them on our list for next visit, as believe me… we will be back.
Tomorrow's post explores some of the fabulous wine country surrounding Adelaide, so check back in to read about our most scrumptious discoveries and recommendations.