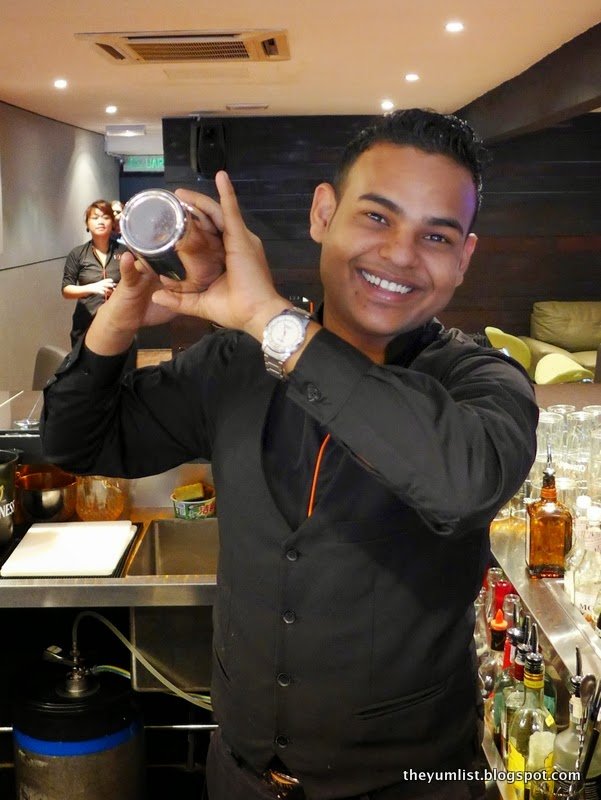 Imran Hossain, Mixologist for SIX Cocktail Bar
Interview with Imran Hossain, Mixologist, SIX Cocktail Bar, Bangsar
What do you do and how did you get into the industry?
I have been working behind the bar for almost four years now. It all started on New Year's Eve, 2010 whilst I was in Malaysia studying. I convinced my brother, who worked at a bar at that time to take me along with him to work. Considering it's one of the busiest times of the year for an F&B outlet, he agreed to let me tag along to help with the odds and ends. It was the first time I've ever stepped into a bar/nightclub. I was immediately mesmerized by the ambiance and fell in love with the vibe. Later that evening, as it became very busy, especially behind the bar, I asked my brother if he would allow me to help him. His immediate response was, "Help me? What do you know about being a bartender?" So I told him, I'd help wash the glasses and keep the bar clean – and he agreed. I had so much fun that night, and met so many new people, especially loads of pretty women. At the end of that night, I told myself I needed to learn to be the best bartender in town – and the journey began.
Share with us an interesting story from behind the scenes?
I once accidentally cracked a shaker full of a bright red cocktail all over a guest wearing a white shirt. Even after profusely apologizing, offering to pay the dry cleaning bill, getting the manager to waive his bill, the guest continued to put up a major fuss. Interestingly though, the entire bar stood by me, and tried to convince him to accept what we were offering as "compensation", and to get on with his evening – but he refused. He continued to sit by the bar for another three hours in the soaking wet, red stained shirt without ordering another drink – funny.
What's the best/worst part of your job?
I absolutely love sharing my cocktail ideas with our guests. The more curious and adventurous the guest is, the more excited I get – and when they do try a concoction I've made for the very first time, and that look on their face shows me how much they loved it – there is no greater feeling!
I hate it when a guest complains – unless it's constructive, and they provide useful information which I can work on to improve on my drinks. Even if it's in regards to presentation, temperature, texture, taste, anything – but it's got to be explained. "Your drink tastes like sh*t" – is painful to hear. Doesn't happen very often now, but it did before, and I sincerely hope it never happens again. Also, I hate doing inventory, especially on New Year's Eve!
What's your personal favorite meal/ drink at SIX?
Honestly, I'm not a keen drinker myself – however sometimes, when I do indulge, I like it to have that bitter sweet taste. As such, my favorite is the "Classic Negroni."
Tell us a story about one of the dishes/cocktails you prepare?
Let's talk about "Guinness Tarik". Honestly, I don't like Guinness at all as it's way too bitter for my taste. Being Asian, I like sweeter concoctions, so I figured, if coffee (also a somewhat bitter drink) goes well with condensed milk, then let's work on a local flavored cocktail – so I added it to the Guinness (although at the time, I was dying for a "Teh Tarik" – but my room mates only had Guinness in the fridge). To make it complete, I added a little spice with caramel infused rum. It was great, but lacked the desired "kick" – it needed something else. After trying out a few different garnish options – I settled for nutmeg as the final ingredient to this localized cocktail, which seems to be slowly becoming a crowd favorite at SIX.
The perfect day off would be…
when I can spend the day alone with my loved one. No bar, no cocktail can compare.
A day in the life of a mixologist is…
Full of surprises, and at times, pretty challenging. You will always need to bring your "A" Game to work, because you never know who may show up and needs to be impressed!
What do you do for fun?
I'm always thinking of new ideas on how to make people happy with what I do – identifying new concoctions, new ingredients, new infusions which will help me achieve that personal goal of being the best at what I do.
What's something you'd like guests to know about SIX Cocktail Bar?
Everything is managed with passion and love – from the drinks, to the cocktails, to the ambiance, to the music – everything. We have created a SIX family and we want more people to join in!
How do you select your ingredients and why?
Everything has to be fresh. It is the MOST important element in any ingredient which goes into a cocktail. Only the freshest ingredients will transcend the taste I am trying to create, which will hopefully leave the guest in awe and wanting more.
What's in store for you in the upcoming months?
I plan to continuously create concoctions to blow-your-mind. If that can be achieved, then I am closer to my ultimate goal. I have taken part and won mixologist competitions before, and it made me very happy, but the greatest joy comes from the look on that guest's face when she has that first sip of that cocktail which she ends up loving.