It doesn't get much better than this. Catering to one couple only at a time, this beautiful bed and breakfast, Lucy's House, benefits from pristine air, stunning vineyard views, country hospitality and a little piece of history, all right in the heart of one of Australia's most premium wine growing regions, the Barossa Valley.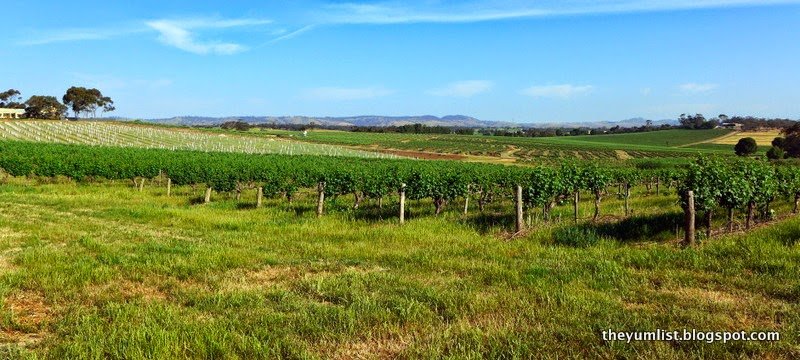 The Vineyards
Majestic eucalyptus trees dot the property breaking up the rolling rows of leafy vines. Undulating hills form a backdrop to corrugated iron roofs, blocks of chopped wood left over from winter, an organic veggie patch, and the occasional antique tool parked in the dirt. Skies are cerulean blue of the hue only found in the most isolated and unsullied parts of the world. It's hard to imagine a more blissful setting.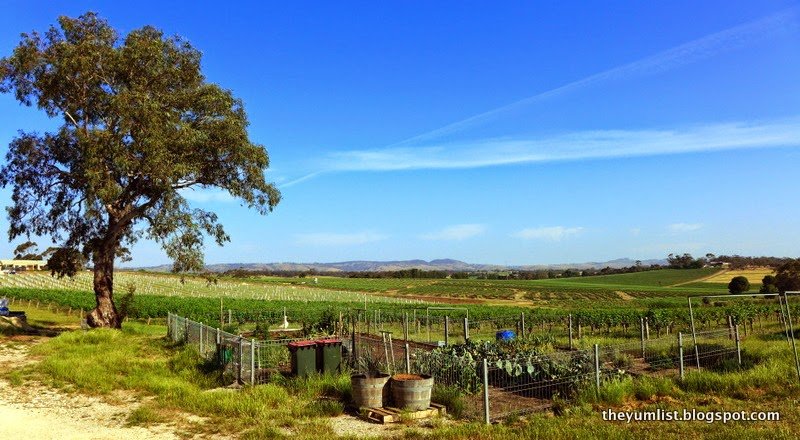 Organic Veggie Garden
Sunrise sees bounding red kangaroos make their way across paddocks, and dusk kicks off a symphony of bird caws, trills and warbles as magpies, cockatoos and galahs take roost for the night. During the day, geese, chickens and the beloved black Lab Poppy roam the grounds. In fact Poppy (and often the poultry too!) wiggles her way into the affections of guests: greeting them with a morning tail wag and pant, excitedly hoping someone will accept the invite to frolic with her, then pretending she's going to play the you-throw-the-ball-and-I-chase-after-it-game, but then cheekily keeping the ball for herself. We're endeared by the simple joys of life and reminded to take stock of things that really count, to dismiss trivial matters that city life often carries with it.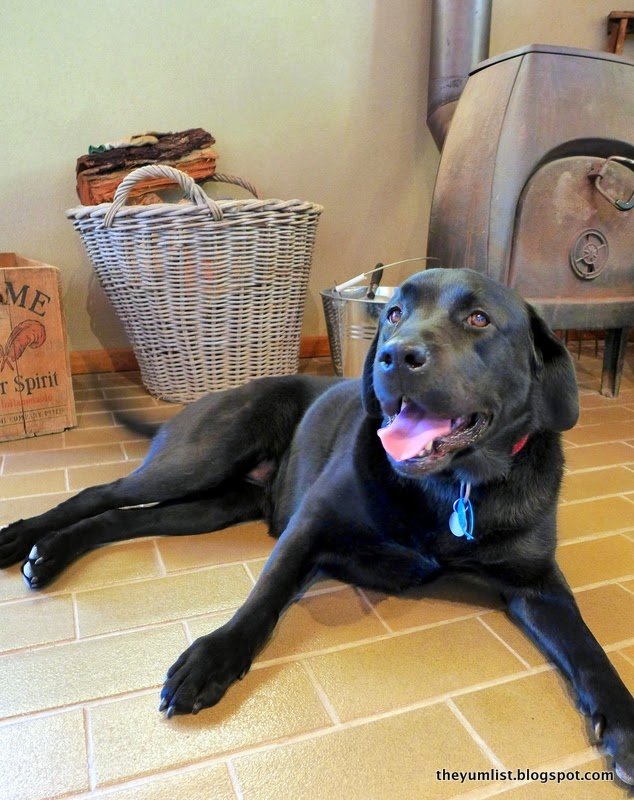 Poppy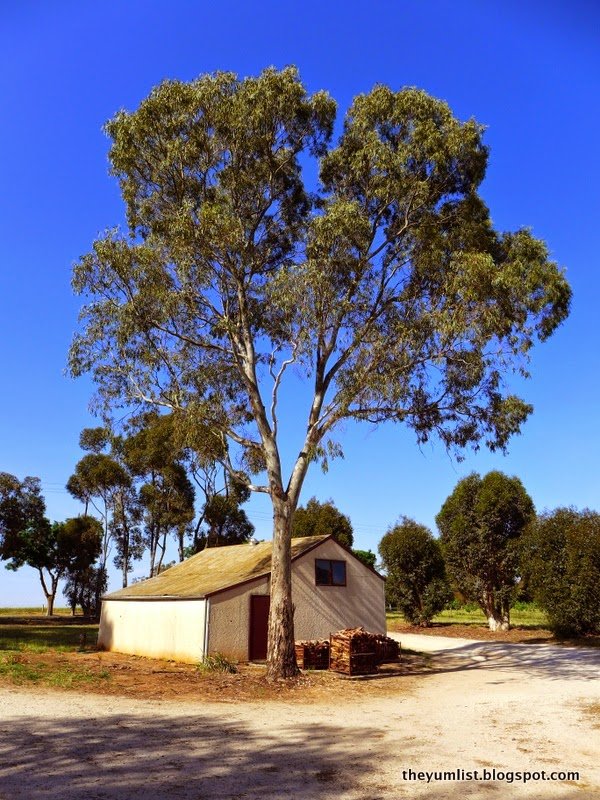 Around the Grounds of Heritage Wines
The Main House
Dating back to the 1850's, "Lucy's House," also affectionately known as "The Dog House" was named after Lucy, a beloved family golden Labrador now passed, who used the old building as her own private retreat, napping in here and taking shelter from the weather when at its extreme. This 19th century building has seen a rags-to-riches transformation, from a dilapidated relic of the past to a charming little cottage, fit with all the modern conveniences but oozing with appeal from times when things were made to last.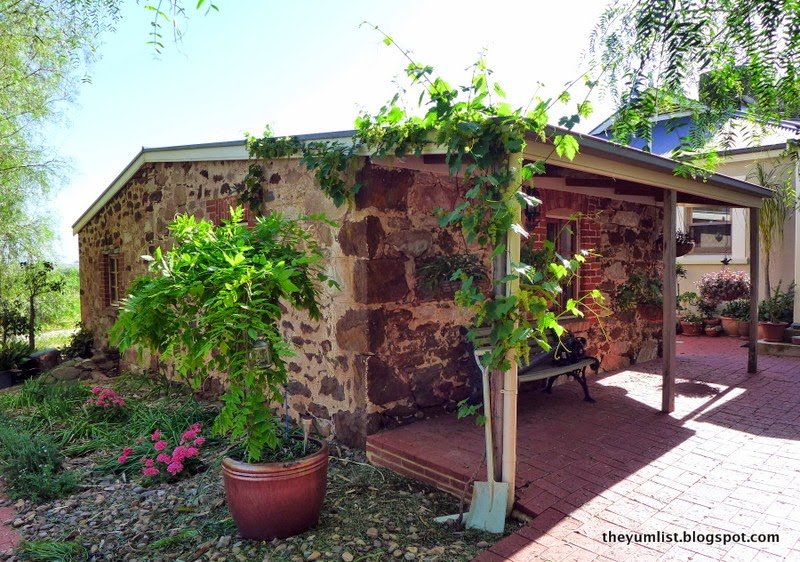 Lucy's House
The self-contained bed and breakfast for one couple is equipped with a well-fitted kitchen and living area, charming bedroom and en-suite bathroom. Bluestone walls, slate and timber flooring, and antique furnishings keep the romanticism of the past in the present, while heated flooring, air-conditioning, and the latest in appliances provide the comforts of contemporary days.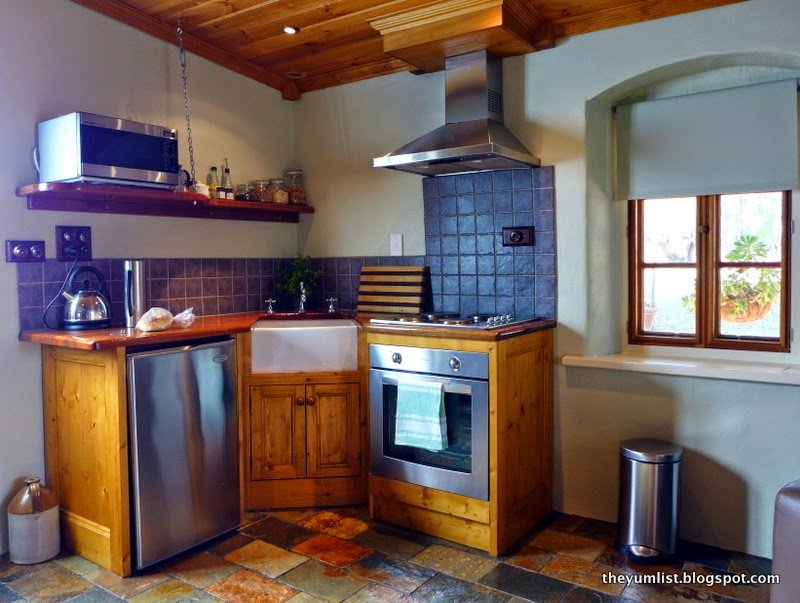 Kitchen
Uniting luxury and history, the kitchen is equipped with a stovetop, oven, microwave, refrigerator, crockery, cutlery, pots, pans and an assortment of stainless steel cooking utensils and appliances. Restored antique cupboards hold the wares, just as an old meat safe contains a TV and DVD player (a long list of movies is available from the main house). A French press is ready for brewing a delicious blend of locally roasted coffee, full cartons of milk and orange juice are provided in the chiller, and a variety of cereals and condiments support eating in. The highlight though is the stock of home made butter, eggs with deep yellow yolks from the hens just outside, thick slices of smoky local bacon, and sourdough bread made from the oldest continuously running wood-fired oven in Australia: it's all you need for a delicious and hearty rural breakfast.

Condiments and Cereals
The living area is adorned with old style drawings of grapes and wine paraphernalia, and books and food guides line the shelves. Everything you could possibly need such as a torch, notebook, sewing kit and so on seem to be provided. But there are more than pure comforts, decadent indulgences are gifted too! Bottles of red and white Heritage Wine are pleasures invoking desires for lamb and chicken dinners. Muscadelle filled chocolates make the perfect end-of-evening treat, and a decanter of fortified white wine is glorious sipping.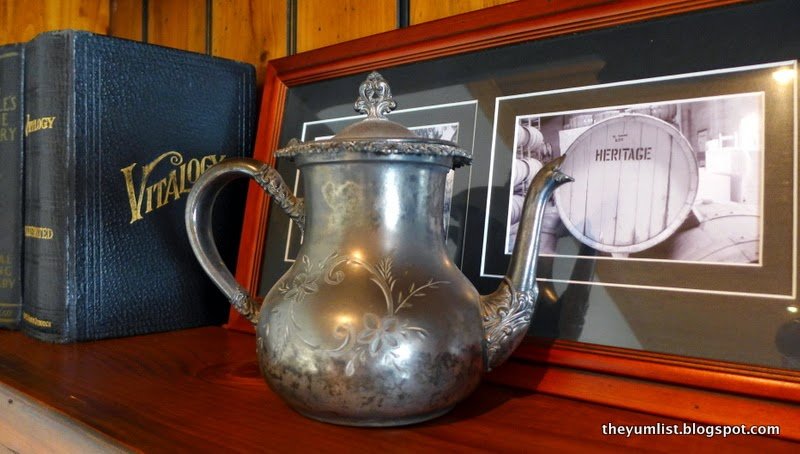 Decor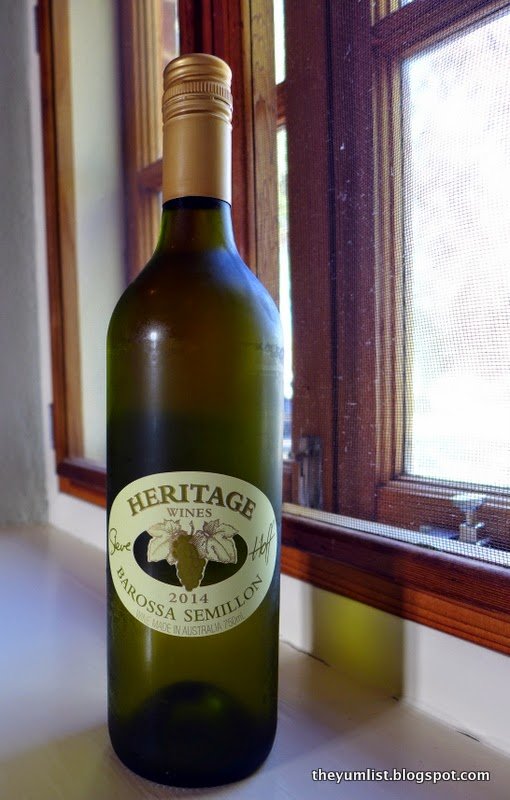 Semillon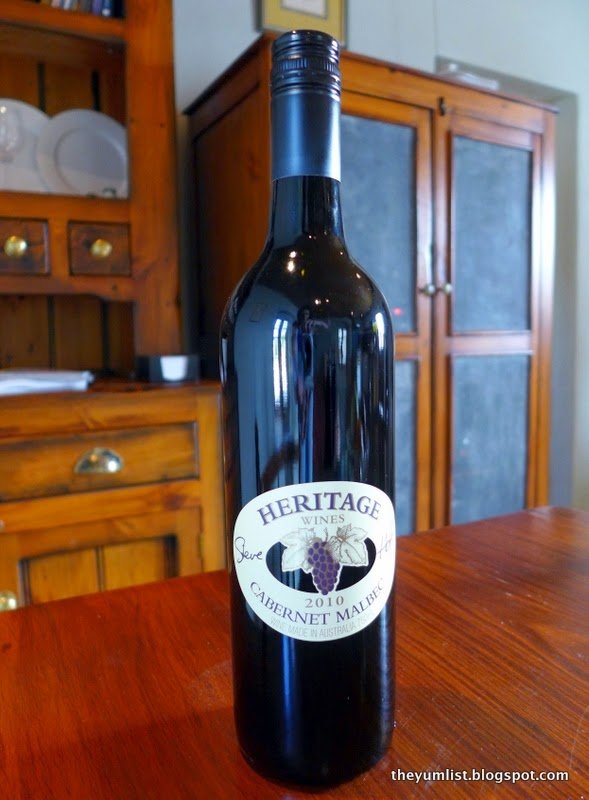 Cabernet Malbec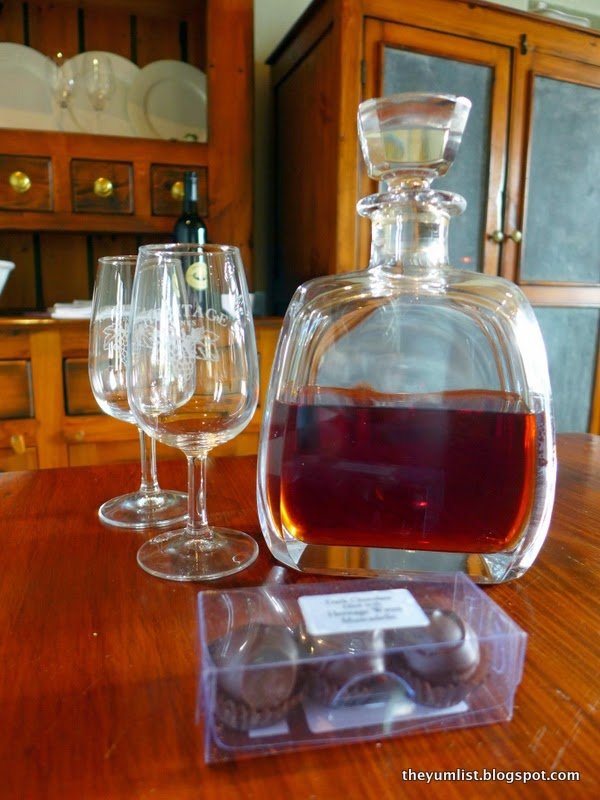 Fortified Wine and Muscadelle Filled Chocolates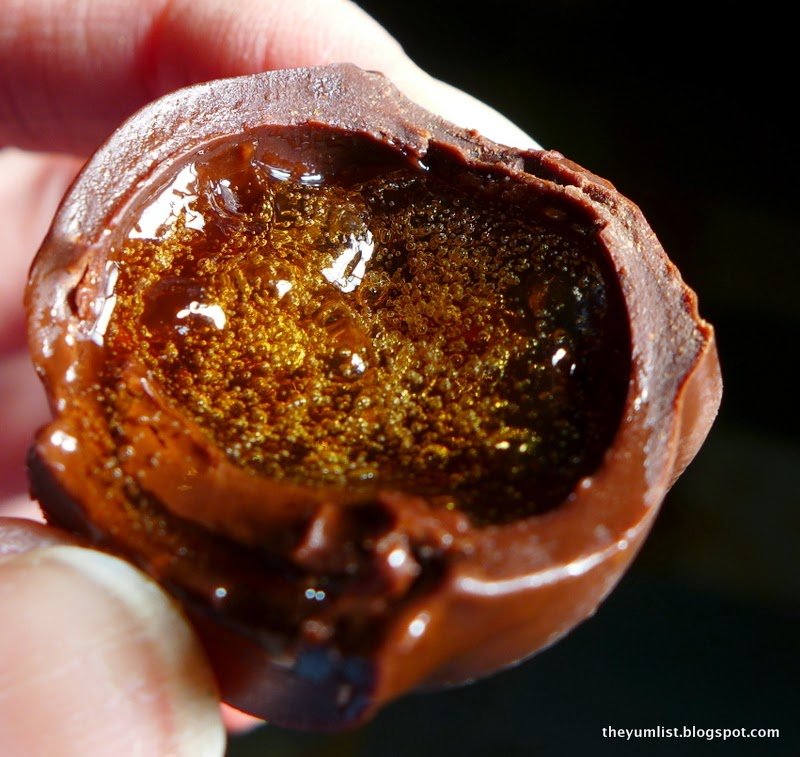 Muscadelle Filled Chocolate
A two-seater couch and dining table are comfortable places to flump, but our favourite perch is below the shady pepper tree beside Lucy's House. The evergreen lends its slender long leaves to drape above a picnic table, enveloped by ancient bluestone to one side, a leafy green barrier to the other, and an inspiring outlook over the vineyards in front. We bring hot coffee out here in the morning, and wine later in the evening. It's a flawless point from which to begin and end the day.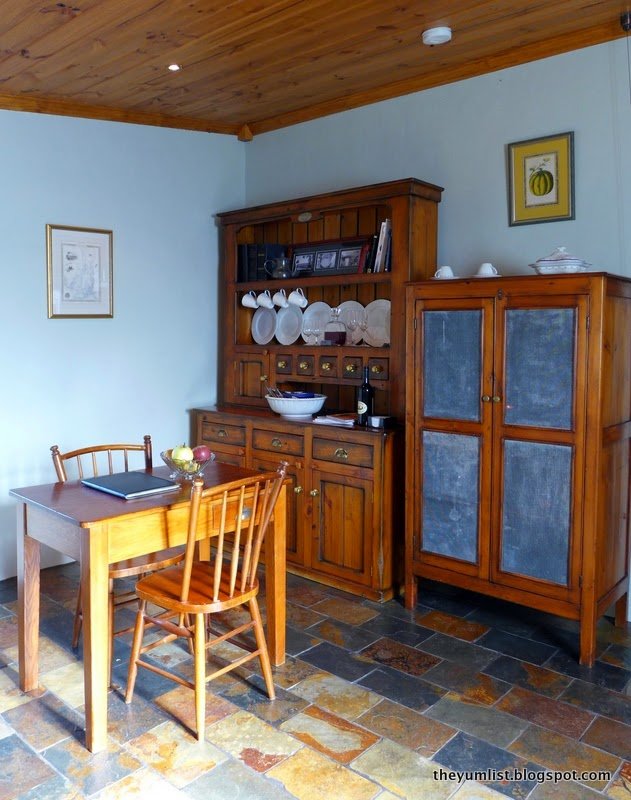 Living Area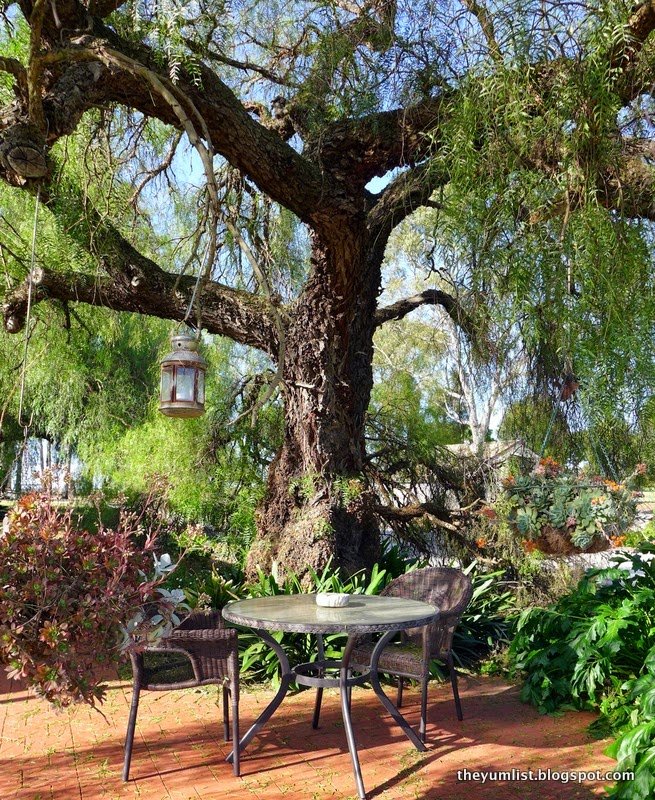 Under the Pepper Tree
Back inside, a cast iron bedframe dating back to the 1860's holds a twenty-first-century mattress and Sheridan sheets. A hand-sewn quilt folded over a wooden chair adds character, but also extra warmth in the winter alongside an electric blanket. Poppies plucked from the homestead gardens brighten the heirloom dresser.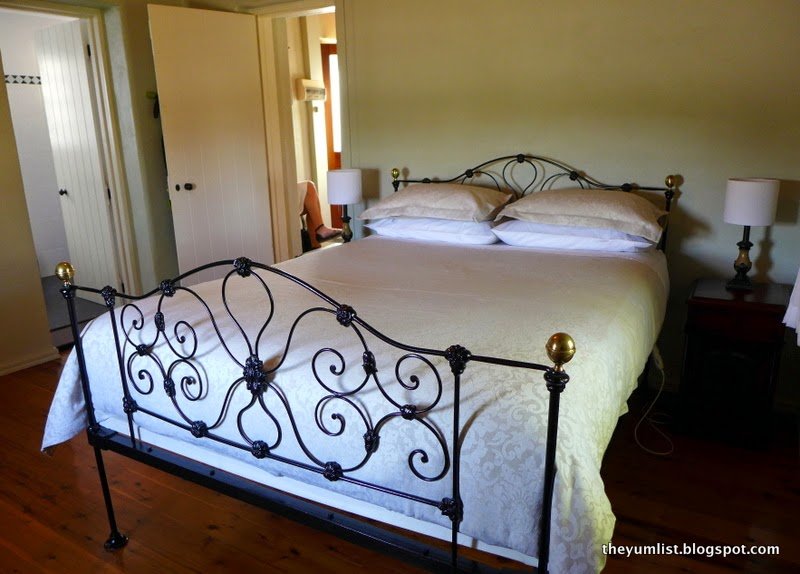 Bedroom
While a palette of black and white keep the bathroom décor in line with the period, the fittings are firmly planted in the present. A hand held shower is complemented by a state-of-the art rain showerhead, and bright white glossy tiles and glass enlarge the space. Homemade olive oil soap, shampoo, conditioner, and a high-powered hair dryer make packing a breeze – no heavy toiletries means more space to bring back more wine! Towels and sheets can be changed daily if you request. The owners are happy to leave you with your privacy, or engage in conversation providing helpful tips for making the most of the region if you like. And well… if staying in the Barossa, you must like wine, so an insider's views on where to find the best drops are highly prized.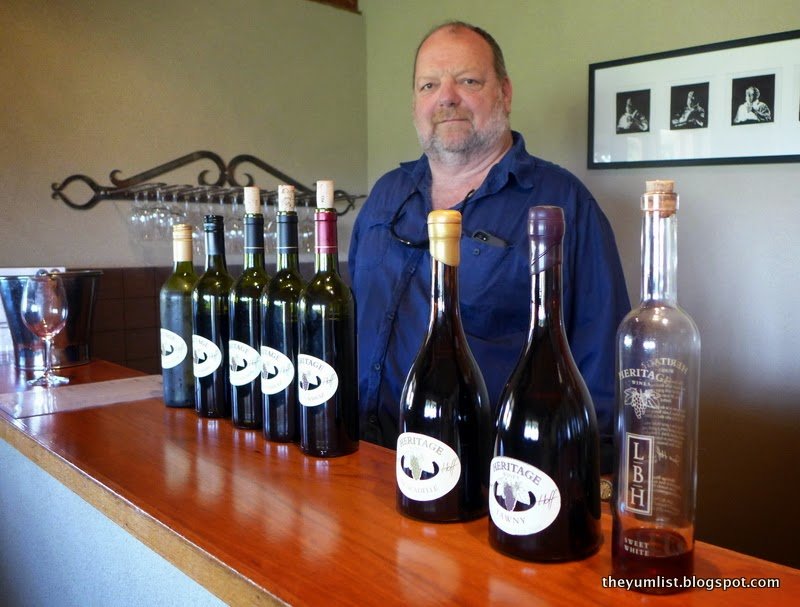 Steve Hoff in the Cellar Door
Marananga is home to some of the finest vineyards in Australia, and Heritage Winery sits on 20 acres of this prime grape growing land. Climate and soil, combined with the expertise and meticulous care Steve Hoff puts into production, turn out wines as big-hearted as the man himself: wine of exceptional quality with distinct fruit characteristics of the region. While he assembles some first-rate Semillon, my favourite is the big, bold, mouth-filling Rossco's Shiraz – do save some luggage space to take a bottle or more home. We're also quite taken with a couple of fortified drops: both the Tokay and Tawny make some lip-smackingly good nightcaps.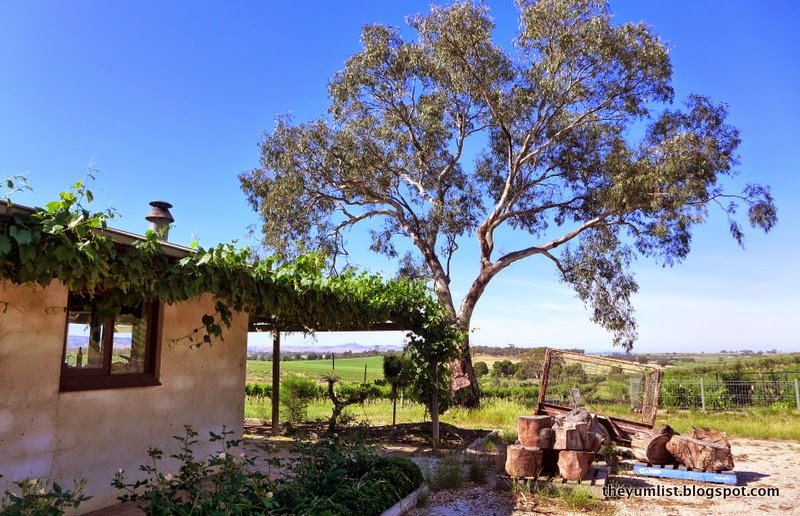 The Cellar Door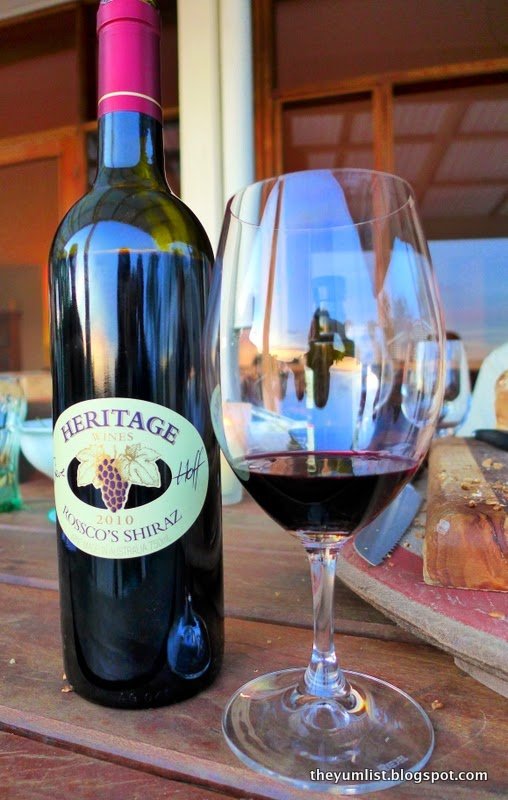 Rossco's Shiraz
Accommodation with all the inclusions is excellent value at $180 AUD per night, with a minimum stay of two nights (three night minimum over Easter and Christmas).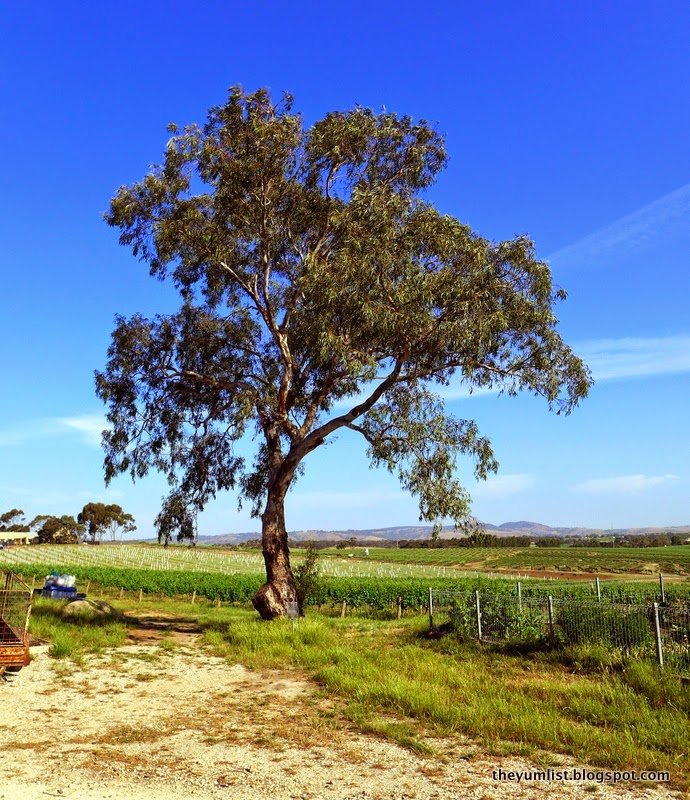 Overlooking the Property
Reasons to visit: charming and exclusive bed and breakfast, a piece of heritage with modern conveniences, stunning location, country hospitality, Rossco's Shiraz.
Lucy's House at Heritage Wines
399 Seppeltsfield Road
Marananga
Barossa Valley. 5355
South Australia
Australia
+61 08 8562 2880