Words: Han Sen Hau     Photos: Monica Tindall
The walk up to Contango was nothing short of majestic (so pun-ny, yet so true). Greeted by a massive chandelier in the shape of an ocean liner's hull mirrored on the reflective marble flooring that could survive abuse from an army of tap dancers, and welcomed by a beaming cast of uniformed staff who look ready to perform the showstopper that made Marilyn Monroe legendary in Gentlemen Prefer Blondes, I was almost certain that Benny Goodman was hiding behind one of the massive columns prepping the horn section.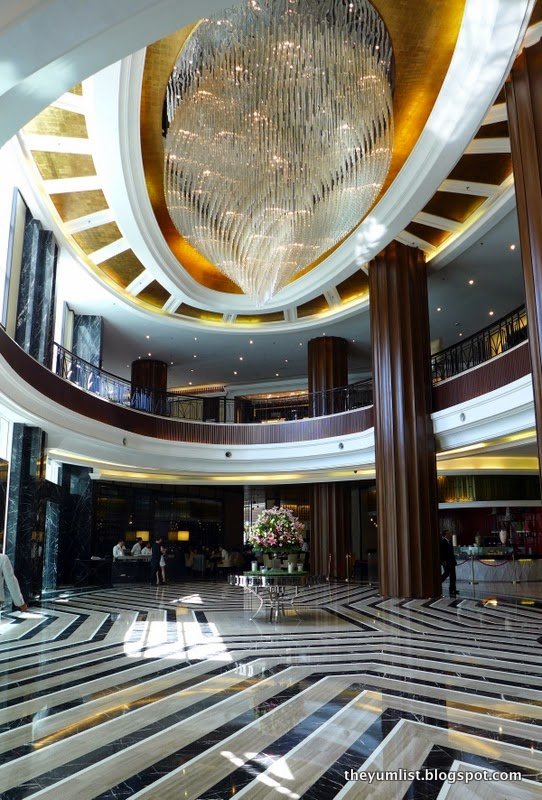 Lobby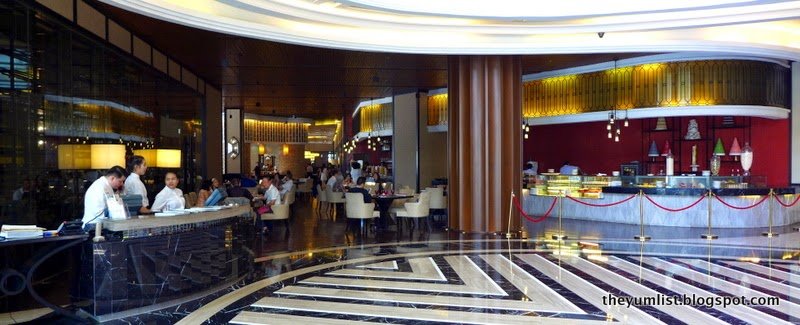 Contango Entrance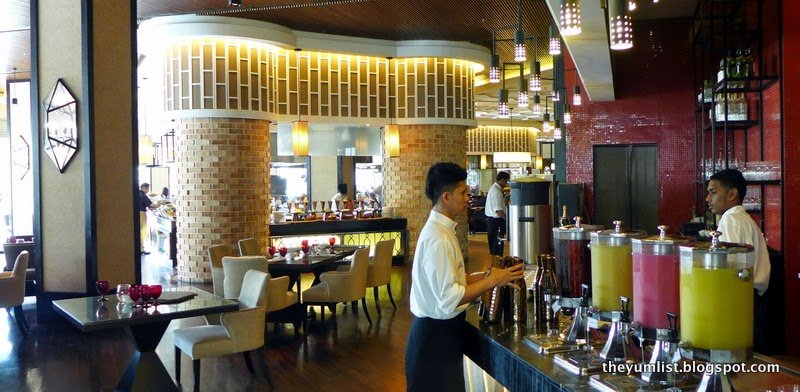 Contango – free flow fresh juices, coffee and tea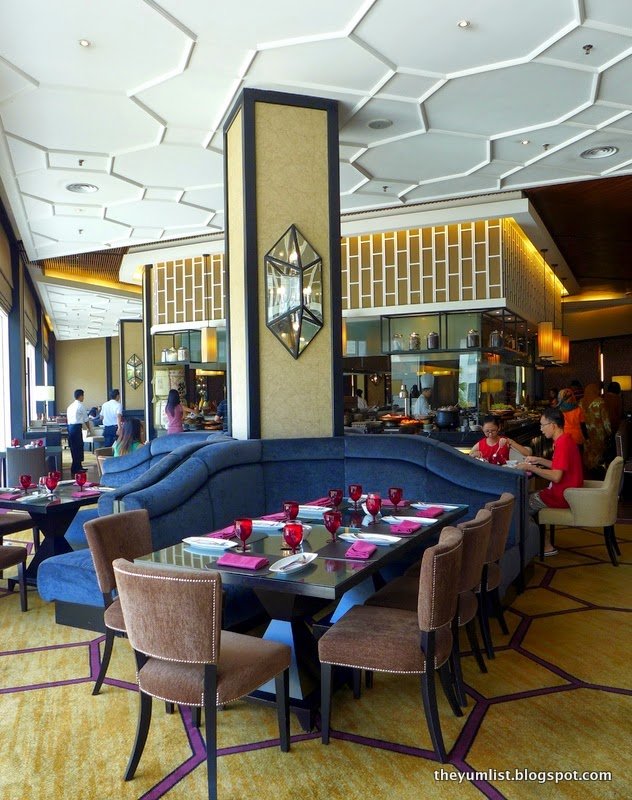 Dining Table
Truth be told, I was almost self-conscious. Here I thought, "It's just another buffet at a snazzy hotel". I didn't realise I had to dress like Astaire and have Ms. Rogers on my arm as we Viennese waltzed our way past the glass doors then dip as we tell the concierge, table for two. But I digress. It was reassuring, and refreshing, to experience a buffet at a place like Contango in the Majestic Hotel. The food would be fabulous, the service fast, and the guests would be civil instead of hawking the island bars with frenzied expressions like seagulls to herring, or jumping out of their seats faster than a pilot ejects out of flailing jet when the smoked salmon's out. This is the Majestic, people, not a musical production of Oliver Twist.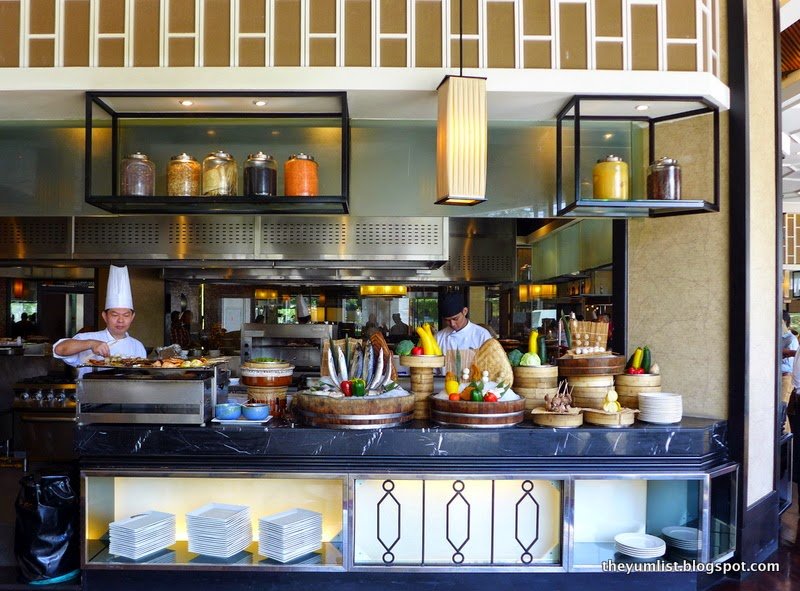 Barbecue Station – Grilled meats, fish, poultry and veggies made to order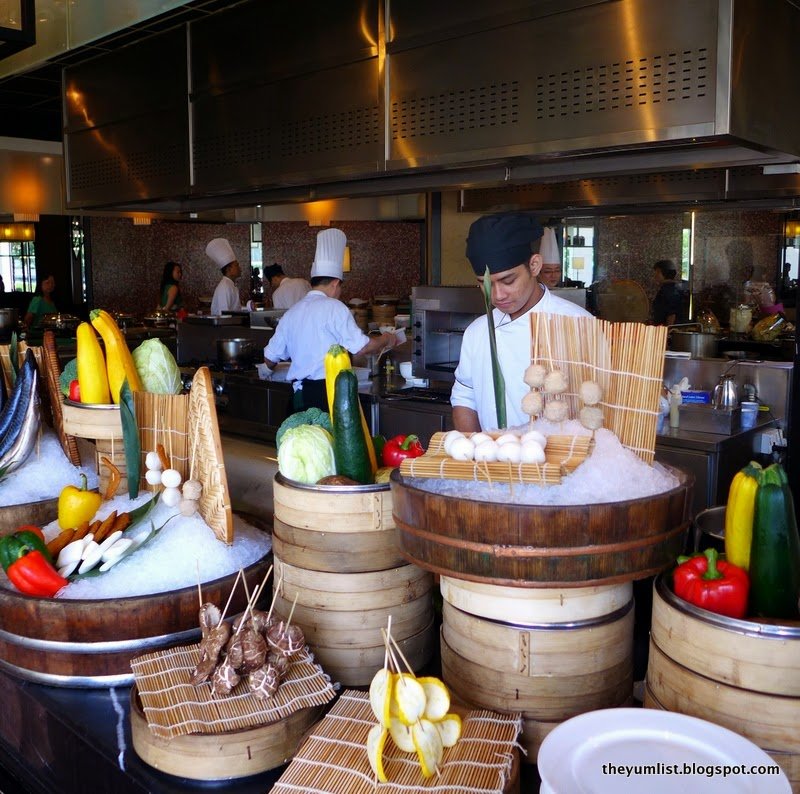 Grill Section – we particularly enjoyed the veggie skewers and seafood
But who am I kidding? Buffets are messy affairs and people should count their blessings if they've survived the ordeal without spilling a glass of red on their shirt. On that note, by just topping up an additional RM45++, guests can enjoy free flow wine and beer to keep them happily inebriated throughout this Dionysian feast. Just don't forget to leave some space in your gut for the incredibly sumptuous dessert section that's impossible to miss with all the colours in your face as you enter the premise. Touché, Contango. Touché.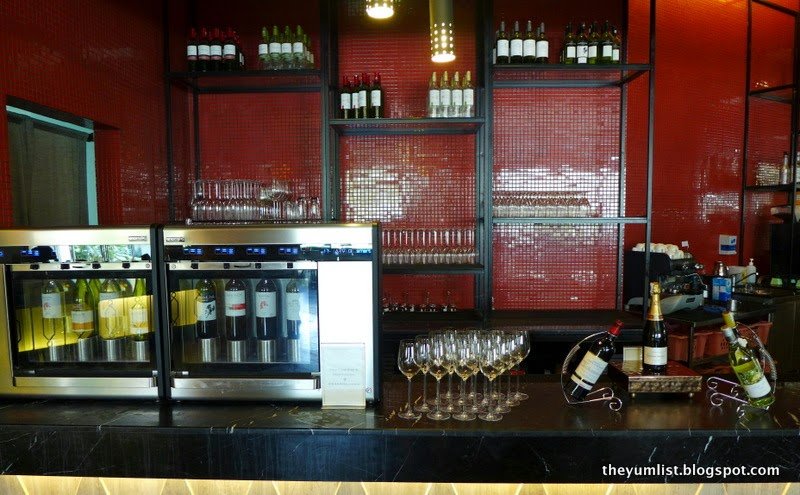 Free Flow Wine – Eight different types for the choosing – four red, four white. Beer is too available.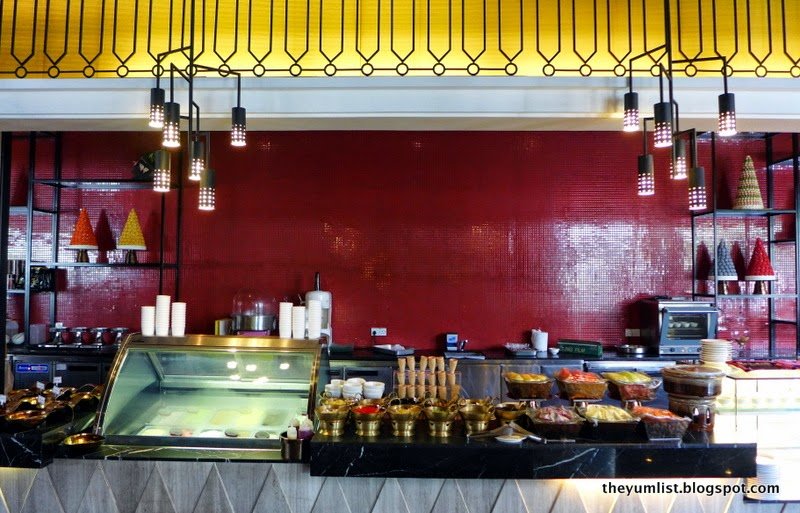 Dessert Counter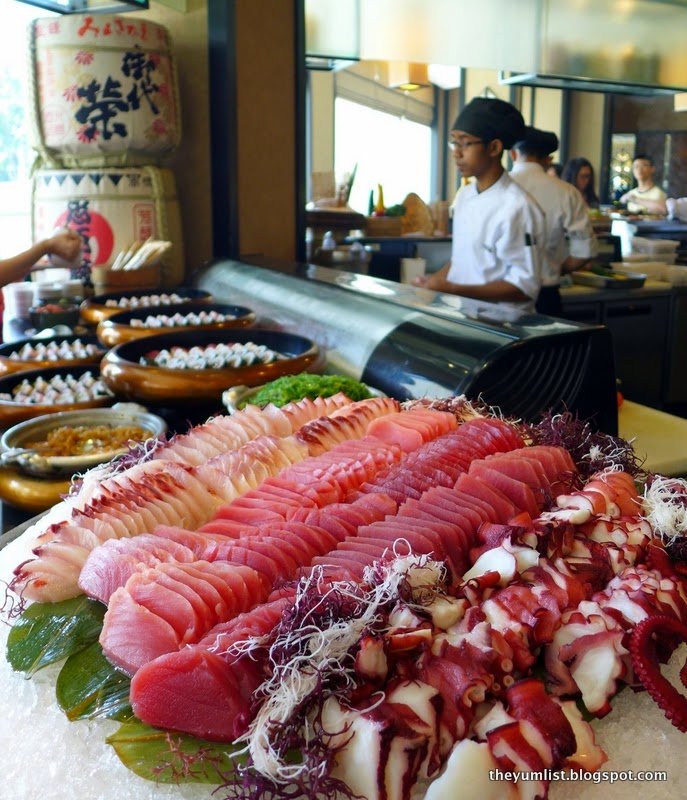 Japanese Section – an awesome selection of sashimi and sushi are cut by the experts throughout the duration of the buffet
Despite the one-fits-all model buffets have, the experience is incredibly personalised and people usually enter with their own list of expectations that's exclusive to them. For me, I begin with space. The non-linear display of food on individual island bars does not encourage queues, which is a genius in design and eases traffic. The area is also brightly lit from the use of large windows and any excess profusion of light is absorbed by the warm colours that coat the restaurant. Equally impressive is the use of different aesthetic elements to buttress the concept of variety in food. The varying textures seen from the latticed ceiling, art deco porticoes and striped lanterns unify an outwardly incongruity in this horn of plenty.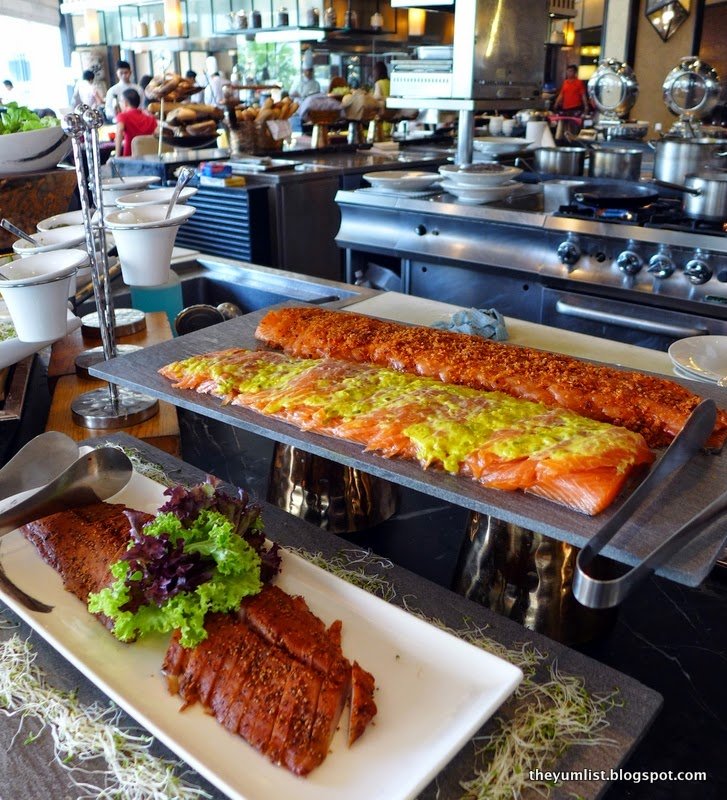 House Smoked Salmon, Make Your Own Salad, and Pasta-to-Order Section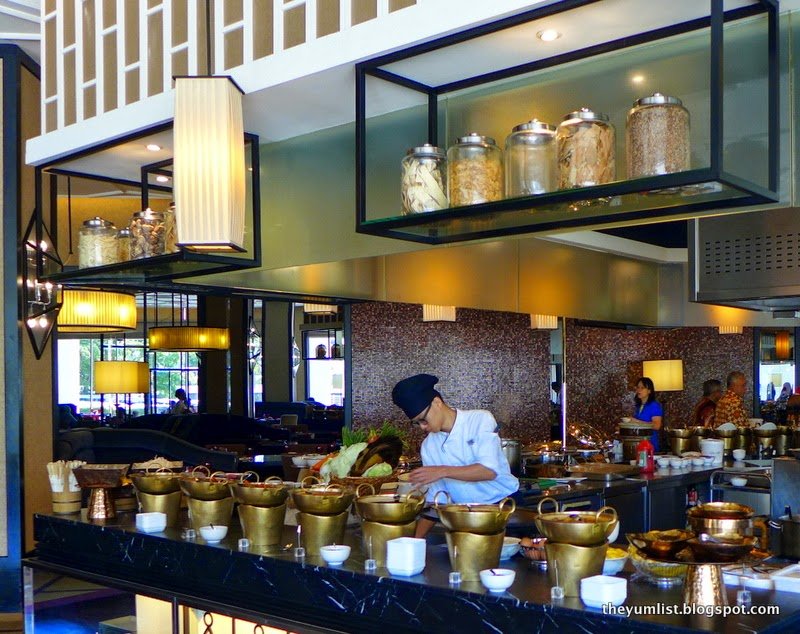 Indian Specialties – lots of vegetarian options here too
The other thing I look for in a buffet are the little nibbles that most people often overlook or avoid in exchange for something more substantial. For a Malaysian audience, eating at a buffet is all about filling one's tummy with the "stuff that matters", be it a roast or really good pasta. "More value," as they say. But a good buffet for me is not simply dependent on a great selection of "decent" food so I look to their treatment on the most basic of things, like bread and butter.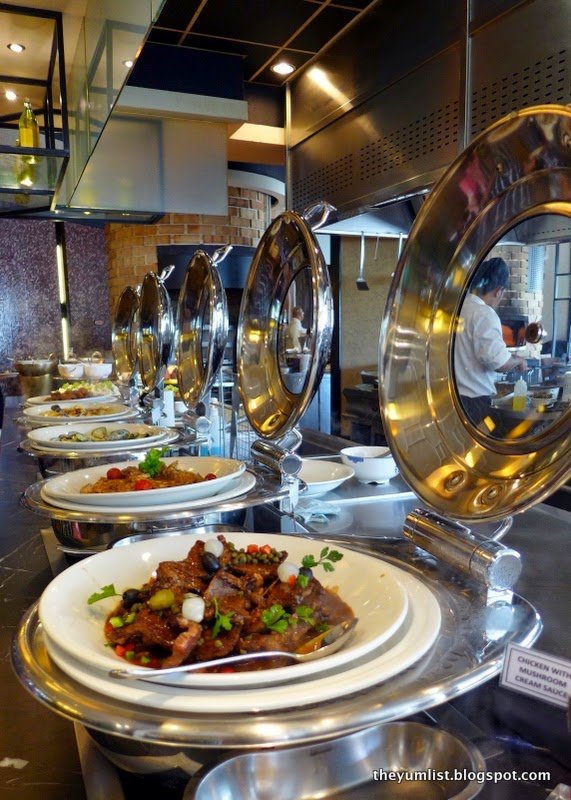 Hot Dishes – Western, Chinese, Indian and Malay cuisine all make an appearance in their own distinct hot sections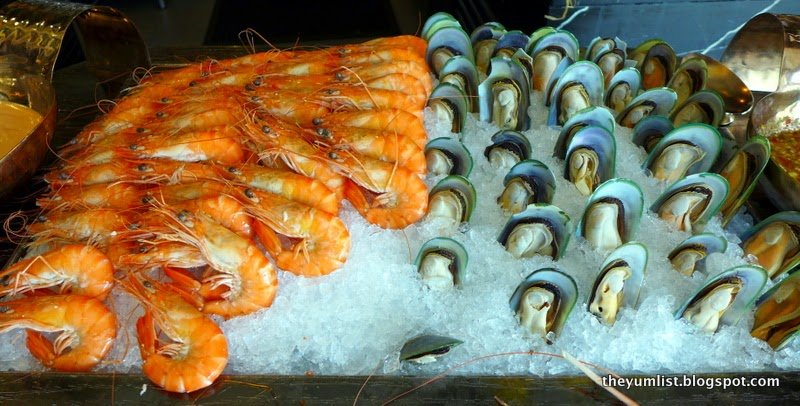 Fresh Seafood – prawns and mussels
Now if I were here with family, I'd be instantly mocked and scolded for beginning with bread, for there is nothing more infuriating to my parents than paying an "expensive" tab and "wasting" it on the small stuff. But if I can't have great bread that crackles as I rip it apart and provides a most exquisite aroma to the nose and tongue as it dissolves to nothingness in my mouth, how can I expect anything else whipped up by the kitchen to be any good? So I stand my ground when I say a good loaf is a great preliminary barometer for excellence, but it certainly is not the last. That said, the bread selection at Contango was magnificent, and though I feared it would be a chewing hell for me as I recently went through minor oral surgery, the bread retained a crispy splendour that broke easily to the touch and posed no threat to my octogenarian oral cavity.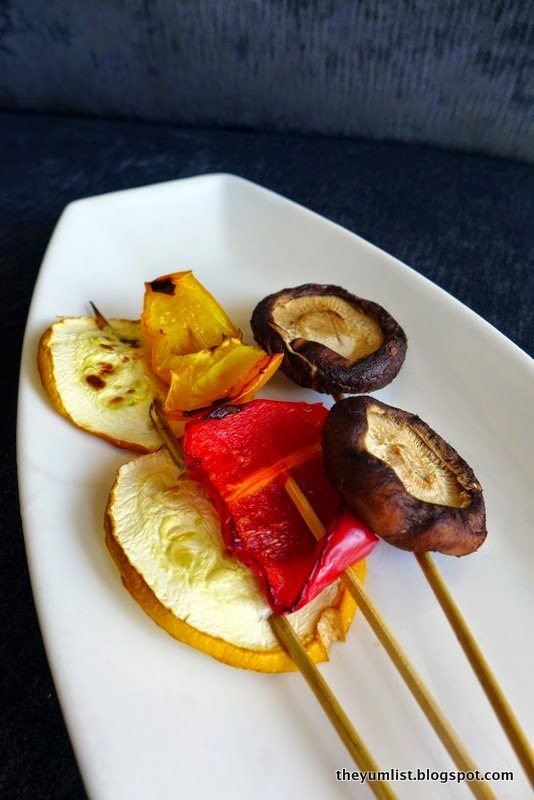 Veggie Skewers
As with all buffets, guests are never out of options at Contango. From blushing sushi platters to plump fresh mussels to fragrant vegetable makhani, guests are taken on a gastronomical world tour. Vegetarians will also delight at the myriad of alternatives available to them, but the one that did it for me was the impressive cheese selection. Aside from the usual blue and cheddar variety, I was fortunate to sample Chèvretine, two different kinds of Brie, and a to-die-for Reblochon. Forgive my French, but the Reblochon makes me want to scream je t'aime à en crever to it. The cheese is seductive in its flavour as it is in appearance with its chewy rind and soft centre that just oozes sensuality. I enjoy mine with crackers but guests can also have them with breadsticks, pecans, and a variety of snacks (plus wine if you opted for it).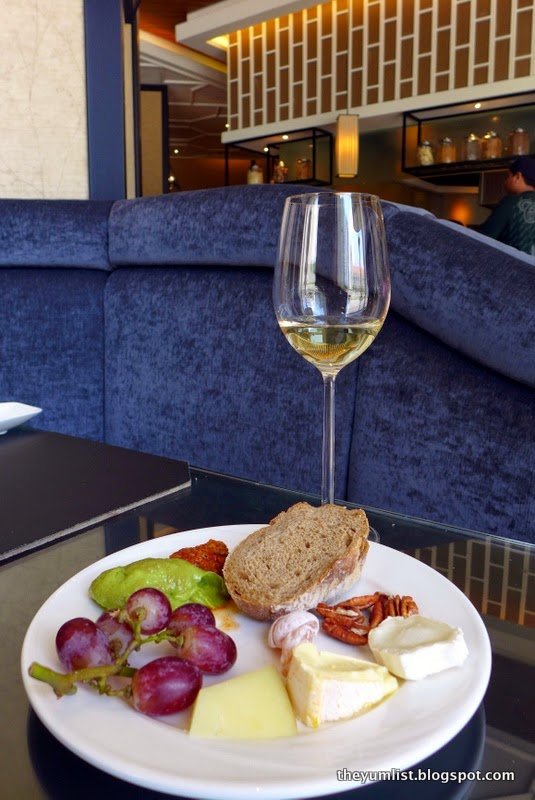 Wine and Cheese

Cheeses
Finally, after two hours of sampling through roasts, soups, curries, and pastas, I tackled desserts. I'm always particularly wary of desserts especially at buffets because so many locations have a habit of injecting diabetes into our bloodstreams with their incredibly sweet offerings. Thus, I limit myself to a ruby-coloured raspberry mousse, a demure hazelnut mousse, a couple of macarons, and a trio of photogenic chocolate popsicles. It was an amazing sight to see the raspberry mousse collapse as I sliced into it, but the hazelnut mousse takes the cake with its well-balanced flavour. Unfortunately, due to the surgery, I couldn't even bite into the popsicles, and had to cut them up with a knife, but they were every bit delectable.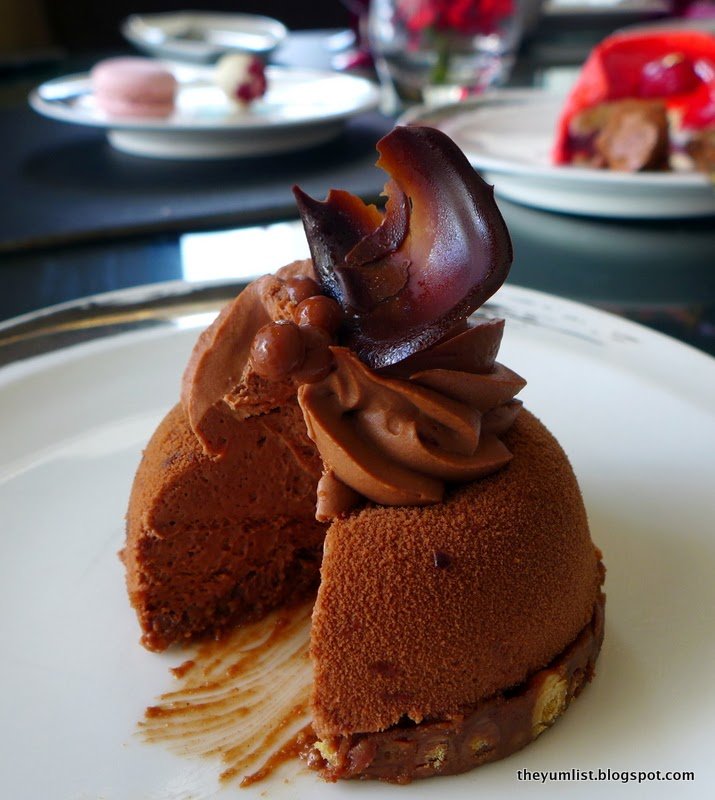 Hazelnut Mousse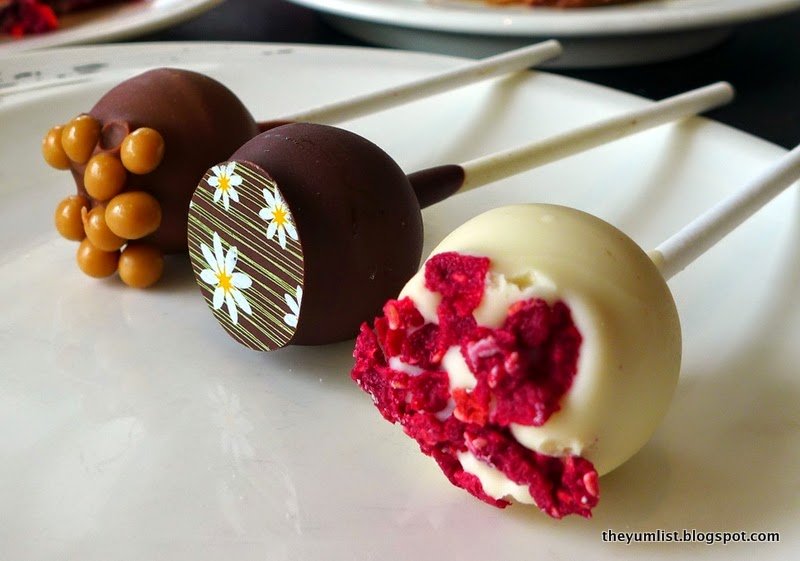 Chocolate Lollipops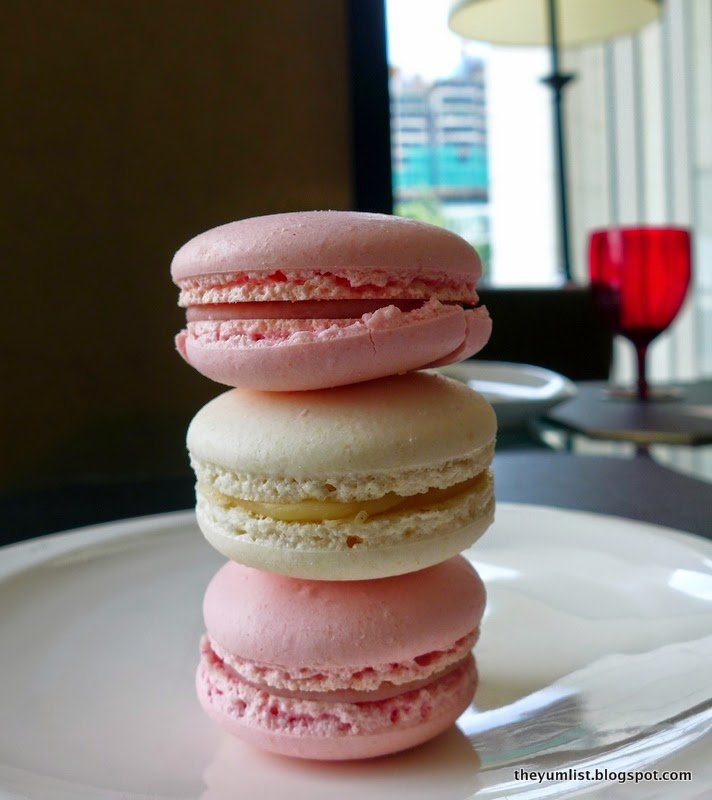 Macarons
At twenty past two, a waiter alerted me that lunch service was ending and I lapped up whatever I had left on my plate. While I lament the fact that they didn't have garlic naan or biryani to go with their curries, everything else has been splendid and I'd definitely return to savour once more the little things that make up Contango.
… if you can call the Reblochon a "little" thing.
Reasons to visit: If you like cheese, go for the cheese (the selection changes regularly); value-for-money food selection in a beautiful setting; perfect for large gatherings; in fact, the dessert options here are so extensive, you can spend an afternoon going through them; lots of vegetarian options; free flow wine and beer for a minimal additional charge.* Festive Cheer at Contango – The buffet will include a range of classics and seasonal desserts and sweets.
Christmas Eve and Day RM128++
New Year's Eve and Day RM138++
Free flow wine and beer an additional RM45++
Contango
The Majestic Hotel Kuala Lumpur
5 Jalan Sultan Hishamuddin
50000 Kuala Lumpur
Malaysia
+6 03 2785 8000