With the year-end knocking out our doors, it's nice to find a place that says, "Come in. Relax. Let us take care of everything for you." And that's just what DV Ristorante and Pizzeria promise to do this Christmas Eve and Day. Not only do they pledge to remove the hassle of grocery shopping, cooking and cleaning from the equation, but vow to provide a heart-warming line-up of full-flavoured dishes that ensure tummies and souls are left thoroughly satiated too.

DV Ristorante Pizzeria
While partaking in a preview of DV Ristorante and Pizzeria's festive dishes, we discover a warm neighbourhood restaurant, friendly service, and unpretentious wholesome Italian fare. Dishes are presented handsomely, but not overly groomed, and portions feel as though mama is dishing them up in bountiful bowlfuls.
A complimentary glass of Ruffino Prosecco kicks off the Christmas Eve set menu with some festive cheer. Hints of apple cider and stone fruits come through on the tongue and a short finish whets the appetite for more. Additional glasses can be purchased for RM24 each or RM140 for a bottle.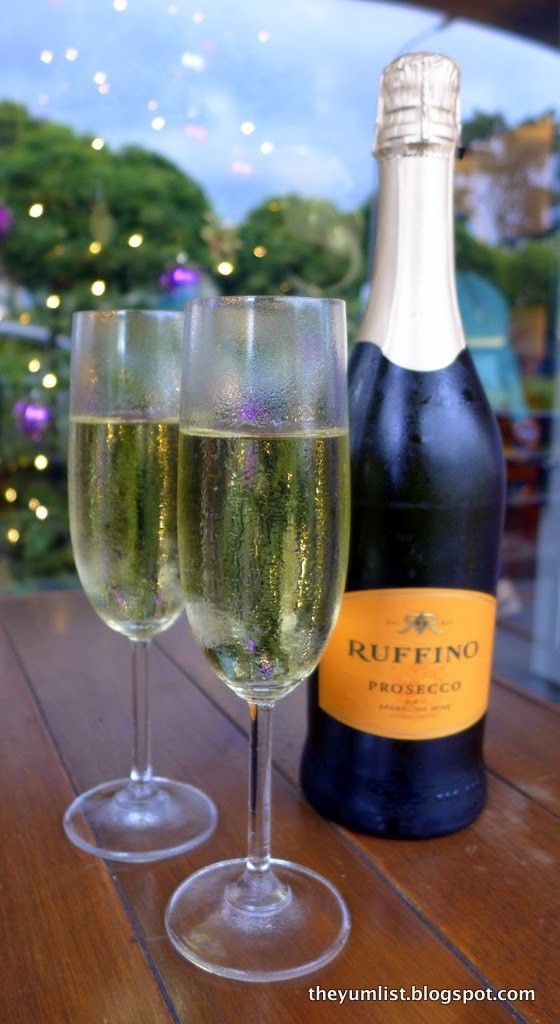 Ruffino Prosecco
All wines on the evening will be for sale at nett prices, with the owners encouraging people to embrace the jolly spirit. Wines are strictly Italian with close to thirty for the picking.  My eyes perk up at the sight of six organic wines, and I'm soon planning a return visit thinking there'll be far fewer hangovers after indulging a little in some of these beauties.
Teetotallers might choose from two themed mocktails: Rudolf (peach, pomegranate, Grenadine) and Santarina (Grenadine, orange juice, sparkling lemonade, soda water).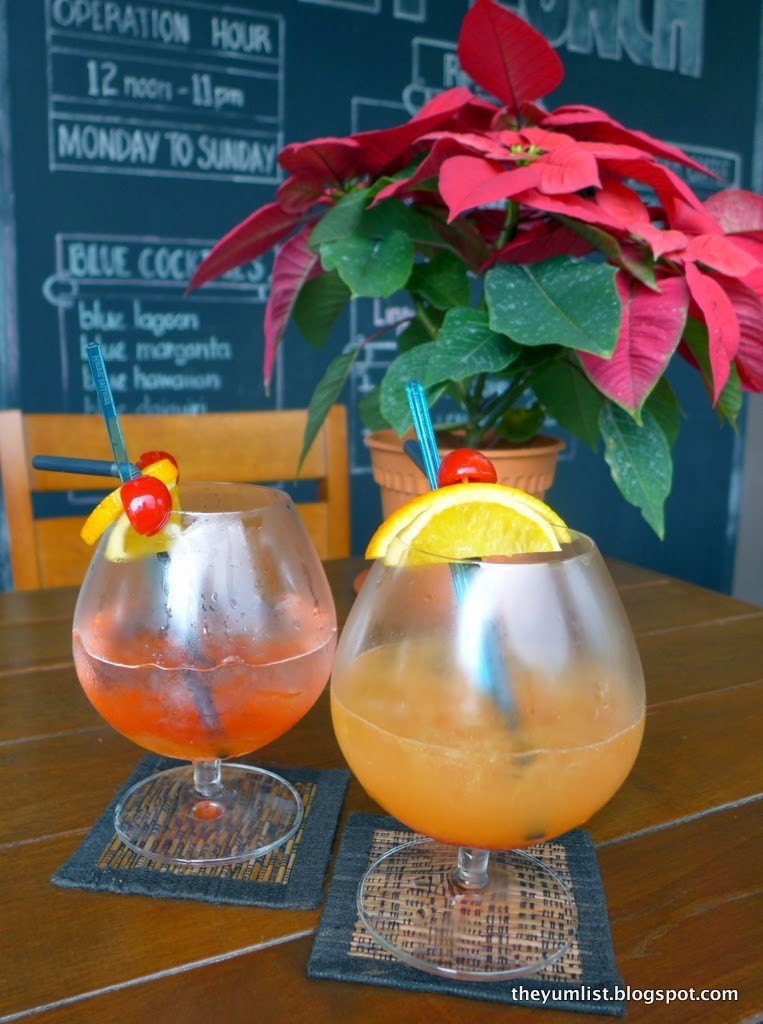 Mocktails
Starter
A pretty plate presents Bresaola Wrapped Scallops. Skewered in a trio and individually wrapped with air-dried beef, they glisten aside a blanket of vibrant green arugula tossed with garlic confit and ground black pepper. Peeled orange segments and shaved Pecorino lift the big bold flavours of the juicy scallops, while the soft garlic and sharp pepper slice through the meaty rich wrapping.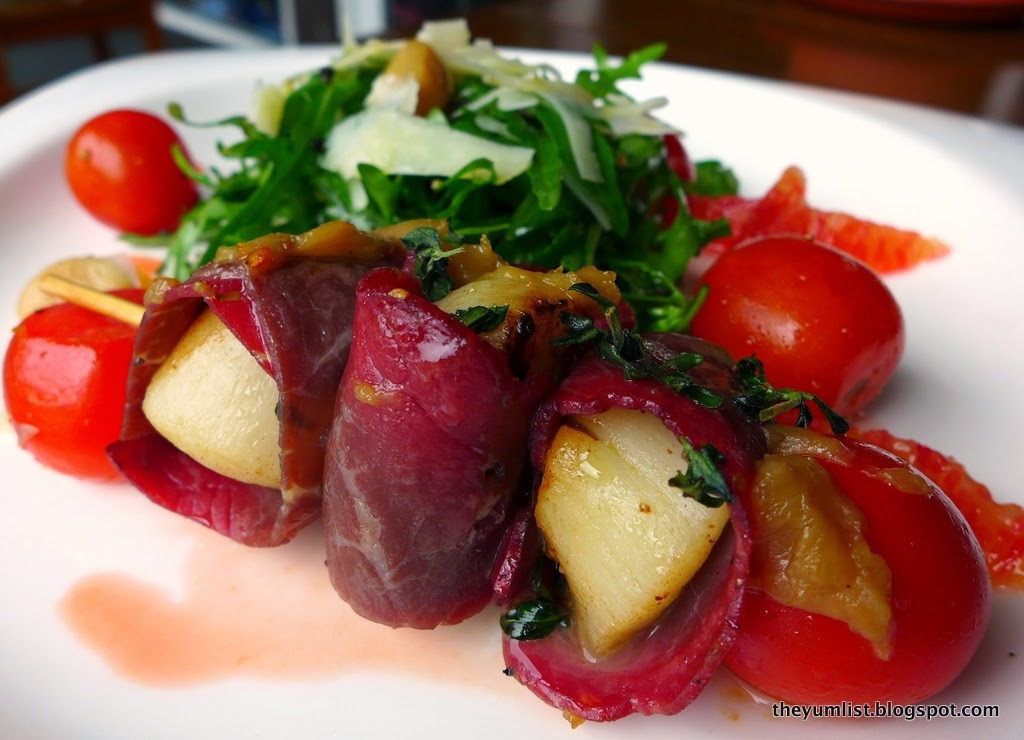 Bresaola Wrapped Scallops
Entrée
One of hubby's favourites comes next, Tortellini in Double Boiled Consomme. We relive memories of northern Italy and traveling for miles to find the best in the region with our Italian gourmet buddies. A bridge of crusty crostini crosses the top. It's mashed with roasted garlic and thyme and I'd be happy munching on a few more sticks as bar snacks with a glass of wine or beer. First bite of the dumplings fills our mouths with chicken and beef ham and a rich broth. We're happy to taste that they're handmade, evidenced by soft wrappers and bunches of fresh thyme, which give the broth a whopping mouthful of garden green savour. Testimony to its popularity is hubby's repeated spooning of the soup until… it's… all… gone.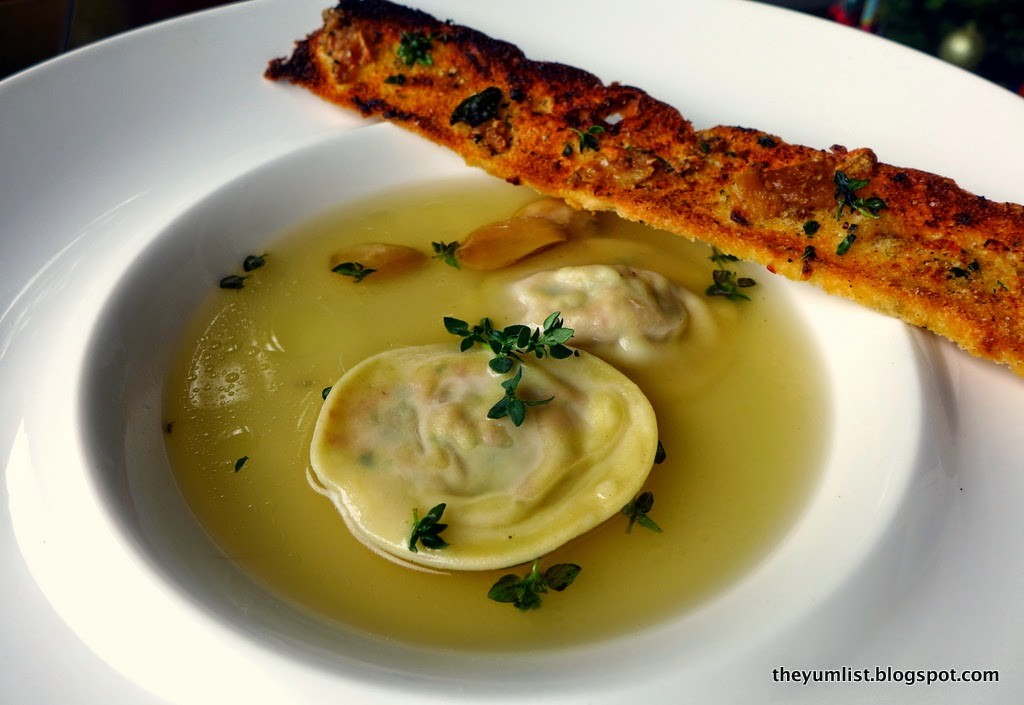 Tortellini in Double Boiled Consomme
Main Course
Diners have a choice of meats or fish for the principal plate.
The traditions of northern Italy are brought to the forefront in the Bollito Misto.  Beef cheek, ox tongue, and chicken sausage are simmered for three hours and served in their own broth. Garlic confit reappears along with the thyme we've quickly grown fond of.  Hubby's all engrossed with the rich plate of meat declaring, "Oh my gosh, too good. It's unreal. This must be my favourite." I try to camouflage an eye-roll however as he reaches over the top of the dish for another piece of pizza (more on this later) also claiming, "This is fantastic." A rainbow of pickled veggies comes on the side, with distinct strokes of chili and mustard giving them a flamboyant kick.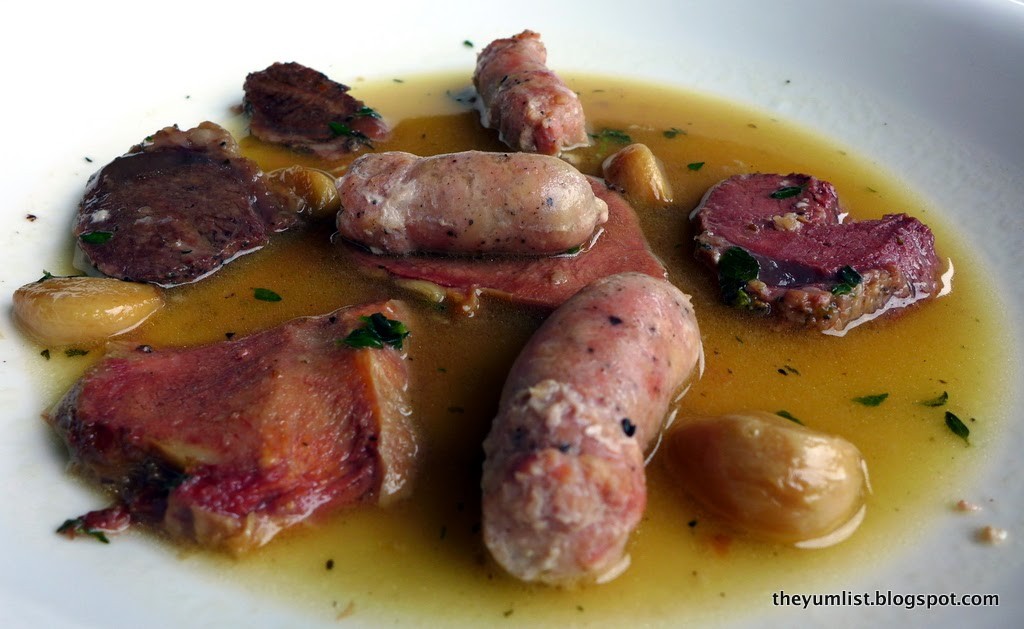 Bollito Misto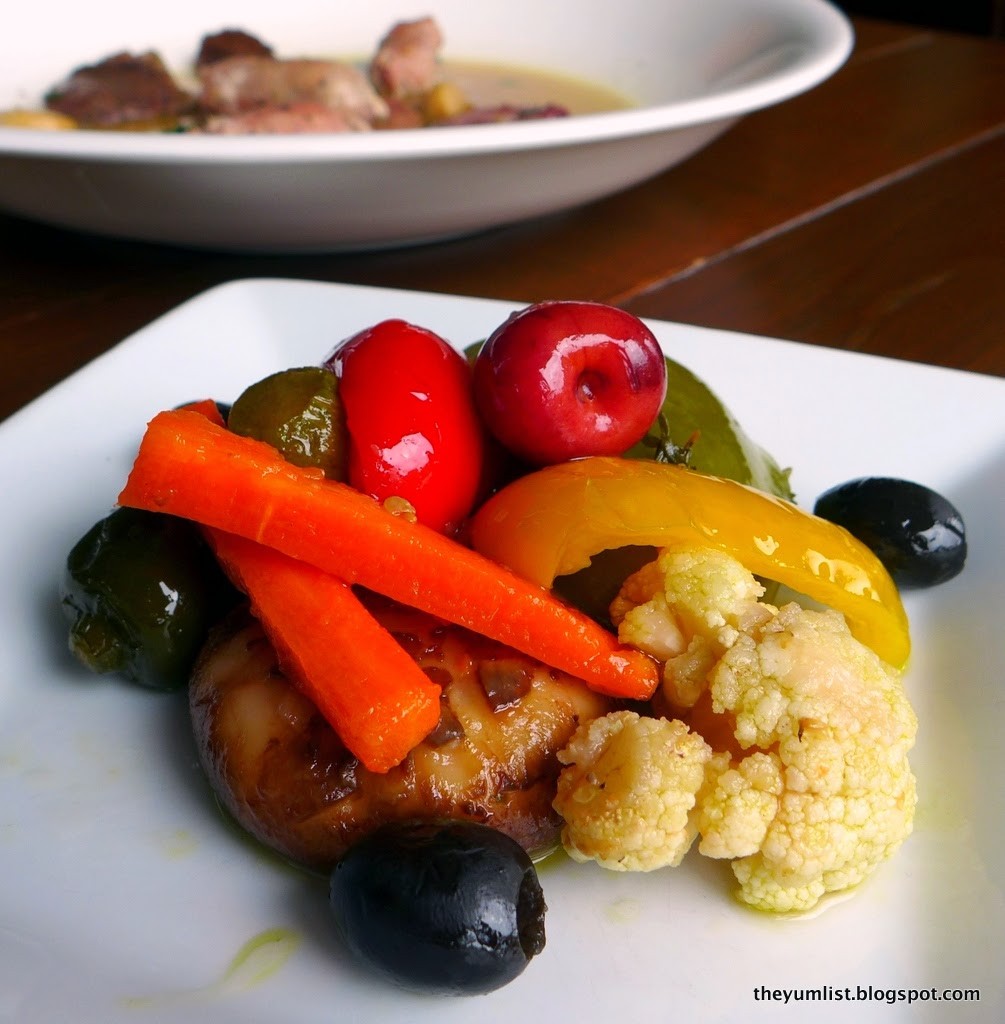 Pickled Vegetables
Veal Involtini is a decadent plate of veal roulade rolled with a mush of spinach, silver anchovies and sautéed shallots. It's tender and another fine example of flavour that fills every corner of the mouth. Seared foie gras on caramelized apple chunks and pumpkin puree are licentious in their temptation. Sweet, smooth and soft they complement the meat beautifully. Crisp veggies are firm to the bite, contrasting in texture to the tender meat and soft mash.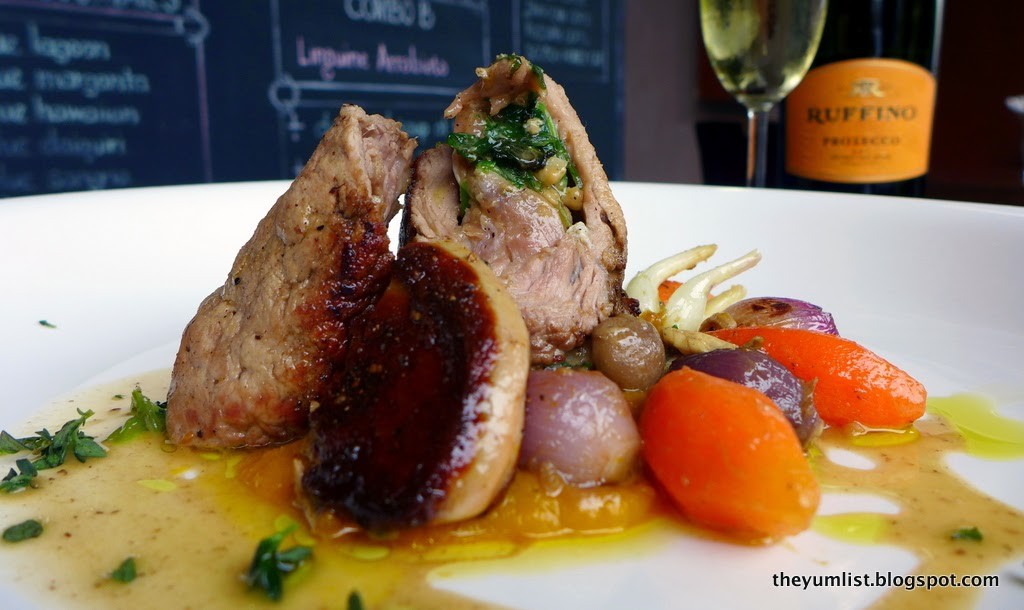 Veal Involtini
The ocean brings the third choice of main with the pan seared Halibut Fillet. Stacked in a flaky fresh portion of generosity, it's served with mixed firm lentils, a crowning scallop, asparagus tips, cherry tomatoes and a soft-boiled quail egg. The egg, broken across the plate, creates something similar to a Hollandaise, with a buttery sauce contributing further European style richness.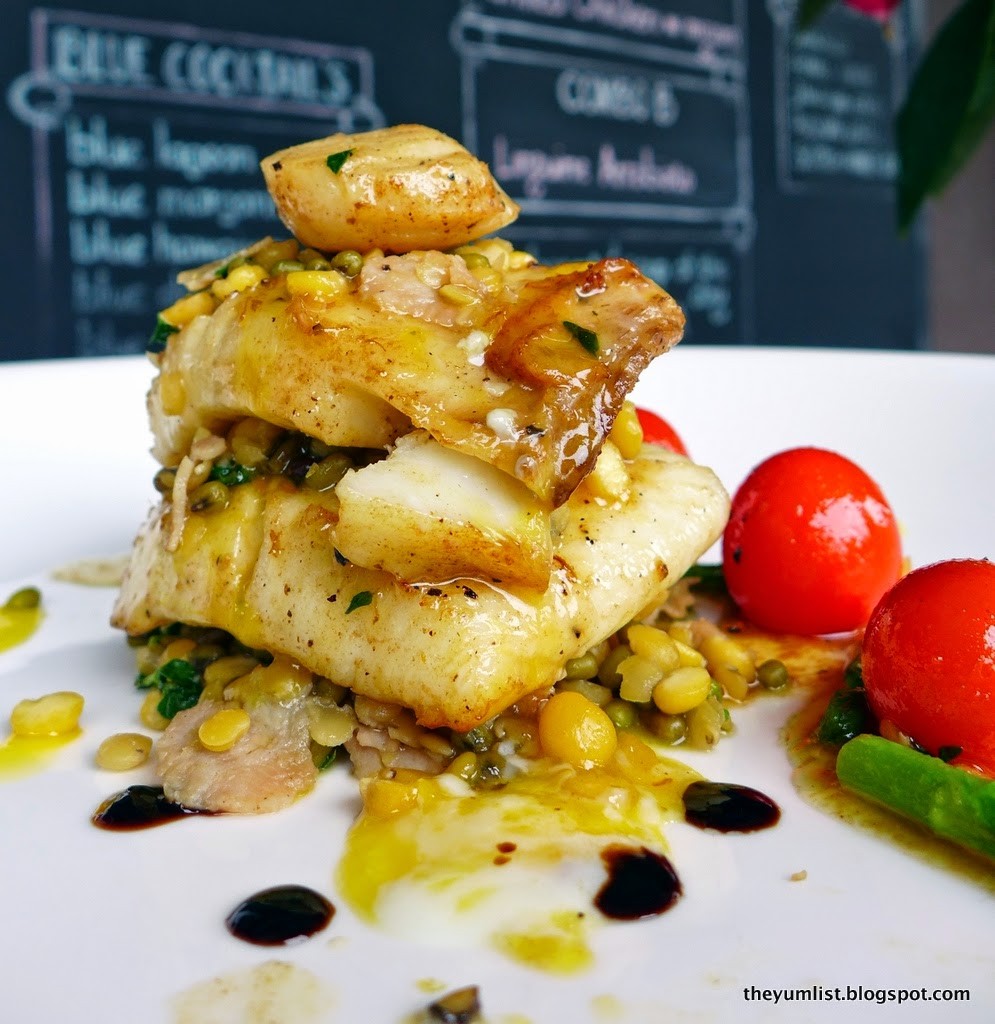 Halibut Fillet
Dessert
An institution at Christmas is the Milanese Christmas cake, Panettone. This airy sweet fruit bread is not only homemade at DV Ristorante and Pizzeria but also enriched with Chantilly cream, candied fruits and chocolate sauce. Each piece is baked individually so everyone can rejoice in her own unique loaf. Yum!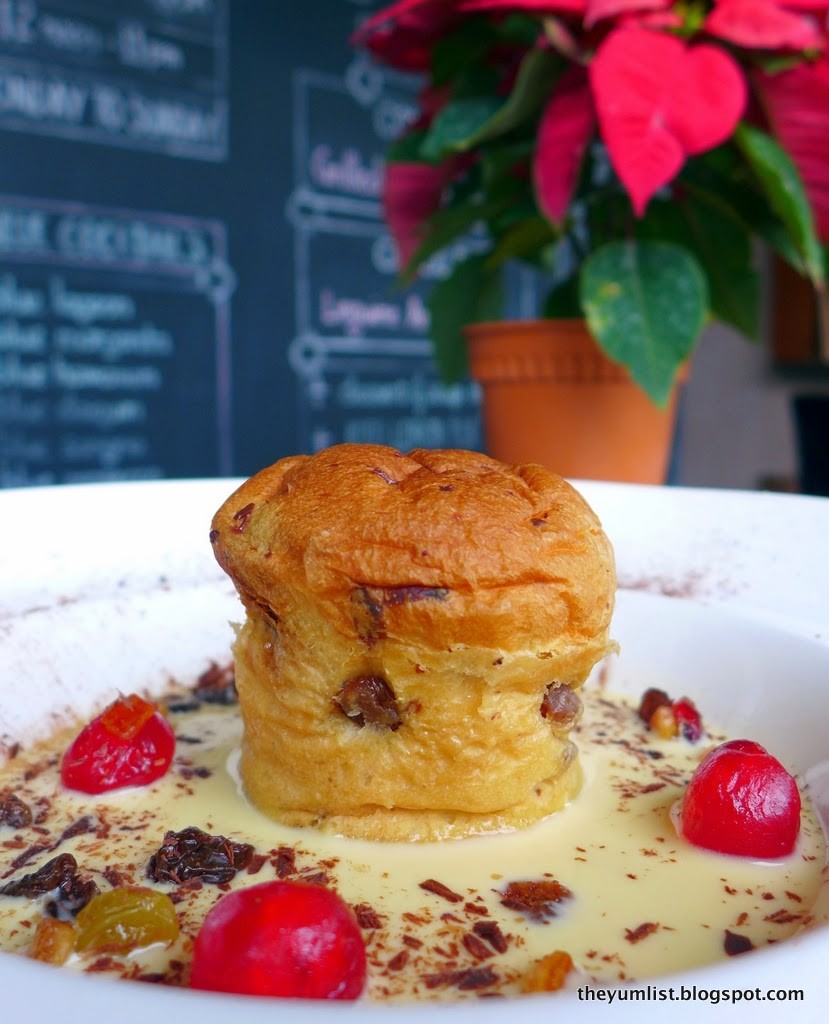 Panettone
While the Christmas set seems to cater wonderfully to meat and seafood lovers, vegetarians need not fret as the a la carte menu (which is also available over Christmas) holds a host of toothsome veggie alternatives (of which we dutifully try).
Vegetarian Options from the Regular A La Carte Menu
That distinctly earthy aroma of mushrooms hits our noses as the Tagliatelle con Panna e Funghi (RM22) arrives. A mild cream sauce coats al dente ribbons of pasta with a generous topping of wild mushrooms and Italian parsley.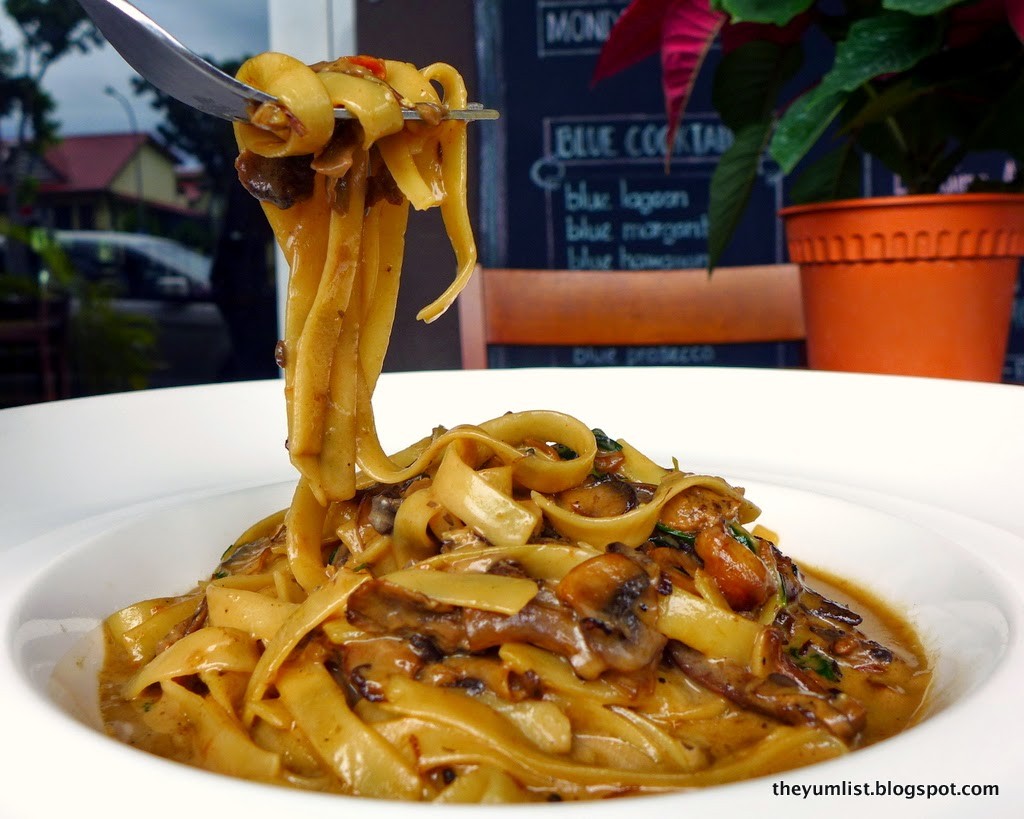 Tagliatelle con Panna e Funghi
Eggplant Parmigiana (RM14) looks pretty on a rectangular plate with a tower at one end of layered slices of fried eggplant, tomato sauce and mozzarella cheese baked to perfection: soft in the middle and caramelized around the edges. A strip of house-made tomato sauce and a twist of balsamic vinegar zig-zag the runway up to the yummy turret.
Eggplant Parmigiana
A newly arrived wood-fired oven has had a good workout in its first week. Flour is imported from Italy and an 18 hour proof time prepares it for excellence. The thin-crusted base of the Ortolana (RM22) is covered with a rich tomato sauce, grilled vegetables and melted stringy mozzarella. At roughly 30cm in diameter, it's a large pizza easily shared.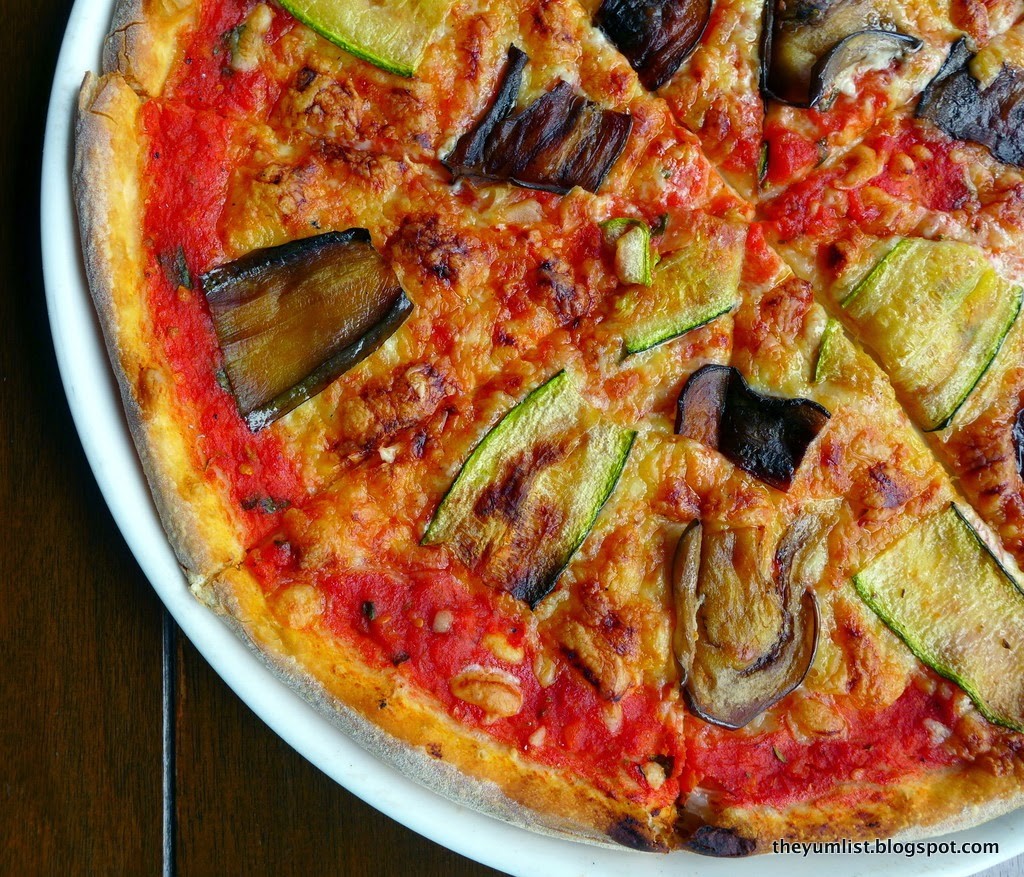 Ortolana
The Christmas Eve Set Menu is priced at RM170+ for four courses including a glass of prosecco. The children's menu consisting of Spaghetti Pomodorini, Chicken Scalloppine with Mushrooms and Blood Orange Crème Brulee is priced at RM60. Vegetarian dishes can be ordered a la carte, or let the service staff know at the time of your reservation that you'd like a vegetarian menu for Christmas.
Christmas Day will feature a brunch menu from 11am – 3pm including a buffet counter with starters and desserts and one main priced at RM90+. A free flow of prosecco and house pouring wines with the meal is great value at RM120+.
Reasons to visit: good value and full-flavoured set Christmas menu; well-priced free flow bubbly brunch; vegetarian options – don't miss the Eggplant Parmigiana from the a la carte menu; wood-fired pizzas; home-made Panettone.
DV Ristorante and Pizzeria
77 Jalan Setiabakti
50490 Kuala Lumpur
Malaysia
+6 03 2098 2001
Pork Free
Open daily 12noon – 12 midnight