La Bodega has grown into an institution in Malaysia for those seeking a friendly and affordable place to meet over wine, cocktails and delicious Spanish cuisine. First established in Bangsar in 1999, it has taken over the city with its reputation for a no-nonsense atmosphere, good quality tapas, Spanish wine list and in general as a suitable "place to hide out."
Already spreading its wings across Kuala Lumpur, La Bodega has now set roots further afield bringing its offerings to the lucky folk of Malacca. Located in the newly opened The Shore Shopping Gallery, it's smack bang in the centre of the tourist district, while benefiting from the cleanliness and orderliness (and cool air-conditioning pleasantness) of a mall.
The space is immediately welcoming. A good quality sound system hums upbeat tunes with distinct Latin rhythms, and staff call out the Spanish greeting, "Hola," to all who enter. Unpolished wooden tables dot earth-toned tiles, and there's a variety of lounges, dining areas and bar stools, both indoors and outdoors, that cater for a range of desires. Potted plants, red wine coloured walls and vibrant paintings add an appealing coziness. While the interior is stylish, it gives an air of a really large living room – relaxed and amicable.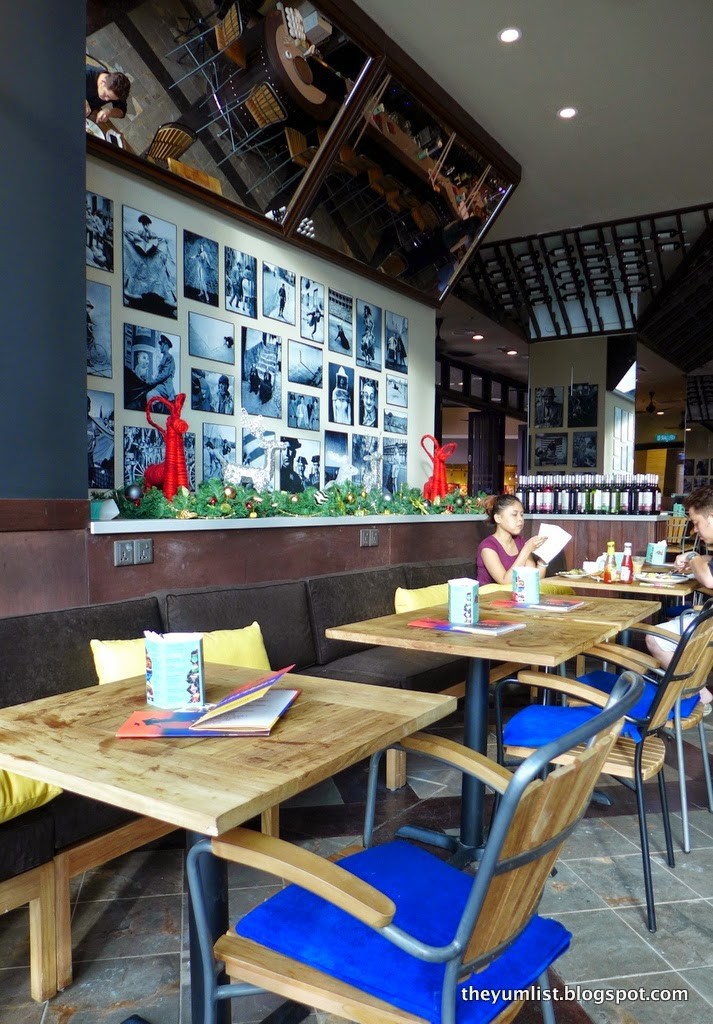 La Bodega, Shore Gallery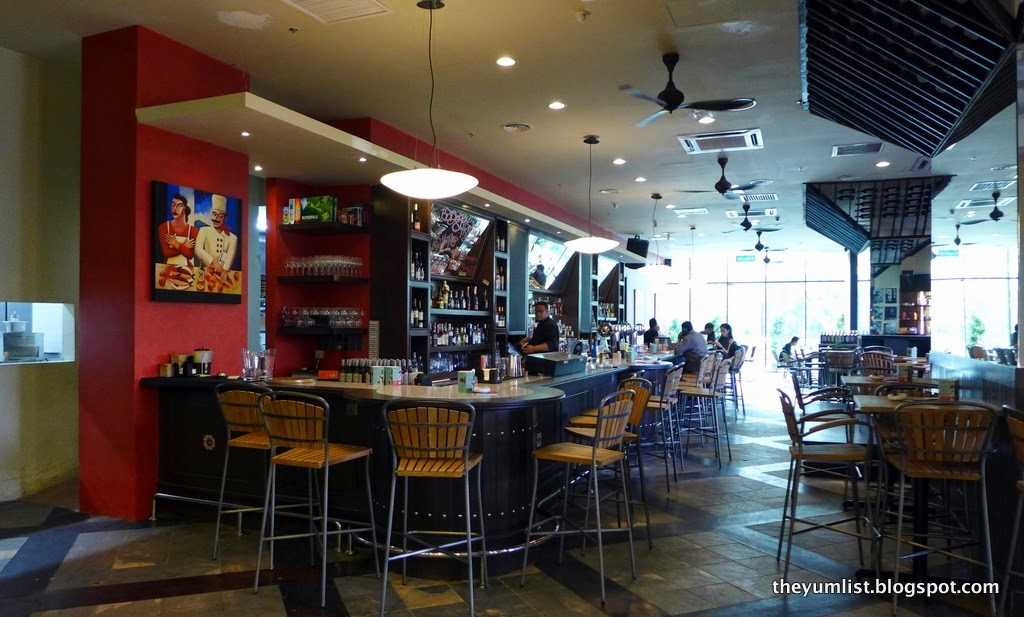 La Bodega, Shore Gallery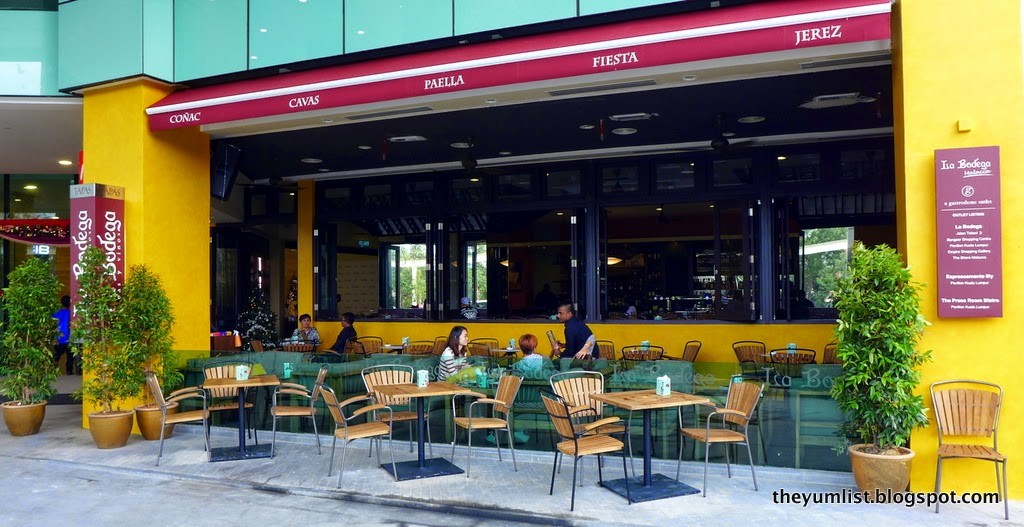 La Bodega, Shore Gallery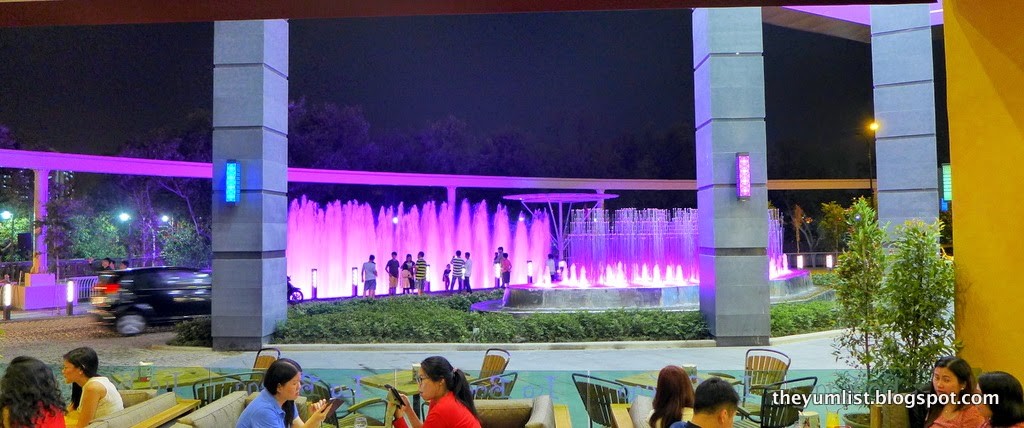 La Bodega, Shore Gallery
We're here to try a few items from their menu. Of note, some brekkie dishes and creations hot out of the Josper grill.
Breakfast
Toasted thick slices of crusty bread are topped with a very fine shaving of garlic in the Pan con Tomate (RM12). They make a tasty canvas for a bright fresh tomato mashed with olive oil.  A silver container, resembling a teapot, forges a fun way to pour on the olive oil. For light eaters, this paired with a glass of juice or cup of coffee, would be an enjoyable start to the day.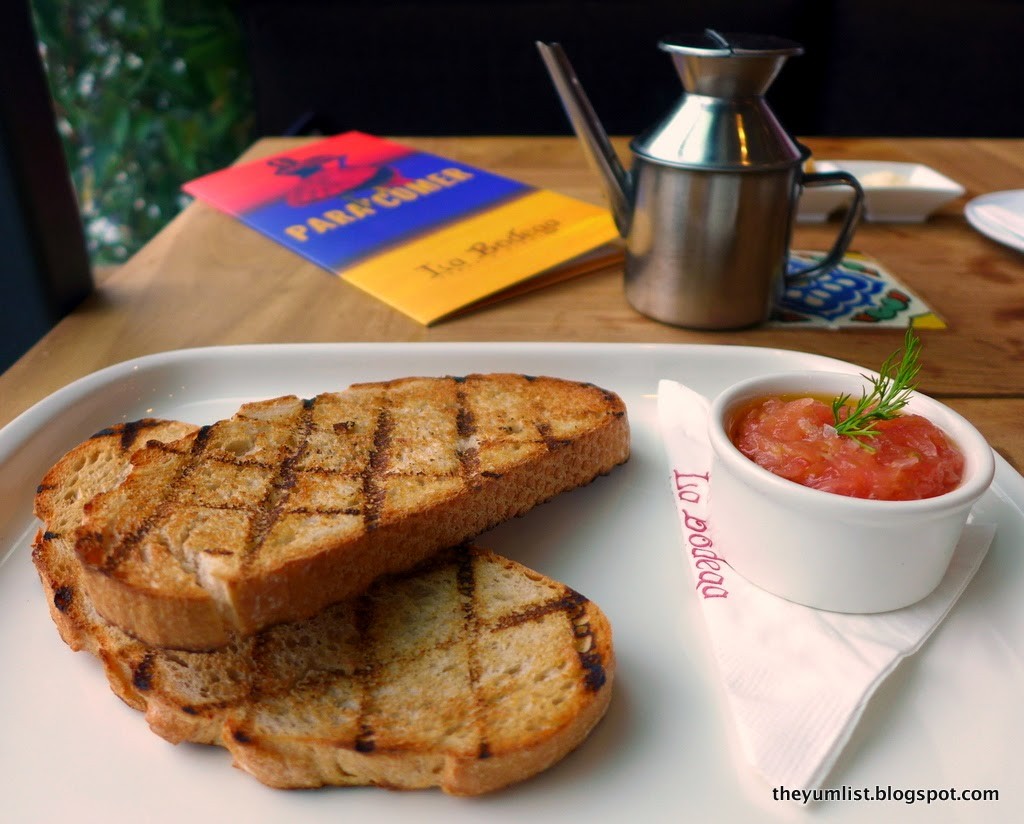 Pan con Tomate
Bodega's Big Breakfast (RM28) is a hearty plate and well suited to those with an earnest appetite. It's filled with two eggs of our choice (sunny side up), chicken sausages, beef bacon, grilled tomato, baked beans, sautéed mushrooms and a slice of toast. We hear it's a best seller in all of the outlets. Sometimes you just can't do better than tradition.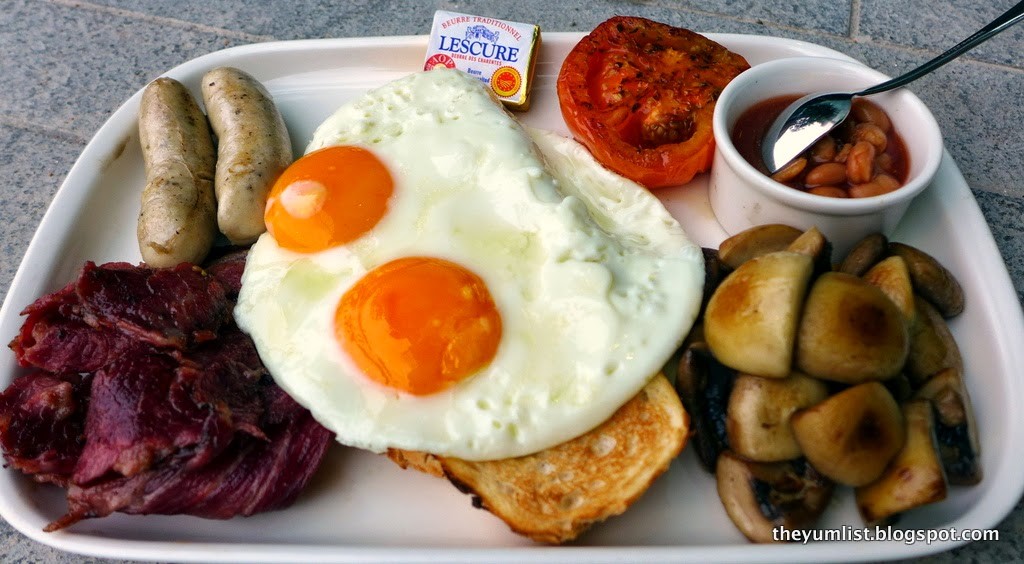 La Bodega's Big Breakfast
French Toast (RM15) is a classic recipe served with maple syrup, butter and preserves. The basics have not been messed with and prove a gratifying pile of fat slices of soft white bread, toasted until golden. I find the syrup alone is enough topping, but hubby thinks they're even more wonderful with a lavish spread of French butter.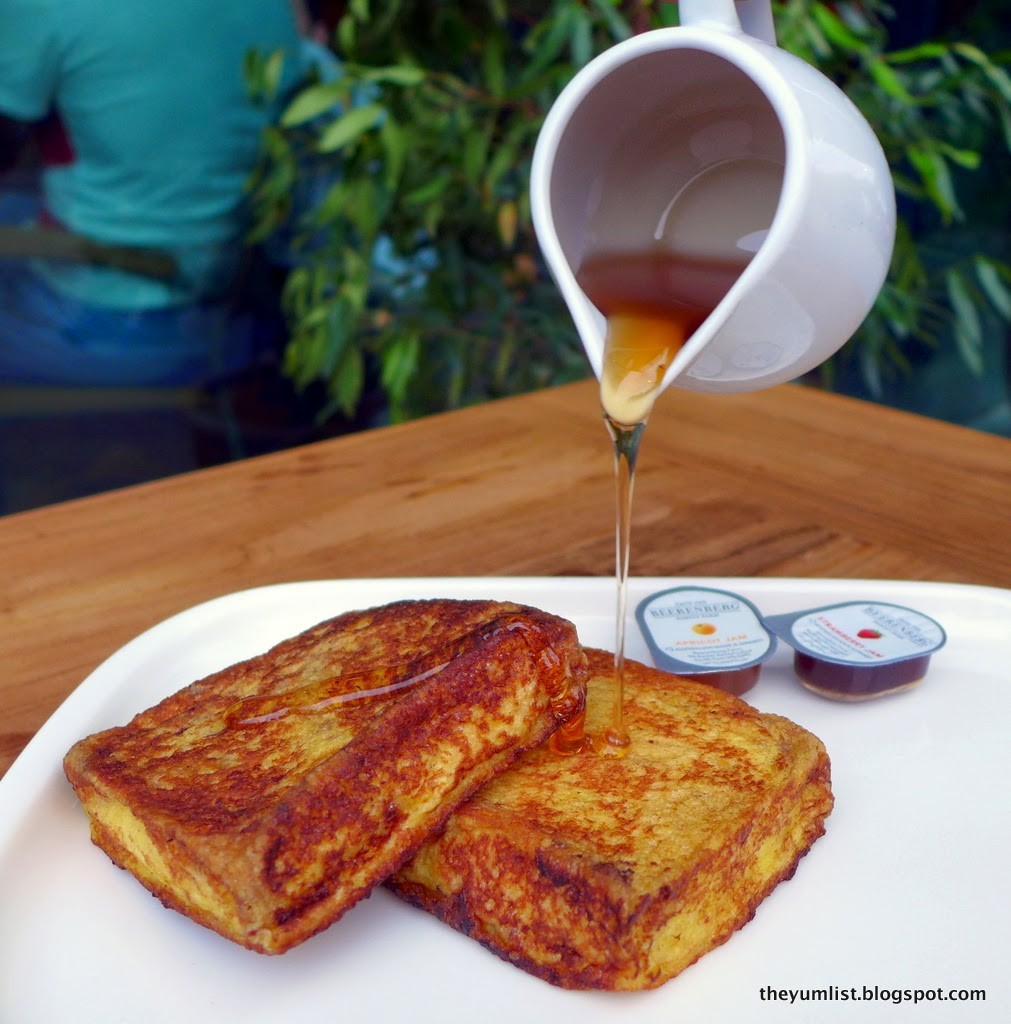 French Toast
Tapas y Racionadas
Frias
A generous sized serving of marinated green and black olives marinated with herbs and olive oil are presented in the Olivas Marinadas (RM16). Imported from Spain, but marinated in house, they make a great opening plate, or after work snack with a glass of wine.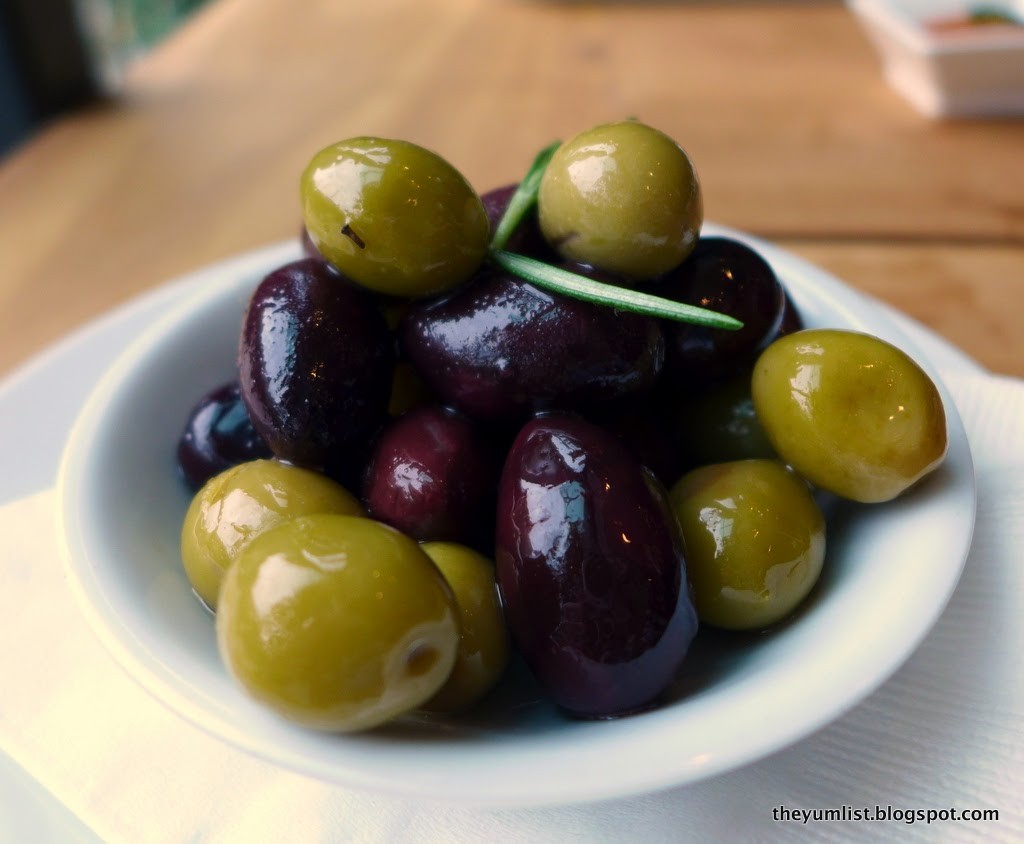 Marinated Olives
Rectangles of Panini hold onions and tomato marmalade topped with Roasted Angus Beef Brisket (RM38). A chimichurri sauce of herbs and oil swipe the edges of the plate and are worth brushing on the bites for an additional kick of savour. Meaty in the mouth, and full flavour for the taste buds, they're another adept accompaniment with an early evening beverage.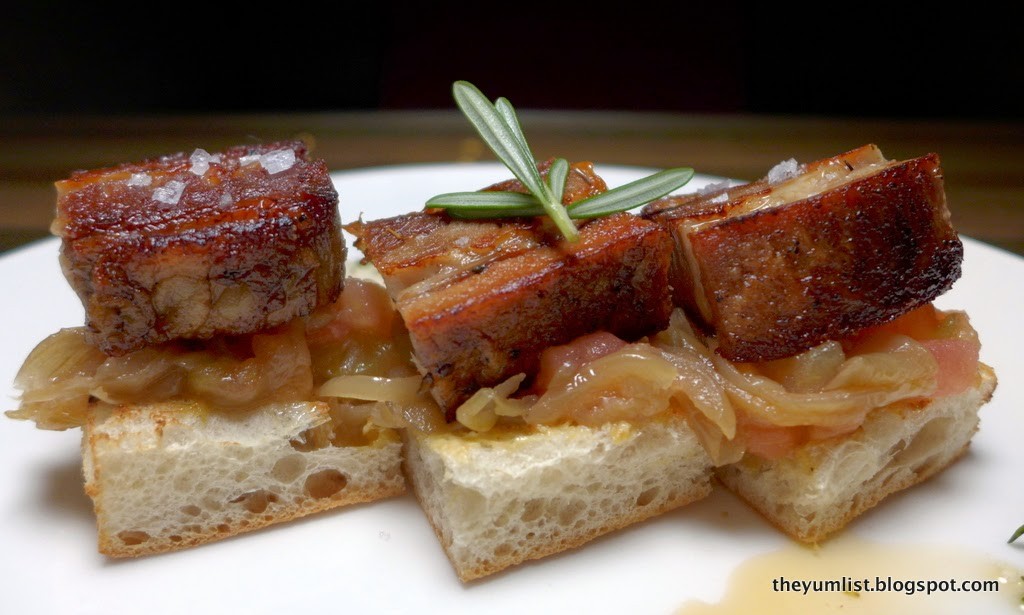 Roasted Angus Beef Brisket
Drinks
Tapas deserve a good glass of wine, and La Bodega does not disappoint in their offerings. They have one of the most extensive drink lists that you'll find in a non-hotel restaurant. Wines, beer, cocktails, liquors, and liqueurs: they're all here spread across a wide assortment of prices and tastes. The house wines by Viña Brava are exclusive to La Bodega, not found anywhere else in the city. During Happy Hours from 4 – 8pm prices are nett on a good selection or alcoholic beverages. We try the house pours.
A white, Viña Brava Parellada, Garnacha Blanca, Torres 2013 (RM23) from Catalunya Spain is light, bright and easy drinking. From the same winery, a rosé, the Rosado (RM23) Cariñena, Garnacha Tinta, Torres, 2010 provides a little more depth and suits a range of tapas.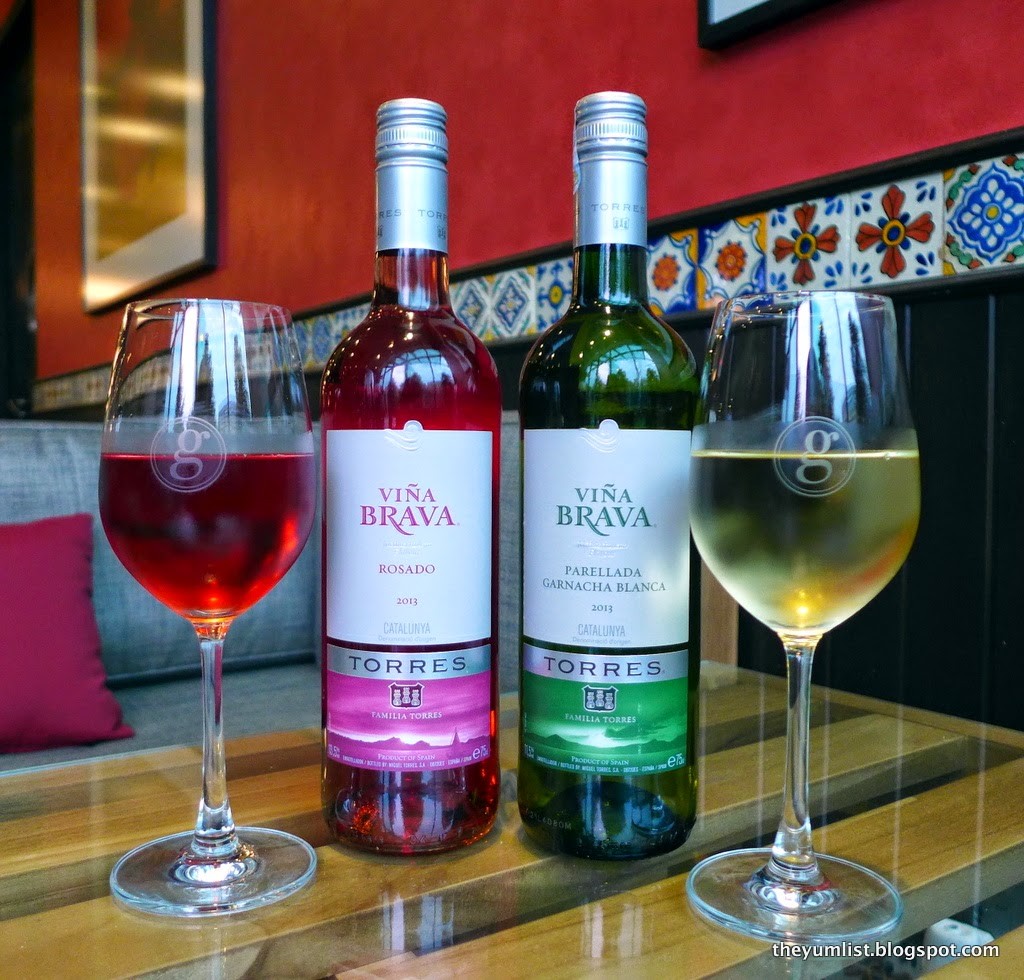 House Pouring Wines
Soups & Salads
We get the feeling that the next dish is going to be something special as our waiter is hovering around waiting for our reaction. Mediterranean Style Seafood Soup (RM37) comes with a side tray of grated Gruyére cheese, rouille (mashed potato with paprika) and croutons. Our enthusiastic attendant recommends trying the soup first, then adding each side one at a time to experience different levels of flavour. First spoon fills our mouths with a rich tomato, heightened by the taste of fresh seafood and herbs. It is delicious. Cheese, potato and crouton appendages bring their own layers of texture and interest. The waiter returns beaming ear to ear as he sees the look of satisfaction on our faces, which only causes to further his delight.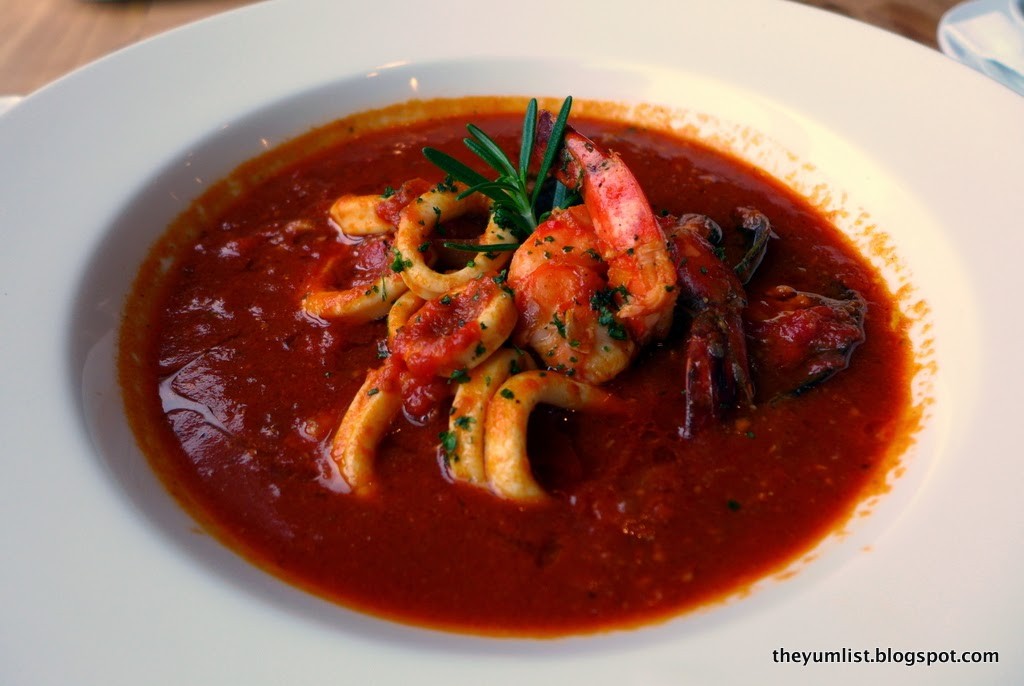 Mediterranean Style Seafood Soup
Josper Specials
A Spanish specialty is the Josper oven, a closed indoor barbecue using 100% charcoal heat and precision temperature control, which allows chefs perfect command over the cooking of their creations.
Chicken, steak and lamb are all available from the grill and come with thick cut potato chips, piquillo pepper (beautiful red specimens imported from Spain) confit and Padrón peppers (in a handful most are mild, but there's usually one with a surprising punch) with sea salt, and a choice of sauce: Béarnaise, Green Pepper and, Wild Mushroom. The meats however, really need no additional seasoning: they're quality cuts, cooked to perfection.
Australian Angus Tenderloin (RM80) seems to pulsate with tenderness: it's these moments that I want for video to truly capture the experience. Only seasoned with salt, pepper and the flavour of the Josper oven, its caramelized edges keep the interior moist. Fleshy, meaty and manly: it's like a well-shaven mountaineer in a suit: beefy and strong, but refined and easy on the eye, all the while tempting you with a wild side.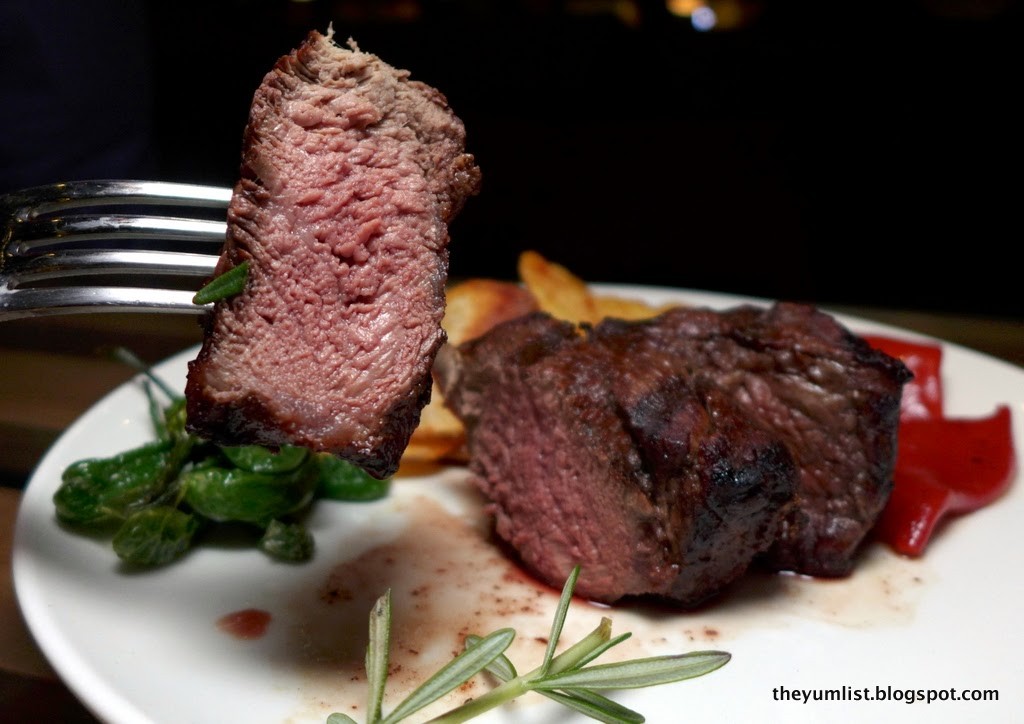 Angus Tenderloin
Three very plump pieces of meat are served in the juicy Lamb Rack (RM80).  Sprinkled with fresh thyme, this succulent meat needs no more for seasoning. The scars of the grill mark the edges and it's rosy pink inside. We think it a bountiful plate and good value for the price.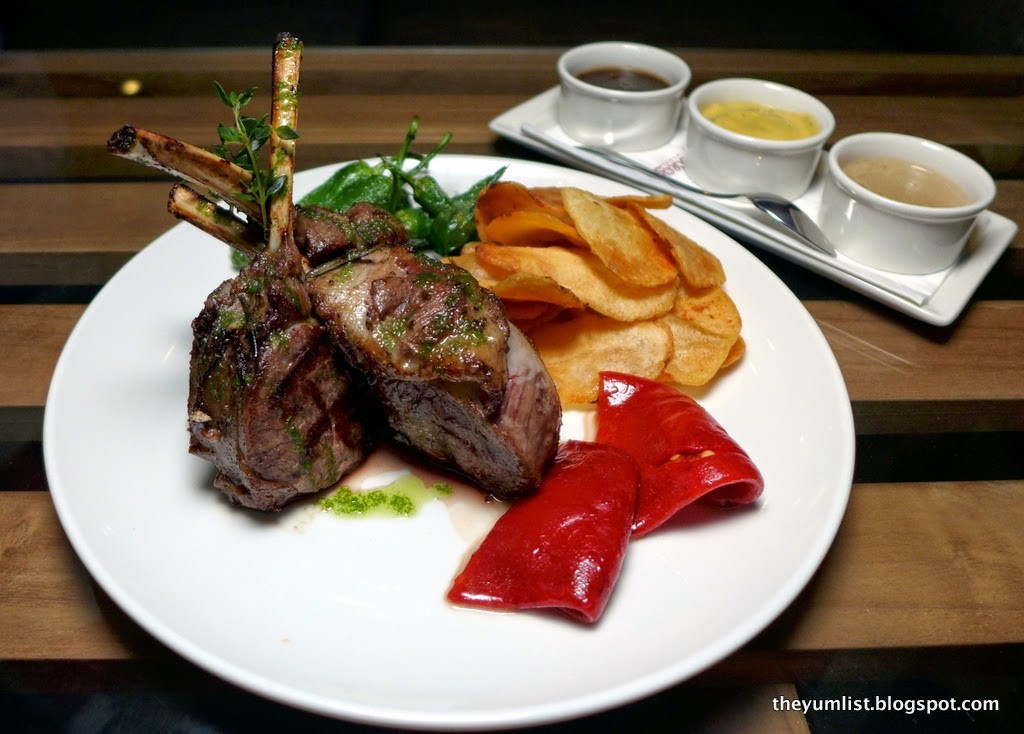 Lamb Rack
Fruits of the sea too are prepared fresh on the barbie. Spanish Octopus (RM85) is drizzled in garlic, olive oil and parsley, and served with Spanish pepper mashed potato. The mash has a kick to it that does especially well with the clean taste of the seafood. It's tender and full flavoured – very different to what you might be accustomed to from regional waters.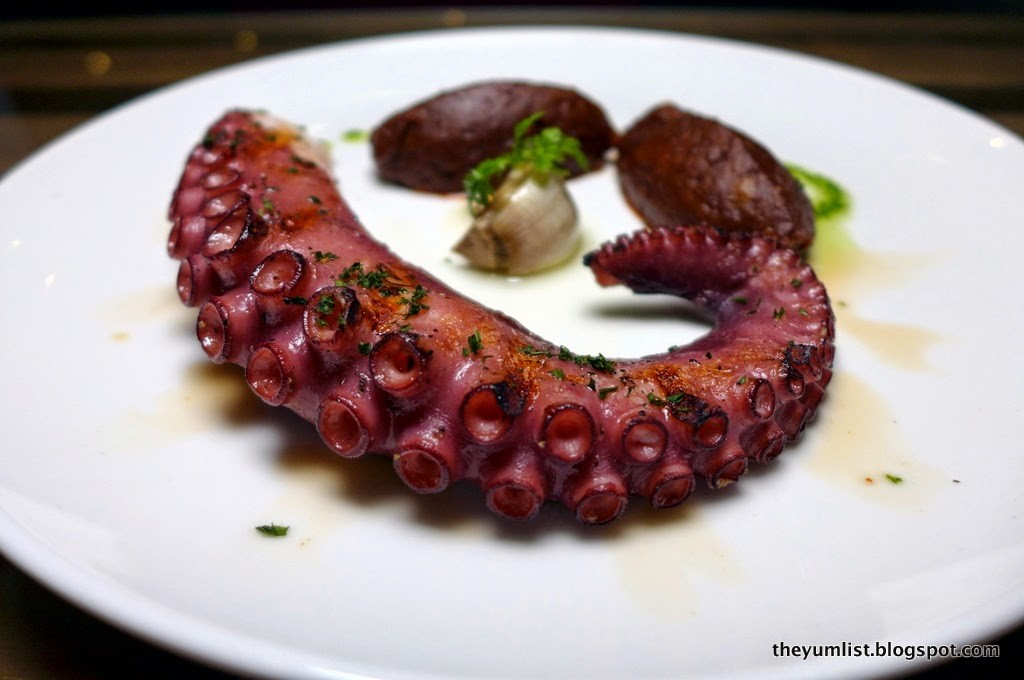 Spanish Octopus
Chef Basilio, from Spain, has a mischievous look in his eye as he approaches, brandishing a dish of his own that's not on the "to review" list. In a restaurant, with numerous outlets, there's little room for chefs to act on their daily inspiration. Creativity is required in the development of the menu, but consistency is strived for across the group, so there's not much space for artistry in the day-to-day operations. Free range however is given over the fish of the day. This week it's lemon sole and it has been prepared in a trio of white rolls. Partnering in the bowl are nuggets of eggplant purée andfresh strips of asparagus. A luscious  potato cream has too been readied in the Josper oven, which is poured over the top, turning out a luscious finished product wielding the distinct smokiness of the grill. We highly recommend a order.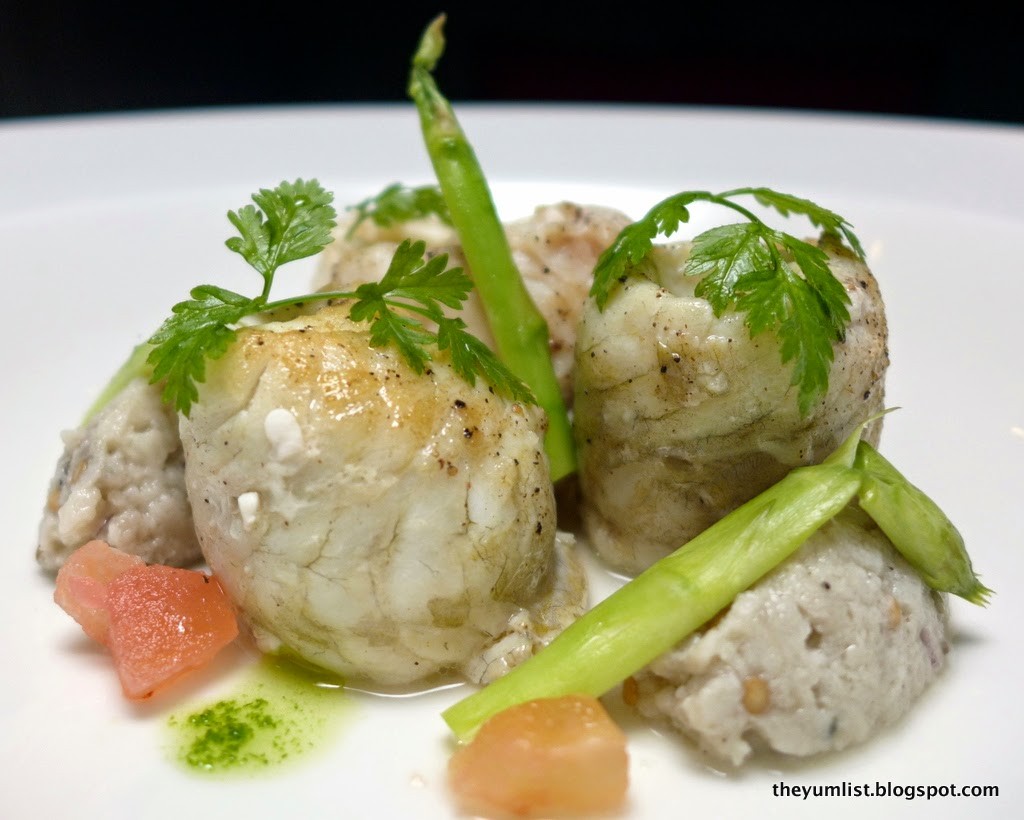 Fish of the Day
Dessert
Strawberry Cheesecake (RM12) is the classic version: biscuit base, creamy cheese middle and a fresh chunky strawberry sauce. The thick pile of dairy is lifted with the mild tanginess of the topping, and a vibrant mint leaf brightens the crest.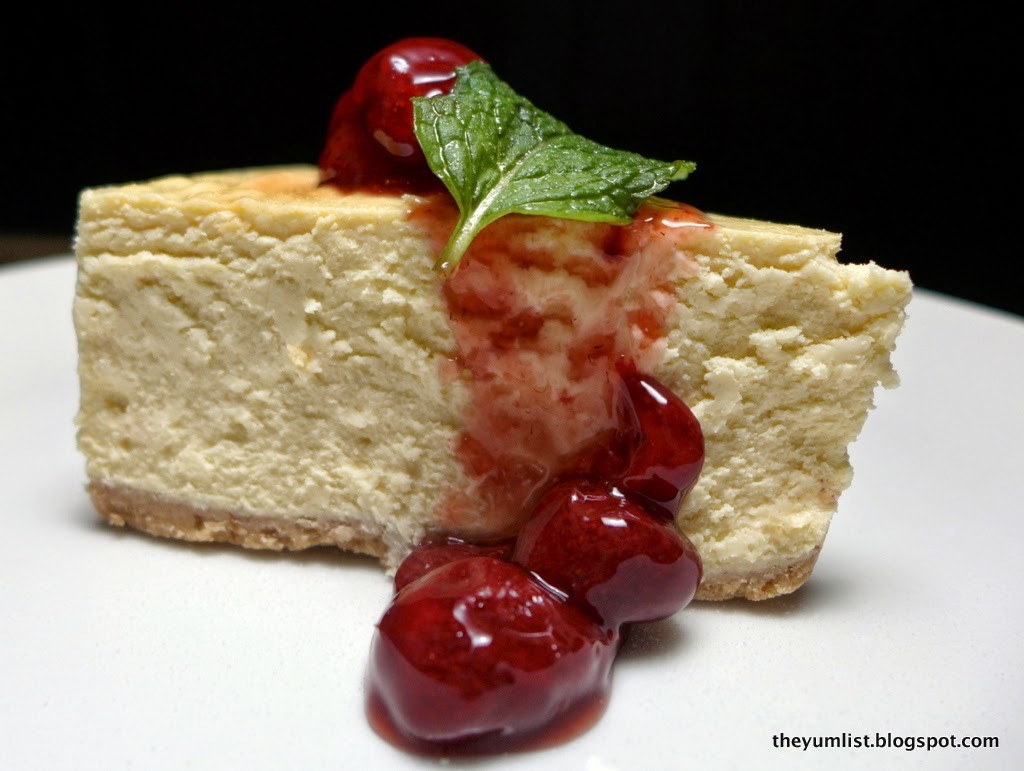 Strawberry Cheesecake
The Chocolate Hazelnut Pot (RM15) looks deceivingly simple. An unassuming pot of dark brown dessert sits in a white ceramic bowl. We scoop in and find a relatively firm chocolate pudding with chunks of cookies and hazelnuts. Once tried, it's sure to become a favourite.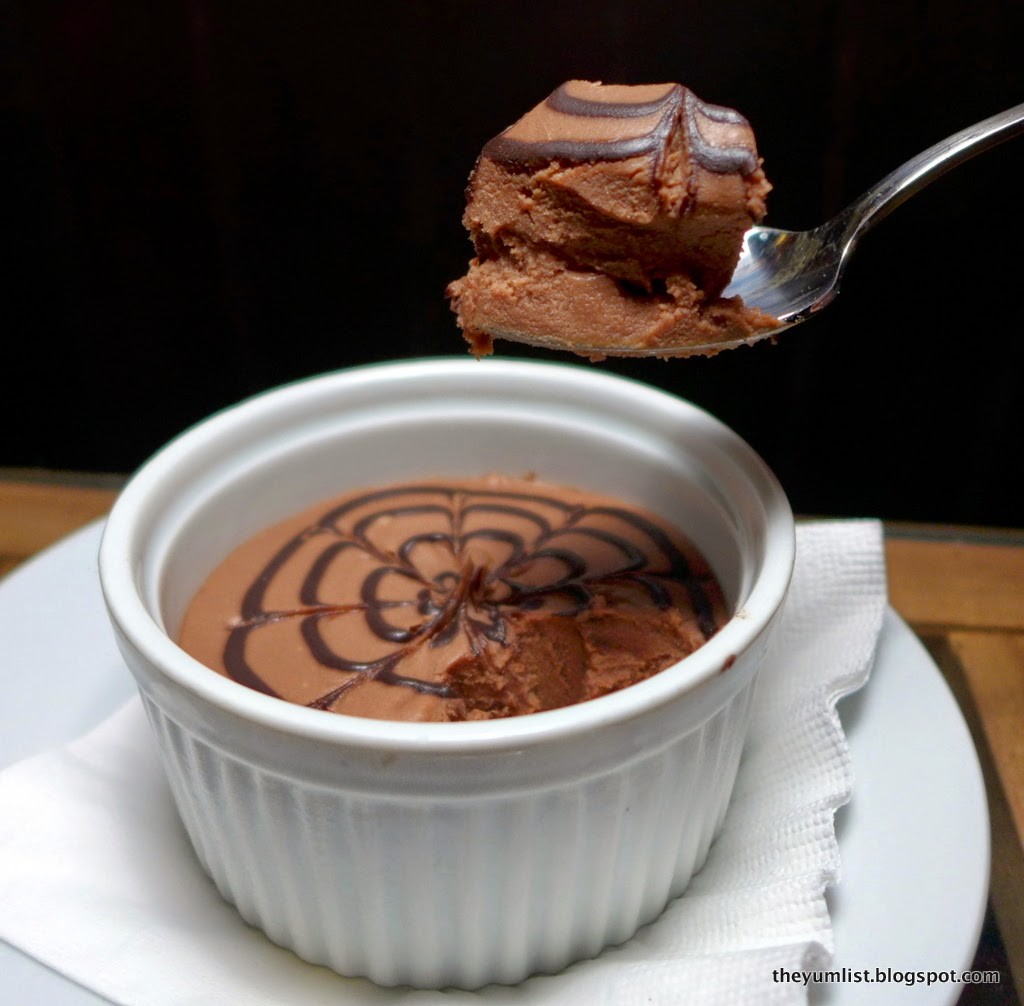 Chocolate Hazelnut Pot
Coffee by Illy provides a standard and consistent brew. Barista's do a fine job of producing a good espresso and textured foam. Milky drinks make a great morning pick-me-up, but in the evenings you might try a single origin espresso shot.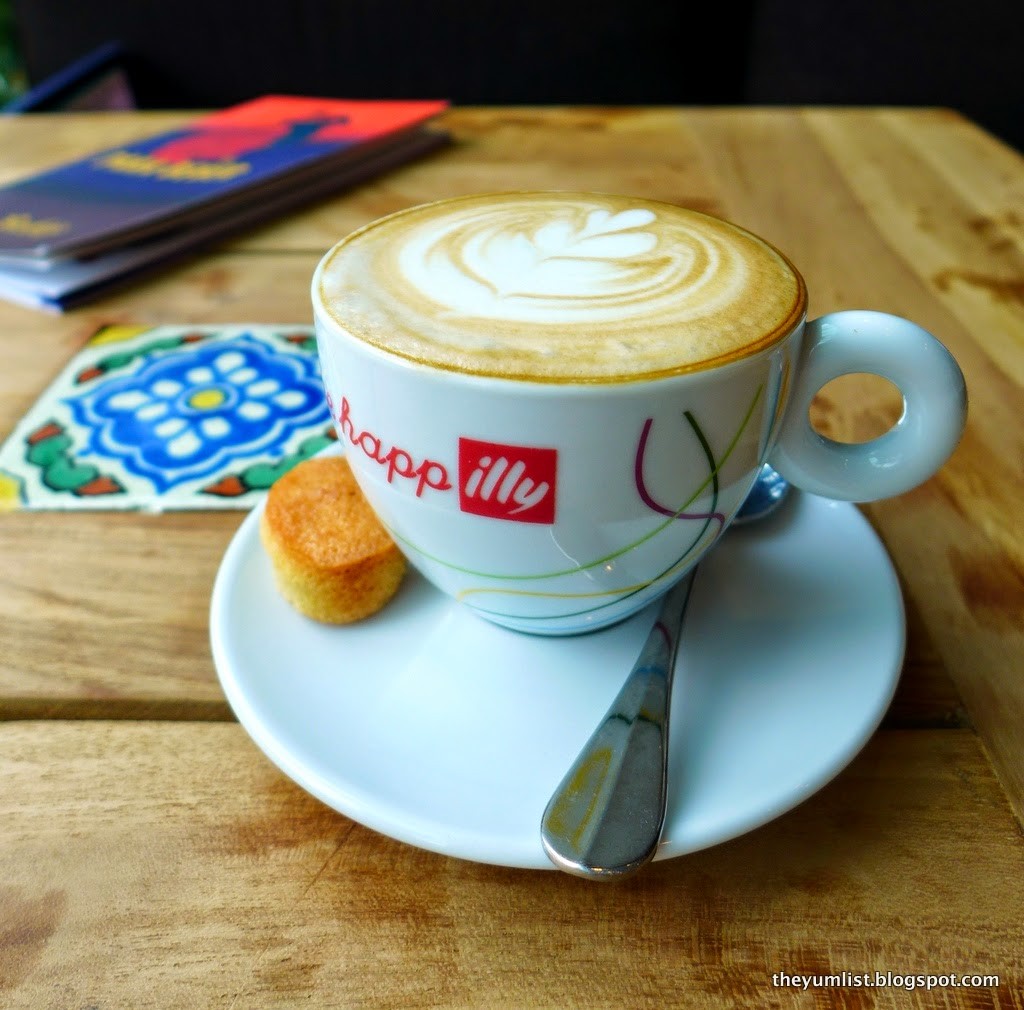 Illy Coffee
La Bodega Malacca seems to be the refreshed younger sister of the KL outlets. Unveiling a strong heritage in the traditions of a quality menu and casual welcoming environment, but with a brighter, rejuvenated image, it's sure to become a staple for both visitors and locals alike in Malacca.
Reasons to visit: relaxed yet chic vibe; quality offerings across the day from breakfast, to tapas, to a full meal; Mediterranean Style Seafood Soup; items from the Josper grill; chef's fish of the day.
La Bodega
Lot GF-09, The Shore Shopping Gallery,
Jalan Persisiran Bunga Raya,
75300 Melaka Tengah, Melaka
Open daily 9am –1am
Pork free