Words: Kirsten Durward     Photos:  Monica Tindall
The understated elegance of La Scala sparkles at the moment with a silvery Christmas twinkle. You already know how much we love this place for an elegant dinner, a romantic liaison or a special event, but now the festive season is upon us and owner Nilou with her new kitchen team have devised a unique culinary experience for the month of December. Fresh from the success of 12 awards from the Malaysian International Gourmet Festival, this relatively new restaurant is fast making a name as one of the best places to eat in Kuala Lumpur. So what's on the menu for the Christmas crowd? With her signature captivating enthusiasm, Nilou expresses her wish to offer 'something special that you won't find anywhere else in KL, possibly anywhere else in the world outside of Italy.'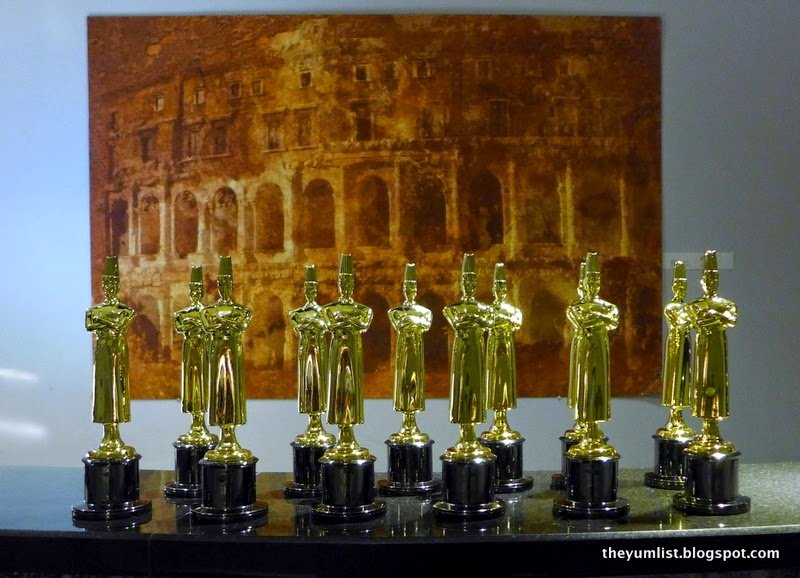 Multi-Award Winner at MIGF 2014
New Executive Chef Bruno carries the cachet of his previous Michelin star restaurant, but it is Sous Chef Bruna who meets with us to explain the dishes and capture our hearts. She talks with excitement of old family recipes, her great grandmother's food philosophy, and says she's striving for simple but tasty food presented beautifully. 'What the great grandmother would do but with modernization, the
saboro
, the taste of tradition back to the basic roots of Italian food.' We haven't tasted a crumb and we are already salivating just at the thought of it.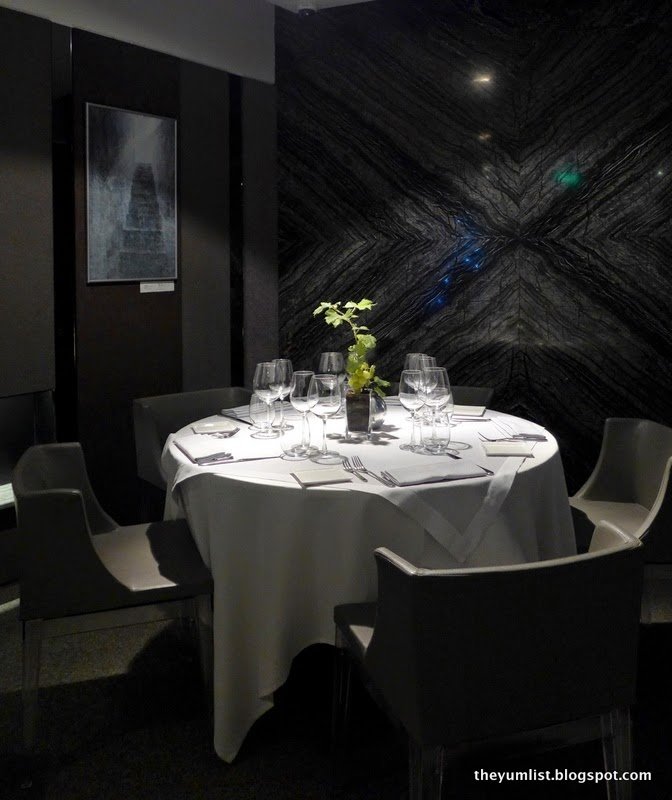 Elegant Setting
I sip on a Venezian Bellini while Monica prefers the crispness of a Roman Campari as an aperitif. La Scala's ambience, style and service effortlessly makes you feel special, elevated to another level after the ordinariness of the day's work.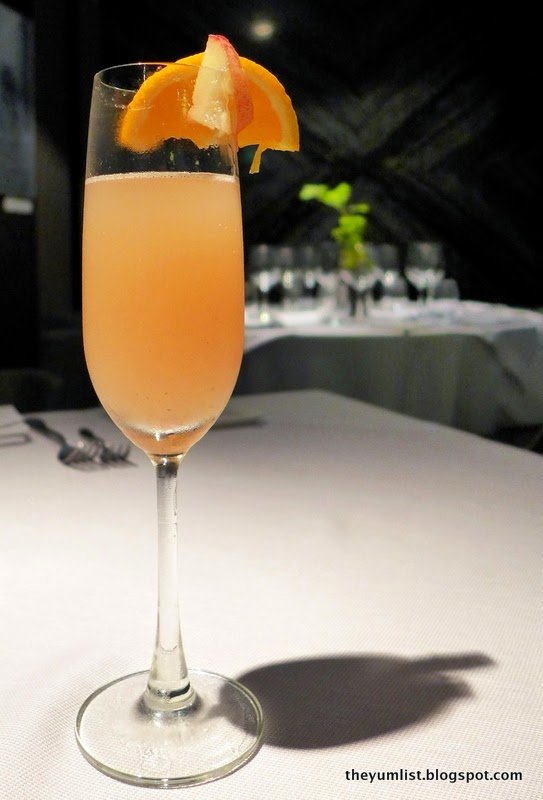 Venezian Bellini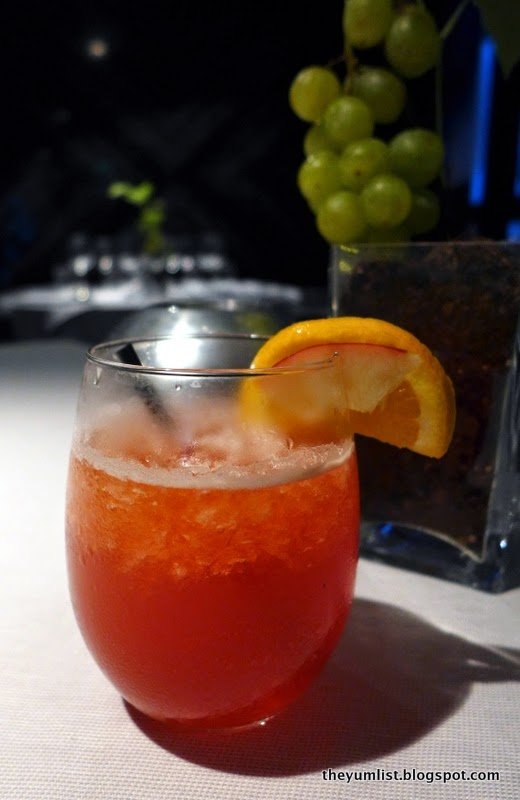 Roman Campari
To open the green/red Christmas theme that is to pervade the meal, our amuse bouche is a twinned pair of pastes for dipping the fresh homemade breads into. The sun-dried tomato is dense and salty in contrast with the smooth light green olive paste.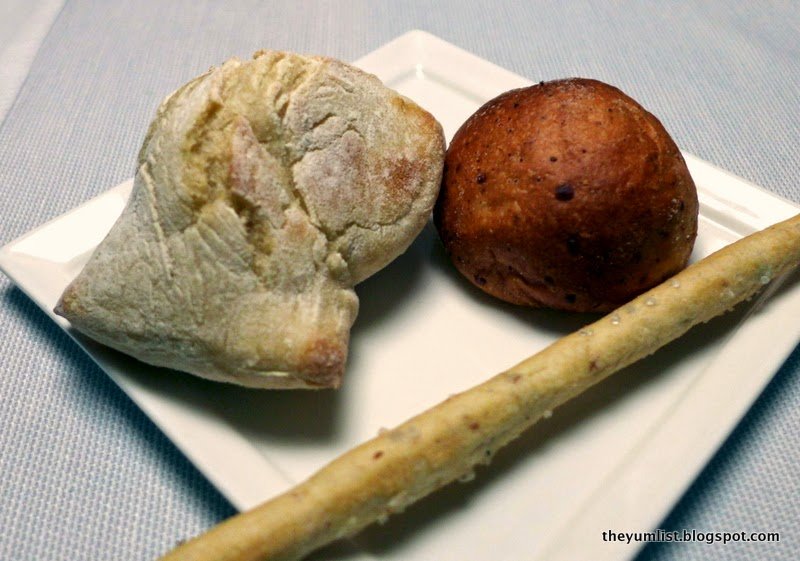 House Baked Bread
Our first gastronomic delight of the evening is featured on the unique 'Chene de Magro' menu that will be served on Christmas Eve. It's traditional in Italy, to eat only fish on the 24th, as a mark of piety. Calamaretti con Mousse di Patate novelle e Porcini (Christmas Eve Menu) is a perfect starter that catapults onto my 'favourite dishes this year' list. Like delicate lace adorning a pillowslip, salted baby squid rings frolic with wild Italian mushrooms on a floaty potato cream. Porcini mushroom adds a dense boost of flavor to this impossibly light dish. The gentle steaming of the baby squid achieves a marvellous mouth melting texture. We are entranced already and hover in anticipation of further delights.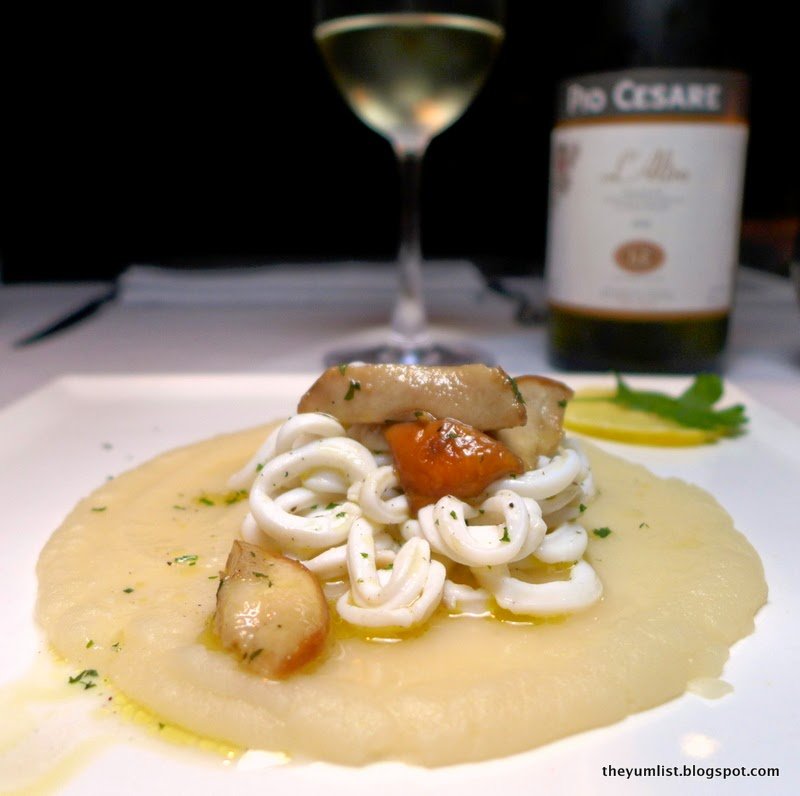 We've never tasted calamari so tender!
We're always happy with the wines at La Scala, and tonight is no exception. A beautiful pairing for the succulent squid is offered in the pouring of L' Altro Piemonte 2012, a refreshingly clean and light cold climate Chardonnay.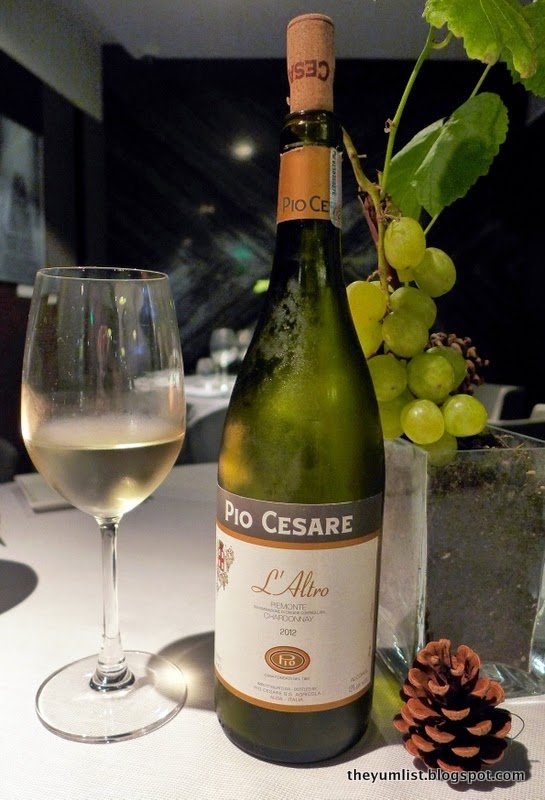 Pio Cesare, L'Altro, Chardonnay, 2012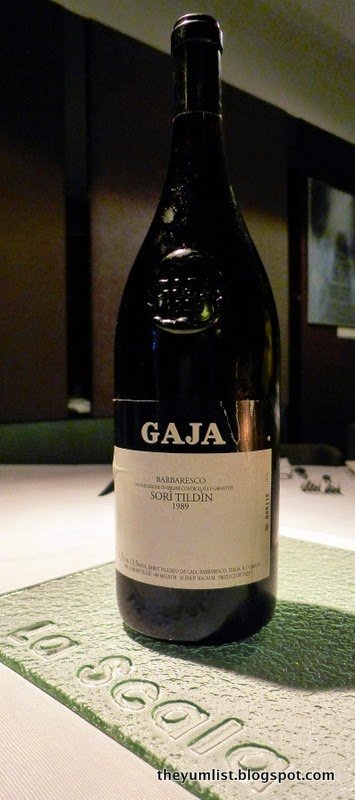 A very fine selection of wines like this Gaja, Sori Tildin 1999 for Auction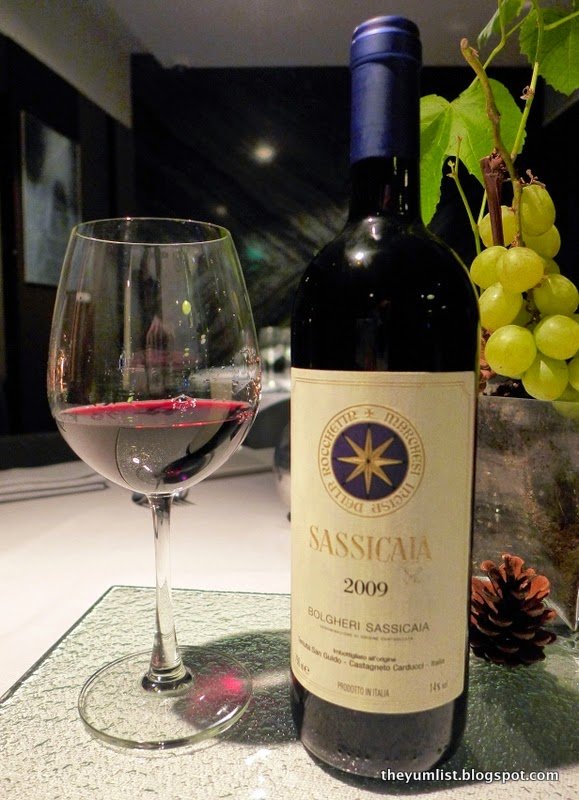 There are Some Beautiful Fine Wines in La Scala's Cellar
Vitello Tonnato (Christmas Menu) is another light and lacy dish. The slightest slenderest strands of veal are layered with a delicate tuna cream. Pomegranate and caper add a burst of flavour and continue the cheery red/green theme.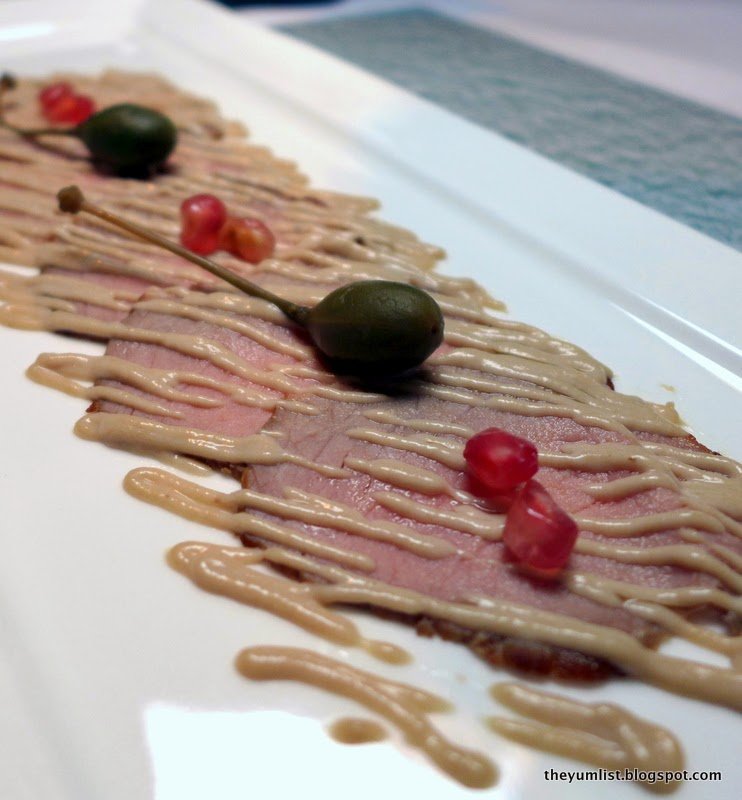 Vitello Tonnato
The next dish receives well-deserved gasps for its presentation – Lasagne al Forno con Pesto alla Genovese e Fonduta di Parmigiano Reggiano (December Menu). For non Italian speakers, yes that is pasta in the shape of a Christmas tree. Enough to tickle the inner child out of the Grinchiest of us. The Genovese Pesto and Parmigiano Cheese Fondue have fresh and pungent flavours that have us very enthused in deed.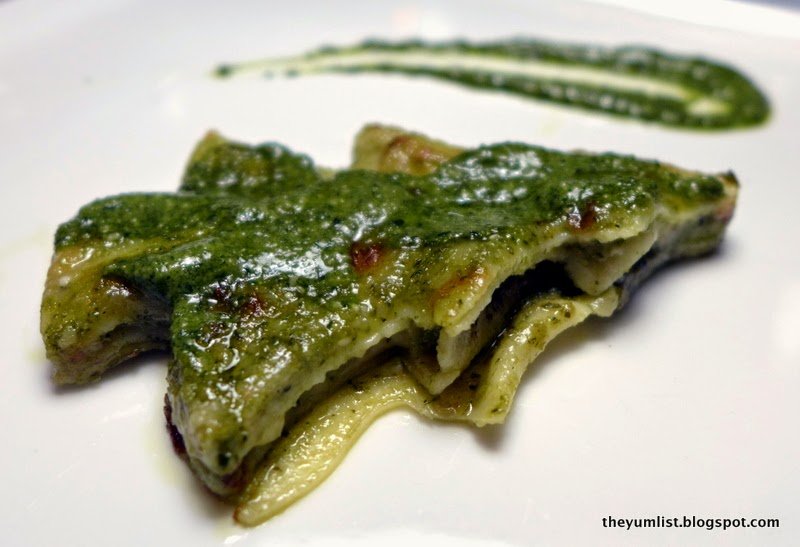 Lasagne al Forno con Pesto alla Genovese e Fonduta di Parmigiano Reggiano
Ravioli al Salmone con Salsa di Peperoni Rossi and  Turbante di Pasta fresca con Ricotta, Spinaci e Crema di Noci (Christmas Eve Menu) continue our bespoke green and red Christmas message. I have to fork back and forth between these two beauties trying to figure out which one I like best. The Spinach Ravioli delights with a ricotta cream tinge and the gentle  crunch of walnut, while the salmon star sparkles with a subtle red pepper sauce laced with a sense of chili and a sharp burst of pomegranate.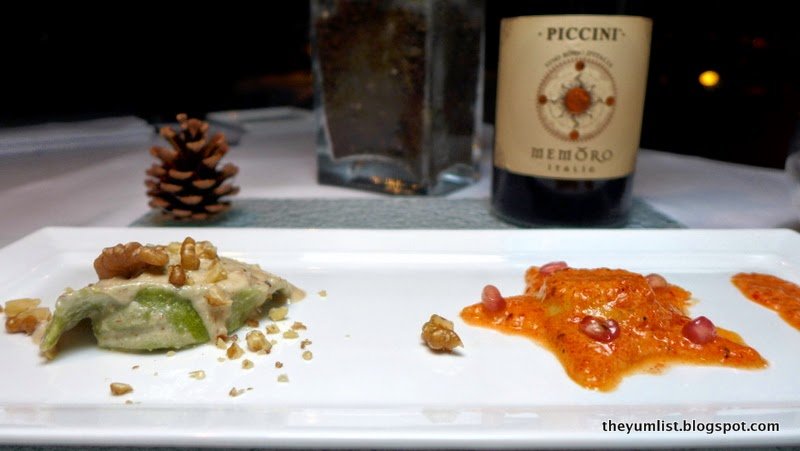 Christmas Themed Pasta
We're moving onto meatier options and our wine has changed to red. Chianti "Castello Querceto" 2013 is light in the mouth with very low tannins. We enjoy its slightly cheeky cherry overtones as we move onto some serious veal dishes.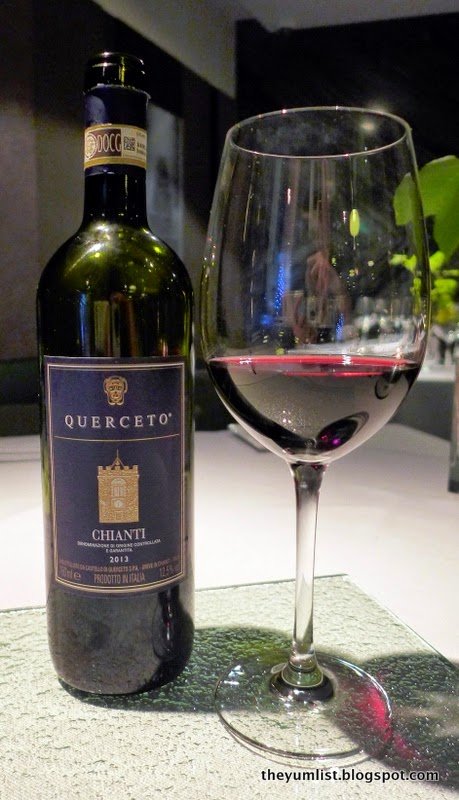 Querceto Chianti 2012
Ossobuco di Vitello alla Milanese (Christmas Menu) is served in a very deconstructed way. Like a yin yang symbol, the deep red tomato and creamy sabayon nestle around the star of the dish. The meat is sensuously soft and unctuous, with powerful flavours. The intensity of the dish is lifted to another dimension with microscopically chopped fresh vegetables that add texture and freshness.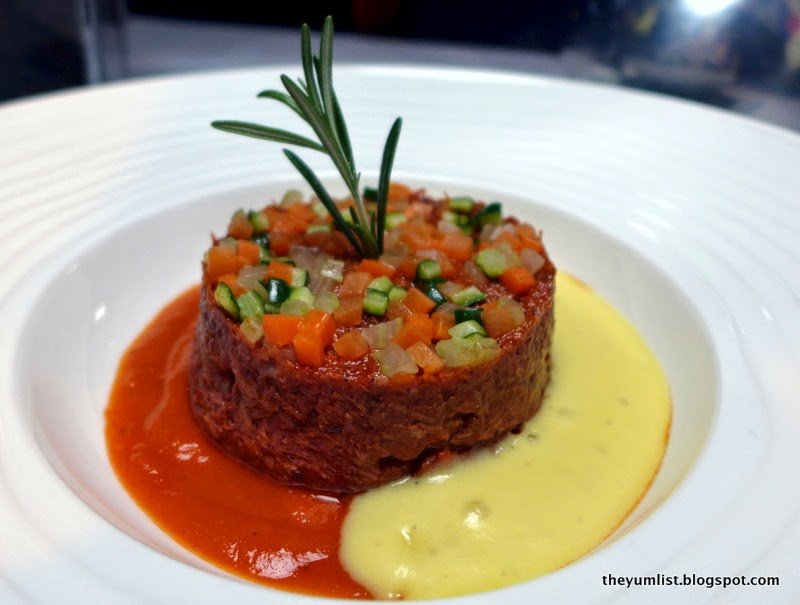 Ossobuco di Vitello alla Milanese
Bollito di Vitello con due Salse e Mostarda di Cremona e Tortellini in Brodo (December Menu) is a traditional regional dish with a whole story behind it. Bruna patiently explains the detail of the lengthy preparation. First the broth is made with rooster bones, veal, lamb and tongue cooked overnight for depth of flavour. The tortellini are made separately with turkey and veal roasted in rosemary and garlic, while pickled sweet vegetables have been prepared in advance. Veal cheek and belly is cooked long over a low temperature before being sliced and served with mustard and these candied jellied fruit. The tastes are sweet, sour and savoury. The broth has an incredible depth of flavour that we are all mooning over, and as if the soft moist meat weren't enough, there is a deep Piemonte red pepper anchovy sauce that is just sensational. 'Go on!' she says 'for the juices, cut the juices separately with dumplings,' encouraging us to take another spoonful of the tortellini in the broth. This is clever food. I'm not a Michelin rater but it gets my vote, and I'd stake any reputation I have on you not finding this rendition anywhere else any time soon.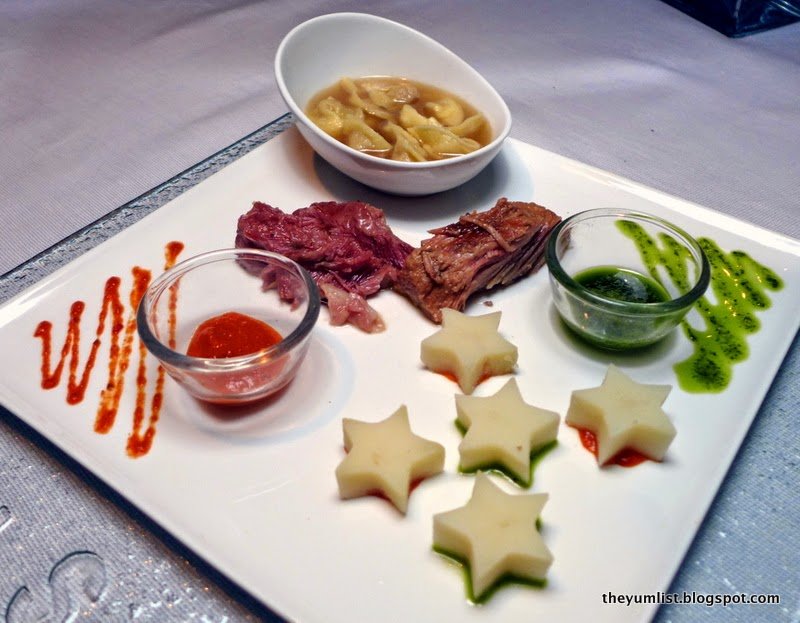 Bollito di Vitello con due Salse e Mostarda di Cremona e Tortellini in Brodo
Our dessert is traditional 'Italian Christmas Cake' – Panettone con Crema Zabaione. The homemade Zabaione is delectable, with White Port used in place of Marsala. But our favourite ending is the homemade chocolate liqueur, which we dub 'Christmas in a Cup.' Dripping and oozing alcoholic chocolatiness, it's the best way to finish any Christmas menu.
Panettone con Crema Zabaione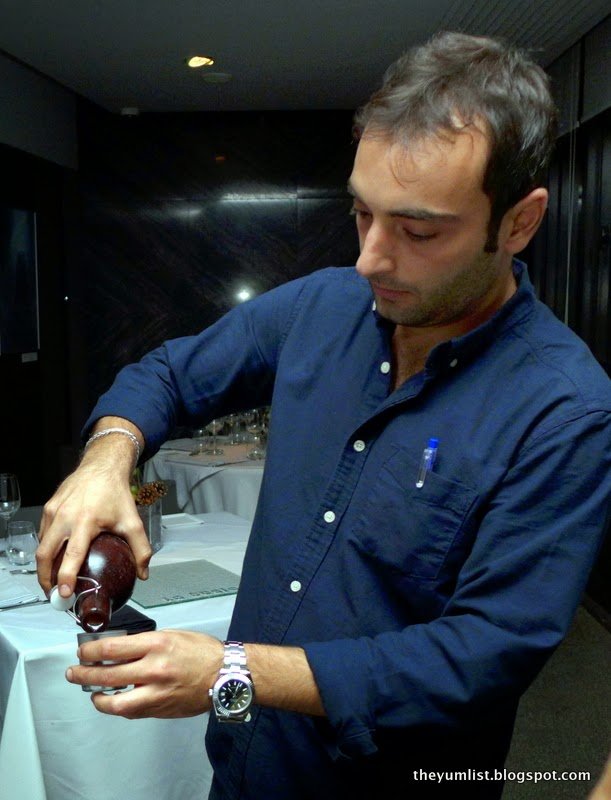 Time for a Digestif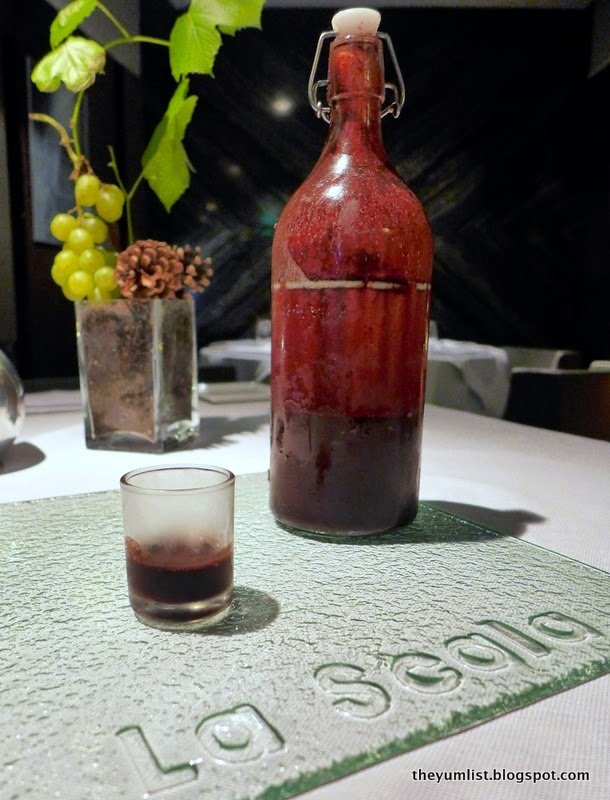 House Made Chocolate Liqueur
La Scala's  Christmas Menu is available from December 1 to December 31. The Christmas Eve menu will be the only menu available on December 24th. This review features only a selection of dishes from both menus.
Reasons to visit: Exquisitely crafted specialist dishes that you won't find anywhere else in the region.  Impressive wine list. Impeccable service. Attention to detail.
La Scala Italian Restaurant
183 Jalan Mayang (off Jalan Yap Kwan Seng)
Kuala Lumpur 50450
Malaysia
+6 03 2161 2291
Lunch:  Monday to Friday 12noon – 2:30pm
Dinner: Monday to Saturday 6:30pm – 10:30pm
Pork free
Parking is on site with the entrance either via Jalan Mayang or Jalan Yap Kwan Seng.
La Scala is also walking distance from KLCC and Avenue K.