Words: Kirsten Durward      Photos: Monica Tindall
We knew that Ohla was a great place to eat signature tapas, but apparently it is also a great place to sip signature drinks too. What better way to finish the working day than with a plate of tasty Mediterranean flavours accompanied by a glass of something sensational? Fresh and fruity cocktails and mocktails or straight up Spanish style Vermouth vie for attention of a late afternoon or early evening. Enjoy the ambience with sultry jazz gently filling the narrow space, blending pleasantly with bubbling voices. And extend your stay to try some signature tapas as tried and tested by your faithful Yum List tasters.
For friends who like to refresh their palate with fruity combinations at the end of the long day, Ohla has a range of signature mocktails. We try La Dama (RM16 ++), a soothing delectation of pineapple, lime, mint and ginger ale mint syrup. It's light but sweet, definitely appealing to the tastes of our local KL ladies.
Vermell  (RM15++ ) is a slightly different twist to a fruity drink, with the blend of strawberry, orange and mosto (grape juice) being fizzed with tonic and striated with calamansi lime.
Refreshing though these freshly made fruit drinks are, Monica and I are immediately distracted by the appearance of bottles of Spanish Vermouth: something truly unique for KL. While these drinks are poured, a heavy sealed jar of house made Olivas Marinadas (RM13++) is opened before us. But the name does not do the dish justice. A tumble of olives, peppers, gherkins and baby onions freshly marinated in glistening viscous olive oil are spooned out and vied for. We taste the herb notes of bay and rosemary together with a gentle spice from star anise and cinnamon and just the slightest cutting tinge of vinegar. This is a bargain, a 5-star dish at a 3-star price: a perfect accompaniment to a glass of vermouth or a dry red wine at the bar.
My first sip of vermouth is the Yzaguirre White (RM16++). I'm told it evokes the light and imagination of the Mediterranean. I find it fruity and aromatic, with a citrus freshness under the first sweet taste. I'm loving the fat olives in the glass too. It's a worthy aperitif.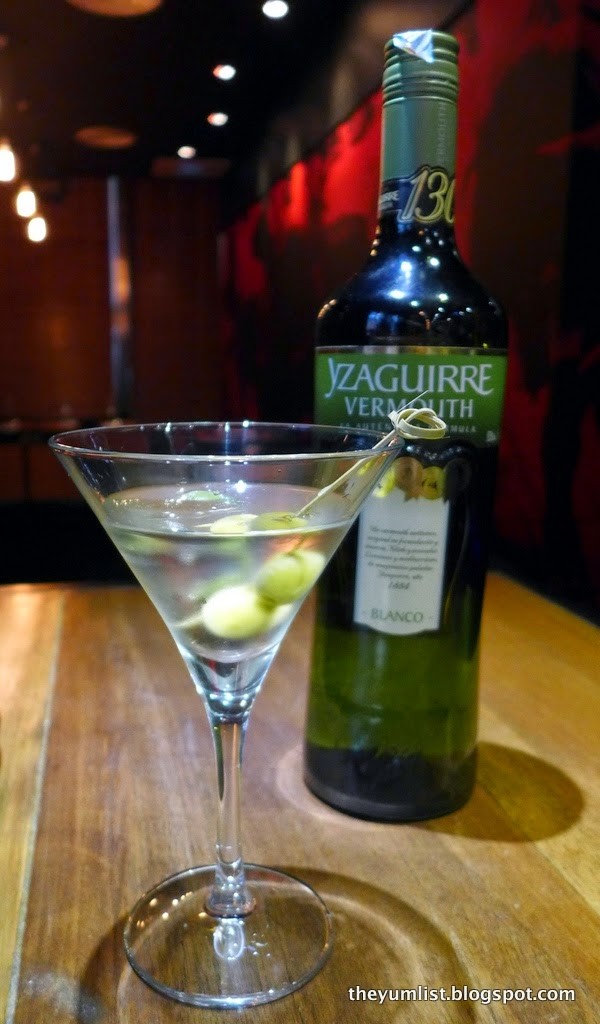 Yzaguirre White
The darker variation is the Yzaguirre Red (RM16++). This spicier, slightly more bitter version has notes of balsamic. It sips well with the salty fish dishes that we are now snacking on. Delighted with our new discoveries, Monica and I raise our glasses to many more 'firsts' in tasting.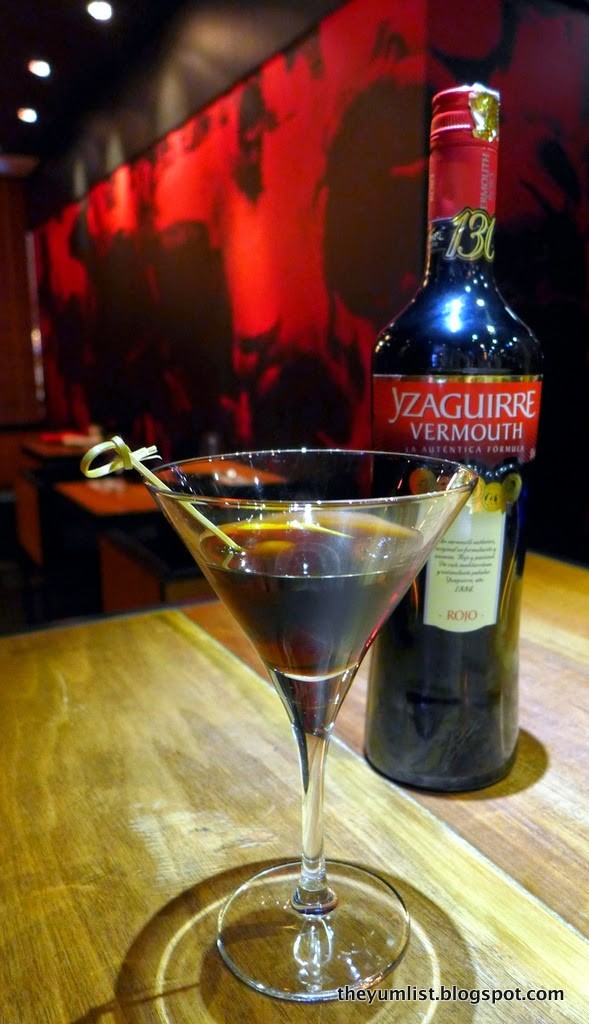 Yzaguirre Red
Ohla offers much more than fish on the menu, but these three plates typify some particular Mediterranean flavours. All the fish is imported from Spain to ensure consistency with the traditional flavours
Many cultures have a marinated fish dish, a great way of preserving and adding flavour.  Our Salmon Marinado (RM 16.50 ++) is delectable, with plenty of fresh dill from the famed Casa Santoña. 


Anchoas del Mediterráneo (RM4.50 per piece), are a tricky catch: to be eaten at their best they need to be harvested in the warm weather of summer. At this time the skin is softer and the ocean salt is absorbed in their flesh. These tasty morsels have a very dense flavour, no bones to tickle, and need no dressing. A simple cold beer to chase would make a perfect match.
Boquerones con Ajo y Aceite Verde (RM 17.50 ++) are another delicious mouthful: silky in texture, with lovely potent citrus flavours merging with the garlic. As I bite in, the juices burst out; giving a delicious sinuous movement that enhances the taste.
We end our relaxing couple of hours with the taste of two novel cocktails. The first, Rosalia (RM34++) is a blend ruby grapefruit and vodka, enhanced by a light perfuming of rose water. It starts lightly floral and ends on a mildly bitter note: evoking thoughts of a romantic desert sojourn.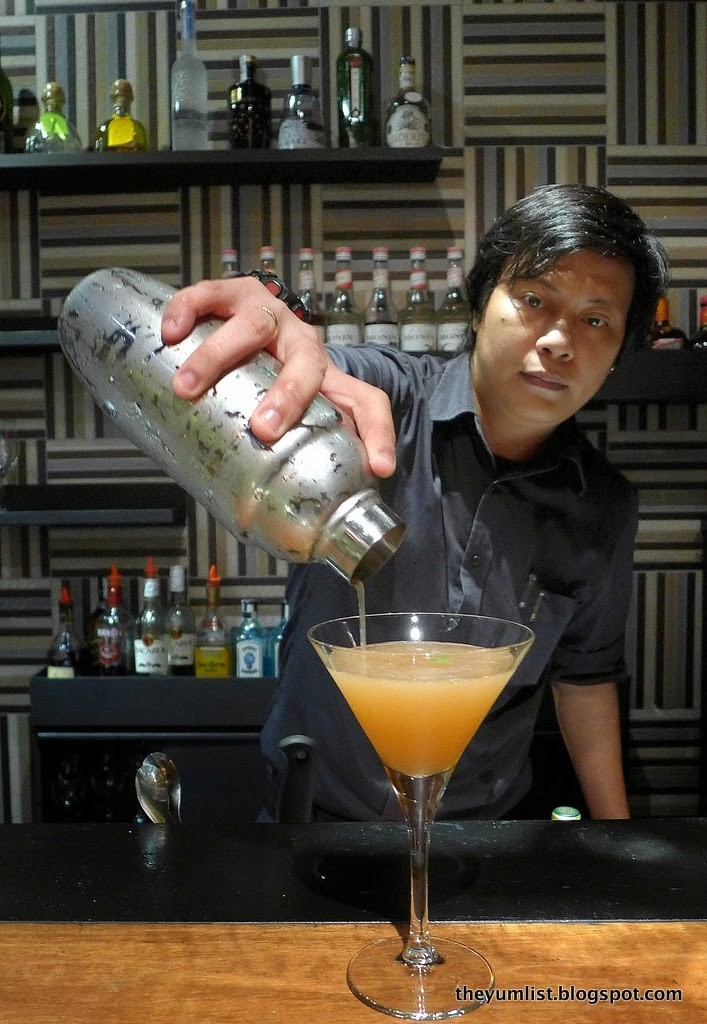 Rosalia Cocktail Preparation
Yara (RM28 ++) hits you first with a fresh grassy aroma, then delights with the powerful sweet, sour and balanced flavours of gin, basil and kiwi. It is really difficult to make a good gin cocktail, but this one definitely hits the right note.
Ohla is currently offering some wonderful Happy Hour Promotions from 6pm to 8pm Monday to Saturday showcasing Moritz beer for RM10 nett per bottle, and one-for-one Afroitado cocktails at RM33++.


Reasons to visit: unique tastes, Spanish specialties, relaxing after work bar vibe.


OHLA Tapas and Cocktails
G-18 Ground Floor
The Intermark
348 Jalan Tun Razak
50400 Kuala Lumpur
Malaysia
012 663 2651
Non-halal
Currently open in the evenings from 6pm.