We never expected to find such a peaceful, Balinese inspired spa in the heart of bustling Kuala Lumpur. Somehow, however, the designers of Donna Spa have managed to bring a little piece of Bali right here to us at the top of KL's most stylish shopping mall, Starhill Gallery.
A natural-hued colour palette, rattan furniture, Balinese umbrellas, and the sound of running water, usher in the tranquil ambience of the Island of the Gods. Boosted with therapists from Indonesia, and an impressive range of plant-based scrubs, masks and oils, the composition is immediately calming.
Three couple's rooms, three single's rooms and three ladies'-only rooms provide serene places for treatments. In addition use of the facilities of hot and cold pools, and a steam room are highly encouraged before a spa session, fully prepping bodies and minds to make the most of their time at Donna Spa.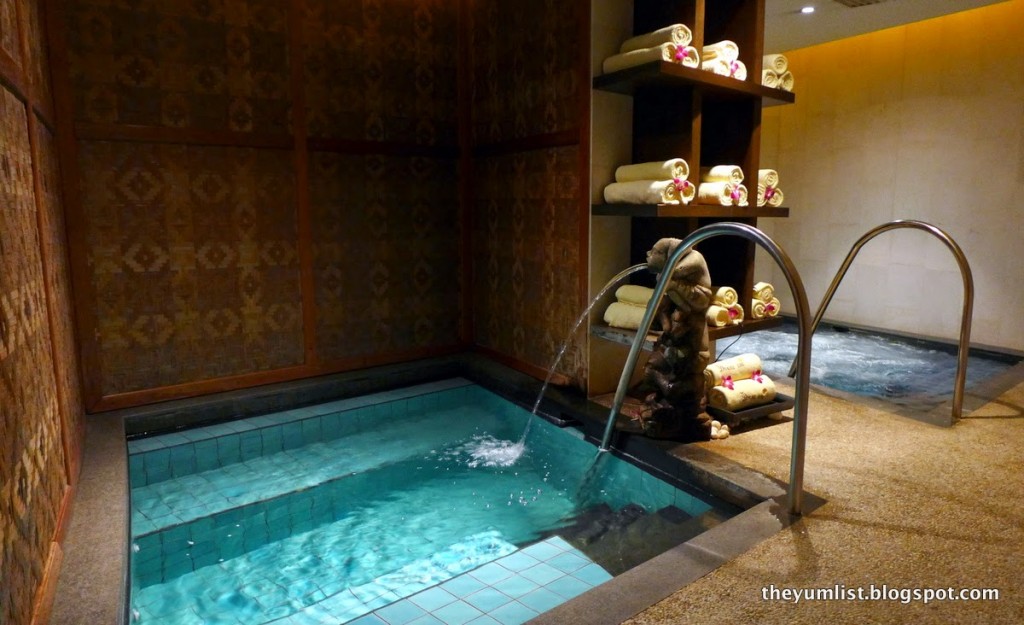 Facilities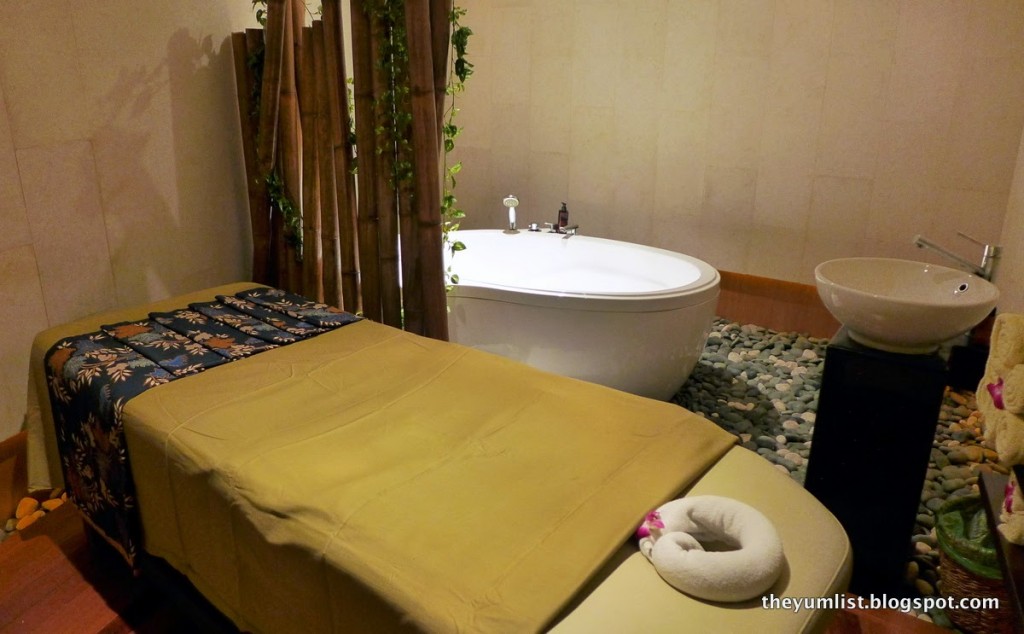 Single Treatment Room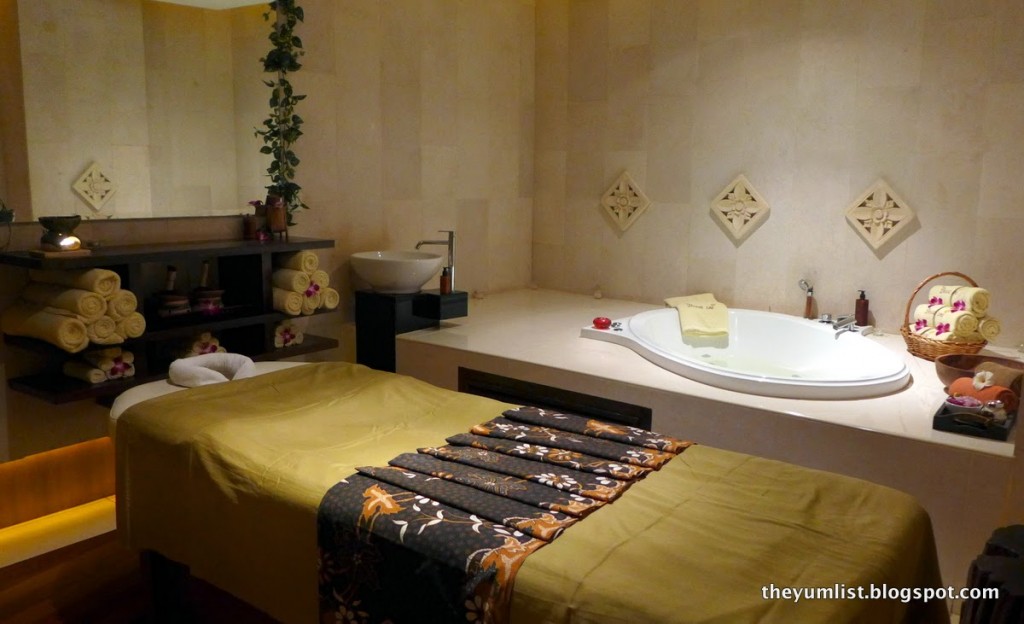 Single Treatment Room
Hubby and I have signed up for the Harmony Extreme package (RM1380 currently on special for RM1180), which promises three hours of bliss. From start to finish we're assured to be taken care of with a welcome drink, choice of rose body mask or salt scrub, luxury flower petal milk bath, natural volcanic stone treatment, full body massage, and time to relax further at the end with a warm beverage.
Hot ginger tea served on a coconut shell plate, covered with a leaf and adorned with an orchid, begins our experience in the reception lounge of Donna Spa. The tea is perfectly balanced displaying a nice bite of ginger smoothed over with a faint taste of pandan. Not only is it tasty (perhaps one of the nicest spa teas we've had), but it's also said to detox the body, reduce bloating and ease menstrual pain.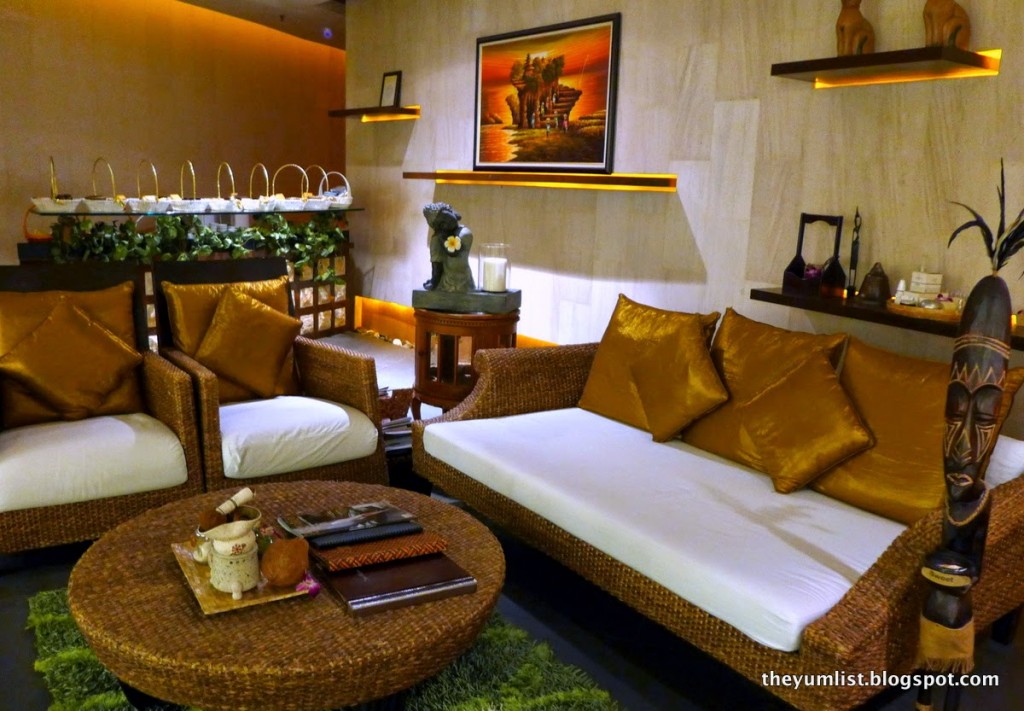 Donna Spa Reception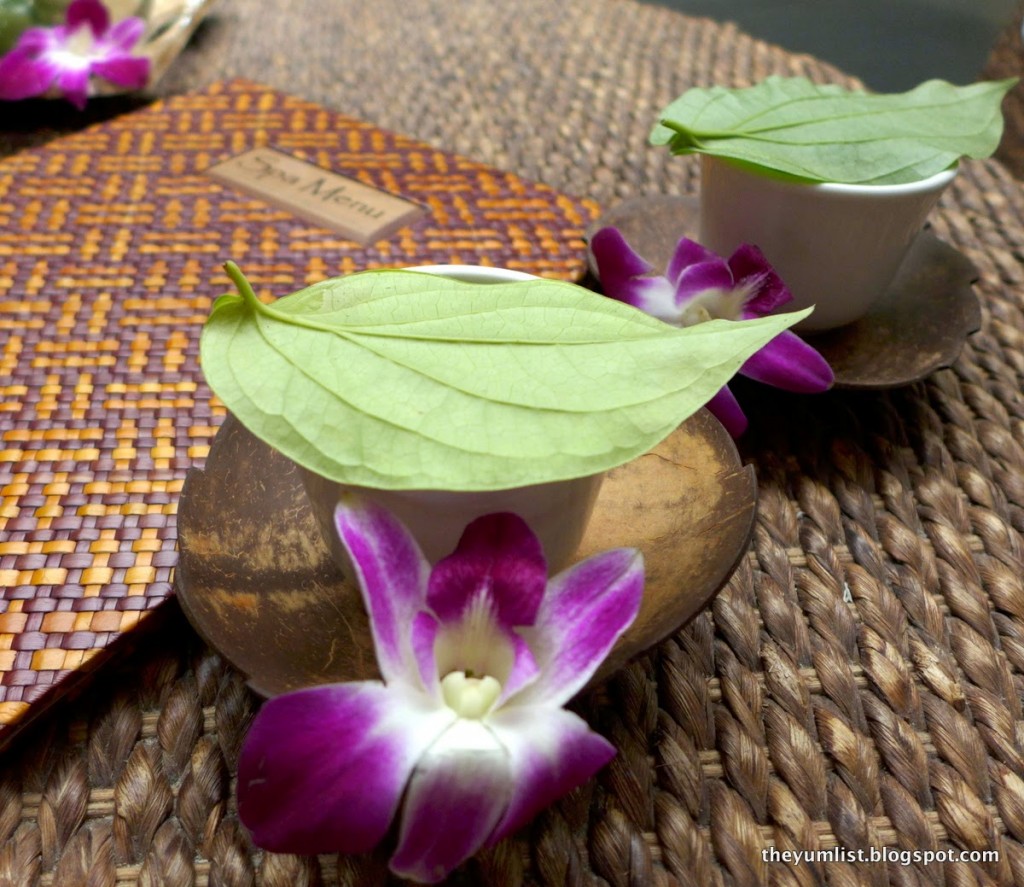 Ginger Tea
While sipping on our tea, the line-up we've booked in for is explained by our knowledgeable receptionist. We appreciate this touch – of getting a complete overview at the start. It allows us to ask questions and to maximize the session. During our consultation we're offered a choice of oils and scrubs.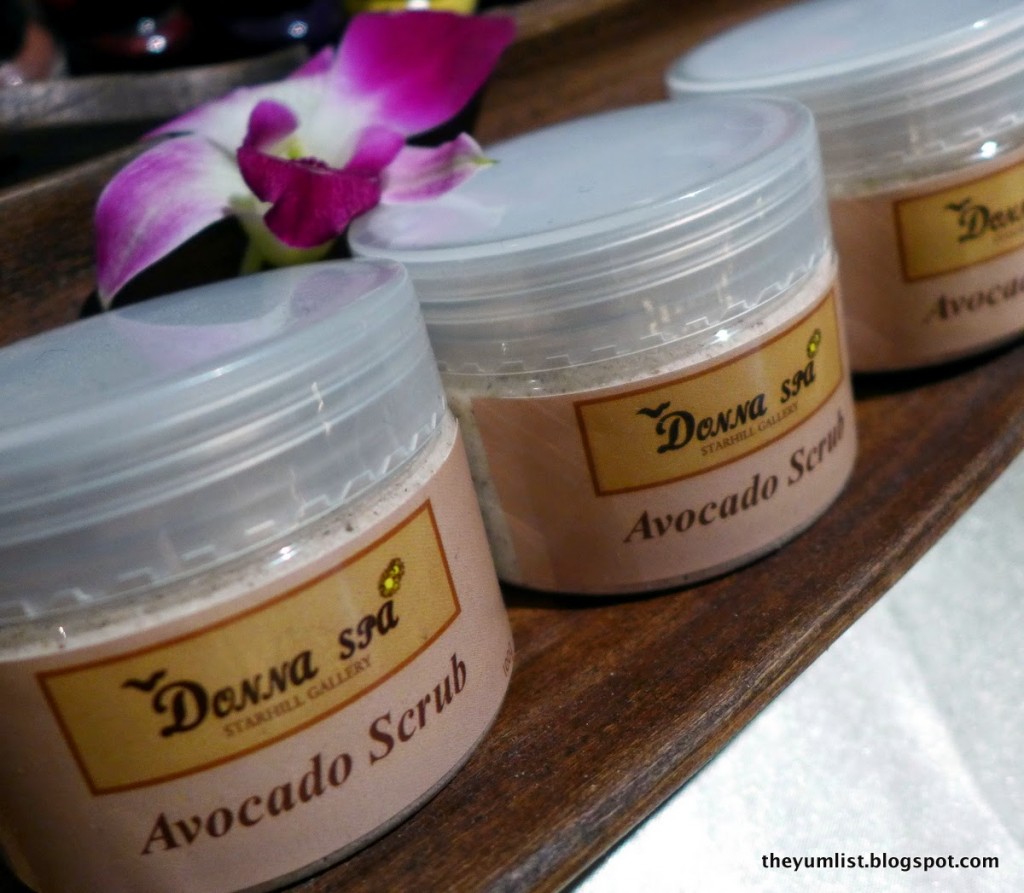 Donna Spa Scrubs – You can take some home with you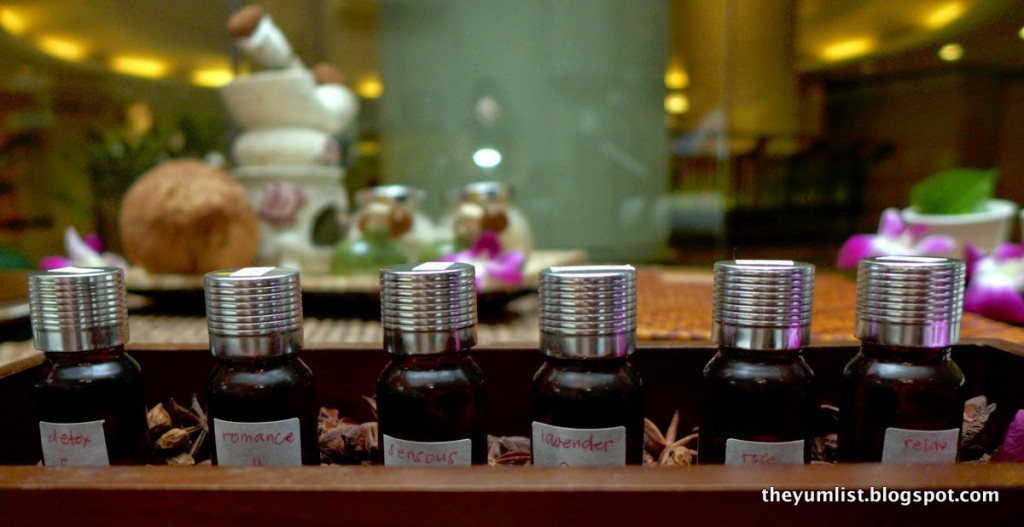 Choice of Massage Oils
Donna Spa's products are rather special. All are customized specifically for the spa and are based on organic rice and 100% natural ingredients such as fruits, herbs and nuts. The scrub tray is presented with 18 different types to choose from! The various ingredients in each variety are explained and the health properties highlighted.
The all round best sellers are the Avocado and the traditional Lulur. We're enticed however by the wonderful aromas of the Cappuccino, Passionfruit and Vanilla. In the end, we decide on mixes that are suitable for sensitive skin: Apple and Aloe Vera. A similar process transpires for the oil selection.
Based on sweet almond oil, there are six alternatives for use during the massage: Detox, Sensuous, Relax, Lavender, Rose and Romance. Apparently the favourite amongst the ladies is the Rose for its floral scent and lymphatic drainage properties, which help reduce water retention. We're both of similar minds today, after a full three weeks of festive holidays, so the Detox is our pick. Made from eucalyptus, sweet almond, coconut and citrus oils, it claims to be good for muscle ache, and wind and sports a refreshing awakening scent.
Escorted to the facilities and treatment rooms, we're surprised by the size of the place. A wooden walkway, bordered with pebbles and gently lit with lanterns, curves between doors leading to single and double rooms.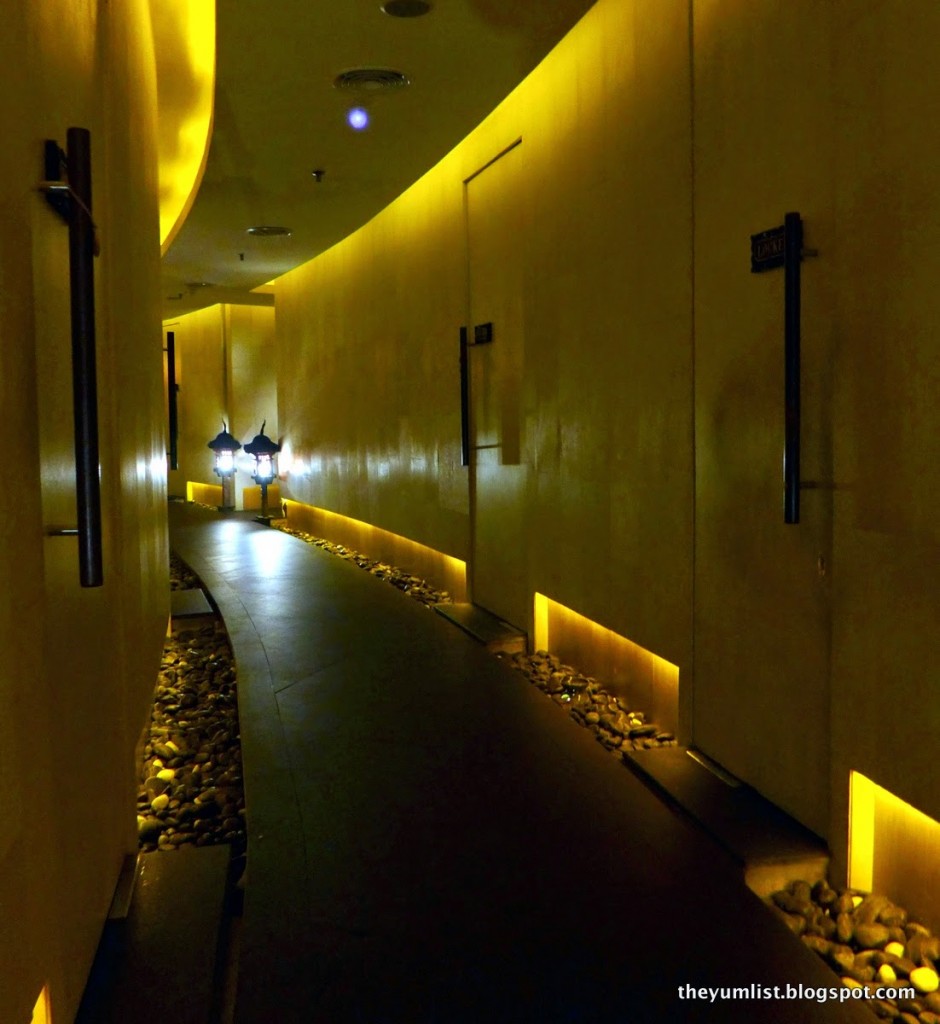 Hallway to Rooms
All possess their own private Jacuzzi. Warm soft tones paint the room, and Balinese fabric and fresh flowers adorn the space. Dim lighting serves to reduce stimuli and we find ourselves unwinding as we get changed. Disposable underwear, hair caps, and a lockable closet are provided. Beds are extra long issuing more than enough space for our lengthy frames. Temperature is comfortable and music barely audible – just right we think.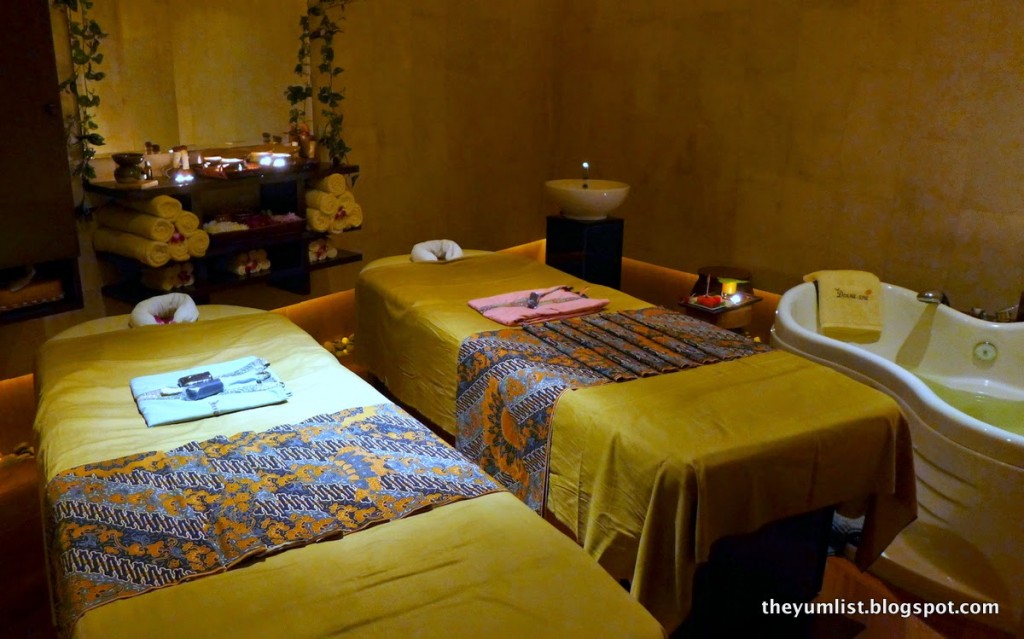 Couple's Treatment Room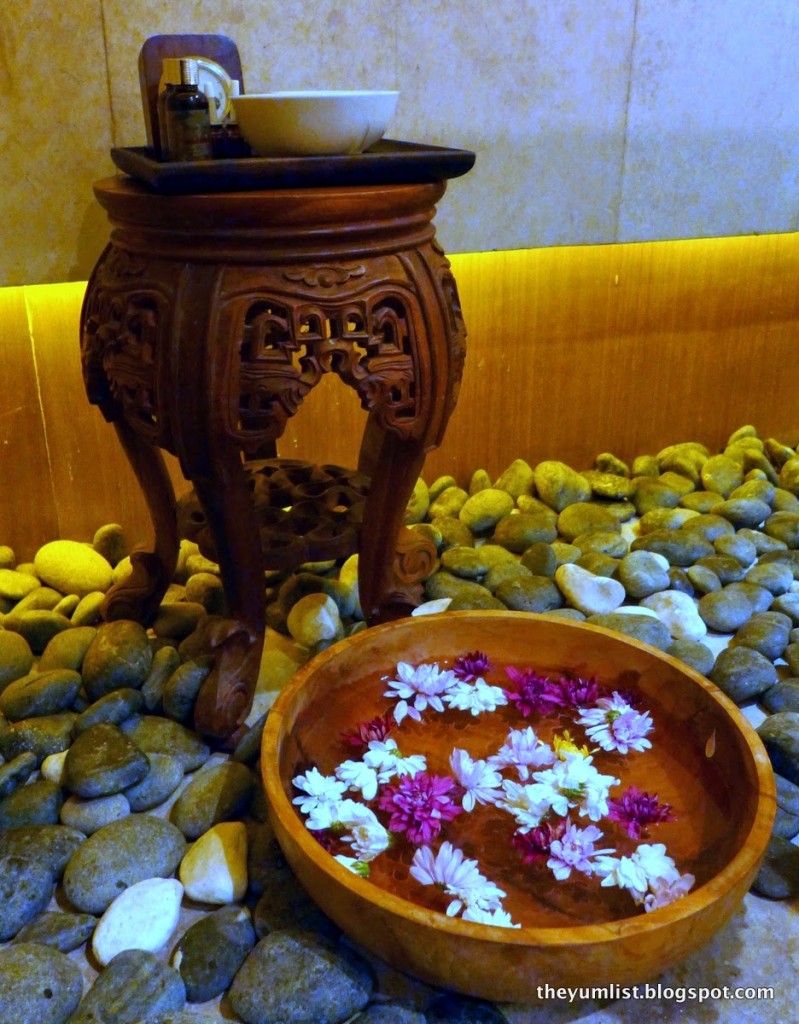 Balinese Decor
We're scrubbed from shoulder to toe and delighted to find the product dries quickly, meaning we're not left with that uncomfortably sticky feeling which usually has us avoiding scrubs and masks in spas. It's followed by a traditional Balinese bath, one often used before weddings or special prayers. The tub of warm water is floating with seven different types of flowers, oils and lime slices. Besides smelling sensational it's very pleasing to the eye as well. While we soak, we nibble on juicy slices of watermelon and sip on fresh orange juice.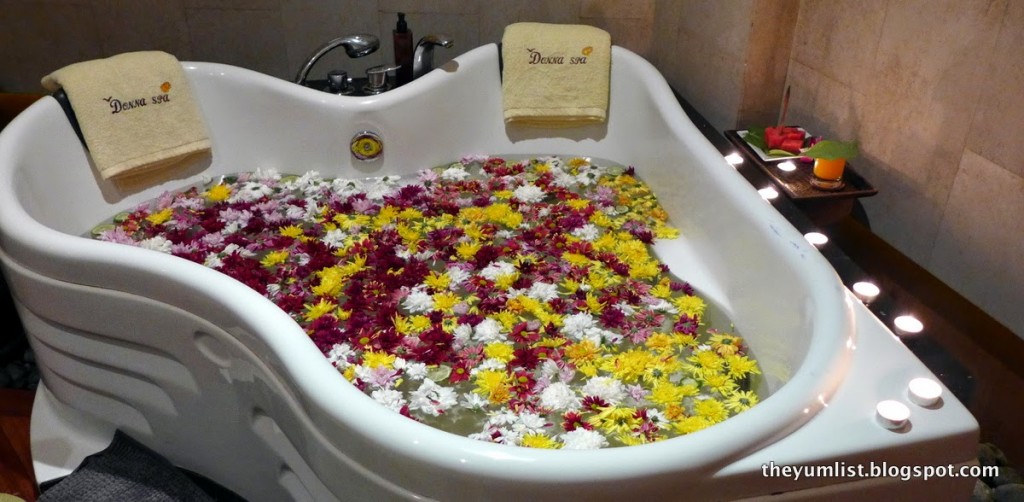 Flower Bath
Skin exfoliated and softened, we continue with our favourite part of the session, the Volcanic Stone and Massage. Beginning in a prone position our backs and legs are lightly pounded with pouches of heated volcanic pebbles. This therapy is ideal for those with stiff muscles that might be a result of intense exercise or those who sit for long periods at a desk or on a plane. Placed on the pressure points, our bodies feel fully primed, ready to accept the benefits of the 90-minute massage. Once desired pressure is determined we drift into a magical world of utter self-indulgence, allowing our therapists to knead, stroke and ease away our tensions. Ninety minutes seems perfect timing and we stir again into consciousness as our therapists advise of the final transition.
Left to rise slowly in the dimness of our room, we redress and make our way to the gazebo relaxation area, where we're served ginger tea or juice, and cake. Tea, coffee or hot chocolate can also be arranged and hubby decides on a Milo to go with his four slices of butter cake.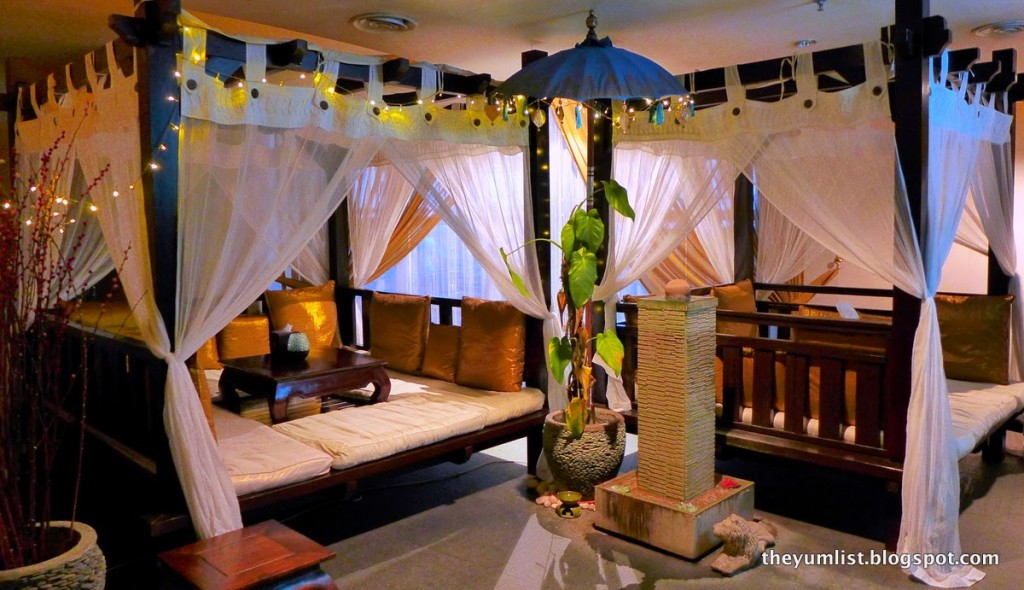 Relaxation Gazebo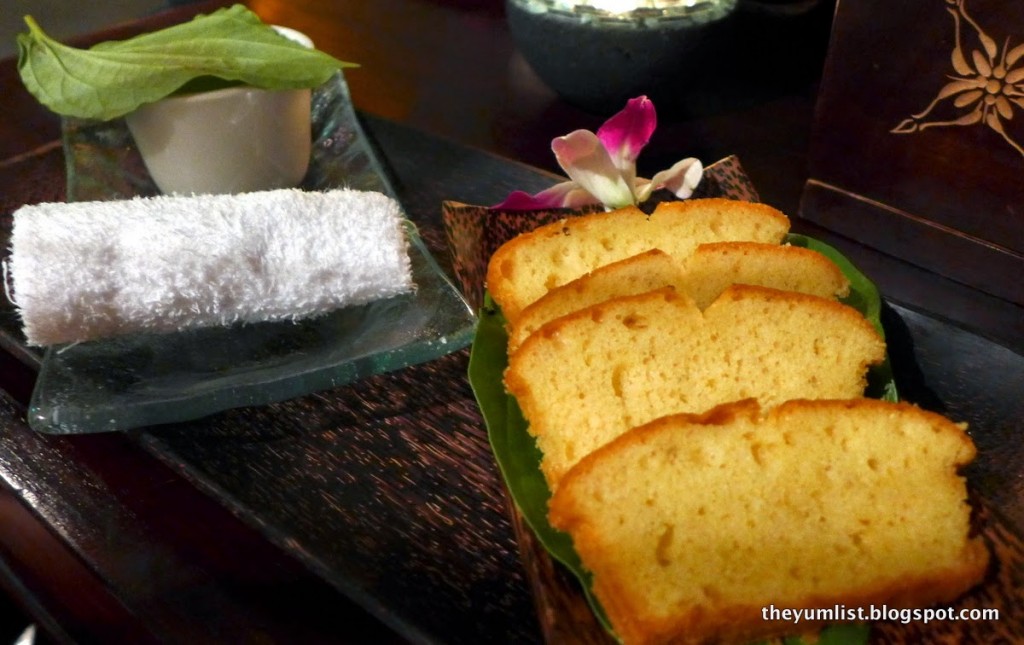 After Treatment Snack
The package takes up the best part of three hours, however if you allow yourself some extra time you can arrive early for some hot and cold therapies to prep your body and mind to receive the maximum benefits from your chosen treatments. Donna Spa has a comprehensive list of massages, scrubs, masks, baths and facials. Check out their website for current offers.
Reasons to visit: Harmony Extreme package; peaceful haven of relaxation in the city centre; Balinese style spa and treatments; natural products used in all therapies.
Donna Spa
S20 & S27 Pamper Level
Starhill Gallery
181 Jalan Bukit Bintang
Bukit Bintang
Kuala Lumpur, 55100
Malaysia
+6 02 2141 8999
Open Monday – Sunday: 10am – 10pm