"What's your roll?"
Words:  Annelene Svingen     Photos: Monica Tindall
Okonomi is a fantastic little spot in Publika that you might not come across on your regular stroll through the mall. Situated in one of the side streets off The Square, sushi lovers are well rewarded with a little detour from the main strip. Meaning, "as you like it," we quickly found that the place truly lives up to its name. And, opened only three months back, with a fast following, many others seem to have discovered the same.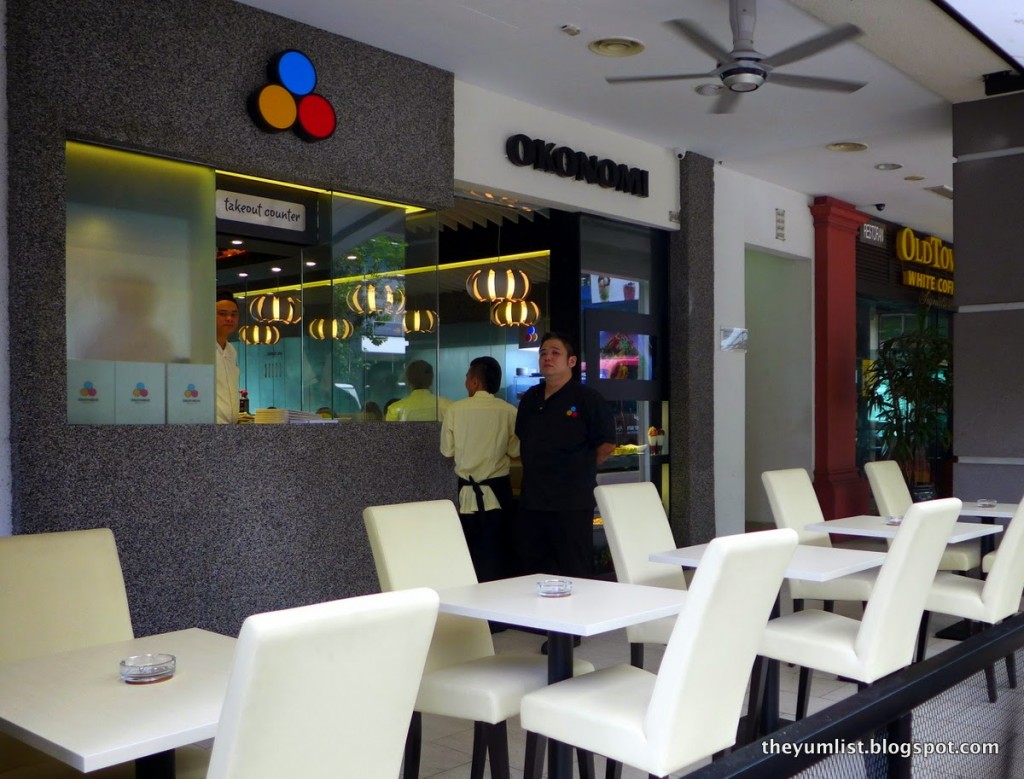 Lead chef and entrepreneur, Alex Lau, is a knowledgeable and well-established fine dining chef, and a true food lover. This baby is his first semi fast-food place, but it is absolutely not "fast food" as we know it. This is a place for quality cuisine made from the freshest ingredients around. Salmon is from Norway, tuna from Japan, and the vegetables are local wherever possible. Everything is made from scratch, in-house and with chef Alex's own secret recipes.
The place is light and minimalistic, but still elegant and welcoming. It offers seats inside by the kitchen or by the window in addition to having a few tables outside. At the entrance the signature dishes are displayed beautifully, tempting people passing by. The concept that chef Alex has developed is innovative and interesting, offering a unique menu that includes customized sushi, house rolls, a la carte with traditional dishes and healthy solutions such as fresh fish and salads. In addition, there's a compact selection of mouth-watering desserts, and no less than two pages of specialty beverages – but more on these later.
So, back to the name: Okonomi. This literally means "as you like it" in Japanese and refers to the part of the menu that allows customers to create their own sushi roll. All three Yum Listers testing this menu were delighted with the gift of choice: it permitted us to be creative and experimental, but also for those of us with allergies or particular penchants, to customize ingredients.
Customizing your own roll is done in three steps (prices vary according to size and filling, from RM13.90 – RM19.90 in general).
1. To start with you choose the size, a base of either white or brown rice, a wrapping of seaweed (nori) or a soy wrap, and type of roll maki (with wrapping outside) or uramaki (wrapping inside).
2. Then you chose your filling. And… with over 40 different fruits, vegetables, seafood and meat to choose from, this could take longer than expected. All the regular varieties of ocean creatures were there, but the unexpected, such as fruits, smoked duck, cherry tomatoes and boiled eggs, had us dreaming up all sorts of combinations.
3. Finally, pick from19 different homemade sauces and 16 toppings to complete your roll. Even these can be further individualized for personal preferences by asking to have them on the side, or drizzled over the top of the entire creation.
Making all of these choices did take some time, but it was certainly fun and gave us exactly what we felt like eating that day. If you are in a hurry or don't feel like designing your own food, there are plenty of other items on the menu too.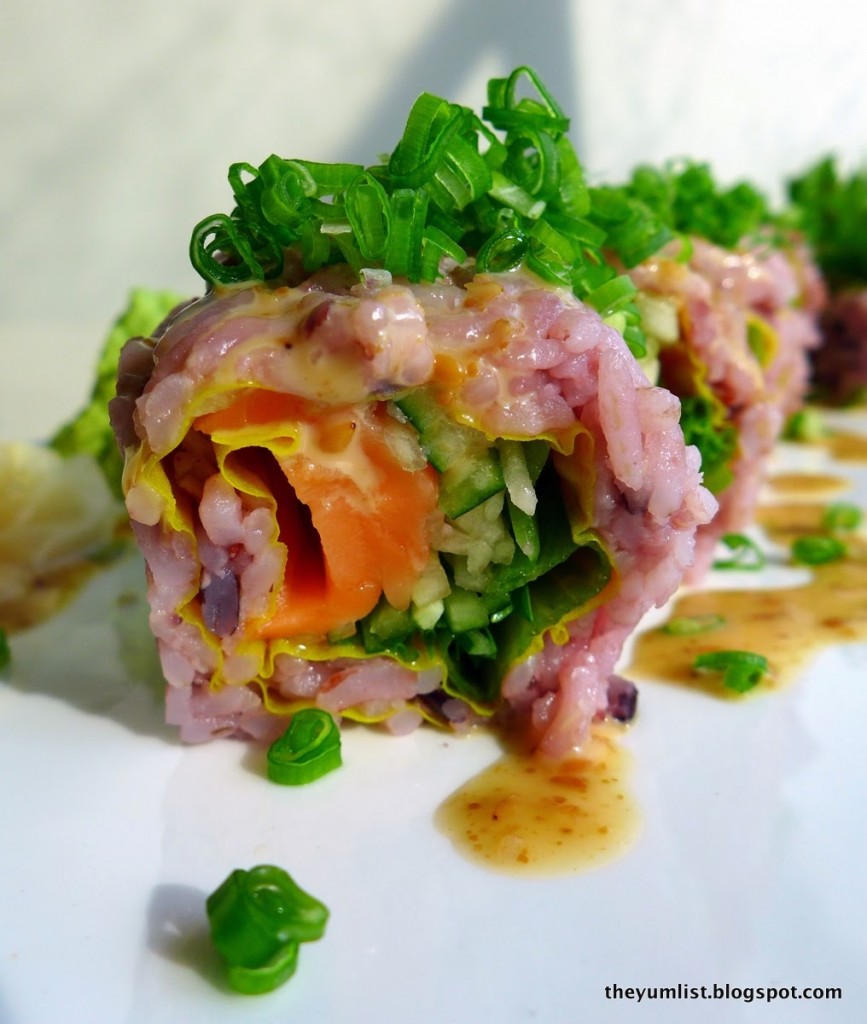 Make Your Own Sushi – Salmon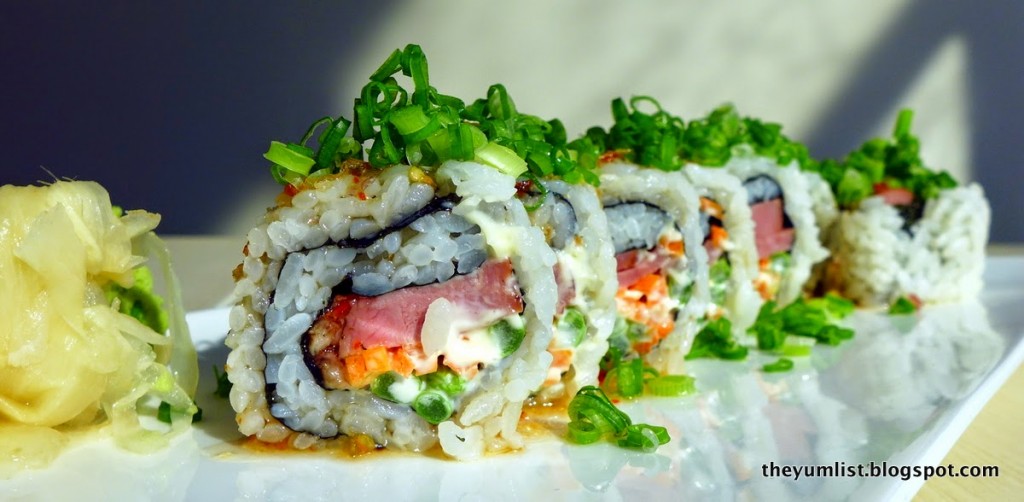 Make Your Own Sushi – Duck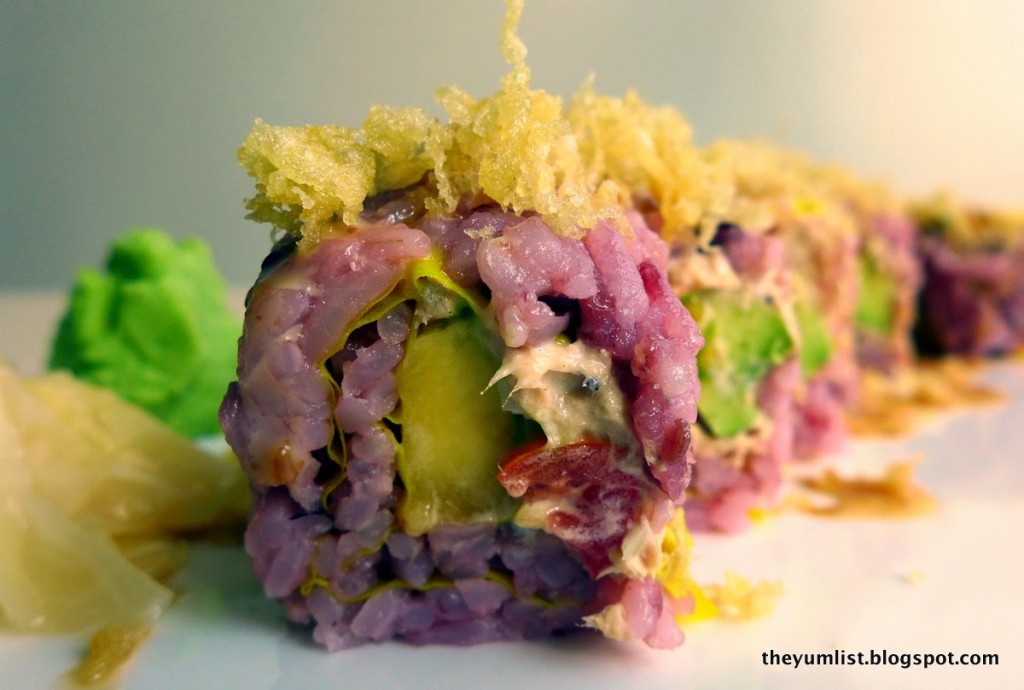 Choose Your Own Sushi – Tuna Avocado
One of our favourites was the Veggie Delight (RM20.90). Beautifully presented with plenty of crispy topping and sauce, and almost bursting around the seams from the stuffing of cucumber, carrot, avocado, alfalfa and asparagus, it proved a mouthful of freshness and wholesome goodness.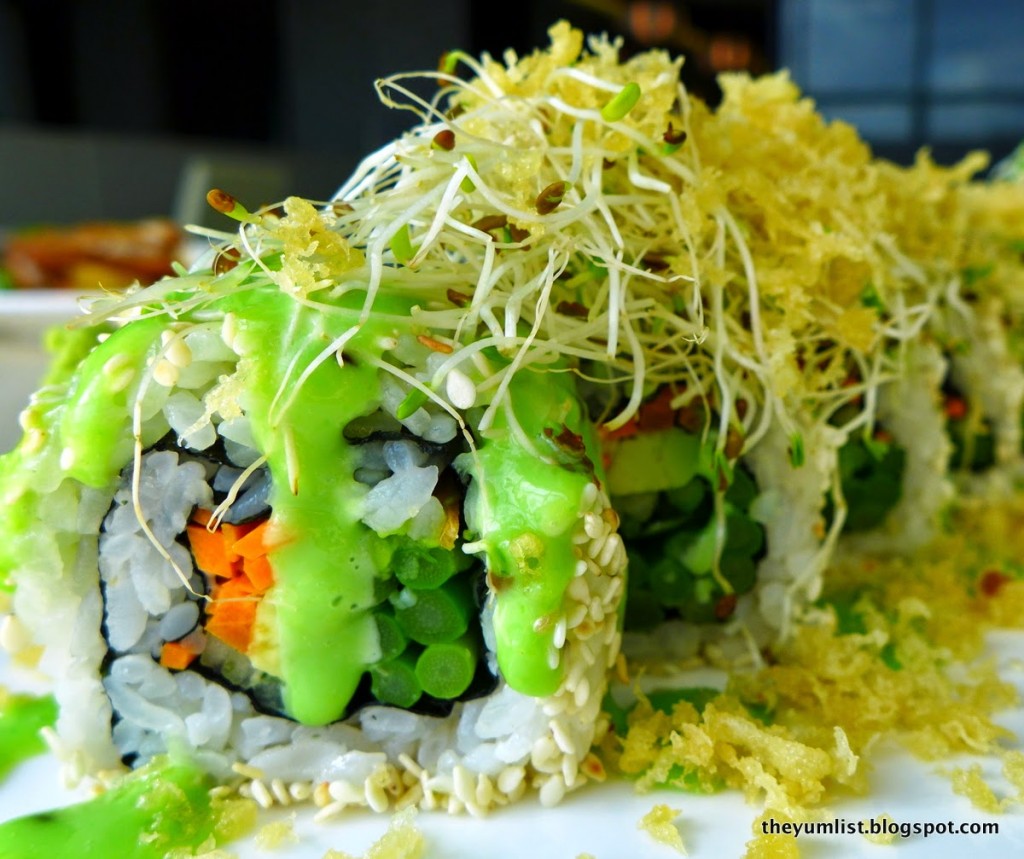 Veggie Delight
The Health Nut (RM15.90) was high on our 'yum' list with its pink strips of Norwegian salmon, cucumber, lettuce and green onions, all wrapped up in brown rice and a soy wrap.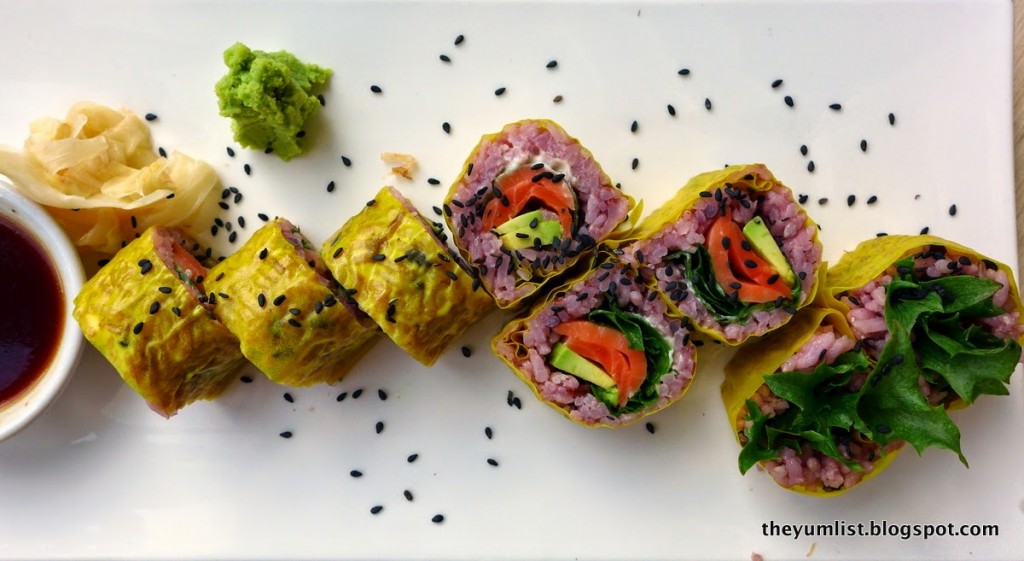 Health Nut Sushi
Our final sampling of the rolls is sure to make chili-lovers croon. The Firecracker (RM19.90), filled with Japanese tuna, cucumber, hot chili and spices, cleared our nostrils as well as our tear ducts. Drizzled, or should I say showered, with a fiery red saucy, it more than did justice to its name.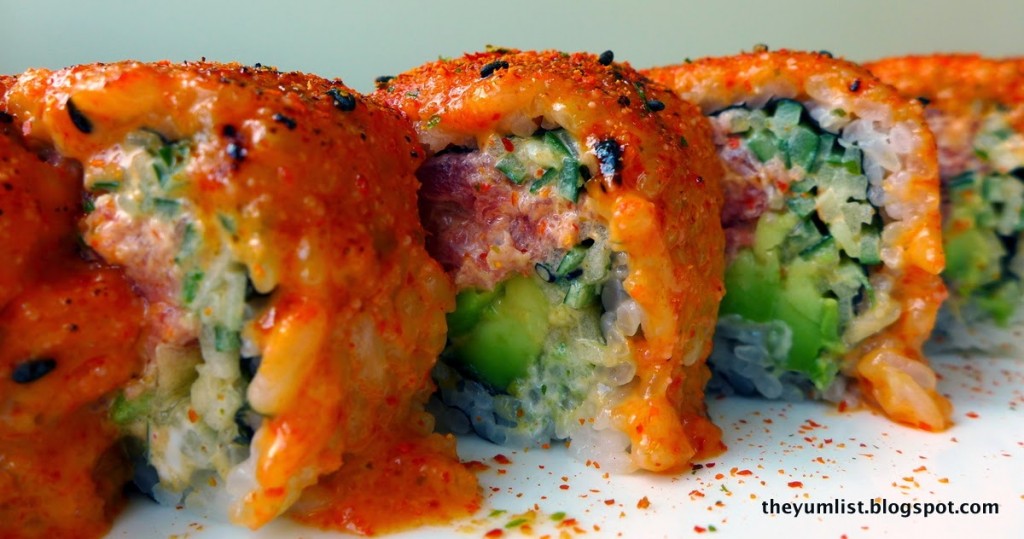 The Firecracker
Further exploration of the a la carte menu found the Avocado Prawn Salad (RM18.90) a rejuvenating mix of crispy garden leaves, tomatoes and perfectly ripe avocado. Citrus marinated prawns were delicious, and a generous dollop of tobiko on top added texture and a taste of the sea.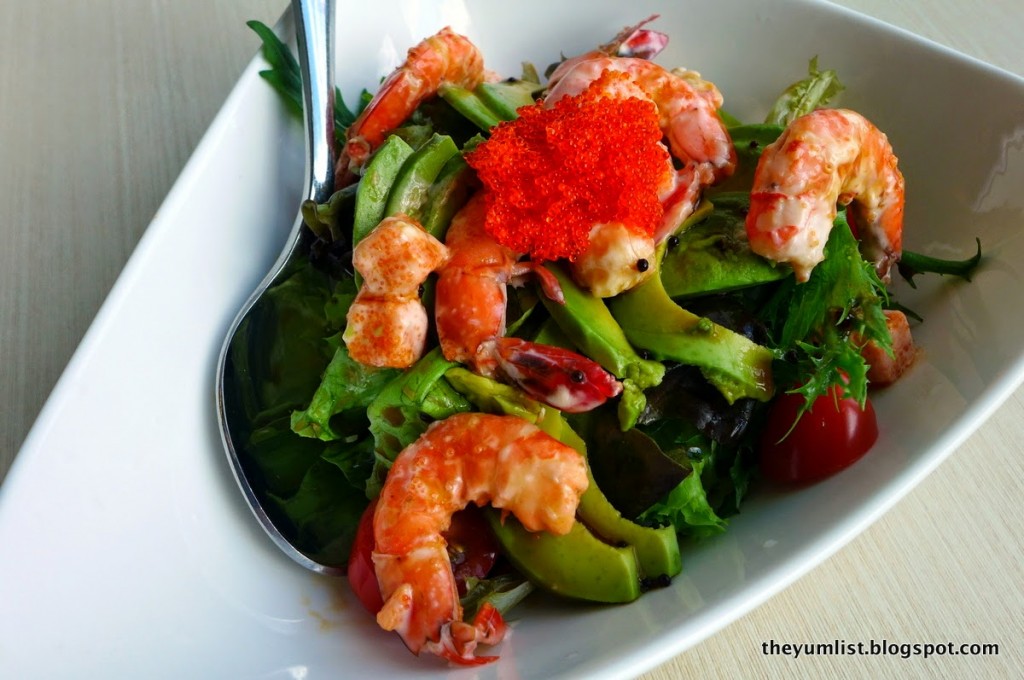 Avocado Prawn Salad
Salmon Mentai (RM15.90) seemed a reasonably healthy choice. Norwegian salmon was grilled and served with lettuce and lemon, and dressed in a vinaigrette that gave a hint of apple and onions. We especially enjoyed the seasoning of this dish.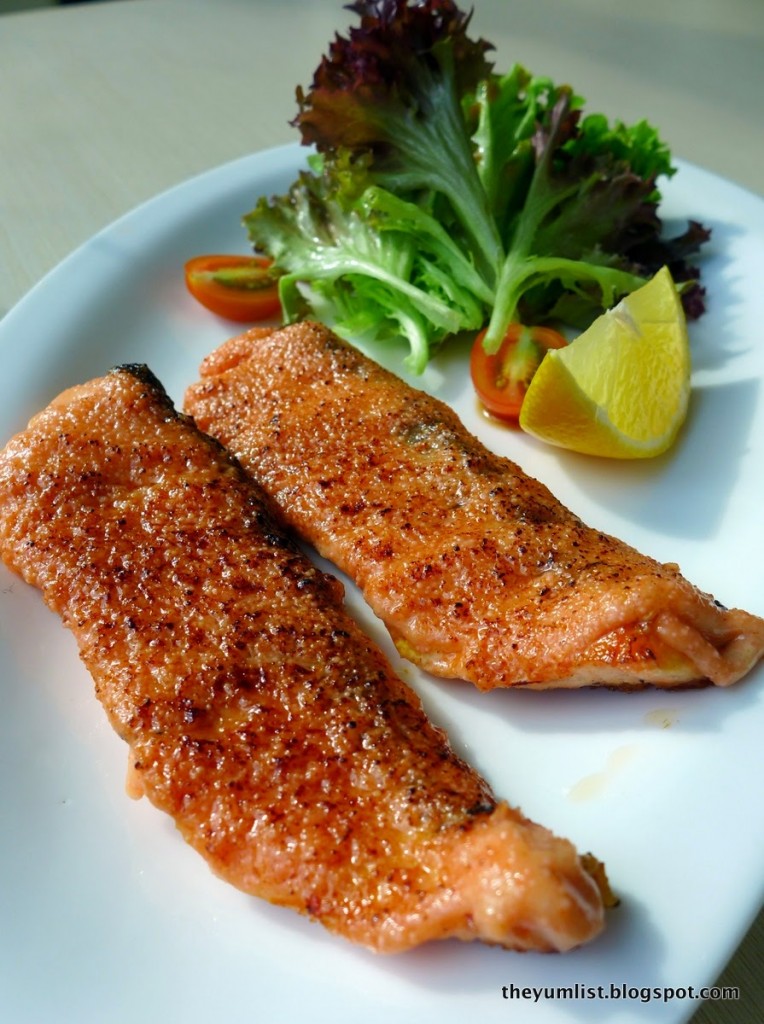 Salmon Mantai
A treasured dish amongst local regulars is the Katsu Curry Chicken (RM18.90). This large portion of rice and Japanese curry was both tasty and filling. The boneless chicken was served with carrots and potatoes in a rich thick sauce with a moderate kick. Caning kept diving back for more and more of this plate, praising its deliciousness.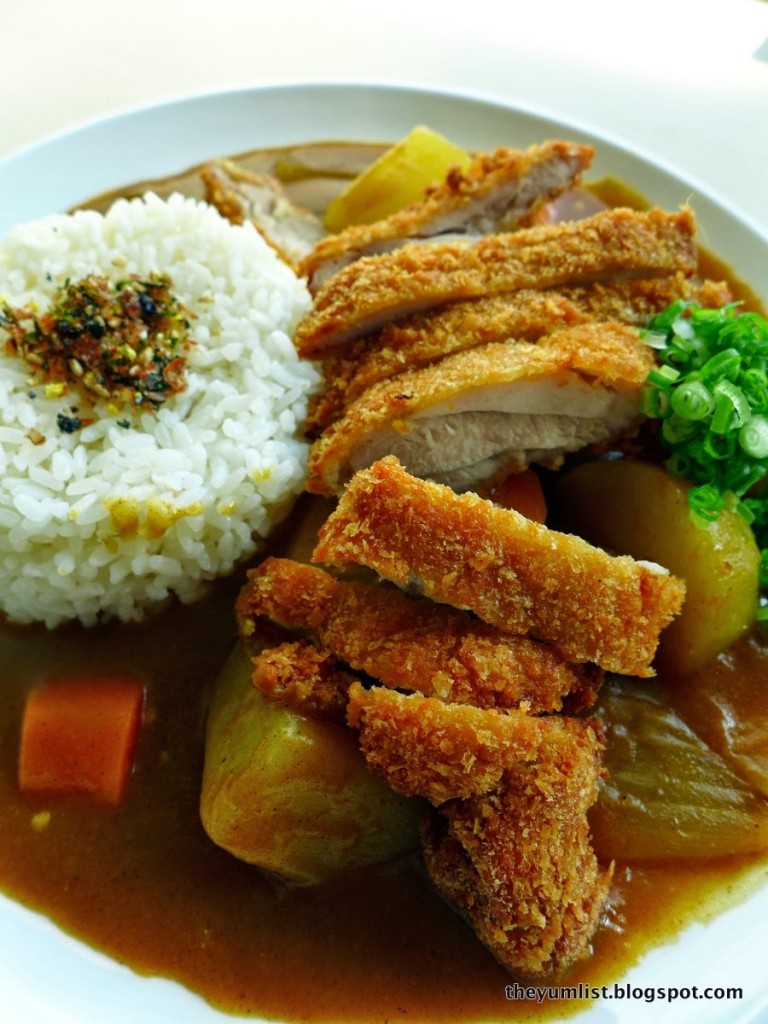 Katsu Curry Chicken
Okonomi uses matcha tea in many of its beverages, which at times, are closer to dessert in character than drink. Matcha Lovers' Parfait (RM18.90) is a fine example of this cross-over. Soft serve matcha ice cream, whipped cream, crispy corn flakes and a matcha chocolate bamboo stick piled all into one glass, proved intensely flavoured, while not being overly sweet.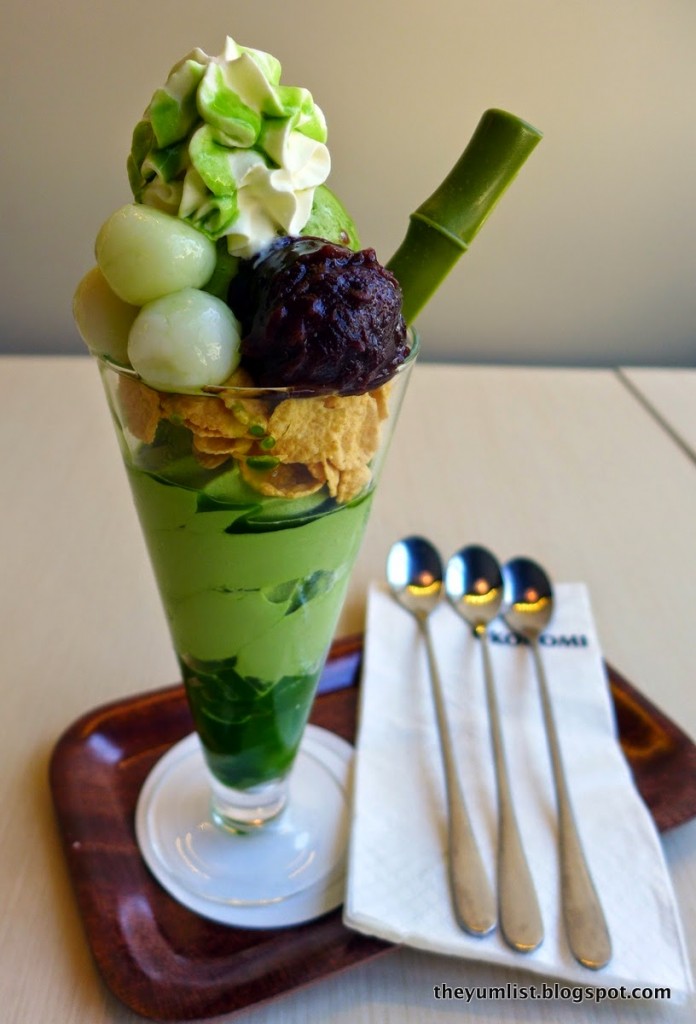 Matcha Parfait
The Matcha Float (RM12.90) came with homemade mochi and a creamy ball of matcha ice cream on top, while the Caramel Matcha Latte (RM9.90) differed slightly with the replacement of whipped cream and caramel sauce as topping. If you are the more careful type when it comes to calories, choose the Azuki (red bean) Latte (RM7.90) with low fat milk. While still being tasty, it's not as heavy as the others.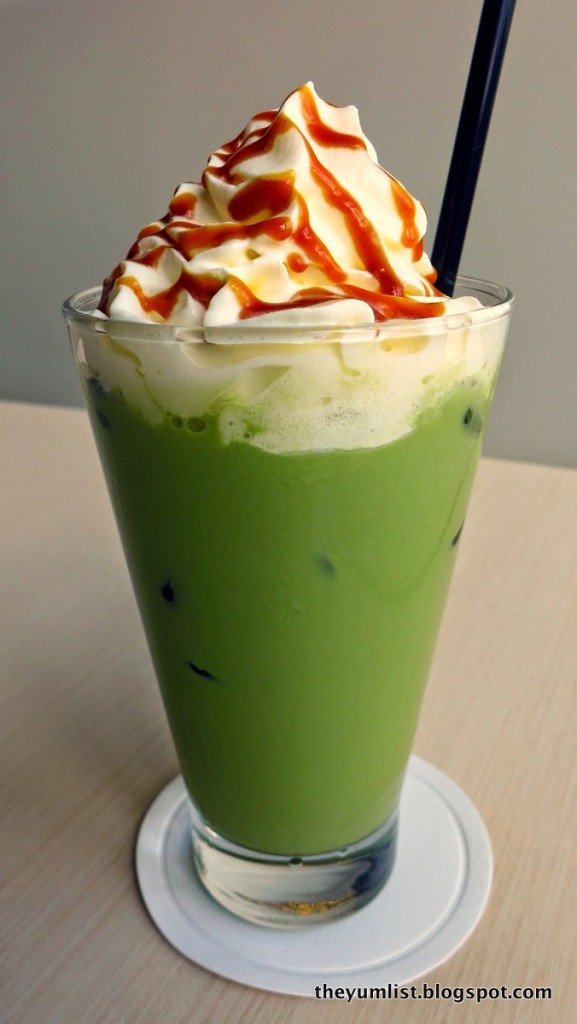 Caramel Matcha Latte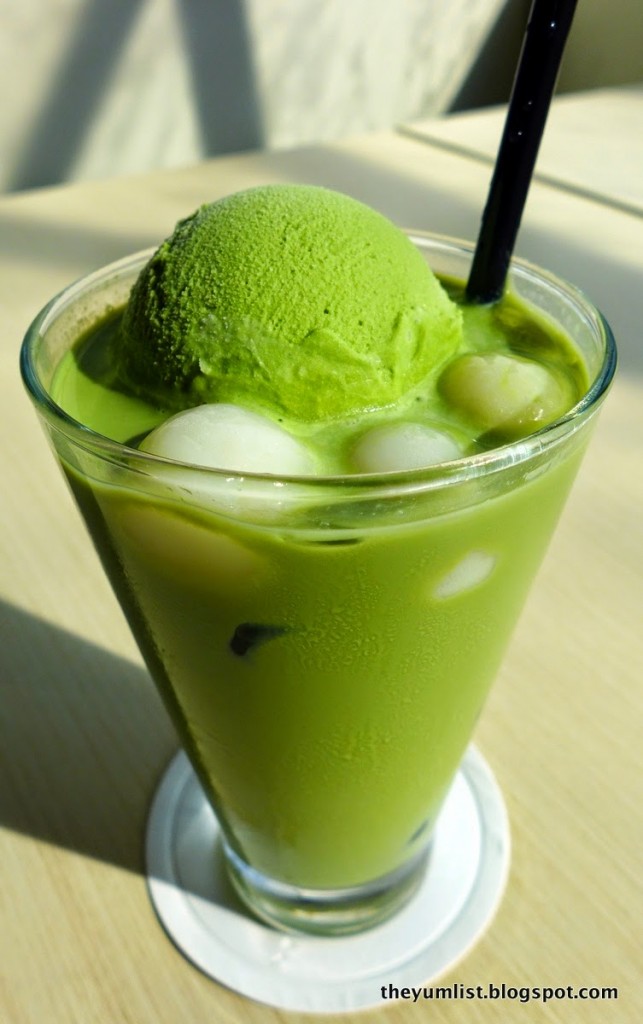 Matcha Float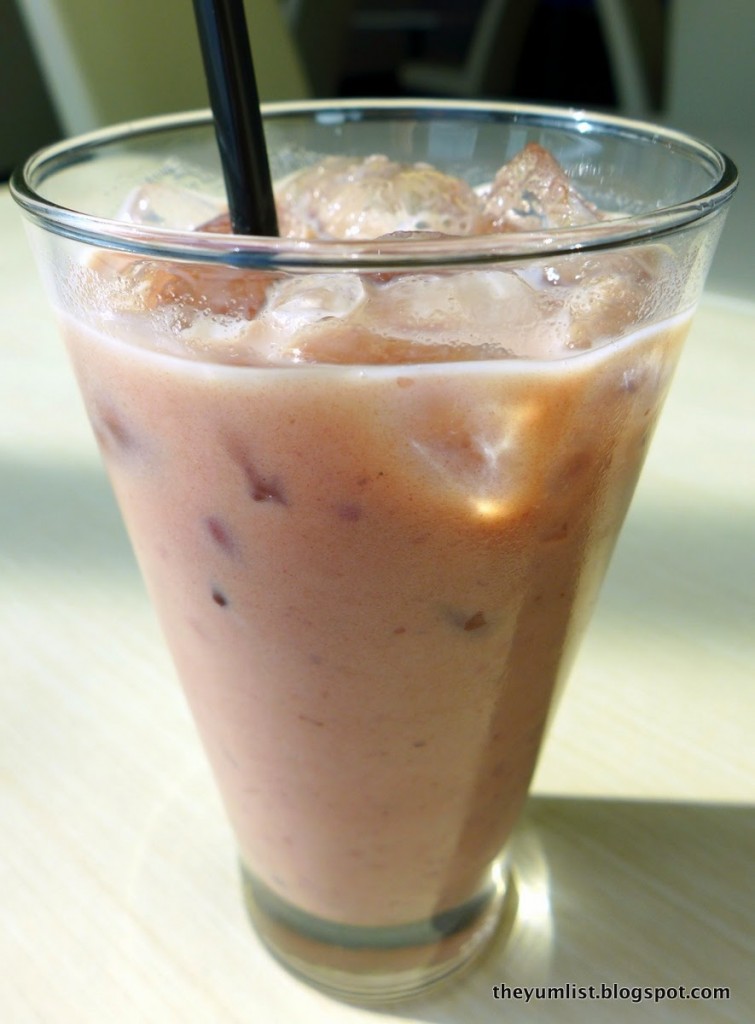 Azuki Latte
Apart from the healthy and customizable options, we've saved the best 'til last – the Matcha Lava Cake (RM14.90)! A green pudding like cake holds a delectable filling of liquid warm white chocolate and matcha that spills across the plate upon cutting, but is soon scraped up in eager delight completely from the plate. It's just as well we had a healthy beginning, as there was no stopping us in the ending. This is a must order when visiting Okonomi, and reason enough to visit all on its own. There's a lovely citrus flavoured one too in time for Chinese New Year celebrations, but we recommend getting your hands on the Matcha version as fast as you can – a dessert this good could easily run out.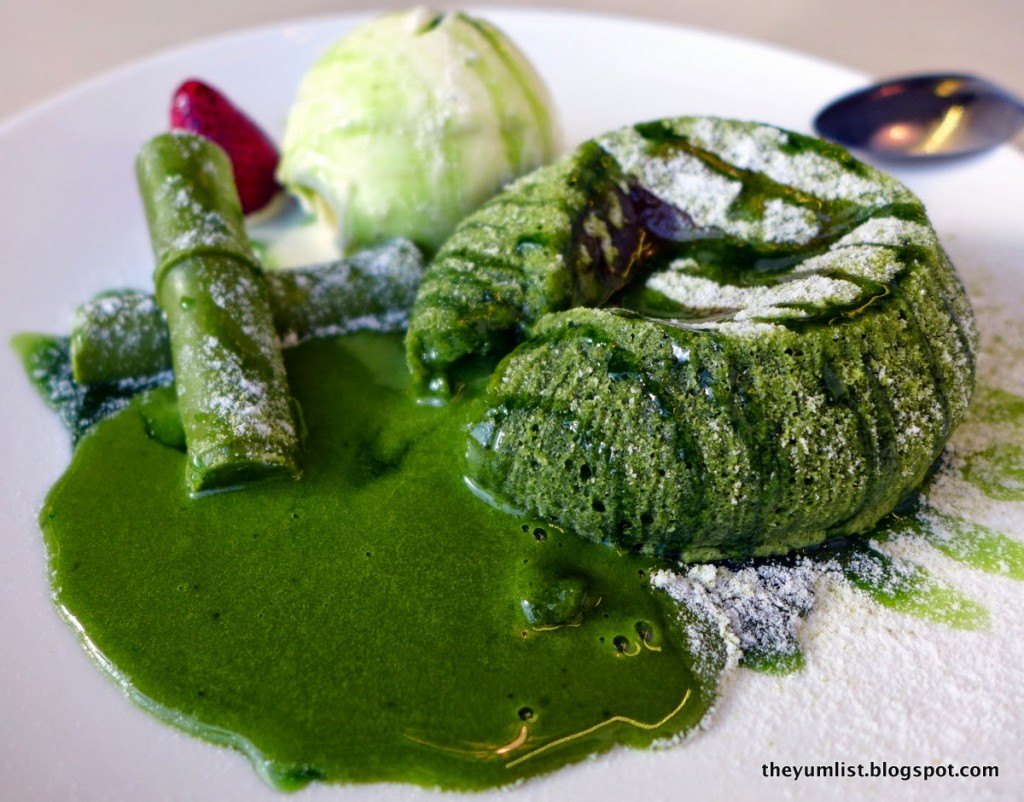 Matcha Lava Cake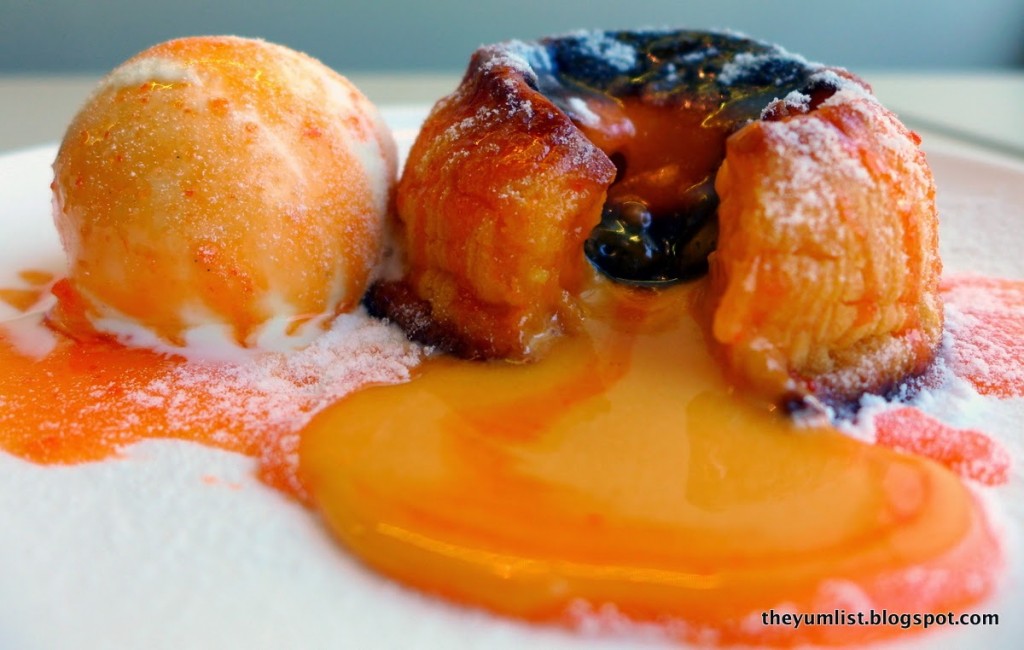 Orange Lava Cake for Chinese New Year Celebrations
Reasons to visit: a number of healthy options; customize your own rolls; Veggie Delight and Health Nut rolls; Matcha Lava Cake.
Okonomi
A4-G2-02
Off The Square, Publika
1 Jalan Dutamas
Solaris Dutamas
Kuala Lumpur, 50480
Malaysia