DISH by Ili is the most unique service we've come across in our investigations of healthy food delivery in KL over the past month. By dispatching meals in a tiffin carrier, this young cook, possibly without even recognizing it, is providing one of the most earth friendly deliveries in the city.
While we've been wildly enthused by many of the products we've discovered in our pursuit of nutritious meal dispatch, the one connecting issue of one-time-use packaging, recyclable or not, has kept resurfacing. Plastic or carton, either way containers end up as some form of waste. A reusable tiffin carrier however, that is returned after use, means nothing heads to a landfill, or recycling plant. Apart from solving the green issue, a tiffin carrier infuses a fun piece of local culture into the meal as well.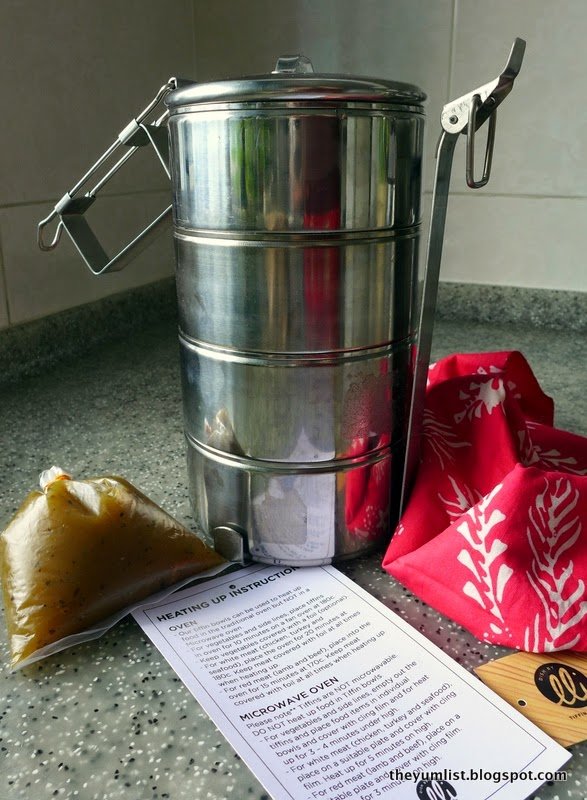 DISH by Ili, Dinner in a Tiffin Carrier
Ili's aim is to keep food simple and wholesome. She promises that ingredients will be minimally processed, fresh, and her recipes will taste good too. The monthly menu is available on-line and we note a distinct theme of Chinese dishes, with some Western classics thrown in too.
Today we're being treated to what both hubby and I consider comfort food, roast chicken, mashed potatoes and vegetables. Roast Chicken Medallions with Garlic and Thyme is one of Ili's fondest recipes, dating back to her time in London when she used to throw supper clubs in her tiny flat. Prepared roulade style, moisture is maintained during cooking, and the flavour of the seasoning infused throughout every bite of meat.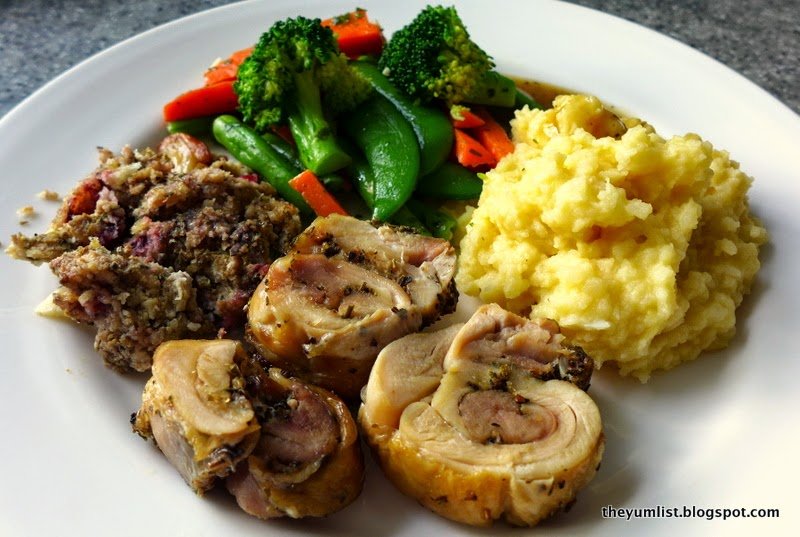 DISH by Ili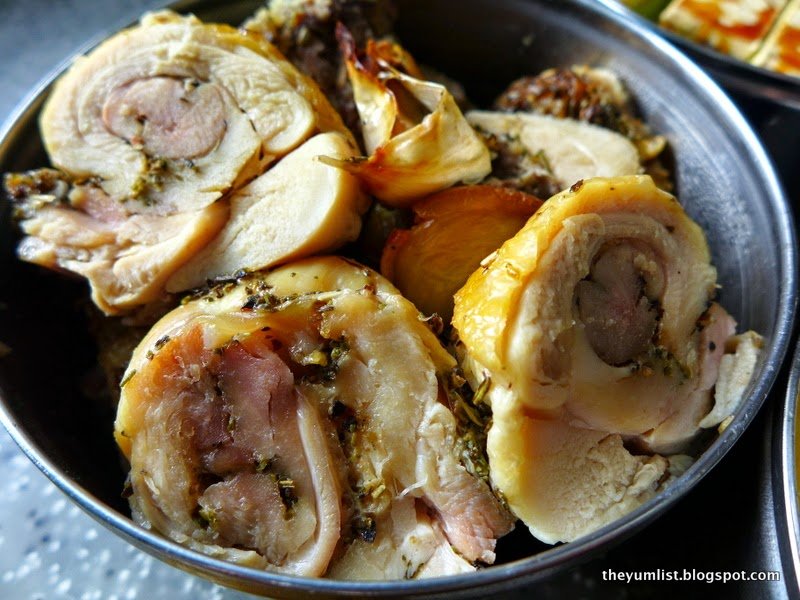 Roast Chicken Medallions with Garlic and Thyme
Traditional Homemade Stuffing cannot be missed when dining on roast chicken, and Ili bases her recipe on the traditional ingredients of chopped liver, stale bread, onion, herbs and seasoning, and jazzes it up with nuts and dried fruits (sometimes raisins, cranberries or even dates) and some chicken sausage meat to add depth. This is a great mouthful of flavours, and even hubby who is not generally a stuffing guy, polishes off his share. Gravy is another must for this dish, and this version is made with the natural juices from the roast, thickened with a little cornflour, and packed with herbs.
Lots of butter, cream, a hint of garlic and seasoning ensure the Creamy Garlic Mashed Potato continues to be a huge hit with Ili's Malaysian friends. Garlic is just enough to provide subtle flavour, not overwhelming power. Roughly mashed, it tastes like mum's rustic hand mash, as I said, comfort food.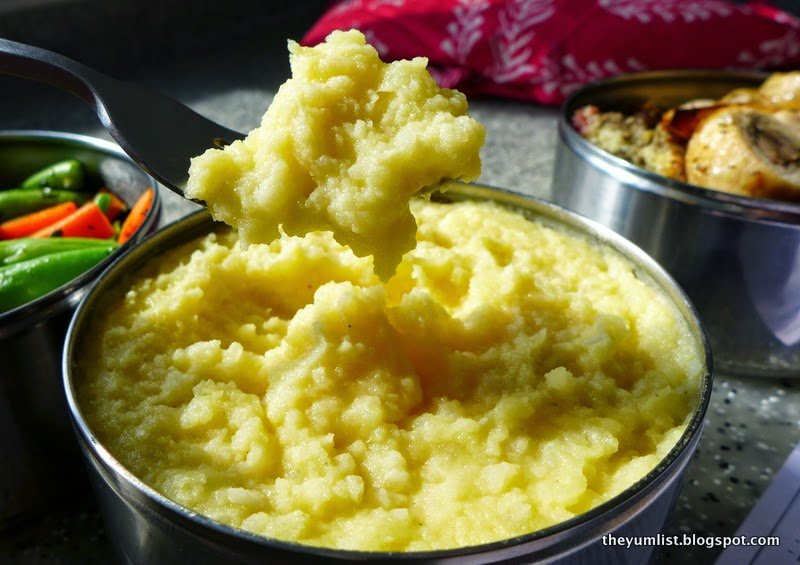 Creamy Garlic Mashed Potato
Providing some colour to the meal are Roasted Garlic Greens. Snow peas, carrot, French beans and broccoli are sprinkled with fresh herbs and a little garlic. They're lightly cooked, retaining a mild crunch, just how we like them.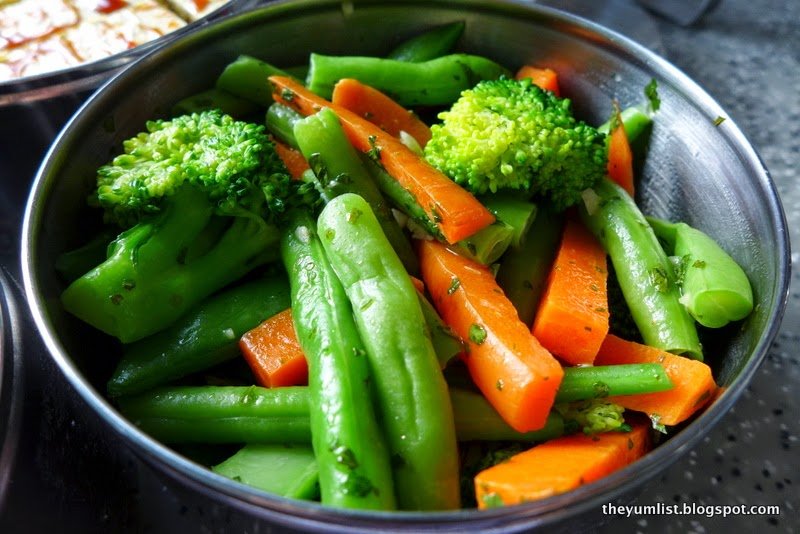 Roasted Garlic Greens
The bottom dish of our tiffin carrier contains Pandan Gula Melaka Cake, and ooh la la (!), this one we both do like. Heavenly little rectangles of fluffy sponge coloured with pandan, are finished with a thin whippy butter cream, and drizzled with a sweet gula Melaka syrup, which seeps down into the cake. Lucky the pieces are small, so we don't feel guilty eating every single one. 😉
Pandan Gula Melaka Cake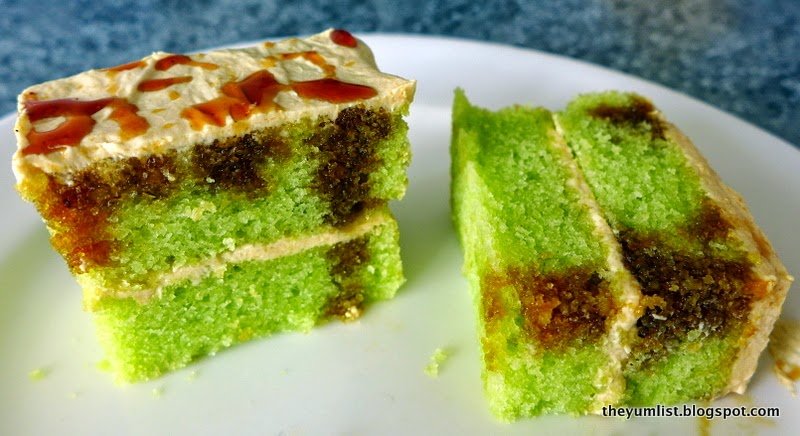 Pandan Gula Melaka Cake
Menus are posted for the month and all ordering is done online a minimum one day in advance. Tiffin sets are available as small, serving two to three people for RM80, or large, enough for four to six people, for RM160. Meals are delivered Tuesdays and Thursdays and are available for both lunch and dinner.
Reasons to order: easy family lunches or dinners; simple familiar recipes; reusable tiffin carrier packaging.
Dish by Ili