Top Five Reasons Why We Love The Majestic Wing of The Majestic Hotel Kuala Lumpur
1. Ambience, Ambience, Ambience
From décor, to entertainment, to service, The Majestic Wing generates more than just a pleasant experience, but an overwhelming feeling of having stepped back in time to an era of cultivated sophistication and unequalled chivalry.
Painstaking refurbishments revive the hotel to its former glory as the hub for glamourous social events, residence for prominent international visitors, and temporary home for local guests wishing to bath themselves in a weekend of luxury. Magnificent floral arrangements in daintily painted ceramics receive a natural stream of light from the many windows and glass atriums in the common areas. Polished antique furniture, lush upholstery, shiny silverware and clawfoot bathtubs promise to splash even the most gauche with a touch of grace.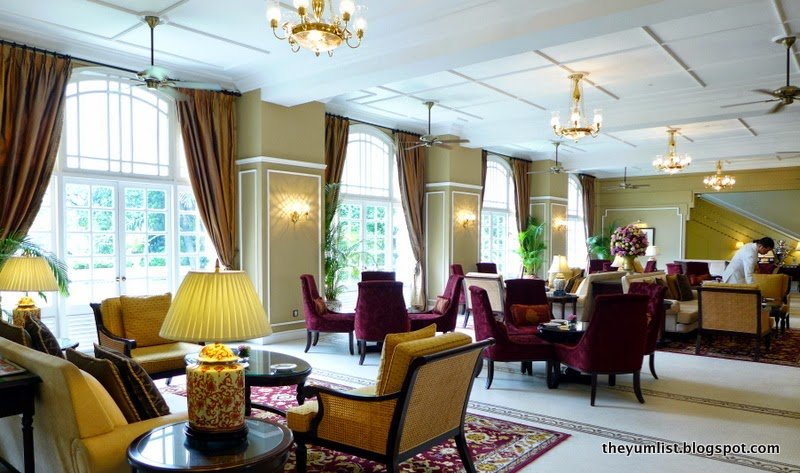 Lounge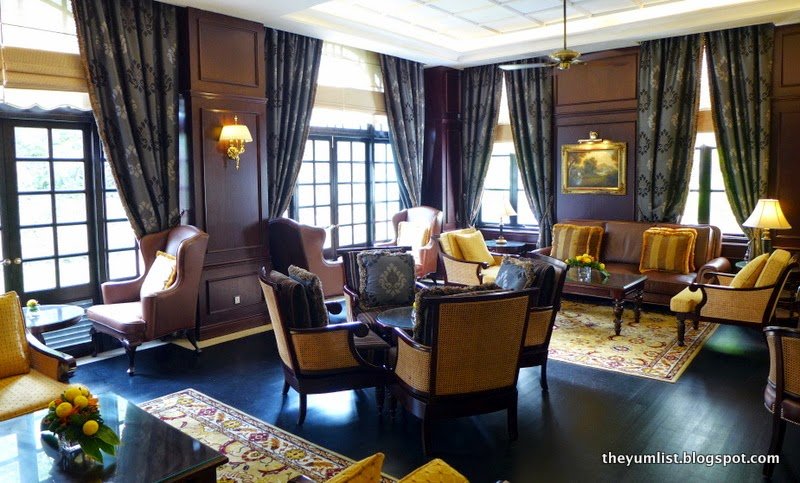 Drawing Room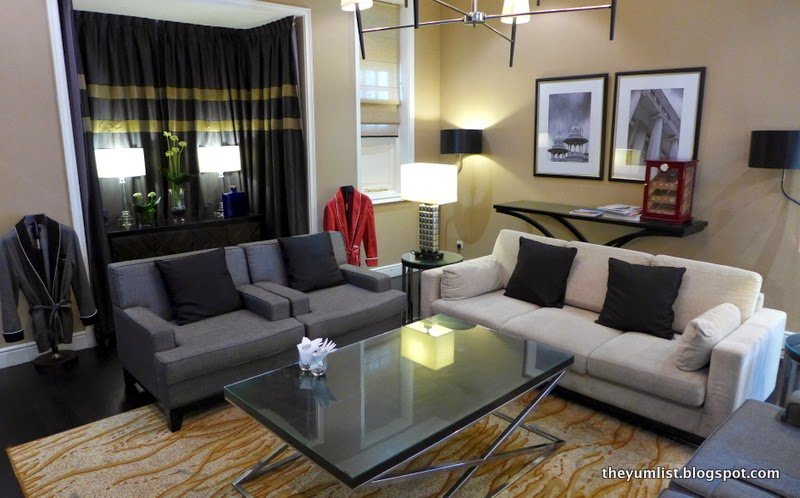 Smoking Lounge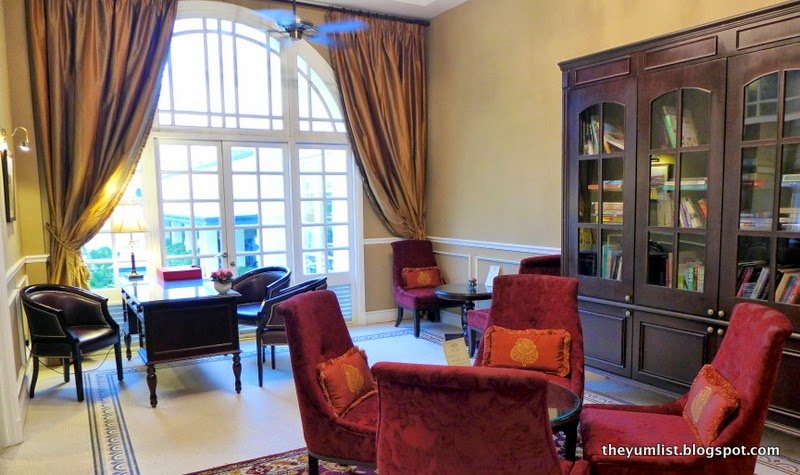 Reading Room
When the Solianos, one of the most established and respected musical families in Malaysia, are not igniting the air with their sultry jazz numbers, tunes from the 1930s hum from speakers. Black and white movies play in the screening room decked with leather recliners, bolstering the entertainment options with more classics.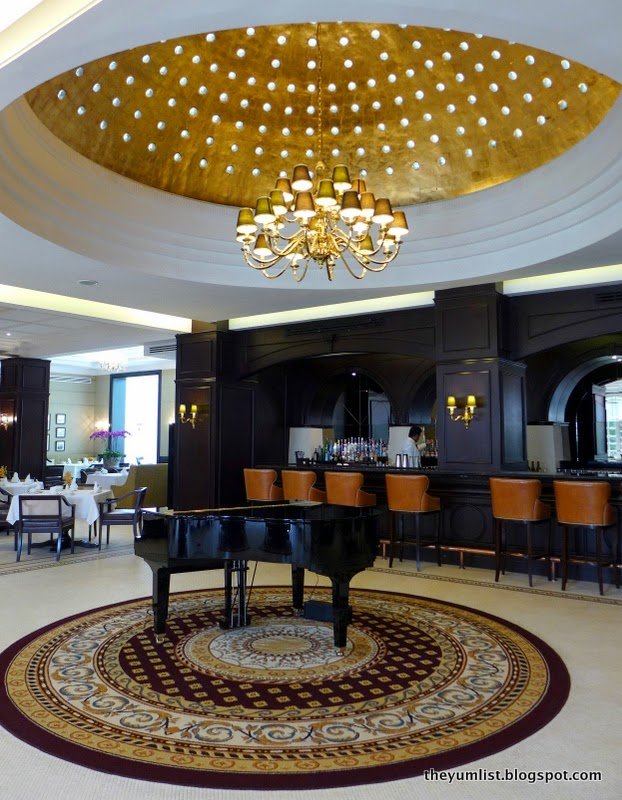 Colonial Bar and Entertainment Area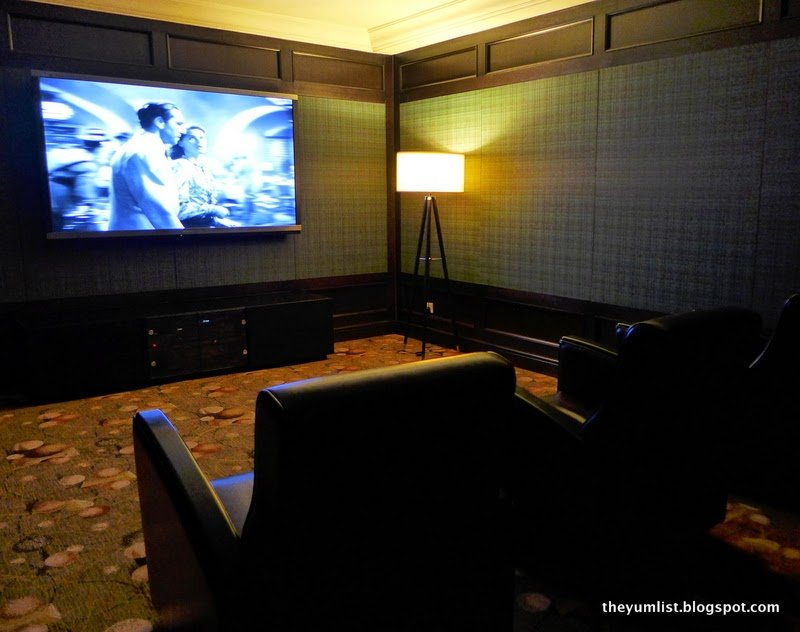 Black and White Cinema
Uniformed guards shaded by pith helmets stand sentry at the entrance. White suited staff greet and escort gallant gentlemen and fashionable ladies to the Tea Lounge or Smoke House, with no request deemed too large or small. Needs seem to be preempted and we find glasses in our hands, ice in our bucket, and newspapers on our coffee table, before we've even realized ourselves we desire them.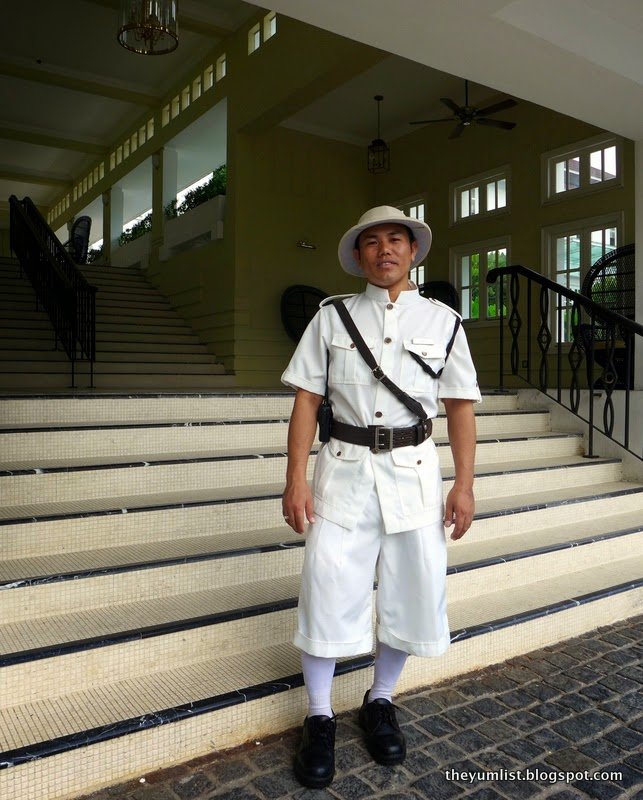 Elegantly Uniformed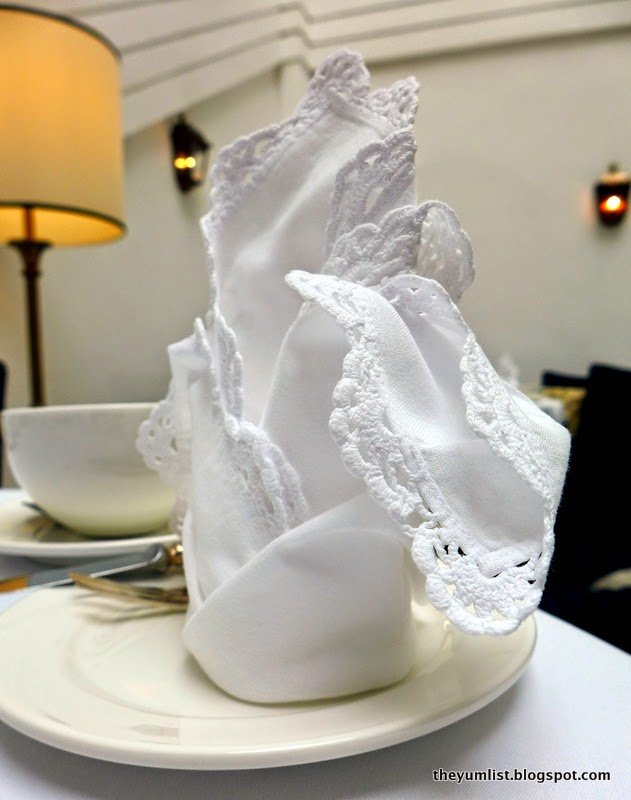 Lace Trimmed Napkins
2. The Suites
While the Tower Wing rooms are of stylish and contemporary design, and we'd be very contented staying in one, it's the Majestic Wing suites that have captured our hearts and imaginations. Separate lounge, bathroom and bedroom spaces bring the romance of bygone days to the forefront. Classic design of wallpapered walls, wooden floors broken with woven rugs, and sturdy furniture is complemented with patterned cushions and framed watercolours.
Living Area in Suite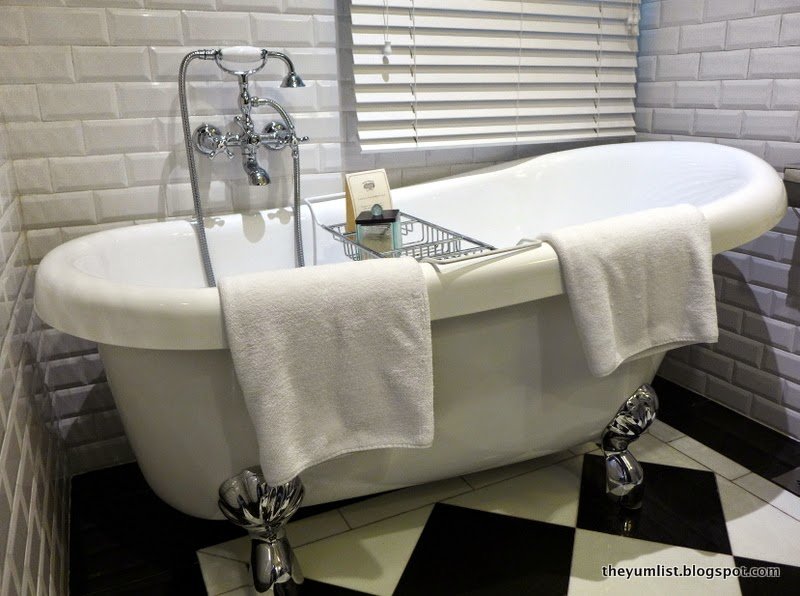 Claw Foot Bathtub
The independent spaces allow hubby late night TV viewing, and me early morning writing sessions behind closed doors, minimizing sound and light disturbances. There's also ample room for luggage storage and a variety of lounges, armchairs and chairs for us to spread around. Time-honoured design is accompanied with modern technologies, and several workspaces allow for connection of multiple devices, enabling us to carry out our respective duties simultaneously.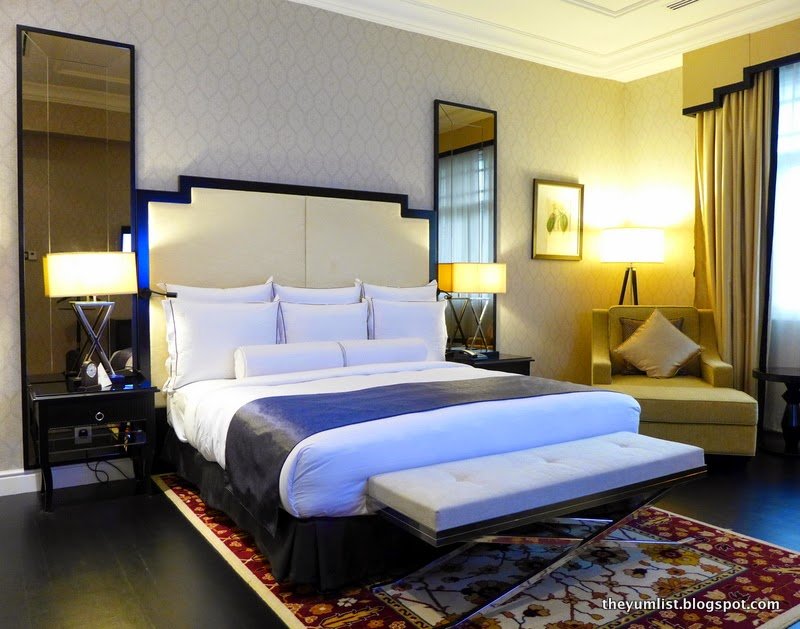 Majestic Wing Suite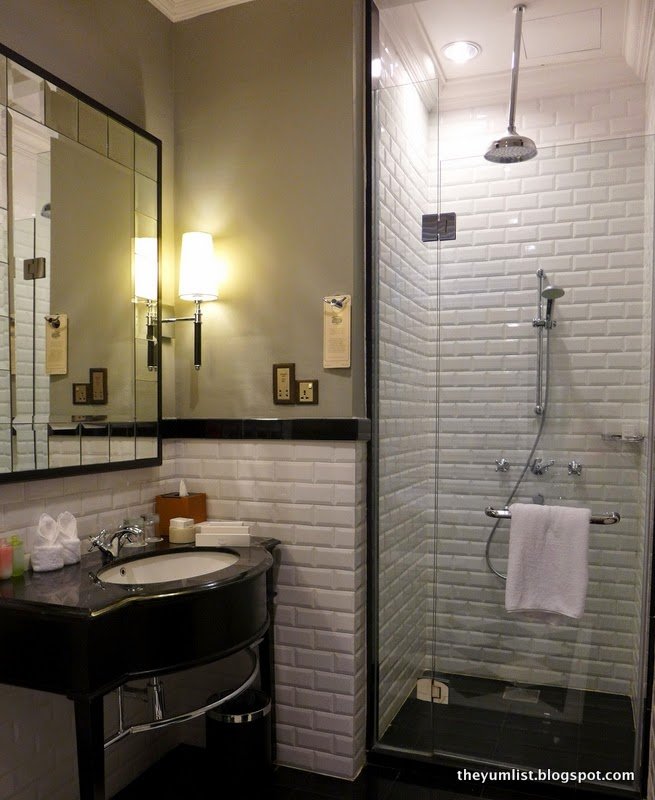 Bathroom
Guests staying in a Majestic Wing suite are granted a host of complimentary services. Everything in the mini-bar (beer, wine, soft drinks), unlimited laundering of clothes (dry cleaning too), private transfers within a 10km radius in a comfortable Hyundai Starex, and in-room check-in and check-out are all included. Breakfast can be taken at the buffet restaurant Contango or served privately to the room by a butler. Cocktails and canapés in the library are served free of charge daily from 6pm – 8pm, and tea, coffee and juices can be ordered and brought to the room all day long. Two hour use of the boardroom and assistance with printing of boarding passes and other requests too – yep! – all at no extra cost.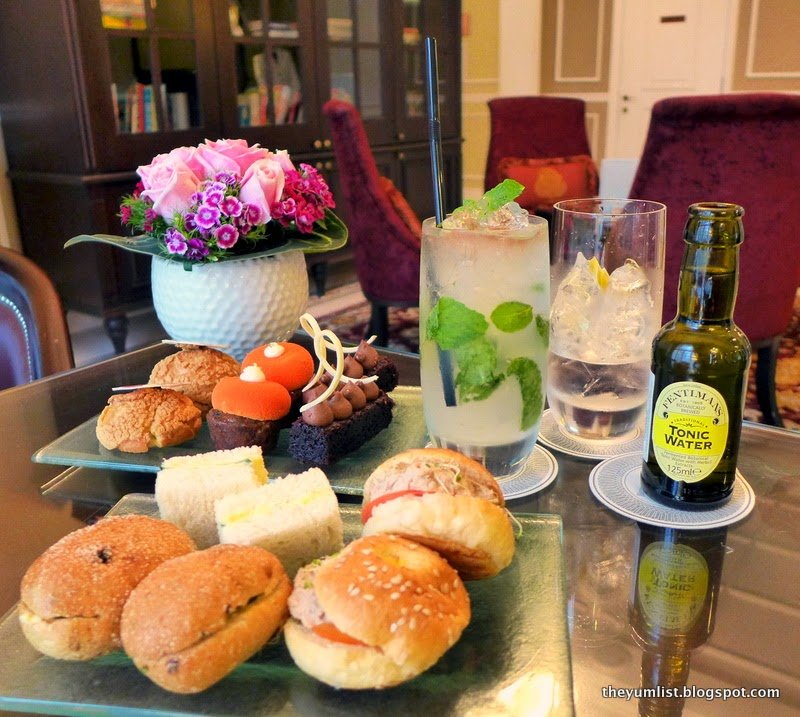 Complimentary Evening Cocktails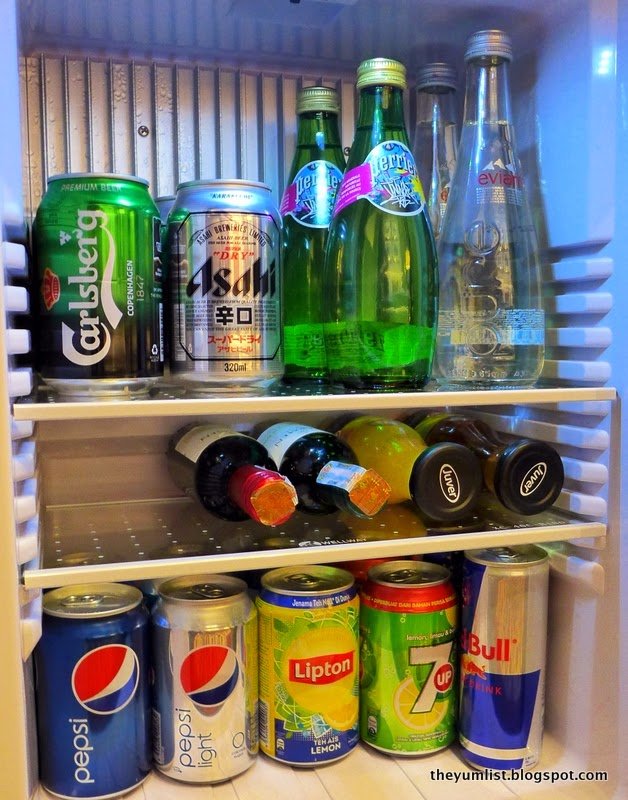 Complimentary Mini-Bar
3. 24 Hour Butler Service
And… who provides all of these services? Our very own 24 hour butler service of course! Our driver notifies the hotel of our arrival time, and as we ascend the driveway of The Majestic Wing, a uniformed bellboy and butler patiently await. Assisted from car door, to our own suite lounge, we want for nothing from the moment we arrive, until the instant we're escorted back to the car and waved off upon departure.
In the morning we only need don a dressing gown for breakfast and our smiling butlers bring goodies on a silver tray along with the morning paper to our living room. House baked croissants (including a sinful chocolate-filled naughty), Danishes, muffins and a plate of fruit, are washed down with tea, coffee and juice. Lace trimmed doilies hold our silverware and keep the pastries warm.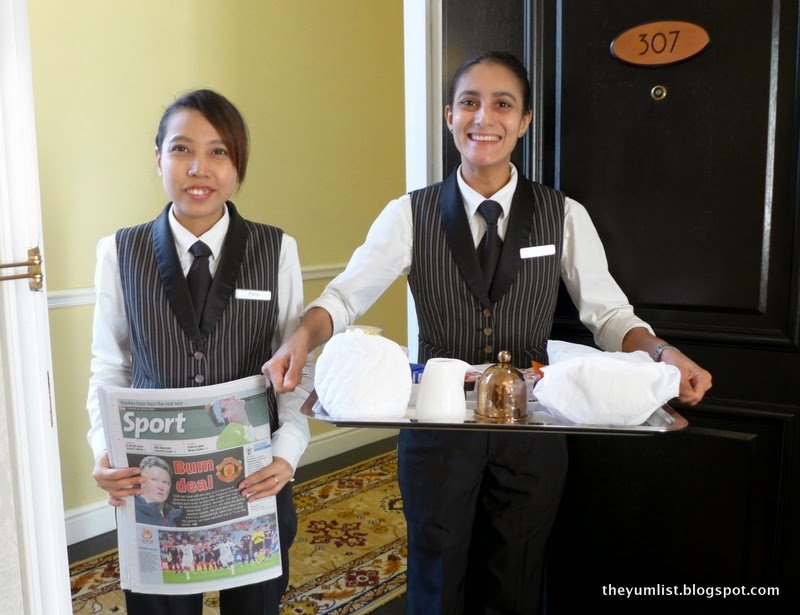 24 Hour Butler Service
Dialing 1, has a butler at our service at any time of day or night. Wanting a tea or coffee? Why make it ourselves when our butler will do it? We deal with one person who coordinates whatever we desire: collection of laundry, change of reservations, inquiries on our behalf. We don't even have to ponder the possible hassle of with fitting our clothes back into our luggage as, you guessed it, the butler will do it!
4. Themed Food and Beverage Outlets
Classical Cuisine at Colonial Café
Reviving romantic memories surrounding the era of the planters, Colonial Café offers classical cuisine with recipes dating back to colonial times. Back in the day, recreation of British meals by Hainanese chefs resulted in a fusion of flavours and innovative techniques unique to this part of the world. And, it is these dishes combined with graceful service, that we find consistently enticing. Our favourites are many, and it's taken a number of visits to cover them, so check out our most endeared below: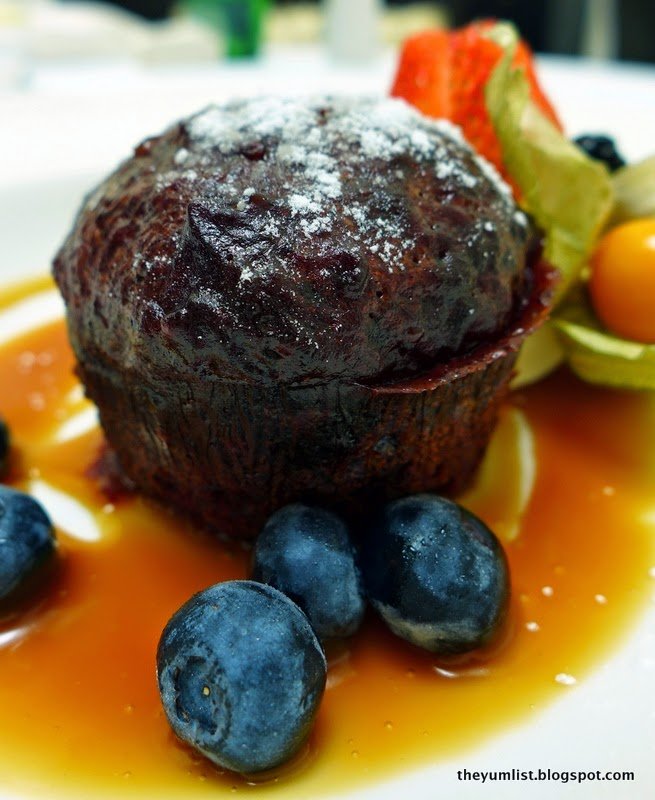 Colonial Cafe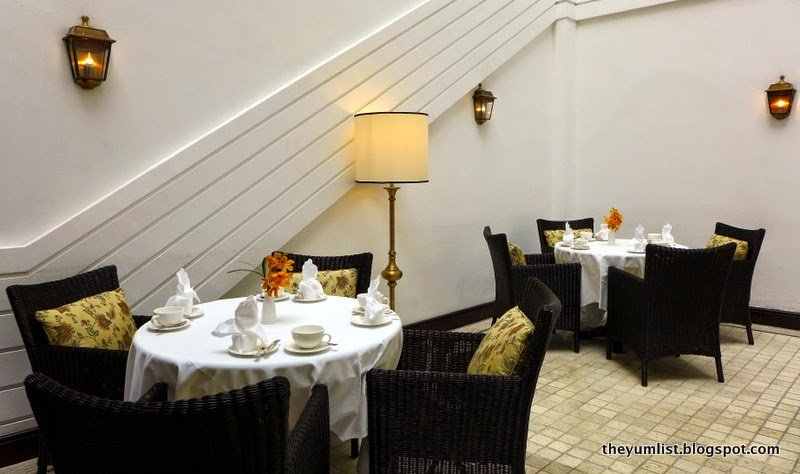 Colonial Cafe
Vintage Cocktails
Whether it's on a stool at The Bar or a studded leather lounge in the Smoke House, both mouths and penchants for a tale are entertained with The Majestic Hotel Kuala Lumpur's classic cocktail menu. Every beverage has a story behind it and all drinks are made unapologetically upholding tradition to the finest of details. The Code 55 and 2 Bulat has a rather intriguing story behind it, but it's the Brandy Crusta that has become one our most endeared mixes. Happy Hours are between 6 and 8pm daily, making an after work drink, or pre-dinner aperitif, even more attractive.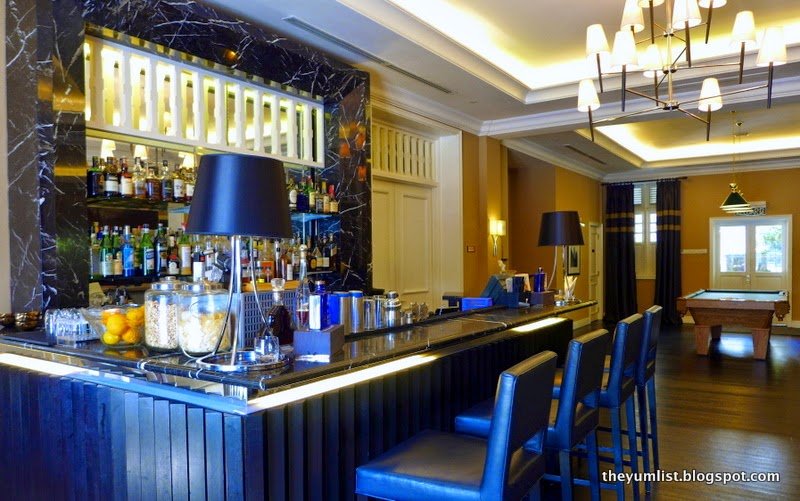 Smokehouse Bar
Afternoon Tea in the Orchid Conservatory
Just thinking of the Orchid Conservatory awakens the spirit. This glass walled room filled with beautiful rows of fresh orchids must contain the purest air in the entire city. Breathing in nature's cleanest, inspired by nature's prettiest and nibbling and sipping on her freshest in the elegant tradition of afternoon tea, is one of the most agreeable experiences we can dream of. Follow us here to see what delicacies are served up in the exquisite set.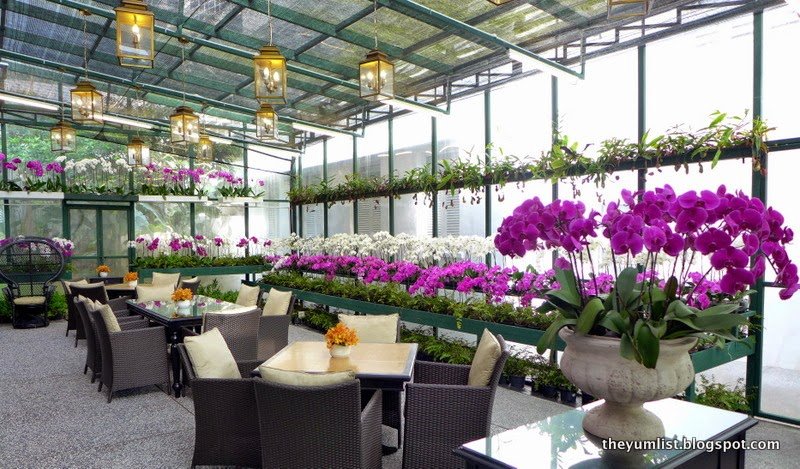 Orchid Conservatory
5. Pampering for Both the Lads and the Lasses
The Majestic Spa
Housed in its own separate building, and designed in the art nouveau style of Charles Rennie Macintosh's famous Willow Tearooms of Scotland, The Majestic Spa is one of the most unique in the city. A dedication to British Malaya is evident in the menu of luxurious treatments where signature packages such as Queen Victoria's Lavender and English Afternoon Tea packages can be found.
Follow us on a sumptuous spa visit via this link.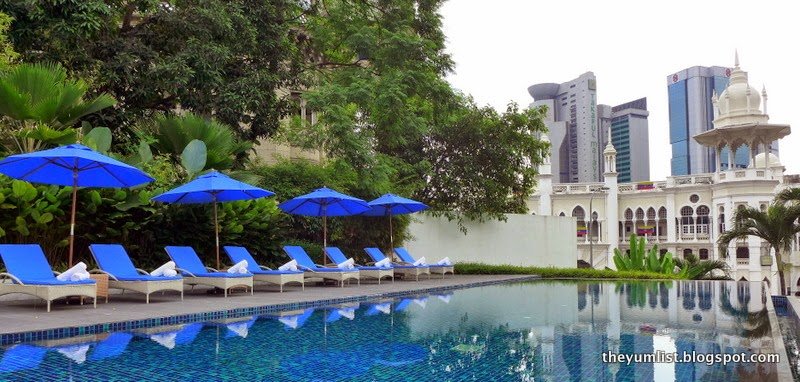 Spa Pool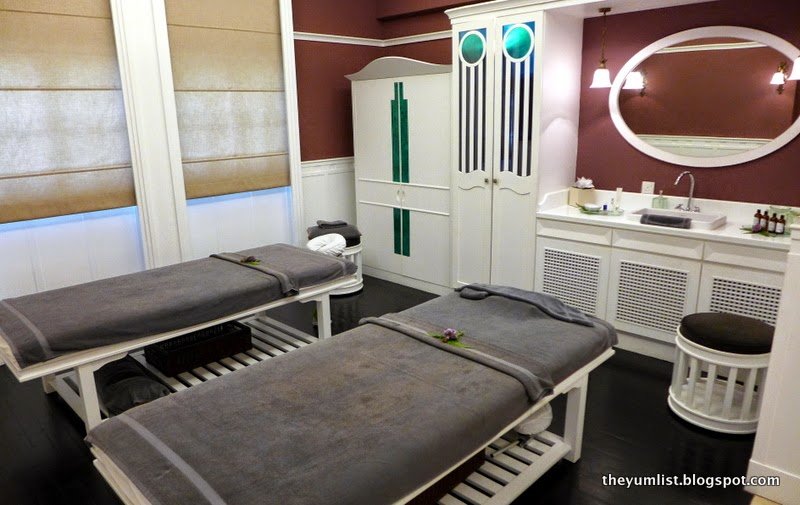 The Majestic Spa
Truefitt & Hill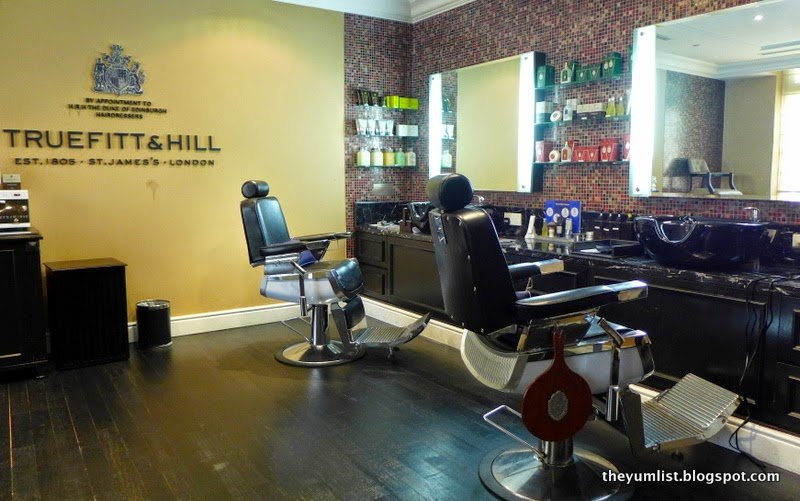 Truefitt & Hill
Character, charm, elegance, The Majestic Hotel Kuala Lumpur embraces it all.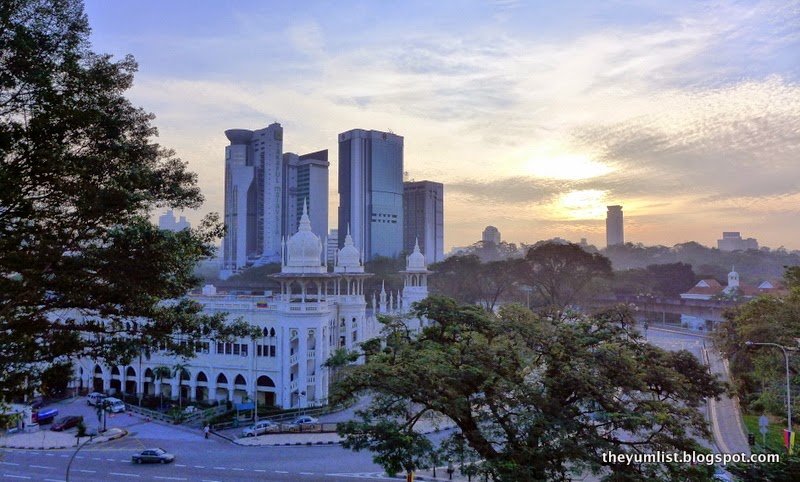 Sunrise from The Majestic Hotel
The Majestic Hotel Kuala Lumpur
5 Jalan Sultan Hishamuddin
50000 Kuala Lumpur
Malaysia
www.majestickl.com
+6 03 2785 8000