Han Sen Hau with Monica Tindall
I never did dream of the day when I'd think there were far too many cafés, restaurants, and bistros sprouting around Kuala Lumpur. On the plus side, we're always only two blocks away from a stimulating cup of coffee or the ultimate big breakfast, but with the café boom having reached its zenith along with the development of a ubiquitous pernickety palate by a generation of Instagrammers, who could now refute the claim that some random cup of joe is truly the holy grail of caffeine-dom? There are so many good cafés, good restaurants, and good bistros the Internet is buzzing about how people are beginning to cement their impressions of a new food joint by looking at other areas unrelated to cuisine, like the choice of typeface on the storefront signage. What was once a fabulous pizza is now just pizza.
The truth is, we have become increasingly spoilt for quality in this Golden Age for cuisine. Everyone now has an opinion on the service, the plating, the colours, the homemade dressing, the choice of garnish, the consideration taken into making everything photogenic within a square frame… Do we go to the counter for payment or do they come to us? Have the notes been pressed and ironed? Being good is no longer desired, it is assumed, so whenever we're finally presented with something 'great' in this sea of 'good,' we are pleasantly surprised, and are reminded once more of why we press on in our search for that mouthful of magnificence, all for the greater good.
One recent example is the understated Fatto A Mano (translates as 'Made by Hand' in Italian), whose muted façade is a sharp contrast to the vibrant energy exuded by its chirpy customers, all in safe refuge from the torrid heat. This Italian venture is the brainchild of the same people who gave the Bangsar community Yeast Bistronomy, situated right next to Fatto A Mano. Any stranger to Bangsar wouldn't think the establishment is only barely two-months-old with the endless stream of customers visiting on a hot Sunday afternoon. The place was already abuzz with activity as we took our places outside under the awning, and despite the notorious Chinese New Year swelter, the area was well ventilated and we remained comfortable throughout.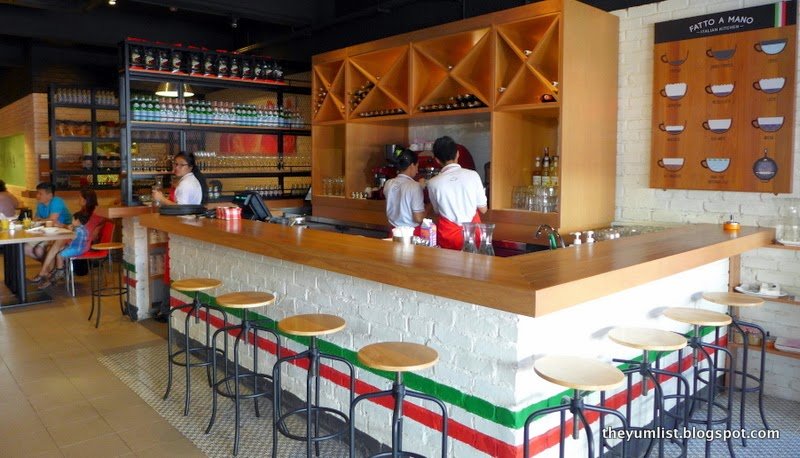 Coffee Bar
We kicked off with a quintessential Italian breakfast couplet, coffee and cornetto, which is everything I hoped for in its more popular cousin, the croissant. Tearing into one of these 'little horns' is in itself an incredibly satisfying act and unlike the croissant, which generally uses more butter, the cornetto doesn't grease the fingers as much. It's also lightly powdered with sugar on top, which balances out the buttery flavour and pairs well with a potent cup of Caffé Vergnano Macchiato.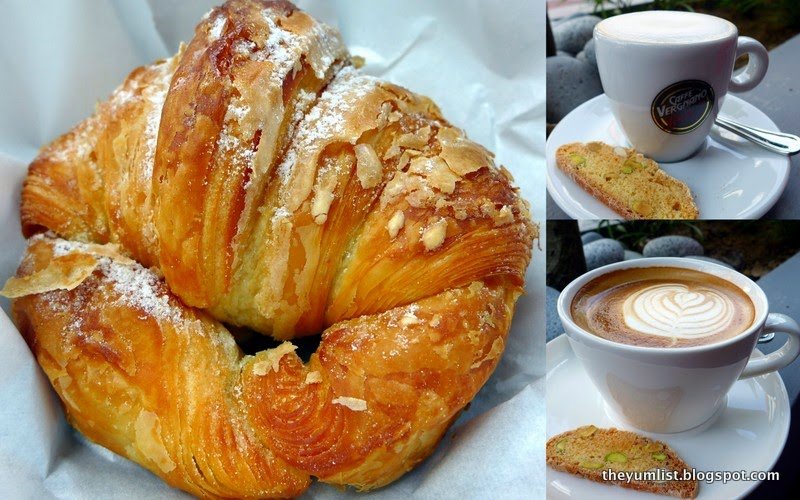 Cornetto, Macchiato and Flat White
'Breakfast' continued with two protein powerhouses: Italian Baked Eggs and Toast All' Uovo. My humanity was reduced to that of a Pavlov hound as I salivated rapturously at the sight of the Italian Baked Eggs with its luscious lava-like appearance. The best part of this experience is when you poke the egg yolks with a fork and watch them ooze out to blend in with the tomato sauce. The trick is not to diffuse the eggs completely and drown them in the tomato sauce, but to stir them gently so you still retain that thick eggy consistency, then dip the accompanying soft and crusty focaccia in it, bite a chunk off it, followed with another quick jab of the mixture into your mouth for a face contorting moment of pure ecstasy. For a more intensified experience, place a strip of crispy bacon and a sprig of arugula on the bread after you dip it in the sauce, and be prepared for one of the most sublime pleasures you'll ever experience.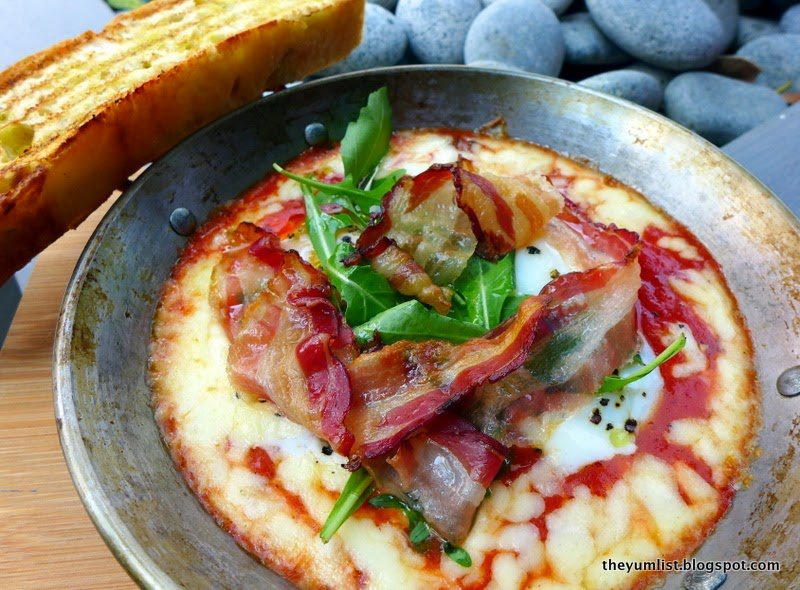 Italian Baked Eggs
The Toast All' Uovo makes up in deconstructed simplicity what it lacks in the baked eggs' decadence. This is one dish I wouldn't mind having for breakfast every morning with its soft scrambled eggs crowned with thin slices of parmesan and paired with spicy salami. My favourite element in this plate, however, is its condiment, the parsley pesto, which effuses a verdant fragrance that goes great with everything, especially the bread.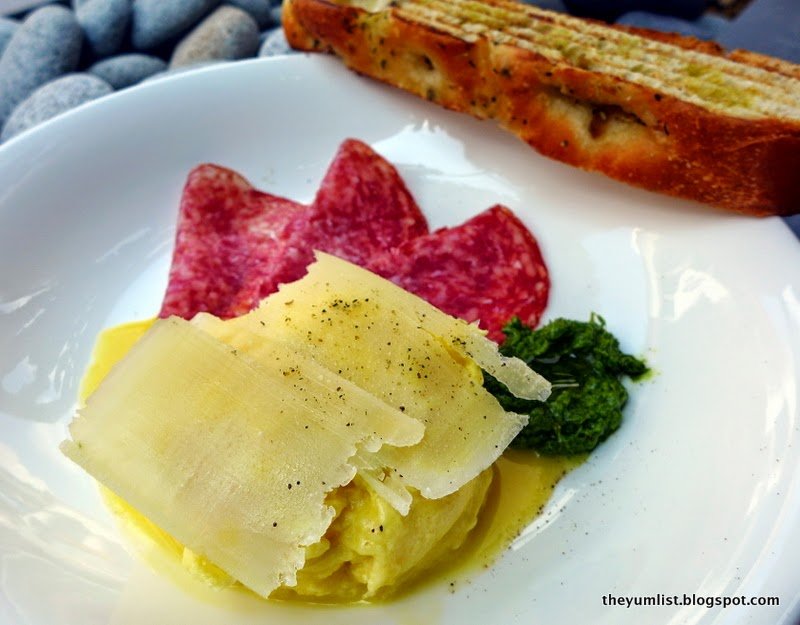 Toast All' Uovo
Light bites that followed arrived in the form of Bruschetta Al Pomodoro and Arancini Alla Siciliana, beef and mozzarella risotto fritters. Prepared with pressed ciabatta, the bruschetta was a welcoming change from the previous egg dishes with a generous helping of diced tomatoes and creamy avocados. The arancini proved to be delectable morsels that disappear quickly if you're not fast enough, though I would say it was the chilli tomato dip that really improved it with a delightful piquancy.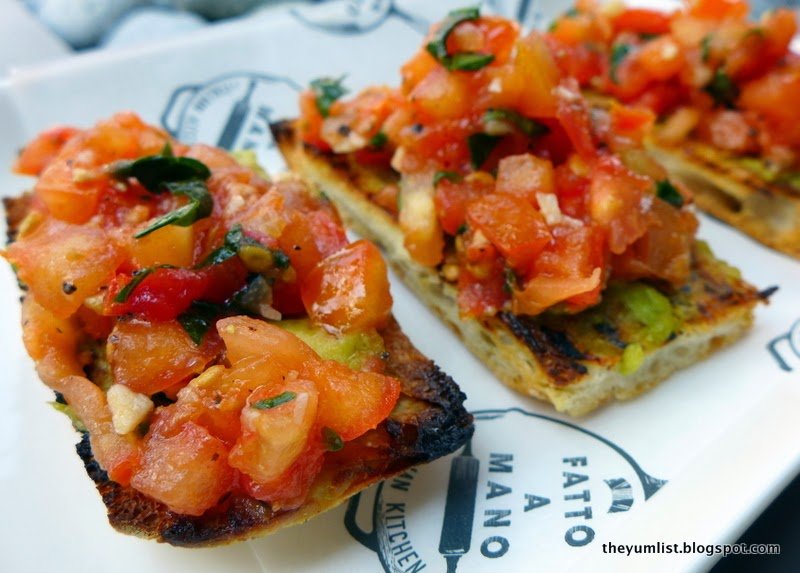 Bruschetta al Pomodoro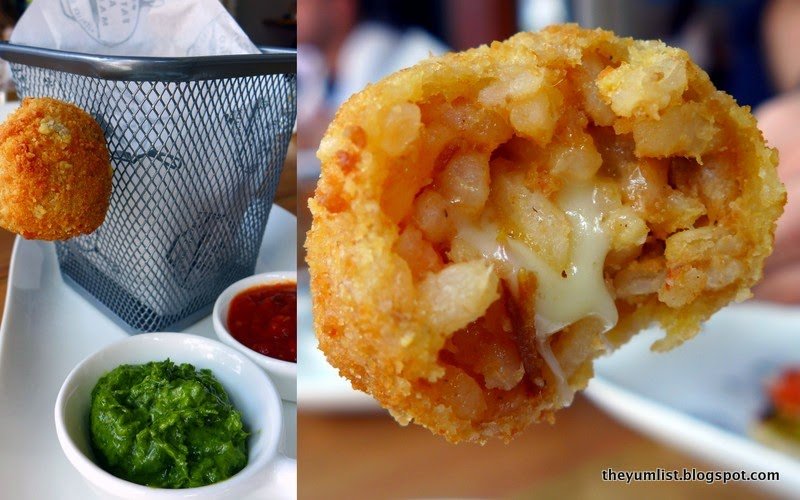 Arancini Alla Siciliana
For salads, we had the Asparagi, which is a colourful pastiche of asparagus spears, cherry tomatoes, roasted bell peppers, ricotta cheese, soft-boiled egg, and black olive tapenade. The recipe here is a simple yet effective one that banks on the cheese and tapenade for flavour, enhancing the zesty tomatoes and complementing the crisp asparagus spears.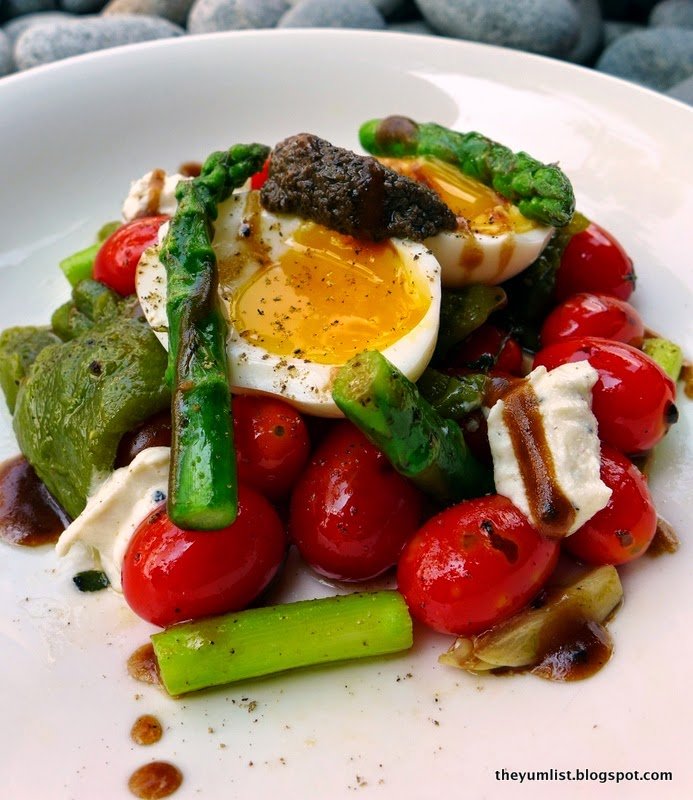 Asparagi Salad
Alas, what is an Italian fare without pizza? We sampled two: the Prosciutto and the Francese. The pizzas are served on wooden serving boards (which seems to be an indicator for rustic elegance in a lot of places lately) and are distinctively oval, thus making the entire presentation look like a handheld vanity mirror… you know, the kind you can lick unabashedly because the view is just too gosh darn delicious. Of the two, I favour the Francese for its use of ingredients and conception: it is actually an amalgam of the Italian pizza and the Alsatian tarte flambée, a nod to Fatto A Mano's founder, Christophe Chatron-Michaud's French and Italian heritage. The crust for this is thinner than the Prosciutto, and its heavy use of caramelised onions and thyme propelled this to be one of my favourite dishes of the day.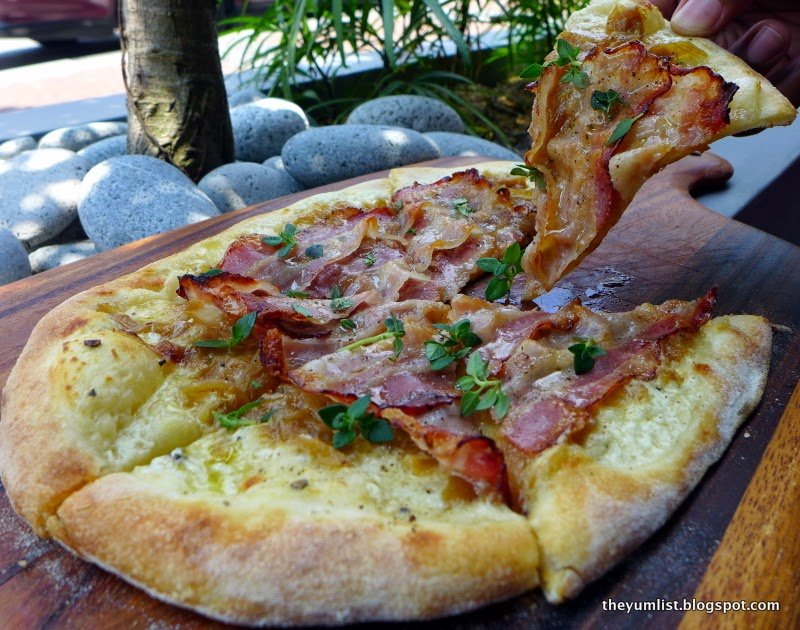 Francese Pizzette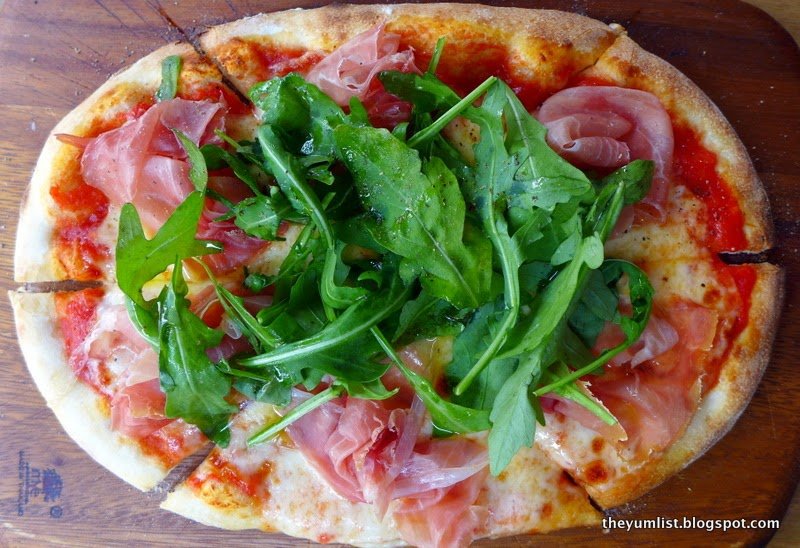 Prosciutto Pizzette
An Imported Cured Meat Platter followed suit, and we were given a selection of Bresaola, Cotto, Salami, and Cacciatore to savour. The display of cured meats on the wooden serving board with some olives, cherry tomatoes and arugula thrown in is particularly evocative for me, as I once knew a Romanian from my university days who would eat nothing else for dinner but salami, olives, sliced tomatoes, lettuce, and unleavened bread. I never understood how he could return to same dish every evening at the dining hall, but I suppose it was one of the few things that remind him of home.
Cured Meat Platter
The platter was paired with a Fanti Sassomagno Sant' Antimo DOC 2010 that had an exciting spicy profile; even its bouquet reminded me of chillies. High tannins, smooth, and a lingering aftertaste make for an uncomplicated wine that I enjoy pairing with the bresaola, though the added zing in the red also goes beautifully with the equally tongue prickling salami.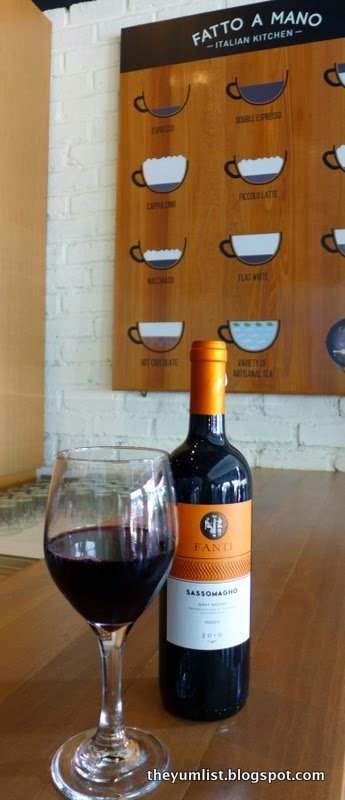 Italian Red Wine – "Sassomagno" Sant' Antimo DOC, 2010, Montalcino, Tuscany (available by glass RM24, carafe RM70 or bottle RM135)
Just as we thought we've conquered the mains and would plough through desserts, our host continued to tantalise us with familiar comforts from the pasta section: Ravioli Al Funghi and Mac and Cheese Alla Bolognese. It's amazing how mushrooms, sage, and butter can taste so good and feel so luxurious in the mouth as we terrorised the ravioli, one dumpling at a time. With Parmigiana, gorgonzola, and mozzarella mixed in, the mac and cheese is something I would love to take home and ravage as I watch a movie. The best part? It was served in a saucepan. I mean, how else would anyone have their mac and cheese if not straight from the pan?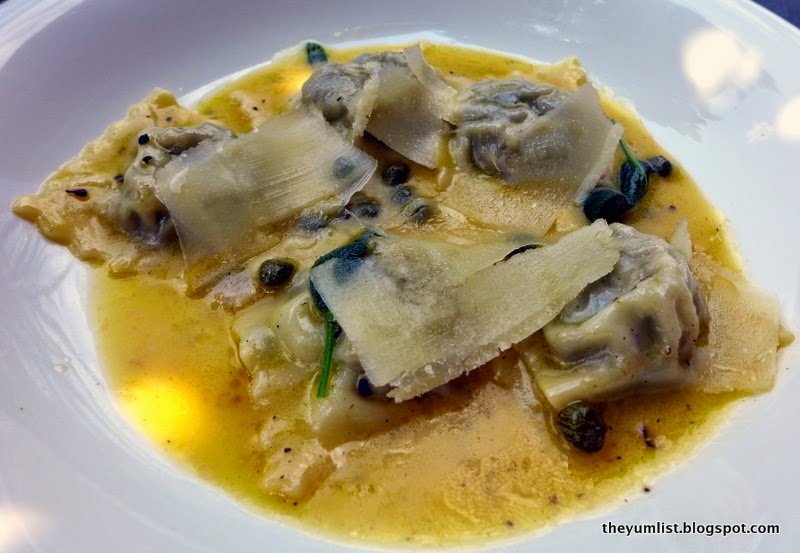 Ravioli a Funghi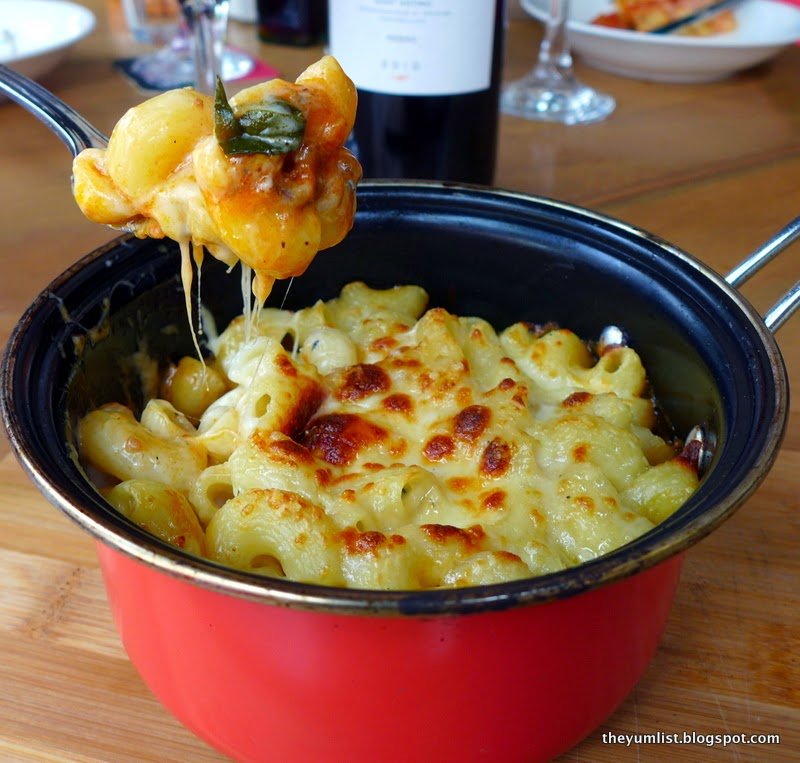 Mac & Cheese Alla Bolognese
Having had so much, a small wave of doubt began to swathe me right before desserts arrived, for my belly was nearing its full capacity. That all changed when Christophe appeared from the kitchen with a massive bowl of tiramisu that caught the entire restaurant's attention. My heart squealed a little when Christophe simply dug in the bowl and took a big chunk without any signs of remorse, an act I suppose was mercilessly necessary if only to satisfy our longing for mascarpone. As I moved forward to tuck in, the tiramisu sank a little to the touch of my spoon, as if shying away slightly, but I pressed on, and soon enough, I was blissfully lapping it up.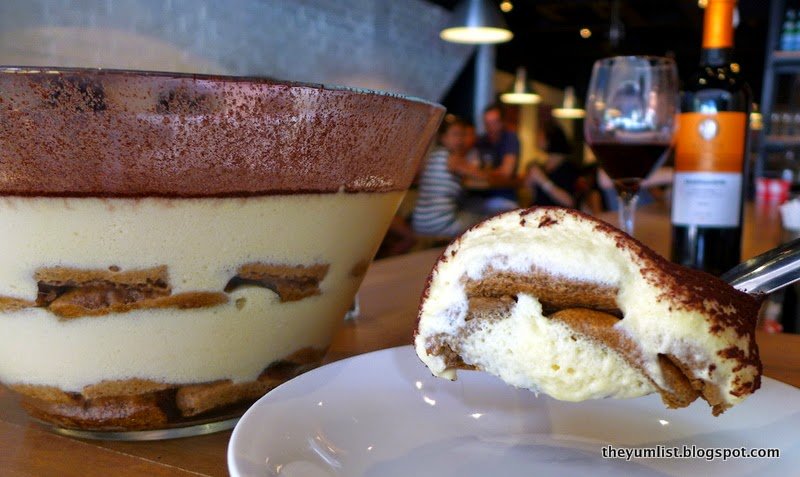 Tiramisu with Amaretto Served Table Side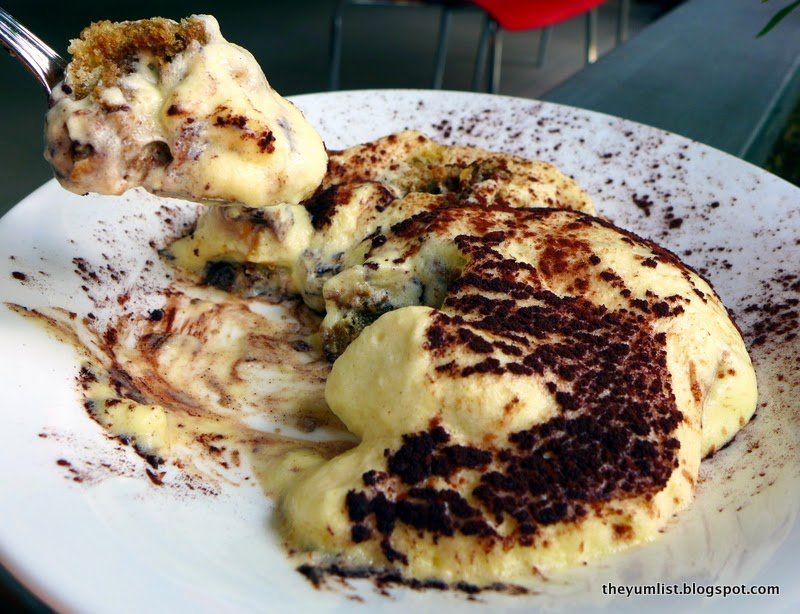 Tiramisu with Amaretto
But it didn't end there! A plate of Panna Cotta with Strawberries and a trio of Bomboloni (small doughnuts filled with raspberry jam, vanilla custard, and Nutella) were to be our finale for the afternoon. The bomboloni reminded me vaguely of scones, though these were crustier and dribbling in its own filling, while the panna cotta was delightful sprinkled in vanilla and served with the sweet berries.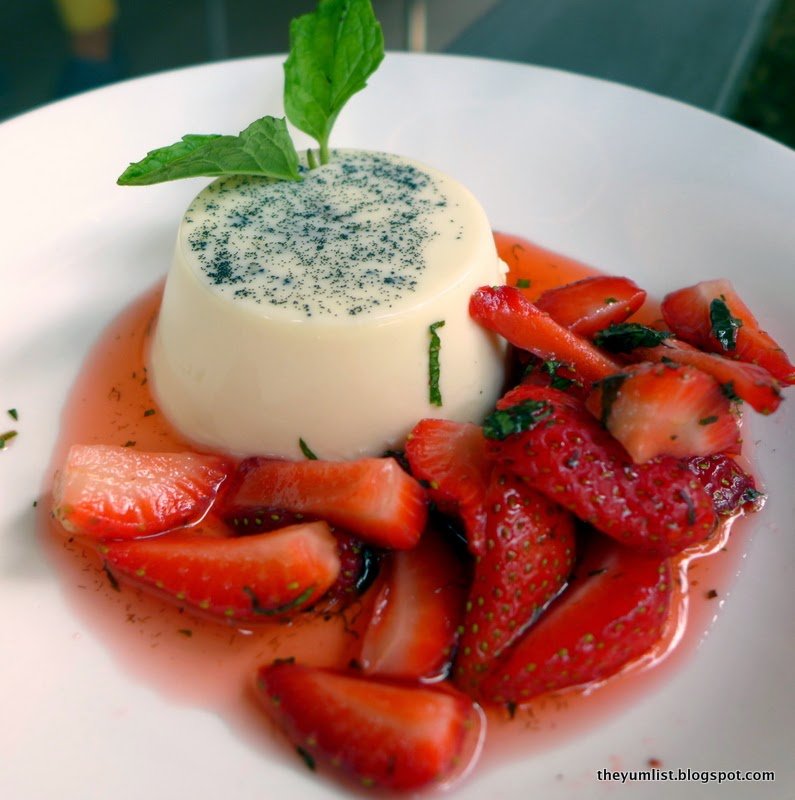 Panna Cotta with Red Berries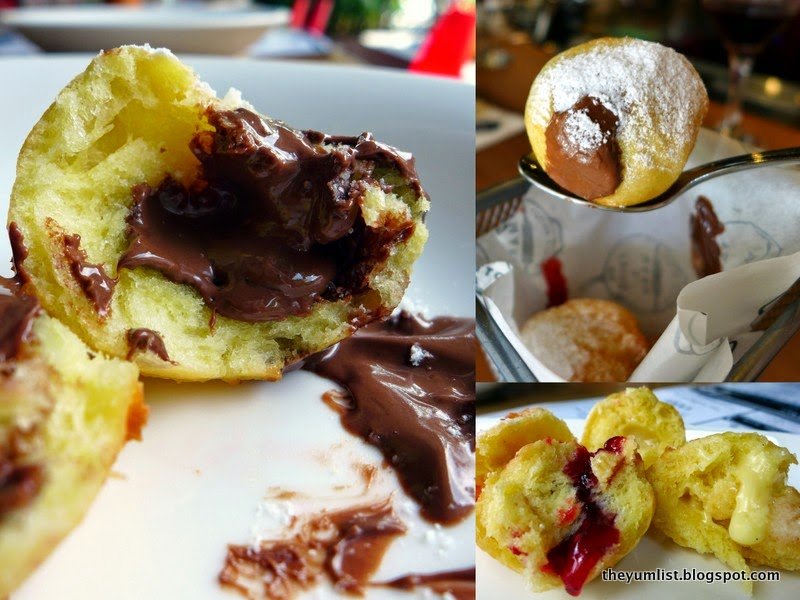 Bombolini
It has been a while since I endured such gluttony with total abandon, and I was grateful for the walk back to the car even if it meant sunning myself for a good ten minutes. The experience at Fatto A Mano had been a great one; not good, but great. In a time where Italian cuisine has achieved omnipresence, it is comforting to know that quality is still demanded of it and that there are some individuals out there, like the fine people behind Fatto A Mano, working tirelessly to enlighten the public on why the love for great Italian food has never waned, and remains universal.
Reasons to visit: Italian Baked Eggs; Francese Pizza; Tiramisu (arguably one of the best around town); value-for-money food prepared with French sensibilities in Italian proportions.
Fatto A Mano
22G Jalan Telawi 2,
Bangsar Baru
59100 Kuala Lumpur
Malaysia
+603 2280 0200
Open daily, 8am – 10pm (except on Tuesdays)