Tanzini, on the 28th floor of GTower, breathes a romantic, elegant dining ambience in the evenings. Warmly lit with candles and soft lighting, smoothly tuned with soft jazz rhythms, and abuzz with happy diners, the mood is amorous and joyful.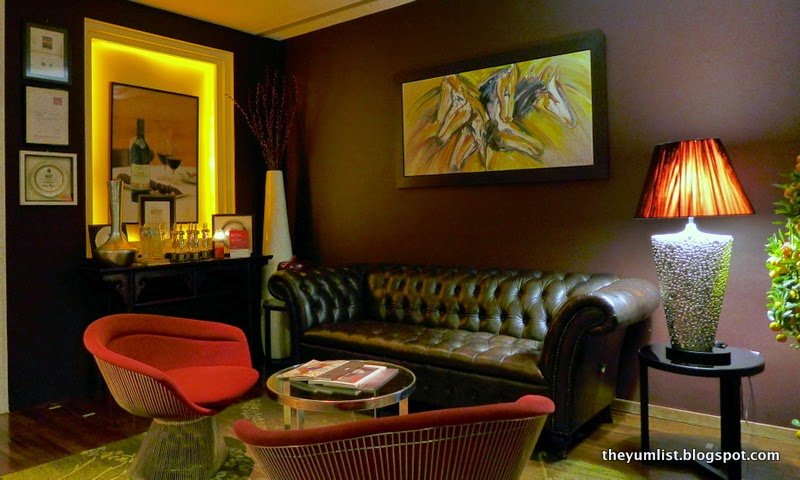 Tanzini Lounge
Chefs here live the 'farm to table' concept, endeavouring to source ingredients locally, sustainably and truly know their supply chain. Products are organic where possible and healthier cooking methods are chosen over unhealthy ones. The menu is described as 'modern cuisine' – local produce made with European cooking techniques.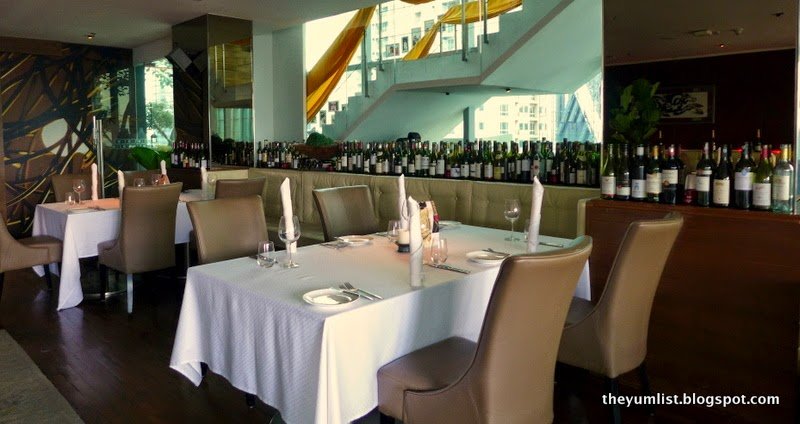 Dining Tables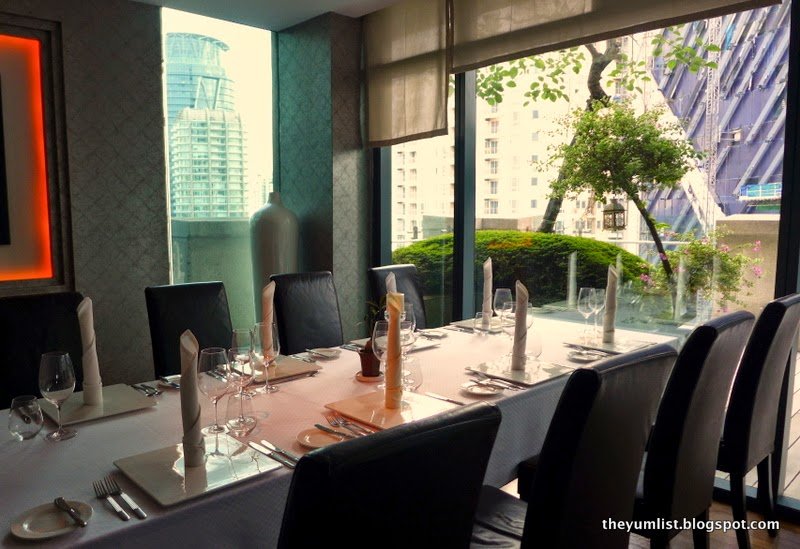 Private Dining Room
We're excited to see a new chef on board: Kenneth Loke M.K. was Malaysia's 2015 entrant for the highly respected Bocuse d' Or competition held in France, the international equivalent of the culinary Olympics! Chef Kenneth describes Tanzini's cuisine as rustic, well portioned and interactive. He wants guests to have fun and engage with their food.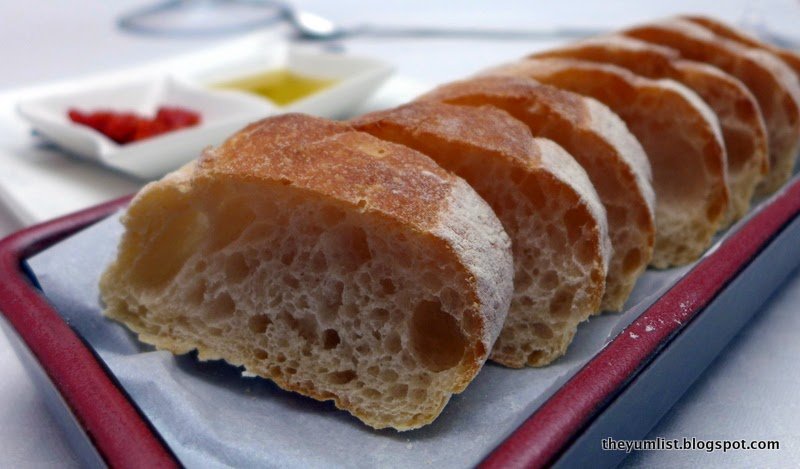 Ciabatta
A sharing plate comes out first with Italian buffalo mozzarella balls, raw and cooked green and yellow zucchini shavings, and cherry tomatoes, deliciously dressed with pesto, balsamic and a honey lemon dressing. Flaked almonds contribute a crunch, and mixed greens a garden freshness. It's both a satisfying and fresh beginning.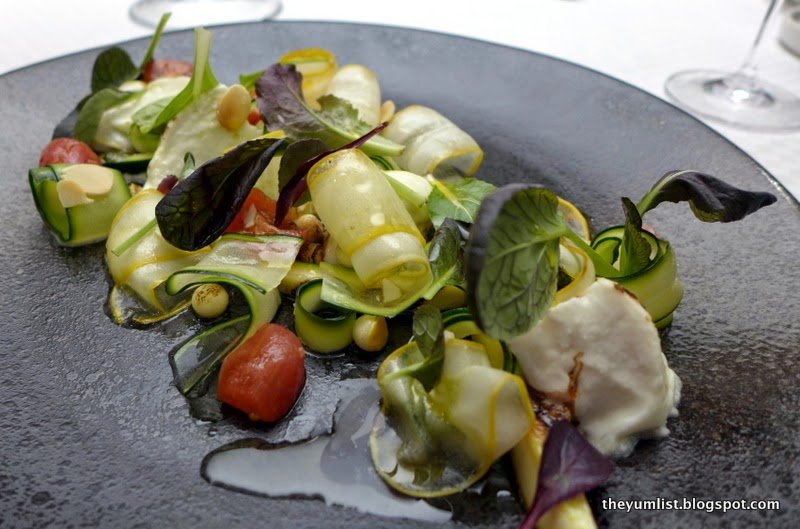 Mozzarella Zucchini Salad
"Tarte Flambée, sort of like pizza with Asian flavour," announces Chef as he hands the next starter over. Dried shrimp with tomato sauce lubricates the thin crispy pizza base. Jumbo crab, feta cheese, and a toss of greens supply the toppings. The flavour is distinctly Asian and both hubby and I (not usually fond of intense seafood seasoning) surprise ourselves with just how much we applaud this dish.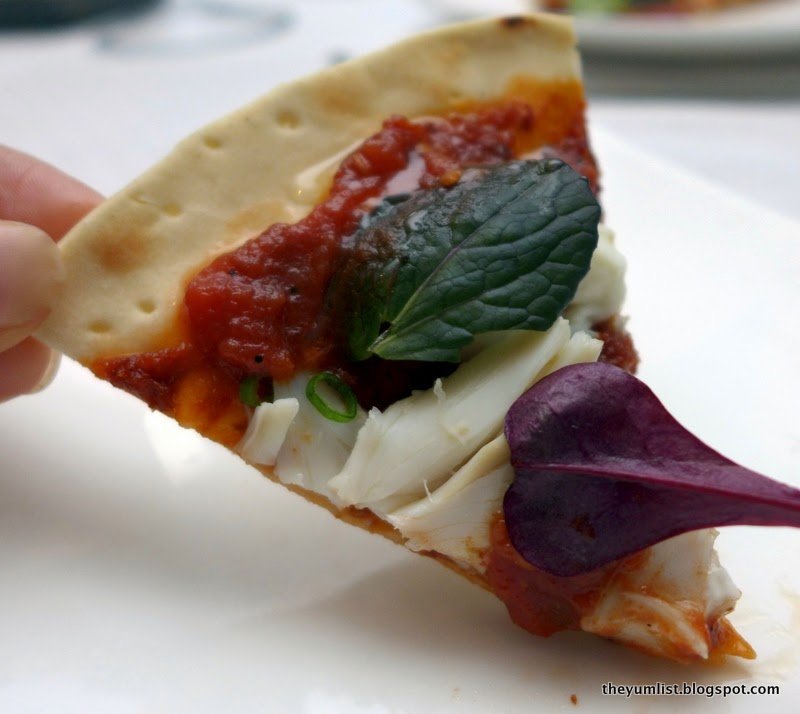 Tarte Flambée
Ca N'Estruc, Blanc 2013 from Catalonia, (RM32++ per glass) is our lubrication for the night. Displaying hints of passionfruit on the nose, and a crisp fullness in the palate, it's an agreeable drop.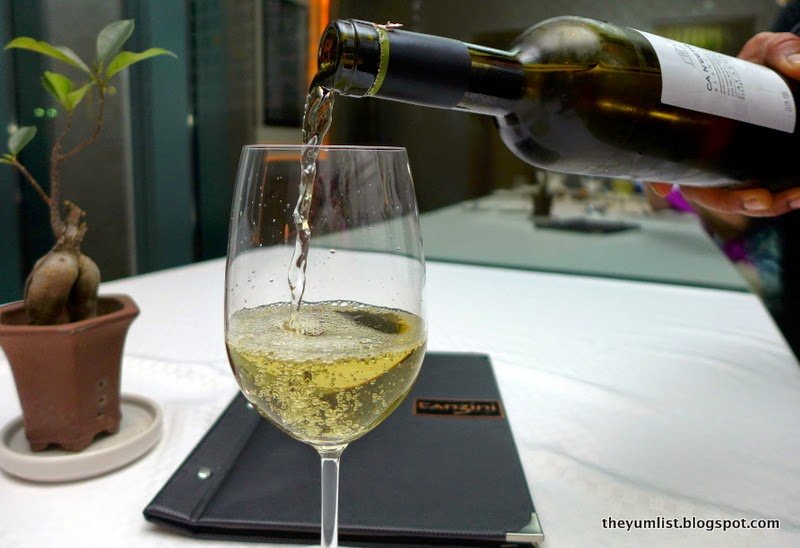 Spanish White Wine
Chef's Special Soup of the Day, Sweet White Corn Soup, with grilled and popped corn smells just like the movies! I ask, "Is there butter in the soup?" Chef's smile broadens, "Yes, but not too much." Hubby and I both adore this one. It has innocent appeal but is layered with complexity.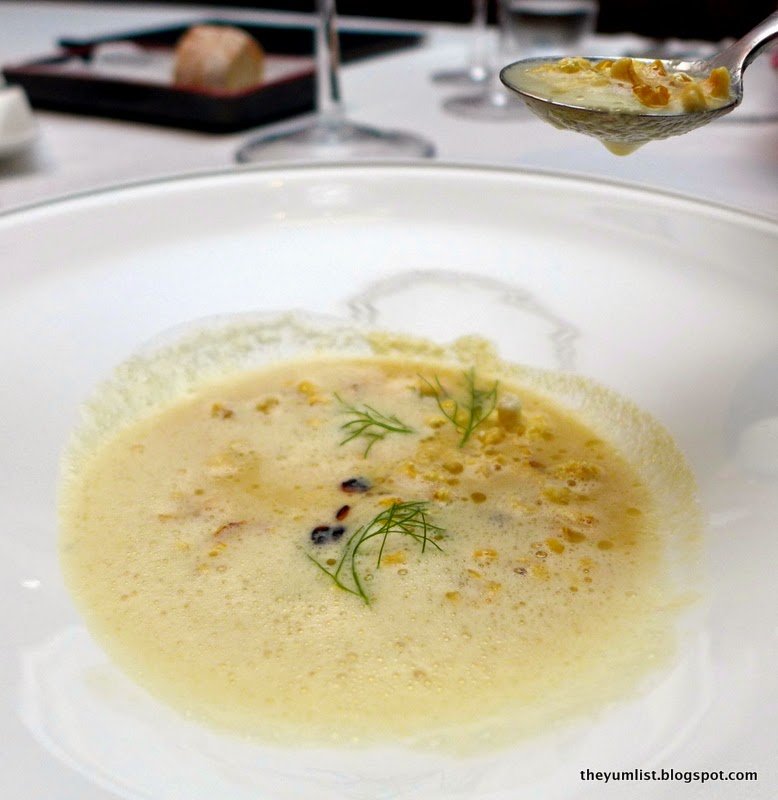 Sweet White Corn Soup
"Something very classic. Crustacean Bisque, with a local infusion of kaffir and lemongrass, shallots, garlic and chili – but not too much," reveals chef as a vibrant broth is placed on our table. Gyoza tortellini, filled with lobster and prawns, are concealed in the pond and fresh parsley speckles the frothy surface. It's a traditional dish that we're both normally fond of, but the kaffir and lemongrass are particularly appealing in this version.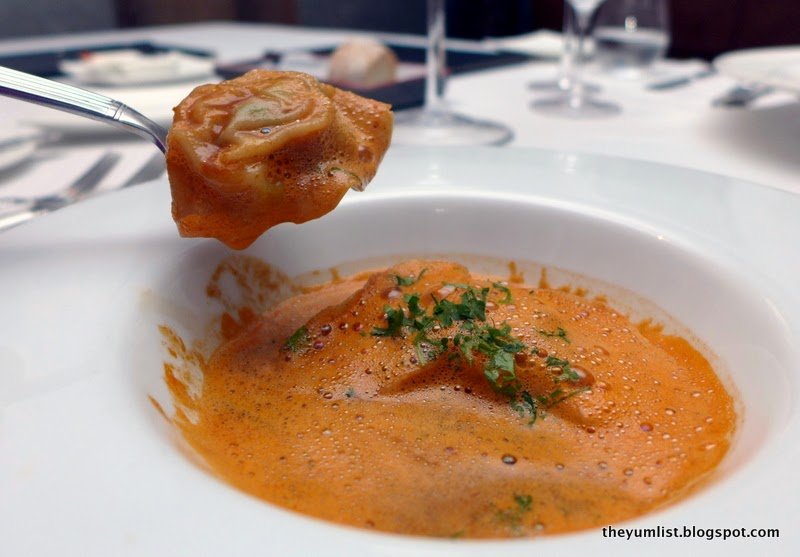 Crustacean Bisque
The Intermezzo of the Day, Coriander and Lemon Granita, is served in an inverted cone, atop a glass bowl of shaved ice. It's intriguing, but not too strange, and serves its job well, cleansing the palate and exciting us for the mains.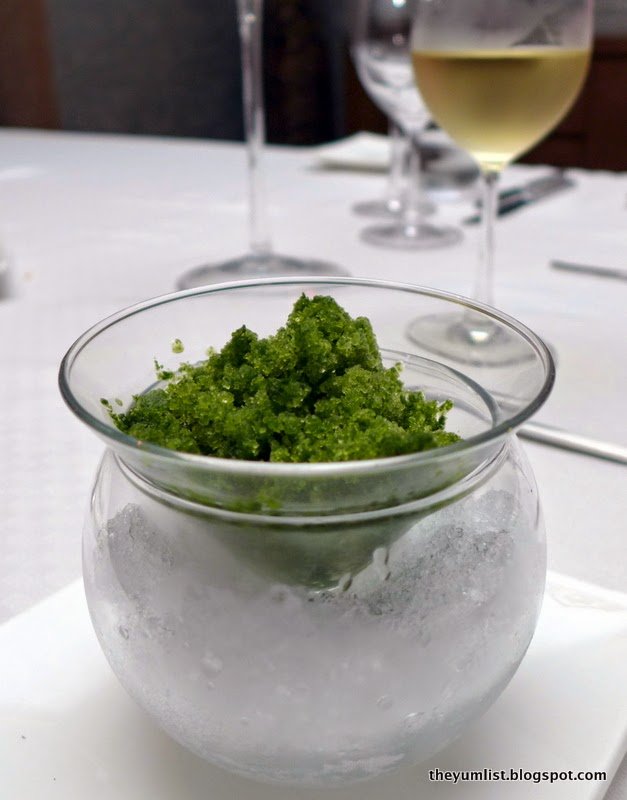 Coriander and Lemon Granita
"Couscous with Puffed Buckwheat Carbonara," says chef, adding, "lemon zest, parsley, 63 degree poached egg – all the ingredients of carbonara, but in a different manner." A plate of smoked duck on the side makes our mouths water as the aromas waft to our nostrils. "Carbonara" has my mind presupposing smooth and creamy. Wrong, but I love the surprise! It's crunchy and toasted and velvety all at the same time. The house smoked duck accompaniment is not needed, as the white bowl full is superb on its own. When the duck however, finds its way to the corners of my mouth, I realize I need to get a good share before hubby discovers its seductiveness.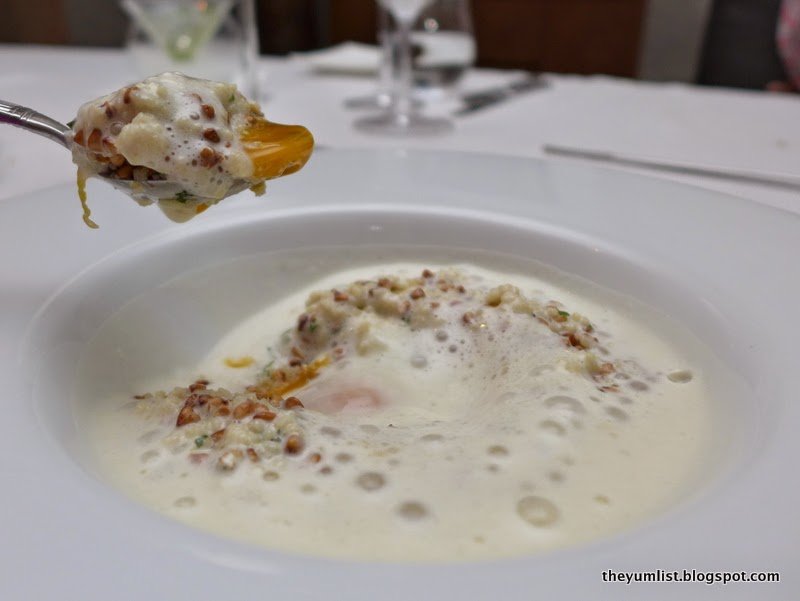 Couscous with Puffed Buckwheat Carbonara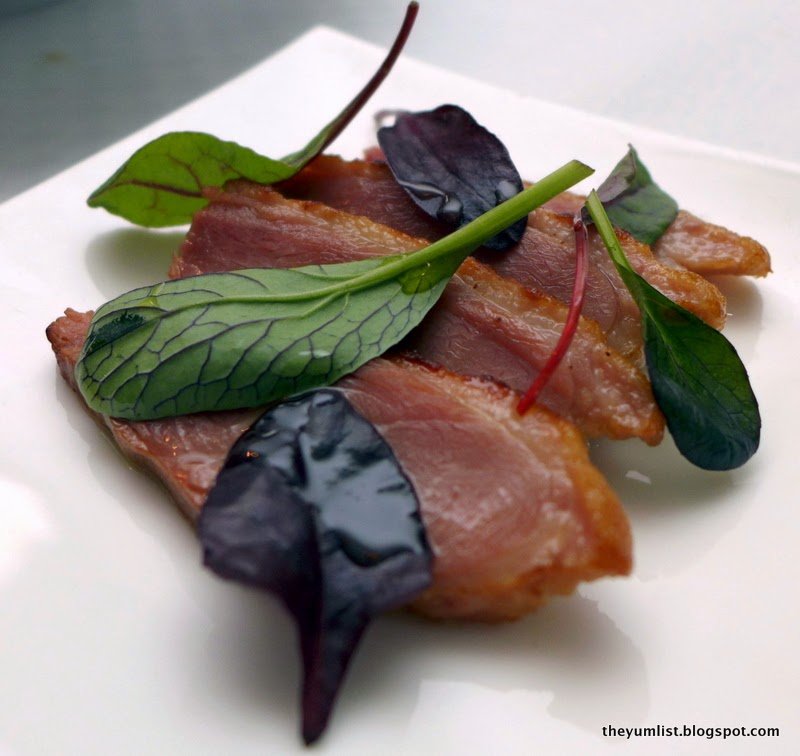 House Smoked Duck
"Something very simple using mostly local produce," announces chef with the dispensing of the next plate. Sakura chicken is marinated with lemon grass, kaffir lime juice, garlic, and coconut milk, then prepared sous vide to retain the flavours. Finally it's grilled, giving a golden tone to the edges, but maintaining moisture within. Sweet potato, baby carrots, French beans and spinach prove toothsome sides. Chicken jus with sherry vinegar and dill oil encircle the plate, wrapping it all into one delicious parcel.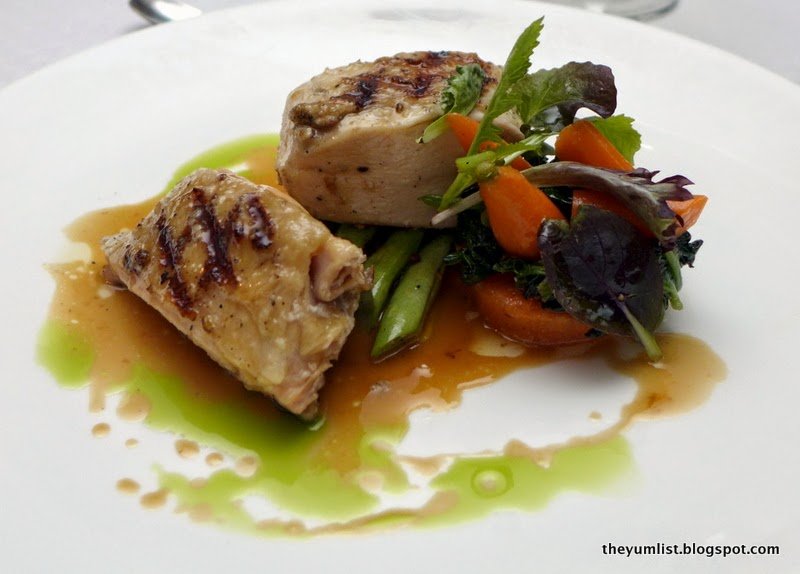 Sakura Chicken
The final main is Ecological Barramundi, seasoned with salt and pan-fried. Chef doesn't want to spoil the natural flavours with complicated cooking techniques or condiments, so keeps it simple. The slim fillet of flesh is moist and flaky, and the skin nice and crispy. A Sicilian salad of raw fennel, orange, capers and pine nuts, is marinated in a luscious honey lemon dressing, with orange juice, salt and pepper. Roasted potatoes with parsley and sea salt, demonstrate that uncomplicated preparation is often best for quality ingredients. Even though it's near the meal's end, we have no trouble getting to the bottom of this bowl.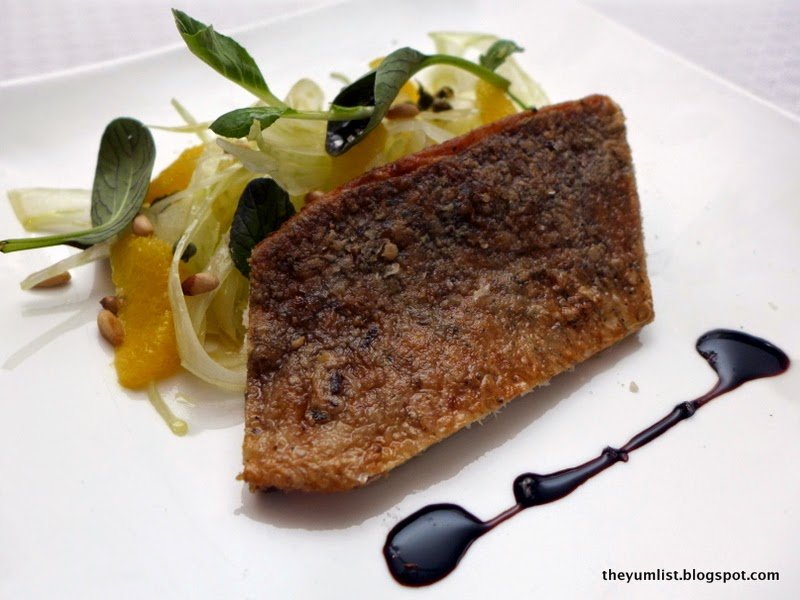 Ecological Barramundi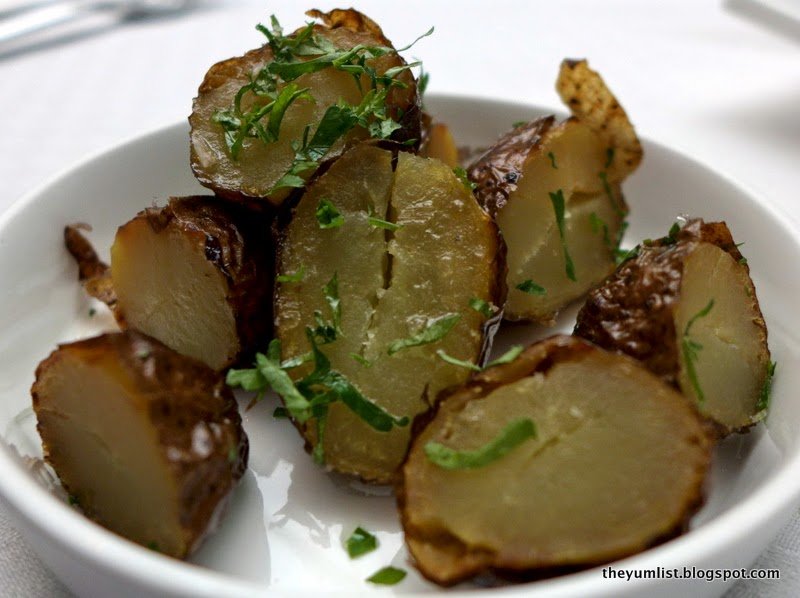 Roasted Potatoes
The climax, Frozen Hazelnut Parfait, is crested with white chocolate powder snow, and based with crispy chocolate biscuit crumble and soil. A strawberry compote and gel makes a lovely contrast in colour, and in flavour too, providing a sweet closing zing, and breaking up the creamy parfait.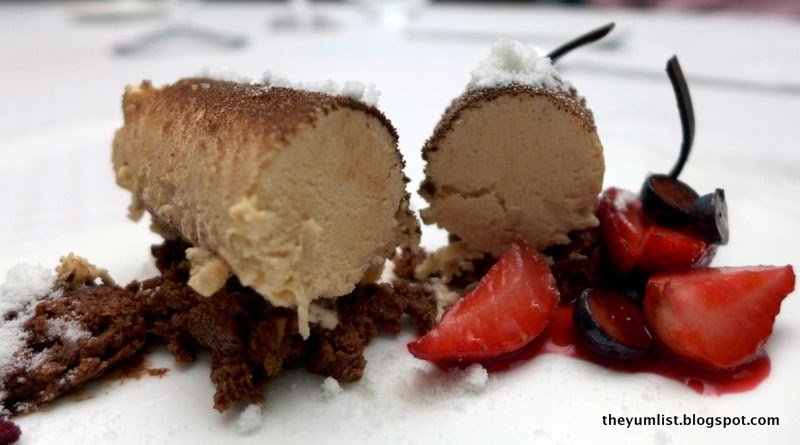 Frozen Hazelnut Parfait
I haven't precisely collated the data, but the number of times hubby has said, "Wow!" this evening, is way up there in the double digits. Tanzini's ambience, service and menu get our stamp of approval and we hope to return again soon.
* Four course menus range in price from RM148++ to RM188++ depending on the dishes chosen.
Reasons to visit: rustic yet inventive cuisine, elegant ambience, Mozzarella Zucchini Salad, Sweet White Corn Soup, Couscous with Puffed Buckwheat Carbonara, Sakura Chicken.
Tanzini
GTower
199 Jalan Tun Razak
50450 Kuala Lumpur
Malaysia
+6 03 2168 1919