Healthy eating made "accessible, affordable and absolutely
delicious"
Browsing the Food Matters website has me wondering if we've saved the best to last? For the first part of 2015 we've been exploring healthy food delivery companies in Kuala Lumpur and have uncovered an extraordinary range of services: from comfort foods made with healthier cooking techniques available two days a week, to strictly raw vegan cuisine replacing breakfast, lunch and dinner for any chosen number of days. A niche seems to have needed filling and we're happy to announce KLites have been stepping up to seal the gap.
What seems to make Food Matters unique in this profusion of new healthy food delivery services in Kuala Lumpur is an extensive choice of both Asian and Western dishes, and a subscription system.
Balanced Variety
At least 40 different meals are up for selection, and they're all pictured with nutritional information and clear descriptions of each, on the website.  Balanced meals include not only a variety of flavours, but recipes to suit a diversity of food preferences too. Vegan, vegetarian, paleo and gluten-free diets are all catered for with a number of alternatives. You can be assured too that meals are indeed nutritionally sound, as American Fitness Professionals and Associates (AFPA) certified nutritionist, Alexandra Prabaharan, has hand-crafted every single recipe.
Subscription
The subscription service means you commit to at least one meal a week for a month. You can order as little as a single meal, or a complete package that will see all of your weekday lunches covered for the entire period. Of course with higher frequency orders come better prices. A daily dose of health works out to cost a mere RM10 per meal, whereas a once a week delivery is still very reasonable at RM14 per lunch.
When you consider the time and stress you save with this nutritionally sound delivery service, and health benefits awarded with a balanced lifestyle, the price is a bargain! But, while it all sounds good, our job is to find out if it tastes good too. We try six lunches:
The Dishes
Moroccan Meatballs with Couscous Pilaf – Calories: 412, Fat: 19, Carbs: 30.3, Protein: 31.7
Hubby eyes the meatballs with a lick of saliva as I'm photographing them, and I have to hunt him out of the kitchen until the paparazzi session is complete. We just know this recipe is going to be delicious. Lean bold balls of ground beef sit in a wonderful tangy mint yoghurt dressing, and a fine couscous salad, tossed with fresh herbs and toasted almonds, occupies the other side of the box.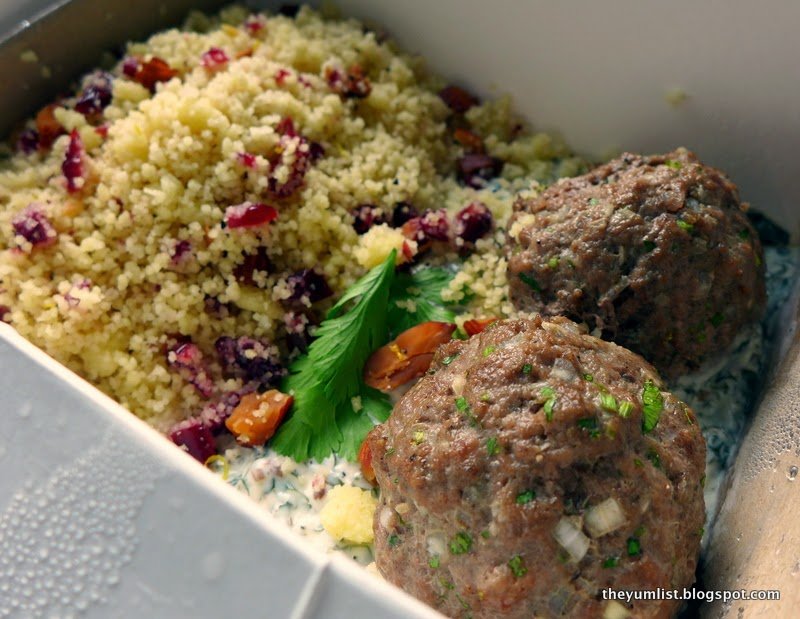 Moroccan Meatballs with Couscous Pilaf
Greek Salad with Couscous – Calories: 454, Fat: 12.7, Carbs: 68.4, Protein: 18.1
This rainbow salad is just as pleasing to the eye as it is to the taste buds. Colourful finely chopped veggies are tossed through the lean protein source couscous, and a sprinkling of feta supplies moments of bold flavour. Grain and raw veggie rich, this lunch box is packed with vitamins and minerals.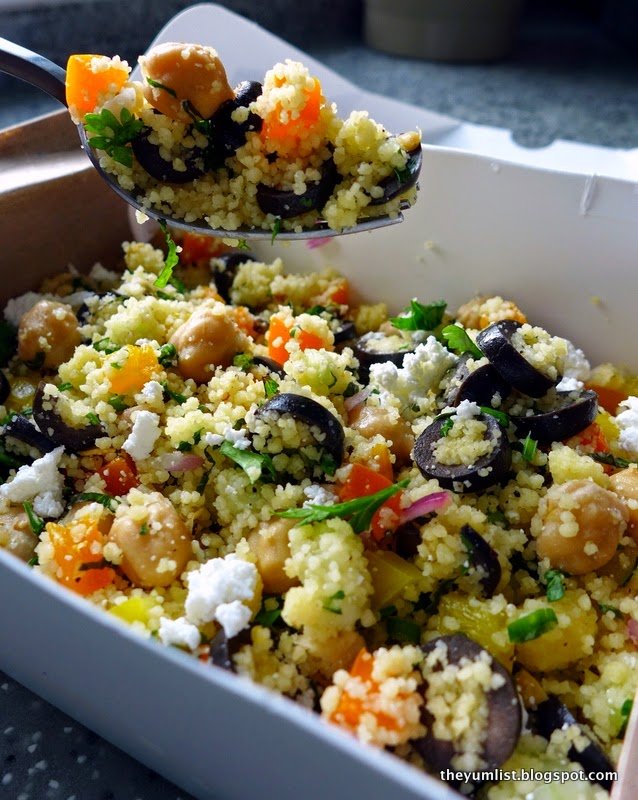 Greek Salad with Couscous
Tom Yam Pasta with Tempeh – Calories: 479, Fat: 10.4, Carbs: 74.8, Protein: 24.7
This vegetarian pasta fills all corners of the mouth with its distinctive Thai flavours. I must admit I have a minor addiction to the traditional soup, which seems to have been transferred over to this pasta. Meaty oyster mushrooms and tempeh furnish loads of texture, ensuring this pasta plate is not only gratifying in the mouth, but a real tummy satisfier too.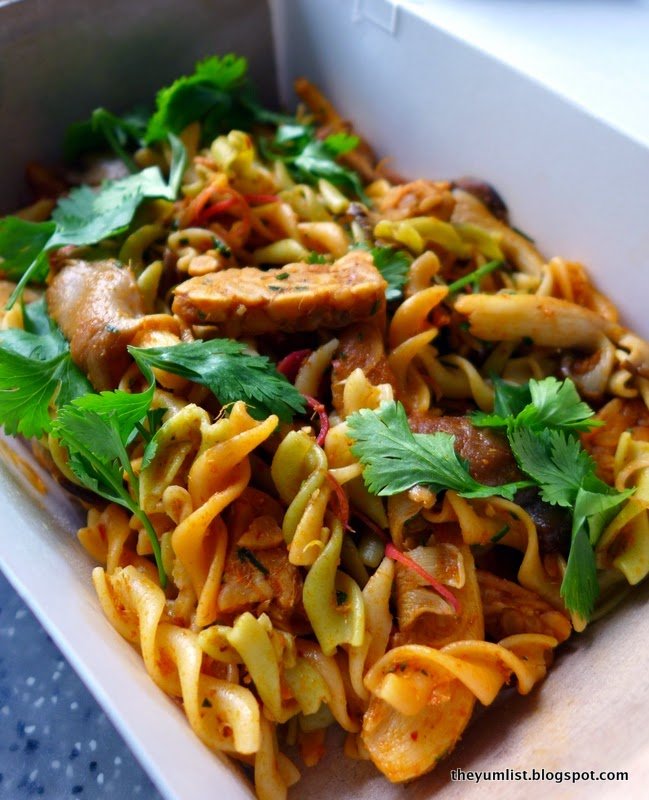 Tom Yam Pasta with Tempeh
Thai Red Rice Salad with Baked Chicken – Calories: 511, Fat:104, Carbs:70.4, Protein: 35.8
Just when I thought my favourite was going to be the Asian pasta dish, I taste the Thai Red Rice Salad with Baked Chicken and find it putting up a mighty fight for the adoration of my taste buds. The rice salad is vibrant with finely chopped veggies and spices, and a wonderfully zingy dressing makes it all the more irresistible. Lean slices of chicken breast crown the top, lifting the protein levels and finishing off another fulfilling dish.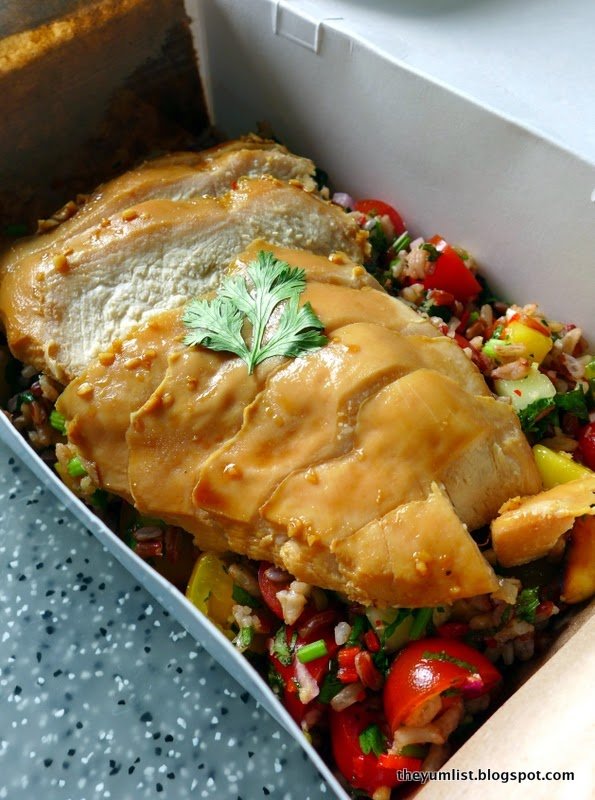 Thai Red Rice Salad with Baked Chicken
Ayam Percik –  Calories: 401, Fat:15.2, Carbs:35.2, Protein: 29.7
With the Ayam Percik I realize that these lunch boxes are easily plated. Served atop a brown paper rectangle, the slip can be conveniently lifted to slide the contents onto a plate. This generous piece of baked, boneless and skinless breast is incredibly moist considering all of the fat has been removed. It's given a feisty wallop of flavour with some spicy seasoning, and is presented aside a round of brown rice, and fresh sautéed spinach. Rich in protein, and high in flavour this lunch box is great for those who enjoy local flavours, but want it to be nutritious.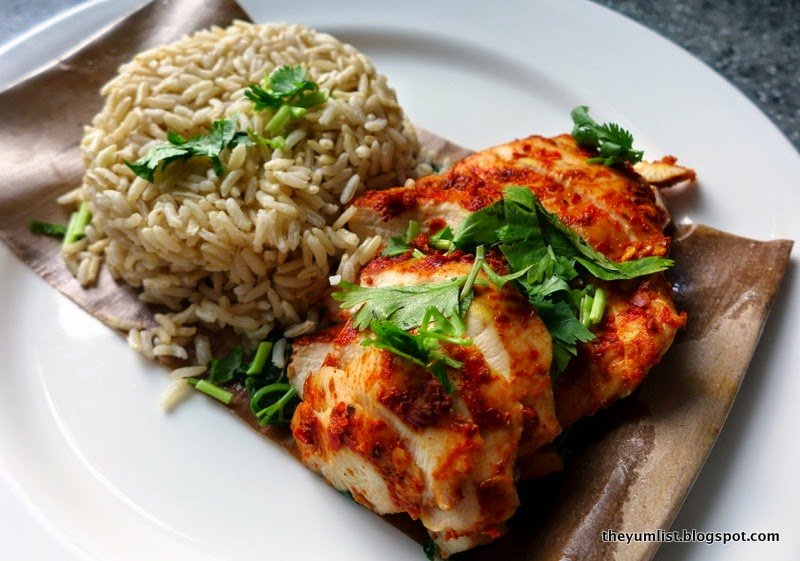 Ayam Percik  
Korean Kimchi and Bulgogi Beef Wrap – Calories: 354, Fat: 10.6, Carbs: 47.6, Protein: 8.1
These Korean seasoned beef wraps are easy to eat on the go! No mess wholemeal wrappers are filled with quality strips of lean steak marinated in bulgogi sauce and topped with slivers of kimchi and caramelized onion. A mound of fresh salad leaves supply a light contrast to the densely wrapped rolls.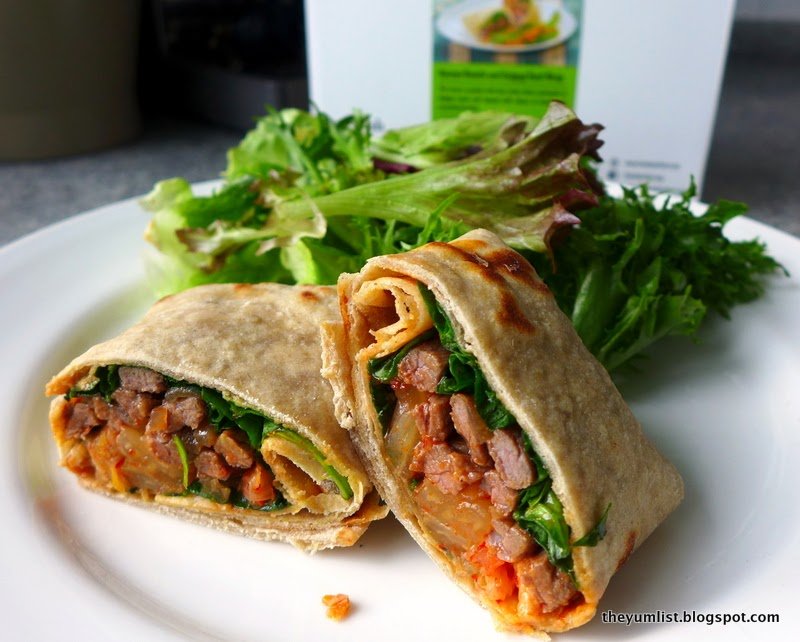 Korean Kimchi and Bulgogi Beef Wrap
We think Food Matters subscription service is a steal! Scrumptious recipes, comprehensive menu of offerings, and healthy nutritionist balanced lunch boxes delivered to your door: it's healthy eating made "accessible, affordable and absolutely delicious!"
Reasons to order: an extensive range of Asian and Western dishes; nutrition information for every lunchbox; subscription service encourages you to stick to a lifestyle change; our favourites – Moroccan Meatballs with Couscous Pilaf, Tom Yam Pasta with Tempeh, Thai Red Rice Salad with Baked Chicken.
Food Matters