We ascend to the Upper Deck of Tanzini in the GTower and are greeted with elegant environs framed with glass walls on the roof of the building. Mirrored ceilings reflect long strings of warmly glowing light bulbs, and extra-long golden curtains drape from the two story limits. White linen-clothed tables are enclosed with soft chairs, and adorned with metallic fabric runners and fine wine glasses. The flanks of the restaurant are rimmed with more private cushioned booths set with oversized king chairs. Slow sultry jazz tunes purr from a quality sound system adding the final detail to this setting of modern gracefulness.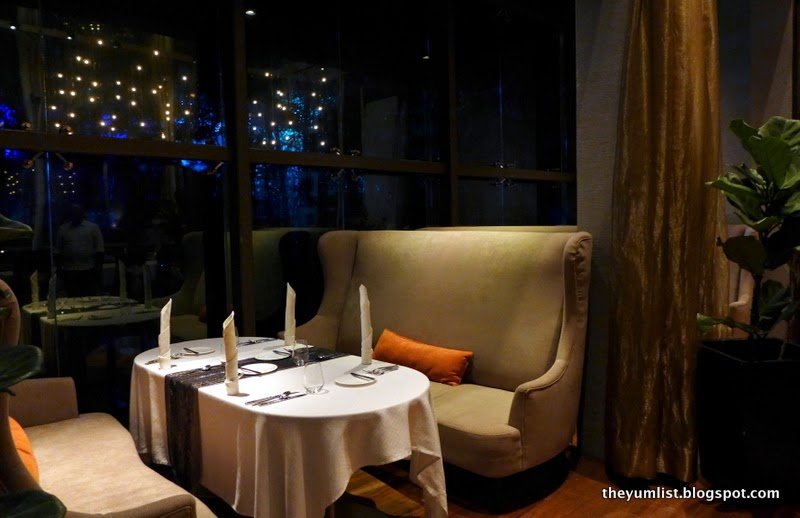 Tanzini Upper Deck
Tanzini Upper Deck delivers an exclusive fine dining experience. It's a niche market and gourmands who make the journey upstairs tend to be looking for adventure. Chef Eugene Lee says he does "gangster" cuisine. "Some call it progressive, some call it molecular, it doesn't matter, it's still food," says chef with an enthusiastic buzz as he introduces the menu.
We're here for the Chef's Table Degustation, a notable experience that must be booked in advance, where guests leave their palates in the hands of the chef. Diners are invited to advise of any dietary requirements, but no menu is given ahead of time: each dish is explained as it is delivered.  We love the idea and are animated throughout the entire meal, wondering what the next course will be, having no presuppositions of what to expect.
Bread and Wine
Warm slices of ciabatta calm our immediate hunger pangs, and a house Spanish red, quenches our thirst. Ca N'estruc Negre 2013, Catalunya is a young wine, vibrant and fresh. It's easy drinking with food, and because of its youth does quite okay with both the seafood and meat that's to come.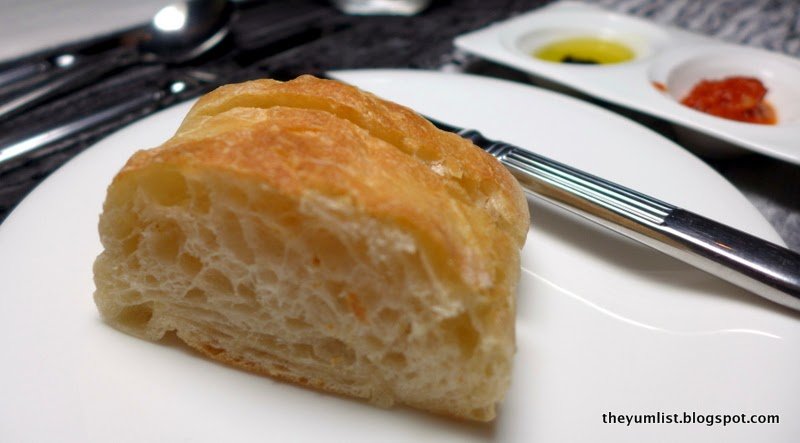 Ciabatta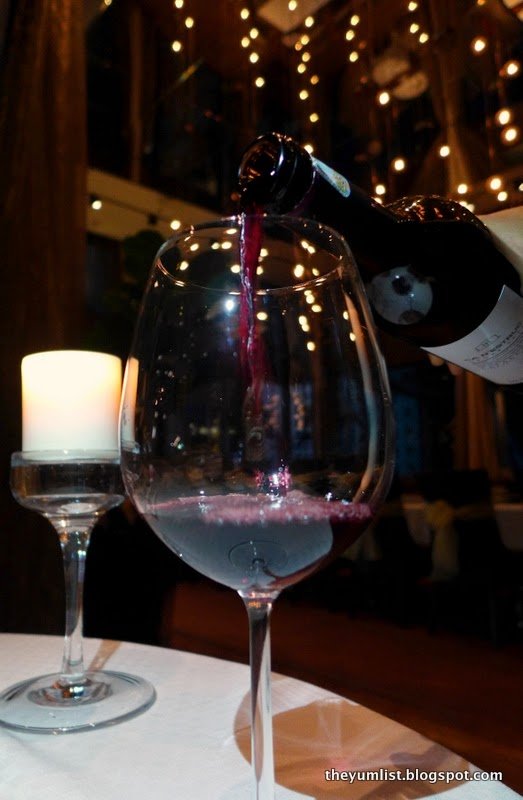 Spanish Red Wine
Skins I
"This is your snack for tonight," announces chef, "The skins of barramundi from our own farm." He lays a silver square on our table with a rack of ashen misshapen wafer-like forms. "We don't waste the skin of our fish, we reuse it for many applications." This skin has been washed, dried and pan-fried until crispy. A house made bulgogi sauce provides a thin sticky coating, to which a sprinkling of green tea moss, and a dusting of black sesame gravel have been added. We're deliciously surprised with the outcome.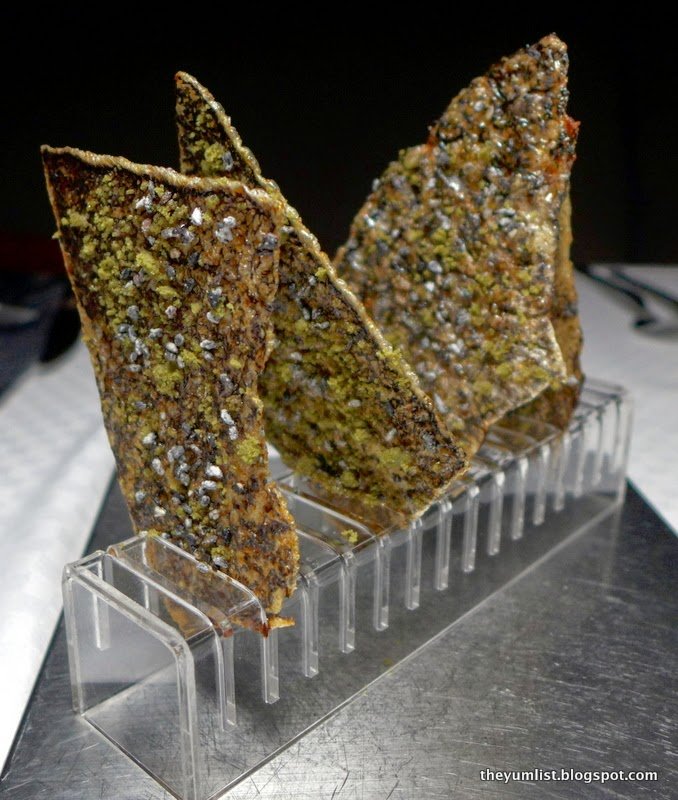 Skins I
Whelk
The next course arrives and chef smiles as he pronounces that the whelk (sea snails) from Bordeaux were still crawling this morning before being sacrificed for tonight's meal. They've been simmered then seared until crisp and are accompanied by local brown mud crab. Aka-tosaka (red seaweed) dressed in ginger, soy sauce, sesame oil and cabernet wine salt (yum! – what an invention!) hides the proteins, acting as if a coral garden were camouflaging the seafood underneath.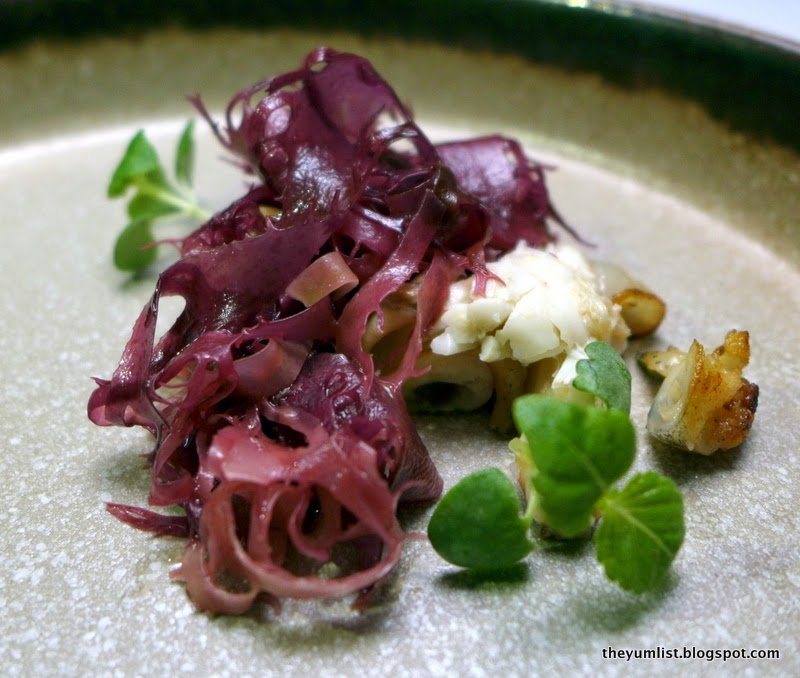 Whelk
Giant Tiger Grouper
"It's chilled so please eat it while it's still cold," informs chef with a grin as he delivers the next bowl, "It's a deep-fried cold fish." Grouper is another locally farmed fish, and chef believes that serving it cold best brings out the flavour. He's borrowed the technique from the Japanese. A shimeji mushroom marinated in mirin crosses the skin, and a delectable kombu stock with soy sauce, vinegar, sliced onions and capsicum, make a pool around the firm square of fish. We're starting to deduct that Chef Eugene likes to play around with diners' senses, fluctuating plates with hot and cold temperatures. He likes contrasts, and it would seem so do we.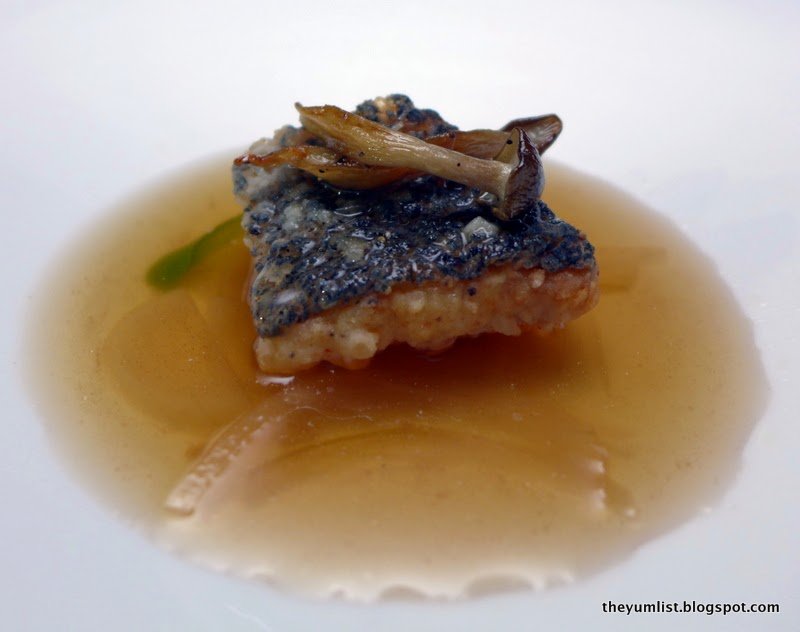 Giant Tiger Grouper
We change to a white wine for the next dish, another Spanish drop, this time a NUDO sauvignon blanc from Jumilla. It displays floral and sweet citrus on the nose, hints of minerals in the mouth and a pleasant crisp finish.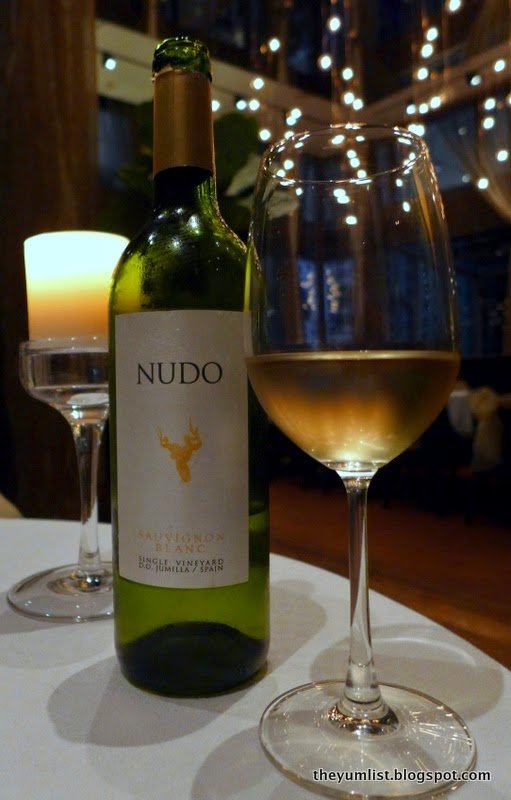 Spanish White Wine
Capellini
A pasta course is next, and Chef tells he doesn't like the idea of meat and starch together. Rather he thinks pasta is beautiful by itself. House made capellini resembles a ball of yarn on the plate. Tossed in truffle oil and topped with Thai dried shrimp with chili and soy sauce, it's sided with strips of capon chicken farmed locally. There's a little bit of crispy chicken skin adding some texture too. "A little bit of unhealthiness in the dish is always good," says chef. The chicken is soft, the pasta al dente and the thin oil coating leaves a mild tingling on the tongue.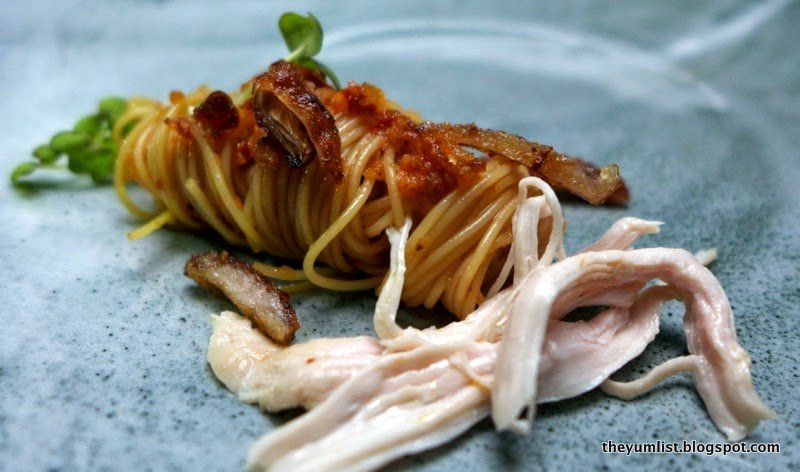 Capellini
Skins II
Puffed fish skin comes between dishes with four condiments: cabernet salt, tomato chutney, black peppered strawberry marmalade, and chili con carne. It works well as a break in the courses, but would too make an awesome beer snack. Perhaps we can convince them to send some over to the bar for happy hours?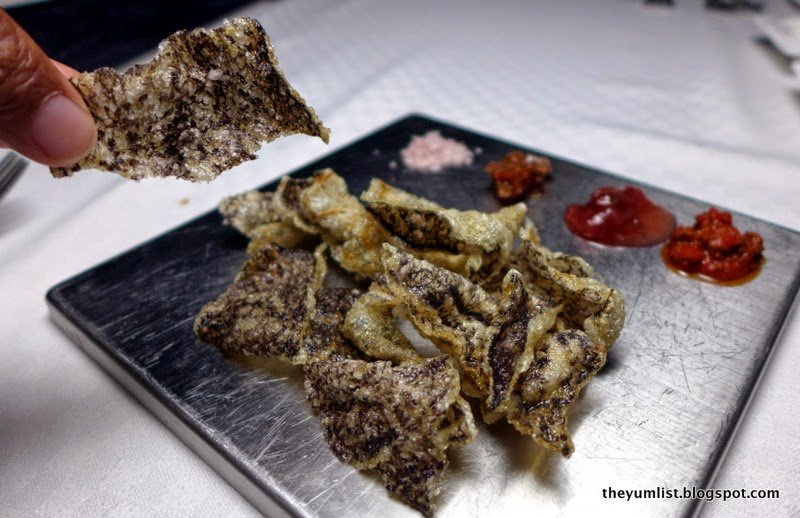 Puffed Fish Skin
Local Muscovy Duck
"We're done with the sea and are onto the land," Chef declares. This is his version of duck confit. Replacing the duck skin with thin Vietnamese rice paper wrappings, the casing is stuffed with shredded duck confit, and then the whole thing is quickly deep-fried in peanut oil and duck fat. We delight in the sound of the friable skin as we slice in revealing moist seasoned flesh. It's warm on top and cool and refreshing underneath. The basing slaw of chilled carrots, cucumber, shallots and lime juice, is inspired by traditional tandoori chicken accompaniments. It furnishes a nice freshness that cuts through the fatty duck.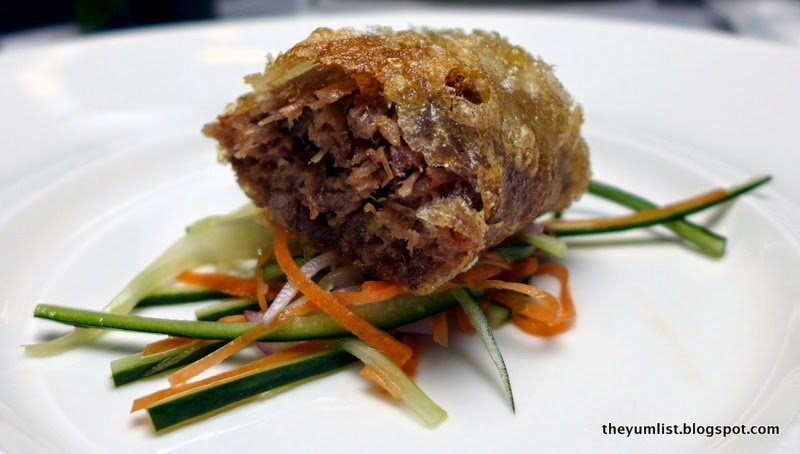 Muscovy Duck
Apple and Umeshu
The palate cleanser looks deceptively like a large ball of sorbet. It's far from it however. An apple sorbet ball cracks open to uncover a hollow shell. Based with a plum wine (umeshu) jelly, both concoctions dissolve in the mouth. The dry wine goes well with the sweet apple ice, and pop rocks, add another layer of surprise.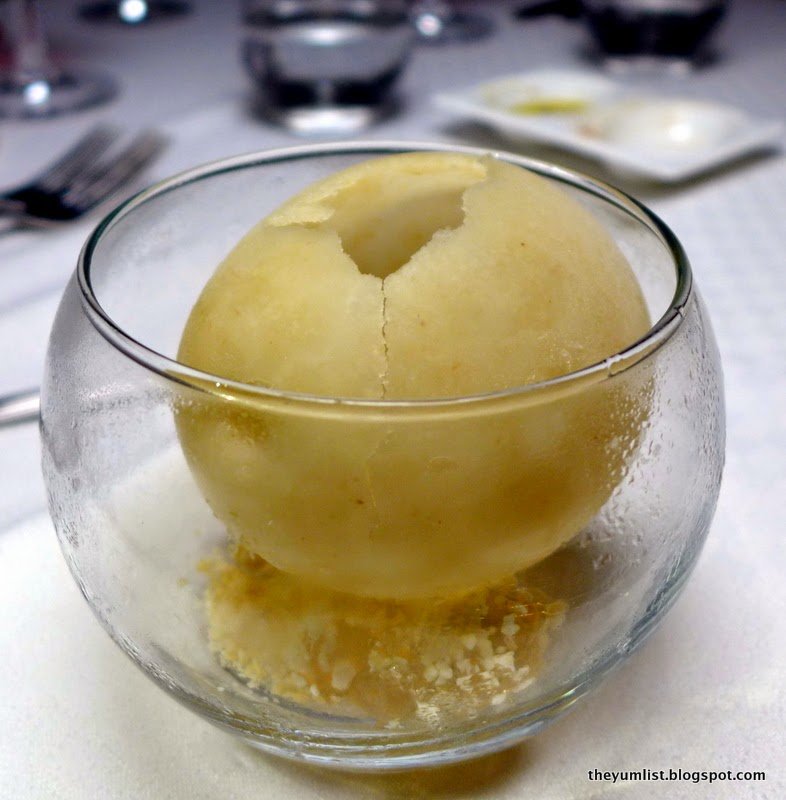 Palate Cleanser
Beef Ribs
Queensland braised beef ribs are served with a verdant sprout of baby kailan. Braised for 72 hours, the meat is divinely tender and, to repeat an overused cliché, really does melt in the mouth. A pond of gravy rings the meat and is so tasty that hubby uncouthly wipes his plate clean with the spongy ciabatta bread.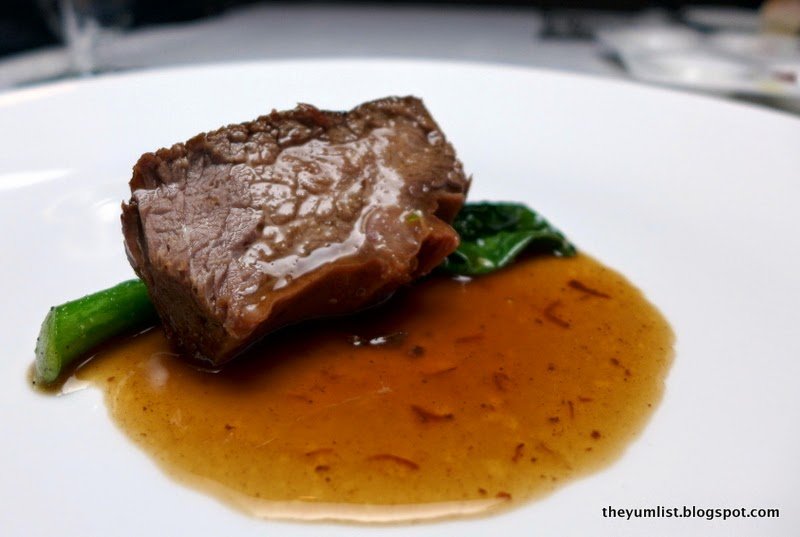 Beef Ribs
"Snickers"
Our sweet conclusion is the "Snickers," chef's take on the popular candy bar: a deconstructed and pimped up gourmet version we see. Soft cones of Guanaja 70% Valrhona chocolate, a petite ball of salted caramel ice cream, peanut butter panna cotta and peanut brittle unite on the plate to fashion a dreamy ending. Peanut butter and chocolate assure my approval, and the variety of creamy textures seal hubby's praise too.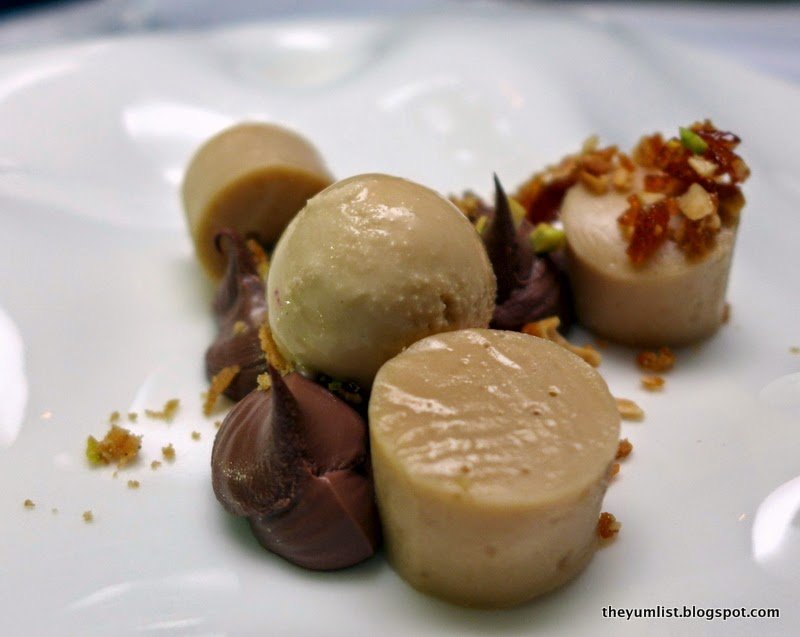 "Snickers"
Valrhona by Tanzini
Petite fours continue the theme of originality. Quirkily sealed in 'tuna cans,' hand-rolled chocolates, Valrhona by Tanzini, are centred with a fabulous salted caramel. Flavours change seasonally and this month, there are also jasmine, almond and dark chocolate, and milk chocolate, flavours too.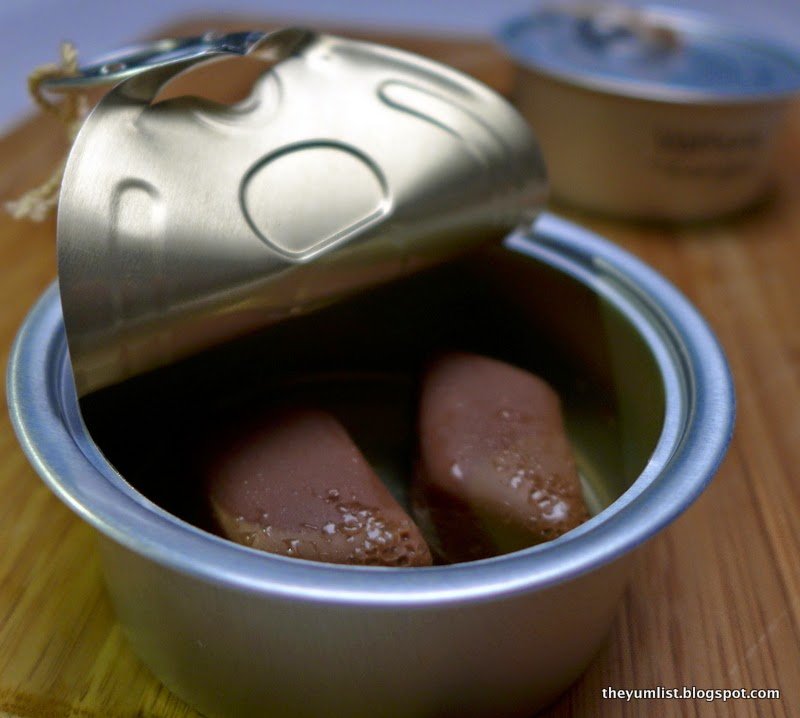 Salted Caramel and Milk Chocolate

Hand Made Chocolates
Chef's Table starts from RM350++ per person. Wine pairing can be added. There's also an a la carte menu featuring three courses from which guests can pick and make their own minimum three course set.
Reasons to visit: elegant atmosphere, inventive cuisine, an exciting Chef's Table experience, Valrhona by Tanzini
Tanzini Upper Deck GTower
199 Jalan Tun Razak
50450 Kuala Lumpur
Malaysia
+6 03 2168 1919
gtowerhotel.com
pork-free