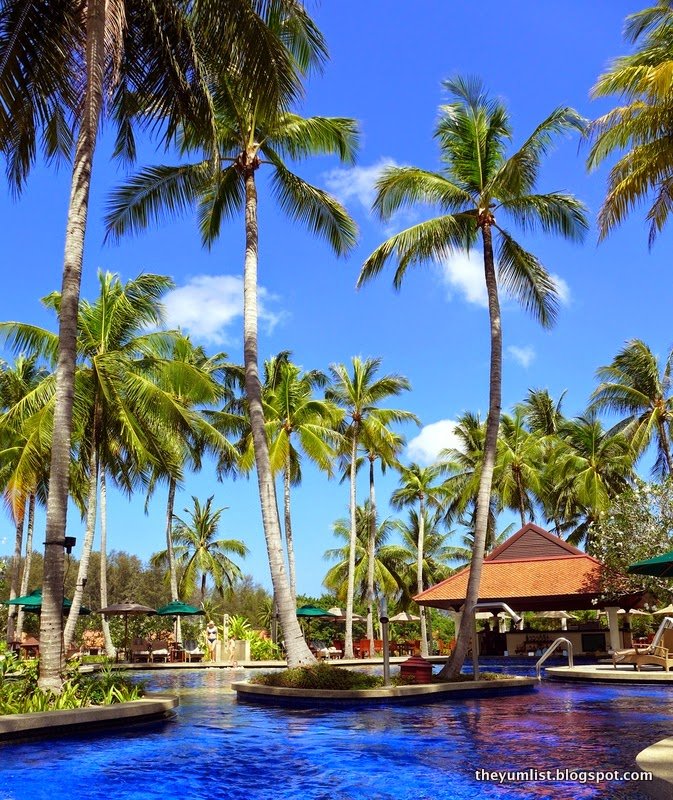 Banyan Tree Phuket, Thailand
Say the words "Banyan Tree Resort" and eyes glaze over, smiles tickle the corners of mouths, and breathing slows to a meditative pace, as listeners either recall fond memories of a stay in one of the world-renowned properties, or fantasies of one day visiting rise to the forefront of thoughts. Banyan Tree Phuket inspires a similar response with a kaleidoscope of lush tropical green, glimmering Andaman shores, and celebrated Thai service also weaving their way into the daydream.
Location
Picked up in a deluxe mini-van, refreshed with chilled water and soothing Banyan Tree sound tracks, we're on a comfortable road to paradise within minutes of exit from the airport.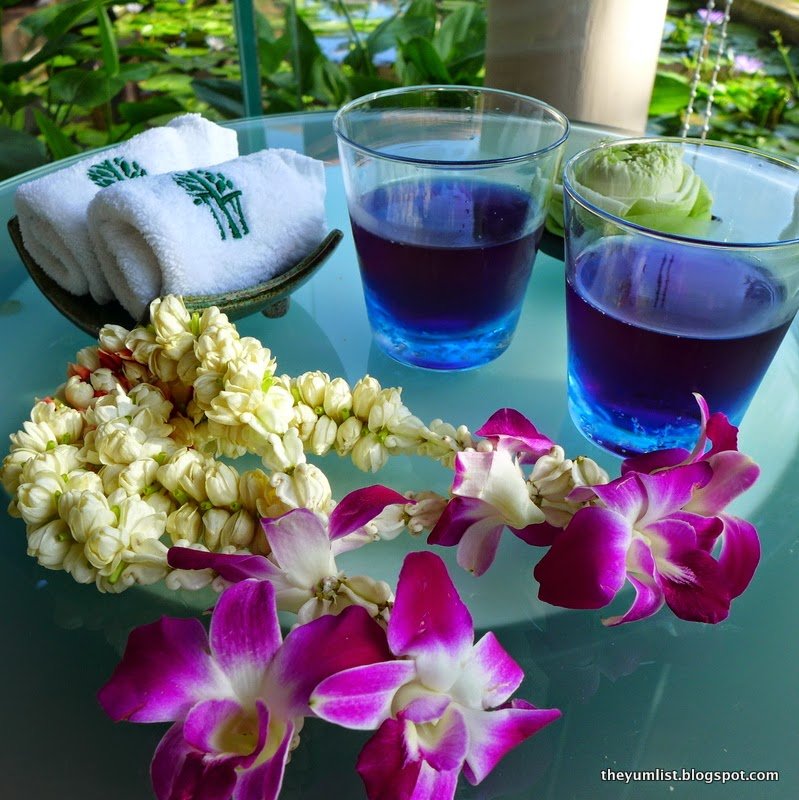 Welcome to the Banyan Tree Phuket
Less than 30 minutes from the airport and located in the 400-hectare upmarket estate of Laguna Phuket, Banyan Tree Phuket is not only an easy destination to reach, but also benefits from a luxuriousness of space, abundance of nature and plentitude of facilities. Golden sandy shores fringing the Andaman Sea stretch for three kilometres along the front of the property, and salt-water lakes centre it. The expansive grounds are resplendent with graceful casuarina trees, slim palms and blooming allamandas, which scent the air with their delicate aroma.
View from Main Lobby
Laguna Phuket is home to six luxury resorts and an 18-hole golf course, and as such boasts over 30 restaurants and bars, and numerous recreational facilities. All are conveniently accessed via inter-resort shuttle buses or lagoon boats. Alternatively buggies and bicycles are easy ways to get around the extensive grounds. We're never restricted by lack of choice. In fact, we're wondering if our three-night stay is sufficient to even touch the surface of what's at our disposal.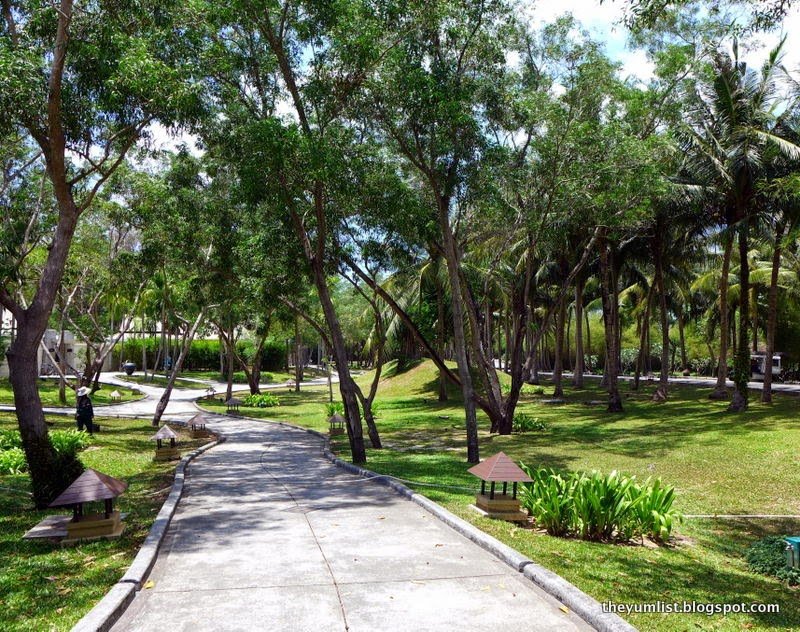 Tree Lined Pathways
From Deluxe Villas with an outdoor jetpool and sunken bath, to the superbly luxurious Lagoon Pool Villas featuring a private walled garden, nine-metre pool, and deck overlooking the tranquil lagoon, Banyan Tree Phuket makes every guest feel pampered.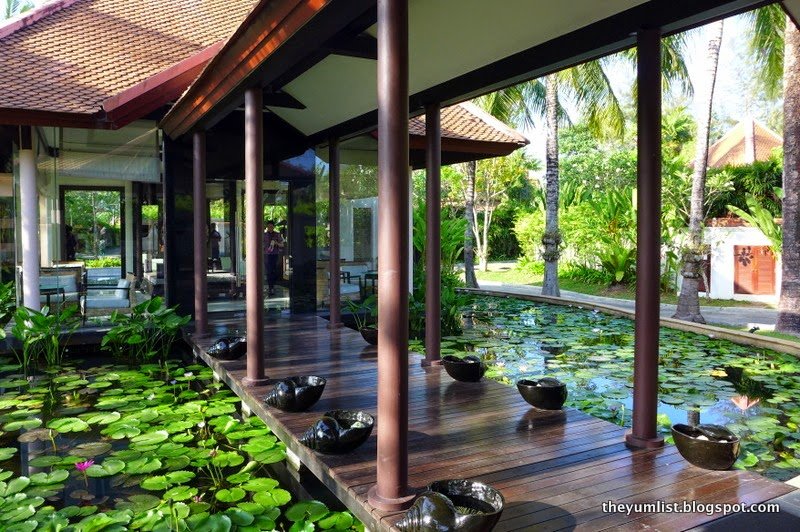 Spa Sanctuary Reception
Elegant Thai architecture houses modern amenities with all accommodations including wireless Internet, iPod docking stations, CD and DVD players, turndown services, mini bar, safe and other standards you'd expect in such a property. The main differentiating factor between villas is that of size, and alongside it price.
Spa Sanctuary Villa Bedroom
Our stay is in a Sanctuary Pool Villa with the highlight being a pool built within a garden rimmed courtyard. It's in close enough proximity to the master bedroom that it beckons for us every morning to slip into it and refresh ourselves launching the day with a healthy zest for more. An outdoor sunken bath, jetpool, steam room and rain shower entice us to run around wet and naked from dawn to dusk. And… a large 350 square metres of secluded space, gives us plenty of leeway for nude frolicking.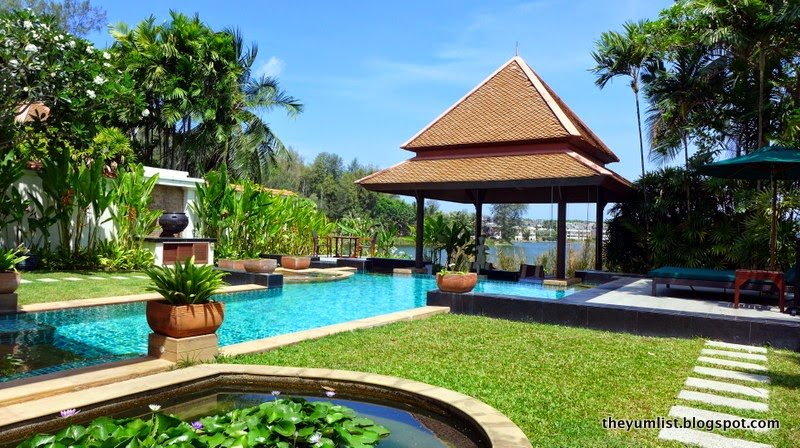 Pool and Courtyard Spa Sanctuary Villa
Bedroom, living area, walk-in wardrobes with separate his and hers amenities, indoor bathroom with steam facilities and Thai sala (which converts into a spa treatment pavilion) are further separate spaces too. Speaking of the convertible space, one of the benefits of the Sanctuary Villa is in-room massage, of which you know we partake.
Western and local items make up a gourmet list of options for the in-villa experience. Think along the lines of: Buckwheat Pancakes with Banana, Fresh Coconut, Lemon and Honeycomb Butter; Gluten-free Pumpkin Bread; Poached Eggs with Avocado and Coriander Lemon Olive Oil Vinaigrette on Whole Wheat Muffin; or Egg White Omelet with Mushrooms and Spinach on Wholegrain Flatbread; and tea, coffee, tropical fruits, juices, and bread basket to support. Whatever you order, it's a feast, and eating in robes on our verandah overlooking the lagoon is an extremely pleasurable way to start the day.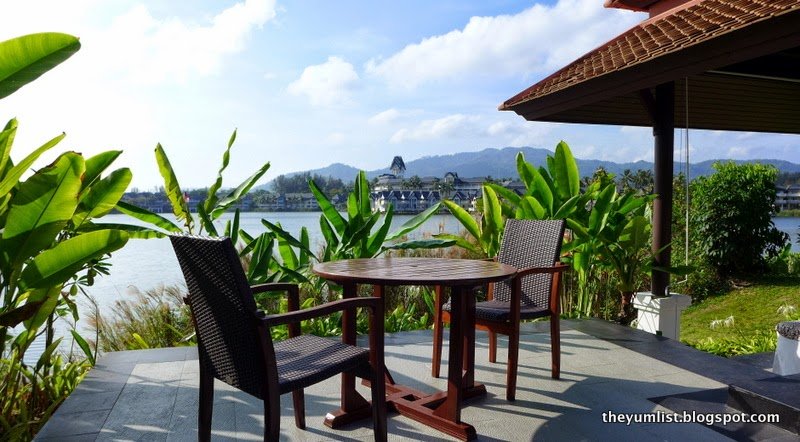 Outdoor Patio Spa Sanctuary Villa
Our Sanctuary Pool Villa is so enticing, it would be very easy to pass our entire stay here ordering in-villa dining, and booking daily spa treatments as the only form of contact with the outside world. We force ourselves to explore however dear readers, knowing you'll want the low down on all the resort has to offer.
If guests are not already water logged from the plentitude of H2O options in their own villa, a 40-metre lap pool provides a spot to swim some laps, while a separate freeform pool matches an idyllic tropical island resort postcard image. Lined with deck chairs and umbrellas, and serviced with amiable attendants, poolside can be just as much diversion as the jet cannons, water rapids, Jacuzzi and a swim-up bar that deck out the pond.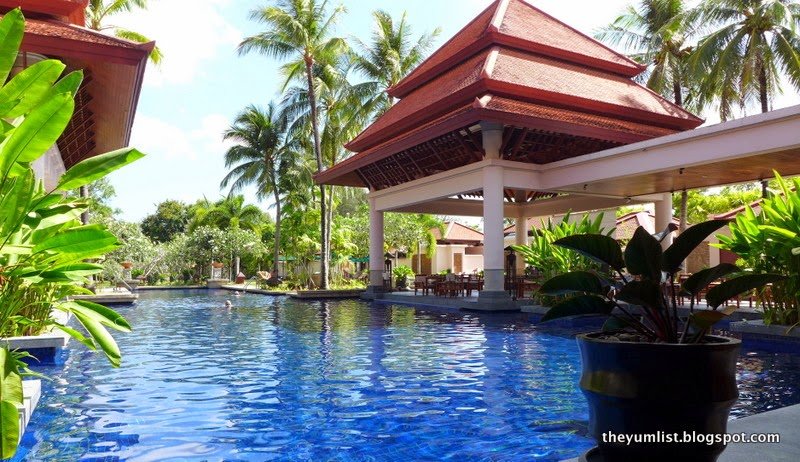 Banyan Tree Lap Pool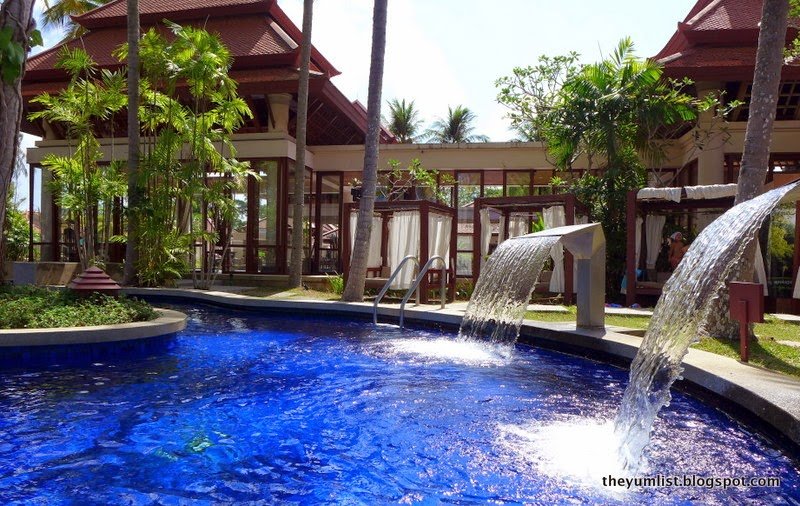 Pool and Cabanas
Beach cushions, towels, water, peppermint spray and cold towel service, make a day on the white stretch of bordering beach highly enjoyable. The flat shore is ideal for an early morning jog, starlit stroll or just some leisurely time with a good book.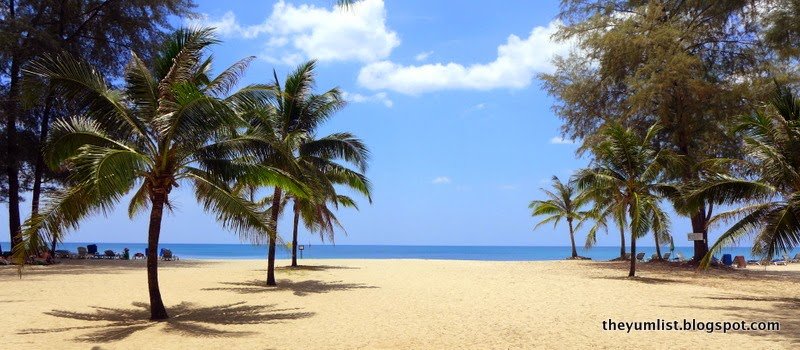 Laguna Phuket Beach
Hubby is overjoyed with the provision of three tennis courts. Apparently the flexi-pave and soft court surfaces ensure both novices and the more skilled can enjoy an energizing game. A professional coach is on hand for anyone wishing to brush up on their skills, or seek a partner for a demanding match.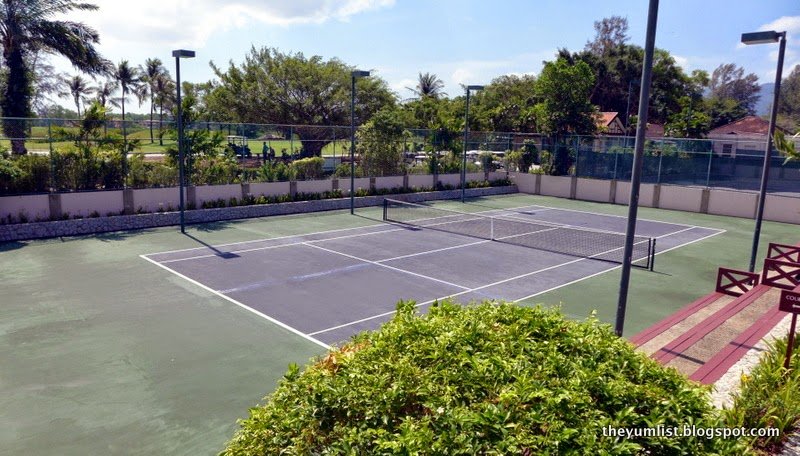 Tennis Courts
While my family are golf champs, the eye-hand-ball coordination gene didn't get passed onto me, so instead of taking a round of the newly renovated and beautiful 18-hole Laguna Phuket Golf course, we spend a morning with a golf pro on the driving range. An hour at Andy Combe's Golf School and we've gained enough confidence in the basics that we're inspired to pursue further practice.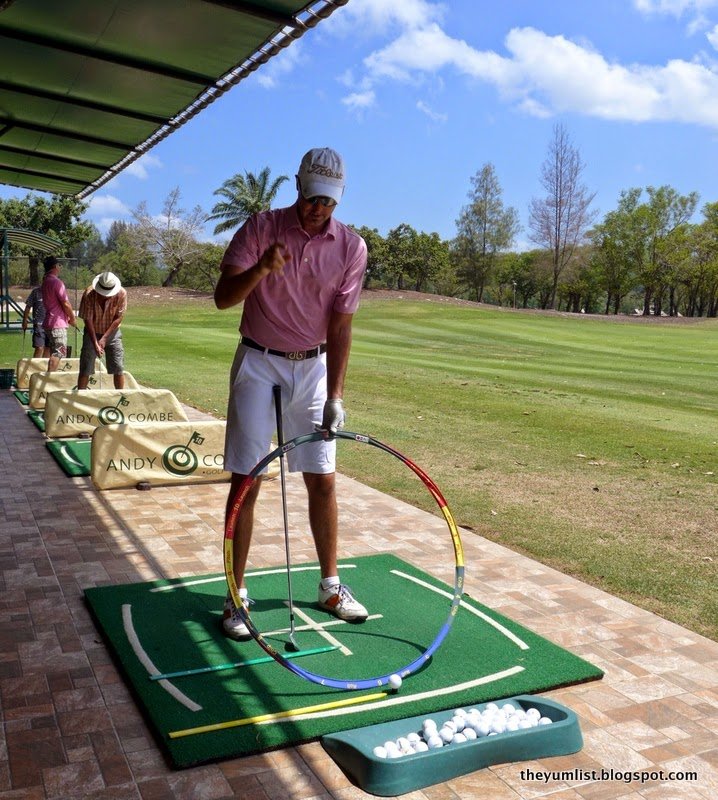 Andy Combe Golf School
Hubby at least returns to the villa and practices his swing (with some dramatic head turning to catch the distance his imagined long drives reach out into the distance). The course however is superb. Verdant knolls roll down to picturesque water traps of which coconut palms reflect off the surface. Paul Jansen has designed a 71 par round with 'multi-faceted challenges to suit all levels of players.' It is indeed looking in tip-top shape and while serious golfers will note the bumps, curves, bunkers and ponds as challenging puzzles to solve in their game, I record their beauty and think that I might just enjoy a stroll around this lovely course, even it were chasing misdirected balls.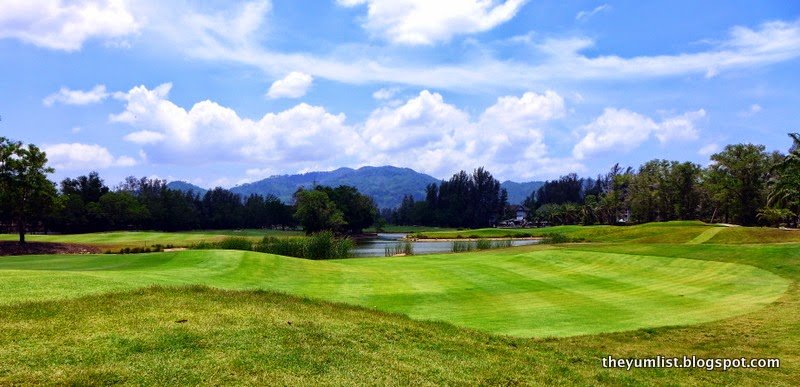 Laguna Phuket Golf Course
There's a kids club too and while I have no need for it myself, I do note that most activities are outdoors in nature involving such things as trekking nature trails and learning how to make local handicrafts.
A dedicated concierge service is able to arrange any number of tours that will take you both on and off the island. They happily man-sit hubby for a day and take him off on a diving excursion, gifting me with some quietude and a writing block.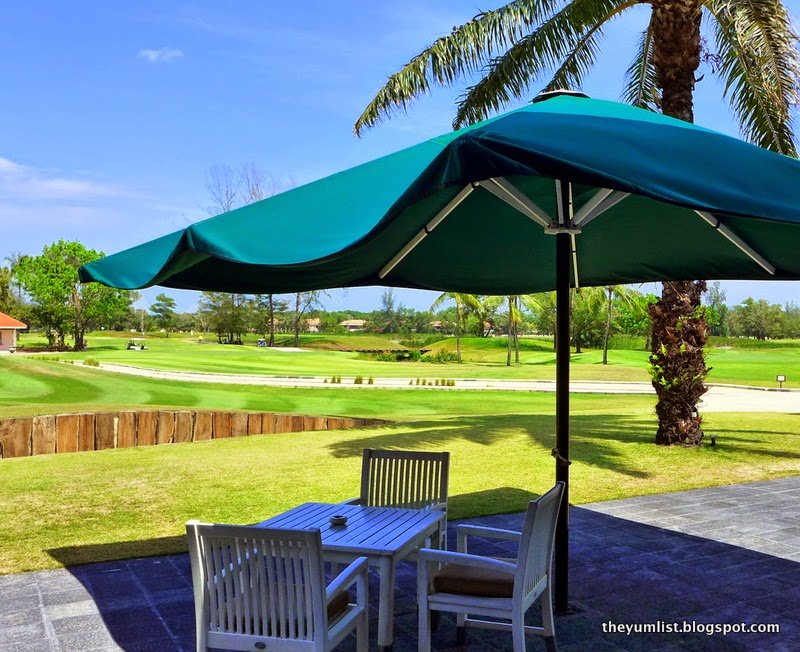 Banyan Cafe
Lagoon views greet diners at the adeptly named Watercourt Restaurant. Banyan Tree Phuket's all day dining option provides both buffet and a la carte menus making it a versatile choice for groups and families. Bubbly at breakfast sets an immediately positive tone, but it's the mango sticky rice that has me completely won over. I'm sure that makes a balanced brekkie: Champers and dessert.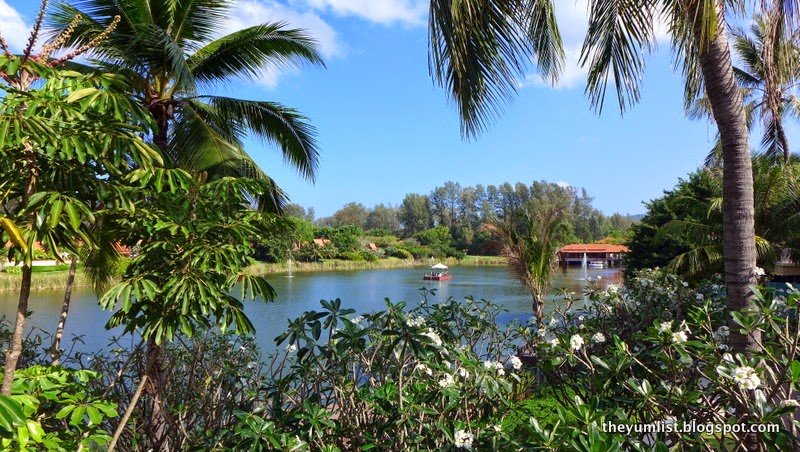 View from Watercourt Restaurant
Not enough choice for you? Well then, perhaps you'd like to engage in a romantic dinner cruise on Sanya Rak, a traditional long tail boat. Gently glide over the calm waters of the lagoon while dining on a scrumptious meal. Or something even more private? A Dinner of the Senses can be arranged on the floating pontoon in the tranquil lake's centre. An International Barbecue or Thai Grill menu are something worth loosening your belt buckle a notch for, and the private butler service dedicated to making your evening especially memorable, deserves the highest compliments.
It's difficult not to reference Thai service without falling in the clichés of polite, friendly, warm and helpful, but stereotypes come about for a reason and this is one which proudly characterizes our experience at the Banyan Tree Phuket. No request was too small or too big throughout our stay, and it seems that some staff my even have telepathic abilities, predicting our needs before we've even communicated them.
Beautiful location, good-natured service, a world-renowned spa, a wealth of facilities and a profusion of delicious dining alternatives makes Banyan Tree Phuket a top choice of stay for The Yum List.