Set up as a modern living room, the recently renovated Lounge at Hyatt Regency Kinabalu immediately sets us as ease with its homey décor. A meeting place pre or post dinner, or for a longer stretch nibbling on an afternoon tea set with sweets, savouries and a hot beverage, The Lounge offers a versatile setting, just as if we might be in our own home.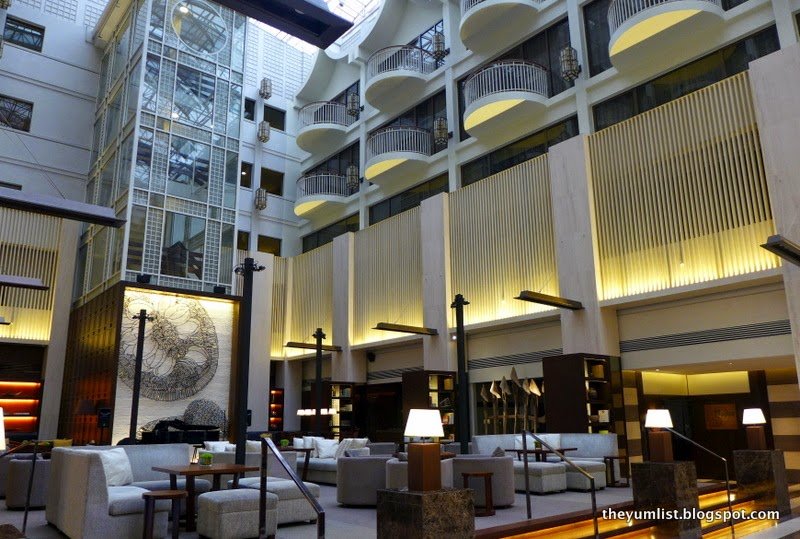 The Lounge, Hyatt Regency Kinabalu
We're here today for their Tiffin Afternoon Tea. Following a day of sight seeing, it's just what we need to refresh and carry us over until evening. House baked goodies, of both sweet and savoury in nature, are accompanied by our choice of hot beverage. An organic Sabah Tea is my pick, and hubby chooses a Teh Tarik. The Teh Tarik is lighter and not quite as sweet as the KL version: I enjoy this more mildly sugared style, as does hubby
(surprisingly).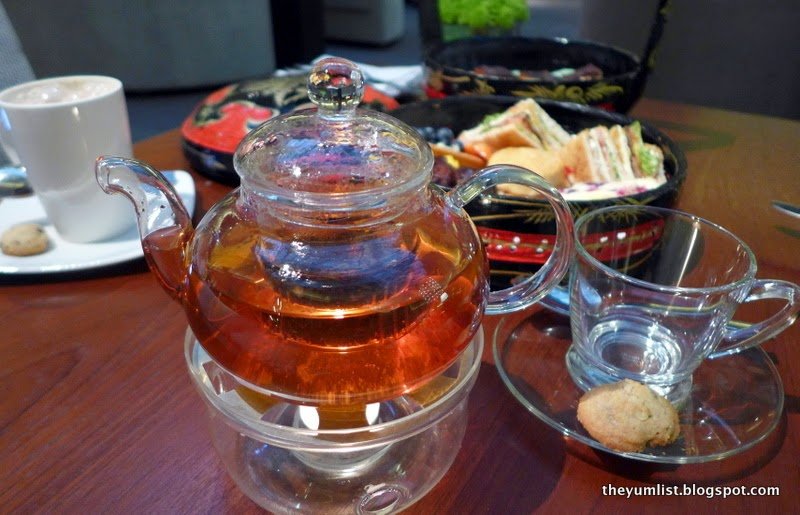 Sabah Organic Tea
A beautiful red and black lacquered basket tiffin carrier holds a duo of trays: a layer of western and another layer of local.
The top basket is packed tight with treats, the only savoury inside being a three-tiered club sandwich. The sandwich is plump with sliced beef and chicken ham, tomato, lettuce, egg and mayonnaise. A large scone, already spread with blueberry jam and cream, centres the tray, with the rest of the sweets encircling it. Blueberry cheesecake, various fruit tarts, a jam sponge and, a biscuit cored walnut brownie round off the western selection.
The local assortment shows no hope of respite in levels of sweetness, with the entire tray filled with colourful kueh. Lenggang, pandan coloured pancakes are rolled and stuffed with coconut and brown sugar. A springy honeycomb cake, Sarang Semut, with the texture of steamed pudding is sweet and dense. Another pandan coloured bite is a soft round with a consistency between that of jelly and a cheesecake. A rich gooey chocolaty number, a Batik Cake, is layered with biscuits and gooey dark chocolate. And… a steamed rainbow-hued sponge is perhaps the lightest of the lot.
As we amuse ourselves grazing over the collection, live music enhances the atmosphere. A pianist and vocalist is accompanied by a double bass player, and the duo have the lounge humming with Malaysian classics and some well-known western jazzy numbers too.
The Tiffin Afternoon Tea turns out to be an entertaining way to spend an hour or two. If you live in KK, or happen to be in the city for business or leisure, it's a lovely escape from the afternoon heat, and timed well, will see you finishing just in time for a cocktail or two at the Poolside Bar –ready to behold the sunset and welcome the night.
The Tiffin Afternoon Tea is priced at RM40 nett per person. Guests staying in the hotel receive a 10% discount. The set includes sweets and savouries alongside a choice of Illy Caffe, local Sabah Tea, Teh Tarik or Kopi Tarik.
Reasons to visit: stylish setting; live music; gracious service; an indulgence for sweet tooths – definitely worth sharing.
The Lounge
Hyatt Regency Kinabalu
Jalan Datuk Salleh Sulong
88991 Kota Kinabalu
Sabah, Malaysia
+60 88 22 1234
kinabalu.regency.hyatt.com
Opening hours:
Monday to Friday: 10am – midnight
Saturday and Sunday: 10am – 1am