Words: Louise Miller          Photos: Monica Tindall
As we were ushered to our seats in The Pullman Hotel's La Cucina Mediterranean Restaurant, the inspiration behind the restaurant's name became startlingly obvious. A mere few meters from our table stood the 'cucina': a kitchen with a difference, this was actually a completely open work station of only a few square meters. It was hard to believe that all of this expansive eatery's offerings were to be crafted in this compact space, but throughout the meal that we were about to enjoy, the super efficient, industrious activity of the Argentinian Chef Ramiro and his team would be on full view to impress surrounding diners.
Chef Ramiro Moya
The decor is evocative of the Moorish influence so prevalent in Southern Spain: rich sun-burnt oranges, reds and browns provide a Mediterranean warmth to the space, which is edged with a row of cosy low seats lit from above by Moroccan lanterns and enshrouded by circular, netted drapes.
Having taken a moment to behold the kitchen and interior design but still feeling a little frazzled from my journey in KL's afternoon rain and traffic, I was ready for opening cocktails. Monica had this in hand with our order of a Little Caracas, a  Pullman Connection and Caipirinha (all at RM40). The first of the three brought a bigger than usual smile to Caning's Venezuelan face: his taste of home came in the form of dark rum, grand Marnier, apple and cranberry, all shaken with the house sour mix and was enjoyed by all of us. Vodka with melon and lychee liqueurs, pineapple juice and house sour mix made up the fresh and fruity second beverage of our trio and a perfect balance of Cachaça, fresh limes and sugar made for a classic and very tasty Caipirinha.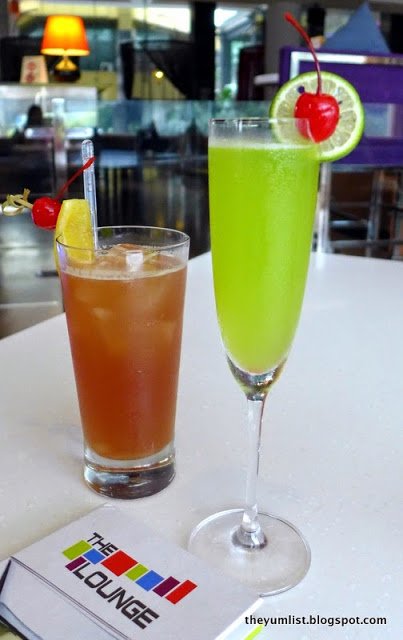 Cocktails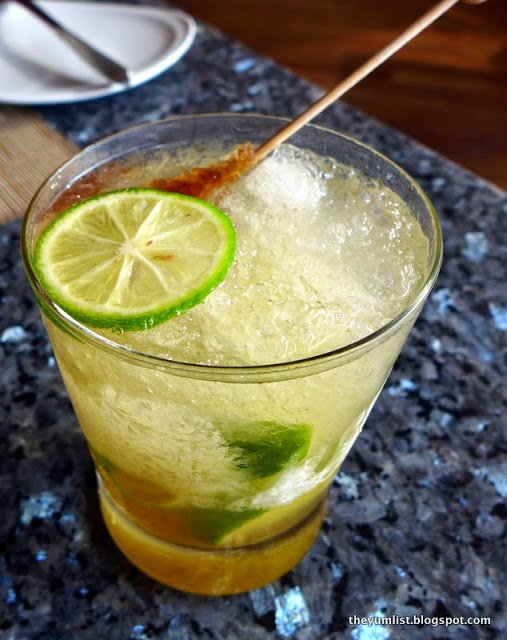 Caipirinha
Now suitably mellowed, we perused the extensive menu but overwhelmed by the abundance of mouth-watering choices, we were only too happy to let Chef Ramiro select these for us. First to be laid before us were two of the five dishes from the Steak Discovery menu to which I had been immediately drawn due to my carnivorous compulsions! The Beef Tartare (RM41) was composed of grass-fed tenderloin pervaded by the delicious woody flavour of fresh thyme contrasted with the tartness of gherkins, capers, shallots and Worcestershire sauce. Beautifully adorned with a quail egg, and scattered with pretty leaves and edible flowers, this dish was a culinary work of art for all the senses. The Beef Carpaccio (RM43)  prompted further oohing and ahhing around the table: the melt-in-the-mouth, paper-thin slices of raw tenderloin were marbled with decadently rich foie gras and were garnished with matchsticks of creamy goat's cheese, Shiso cress, coarsely ground black pepper and drizzled with a honey and lemon dressing.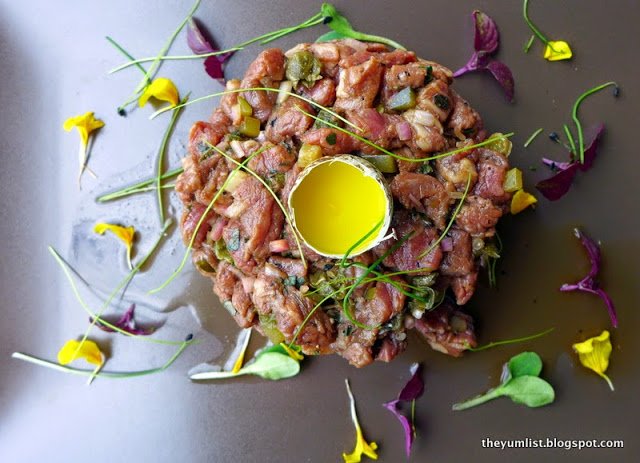 Beef Tartare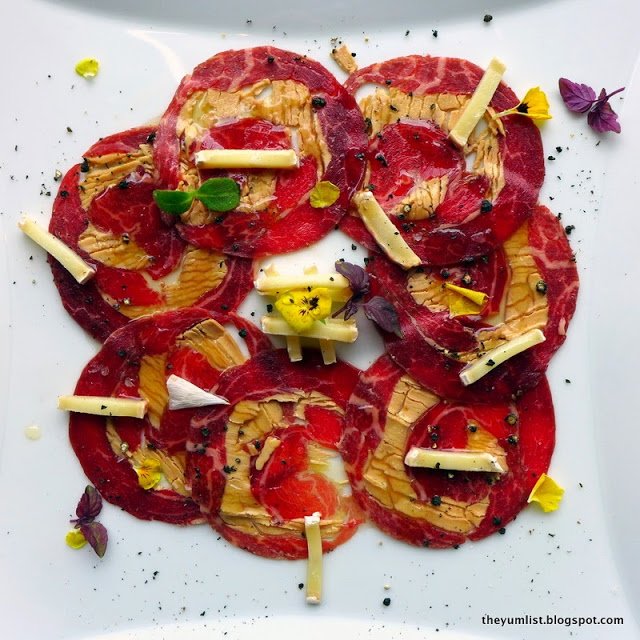 Carpaccio with Foie Gras and Goats' Cheese
The following starters were the chef's pick from his new menu: the Snapper Ceviche (RM40) was a delicious combination of red snapper, coriander, red onion, ginger and lime juice to which the flecks of red chilli provided a serious kick of heat that enhanced its fresh and zesty flavours. The Burrata (RM40) was simply divine: meaning 'buttery' in Italian, this bundle of buffalo mozzarella combined with cream really needs nothing else for its perfection to be appreciated. That said, the chef's inspired decision to accompany this creamy delight with sautéed peaches, lentils and leaves dressed with white balsamic vinegar created complementary flavours and textures that further intensified that of the cheese, making this dish a serious contender for 'favourite starter' title.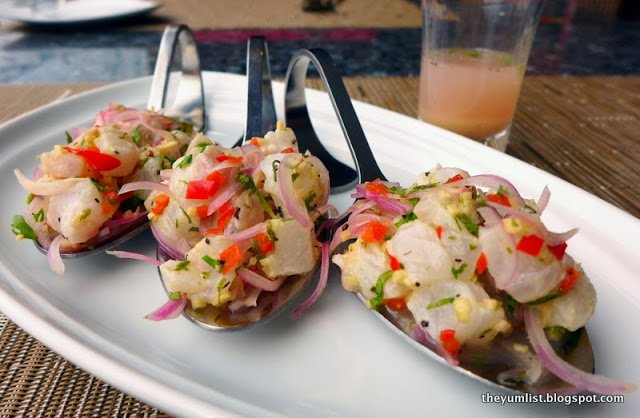 Snapper Ceviche

Burrata
The final of our starters was one that had raised a few eyebrows when reading the description on the menu: Beetroot Macaron (RM27) was indeed a beetroot pink, sweet macaron filled with beetroot and goat cheese curd served on a bed of wild rocket leaves. It had been hard to imagine how the juxtaposition of sweet macaron and salty goat cheese would work, but take our unanimous word for it – it really did!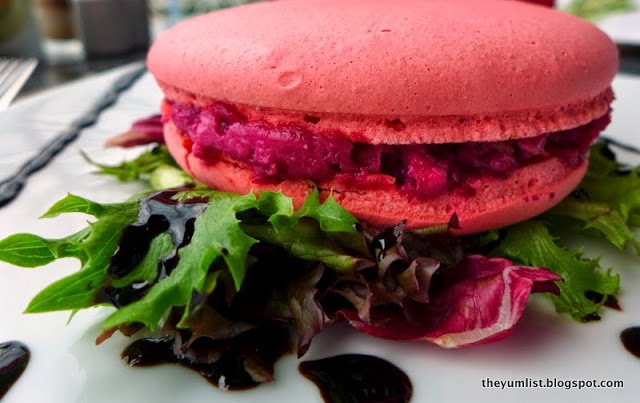 Beetroot and Goats Cheese Macaron
Before embarking on the meaty mains, we took a detour via the Spa menu from which we tried two salads. The first of these was the Citric Salad (RM30): a tasty composition of arugula, tiger prawns, sautéed pomelo, lemon, orange and hazelnuts, this was as fresh and citrusy as its name suggests. The second was the Spring Salad (RM28): a vibrant combination of roast pears, crispy beef bacon and mesclun salad with a limoneta dressing. They were equally flavoursome and would make a satisfying light lunch for the health conscious.  For the less health conscious, do as we did and pair these with the crisp, apple-y house white, the Le Challenge 2013 Sauvignon Blanc (RM34/ RM128). Alternatively, go for a Thai brewed 3 Amigos premium lager (RM28/bottle or with the promotion until 30th June go for the incredible value bucket of 6 bottles at RM60).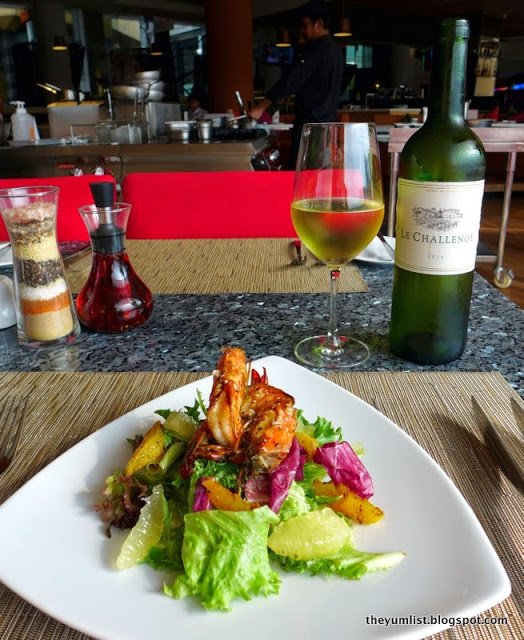 Citric Salad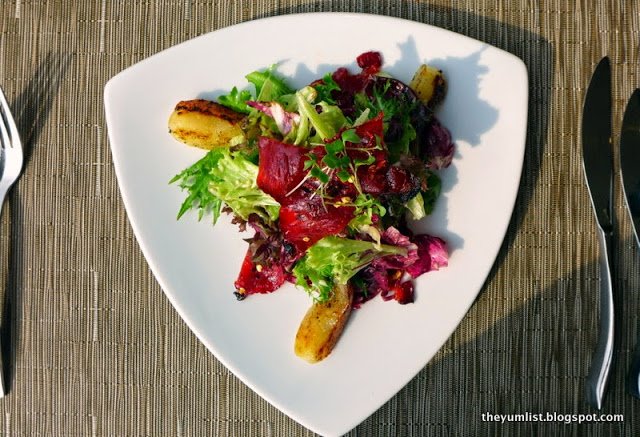 Spring Salad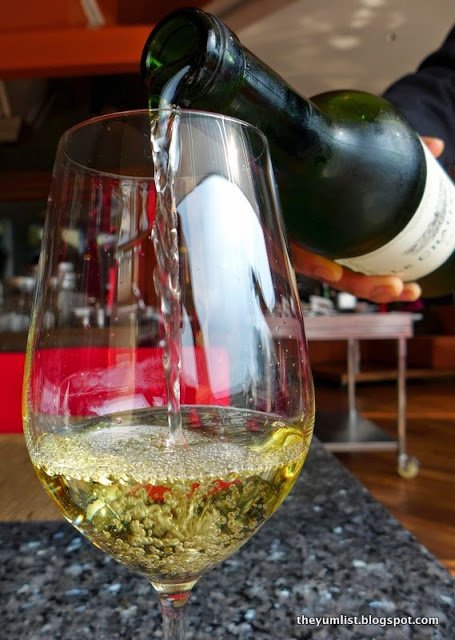 Le Challenge Sauvignon Blanc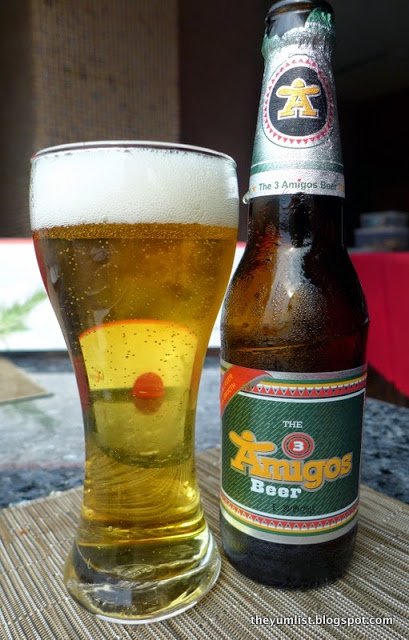 The 3 Amigos Beer
Despite the generous selection of dishes already sampled, we were now eagerly anticipating our preview of the mains from the Steak Discovery menu. Using only premium grain-fed Australian Angus beef, the promotion, which is available throughout June, features in addition to the beef starters, three main dishes using ribeye, striploin and tenderloin complemented by fresh ingredients and homemade sauces.
Strip Loin
The house red, a Le Challenge 2013 Merlot (RM34/ RM128) was poured in preparation for the arrival of the meat: soft and supple with a plum character, this was the perfect pairing for steak.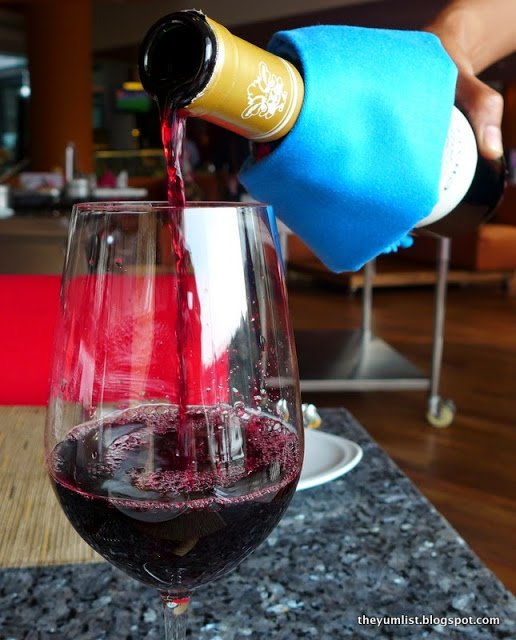 Le Challenge Merlot
We started with the Ribeye (RM83) which was, as you would expect from a restaurant showcasing steak, perfectly cooked. As with the two steaks that followed, it had been pan-seared until medium-rare and rested for at least five minutes to keep it pink and succulent. The 250g of top quality beef was served with a creamy celeriac purée, roasted garlic cloves and a rich red wine reduction.The Striploin (RM76) was next up: again served medium rare, this was also perfectly pink inside but much firmer in texture than the ribeye and was accompanied by a juicy grilled portobello mushroom, grilled tomato, roasted garlic and beef jus.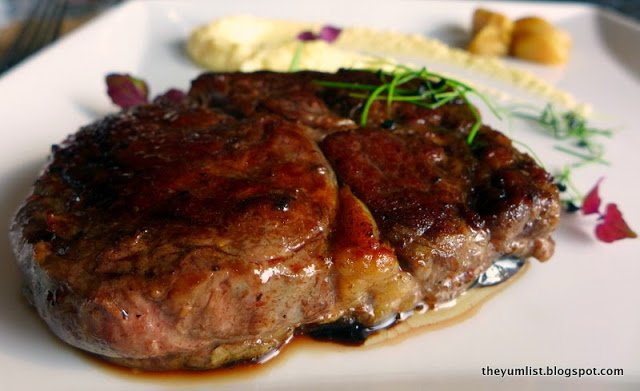 Rib Eye
The final steak to be savoured ticked all the boxes: the 250g of medium rare Tenderloin (RM89) was so tender that our knives glided through the meat as if it were butter. The green peppercorn sauce with which it was served was intensely toothsome and added the perfect contrast of peppery heat and sharpness to the succulent meat. Monica and I were delighted that at this point in the meal Caning was distracted in conversation while we continued to trim the steak and load our forks further with the accompanying yummy, buttery carrot purée. This got our vote for favourite dish of the meal.
Tenderloin
And at this point, replete with meat, it was time to round off our Mediterranean feast with desserts (all at RM18 for one and RM28 for two). We opt for a very rich, dense and nutty Chocolate Brownie Cheesecake, a lighter and very smooth Japanese Tofu Cheesecake and our favourite – the Fruit Tart made with buttery, biscuity pastry lined with a light and creamy filling and topped with delicious fruit glistening in sweet glaze. What was so impressive about these was that they were all made in house. The attention to detail and the stunning presentation of the dishes was consistent with all of the previous dishes. So much so that the overall impression of the food at La Cucina Mediterranea is one of fine dining: the food has the flavours and artistic flair of a fancy Michelin Star restaurant minus the crisp white table cloths and exorbitant prices. This is well worth a trip for a relaxed evening of gourmet indulgence at any time but particularly before the fabulous Steak Discovery promotion ends on June 30th.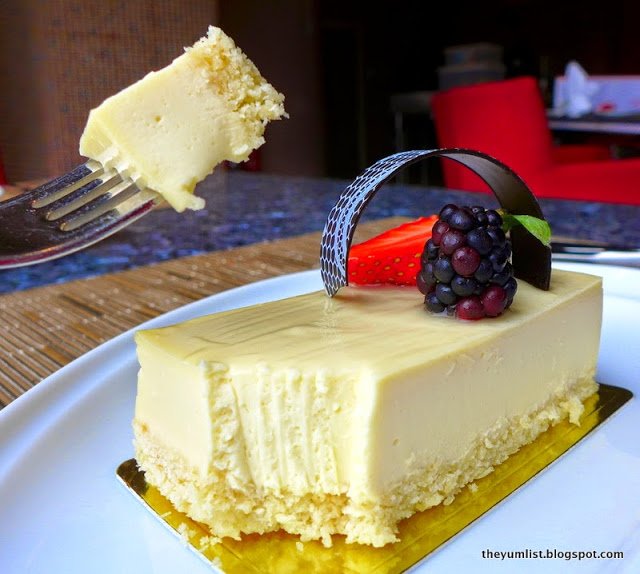 Japanese Tofu Cheesecake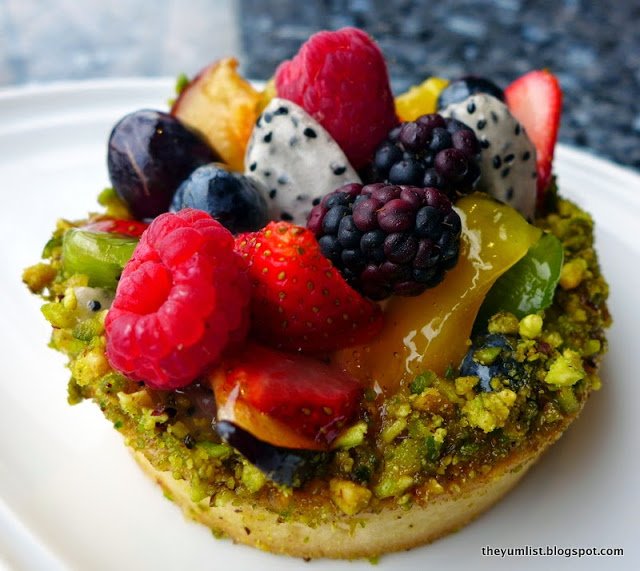 Fruit Tart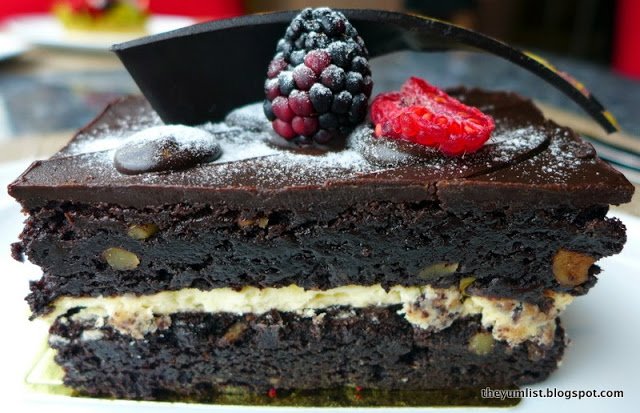 Brownie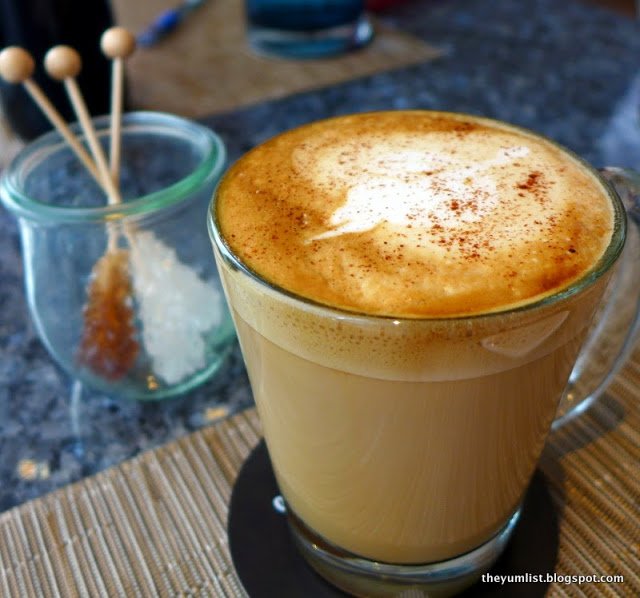 Cappuccino
Reasons to visit: Can I just say 'ALL OF THE FOOD'? If not, I suppose the super highlights of a meal full of highlights would be the starring steaks, in particular the Tenderloin in Green Peppercorn sauce but seriously, all of the dishes were delicious and well worth a trip a across town.
La Cucina Mediterranean Restaurant
The Pullman Hotel
Tower 3, No. 1, Jalan Pantai Jaya,
Kuala Lumpur, Malaysia
+60 3-2298 1888
La Cucina Mediterranea is open every day from 12:00pm to 10:30pm.
There is a 15% discount on the total bill for certain credit holders. Ask for more information on this on arrival.