If it's the end of the day and we're by a beach, there's a 99 percent chance that you'll find us gazing at the sunset, cocktail in hand, lapping up what we consider to be one of life's finest luxuries and making plans for dinner. As such, you know we've visited The Beach Club at The Datai on more than one occasion.
During the day, light snacks, organic salads and pizza are popular orders. In the evenings, sunset hour cocktails keep the crowd well lubricated, and later in the night an a la carte menu of Mediterranean fare or a themed buffet is on the cards.
For lunch, wood-fired oven teases the nostrils of diners with its aromas of just toasted hand-thrown pizza bases. Hubby can't resist the temptation and makes an order of the Meat Lover's Pizza (RM82) before we've even browsed the rest of the menu. Our waiter informs that it's quite a large 27cm round, and so hubby agrees to a half-and-half variety with the other side filled with Seafood (RM72).
Breakfast at The Datai is worth traveling for, and we've overindulged in the morning so are looking for a lighter midday meal today. We decide on a soup to support the pizza order: enough to keep us going until evening. Potato and Leek Soup (RM45) is rich and creamy. Crisp slices of beefchorizo and pistou intensify  the flavours, and small cubes of sourdough croutons add crunch, contrasting the creaminess.
When our pizza arrives we wonder how it can support all of those ingredients. The meat half is slathered with a BBQ sauce, strips of wagyu beef, lamb merguez, chicken pepperoni, mushroom and onion. Prawns, fish, scallops, mussels, coriander, lime and chili stick to a tomato sauce on the seafood side. A squeeze of lime on top and it's heaven. Suddenly the substantial serving has disappeared and we're encouraged to finish with something sweet.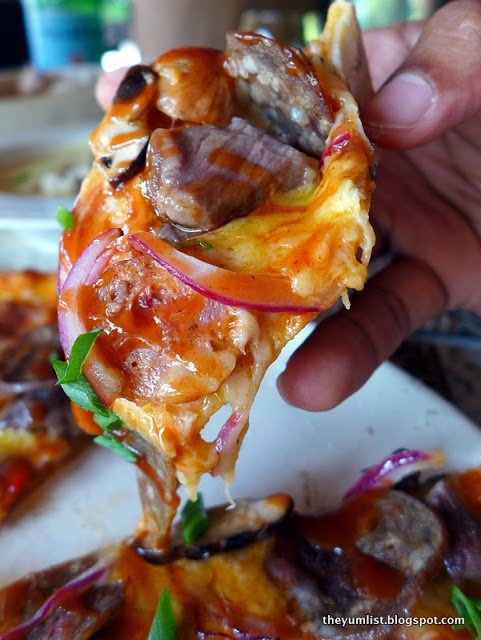 Meat Lovers Pizza
We've heard great things about The Datai's house-made sorbets and ice creams (RM16 per scoop). The list of frozen flavours, including both traditional and local inspirations, make it difficult to choose. In the end we go with a scoop of Coconut Lemongrass and another of Mango. Living up to their reputation, they're smooth, mildly sweetened and refreshing.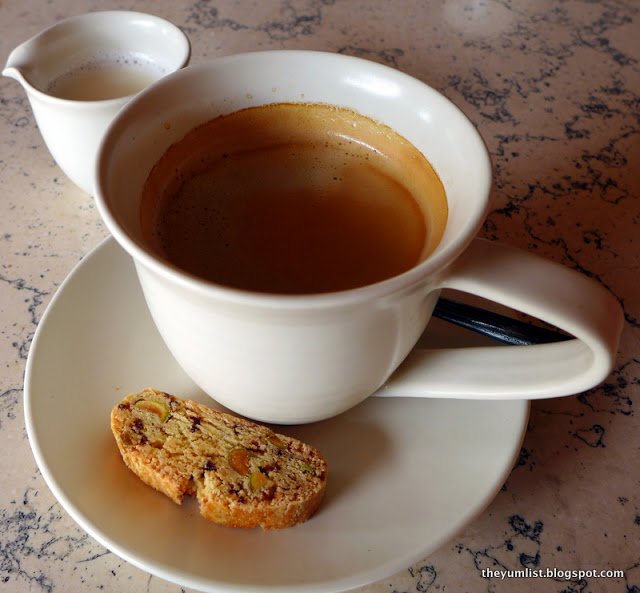 Coffee to End
The setting by the sea and fresh quality produce coming from the kitchen entice us back for another meal at night. The lunch and dinner menus are distinctly different leaving no opportunity to be bored with options.
The delightful food and beverage manager is buzzing around the floor interacting with guests as we arrive. He notices us star gazing and quickly informs us that we're not just having dinner under the stars, but
dinner under the planets and whips out his Star Map app to show us the heavens.
Soon after he has us seated, and notes our interest in the comprehensive wine list. Proudly he apprises us that The Datai has an import license enabling them to exclusively import directly from vineyards from around the world. We note a multitude of old world and new world wines with prices ranging from some affordable table wines right up to some vintages that will test your credit card limit. The house Champagne, Barbier-Lemaire Prestige NV Rosé (RM75 per glass) is suggested. I'm enchanted by the musky perfume and fine bubbles, and hubby obviously is too as he's already requested a second glass even though I'm still on my first sip.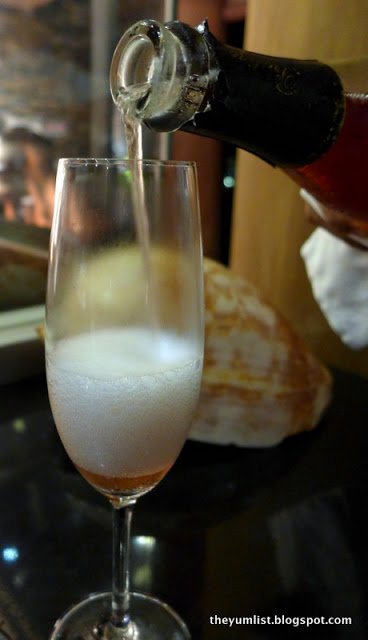 Barbier-Lemaire Prestige NV Rosé Champagne
At night the restaurant's atmosphere morphs from casual beach side dining, to one of elegance and romance. Our opening, the amuse bouche, of sesame shrimp showered with apple chutney and capped with a fried tortilla chip proves fresh, awakening our appetites and minds for what might be ahead of us.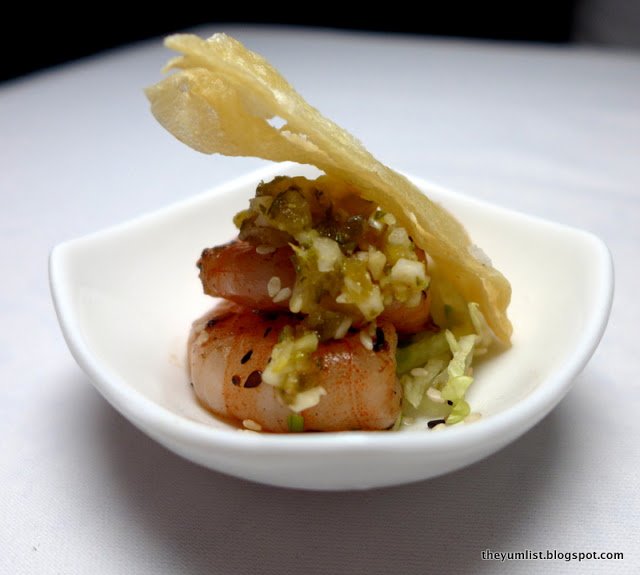 Amuse Bouche
A house baked bread tray too is delivered, bringing mini baguettes and focaccia with sumac, accompanied by The Datai's signature truffle butter. Crusty bread with full flavoured dairy… this and a glass of red wine and I could have myself a complete meal.
We continue with wine from Cote de Beaune, an Auxy-Duresses, Les Crais, Jean-Claude Boisset 2011 (RM40). As with many French wines, I'm not enamored by the aroma. In the mouth however it's particularly flavorful and I have an urge to swish it around so every corner, from rooftop to underneath the tongue, savours its taste. Butteriness, acidity and minerals are all detected and turn out to be superb accompaniments to our seafood themed dishes to come.
Cote de Beaune, an Auxy-Duresses, Les Crais, Jean-Claude Boisset 2011
Hot Smoked Salmon (RM65) is made in house and excels with its wonderfully smoky flavor. We first try a fork of salmon on its own. Flaky and sensuously smoky, it could hold a place all by itself. When we slice into the sous vide egg however, we soon discover pleasures previously unknown: creamy and thick it adds a glorious texture to the fish. Watercress and shaved fennel lighten the richness and crispy strips of beef pastrami and a honey mustard gel complete the experience with variety in texture and flavor.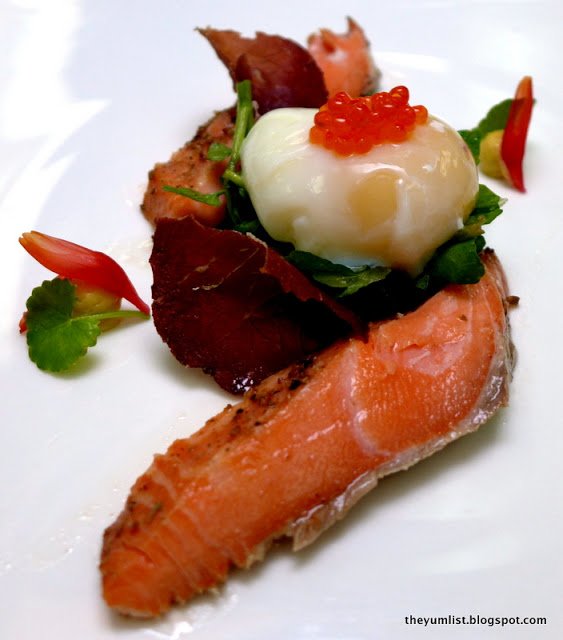 Hot Smoked Salmon
Sweet Pea and Semi-dried Tomato Risotto (RM65) presents a vegetarian option. A see-saw of sweet and acidic results from the tomato, pea and goat cheese trimmings. Basil pesto rings the plate encircling the rice with colour but also a smooth coating.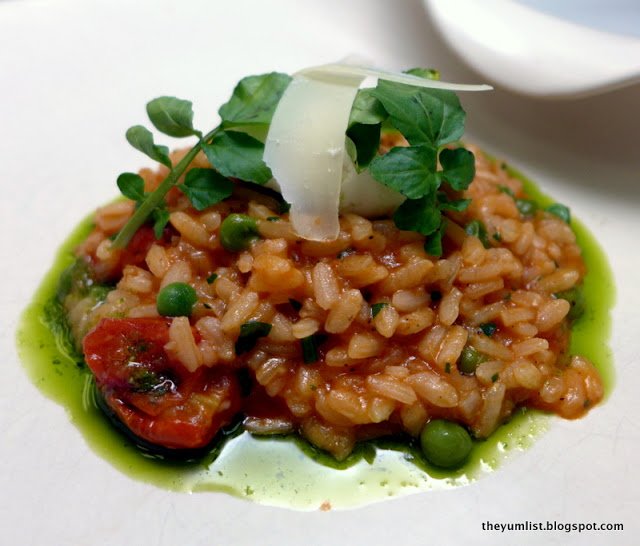 Sweet Pea and Semi-dried Tomato Risotto
Our suggestion for the Black Cod Fillet (RM130, please note the portion shown in the photo is a tasting portion) again, as with the salmon, is to taste the fish first on its own. It's an exemplary showcase of how
delicious this fish can be when cooked by a master. The salsa verde is richly flavoured, the shaved asparagus and zucchini ribbons on the side light and clean, and a half-sphere of pineapple rice reflects the location with its Malay Thai influence.

Black Cod Fillet
Our stomachs are reaching their limits at this stage but the Char-grilled Lamb Rack (RM165) smells so good! It's cooked sous vide first and then char-grilled resulting in blush pink flesh encased by a lightly caramelized edge. Mint salad, confit garlic, wild mushrooms, sun-dried tomatoes and black olives are unnecessary but much appreciated complements.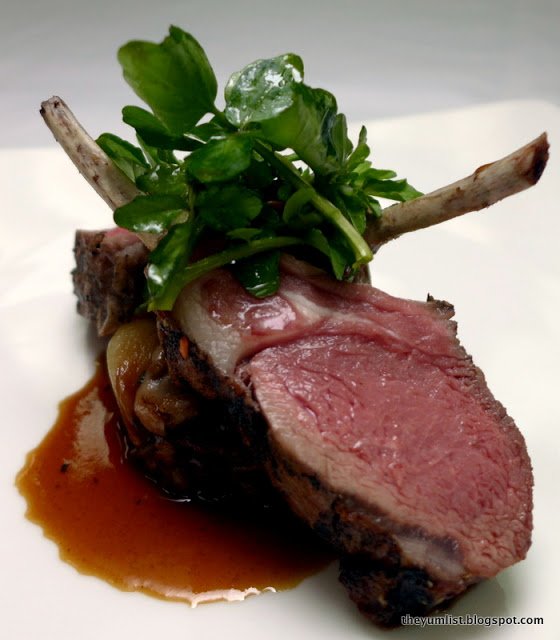 Char-grilled Lamb Rack
A Rolf Binder, Hales Shiraz 2012 (RM32) tempts us as a mate to the lamb. I detect a little leather on the nose, full body in the mouth and a lingering ending with a mild peppery bite.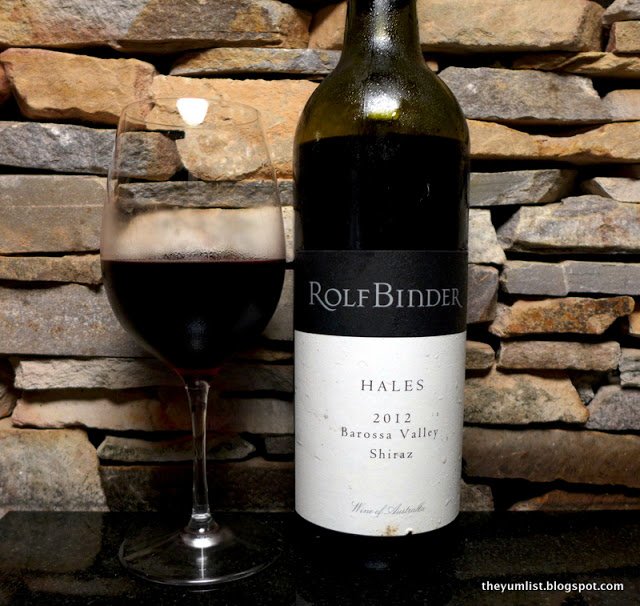 Rolf Binder, Hales Shiraz 2012
We are truly stuffed, but struggle to refrain from the idea of at least sampling Chef's Shared Dessert Sampler (RM60) for two. Our eyes mirror our tummies in their bulge when the three-layered tower is delivered. Resembling an afternoon tea platter, it's stacked with over a handful of desserts.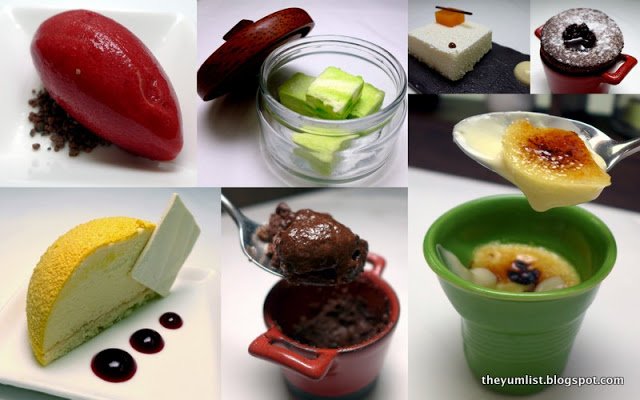 Chef's Shared Dessert Sampler
My first mistake is starting with the chocolate soufflé. Rich, intense, foodgasmicly creamy, I could easily start and stop with this indulgence alone. No intelligible words come to my mouth other than "oh oh oh." Meanwhile hubby has found delight in the Kaffir Lime Crème Brûlée with a lovely thin layer of caramelized sugar, molten base and twang of citrus. Our taste buds overtake our sense as we continue to nibble on mascarpone parfait with an orange jelly, mango passionfruit cheesecake, raspberry sorbet, and Pandan marshmallows.
Oh my… no more… the end!
Reasons to visit: stunning location on Datai Bay; fresh quality ingredients; excellent wine list; ice cream and sorbets; Hot Smoked Salmon; Black Cod Fillet; Char-grilled Lamb Rack; Shared Dessert Sampler.
The Beach Club
The Datai
Jalan Teluk Datai
07000 Pulau Langkawi
Kedah Darul Aman
Malaysia
+6 04 9500 500
Open 11am – 11pm